CasinoFair Overview
Try out guaranteed fair games and payments
Bonuses 2/5
Look & Feel 4/5
Licensing & Safety 5/5
Game Selection 3/5
Payment Options 4/5
Customer Support 5/5
Websitewww.casinofair.com
Established 2019
License Curaçao
Bonus 50% Cashback
Wagering Requirement -
No Deposit Bonus 1,000 FUN
Live Chat Yes
The name CasinoFair is chosen on purpose by this casino that values fairness above all else. Their games, which are all developed in house, are all guaranteed fair and the same goes for payments - you'll receive your earnings immediately after a win. In the rare event that anything goes wrong, you'll be able to reach the fair customer support team. You're also entitled to a No Deposit Bonus after signing up as an incentive to try out this 100% blockchain casino.
Platform supported languages
English
Pros and cons
+

Guaranteed fair

+

No Deposit Bonus

+

Works entirely on the blockchain

+

Instant payments

+

In-house games
-

No games by known providers

-

Limited game options
Bonuses
A No Deposit Bonus is always a welcome one
The fun starts right after registration. Before depositing you already receive a Bonus of 1,000 Free Fun Tokens. Wager your Fun Tokens the first 7 days after signing up and receive a cashback of 50% up to $2,000 or equivalent.
No deposit 1,000 Free Fun Tokens
Cashback of 50% up to $2,000
The only requirement is that you start each game session with at least 5,000 Fun Tokens. Through the lucky dip sign-up bonus, you can earn an additional 300 to 1,000 Fun Tokens.
Other available bonuses
Regular Promotions; This casino offers regular promotions where you can win dazzling amounts of Fun Tokens. You'll soon realize that when it comes to fun, Casino Fair means business.
Referral program
Besides regular promotions and bonuses you can also create your own referral link. For each of your friends or acquaintances who sign up and wager their own funds, you get 1,000 Fun Tokens and 40% commission. Plus, your friend also gets a piece of the cake, with 1,000 Fun Tokens credited to their account as well.
At CasinoFair you'll notice a clear style. All of the promotional images contain at least the purple or the green color, both of which you'll see in the logo. This brings a welcomed calmness to the commonly seen design that has a fast changing promo ad right on top of the homepage.
Other than that, you'll only get to see a handful of games on the homepage, which doesn't feel like enough. You have to actively navigate to the games page if you want to see the options. CasinoFair's clean website is quite easy to navigate, both on Desktop and Mobile platforms.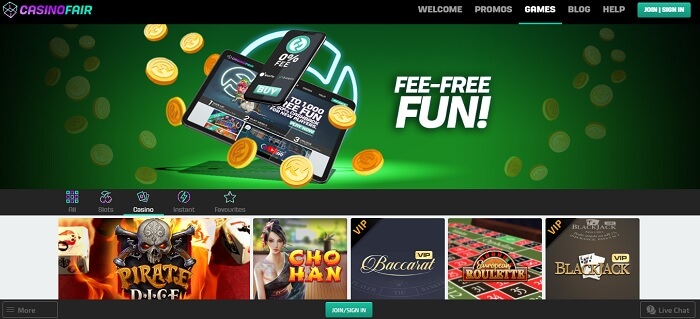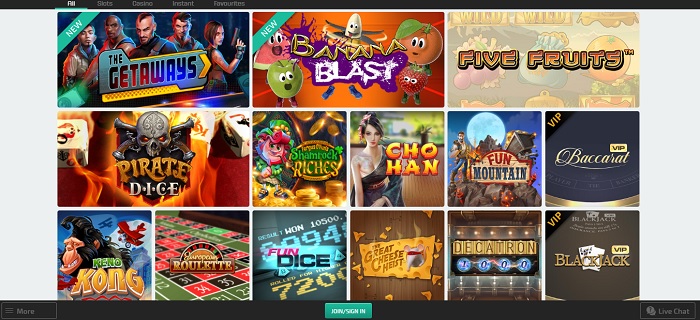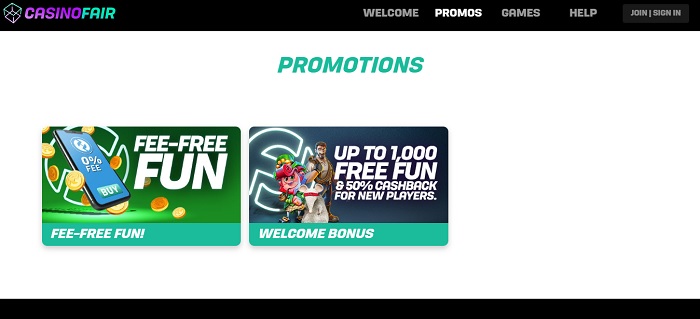 Game Selection
Fun and original games
Upon entering the lobby, it's easy to navigate straight to the slot games. Here you'll find 6 exciting games, that are all developed by FunFair.
For example, Cyber Hunter. In this game you find 20 betlines, in a futuristic atmosphere. The police in this game is a drone and can get you to the interesting free spins bonus or just get you an extra profit.
Other titles like Astro Wilds and Bounty on the High Seas are just as exciting.
Slots
Blackjack
Roulette
Baccarat
Dice
Casino Poker
Video Poker
HiLo
Scratch Cards
Instant games
In the casino games section, you'll find 12 regular casino games just as you can find them in any other casino. With the only exceptions being that these games are guaranteed fair and none of them are from external providers.
You can always check the game play after finishing it. This way it doesn't matter if you like to put all your money on red at a roulette game or if you prefer to try your luck with three card poker. You'll likely find a game to have fun with and know you'll be playing it safely.
When it comes to instant games, there are 13 versions available. No need to get worried though, all is fun and fair in this casino, so the number 13 might even bring you some additional luck. Try it out on games like Keno Kong, The Great Cheese Heist (for all the Dutchies among us) or Banana Blast.
You can play the games for free even before registering.
Summary
pros
+

Innovative games

+

Guaranteed fair

+

Option to play for free before registering
cons
-

No games by external providers
open CasinoFair
Licensing & Safety
In all fairness, this casino is pretty fair
CasinoFair is not a randomly chosen name. The casino prides itself on being fair - they call it guaranteed fair. This is entirely possible because CasinoFair is developed by FunFair, a well known company in the blockchain gaming industry.
As such, CasinoFair is 100% reliant on blockchain technology for all its operations.
What is offered to back this claim up? Provably fair games that you can check yourself, guaranteed instant withdrawals that go straight to your wallet once a game is finished and every other benefit that the blockchain technology could possibly provide you with. Just try it out for yourself.
Players from countries where online gambling is not regulated cannot enjoy this website, although they can play fun mode. This because of the fact that CasinoFair has a Curaçao license.
Besides all of these benefits, CasinoFair also encourages its players to see playing as a hobby and nothing more. There's a responsible gaming department for anyone who has any questions regarding this.
Summary
pros
+

100% blockchain technology

+

Guaranteed fair casino

+

Responsible gaming department
cons
-

Some restricted territories
open CasinoFair
Payment Options
A casino with its own currency
At CasinoFair you can pay with the special Fun Tokens. These are digital assets that work through a smart contract on the Ethereum Blockchain. Ownership is anonymous, but transactions aren't.
Besides playing with them, there's other ways to get your hands on some extra cash. You might get some tokens as a gift from a company, or you can earn them as a developer when creating new games.
There are a number of cryptocurrencies that you deposit with and then exchange them for the Fun Tokens, directly on CasinoFair's website. You can do this in your account by going to the Deposit Funds option and then choosing Coin Swap.
Bitcoin
Ethereum
Litecoin
Ripple
Edgeless
But you are, of course, much more interested in the benefits of this token. First of all, it's very fast. Not only that, it's also easy to use. So perfect if you are just starting out with the blockchain technology.
All transactions are open and traceable with the help of a tool like Etherscan. Fun Tokens fall under the famous ERC20 Tokens and are therefore very safe to use.
Summary
pros
+

One safe and easy currency

+

Other ways to earn extra cash

+

Every step is traceable

+

Accepts deposits in other cryptocurrencies

+

In-built exchange
cons
-

No anonymity

-

Can only play with FUN tokens
open CasinoFair
Customer Support
Whatever you need, whenever you need it
You can reach the support team 24/7 with any questions you may have. Not only can you reach them via the live chat function, but you can also ask questions through the official Facebook, Twitter and Telegram channels. Just to keep it social and make sure the players stay up to date.
Telegram is a mobile app to send and receive messages with, it is very similar to WhatsApp.
Live Chat
Email
FAQ page
Social Network profiles
Telegram
However, before you try to make use of any of these options, it might be worth to check out the FAQ page. If your question is of a general nature, there's a big chance you can find the answer to it there. The website is only available in English.
Summary
pros
+

Many options to get in touch

+

24/7 Live chat
cons
-

Only available in English
open CasinoFair
User Reviews
Do you agree?
Post your review
Everybode will see your review
F.A.Q.
We can't help but being curious
Does CasinoFair offer a no deposit bonus?
What can you tell me about the FairChecker?
This is a tool that displays the details of each game round after it finishes. Details include the wagered amount and whether you won or lost. All this information is stored in blockchain and you can view it in your account whenever you want.
When do I receive my payouts?
Immediately after winning a game. During the game, the win amounts are already set aside so that you will be paid out directly after the game ends.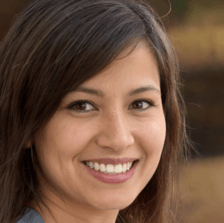 About the author
Sophie Austen
Sophie Austen is a true enthusiast of blockchain technology and its potential in the iGaming industry. She has worked extensively as a writer in the tech industry and holds an MSc in Computer Science from the University of Toronto. Easily considered a believer of Bitcoin as the next universally accepted coin!