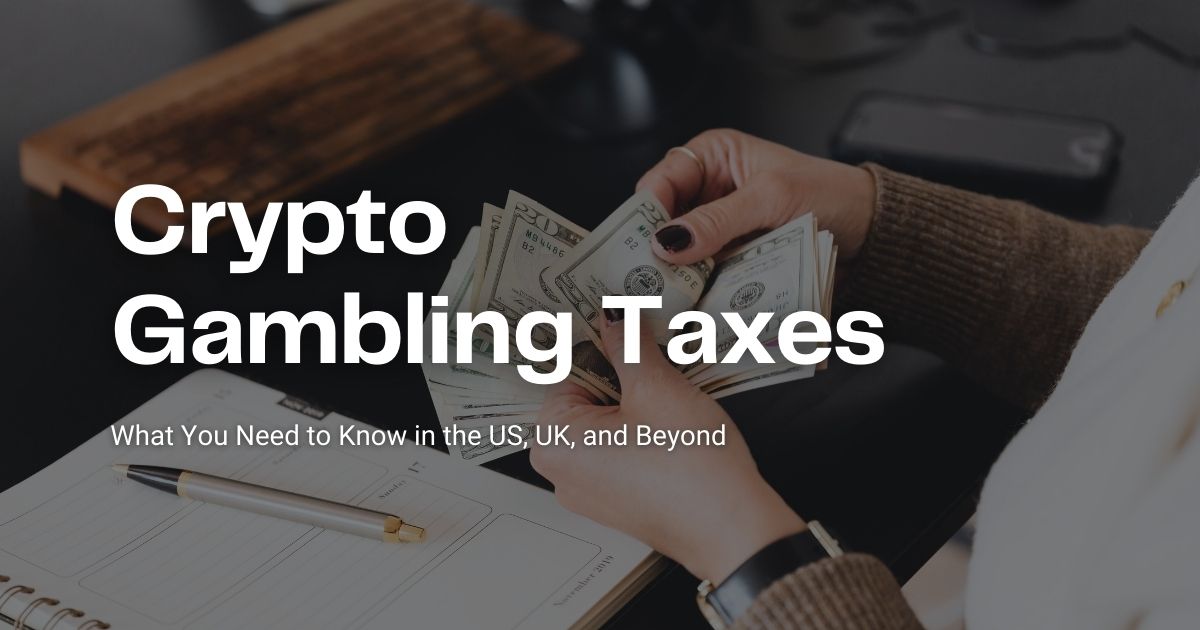 Updated: July 15, 2022
Crypto Gambling Taxes: What You Need to Know in the US, UK, and Beyond
Two things that have been around forever?
Casinos and taxes.
But, as cryptocurrency betting becomes more and more mainstream, you might wonder how crypto gambling taxes work. Do you pay taxes on your winnings? What about the money you make on the BTC, ETH or other altcoins for HODLing?
Since cryptos are a relatively new type of asset, these things can get confusing fast. Fortunately, we are here to help.
This is your comprehensive guide to gambling taxes in the US, UK, and beyond.
Crypto Gambling Taxes: In a Nutshell
Want a quick recap?
Here's what you need to know about crypto betting taxes in the US specifically (it's where the situation is the most complex):
According to the IRS, crypto isn't a currency but rather an asset. The government looks at it the same way they would stocks or bonds.
Gains and losses from buying, selling, or using cryptocurrency for gambling are considered taxable income or capital gains.
If you win a bet, the proceeds are also considered taxable income. You pay tax on the current market value of the crypto you won. Since crypto markets are notoriously volatile, this can create a situation where you owe taxes on your winnings, but the money has already gone down in value by the time you file your taxes.
For that exact reason, you can deduct losses with the same rules that apply to other investments like stocks.
If you are a professional gambler, your gambling income is considered taxable business income, and you can deduct your losses (up to the amount of your winnings) as business expenses.
And that (more or less) covers it. If you're strapped for time, we'll also give you our favorite crypto gambling sites here, in the "nutshell section"
But, this is just scratching the surface. There are a bunch of details when it comes to crypto and gambling – and we're here to help you navigate them. So, let's look at the topic in more depth:
Breaking Down Crypto Gambling Taxes in the US
In the United States, the IRS has not yet released specific guidance on how to handle taxes on gambling with cryptocurrency. However, they have released guidance on handling taxes on cryptocurrency in general – and we have the information about taxing non-monetary prizes from gambling.
From that, we can deduct how gambling with cryptocurrency will be taxed. But first, you might be asking yourself:
Is Bitcoin Gambling Legal in the US?
The answer to that is… it depends.
We have an entire guide that answers the question "Is Crypto Gambling Legal?" in more detail, but here is the jist:
The federal government does not have laws explicitly outlawing or legalizing gambling with Bitcoin or other cryptocurrencies. That said, gambling is heavily regulated at the state level. And unfortunately for gamblers, most states have laws that make gambling with crypto either illegal or heavily restricted.
These regulations are usually between the state and the casino – i.e. the casino can only operate if it follows the state's gambling laws. So, if the state doesn't allow gambling with crypto, the casino won't offer it.
What about online gambling?
Once again, nothing to stop it on a federal level. In addition, the US has laws that make it illegal for banks to process transactions for online gambling sites. So, if you're gambling on an offshore site, your bank might flag the transaction and refuse to process it.
However, there isn't a specific regulation to ban it – and, once again, these regulations are for casinos in the first place. As an online gambler, you're unlikely to face any legal repercussions for gambling with crypto.
And, now that we have that covered let's talk about…
Why Crypto Is an Asset, Not a Currency
Cryptocurrencies are digital tokens that use cryptography for security. A defining feature of most cryptocurrencies is they are not issued by any central authority, making them theoretically immune to government interference or manipulation.
Understandably, central governments aren't too thrilled about the idea. As of 2022, the US does not even consider cryptocurrency as currency.
After the 2013 IRS guidance:
All cryptos (Bitcoin, Ethereum, and beyond) are treated as property under US tax law.
Since cryptocurrencies are considered assets for tax purposes, all gains or losses from buying, selling, or trading cryptocurrency are taxed as capital gains.
So, imagine you buy 1 BTC and sell it for a profit – the equivalent of $10,000. You will pay capital gains tax on that money you made.
But then… what if you won the 1 BTC gambling?
There is one more concept that we need to cover to help you understand it:
What Is a Taxable Event?
So, we cleared up that whenever you buy or sell crypto and make money from it, you have to pay tax. This is exactly like selling a house or a car.
In this case, the taxable event is the sale of the cryptocurrency.
But, there is more to it if you won the crypto at a casino – the federal gambling winnings tax. It's 24% on all the money you won.
In this case, the taxable event is you winning that cash.
A taxable event is an event that triggers a tax liability. In the case of cryptocurrency, a taxable event is the sale or exchange of cryptocurrency for fiat currency, goods, or services. In the case of gambling, a taxable event is the act of winning a bet.
So, when you combine crypto + gambling, you get:
Taxable event when you win a wager
Taxable event if you hold the money, it increases in value, and then you sell
Federal Gambling Winnings Tax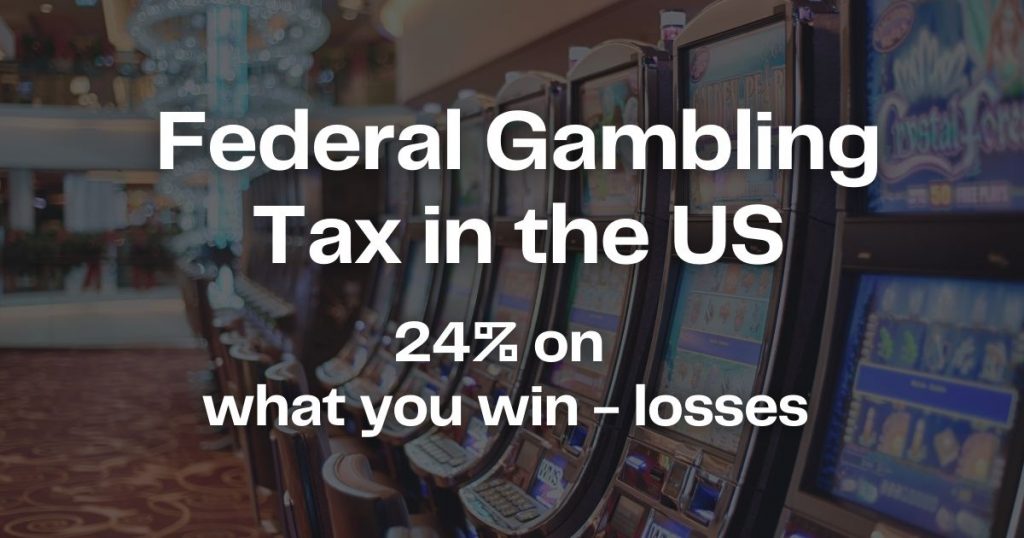 The federal tax on any earnings from gambling is 24%, no matter how much you won. So, if you hit it big and won $1,000,000 from a bet, you would owe the IRS $240,000. But, there are still some differences in documenting this event.
The W-2G form is for gambling earnings, and you should receive one of these from the casino if you won more than $1,200 from slots or bingo or more than $1,500 from keno. For poker tournaments, the threshold is $5,000, with the buy-in deducted from your total winnings. You should also get the form for any earnings subject to an income-tax withholding requirement.
Finally, casinos should provide you with a Form W-2G if you win $600 or more and the amount is 300 times (or more) larger than the wager.
Wait, let's go back a step.
Federal withholding requirements?
That's right; they are a must for some bets. Specifically, if you win over $5,000 from sweepstakes, lotteries or wagering pools (this sometimes applies to casino bonuses, too) or at least 300 times the bet amount, the payer is required to withhold 24% of the winnings for taxes.
Notice how the rate remains the same? 24 is the magic number here.
If you gamble, cash out, and convert your money into fiat right away, this is all you'll have to pay. And what if you stick it out?
Capital Gain Tax Rates
Buying low and selling high means you're making a net profit. The IRS wants a cut from that – this is what is called a capital gain.
For most people, this will be around 15% – this applies within a specific earnings range, though.
Any income under $40,400 for single or $80,800 for married filing jointly or qualifying widow(er) may be taxed at 0%. There is an upper limit, too. Those who earn over $445,850 for singles or $501,600 for couples will be taxed at 20%.
There are a few other exceptions that apply here, but they don't concern cryptocurrency.
Also, keep in mind that long-term capital gains (if your investment was held for more than a year) are taxed at a lower rate than short-term gains. This is because the government wants to encourage people to invest their money, as this generally leads to economic growth.
Deducting Losses
Can you deduct your losses from the taxes you pay on gambling? Absolutely.
After all, the government wants to tax you on the income you made, not losses you suffered. And it's actually pretty simple, too:
The deductible limit for gambling losses is at the amount you won in that same taxation period.
So, if you made $5,000 gambling, you can't claim $5,500 in losses – but you can claim $5,000.
Can I Reduce My Taxes?
Nobody likes paying taxes if they can avoid it. When it comes to crypto gambling, there is one easy way to reduce your taxes:
First, go to an offshore casino. Pick a gambling site that doesn't require an ID.
Then, gamble and win.
Withdraw your earnings to your crypto wallet.
Come tax time, announce your earnings as money that you made on crypto deals, not money you earned gambling.
Easy-peasy, right? Well, we don't recommend it.
The reason is, clearly, that this is tax evasion. And if you're caught, you'll be in for a world of hurt.
The IRS is cracking down on crypto tax evaders, and they're getting better at it every day. So, unless you're willing to risk a hefty fine or even jail time, we recommend paying your taxes like a good citizen.
Plus, there are a bunch of other things that could go wrong with this plan, too:
Offshore casinos usually have a Curacao license, which isn't allowed in the US. They could get in trouble for allowing American citizens, so most reputable sites will block you from playing.
You could get scammed. There are a lot of fake casinos out there, and if you pick one of them, you could lose your money with no way to get it back.
Even if you managed to play and win without providing ID, most casinos also practice pre-withdrawal identity checks. So, you might not be able to withdraw your money at all if you lied to them – virtually all online casinos have a clause allowing them to void your winnings if you're caught cheating.
In short, it's not worth the risk. Just pay your taxes and enjoy your winnings!
Crypto Gambling Taxes in Other Countries
Not all countries tax cryptocurrency gambling like the US. In fact, taxation for gambling wins is fairly rare around the world. Let's look at the tax situation in other major countries:
Canada
In Canada, gambling income is only taxed if you're a professional player. If you're an amateur, your gambling wins are not subject to tax.
Anything you make on your crypto (buy low, sell high) is subject to capital gains tax.
UK
In the UK, your gambling winnings will also not be taxed.
Once again, there is a capital gains tax for most trading cases, including holding what you won in the hopes that the price will go up. Interestingly, Bitcoin spread betting is one way you can avoid a capital gains tax in the UK.
Australia
Australia has a very interesting tax system for gambling winnings. Your earnings are not considered taxable income even if you're a professional gambler. The logic behind it is most people lose money in casinos – Aussies lose over $24 billion per year gambling as some of the most prolific gamblers in the world.
Going back to crypto, again, there is a capital gains tax on all earnings. However, note that if you hold your coins for more than a year, you're eligible for up to a 50% reduction on your CGT.
Final Thoughts
As you can see, there is no one-size-fits-all answer to the question of how gambling winnings from cryptocurrency are taxed. It depends on the country you're in and whether you're a professional gambler or not.
The safest bet is to always consult with a tax professional in your area to get the most accurate information.
As crypto gambling taxes change and evolve, we will do our best to keep this article up-to-date. So, make sure to bookmark and share it if this topic interests you.
And, if you are an avid crypto gambler, don't forget to check out our favorite blockchain casinos of the year:
Frequently Asked Questions
Can you write off crypto gambling losses?
Yes, you can. Any loss you make on cryptocurrency gambling can be written off as a loss on your taxes. This can help offset any gains you made during the year, and lower your overall tax bill. Note that the deduction is limited to the earnings you have that year; if you don't have any other gambling income, you can't deduct the loss.
How can I avoid paying taxes on crypto legally?
Short answer: you can't, at least not completely. Some legal ways to reduce your tax bill include holding for the long term, filing taxes with your spouse, or simply living in a country with more favorable tax laws. However, these strategies will only reduce your taxes, not eliminate them entirely.
Is cashing out crypto taxable?
Yes, it is. Selling crypto for a profit is a taxable event, and you will owe taxes on the gains. The amount of tax you owe will depend on a number of factors, including how long you held the crypto.
How much taxes do I pay for cryptocurrency?
This depends on whether you hold short or long-term. Short-term gains are taxed as ordinary income, at rates up depending on your tax bracket. Long-term gains are taxed at lower rates because the government wants to encourage long-term investors.
Do gambling losses trigger an audit?
Not necessarily, but they could. However, most people don't keep a careful record of their losses, so the IRS might take a closer look if you try to deduct a large amount. It's always a good idea to keep good records and documentation in case you are audited.