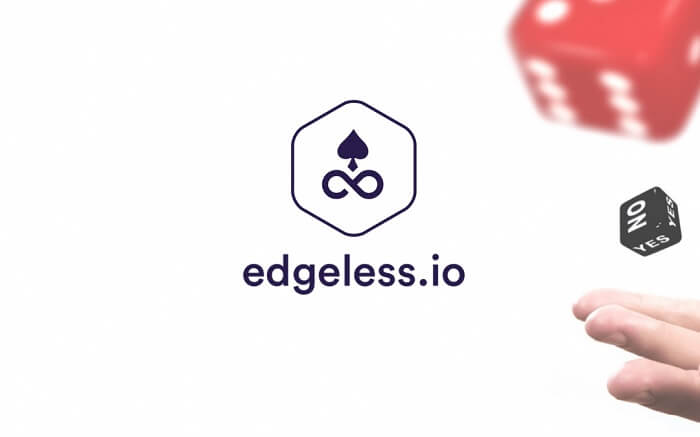 Interview with Edgeless Co-Founder Tomas Draksas
Edgeless is a blockchain based project whose goal is to offer players the chance to play on a decentralized casinos. The platform currently offers 2 fully working products: Dice and Blackjack. In order to play users have to use their native token EDG which is an Ethereum-based token (ERC20 more specifically).
They are only in the initial phase of their project and have a lot of room to grow. In an interview with CasinosBlockchain the co-founder Tomas Draksas addressed some questions regarding their current state of business and how they plan to work on their future ambitions.
1. How do you evaluate your platform from the moment it launched until now?
We launched not that long ago with only 2 games. In the upcoming weeks we will launch more games. The more games we have, the larger customer audience we can take.
2. You have secured a Curacao License. Will you be looking to obtain other well known licenses like Malta or the United Kingdom?
We have a plan to have all gambling licenses and Malta or UK licenses are no exception. We have dedicated resources to working with license related issues every day and getting them is inevitable.
3. In your website it says a sports book will be coming in Q3 of 2018. Will it be blockchain based? What can users expect from this product?
Since sport events are publicly available, trust factor is solved and it doesn't require any blockchain to maintain trust. So it's gonna be a traditional sports book, however people will be able to place bets using cryptocurrencies.
4. As things stand you are Ethereum based. Does Edgeless plan to launch its own network in the future?
No, we do believe that Ethereum blockchain will be dominant blockchain in a near future.
5. The community sees Edgeless and Funfair as competitors. There are some differences in the way both operate. Do you see Funfair as competition?
In mid 2016, Edgeless was the first online casino in the world which started working on Ethereum blockchain. Soon after that dozens of other blockchain casinos appeared. Blockchain technology solves one of the fundamental issues of online gambling industry which is a trust of the system. Everyone can trust the dealer when they see physical cards but there is no 100% perfect way to trust online casino system. In fact, there are dozens of cases when online casinos where caught implementing algorithms to change a card or a dice. Ethereum blockchain is here to change that.
For the past year Edgeless grew so great that Bloomberg stressed Edgeless as the ICO with the biggest ROI. Edgeless climbed to the Top 50 cryptocurrency list with a huge goal to decentralize the whole gambling industry but dropped soon after we started focusing on the development of our own online casino. In fact, nowadays it is almost impossible to implement blockchain technology in the whole gambling industry, because Ethereum is still a young technology which handles only 15 transactions per second (as an example, Visa processes 45000) and it uses 35 times more energy than traditional server-based technology.
In late autumn another blockchain casino player FunFair appeared with a promise to license blockchain gambling technology for every online casino provider in the world. However, there is no answer to how Funfair will implement blockchain technology in thousands of different server-based systems and how implementations will work from the technical perspective. So FunFair is a lousy player in the blockchain community without any practical implementation. We don't see them as competitors as we concentrate on a single casino and they are concentrating on a faulty dream.
6. Do you think top flight casinos look at platforms like Edgeless as a threat? Will they be forced to adopt blockchain technology in order so stay competitive?
The key differences between classical server based casino games and blockchain games is in the execution process.
In classical cases, the game is executed from a server. And for blockchain games, these are executed directly from the blockchain network. This difference gives us 3 superior features which can be used to improve games.
First of all, distributed networks contain millions of servers which are located all over the world. It becomes almost impossible to shut down the network. No government or 3rd party can influence processing in a decentralized blockchain.
Secondly decentralized application source codes become transparent for its end user. Players can easily check the back-end of an app and be sure that the product they are using is exactly what it claims to be.
Third, blockchain system allows the creation of digital assets and its ownership which was not possible before.
These 3 features lead to 2 main use cases in a game industry. The first one is transparent betting. In traditional betting the random number generation (RNG) is always done in a centralized server, which gives power to an operator to cheat against its own players. In the past the industry had many scandals of cheating operators. Secondly a large share of gambling customers don't really trust the way the cards are being shuffled. It's quite a common practice for them to write a comment like "roulette is cheating" or even write to regulators demanding deposit returns. If the game is blockchain based, that means the RNG process becomes public neither the company nor any 3rd party can influence that. So players can rest assured the operator is not cheating.
For this reason we believe top casinos see Edgeless not as a threat but as an inevitable industry change.