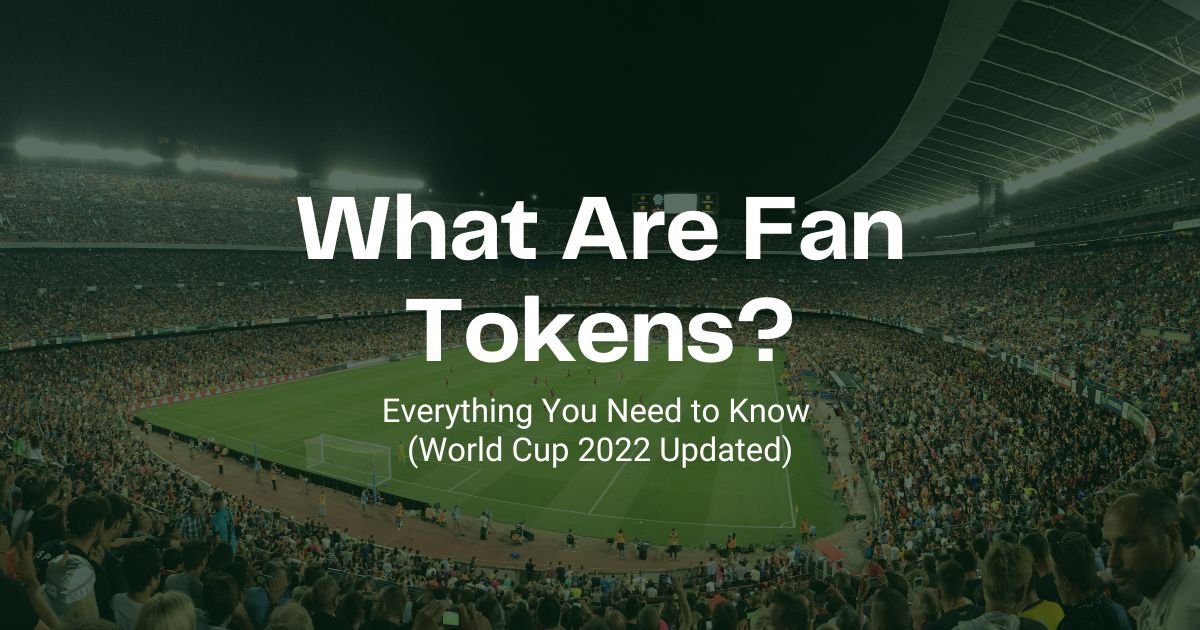 What Are Fan Tokens? Everything You Need to Know
Cryptocurrencies and sports… It might not seem like it, but they have a lot in common. Both are fast-paced, ever-changing industries – and, both enjoy millions of fans around the world.
With crypto fan tokens, the two are coming together in a new way.
Fan tokens bring us, the spectators, closer to the team than ever.
Want to decide the captain's armband message? How about picking the team bus design? Buying some crypto might be just the way to do it. And, with last year's Qatar World Cup 2022, we saw national teams actively join in on the fun, too.
No worries if you missed out on the fun – there's much more to come. Like you, many are still wondering:
How do fan tokens work?
How can you get your hands on one?
Are they even worth it?
Don't worry – we've got the answers for you. At Casinos Blockchain, we're sports enthusiasts AND crypto addicts. You bet we researched the topic through and through.
So, what are you waiting for? Let's jump straight in.
What Are Fan Tokens?
First things first:
Fan tokens are cryptos.
As a cryptocurrency, they only exist in a digital format (no physical coins for you here) AND they're built on a blockchain. So, just like Bitcoin and Ethereum, right? Almost:
Fan tokens are digital currencies that allow supporters to connect with their favorite teams. You can think of them as a fan club. If you hold the token, you can participate in activities within the club or (to be fancy with our expressions) the ecosystem.
Speaking of ecosystems
The main platform for crypto fan tokens is Socios. It has (almost) all the major teams.
Crypto fan tokens work within a fan-controlled ecosystem where you can vote, earn rewards, and access exclusive content and rewards. Some teams even started offering matchday experiences and merch through their tokens, though the Socios merch section is still under construction (more on the Socios app in a bit).
So, what kind of fan tokens can you buy? Let's break it down:
National Football
Thanks to the action-packed World Cup and Argentina's thrilling win, national teams were at the forefront of sports news – and they broke into the fan token game, too. It's still early days for national football tokens, though. Out of 211 men's national soccer teams listed by FIFA, only about five of them have fan tokens.
Right now, soccer fans can buy:
ARG from the Argentine Football Association (psst, they're also partnered with our favorite casino BC.Game)
POR for the Portugal national team
BFT for the Brazil selection
SNFT for the Spain soccer fans
FPFT for the Peruvian national team
Throughout the World Cup tournament, a number of smart investors in these fan tokens successfully "voted" on the winner. If a team stays in the competition longer, traders predict, the token price might rise as well. The more attention is on the team, the more people learn about the tokens, the larger the demand.
Even though the World Cup has come to a close, crypto aficionados are still eyeing fan tokens as a lucrative opportunity – and that was even before the cryptocurrency market started to recover. We're just coming out of a crypto winter and whether a bull market will follow is still uncertain. In these conditions, fan tokens almost feel like a safe haven. They combine the novelty and fun of fan tokens with some actual utility – and realistic potential to grow.
The World Cup saw fan tokens become more speculative and attract even non-soccer fans. So, if you're reading this article now, you're in luck:
You already know about the tokens' potential. You're still ahead of the curve. If you're looking to buy some, it's as good a time as any.
Football Clubs
Football clubs are where fan tokens got their start. Big names like Paris Saint-Germain and Juventus have active and successful fan tokens, which can be used to vote on things like the locker room quote, access exclusive content, and earn rewards.
Keep in mind that this is not a DAO or a stockholder model, so the token doesn't give you any ownership stake or voting rights in the club. Fan tokens are like a fan club, remember?
The fan token is a way to show your support for your team, and also get some perks and rewards that you wouldn't be able to get otherwise. Let's look at some real things people have gotten out of fan tokens:
Fans voted on the captain's armband for Paris Saint-Germain's Marquinhos. It read "Ici c'est Paris" – This is Paris!
Juventus aficionados picked the new goal celebration song for the team. They went for Song 2 by Blur, a 1997 smash hit and a pretty badass way to celebrate goals.
Since the Socios app sponsored the 2022 Ballon D'or Awards, a fan token holder got to be at the ceremony. For this one, everyone on the Socios platform could participate to win.
The list goes on and on – but, as you can see, it's mostly fun fan things, not major decisions like player acquisition. Still, it's exciting, right? For once, fans have the vote!
eSports
So far, we've only covered soccer fan tokens in depth. Sure, they were the first to experiment with cryptocurrency (along with Portugal. The Man, but more on that in a bit). But, football fans aren't the only ones that can benefit from fan tokens – the eSports universe is increasingly embracing them, too.
Right now, there are seven major teams with eSports fan tokens:
Endpoint CeX
NAVI
OG Esports
Team Heretics
Team Vitality
Made in Brazil
eSports teams have also been some of the most active on the Socios app.
NAVI recently introduced a limited-edition T-shirt that you can only buy with their fan token. Team Heretics has fans vote on their new scarf.
And (this is our favorite, by the way), fans can even choose the full Alliance roster for the upcoming season! This is a major decision they're leaving in the hands of their supporters. Frankly, we doubt non-eSports athletes could ever afford to do the same – but hey, this is the type of innovation we expect from top gaming teams and they definitely don't disappoint.
Psst! If you want to learn more about eSports, we have a full guide on Bitcoin eSports betting sites on it!
Formula 1, UFC, and Beyond
As fan tokens grow in popularity, we expect more sports to join in the fun.
The Socios app got contracts with major football clubs, but now Binance is also in the sports token game with a roster of its own. Since soccer was pretty much covered already, they had to branch out. So, they listed the Alpine F1® Team Fan Token, along with some teams that didn't have a Socios token, yet.
But, Socios isn't sleeping, either. They have a roster of 150+ partners, including:
Fighting tokens like the Professional Fighters League and the Ultimate Fighting Championship (UFC fan tokens galore).
Basketball champions like the Chicago Bulls, LA Lakers, and New York Knicks.
American football teams like the Patriots, the Dolphins, and even Tom Brady's Buccaneers.
… and more!
Fan Tokens Outside of Sports?
While fan tokens (so far) have largely been focused on the sports industry, there is no reason that the same concept couldn't be used for other forms of entertainment.
For example, a movie studio could create a fan token that could be used to purchase movie tickets or raffle for a walk-on role in an upcoming film. Or, a band could make a token for merchandise and fan experiences.
Oh, wait, the latter has already been done.
Grammy-award-winning band Portugal. the Man were the first to launch a fan token outside of sports.
They debuted their $PTM token in January of 2021, amidst the devastating consequences COVID-19 has had on the music industry. The $PTM token gets you exclusive access to a members-only audio archive, plus a bunch of other benefits – even text and video chats with the members of the band themselves.
We're excited to see if other entertainment industries start to follow suit and launch their own fan tokens. So far, football seems to be leading the way – but we think it's only a matter of time until other sectors start to embrace this new type of fan engagement.
Fan Tokens During the World Cup 2022 in Qatar
The FIFA World Cup 2022 is set to be a historic event – in more ways than one.
This year marks a bunch of firsts for the tournament: it's the first time the World Cup will be held in the Arab world, the first time in November and December, and the first time that the event has an official crypto-related sponsor (marketplace Crypto.com).
This is also the first time national teams have their own official fan tokens.
Remember how we told you buying these tokens = "betting" on the team to do well in the World Cup? Well, it already is happening.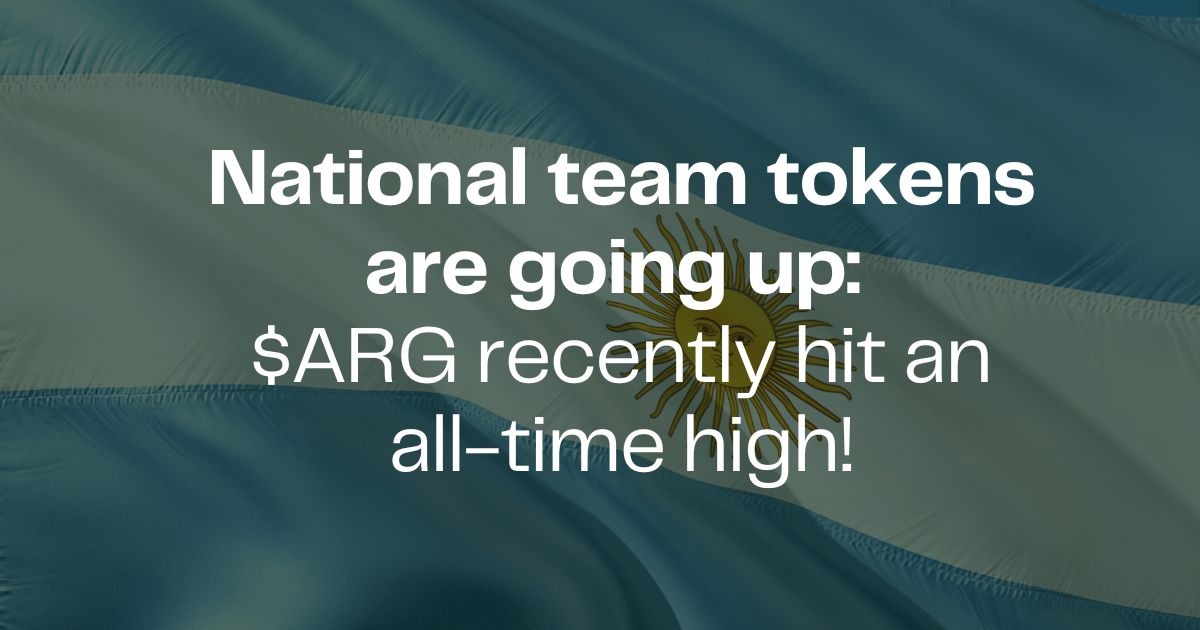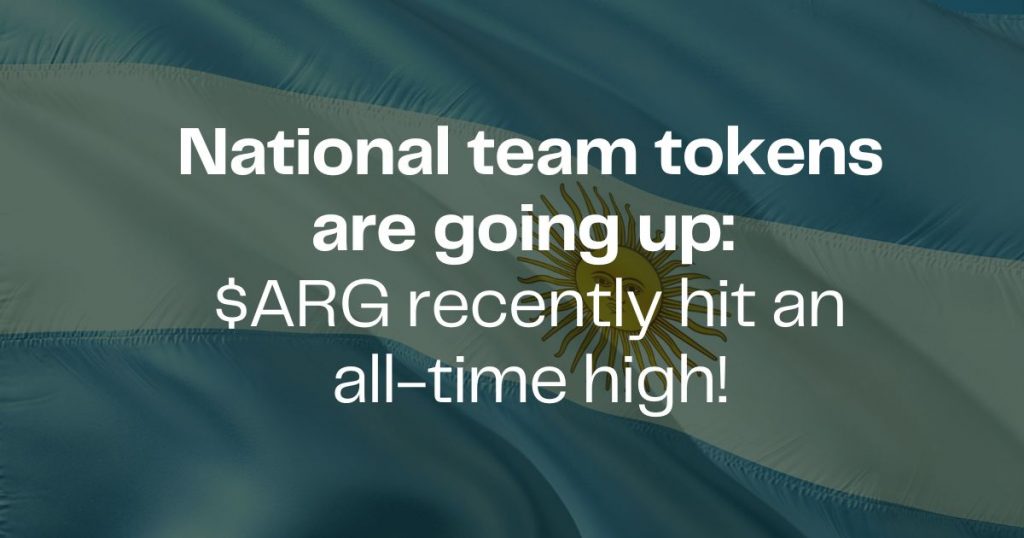 As the World Cup took place, the prices of national fan tokens surged. $ARG (Argentina's national token) reached a record high of $9.15 in early October, but all others grew, too. Unsurprisingly, Brazil and Argentina's coins grew the most – and both teams were among the favorites to win the World Cup (Sorry, Brazil).
One thing we know for sure, the World Cup was a major event not just for football, but for the world of cryptocurrencies, too.
How to Buy Fan Tokens?
If you're anything like us, you're already pumped for the next exciting tournaments and leagues, and are ready to buy some fan tokens. Here's a quick guide on how to do just that:
First, you pick out which token you want to buy. As we mentioned before, some national teams have their own token, and so do most major clubs.
Then, you find where that token is traded. Usually, that would be the Socios platform, but not always. You can also buy select tokens on Binance. There's a table below to help you out.
Once you're on the right platform, it's time to buy the token.
– For Socios, you first need to get Chiliz ($CHZ), the platform's native token. Then, you use $CHZ to buy the fan token of your choice.
– On Binance, you can buy fan tokens with regular ol' cryptocurrencies like Bitcoin ($BTC) and Ethereum ($ETH).
And that's it! You're now a proud owner of a fan token.
But what do you do with it? This is, once again, where the Socios platform comes in. With your fan token, you can vote in club polls, access exclusive merchandise, and even get rewards from the club itself. You can find all these activities in the app or on the Socios website.
But, a word of warning:
Creating a crypto is super simple these days. All you need is to copy a few lines of code from GitHub and then deploy them on your blockchain of choice. If you do it on the Binance Smart Chain, it costs less than $2 on gas fees to have your own token up and running.
You know what that means, right? There are a ton of projects out there that will happily take your money in exchange for a useless token. So, before you buy a fan token (or any other crypto, for that matter), do your due diligence and make sure the project is legit and affiliated with the organization.
Buying through Socios or Binance is a good way to do that because both platforms are very selective about the projects they let on.
On the flip side, if they're only available on decentralized exchanges like Pancake Swap or Uniswap, that's a red flag.
Anyone can list on these exchanges, and there's no guarantee that you'll get your money back if the project turns out to be a scam.
And this brings me to the final question:
Are Fan Tokens a Good Investment?
Let's be brutally honest here:
Some people buy crypto because they believe in the project. Some people only buy it to make money.
The world of crypto is speculative – and I'd be lying if I told you I haven't bought into projects simply to speculate on the price. Honesty first, right?
Well, it's no different with fan tokens. Some will buy them to support their favorite team. But, if you're a crypto enthusiast, fan tokens still might be right for you.
The price of a fan token is often linked to the success of the team.
If the team does well, the price will go up. If the team does poorly, the price will go down.
This is fairly simplistic, of course, but performance in competitions is still a solid predictor of the price for fan tokens.
So, if you believe in a team, buying their fan token is a way to show your support. And, if the team does well, you might make some money, too.
🤔 Option two: you don't really care about the teams.
This is where the Binance FOOTBALL index comes in. It's a weighted index of the top football fan tokens on the Binance exchange. Unlike individual tokens, it tends to move with the interest in fan tokens, not individual team performance.
So, if you're interested in investing in fan tokens but don't have a favorite team, this option might be a good way to dip your toes in the market. If you think it has a future that is (we do, but this is not financial advice).
In general, fan tokens are a good investment if:
You are bullish on the future of crypto.
You believe in a particular team.
You think that the fan token market (as a whole) has a future.
Do you want to do even deeper research into them? Twitter user @rektfencer made a Google Spreadsheet with all existing fan tokens – and where you can find them:
Ultimately, there is a risk involved in any crypto trading. Or any trading, for that matter.
We're a casino and sports betting review site, so we're no strangers to risk. If you're not ready to jump into the crypto market just yet, a more "traditional" sportsbook can also help you put money on your favorite team.
These are our favorite sportsbooks to bet on the World Cup with crypto:
Final Thoughts
When it comes to fandom and its digital future, there's more to it than just the World Cup. The global entertainment industry is ripe for a makeover, and that's where blockchain comes in. As more teams, more sports, and more people outside of sports realize the potential of crypto, there's a lot to be excited about.
We, for one, are thrilled!