Review Process
To kick things off, let's talk about our comprehensive review process for crypto casinos and sportsbooks. It's a systematic approach that ensures we provide you with a detailed evaluation of these platforms.
Here's a brief overview of our typical process:
We sign up with a casino or sportsbook using either our personal email addresses or temporary ones.
Next, we thoroughly explore the website to evaluate mobile responsiveness and user-friendliness.
We make real money deposits to test out different crypto games and sports events.
We delve into the fine print within the terms and conditions. What are the wagering requirements? Does the platform have KYC? How private is your data? We try to find out this and more.
Plus, we make sure to have a chat with customer support for a well-rounded view.
However, when it comes to crypto casinos, games, and sportsbooks, our testing process gets a bit more specialized.
So, let's dive into the specifics.
How We Review Crypto Casinos
After thoroughly exploring each of the steps outlined above, we take several more steps and report back to give potential players comprehensive insight into each casino we assess.
So, what does our extended casino review process look like?
1. We Check Licensing and Regulation
First and foremost, we investigate each platform's licensing and legal standing. We look for seals of approval from well-known licensing bodies like the Curaçao Gaming Control Board or the Malta Gaming Authority.
Even though a license isn't necessary for a casino to be considered trustworthy, having one is a huge green flag in our books. It means the site has ticked all the boxes that make it safe for players and accountable if any issues arise.
2. We Look at Game Selection
What is a crypto casino without an excellent selection of games? Unsuccesful, for one. We're suckers for detail in this department, which is why we painstakingly investigate each and every category of games offered by the casinos we review.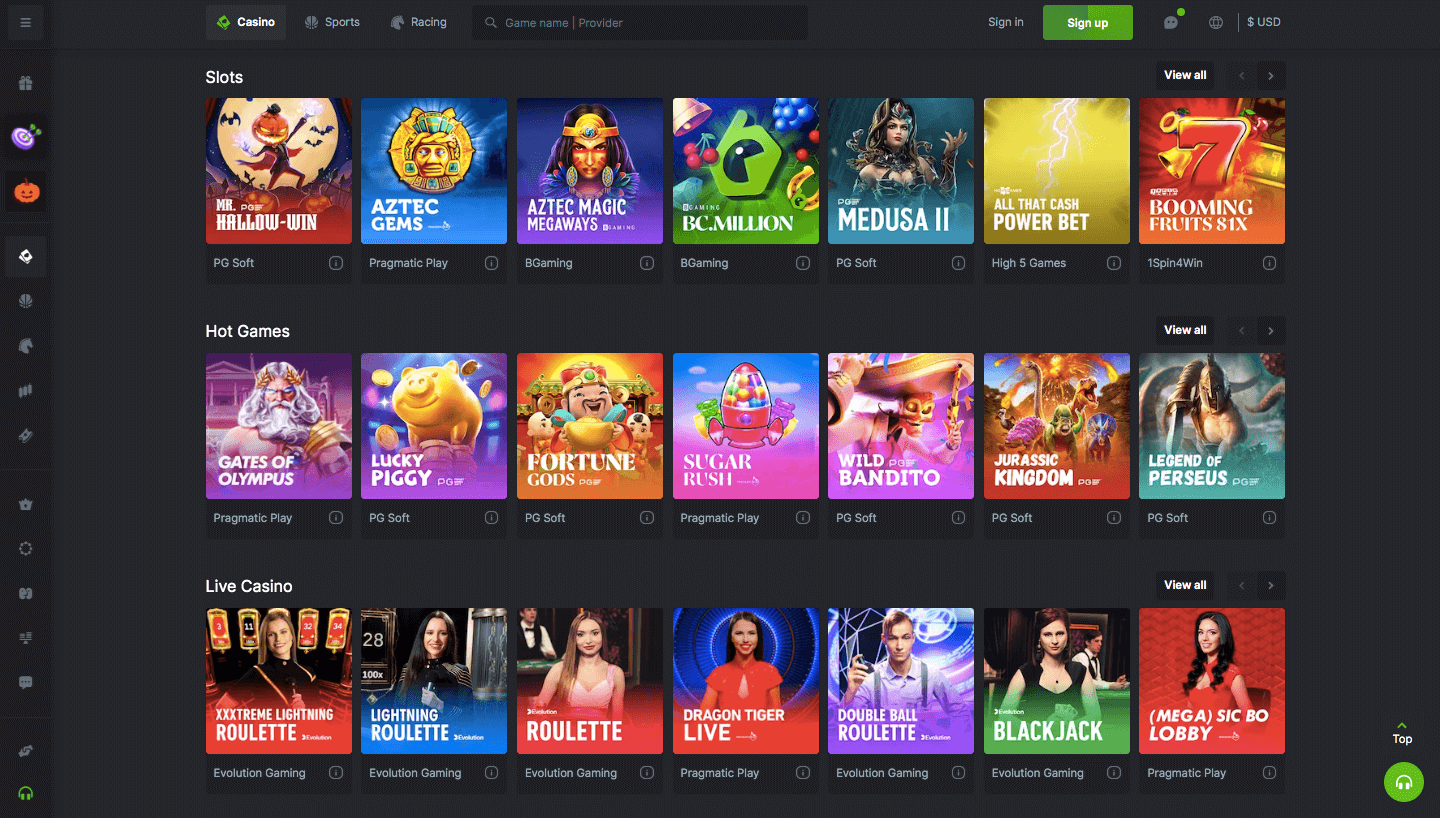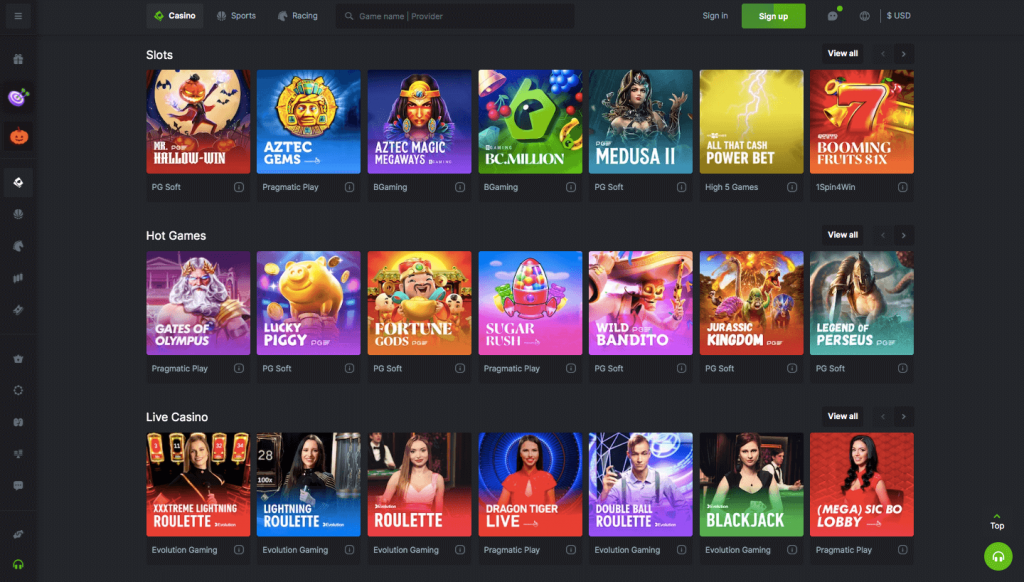 From slots to blackjack and specialty games like Crash and Plinko, we like to see them all. We ask questions like:
What providers does the casino have in its portfolio?
Are there provably fair games available?
Does the casino have any in-house games?
Are the RTPs profitable?
Overall, our goal is to give you a clear idea of what you're signing up for in the games department. We also have a specific game testing process, which we'll unpack in a bit.
3. We Investigate Payment Methods
You already know that we personally make deposits and withdrawals at each casino we review. But with some casinos offering hundreds of different cryptos, it's impossible to test each currency.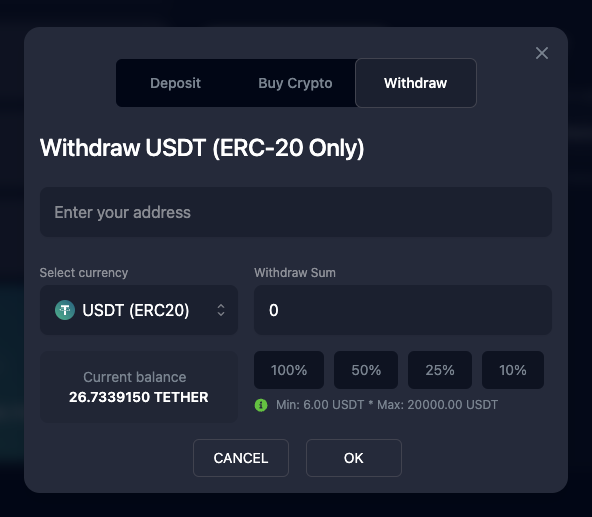 To make sure we don't send you into any blind spots, we scour the web to identify any history of payment issues and payout problems associated with the casino we're assessing.
We also look at the limits and potential fees for each method and make alternative recommendations if we find a limit to be unprofitable for players, or hear tell of slow payments in a particular currency.
4. We Check out Bonuses
We know what you're after! Bonuses are the lifeblood of any crypto casino. The more generous, the higher we rate the casino. But it's not just about who offers the biggest bonus.
Some seemingly huge offers come with disguised limits and terms and conditions that make it difficult to meet wagering requirements. To make sure you know exactly what you're getting into, we take a deep dive into the fine print and bring you all the need-to-know info.
Sometimes, it's the smaller no deposit bonuses like free spins that give you the most bang for your buck.
In any case, we make it our business to give you all the details you need to maximize your profits using the promos on whichever platform you fancy. We also compare the best deals offered by the top brands to give you options.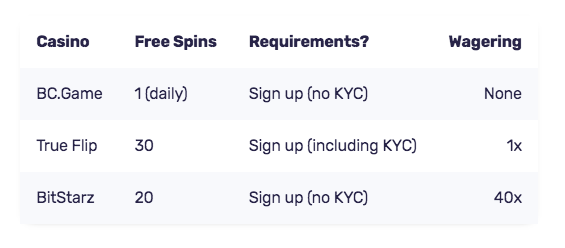 5. We Look into Security
We'd never recommend a site we wouldn't personally play at. And, we don't play at unsafe casinos, period. Before signing up at any casino, we check out what kind of casino security protocols it's running and how it protects user data.
We also read the terms and conditions to see how user data is utilized and protected on the platform. We're all about privacy, so you can be sure that we don't bother reviewing casinos that don't keep data secure.
---
Now that we've covered our casino review process, let's look into how we assess sportsbooks as well!
How We Review Crypto Sportsbooks
Our assessment of crypto sportsbooks builds upon the core steps we follow in our general review process, but it extends even further.
1. We Sign Up With a Bookie
To start, we create accounts and thoroughly explore the platform's user interface, with a keen eye on mobile responsiveness and overall UX-friendliness. This ensures that the platform is accessible and enjoyable for bettors across the board.
Here's an example of Stake's lobby both on mobile and desktop: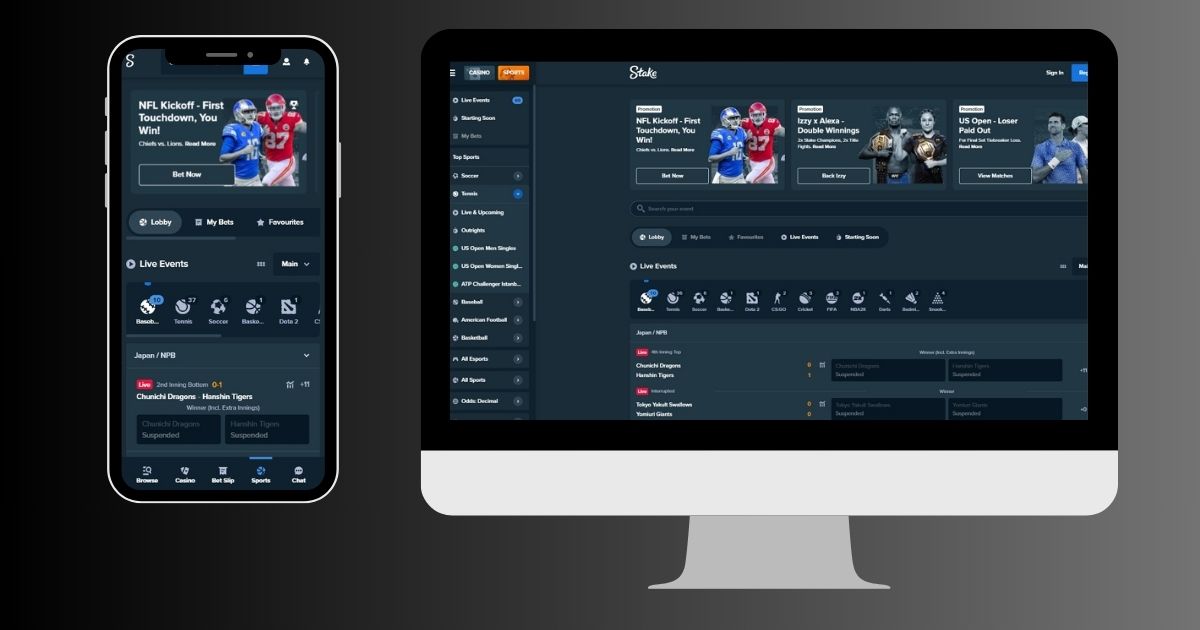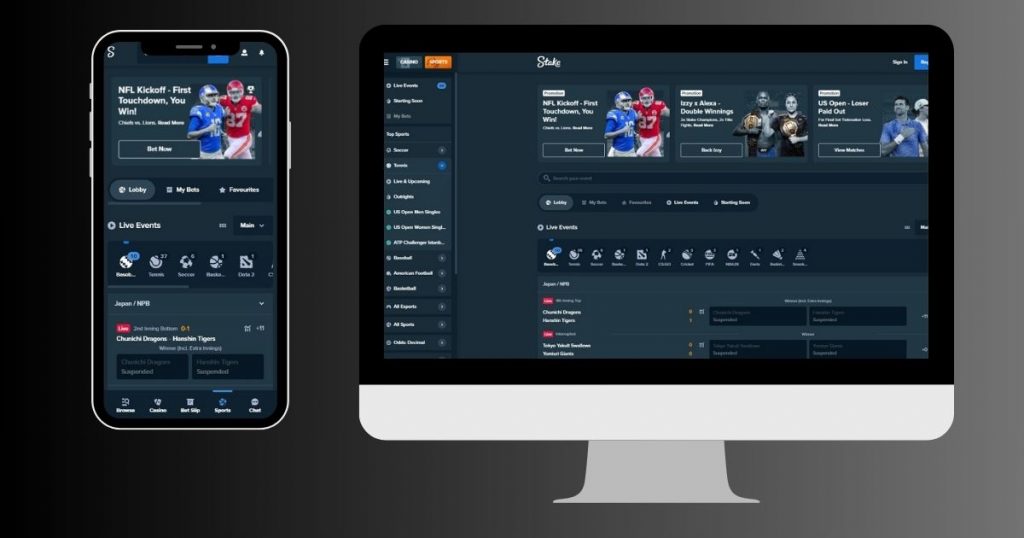 But here's where it gets interesting: we don't just stop at the basics.
2. We Analyze the Betting Markets
We also dig deep into the specific sports and eSports games and betting markets offered by each platform.
We examine the range of options available to users, allowing us to evaluate the platform's diversity and appeal.
Furthermore, we examine the types of bets available, from standard moneylines and spreads to more intricate options like parlays and prop bets.
We believe that understanding the full spectrum of betting types is crucial for bettors, so we provide you with insights into these options.
3. We Compare the Odds
Another significant aspect of our sportsbook reviews is the odds comparison. We spend considerable time analyzing the odds provided for various sporting events and markets.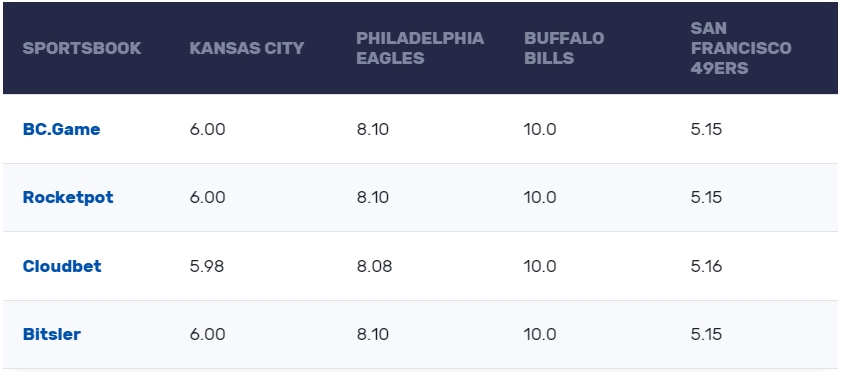 This meticulous approach helps us determine if a sportsbook offers competitive odds, providing an edge for bettors.
Not to mention, we take a close look at bookie's house edge and how much they take commission from the bets.
4. We Dive Into Bonuses and Promotions
What's more, we delve into the promotional landscape with a fine-tooth comb. This includes exploring free bets and promotions offered by the sportsbook.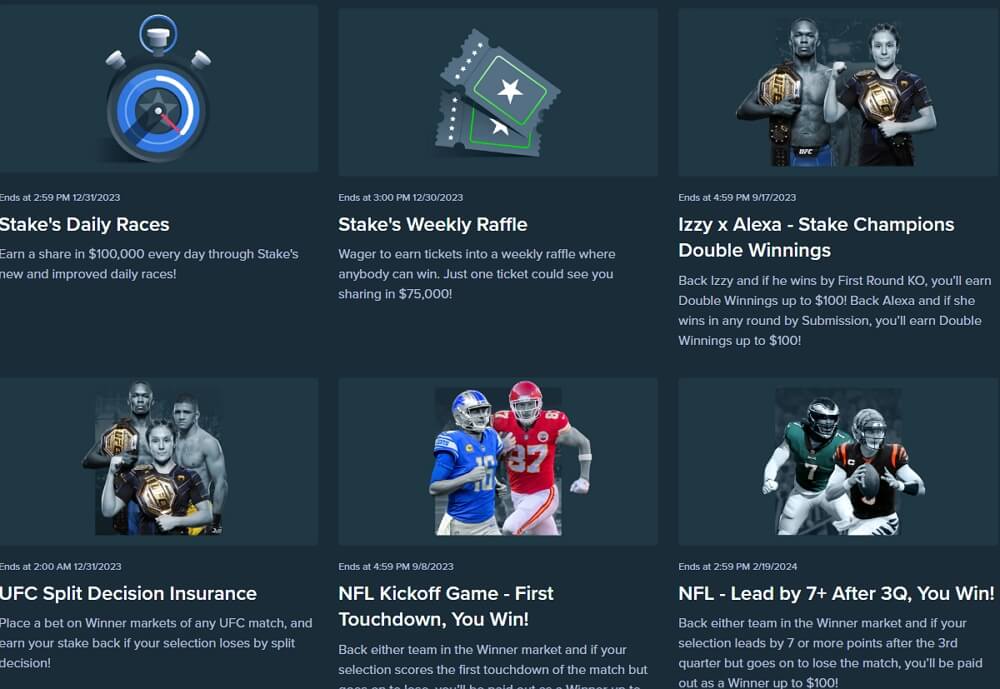 We assess the value and accessibility of these promotions, helping you understand how these platforms reward their users.
We also dive into the rollover requirements, ensuring you're well-informed about any conditions attached to these bonuses.

We try to leave no stone unturned and provide you with the most accurate data.
How We Test Casino Games
At Casinos Blockchain, we believe in the power of collaboration and thorough exploration when it comes to testing and reviewing casino games.
Here's how we put that belief into action:
We Gather the Team: The More the Merrier
We're strong advocates for the idea that gathering a wide range of opinions enriches our reviews. In this spirit, we never test games alone. Even though one person writes our casino game reviews, the findings and opinions expressed are the result of a collaborative effort. Yes, we have fun here too! After a shed pile of testing, we come together to discuss our findings – and leave the rest up to our talented writers. When all is said and done, we get to bring you an unbiased and thorough game review.
We Explore Game Features
Before we share our ideas, we dive into the nitty gritty features of each game. At any casino, a variety of providers guarantees a rich assortment of game features just waiting to be explored – and we take that seriously. Adjusting bet amounts, trying out scripts, changing volatility – it's all in a day's work. We put each game through its paces to look for possible player pain points. In the end, we're able to effectively get you up to speed with what to embrace and what to avoid while playing any given game.
We Try Out Bonuses for Each Game
What's the point in claiming a bonus if you can't use it on your favorite game? We investigate how easy it is to rake in a profit using bonus money on all of the games we put through the wringer. If the bonus isn't up to scratch, you'll be the first to know. We also make sure to note how much each game contributes to fulfilling wagering requirements. Ever wonder why games like slots give a full 100%, while poker and blackjack can contribute as low as 5-10%? We've got your back with all those details.
We Consider Potential Profit
It should come as no surprise that there's no way to guarantee you come out with a profit playing any casino game. Luck is always a factor. But we try our best to give you a solid idea of how much you can expect to make in the long run. How do we do that, exactly? We look at the Return-to-Player percentage, consider volatility and risk, as well as casino-imposed limits on win amounts. In the end, we can give you a pretty good idea of whether you can win big or alternatively make a loss.
---
And voila! That's how we check the boxes to make sure we always deliver unbiased and thorough casino game reviews.
How Do We Fact Check?
The accuracy of the information we provide is of utmost importance to us. To ensure that, we have a dedicated fact-checker in place, who meticulously verifies data related to both casinos and sports content, leaving no room for error.
The fact-checking process is a crucial aspect of our service, aimed at delivering reliable and trustworthy information.
Our commitment to accuracy involves cross-referencing data from multiple sources, verifying the legitimacy of casinos and sportsbooks, and confirming the fairness of games and betting markets.
Conclusion
And there you have it – our process on how we evaluate crypto casinos and bookies.
Our mission is clear: to empower you with knowledge for the best decisions in the world of crypto casinos and sportsbooks. Your confidence in your betting choices is our ultimate goal.
As you explore the thrilling world of crypto gambling, rely on our reviews as your trusted guide.
Want to know more about who we are? Check out our About Us page.