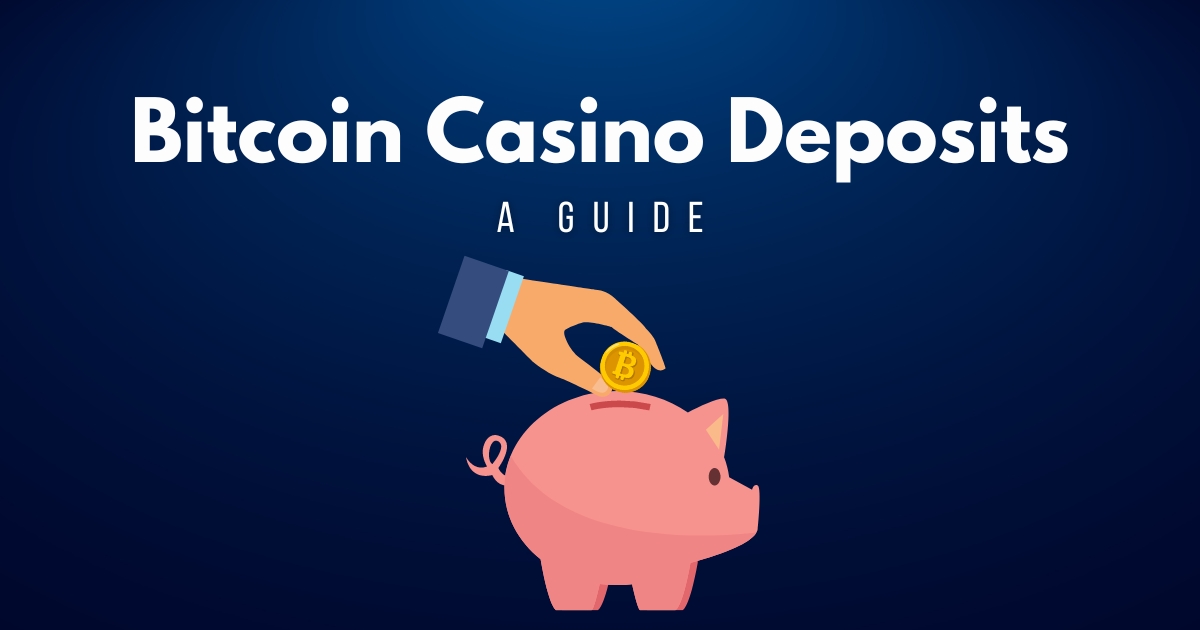 How to Make a Bitcoin Casino Deposit in 5 Easy Steps [2023]
The thrill of slots, the anticipation of Crash, and generous bonuses to boot. There's a lot to look forward to at Bitcoin casino sites. But before you can enjoy anything that the best BTC casinos have to offer, you'll need to sort out the matter of your bankroll.
That's where a Bitcoin casino deposit comes into play. You need to fund your casino gaming experience, after all, and there are a few different ways to do so.
By the end of this guide, you'll be ready to make your first Bitcoin deposit, and confront any issues along the way.
Let's go!
Depositing With a Wallet
Bitcoin wallets are probably the most popular method of depositing at your favorite BTC casino. Why?
Transactions are usually instant
Fees are low or nonexistent
No third-party institutions can track your deposit
A Bitcoin wallet is a device used to send, receive, and store Bitcoins.
Now that you're up to speed with what a BTC wallet is and how it works, let's move on to how exactly you'd go about depositing using your wallet. It's quite simple really, and you can accomplish the task in 5 easy steps:
Head over to your casino's 'Wallet' or 'Cashier' section, and select 'Bitcoin' as your preferred deposit currency.
You'll then be provided with a unique deposit address, which you can either copy-paste into your wallet or scan as a QR code.
Enter the amount of BTC you'd like to add to your casino account, and hit 'Send'.
Be sure to accept any generous deposit match bonuses on the way (keeping rollover requirements in mind).
Wait for your tokens to land in your bankroll.
That's all there is to it!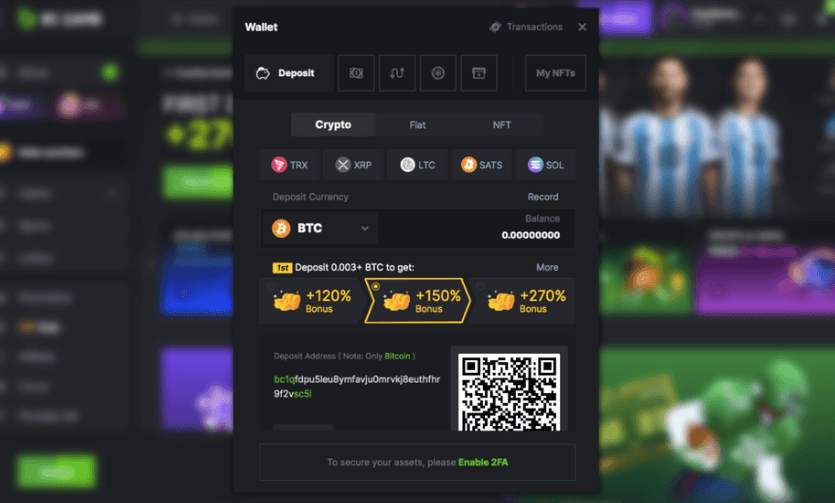 Different Bitcoin Wallets
Don't have a crypto wallet yet? No problem.
When choosing the perfect Bitcoin wallet, you're certainly not short on options. Some of our favorite contenders include:
We spent hours testing each of them, and detailed our findings in our list of the best Bitcoin wallets for online gambling.
Using an On-Site Exchange
Did you know that you can also make a crypto casino deposit with a credit card? Some sites, like BC.Game, have an on-site exchange where you can buy BTC using your preferred payment method and currency.
How exactly does this work? BC.Game, like several other Bitcoin casinos, has a partnership with Moonpay and Banxa, which allows them to facilitate fiat deposits in exchange for BTC. Once you make your purchase, your tokens will land in your casino account.
In most cases, the deposit will take between a few minutes and an hour. Either way, it's a fuss-free method and perfect if you'd rather not bother with a Bitcoin wallet.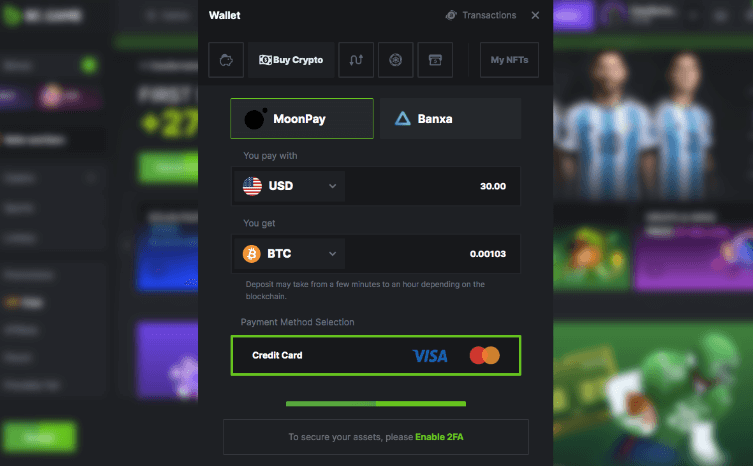 Using Third-Party Exchanges
Like we said, BC.Game isn't the only Bitcoin casino with an on-site exchange. You're likely to come across other sites with this feature, and different exchange platform partners.
If you're thinking of taking this route, you'll be happy to know that you're not limited to Bitcoin casino deposits with a credit card. You can purchase your crypto with an on-site exchange using:
Apple Pay
Google Pay
Debit card
Google Pay
But like traditional fiat casino transfers, exchange partners come with strings attached. For example, MoonPay charges a fee of 4.5% or $3.99 per transfer (whichever is higher). You're also responsible for paying any Bitcoin-related network fees.
Common Bitcoin Casino Deposit Problems
Although the best BTC casinos go the extra mile to make depositing as simple as possible, there are some common issues you may run into. We're going to address each one of them and explain how to deal with them.
Lengthy Wait
Sometimes you'll end up waiting longer for your deposit to reflect than you anticipated. Usually, this happens wchen you use a credit card to buy BTC on an on-site exchange, but it's not unheard of in the case of wallet deposits. So what can you do?
Contact customer services via live chat or email. The former is usually faster, so it pays to choose a BTC casino with a live chat feature.
KYC
Most Bitcoin gambling sites only hit you with KYC upon withdrawal. However, there are a select few that request KYC (Know-Your-Customer) documentation before you're able to deposit. KYC requests usually call for you to submit some form of ID and proof of address. So how do you avoid this?
Choose an anonymous Bitcoin casino that doesn't ask for KYC upon deposit or withdrawal.
Bite the bullet and submit your KYC.
Restricted Country
Casino licenses go a long way in guaranteeing a casino's safety and reliability. On the other side of the coin, they can prevent you from depositing and playing at a Bitcoin casino if you're playing from a restricted country.
And don't think you can just spoof your location with a VPN, either.
This could get you banned and stop you from withdrawing your hard-earned funds. So what can you do here?
Sign up at a reputable, decentralized casino (Dapp).
Choose a casino with a license that doesn't restrict you from playing.
Final Thoughts
Phew, you made it! You're pretty much ready to make your first Bitcoin casino deposit, and navigate any potential obstacles in your way.
Whether you go the Bitcoin wallet route or take advantage of on-site exchanges, one thing is guaranteed – you'll successfully top up your bankroll and enjoy all the fun that a BTC casino has to offer.
Before you go, be sure to check out our top 3 casinos that facilitate fuss-free deposits in record time:
Frequently Asked Questions
Can I make a Bitcoin casino deposit with credit card?
Yes, as long as you make use of a reliable on-site exchange, such as the one offered by BC.Game.
How long do BTC casino deposits take?
Depending on whether you use your BTC wallet or an on-site exchange, your deposit will usually reflect between 1 minute and 1 hour - if there are no obstacles in the way.