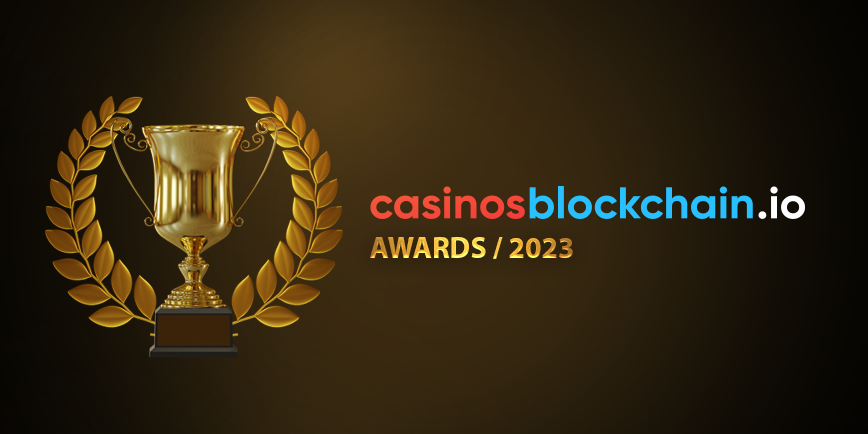 Blockchain Casino Awards 2023 – Criteria Revealed!
Oh, boy. It's that time of the year again!
It seems like just yesterday when we started Blockchain Casino Awards – our little project where we reward the best in the world of online gambling.
With so many new crypto casinos around, we believe it's only fair to promote those that excel in innovation, encourage fair gambling, and offer plenty of cool features.
And the best part? We have plenty of awards to give!
We made a ton of award categories, and developed unique criteria for each one of them.
Moreover, we also have even more nominees, all of which have been tested through and through by our team of dedicated gambling experts.
However, before we get to the fun part, let's quickly go over how the rating works and how exactly we'll determine the winners.
How Rating Works
Before we started rating any casinos, the first thing we did was create multiple categories. Then, we pictured an ideal casino for each category and used that as our criteria.
To rank the casinos and determine the winners, we relied on the sound ol' point system and attributed a point value to each criterion. Based on the relevance and significance of the criterion, each aspect carries anywhere between 2 to 20 points.
An important thing to note is that the nominees can either receive the total amount of points or none for any of the given criteria.
For example, let's say that, hypothetically, processing transactions in three or more relevant coins, excluding Bitcoin, is worth 15 points.
The casino that allows payments in Bitcoin, Ethereum, Dogecoin, Litecoin, and Tether will receive 15 points. However, if the casino accepts payments in Ethereum, Litecoin, and other lesser-known coins, it will receive 0 points for said criterion.
The rest is pretty straightforward. We summed up the results and awarded the casinos that came out on top.
What happens in case of a tie, you wonder?
In that case, we awarded all the casinos tied for first place with the award for the category where they ranked first.
Note that while we tried to remain impartial and as objective as possible, certain things, such as the point value for criterion, are still subjective and what we believe is relevant for a top-tier casino.
At the same time, keep in mind that we only considered the casinos we reviewed previously and ones we are familiar with – we can confidently say that we checked what each of the casinos has to offer first-hand.
So, without further ado, let's check out our categories and relevant nominees.
Best Blockchain Casino
Each shortlisted nominee must check several boxes to win the Best Blockchain Casino Award. The winning casino:
Has provably fair games.
Offers rewarding welcome bonuses and juicy recurring promotions.
Features live casino, table, and jackpot games from top-tier casino providers and a good selection of sports betting markets.
Supports payments in at least three significant altcoins in addition to Bitcoin.
Includes a VIP program and, more importantly, how good and rewarding the program is.
It has integrated crypto payments, allowing you to buy crypto directly on the site or make bets now from an e-wallet.
Easy and fast payment and withdrawal procedures.
Simple registration without any unnecessary steps.
Of course, we also paid close attention to the negatives and included a few penalizing criteria, one of which is for intrusive KYC procedures. At the same time, we also took a closer look at withdrawal fees and whether the casino charges a flat or a percentage-based fee.
We're proud to present our nominees for the Best Blockchain Casino Award:
Best Crypto Sportsbook
The Best Crypto Sportsbook Award is reserved for gambling sites that have a sportsbook where you can bet on sports with crypto.
For this award, the ideal casino:
Offers a variety of betting markets, including traditional sports, eSports, and virtual sports.
Includes both pre-match bets as well as in-play markets.
Offers welcome bonuses and promotions tied to sports betting.
Has features like cash-out and live-streaming, and the accessibility and quality of live streaming.
Whether the casino and the sportsbook are licensed.
User-friendly interface, allowing players to navigate the site and place bets easily.
A mobile app or a mobile-responsive website designed for players who bet on mobile devices.
Knowledgeable and fast-to-respond customer service.
Social features like player's chat.
Withdrawal speed and low or no transaction fees.
With all this in mind, we narrowed our choices down to a few nominees, and they are:
Best User Experience
Even though the Best User Experience Award criteria are fairly similar to the Best Blockchain Casino category, the casinos shortlisted for this award particularly excel in a few niche areas.
Seamless website navigation.
Mobile compatibility.
Ease of registration.
In addition, we also awarded extra points to casinos that:
Offer fuss-free and speedy withdrawals.
Have social features like the winner's feed and player's chat.
Feature round-the-clock customer support.
Have an excellent community reputation on platforms like AskGamblers and BitcoinTalk.
Of course, since our main focus in this category was on the best user experience, we also made sure to take away points for intrusive KYC and high payment fees, much more so than we did for other categories.
Our nominees for the Best User Experience Award are:
Best Crypto Games
In this category, we looked at casinos with the biggest and most diverse portfolio of casino games. So naturally, we paid particular attention to casinos that integrate blockchain technology into game development.
We also looked out for provably fair games or games crypto-inspired games like Crash.
First things first, we focused on the following:
Game selection—the crypto casino should have a variety of different types of casino games available, such as live dealer games, table games, and an extensive collection of video slots from top-tier providers.
Game fairness—the quality and the number of available provably fair games and whether the casino has RNG certificates from reputable testing laboratories to ensure all the results are random and fair.
Innovation—the casino should have a collection of innovative games or exclusive titles. We also gave extra points to those that have games built in-house.
Of course, we considered plenty more aspects for this category:
Game features and bonuses, such as jackpots.
The overall quality of the games.
Sound quality and the animation of the available games.
Ease of gameplay and overall performance and responsiveness of the games.
Casino rankings, according to our review grades.
Nominees for the Best Crypto Games Award are:
Player's Choice Award
Instead of rating the casinos ourselves for this category, we asked you, the players, to vote for your favorites. To do that, we created a poll on the Bitcointalk forum, made a post on Reddit, and conducted a survey on our website.
We also paid close attention to all the mentions and how active the discussion was around each casino and added extra points for casinos that received positive impressions and feedback.
At the same time, we also scoured the web for player reviews and comments and gave additional points to casinos based on their rankings on websites like AskGamblers and TrustPilot, just so we could get a better idea of how the players perceive some of the best crypto casinos out there and what is it the community likes about them.
Nominees for the Player's Choice Award are:
Best Crypto Casino Operator
This year, we decided to give away a few extra awards, one of which is for the Best Crypto Casino Operator category. In this selection, we focused on casino operators that offer the best service, operate top-notch crypto casinos, and the practices they apply in each of the casinos they run.
To determine the best crypto casino operator, we put a strong emphasis on the following:
Security—the casino operator should focus on user security and use the latest technology to protect user funds and personal information.
Licensing and regulation—the casino operator should have a license issued by a reputable governing authority.
Fairness—the casino operator should use provably fair technology and have certificates of fairness from reputable testing laboratories to ensure all the results are random and fair.
Additionally, we also made sure the casino operator ticks all the boxes and offers crypto sites that have:
An excellent game selection of diverse and engaging titles, including live dealer games, table games, slots, and much more.
A mobile-responsive website or a downloadable app.
Knowledgeable and speedy customer support that is easy to reach and available around the clock.
A good reputation within the crypto community and a proven track record of providing reliable services to its player base.
Innovative features—we gave extra points to operators that continuously seek to improve their game portfolio and user experience by adding new games, technologies, and features.
Nominees for the Best Crypto Casino Operator Award are:
TTM BV
Reinvent Ltd
S.G. International N.V.
Dama N.V.
Best Mobile Crypto Casino
In this category, we focused on casinos that provide a remarkable experience for players who prefer playing on their smartphones by having either a mobile-responsive website or a downloadable mobile app.
Here are the criteria we used to determine the best mobile crypto casino:
User interface—a snappy site that is easy to navigate, especially on handheld devices.
Game selection—a myriad of games, including live dealer games, table games, and a wide selection of video slots.
Fairness—the casino should have provably fair games and an RNG certificate to ensure all the results are random and fair.
Welcome bonuses to attract new players and promotions to incentivize players to continue playing.
Customer support that is easy to get a hold of, knowledgeable, and fast to resolve any potential issues.
Reputation—the casino should have an excellent reputation in the community and a track record of providing fair and reliable service to its users.
Nominees for the Best Mobile Crypto Casino Award are:
Best New Crypto Casino
The Best New Crypto Casino Award is reserved for crypto casinos that launched within the last three years. In addition, the casino should also fulfill all the expectations we have of a first-rate casino.
Innovation—the new crypto casino should have new features or a new design that sets it apart from the rest of the casinos on the market.
Game selection—despite being new, the casino should offer a wide array of high-quality casino games, including live dealer games, table games, slots, and more.
Fairness—the casino should have certificates of fairness or use provably fair technology to ensure the outcome of each game is fair.
Security—the casino should place a high emphasis on protecting player funds and user data.
Customer support—the casino should have a customer support team that can resolve issues quickly and efficiently or help with any user questions.
Bonuses and promotions—the casino should offer rewarding welcome bonuses and regular promotions with low wagering requirements.
Mobile compatibility—a new crypto casino should cater to all its players and have a mobile-friendly website design or a downloadable app for iOS and Android.
The nominees for the Best New Crypto Casino Award are:
The Results?
We've been hard at work testing, grading, and re-testing our nominees to bring you the most accurate and dependable results. Stay tuned and keep checking our page for the outcome!