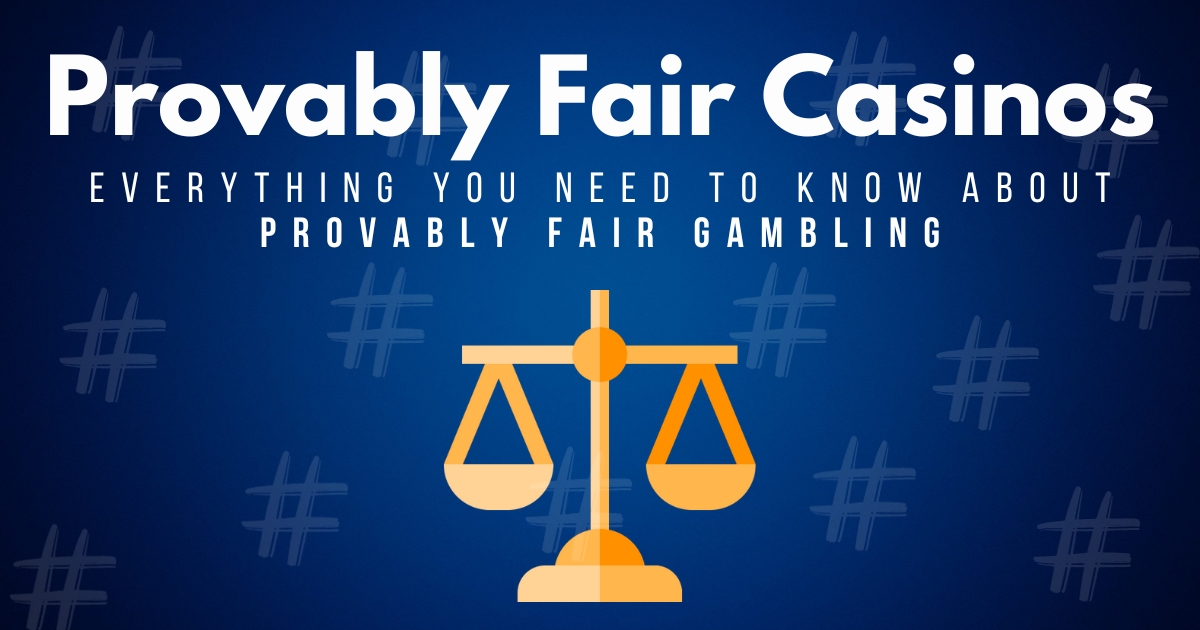 Provably Fair Casinos – The Ultimate Guide to Provably Fair Gambling
Provably fair casinos have revolutionized online gambling. The concept removes even the tiniest possibility of a rigged result.
With provably fair games, you can verify the authenticity of each bet you place. This means the casino can't manipulate the outcome because the result is verifiable.
Provably fair games are available at a growing number of online casinos. But how do they work? What are the best providers? How do you check the randomness?
We're here to explain it all – in simple words, so you don't have to be a tech wiz to understand it.
Read on to learn about:
The best provably fair casinos in 2023
The two types of provably fair games
Why provable fairness is growing in popularity (and why you should embrace that)
How to check provably fair game results
But, if you already know that stuff, we'll cut to the chase. Here is our list of provably fair crypto casinos that we love and trust:
Best Provably Fair Casinos
In a pinch for time? We won't keep you waiting.
Here are our top picks for the best provably fair gambling sites:
What Is a Provably Fair Casino?
Provably fair casinos are online gambling providers that offer verifiably random games.
These casinos use cryptographic algorithms to generate random numbers, which ensures that the games cannot be rigged.
Provably fair casinos allow players to verify the fairness of each game using a cryptographic hash function. The house edge (often impressively low) and the RTP are also pre-defined.
Before we dive deeper into what this verification entails, let's look at provably fair and traditional casinos side-to-side:
| | | |
| --- | --- | --- |
| | Provably Fair Casinos | Traditional Casinos |
| Random outcomes? | Yes | Yes |
| Algorithm visible? | Yes | No |
| Randomness verifiable? | Yes, all outcomes are on the public ledger. | No, because the casino algorithm is private. |
| Games available | In-house exclusives like Crash and Plinko | Most online casino games |
| Popularity | Growing | High |
Now that you've got a solid idea of the concept of provably fair casinos, let's move on to what makes them that way – the games!
Provably Fair Casino Games
As crypto gambling grows, so does the interest in provably fair games.
Empowering gamblers
Provably fair means you can check if the game result was random.
Imagine you are playing a slot or a blackjack game at a traditional online casino.
How do you the game's algorithm isn't rigged to cheat you? The short answer is: you can't.
As a player, you have no other choice but trust the casino operator.
This is where provably fair games can make a huge difference. With this technology, you have tools to check if the game's outcome was truly fair. We'll cover how the checking process works later on.
The Best Provably Fair Casinos: Unpacked
You've already seen our top provably fair crypto casino picks. All of them:
✔️ Offer a selection of provably fair games.
✔️ Provide an excellent casino experience overall – not just in provable fairness, but when it comes to UX, customer support, and easy payouts.
Now, let's unpack what makes each of them so deserving of their podium positions, starting with our favorite choice:
1. Stake Casino 🥇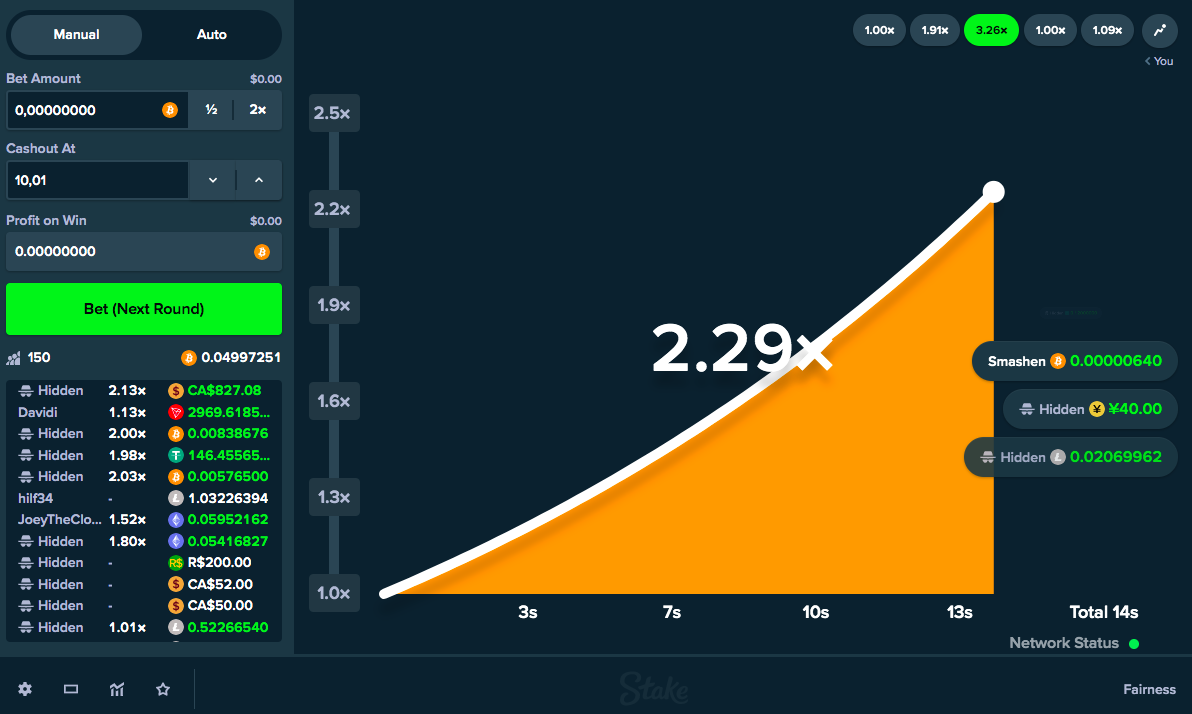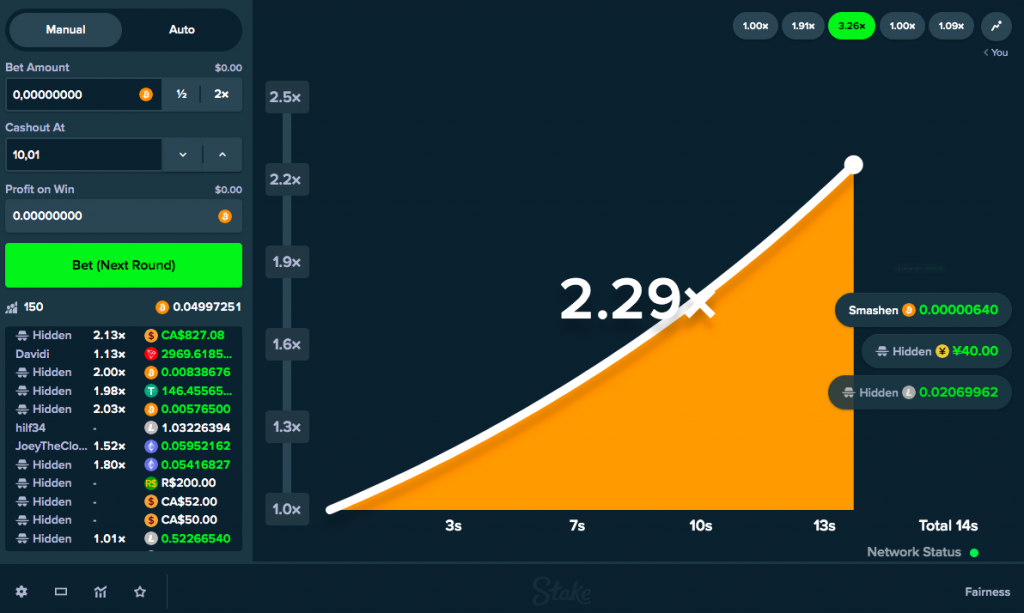 Pros & Cons
18 original, provably fair games available
Excellent reputation in the crypto casino industry
Active player chat and thriving community
$100k Daily Race promotion
❌ KYC may be required upon withdrawal
Overview
Stake is, without a doubt, the best provably fair crypto casino in 2023. When you take into account the selection of 18 in-house, provably fair games and the Stake Casino's commitment to transparency, it's easy to see why.
Let's start off by zooming in on Stake's 100% fair game selection: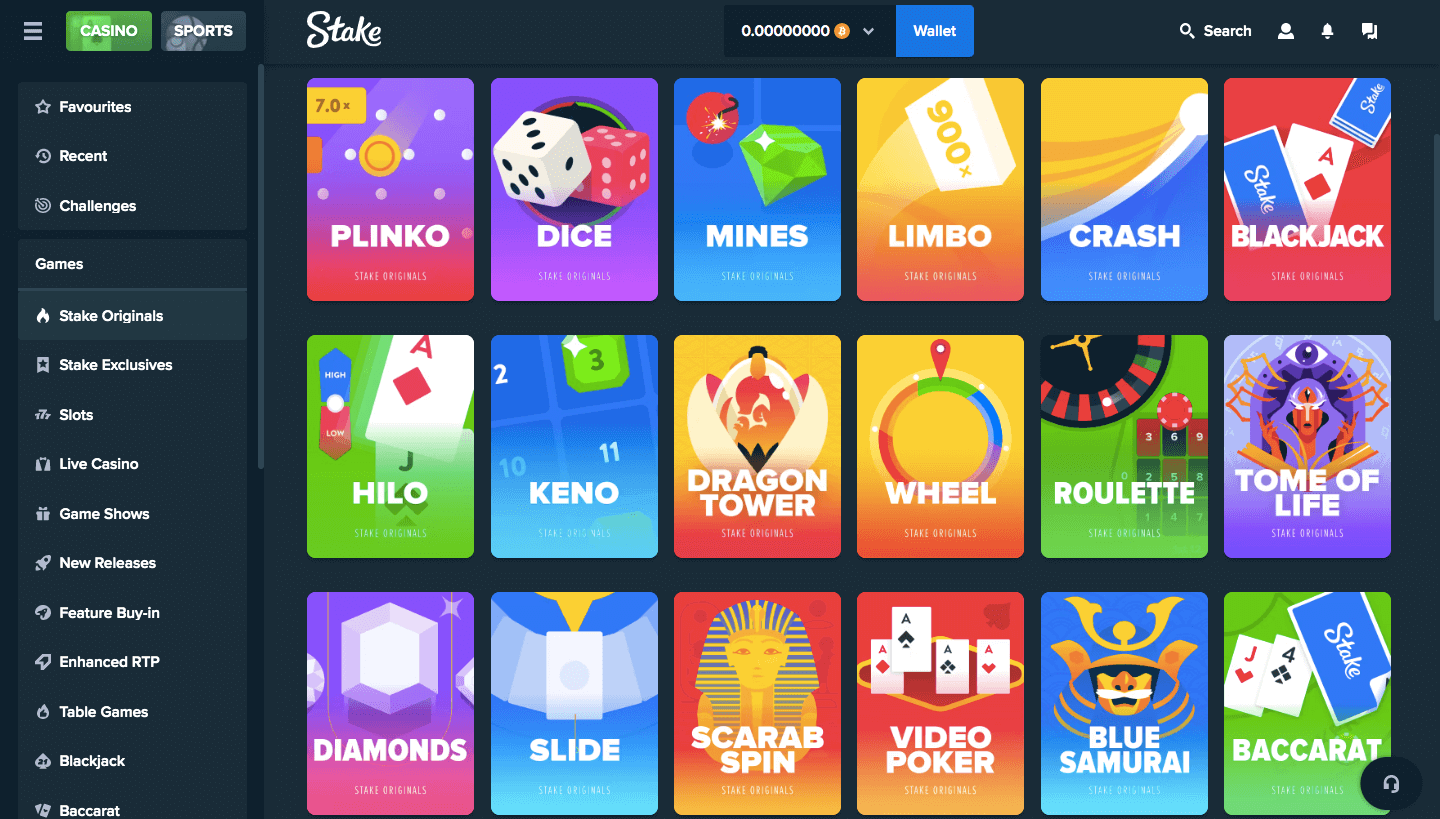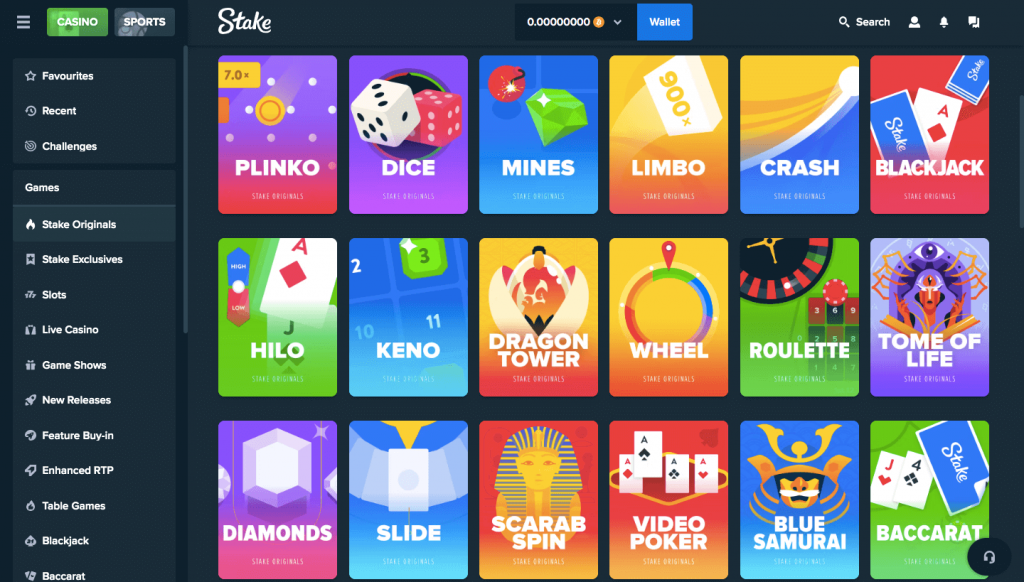 Stake's selection of provably fair mini-games, or 'specialty games' as we like to call them, caters to beginners and pros alike.
Card games like BTC poker and baccarat are perfect for seasoned players, whereas luck games like dice, limbo, and Crash are best for a quick spot of fun.
Stake even has provably fair crypto slots! This is quite rare, so hats off to Stake for this feat.
In each of these games, you'll have all the tools you need to verify the fairness of each round outcome – guaranteeing a 100% fair and tamperproof gambling experience.
Want some more good news? You can enjoy high RTPs ranging from 97% all the way up to 99%!
Jump into your first round of provably fair fun at Stake Casino by signing up here:
2. BC.Game Casino 🥈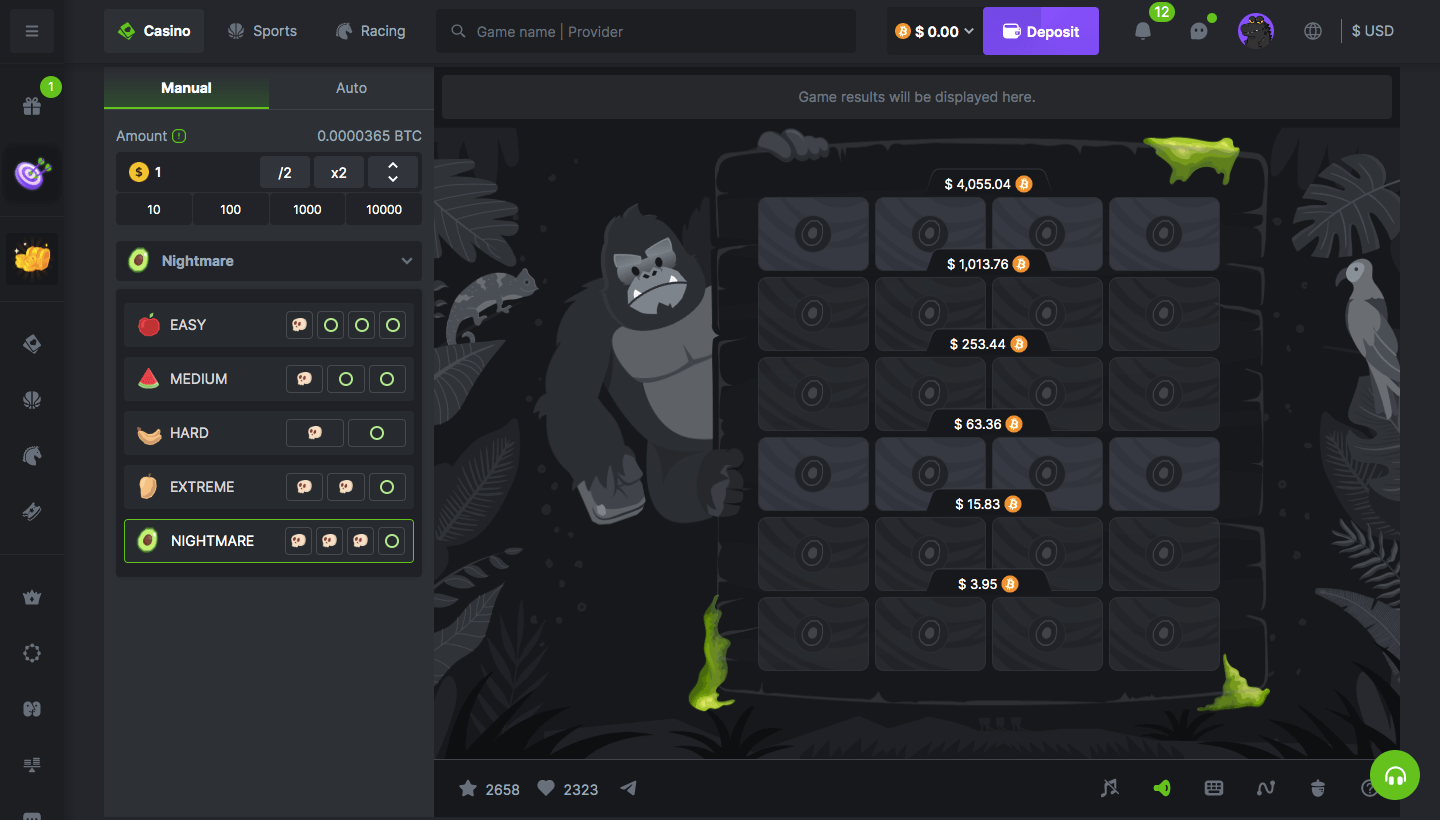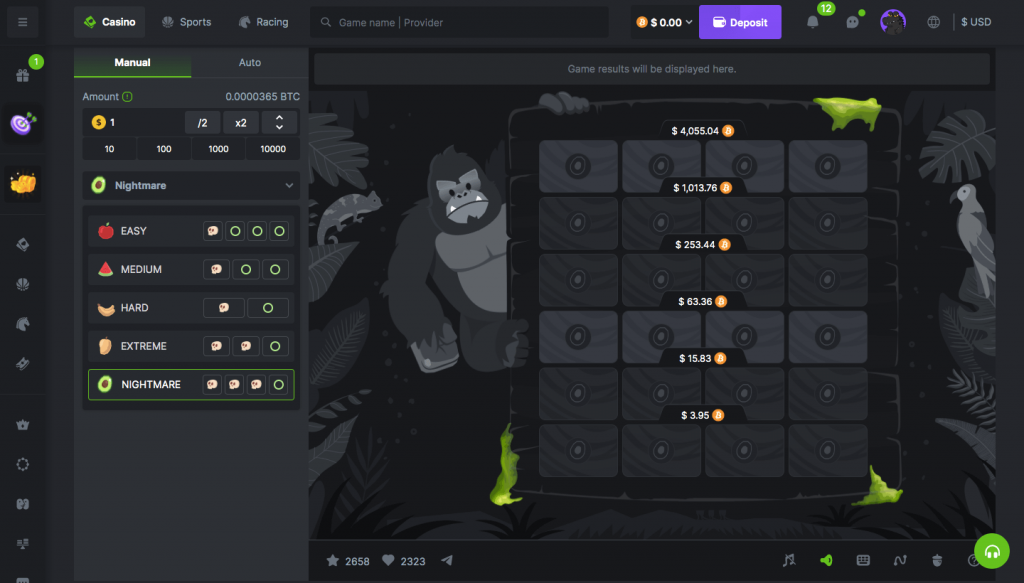 Fast Facts
Established: 2017
License: Curaçao
Best for: Provably fair game variety
Pros & Cons
30 in-house, provably fair games available
Provably fair live blackjack games
Stellar security standards upheld
❌ KYC may be required upon withdrawal
Coming in hot in second place, BC.Game Casino is a veritable provably fair powerhouse. The site boasts 30 original and provably fair titles.
Just to be clear, that's 12 more than Stake Casino. If this is the case, then why did we rank BC.Game second and not first?
We just can't ignore Stake's excellent reputation and standing in the community, which guarantees it the top podium position in our books.
That's not to say that BC.Game isn't trustworthy. Its top-tier Bitcoin casino security standards and huge selection of provably fair games should stand testament to how reputable it actually is.
Now that that's out of the way, let's look at BC.Game's selection of fair games: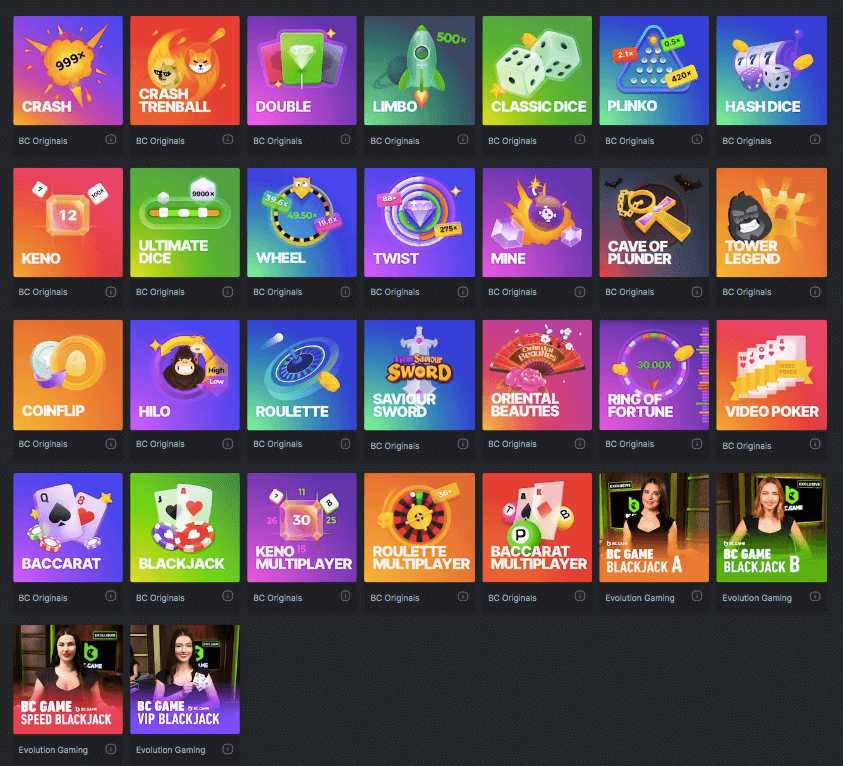 We spent a lot of time (definitely too much) testing these titles, and managed to settle on a few favorites:
Cave of Plunder
Tower Legend
Limbo
Dice
More of a live casino fan? Don't worry, BC.Game has recently added a selection of 4 provably fair live blackjack variants for you to try!
Can't wait to get in on the fun? Don't let us stop you!
3. Cloudbet Casino 🥉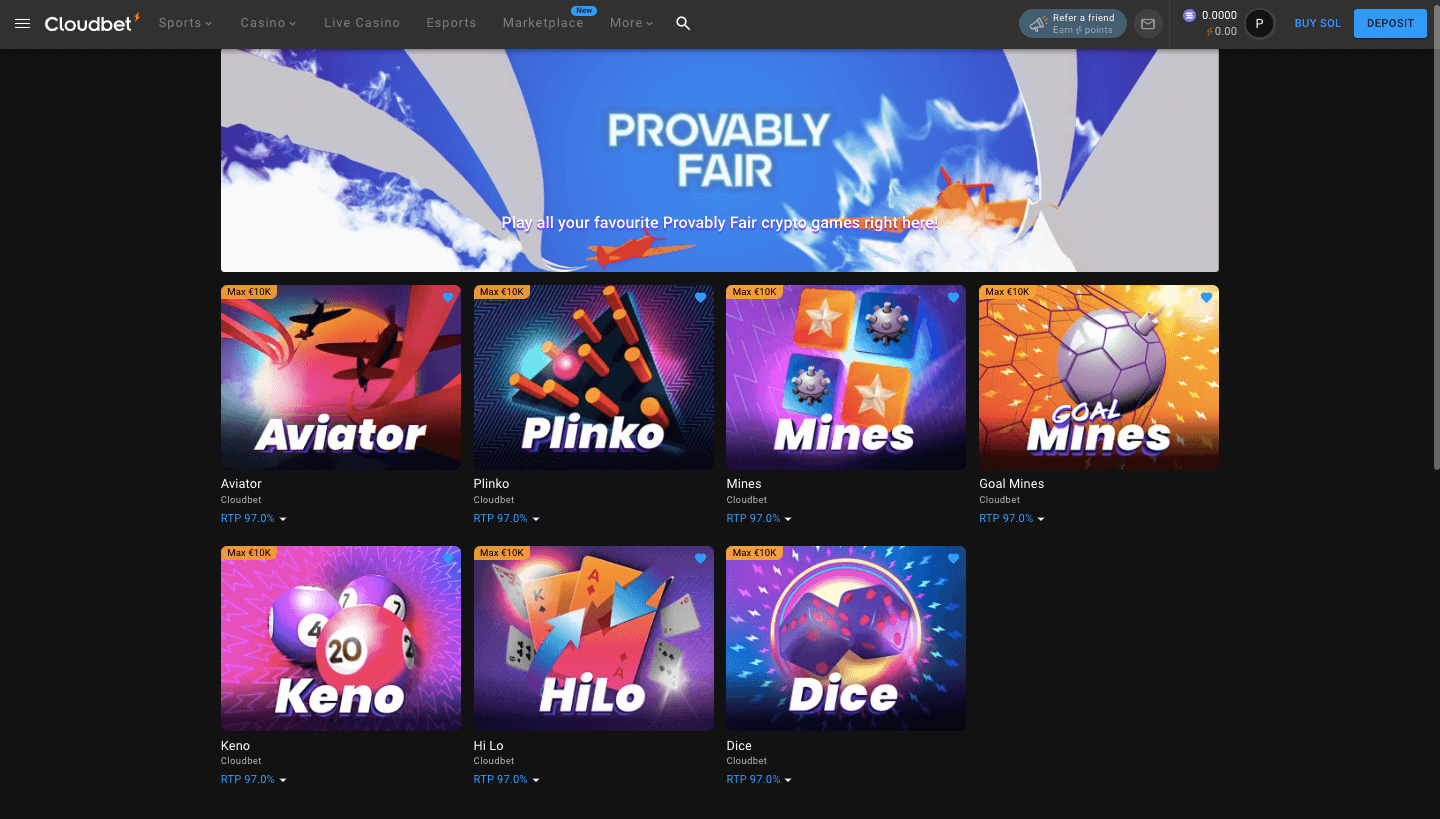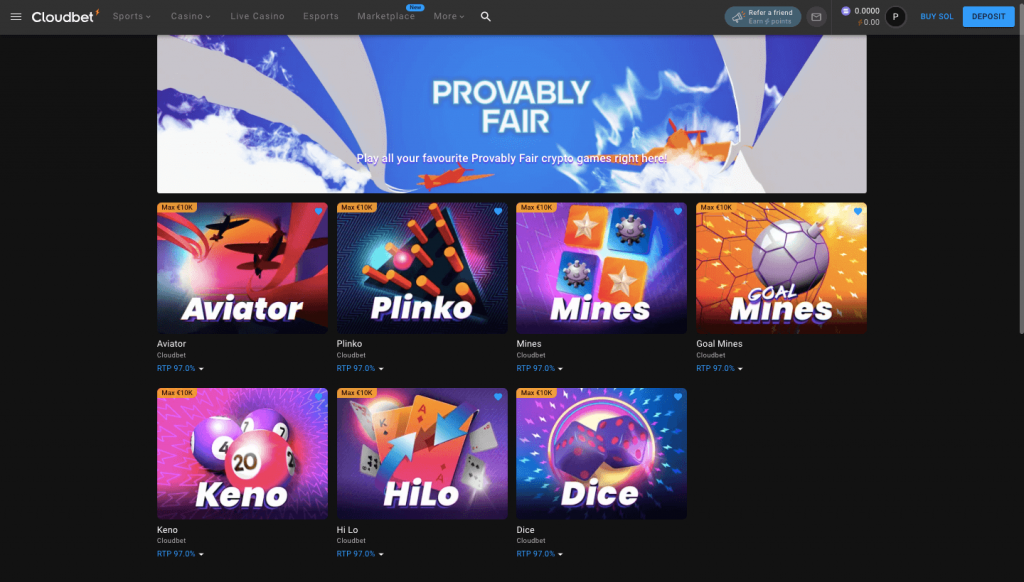 Pros & Cons
8 provably fair games available
Sports betting powerhouse
5 BTC welcome bonus up for grabs
❌ Smaller selection of fair titles
❌ No in-house games available
Overview
Cloudbet is a great choice for those who want to bet on sports as well as play provably fair casino games. It's one of the oldest crypto casinos in the game (established in 2013), yet it's constantly improving its platform and adding new features.
Cloudbet's provably fair casino games include 8 crowd-pleasers like minesweeper, dice, and more. However, the casino's house edges are slightly higher than Stake and BC.Game, though, which is why the casino ranks third.
In addition, the casino technically doesn't have any in-house games. All of Cloudbet's provably fair titles are powered by Spribe. Nevertheless, you can still easily verify the results of all of them.
Our favorite Cloudbet provably fair game?
Plinko! It's a fan-favorite title at Cloudbet, and it's easy to understand why! Simple graphics, smooth interface, and customizable features for the win.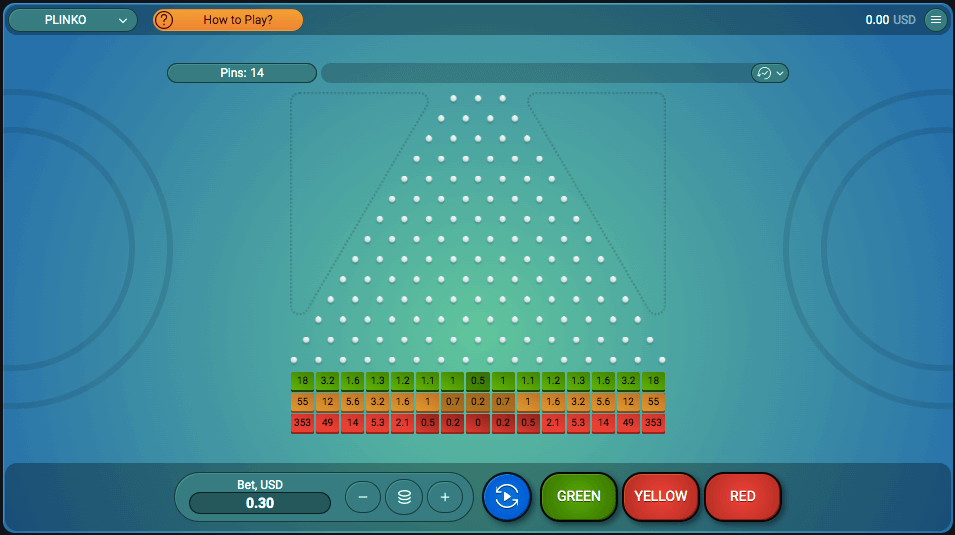 And, for the pièce de résistance, don't forget about the illustrious Cloudbet welcome bonus, which comprises a 100% deposit match up to 5 BTC!
Keen to put your luck to the test and enjoy all foolproof results at Cloudbet? You can start your journey here:
TL;DR?
Want to cut straight to the chase?
We'll lay down all the facts to help you compare our top 3 provably fair picks:
Stake
BC.Game
Cloudbet

Provably Fair Games?

Stake

18

BC.Game

30

Cloudbet

7

In-House?

Stake

✅

BC.Game

✅

Cloudbet

❌

Welcome Bonus?

Stake

None

BC.Game

Up to $18,630

Cloudbet

Up to 5 BTC

Best for?

Stake

Reputation

BC.Game

Game Variety

Cloudbet

Bonuses
Random Number Generation: The Key to Provable Fairness
To have a truly fair casino game you need the outcome to be random.
Imagine you're rolling a dice:
The number you get, 1-6, is completely random. You have a 1:6 chance of getting 1, a 1:6 chance of getting 2, and so forth.
This applies to every roll. Just because you threw a two on the last round doesn't mean you can't do it again. The chance remains 1:6 and neither you, nor the casino, knows what the outcome will be.
The physical dice roll is random by design. Unless you use crooked dice, there is no way to manipulate the outcome.
But what about online casinos? How do they decide the outcome of your dice roll?
One thing is for sure – there is no hidden casino employee that rolls a dice every time you play a dice game. Instead, the casino uses a random number generation (RNG) equation to calculate the outcome.
Random number generation (RNG) equations use values of entropy (chaos) like the micro-movements of your mouse to generate a random string of numbers. Blockchain technology offers new ways to ensure RNG. You can learn more about blockchain casino RNG in our dedicated article.
Companies and regulators responsible for licensing casinos evaluate the equipment's RNG mechanism or the online casino's server. The difference with provably fair casinos is you, as a player, can also verify the random outcome.
How Does It Work?
As a casino creator, you can build games on top of a blockchain, granting transparency and immutability to the way the game operates. This takes advantage of the distributed ledger technology – the same one that allows you to trust transactions even without a centralized institution:
If the game is not built on the blockchain, it can still be provably fair.
For instance, if the code is open-source, you can proactively check it and make sure there is no manipulation. Verification tools can help you check provable fairness for a specific result.
Here is how that would work:
You need a random number to determine a game's outcome.
Whether you're playing dice, slots, or blackjack, the casino needs a random number to figure out the result of the game.
From the player side, a client seed is generated.
This is the first step of random number generation. Your computer's hardware generates a client seed. It's displayed as a hash (e.g.: 4b02asd9l8cocacrl119sp0x33497a) because it's encrypted against intruders.
The casino generates a server seed.
That comes from the game server side and it's unique and non-forgeable (thanks to blockchain technology.)
The casino uses the server seed and client seed to generate a random number.
This random number determines the outcome of the game.
Once the game is over, you can see your client seed.
Now that you know your seed, you can use that to figure out the server seed.
You can input the seed in a calculator and it should return a hash.
There is only one possible hash, based on your client seed. If it matches the server seed hash, the game wasn't rigged. Any changes mid-game would result in the hashes not matching.
How Do I Verify Game Outcomes?
Most casinos with provably fair games have their own verification methods and tutorials. At their core, they boil down to checking the randomness for yourself. But how exactly do you do that? We'll show you:
First, we should make the distinction between crypto casinos and blockchain casinos:
Cryptocurrency casinos accept crypto as a method of payment. We've talked about the best Bitcoin casinos, top Ethereum sites, and other altcoins extensively throughout our reviews.
Blockchain casinos are based on blockchain technology. Usually, these are Dapps (decentralized apps).
FYI: Just because a casino accepts Bitcoin, it doesn't automatically mean it uses blockchain technology in its games.
For example, you can gamble with 65+ cryptos at BC.Game and they don't take fiat payments. However, the casino is still not built on the blockchain – it's a crypto casino, not a blockchain one.
Now here's the catch:
Both blockchain and non-blockchain casinos can be provably fair.

The difference is how you check provable fairness. If the casino and its games are assembled with blockchain technology, they can be provably fair by design. On the other hand, you can verify the randomness with non-blockchain casinos by checking the specific round.
How does that work? Here's a step-by-step:
Provably Fair Games That Are Not On The Blockchain
Provably fair verification processes can vary across casinos.
Let's check out a simple example – BC.Game's Classic Dice:
The classic dice game results are calculated like this:
BC.Game uses the client seed and server seed to calculate a hash.
This gives them a 64-character string in hexadecimals.
They take eight characters of the string and convert it into an int32 value.
An int32 value means they have 32 bits to store the number.
Then, BC.Game modifies the number.
They divide the value by 0x100000000, multiply it by 10001 and divide it by 100.
This returns a dice number which determines the game outcome.
In short, BC.Game takes two random numbers, runs them through an algorithm, and returns a new number, which determines the game outcome.
To verify the fairness when you're playing dice, first find the seed: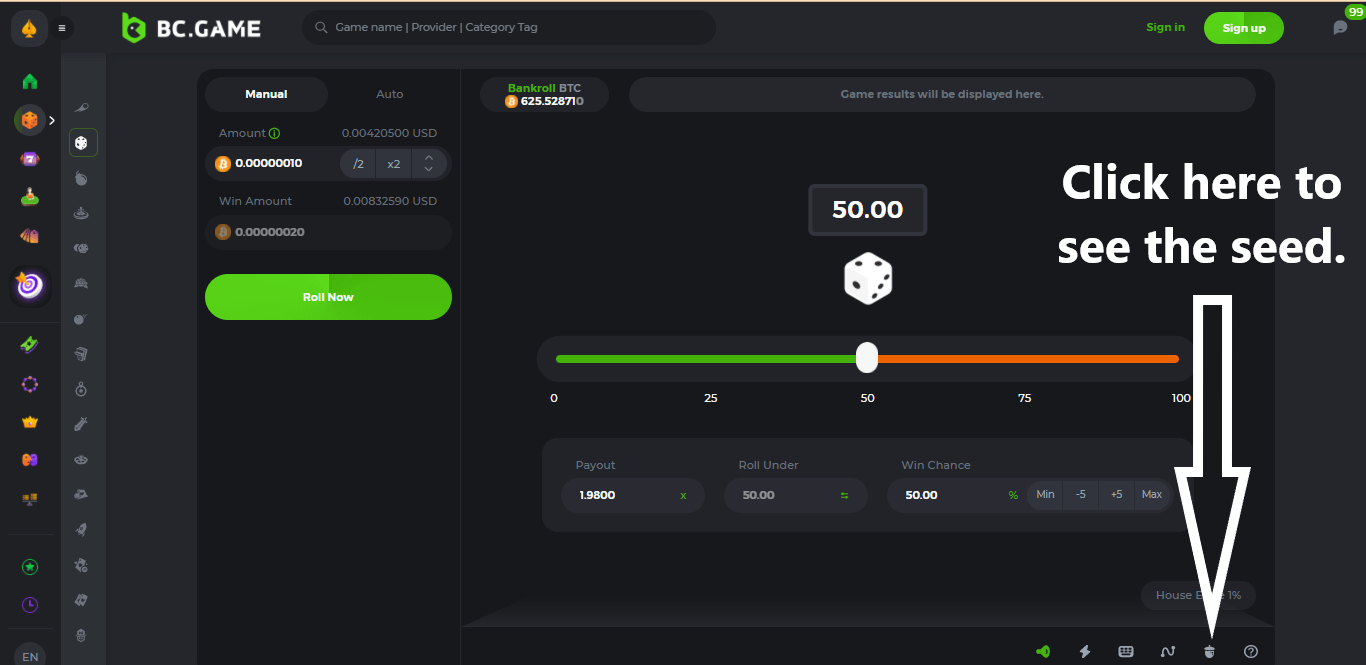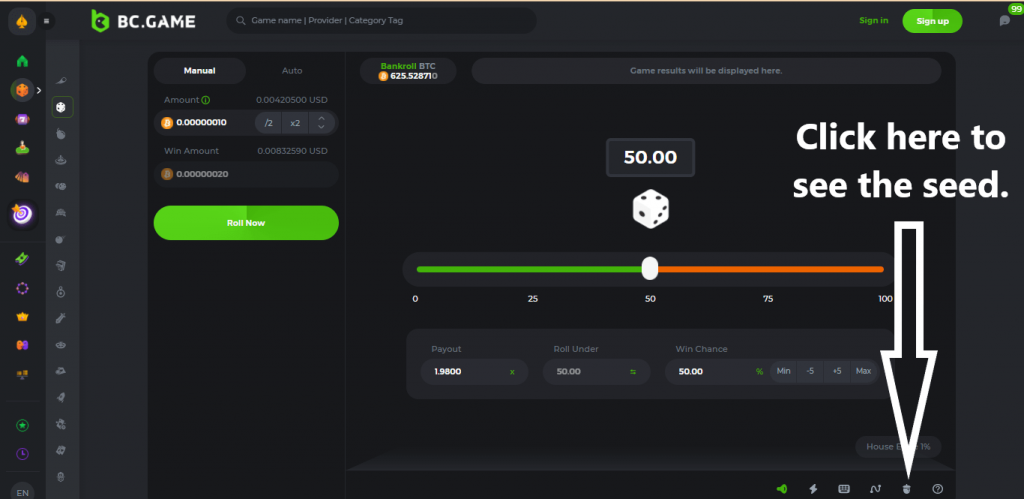 Then, go ahead and copy the numbers from the popup (we can't exactly show you ours – that wouldn't be safe).
Go to the side menu and find the provable fairness section. You'll get the link to the provable fairness validator there: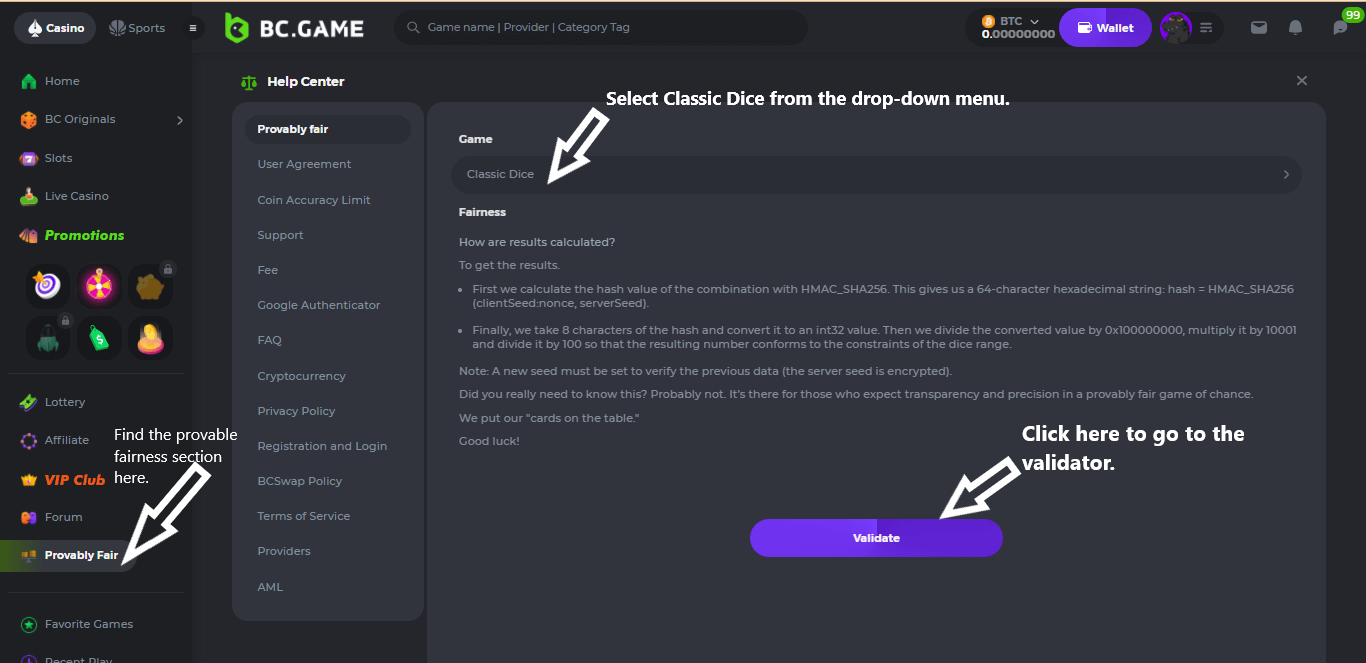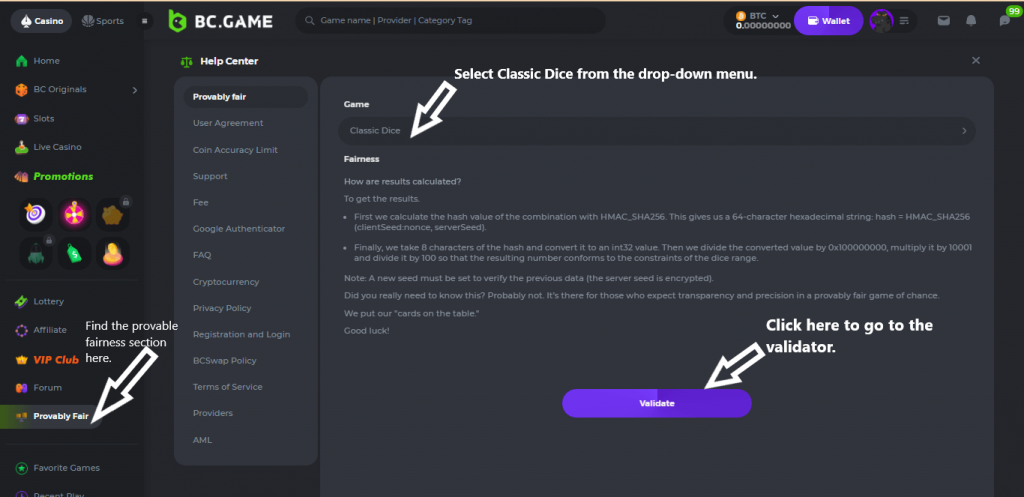 Finally, go to the provable fairness validator and paste the seed. The program will repeat the calculations and reveal the result – if the outcome matches your original game, the dice was provably fair: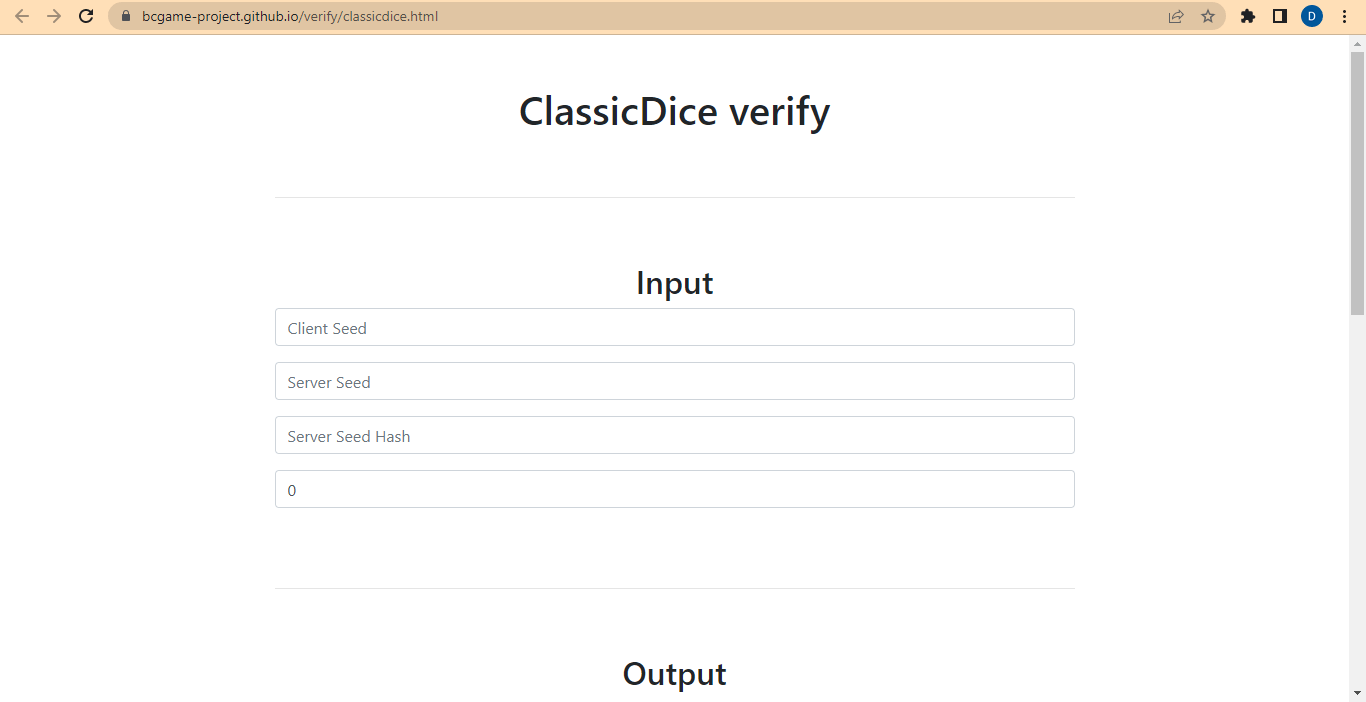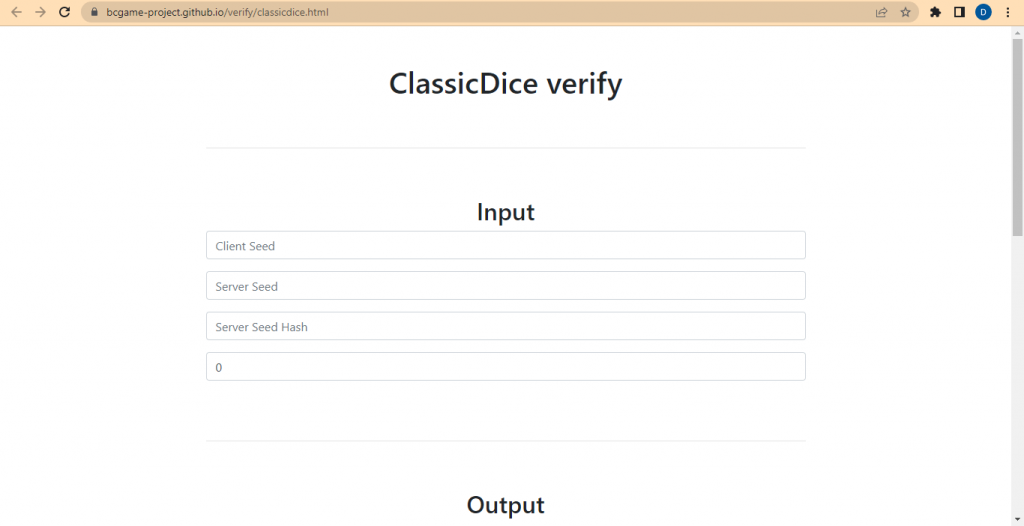 And there you have it, this is how you check provable fairness on a non-blockchain casino. Keep in mind that every provably fair casino will have a slightly different way of doing this. What brings them together, though, is the fact you can always make sure the outcome was fair.
Blockchain Games
If a casino game is blockchain-based, the verification process takes a big turn toward simplicity. Taking advantage of smart contracts in platforms like Ethereum, TRON, EOS, or NEO to build casino games means the rules will all be governed by an overseeable code.
That code – along with any transactions carried out on the blockchain – can be publicly audited in a more robust manner.
Instead of the player manually checking each round, the software can be audited once to ensure no form of foul play will occur. Periodical checks can then be performed to confirm the code has not been altered. This is a big win for players, and regulators as well.
Our top blockchain-based casinos include:
Final Thoughts
Provably fair games give you additional peace of mind. You can check the game's fairness at any time, and be confident that the game is fair.
But some of these casino games require a little bit more work on your part. You usually need to take some time to understand how the game works – and to check the hashes yourself.
Reputable casinos like Stake, BC.Game, and Cloudbet are very transparent about the process. For the most part, you don't have to manually check everything – but you can, if you want to.
Alternatively, you could go to a casino Dapp like Earnbet, which is provably fair by design.
In the end, provably fair games are a great way to play casino games online. They're fair, transparent, and you can always check the game's integrity for yourself.
Frequently Asked Questions
Are casinos provably fair?
Yes, a lot of online casinos are provably fair. Our favorite provably fair casinos include
BC.Game
) and
Stake Casino
).
Absolutely! Provably fair is a system that allows players to verify the fairness of a casino game. Gamblers can verify the fairness of a game by checking the game's cryptographic hash.
What is provably fair algorithm?
A provably fair algorithm is a mathematical way to show that a game is fair. This means that the game cannot be rigged by the casino - and you can check the randomness of the outcome yourself.
Are there any fair online casinos?
Yes, there are plenty of fair online casinos. Opting for a provably fair casino like
BC.Game
) and
Stake Casino
) is a great way to be sure that the games you're playing are fair.