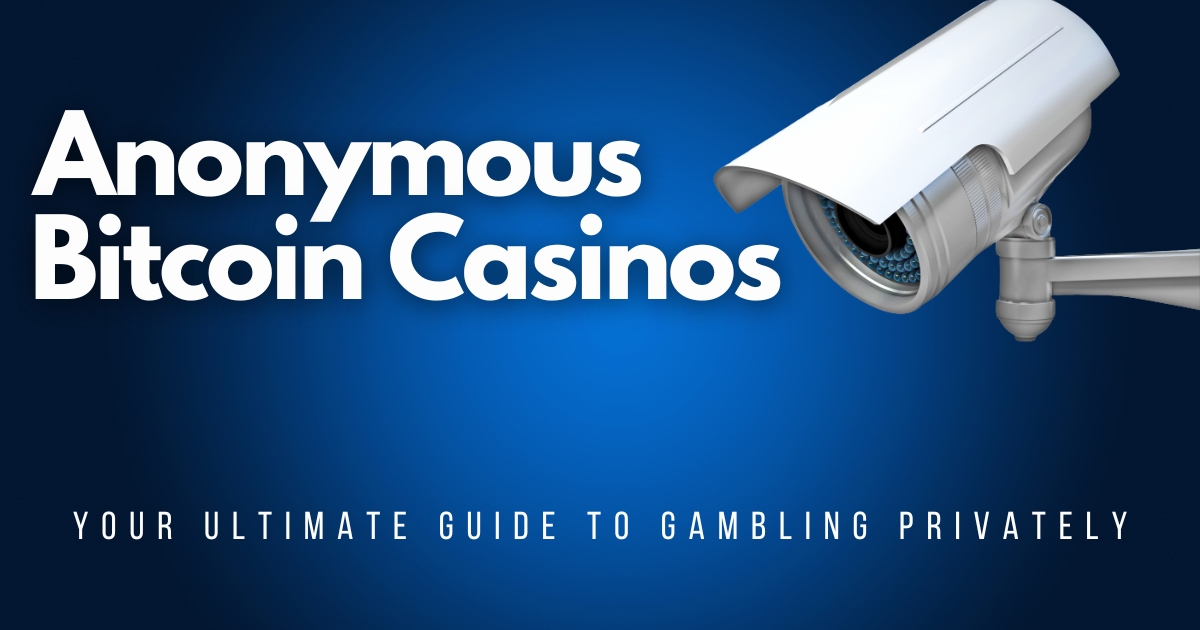 Anonymous Bitcoin Casinos – Your Guide to No KYC Gambling
Safeguarding our privacy online is an issue that has become increasingly important as technology evolves and more and more of our life takes part on the internet.
However, this is simply not possible at traditional online casinos or most crypto casinos.
WHY?
At most crypto casinos, you'll need to provide sensitive information upon sign up or withdrawal.
This sensitive information goes way beyond your name and email accounts, often including copies of a photo ID, proof of address, and even bank details.
Fortunately, there is an alternative: anonymous and trusted Bitcoin casinos. These casinos make use of blockchain technology, allowing you to play anonymously and without compromising the security of your data and your money.
In this comprehensive guide, we'll cover:
Defining anonymous Bitcoin casinos, and how they work.
The best anonymous crypto casinos in 2023.
The different levels of privacy you can get while gambling online.
Which altcoins can give you an extra layer of privacy.
How to play safely at no KYC casinos.
How to navigate a VPN for gambling.
Top Anonymous Bitcoin Casinos
Let's start off with a bang by introducing our top anonymous Bitcoin casinos. These casinos won't ask you for KYC, either because they're decentralized or because they have a no-KYC policy.
Enough chit-chat, here they are:
We'll give you a more detailed overview of our top 3 picks in a sec, but for now, let's focus on how anonymous casinos work in the first place:
Anonymous Bitcoin Casinos – How Do They Work?
Anonymous casinos and cryptocurrency gambling are intrinsically related concepts.
In fact, because traditional forms of money are always tied to a specific person and are controlled by governments and financial institutions, genuine privacy at online casinos simply wouldn't be possible without cryptocurrencies.
Although Bitcoin is not an anonymous currency, it does allow you to gamble online without having to provide any kind of personal information to the casino.
Can We Assume That All BTC Casinos Are Anonymous?
Not exactly.
Not all cryptocurrency casinos are wholly anonymous. In fact, many Bitcoin gambling sites nowadays often have strict KYC casino checks for fraud prevention and anti-money laundering reasons – and to comply with legislation. Those casinos can never be truly anonymous.
Overall, Bitcoin casinos can offer different levels of anonymity:
Licensed Bitcoin casinos, which must comply with the demands of their regulating entity and, therefore, can't guarantee your privacy.
Unlicensed casinos and Dapps that still require some personal data on registration but don't perform invasive identity checks.
No-registration casinos, where you can pay and play directly from your wallet without providing any personal details.
Can Licensed Bitcoin Casinos Be Anonymous?
As a rule of thumb, we always recommend licensed casinos over their unlicensed counterparts. However, if privacy is your main concern, licensed casinos are not your best option, even at casinos that rarely require KYC checks for cryptocurrency transactions.
Although some licenses (such as the Curaçao gambling license) can be laxer when it comes to customer verification, they may still force casinos to request personal information.
Other places (Australian casinos are particularly strict offenders) are much more strict – this is why we tell Aussies to choose crypto casinos like BC.Game, which won't abuse their personal information.
What's more, not providing sensitive information when requested, or using fake data on registration, may give licensed casinos legitimacy to withhold your funds at any time.
However, since cryptocurrencies are decentralized and generally allow for payment anonymity, cryptocurrency casinos, with or without a valid license, are always more anonymous than mainstream casinos.
That is, of course, as long as you don't play with fiat money. 
CAN I USE A VPN TO GAMBLE ANONYMOUSLY?
Using a VPN may help you circumvent local legislations, and it can be a valid option if you're playing at an unlicensed casino. However, you should be aware of the risks and never do so at a licensed casino, or your account may be legitimately locked and your funds lost.
Pros And Cons Of No KYC Crypto Casinos
As we (hopefully) clarified before, anonymous Bitcoin casinos are the most suitable option if you want to gamble privately online.
What's more, these casinos have other benefits, especially if they rely on blockchain technology to power other aspects of their website:
Provably fair games let you verify the outcome of every game round yourself. These games are not available at mainstream casinos.
Anonymous Bitcoin casinos allow for faster and cheaper transactions on the blockchain without cumbersome KYC requests.
Cryptocurrency casinos can offer a lower house edge due to their cheaper transaction costs.
Gambling Dapps often pay a share of the house's profits to active players.
However, these casinos also come with several drawbacks.
The first significant disadvantage of no KYC Bitcoin casinos is their lack of a license.
THE ISSUE WITH UNLICENSED CASINOS
Imagine a situation where you believe the outcome of a game round was unfair. At a licensed casino, you can complain to the regulator, the issue will be investigated, and the casino may even be fined. If worse comes to worst at an unlicensed casino, you have no such options. Your money is simply lost.
Truly anonymous Bitcoin casinos often have fewer games, especially if they don't require registration and only offer provably fair games. This happens for two reasons:
There are fewer provably fair games than regular online casino games.
Mainstream casino providers often prefer to work with fully licensed casinos since they have to comply with local legislation themselves.
The lack of anonymity also comes with another disadvantage: it often means fewer bonuses are offered since the casinos have a higher risk of attracting bonus abusers and money laundering schemes. That said, there are still some solid no deposit bonus casinos that protect your data.
However, it's important to note that nowadays many anonymous Bitcoin casinos offer a complete gambling experience, with a large variety of games and promotions. If you pick the right blockchain casino, you won't miss out on any common casino features, while still protecting your privacy online.
Best Anonymous Bitcoin Casinos
Privacy is important to you, and you know you want to play at an anonymous casino, but you're not sure how to get started. Luckily, we're here to help.
Choosing the right no KYC Bitcoin casino can be challenging, especially if you're looking for something specific.
Some may want untraceable transactions and aren't willing to offer any personal information, including an email.
Others may prefer game variety and quality over true anonymity and are willing to provide some personal data, as long as the process is not too invasive, and the data is secure.
Perhaps you want the best of both worlds: anonymous casinos that look and feel like regular online casinos, but where your privacy is respected.
As you can see, 'anonymity' can mean different things to different people. Thankfully, different casinos can cater to each need.
To make things easier, we've had a look at the best Bitcoin anonymous casinos and divided them into two categories depending on their level of anonymity:
Gambling Dapps, the most anonymous.
Truly anonymous BTC casinos with no KYC.
Best Anonymous Gambling Dapps
Gambling Dapps, or decentralized casinos, are, perhaps, the most anonymous form of gambling possible.
For the most part, these casinos are unlicensed, relying instead on blockchain technology to ensure game fairness and offer security features.
More importantly, however, gambling Dapps often let you cash out your winnings immediately at the end of your round.
Instead of having to deposit money, which is then held by the casino until you play it through, you can link your crypto wallet to the casino and play directly from it.
Not only is this method more anonymous – you won't have to provide any information to the casino or a banking institution – but it's also more convenient and ensures the casino won't fiddle with your winnings.
All options below offer instant withdrawals.
Best Altcoins For Anonymous Casinos
Although it is possible to protect your privacy while paying with Bitcoin, making it a valid option at anonymous casinos, Bitcoin is only pseudo-anonymous, and other coins provide even more anonymity and data security.
These coins are called 'privacy coins' exactly because they were designed with anonymous and safe transactions in mind.
When gambling with privacy coins, not only will your gameplay be private, but your payments will as well since your identity and the origin of your transactions will be completely protected.
This is done via a selection of processes, hiding elements such as wallet addresses and transaction balances, which allow you to stay anonymous on every payment.
Let's look at two of the most private cryptocurrencies at blockchain casinos: Monero and ZCash.
Monero Casinos
The world's most popular privacy coin, Monero, uses stealth addresses and ring signatures to hide the identity of senders and receivers alike.
It's by far one of the most trusted coins in the market and the most valuable as well, with a market cap of over $2.6 billion.
As such, it's also relatively easy to find at blockchain casinos, including the following three:
ZCash Casinos
ZCash is an altcoin with a strong emphasis on privacy and safety.
This coin offers users the choice to shield their addresses and hide the transaction amounts to guarantee payment privacy. However, it does also allow users to disclose some transaction details, if necessary.
Although ZCash is not as valuable nor popular as Monero, it's by no means an obscure coin. It's supported at the following casinos:
How to Play Safely at Anonymous Bitcoin Casinos
For the most part, choosing an anonymous casino is like choosing any other online casino:
You should play at trusted brands with a good reputation.
It's always a good idea to research the casino thoroughly before making a deposit. Our blockchain casino list will take you through the pros and cons of all reviewed brands, but you can also search for information on forums or even the casino's social media pages.
Read through the casino's terms and conditions to avoid unpleasant surprises, like extortionate deposit and withdrawal fees or forbidden territories.
Play responsibly and within your limits, don't chase losses, and always stop when you stop having fun.
If you choose to play at an unlicensed casino, we recommend taking the following actions:
Play with privacy coins to further protect the anonymity of your transactions.
Play at provably fair games to ensure the validity of every game round.
Pick casinos with direct wallet payments so the casino can't hold your funds.
Following all of the steps above almost always guarantees an excellent experience when playing at anonymous crypto casinos.
Is It Legal to Play at No KYC Casinos?
The simplest answer to this question is: it depends on your local legislation.
For the most part, unlicensed anonymous casinos won't deny access to their website based on your location and, if they do, you can always go around it using a trusted VPN.
However, this doesn't mean that gambling at anonymous Bitcoin casinos is allowed. 
Whether or not it's legal to play at KYC-free crypto casinos is entirely dependent on your local legislation. 
If you want to play at anonymous casinos from anywhere in the world, you have that choice, but be aware of the risks of possibly breaking local laws.
Final Thoughts
Phew, you made it! You can pretty much call yourself an aficionado on the topic of anonymous BTC casinos.
The great news? You're ready to sign up and play at any one of our recommended brands.
If you haven't taken a shine to any of the casinos mentioned above, no worries. New KYC-free casinos are constantly popping up, and we've made it our business to rank and review all of them.
So, be sure to check this list again soon for any new contenders.
Frequently Asked Questions
Are all Bitcoin casinos anonymous?
No. Although anonymous casinos require cryptocurrency payments - since fiat payments always require some form of identification - not all Bitcoin casinos are anonymous. Some require KYC checks, especially if licensed and if you play with fiat money.
Can I play anonymously with dollars or euros?
Unfortunately, you cannot. Fiat currencies such as dollars or euros are under the purview of financial institutions and governments and are always traceable.
Are no KYC crypto casinos safe?
Yes, anonymous casinos can be safe, as long as you choose a
respectable and trusted website
. You can also take the following measures to ensure your safety when playing anonymously:
- Play at casinos with instant withdrawals.
- Be wary of casinos with a bad reputation.
- Play provably fair games.
- Play with privacy coins.
Are anonymous casinos legal?
Just like any other online casino, it depends on your local legislation. Some countries such as the United States and the United Kingdom impose heavy restrictions on online gambling. For the most part, if gambling online is legal in your country or state, so are anonymous Bitcoin casinos.