As you may or may not know, Blackjack is one of the most popular casino games ever. Even James Bond (License to Kill, 1989) and Austin Powers (1997) couldn't resist this game. And with them many others.
Read on to learn why Blackjack is so popular, where you can play this game and what you can do to win. No guarantees can be given though, just pointers.
BLACKJACK
One of James Bond's favorite games.
Where To Play Blackjack Online
Casinos
Basically every online casino offers Blackjack. If you happen to find a casino that doesn't offer this game, it might be time to look for another casino to play at. But that is unlikely to happen.
About mBit
Backed by a mother company that owns 35 casinos, mBit Casino offers you great benefits. First and foremost, there is a great number of games from all of the best providers in the industry. You are also entitled to a nice number of bonuses with an intergalactic theme. To top it all off, you can pay with either cryptocurrencies or regular currencies and you have a great support team at your disposal 24 hours a day.
Overview
Websitewww.mbitcasino.com
Established 2014
License Curaçao
Bonus 5 BTC + 300 Free spins
Wagering Requirement 35x
No Deposit Bonus -
Live Chat Yes
About BitStarz
Unlike some run-of-the-mill gambling sites out there, BitStarz offers a complete playing experience. Arguably one of the best Bitcoin casinos overall, it includes a vast selection of games from all the top providers, and it's full of mouth-watering promotions. It asks you to "Dream big, win bigger," and it lives up to this ambitious slogan with accolades such as the Best Online Casino Award (2018) and the Player's Choice Award (2019).
Overview
Websitewww.bitstarz.com
Established 2014
License Curaçao
Bonus 5 BTC + 180 Free Spins
Wagering Requirement 40x
No Deposit Bonus 20 Free Spins
Live Chat Yes
About True Flip
Enjoy the nice welcome bonus at True Flip casino. With this you can enjoy their varied game offer that consists of games by market leaders as well as games the casino developed in house. Decide for yourself which ones are the best. You can pay with cryptocurrencies as well as fiat currencies and the customer support is available all hours of the day. The team members are even available through Telegram on your mobile phone.
Overview
Websitewww.trueflip.io
Established 2017
License Curaçao
Bonus 1 BTC + 50 Free Spins
Wagering Requirement 35x
No Deposit Bonus -
Live Chat Yes
Most casinos offer a big range of Blackjack games, from Multi Hand Versions (where you can play with more than one hand), to Blackjack Switch (where you play with two hands and can switch cards between them) and everything in between. This first game is available at BitStarz and you can play the Switch version at 1xSlots.
Dapps
If you like Blackjack, you are in luck when it comes to Dapps. It's one of the classic casino games that is becoming available on more and more Dapps. And the number only keeps increasing.
Play Royal

You can play Blackjack at PlayRoyal. This gambling Dapp makes the game extra exciting by keeping track of extreme players in various competitions.
Everyone that holds the first position when the competition ends, wins a nice prize. But be aware, one of the competitions is created to award the biggest loser.
Blackjack

And there's even a Dapp called Blackjack. Of course, you can play your favorite game here. Actually, as the name suggests, it's the only game you can play on this Dapp. This Dapp also offers the possibility to get mining dividends that are awarded in the form of a BJ Coin. You can use this coin to play as well.
Where To Play Live Blackjack
Casinos
Every online casino nowadays offers Live Blackjack games. These games are mostly provided by Evolution Gaming and NetEnt. The last one offers the game in many different versions, the most popular being Common Draw (now Blitz) in which every player plays with the same hand. You can play this game at True Flip.
Evolution Gaming, which is the market leader for live casino games, offers even more versions of Blackjack.
Dapps
Live casino games are not that common yet on Dapps. It is to be expected that this will improve in the future as Dapps are constantly developing. Just like the software providers are constantly updating their games to be compatible on more platforms.
Availability For Cryptocurrencies
Luckily you can use many cryptocurrencies when playing Blackjack online. This payment method is preferred by many players and therefore the casinos have no options but to offer it.
Casino
In online casinos, you can pay with the most common cryptocurrencies like Bitcoin, Bitcoin Cash, Litecoin, Ethereum, Dogecoin, Coinspaid, and a few more. This list, however, is constantly growing. The more a cryptocurrency is used and written about, the bigger the chance it will be added to the payment methods of online casinos.
Dapps
When playing on a Dapp, you can only play with cryptocurrencies. This is a benefit as most cryptocurrencies are accepted. Sometimes you can even play straight from your wallet and the wins will be added to your wallet as well.
Game Rules
The goal of the game is simple; get to 21 points or as close as you can without busting. If you get over the 21-point mark, you bust and the bank automatically wins. It doesn't matter which hand the bank ends up with.
Counting the points per player is very easy. Every card has a value. The cards 2 to 10 have the value that's illustrated on them. The Jack, the Queen and the King are worth 10 points each. And the ace can be worth either 1 point or 11 points, whichever is more convenient for the player. From a normal deck of cards, the only card that doesn't enter this game is the joker.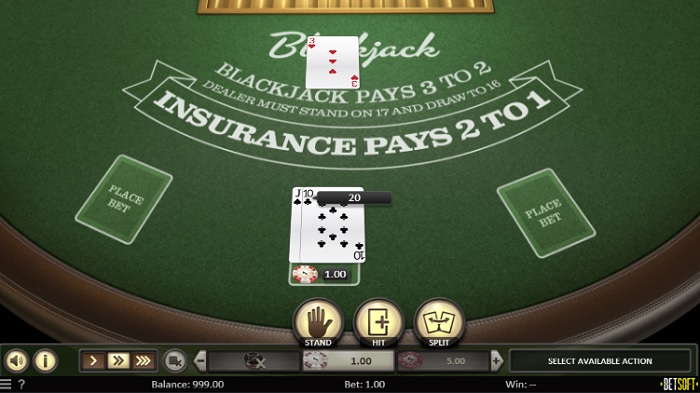 Every player plays against the bank when playing Blackjack. So no matter how many players participate in the game, their game doesn't interfere with yours. Except when it comes to the order of the cards.
Before any cards are dealt, all players place their bets. Then the first round of cards is dealt, which is open for everybody. The second round of cards is open for the players as well and the dealer gets a closed second card. Only after all players have played their hand, the dealer reveals this second card.
When playing a hand every players gets the option to hit, stand or split. The last option is only available for players who have two cards with the same value. If they choose to split, they continue with two hands and also double their initial stake.
How To Choose A Good Casino For Blackjack
Before you can start your first game, it is crucial to select the right casino. You will spend a lot of time there, possibly even years, so you should feel good when playing there. That's why we listed a few ways to decide whether or not the casino you have your eyes on is right for you.
Decide what's important for you
It's good to ask yourself what's important for you when playing Blackjack at a casino. Do you value variety in games with lots of versions of Blackjack to play or do you prefer to have lots of bonuses?
You should keep in mind that Blackjack games usually don't count a 100% towards the bonus wagering requirements. So keep an eye on that when choosing a casino for the bonuses it offers.
But also, do you want to pay with a regular currency or with a cryptocurrency? By making a list you'll find it easier to choose a casino that checks all your boxes.
Read online forums
Of course you cannot believe everything you read online. But if you read gambling forums with lots of comments about a certain casino, you can assume that the general opinion is the correct one. Every casino will have some complaints, as they can't keep everyone happy, but it the majority of the reviews on an independent forum should be positive.
Try it out
With live casinos this is a bit more complicated, as you cannot use the play for fun mode before signing up. But you can try out the Blackjack games in the table games section of the casino lobby before you make a final decision. It's a good way to feel what it's like playing there. And if you have any questions beforehand, you should try out the customer support as well.
Tips For Beginners
When you are just starting out with Blackjack it's good to keep a few things in mind, such as:
Make sure the casino you play at is licensed or that the Dapp is provably fair.
Never wager more money than you can afford.
It might be good to watch a few games before actually playing yourself.
Don't play under the influence of alcohol or drugs.
As a rule of thumb you should always stand when getting 12 points and over.
Below that score it should be safe to request another card.
Before deciding, check the card of the dealer and weigh the options.
It's a good idea to split 10's and aces.
Keep the game pleasant for everyone, first of all yourself.