Simple. Fun. Provably fair.
Plinko is one of the online casino games that best suit cryptocurrency gambling... and that's why it's among the most popular. In fact, Plinko, Crash, and crypto slots are the three biggest categories in most casinos we've reviewed so far.
But what exactly is plinko? And how do you pick the best BTC casino to play it? This article will cover all that!
In a nutshell, plinko is a simplified form of pachinko, a famous Japanese game of chance.
PLINKO
When playing a round of plinko, you drop a token down a maze of pins until it lands on a slot, which may or may not award a prize.
Western audiences were introduced to this game in the 80s with The Price is Right, where it was one of the possible prize rounds. It has, therefore, a certain nostalgia attached to it, like many other arcade games that are now popular at crypto casinos.
But what about Plinko gambling?
The novelty now is that Plinko is a gambling game where you can place bets and hope for cash prizes. Nowadays, Plinko gambling is allowed at several online casinos, most of which accept cryptocurrency payments.
In this article, we'll let you know all about the plinko games you can find at online casinos, focusing on Bitcoin Plinko and other cryptocurrencies.
Plinko Gambling Stats
Before we get into the specific casino recommendations, though, here is what you need to know about the game in terms of statistics:
| Plinko Gambling Features | Crypto Casino (BC.Game) | Regular Casino |
| --- | --- | --- |
| RTP | 99% | 97%-99% |
| House Edge | 1% | 1%-3% |
| Minimum Bet | 0.0000001 BTC | $0.10 |
| Maximum Bet | 0.2 BTC | $2,500 |
| Provably Fair | ✅ | ❌ |
| Crypto Gameplay | ✅ | ❌ |
| Fiat Gameplay | ❌ | ✅ |
| Free Play | ✅ | ✅ |
| Bonus Rounds | ❌ | ❌ |
Where To Play Plinko Online With Bitcoin?
When it comes to Plinko, Bitcoin Plinko is more than just another option - it's the default.
The truth is: despite its former TV glory, plinko is an often forgotten game that can be hard to find at a more mainstream online casino.
When you come across a Plinko game, it's more likely than not a Bitcoin Plinko game at a crypto casino or Dapp.
Why? Because virtually all games of casino Plinko are provably fair, a feature that requires blockchain technology.
That's good news if fairness and cryptocurrencies are important to you, but not so much if you're looking to play the game at more mainstream websites. On the plus side, provable fairness means the casino can't manipulate the outcome - even if they wanted to, the built-in randomness of the algorithm would stop them!
Luckily, several of our top-rated casinos do offer Plinko games. These gambling sites are both reputable and crypto-forward, making them the perfect option for blockchain enthusiasts and Plinko fans alike.
Let's have a look at them and break down what makes them so special:
Bitcoin Plinko Casinos
Besides offering at least one game of Plinko that you can play with cryptocurrencies, our top choices for casinos have a few things in common.
Their customer service is impeccable.
Their reputation is pristine.
They offer a strong selection of other games.
What's more, they all offer original provably fair games that you can't find anywhere else, including Bitcoin Plinko.
BC.Game Plinko: Our Number One Bitcoin Plinko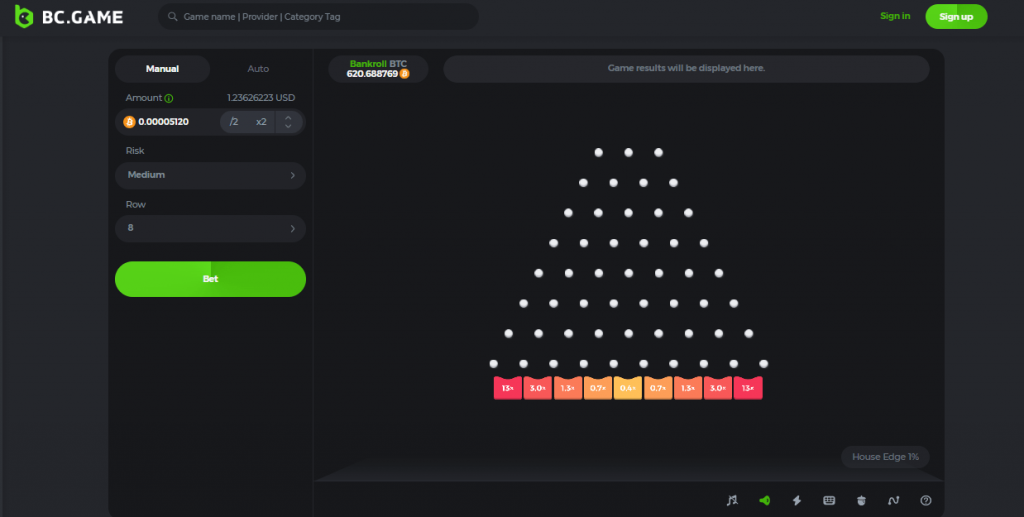 Not only is BC.Game our number one casino overall (check out our BC.Game review to learn more,) but it also offers our favorite Plinko game. We simply can't resist this simple, yet incredibly well-made Plinko.
BC.Game's option boasts an impressively low house edge of just 1%, which means your Return-to-Player is as good as it gets. Plus, you can tweak and personalise the game to fit your own play style and risk preference.
At BC.Game, you can choose from low, medium, and high risk and play on 8-16 rows. Clearly, a high-risk, 16-row game would give you the most lucrative returns, but it's also where you'd lose the most. On the flipside, if you prefer to play it safe(r), you can stick to a low risk game, even if it means lower potential returns, too.
Check out BC.Game's Plinko game here:
Stake Plinko: Nostalgia + So Much More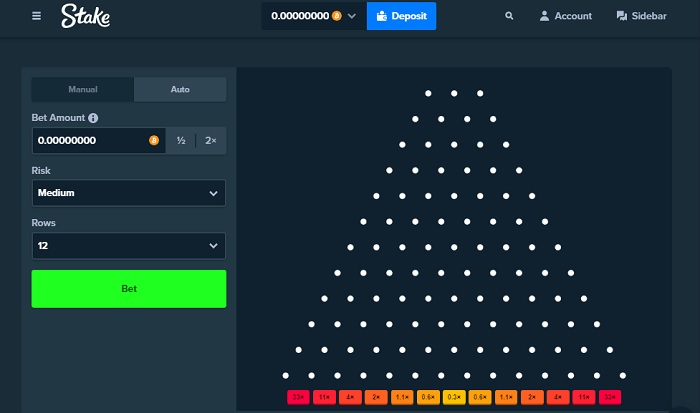 Second in our selection, but also an awesome Plinko option, Stake also boasts a provably fair, customizable Plinko with simple design and thrilling features. It is similar to BC.Game in terms of features and returns, too.
So, why did we rank it second?
It comes down to Stake's overall offer. On one hand, this is one of the biggest crypto casinos out there. In a billion-dollar industry, this is saying a lot. On the other hand, though, Stake offers far fewer cryptocurrencies than BC.Game (which boasts over 60 options.)
And, though both casinos have a player's chat, BC.Game is decidedly more social. We love a community-focused provider, which is why we rank BC.Game higher. Still, if we're talking strictly Plinko casinos, Stake has a high-quality game that is definitely worth trying:
Playing Plinko Online for Free
Most of the casinos listed above allow you to play the plinko crypto game for free, in demonstration or "free-to-play" mode on their websites.
What's more, you can also play the game right on this page. Simply click "play" on the game below.
The plinko game above is from BGaming, which is the same game you can find at BitStarz and other similar online casinos.
Plinko Dapps - Decentralized Applications
Since plinko is a provably fair game, it's not difficult to find a Dapp where you can play it.
Online plinko was pioneered by Dapps, which helped fuel its newfound popularity.
We chose the following three Dapps for the quality of their plinko games.
BetFury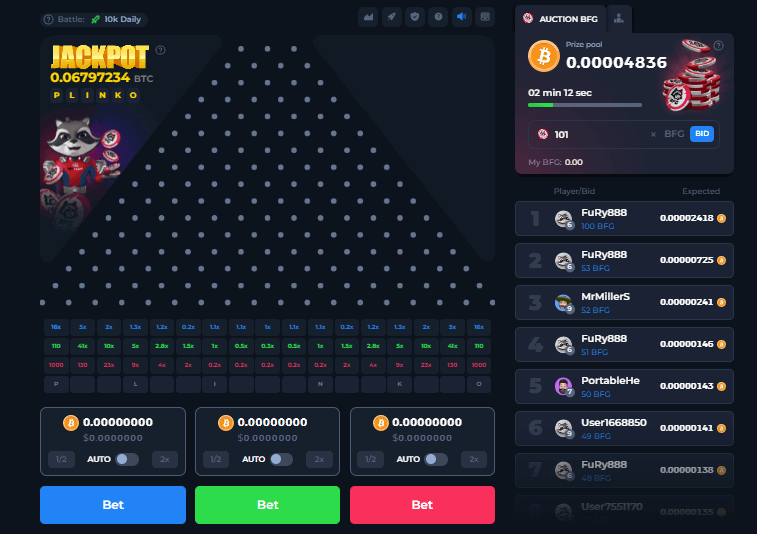 BetFury is our top pick for a Plinko Dapp and that's because it checks all the boxes.
For starters, you can play Plinko with a huge variety of cryptos on this site, not just BTC and ETH. The BetFury Plinko game is available in 40+ different cryptos, including meme fan-favorites like Shiba Inu or exchange tokens like CAKE and UNI. BetFury also has its own crypto token, which you can exchange fiat money for or earn during different promos.
In terms of design, the Plinko game is exactly what you'd expect - an arcade-inspired, easy-to-play, yet exciting AF crypto adventure. We enjoy the Auto Bet function, as well as the Fast Play option for some extra thrills. The game is also provably fair (you can check the hash anytime) and you can also see you performance statistics as you play.
All in all, BetFury looks and feels like a proper online casino, not a simple Dapp. Their take on Plinko is no exception - it is, hands-down, the best Plinko Dapp game we've tested this year.
Check it out on BetFury here:
Wink

Next on the list of our favorite gambling Dapps, Wink also aims to look and feel just like a 'real' online casino. With multiple games, including a provably fair Plinko option, and juicy bonuses, it is no wonder the Dapp got so popular, so fast.
And, yes, we do love their in-house developed Plinko. It looks good, it's fun to play, and the house edge is tiny. But, this is still not our number one choice.
Why? Well, for starters, you can't play Bitcoin Plinko here since the only available currency is Tron. You also can't sample the games without connecting a wallet - no fun play available. Wink is a licensed casino, which gives us peace-of-mind, but if you're a little more paranoid about your personal data and wallet info, we recommend sticking to an actual online casino or going to BetFury instead.
But, if you are a Dapp enthusiast looking to try something new, here is where to do that:
How To Choose A Good Casino For Plinko
Finding the right casino is always important regardless of your favourite type of game.
Not all factors matter the same for all games. For instance, with plinko, safety is not such a big issue since the game is almost always provably fair.
You should still spend some time looking for the plinko casino that best suits you as a player.
The good news is: it's easier than you may think, especially if you follow our advice:
Look for casinos with your favorite type of plinko.
Find out whether or not you can use bonus money for plinko games.
Learn about the casino's reputation.
Test the casino yourself.
Look For Casinos With Your Favorite Type Of Plinko
Plinko games might be relatively straightforward, but they're not all the same, nor are they available everywhere.
A significant differentiating factor is the shape of the playing field. Triangular grids are standard, but some casinos offer other, more creative plinko setups.
The same is true for what kind of cryptocurrencies are supported.
For instance, while Bitcoin plinko is available at most casinos, it might be harder to find at Dapps.
Find Out Whether Or Not You Can Use Bonus Money For Plinko Games
Nowadays, most crypto casinos (and even some Dapps) give you a bonus when you first open an account.
Before you get excited about playing Bitcoin plinko with bonus money, you should check if the casino lets you wager it on plinko games.
Some casinos have finicky terms and conditions restricting bonuses to selected slot machines. That's fine, as long as you're aware. However, do read through terms and conditions carefully before signing up.
Learn About The Casino's Reputation
Although Bitcoin plinko is provably fair and, therefore, tendentially safe, it's never a bad idea to check if the casino has a good reputation.
There are a few ways to do that:
Discover if the casino holds a license.
Look for information in forums.
Read blockchain casino reviews
Check if you can find any complaints about the casino and if they were addressed.
Test The Casino Yourself
Choosing a casino is a serious decision, as you will most likely spend a couple of years playing plinko and other games at the same place.
Therefore, you must find a casino where you feel right at home.
Sometimes, you can know that almost instinctively just by how the website looks. Other times, it takes a few rounds before you know for sure.
You can always try the casino in play-for-free mode to see if you like the games.
Another good tip is to ask the customer support representatives a few questions before making your first deposit. 
Finally, make sure the casino also has your other favorite crypto games. We find a lot of Plinko enthusiasts enjoying slots and Bitcoin jackpot games, since they share the same simplicity and excitement. If that's you - double-check the casino will provide these games, too!
Playing Plinko With Cryptocurrencies
When writing about gambling with cryptocurrencies, we often start by saying how it's not so different from playing with fiat money.
With plinko, however, that comparison is pointless. If anything, playing with fiat money is more complicated than doing so with your favourite coin.
However, it's certainly easier if that coin is popular. You should have no troubles playing plinko with:
Bitcoin
Ethereum
Bitcoin Cash
Litecoin
Dogecoin
Tether
As for Dapps, Tron is, unsurprisingly, the top currency for plinko games.
Other currencies that you can use at plinko Dapps are Bitcoin, Litecoin, and Ethereum.
Is It Safe To Play Plinko With Bitcoin And Other Cryptos?
Since Bitcoin plinko games are, tendentially, provably fair, playing this game is, more often than not, safe. But, of course, the same goes for online plinko games with other coins.
However, you might be new to cryptocurrency gambling and have a few reservations. That's only normal.
If you want to protect yourself when playing plinko online, there is something you should know.
IMPORTANT INFORMATION
Gambling online, even on provably fair plinko games, is always safer at a casino or Dapp with a valid gambling license.
Game Rules
Plinko at an online casino is different from the TV version of the game you might know.
Instead of throwing the disc yourself, you press a button. Then, all gameplay is automated and controlled by a complex program that randomly generates the outcome of every round.
Thanks to that random system, casino plinko games can be entirely provably fair, with verifiable results that you can check yourself.
How It Works
When you first open the game, you will see a shape (often a triangle) made of pegs.
The game starts when you press the 'bet' button. Here's how it works:
You choose how much you want to bet.
The round starts when a ball drops from the top of the screen.
The ball will then start falling, hitting the pegs on its way down.
At the end of the round, you get a prize based on where the ball ended. The farthest from the center, the better.
PLINKO WITH A TWIST
Automatic play is also possible and, in some games, you might play with several balls being dropped consecutively for an added thrill.
Some plinko games also let you pick different levels of risk when playing the game:
At low-risk games, the prizes are evenly distributed.
High-risk games have higher prizes at the edges but lower prizes at the center.
Similarly, you can also add or remove game lines, making the playing field much larger or smaller.
Plinko Tips For Beginners And Pros
Although you certainly don't need a master's degree to play Bitcoin plinko, there are always a few things you should have in mind before getting started.
Understand that every round of plinko ends with a prize - but that prize can be smaller than your bet.
Even though the game is provably fair, you're always safer at a licensed casino.
Set a budget before playing and stick to it.
Follow the rules of the casino.
Always play for fun.
Stop playing if it feels like an obligation or compulsion.
Don't see plinko as an alternative to Bitcoin mining or a sure way to win more of your favorite coin.
When trying out a new version, make sure that you understand the rules before you start playing.
Don't go all-in at first. Always start slow.
Start playing plinko on a low risk level and move your way up if and when you're comfortable with the added risk.
Newcomers can benefit the most from these tips, but we believe it's worth having a look even if you're a seasoned plinko player.