Bonuses 5/5
Look & Feel 5/5
Licensing & Safety 3/5
Game Selection 4/5
Payment Options 3/5
Customer Support 5/5
Websitestarbets.io
Established 2022
License -
Bonus $500
Wagering Requirement 30X
No Deposit Bonus -
Live Chat Yes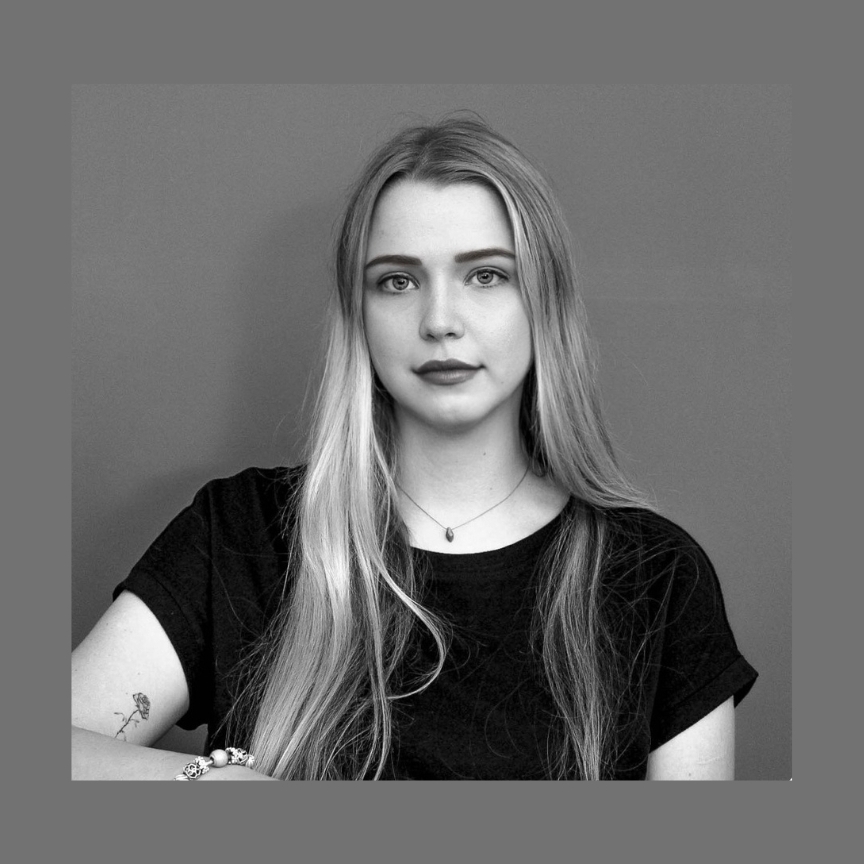 Written by
About the Author
Fern is a seasoned writer in the crypto casino world. With expertise in blockchain and writing, she produces well-researched content covering industry trends and casino reviews. Beyond tech, Fern offers user insights and regularly connects with iGaming experts. Plus, she's an avid video game enthusiast.
Verified by
About the Author
A digital native and an early enthusiast of blockchain technology, Alessia has collaborated with leading crypto casino platforms, ensuring accurate data on guides, articles, and reviews. She's responsible for verifying the information and research that backs up our content – so that you can make informed decisions with your crypto.
Last Update
September 22, 2023
Meet the fresh face in the world of blockchain casinos – StarBets Casino! This newbie on the scene, established in 2022, brings a wave of excitement to the industry. They're all about welcoming players with open arms, offering a generous 100% deposit match bonus of up to $200 (or its crypto equivalent). Plus, here's the kicker – no pesky KYC (Know Your Customer) procedures to slow you down. And if fairness is your jam, they've got you covered with provably fair games. Eager to learn more? Read on!
Pros & Cons
+

Match Deposit Bonus Up to $500

+

No KYC

+

UX-Friendly Design

+

Variety of Games

+

Provably Fair
-

No Sportsbook

-

No Gambling License

-

Lack of Cryptos
Supported Languages
English
Bonuses
Comes With a 100% Match Deposit Bonus
StarBets casino knows how to spoil its players with various enticing bonuses and rewards. They've got a lineup that'll make your gaming experience all the more thrilling.
First up, there's the 100% match deposit bonus, which can go as high as 500 USD or the equivalent in any other currency you prefer. To snag this bonus, all you need to do is:
Sign up with StarBets.
Confirm that you're 18 years of age or older.
Click "Continue" and follow any other step described.
Once your account is set, you need to deposit a minimum of 10 USD or the equivalent amount of crypto.
Go play and – if you're lucky – win!
However, it's worth noting that this bonus comes with a few conditions, so here's the lowdown:
You'll need to wager 30 times the bonus amount to claim it.
When it comes to in-house games, they have a coefficient of 0.2.
Not all games will contribute equally to the wagering requirement. Only bets between $0.1 USD and $10 USD will count.
And one more thing, only bets in the bonus currency will be taken into account to meet the wagering requirement.
The bonus fun doesn't stop with just the match deposit bonus. They've got even more tricks up their sleeve to keep players thrilled.
Rakeback
First, let's talk about Rakeback, a bonus that keeps the rewards flowing with every bet you place, and the amount you get depends on your rank.
Rakeback is up for grabs for players ranked at 3 and above, and it's calculated in the currency you're using to play. What's cool is that you can collect your rewards every half an hour by enjoying some spins on the slots and in-house games.
Just ensure you've reached the minimum of 0.1 USD to cash out your Rakeback, and keep in mind that your balance is updated every minute.
But wait, there's more!
Missions
StarBets spices things up with Missions, adding an extra layer of excitement to your gaming experience.
Engaging in missions on StarBets opens the door to additional rewards from your bets. Successfully completing the weekly mission objectives unlocks multipliers and secures you a special prize at the end of each mission round.
Dividends, STAR Tokens, and Mining
The bonus bonanza continues with even more exciting offers for players. Let's dive into the details of these extra perks:
🤑Dividends
StarBets goes the extra mile by offering dividends, and here's how it works.
Dividends are a way of rewarding STAR token holders with a slice of the platform's revenues. Every day, a generous 2% of the dividend pool is distributed among STAR token holders who possess a minimum of 10 STARs. The remaining 98% rolls over to the next day's pool.
These dividend payouts pile up in your available balance, and the best part is there's no rush to collect them. You can claim your rewards whenever suits you best. With no expiration on this balance, you have the flexibility to decide when to cash in.
✨STAR Tokens
Now, you might be wondering what these STAR tokens are all about. Well, they're the exclusive native tokens of the StarBets. Just by holding these tokens in your wallet, you automatically become eligible for daily dividend distributions from the dividend pool. The more STAR Tokens you have, the juicier your dividend payments get.
🤝Loyalty Program (Mining)
StarBets has a built-in loyalty program called Mining, and it's a game-changer. You earn STAR Tokens simply for placing bets, regardless of whether you win or lose. What's more, all losses contribute to a dividend pool, which means even your unlucky days can turn into fruitful ones.
Mining works with all supported cryptocurrencies on the StarBets platform, except for the native STAR Token.
Summary
pros
+

Original Bonus

+

Original Loyalty Program

+

Tournaments
cons
-

30X Wagering Requirement
claim bonus
Look & Feel
Sleek and Modern Design
The StarBets casino website rocks a cool dark theme that's way more chill than some other crypto casinos out there. It's easy on the eyes and doesn't cram everything together, making it feel super organized.
Navigation is seamless, thanks to the convenient left sidebar, offering direct access to Games, Bonuses, Events, and Missions.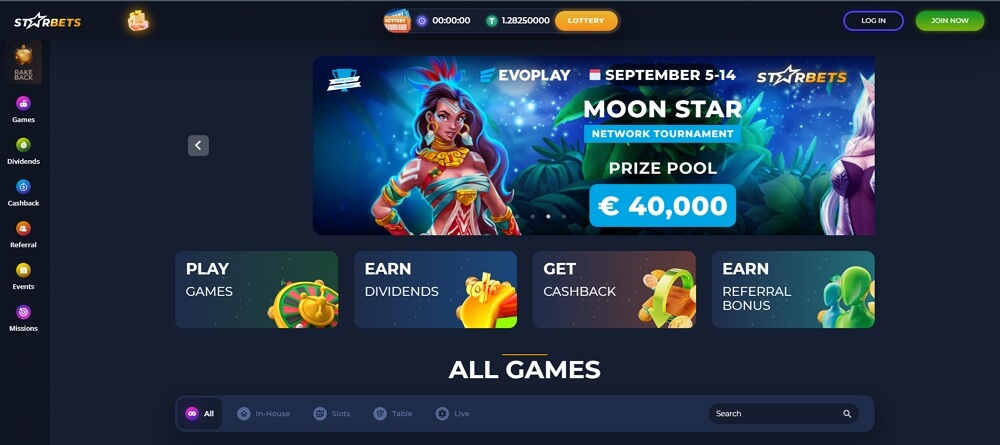 However, a drawback worth noting is the website's limitation to English-speaking users. Plus, they don't have a community chat that many others like BC.Game are offering.
What truly stands out is the platform's intuitive game arrangement, encouraging you to dive into gameplay by allowing you to filter games based on the provider, popularity, and category.
Oh, and did we mention how easy it is to sign up with StarBets?
You can literally do it with a few clicks, requiring only an email and password and confirmation via a link sent to your inbox (no KYC in sight!).
Can I use StarBets on Mobile?
The short answer is – yes, you can!
Their site is responsive on desktop, mobile, and tablets equally. And during our test, we didn't encounter any issues with navigation, and the overall experience was smooth!
Do they have a dedicated mobile app?
Not yet, but this shouldn't be a huge blocker for your gaming experience.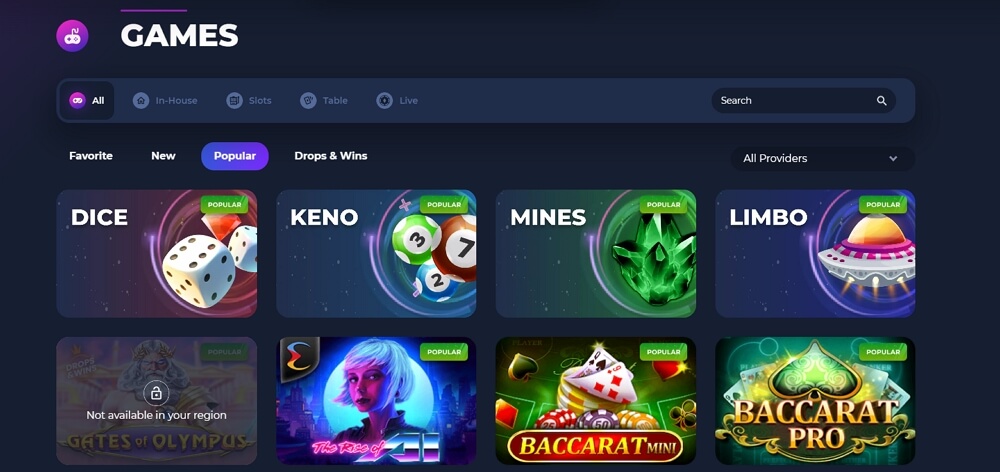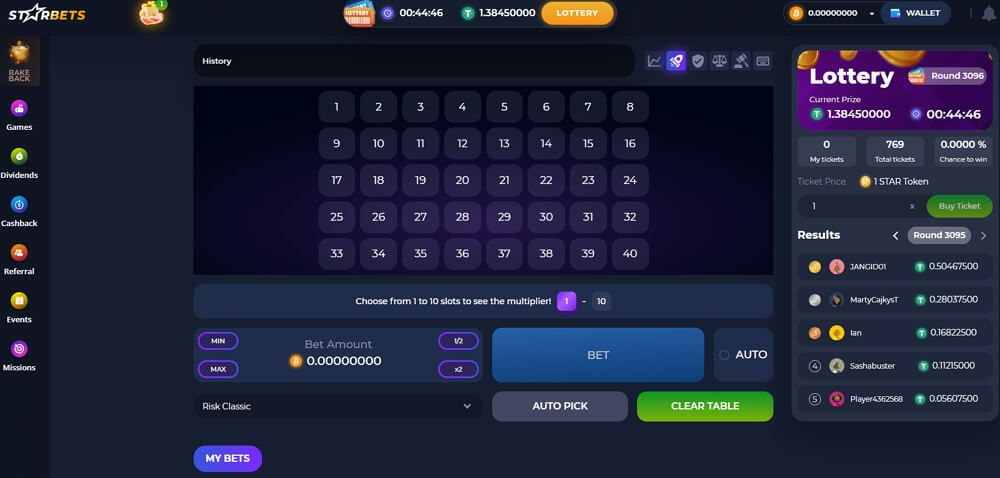 Summary
pros
+

Easy Filtering

+

Mobile-Responsive

+

UX-Friendly Navigation
cons
-

Only Available in English
open StarBets Casino
Game Selection
Provably Fair
StarBets casino is a gaming paradise with a diverse selection of over 1,000 games that'll keep any player entertained. You can explore a vast array of options, including slots, live casino action, classic table games, and unique in-house creations.
What's even more exciting is that they've partnered with some of the big names in the gaming industry, like Pragmatic Play, Evolution2, Betsoft, and many other renowned developers.
But let's have a closer look at what games they offer.
Slots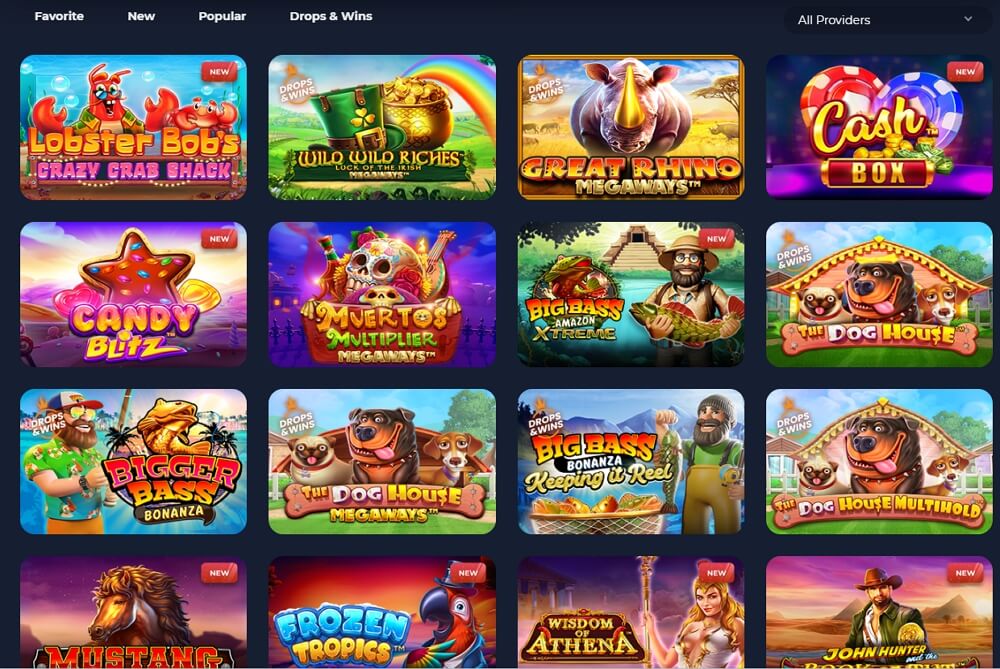 Even if you're not well-versed in the world of Bitcoin slots, the concept is pretty straightforward. As the name suggests, Bitcoin slots are a unique twist on online slots that enable you to bet and win using, you guessed it, Bitcoin.
At StarBets the options for crypto slots are nothing short of impressive. You are spoiled for choice, with a vast selection of well-known slot titles to pick from. Whether you're diving into Gates of Olympus, embracing the Wild Bison Charge, or seeking treasure in Big Bass Splash, there's something for everyone.
And the list doesn't stop there – you can explore classics like:
Sugar Rush
Cash Bonanza
Kingdom of the Dead
Jewel Rush
Greek Gods
Dragon Hero
Gold Train
Live Casino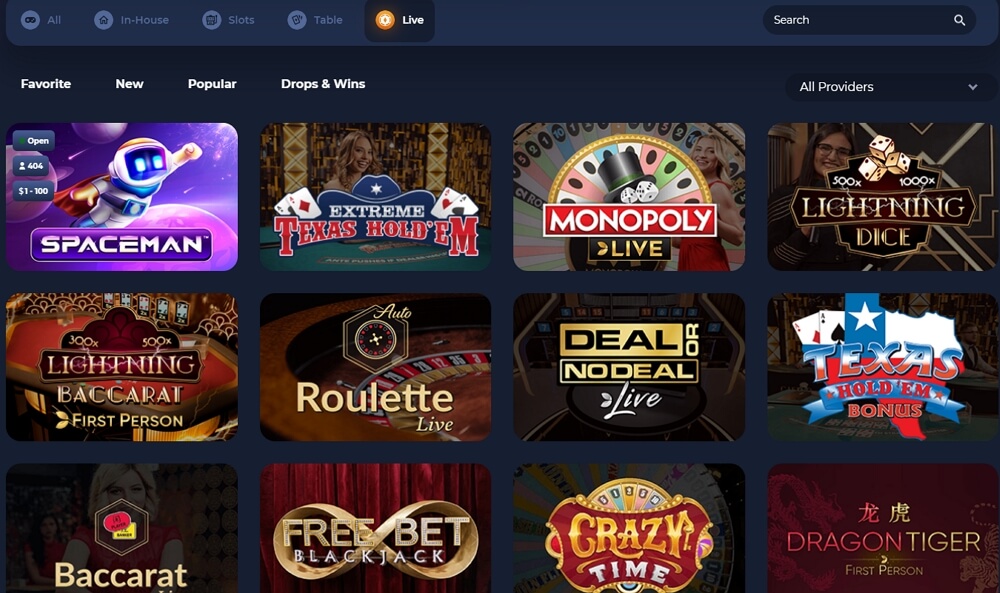 Live casinos at StarBets offer a gaming experience that's not vastly different from traditional online casino games, except for one key distinction – they don't rely on Random Number Generators (RNGs). Instead, live casino games bring the authenticity of a real-life casino right to your screen. It's the perfect choice, especially if you relish the ambiance of land-based casinos.
At StarBets, you can dive into the live casino action 24/7, although game availability can vary depending on factors like dealer schedules and game popularity. Popular favorites like Live Roulette and Live Blackjack are available around the clock, ensuring you can get your fix whenever you please.
But the game variety doesn't stop there. StarBets has an impressive lineup featuring classics like:
In-House Games
StarBets amps up the live casino excitement with its range of in-house games, offering six engaging options to choose from.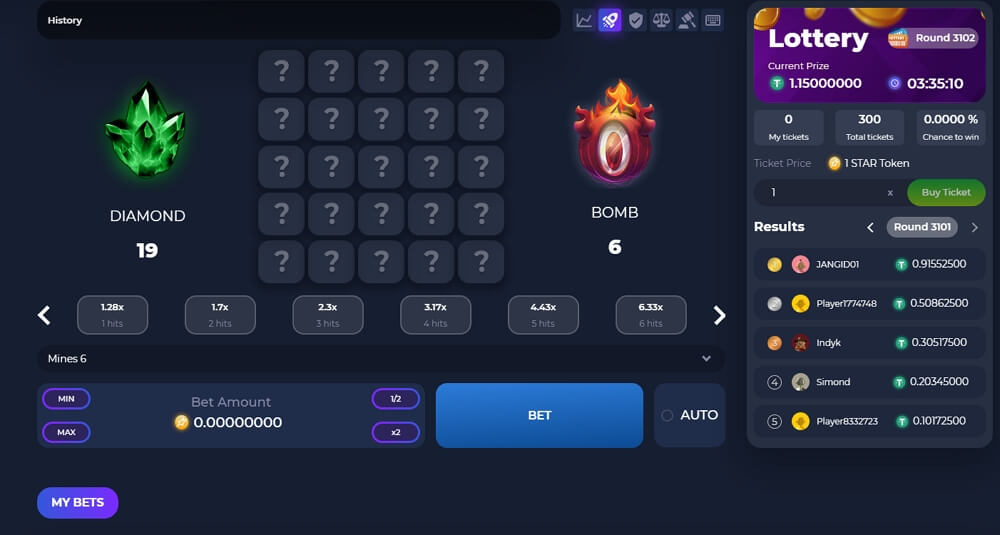 Whether you're testing your strategy in Blackjack, trying your luck with Dice, picking your numbers in Keno, navigating the perilous Mines, facing the challenge of Limbo, or flipping coins for thrills, there's something to suit every gaming mood.
Does StarBets Have a Sportsbook?
They don't. At least not at the moment.
But if you're interested in wagering on sports, you should check out our best bookies for Bitcoin sports betting or eSports betting.
Licensing & Safety
No Valid Gambling License (For Now)
StarBets casino's licensing situation might not be crystal clear, as they don't openly flaunt their gambling license. But don't hit the panic button just yet. When it comes to trustworthiness, it's not all about having a fancy license on the wall (although it is a big plus!).
Now, we get it, not seeing a license can raise an eyebrow or two. But sometimes, online casinos, especially ones dealing with cryptocurrencies, can exist in a sort of gray zone due to ever-changing regulations.
So, is StarBets legit?
Yes.
StarBets proves its reliability by ensuring its games are on the same level – you won't find any monkey business here. And they even throw in nifty security stuff like that 2FA authenticator to keep your gaming experience safe and sound.
What About Geo-Restrictions?
StarBets casino's terms and conditions don't spell out the specific countries where access is restricted, which can be a bit of a head-scratcher.
But after some hands-on experimentation using various VPN locations, we've figured out that players hailing from the US and the UK are a no-go on their platform.
Now, here's a noteworthy tidbit: while they technically allow VPN use, we'd advise against it. Why?
Even though StarBets doesn't have a KYC policy at the moment, they might still apply it in the future. And using a VPN could potentially cause some hiccups with this.
So, it's best to steer clear if you're in a restricted region and consider other gaming options.
Summary
pros
+

Responsible Gambling

+

No KYC

+

2FA Authenticator
cons
-

No Valid Gambling License
open StarBets Casino
Payment Options
Only-Crypto Casino
At StarBets Casino, they're all about the crypto action when it comes to payment options.
Currently, they've got six cryptocurrencies in their lineup, including big names like:
Bitcoin
Ethereum
Litecoin
Tether
TRON
Binance Coin
While this might seem a bit limited compared to other platforms we've checked out (looking at BC.Game and Stake), it covers most of the essentials.
It would be a nice bonus to see some meme coins like DOGE or SHIB in the mix, though.
Deposits and Withdrawals
When it comes to making deposits, the minimums are quite reasonable, ranging from:
0.0001 BTC
0.005 ETH
0.0005 BNB
0.5 TRX
The best part is you can cash out your winnings whenever you want, as long as you're willing to cover the blockchain transaction fees, which are also pretty modest, with rates like 1 TRX, 0.001 BNB, 0.0001 BTC, and 0.005 ETH.
Wondering about the maximum limits?
StarBets is hailed as a high roller's paradise due to its accommodating deposit policy, allowing you to deposit as much as you desire.
What's even more enticing is that there are no upper limits on withdrawals, so if fortune favors you with a substantial win, rest assured you can cash it all out in one go.
Just keep in mind that they're strictly crypto, so don't expect any fiat currency deposit options here. Plus, they don't have an in-house crypto exchange, which is a bit of a downside in our eyes.
How Fast Are The Payments?
When it comes to the speed of processing payments, Starbets.io is on par with other blockchain casinos.
They're all about keeping us gamers happy, so they aim to process payments lickety-split. Since it's a crypto-only affair, the only waiting game you'll play is for the blockchain to give its nod of approval.
But hey, that's just the deal with crypto casinos, and they're all about making it as quick and secure as possible.
Summary
pros
+

All Major Cryptos Available

+

No Maximum Deposit or Cashout Limits

+

Fast Payment Processing
cons
-

Crypto Selection Could be Better

-

No Meme Coins

-

No Crypto Exchange
open StarBets Casino
Customer Support
Live Chat, Blog, and FAQ
StarBets Casino has got your back when it comes to customer service.
They offer a live chat feature, and we decided to put it to the test. You'll find the live chat icon down in the bottom right corner of the website.
When you start a chat, a friendly bot says hi, but you can easily switch to talking with a real customer service rep. The cool thing is we got connected to a rep right away.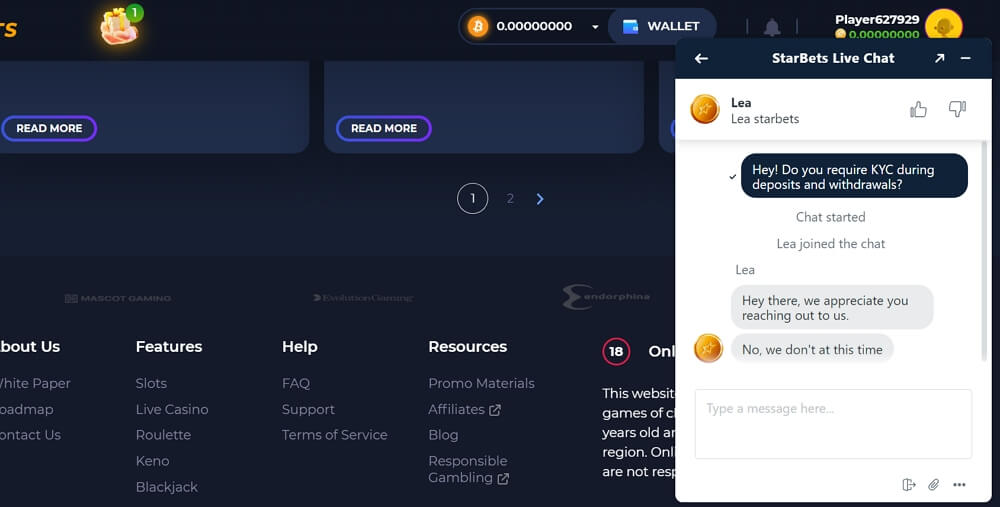 The only hiccup was that we had to wait around 10 minutes for their response, which could be a bit quicker – especially for such a simple query.
Besides the live chat, they've also got you covered with an FAQ section and a blog, and you can drop them an email if that's more your style.
Are they on social media?
Yup! You can find them on:
Telegram
Facebook
X (formerly Twitter)
Instagram
Bitcointalk
YouTube
Plenty of options for getting the help you need!
User Reviews
Share your StarBets experience with the community!
Post your review
Everybody will see your review
F.A.Q.
Still have some questions?
Is StarBets Casino safe and legit?
StarBets is safe and legit crypto casino. Even though, they don't hold a valid gambling license just yet, you can rest assure that they won't scam you. They offer provably fair games and keep your data safe through encryption and 2FA.
Does StarBets have a sportsbook?
No. StarBets currently doesn't have a sports betting option available.
Does StarBets offer a no deposit bonus?
At the moment no. However, StarBets offers their new players a 100% match deposit bonus of up to 500 USD or equivalent to the cryptocurrency of your choice.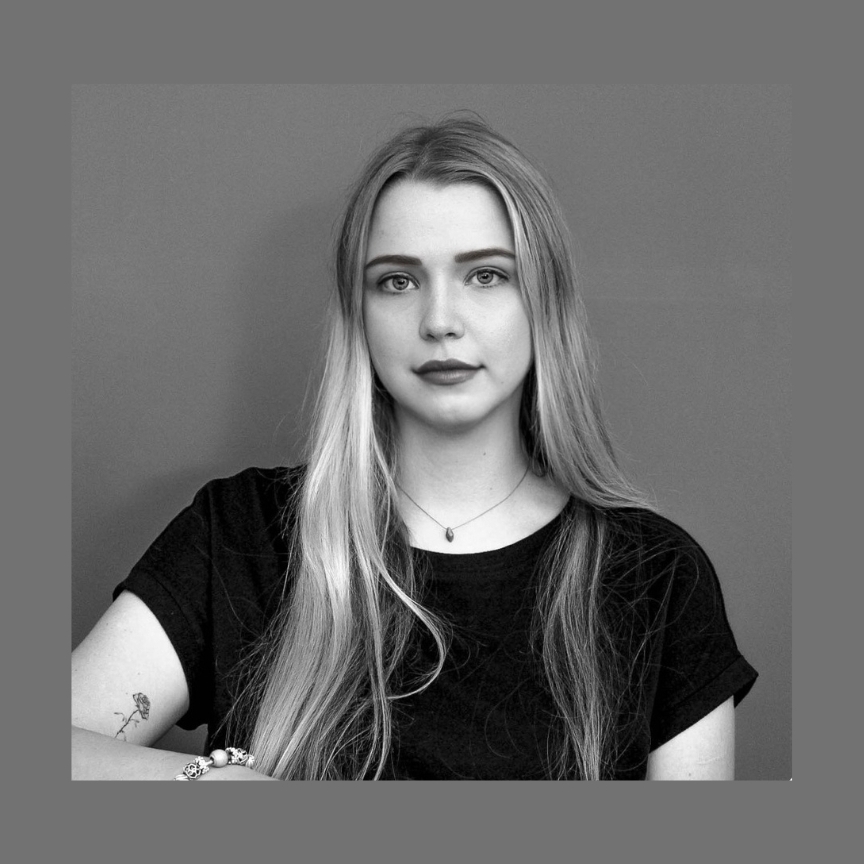 About the author
Fern Bamber
Fern is a seasoned writer in the crypto casino world. With expertise in blockchain and writing, she produces well-researched content covering industry trends and casino reviews. Beyond tech, Fern offers user insights and regularly connects with iGaming experts. Plus, she's an avid video game enthusiast.