Simple, fast-paced, and thrilling. Roulette is arguably one of the most popular casino games out there – found at both land-based casinos and their online counterparts.
Crypto Roulette
Today, blockchain technology has ushered in a new twist to this age-old casino game.
As a result, more and more players are hopping on the crypto bandwagon – and for good reason! Thanks to instant deposits and withdrawals, provably fair technology, and hard-to-beat RTPs, it's no wonder this game is experiencing a revival at the top crypto casinos.
So far, we've given you but a taste of what BTC roulette has to offer, and there's so much more to learn. Stick with us, and we'll take you through:
The best crypto roulette sites
How to play roulette
The most popular game variants
How to choose your ideal casino
Top tips to get you started on the right foot
Ready to spin and (hopefully) win? Let's begin!

The Best Bitcoin Roulette Casinos: In a Nutshell
In a pinch for time? We won't beat around the bush. So dim the lights, we're about to bring you the best BTC roulette casinos in 2023!

Top Crypto Roulette Sites: Unpacked
We spent (too many) hours testing the most promising roulette sites to bring you the best of the best.
You've already seen our top picks. Now it's time to delve into the nitty-gritty and reveal what makes each of them tailor-made for all things roulette!
We'll start with our favorite:

Stake: Best for Glam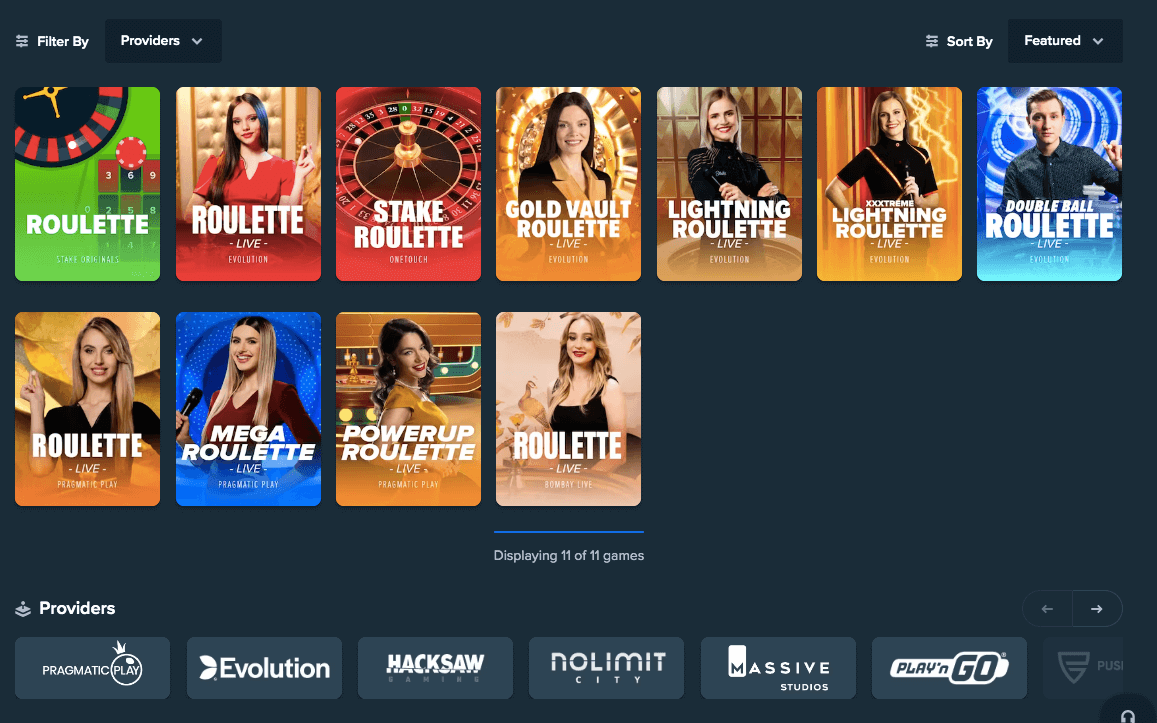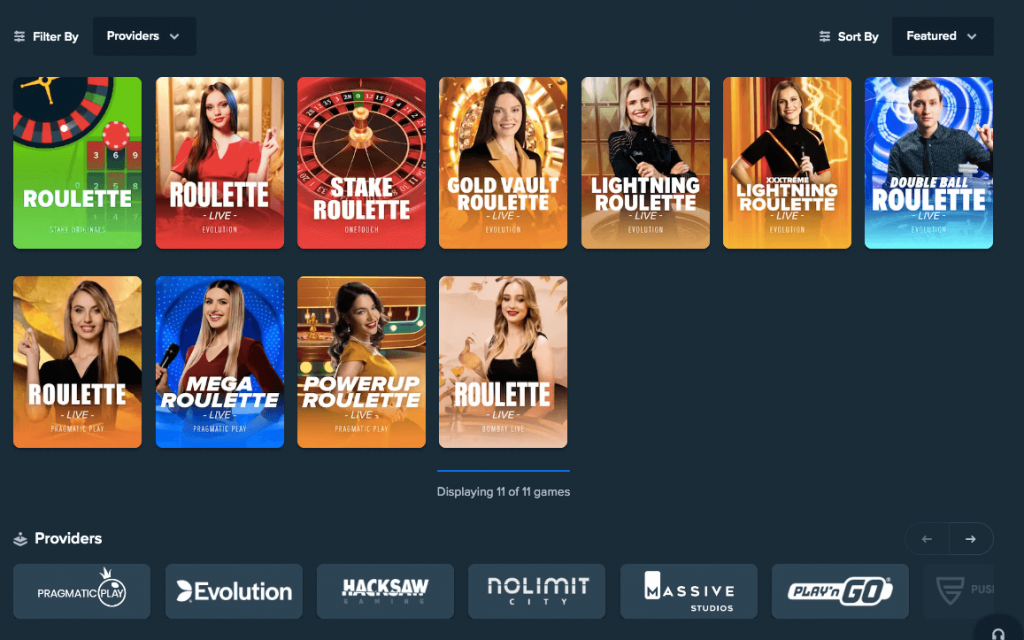 Fast Facts
Established: 2017
License: Curaçao
Best for: Glam
Pros & Cons
In-house roulette title
Provably fair roulette
Celebrity-endorsed (Drake)
Daily rewards up for grabs
❌ Small-ish roulette selection (11 games)
Findings
Stake is the top roulette BTC casino – especially if you want to feel like you're in a Bond movie… Or, at least a Drake video!
The casino offers a sleek and modern interface that's easy to use, and the roulette games are excellent. The selection may be on the smaller side, but this is an excellent case of quality over quantity.
Our personal favorite roulette game at Stake? The original, provably fair Stake roulette game, of course. We're all about provable fairness at Casinos Blockchain, so it's no surprise we took a shine to this game.
It has a house edge of 2.7%, which isn't as low as you'd find with a game of crypto Crash, for example, but pretty standard for roulette games.
And don't even get us started on the various Stake bonuses on offer! These include daily rewards, a VIP program, and more. The customer support is friendly and efficient, and the original roulette is provably fair.
But there's another standout Stake feature:
They recently partnered with Drake – and now you can actually play his favorite games. One of his favorites? That's right, roulette, and he's been pretty lucky so far:
Bottom line:
If you're looking for a unique and glam user experience with a touch of provable fairness, Stake is the way to go.

BC.Game: Best Roulette Variety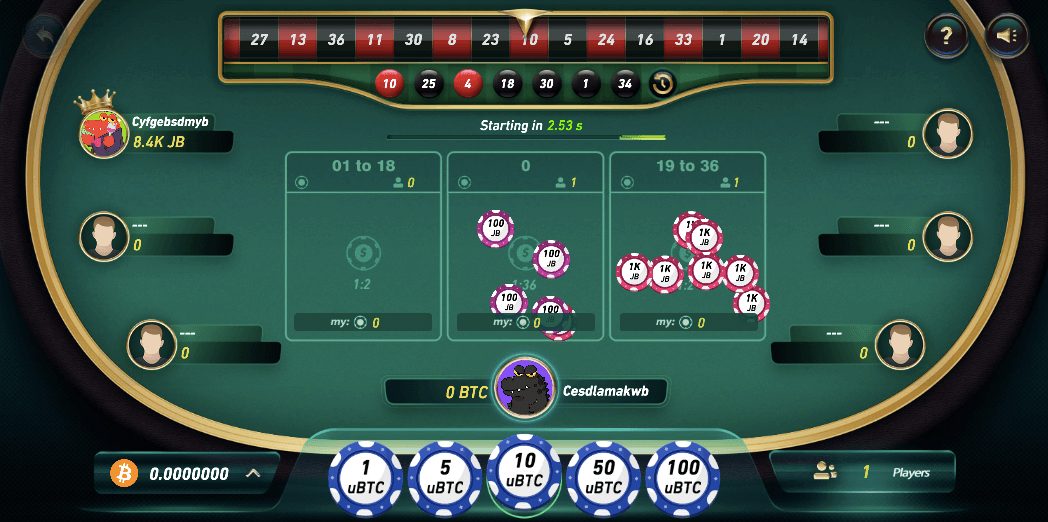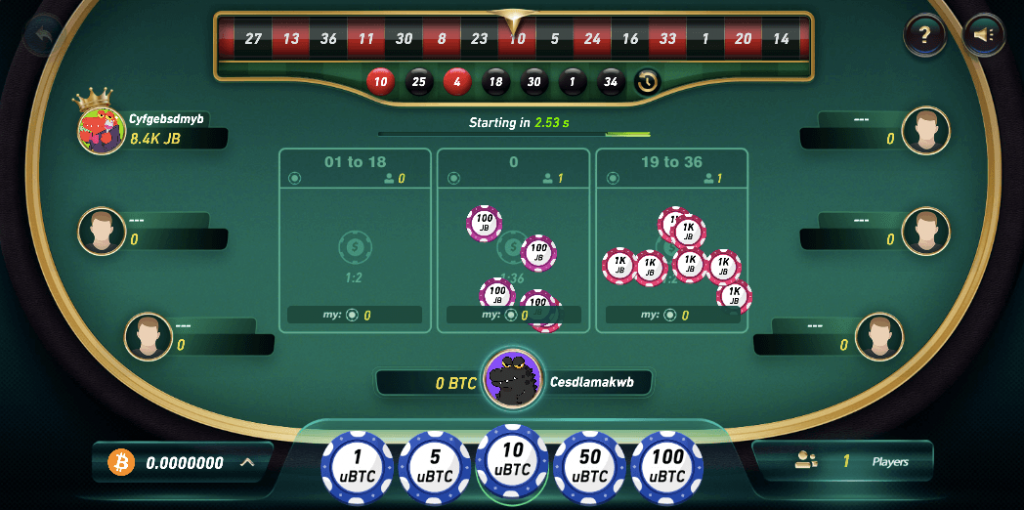 Fast Facts
Established: 2017
License: Curaçao
Best for: Roulette variety
Pros & Cons
Great roulette selection (60+ variants)
Provably fair, in-house roulette game
Multiplayer roulette, developed in-house
Generous welcome bonus and daily wheel spin
❌ Lacks hype
Findings
We'll start off with a bang by addressing BC.Game's phenomenal roulette selection, comprising over 60 different variants. These include European, American, and French roulette games, supplied by some of the best providers in the biz.
Like Stake, BC.Game also stocks an original, provably fair roulette wheel that's fun to play. But the real star of the show is BC.Game's Multiplayer Roulette. Here, you can play alongside other players in real-time – while still having the option to check fairness.
Between the two in-house games and the many other roulette variants, you're sure to be kept busy at BC.Game. Plus, the casino has a bunch of rewards and deals that will entice you to stick around. The BC.Game welcome bonus is particularly juicy.
There's also a VIP club for high rollers and a daily lucky wheel spin which can land you some substantial prizes.
So with all BC.Game does so well, why did we rank it below Stake – a casino with a much smaller selection? Quite simply, Stake comes highly recommended by players and influential figures worldwide. We can't overlook its stellar reputation and reliability, which pushes it to the top of the podium.
In any case, if diversity is what you're looking for, BC.Game might just be your cup of tea:

Rocketpot: Best for Playing Live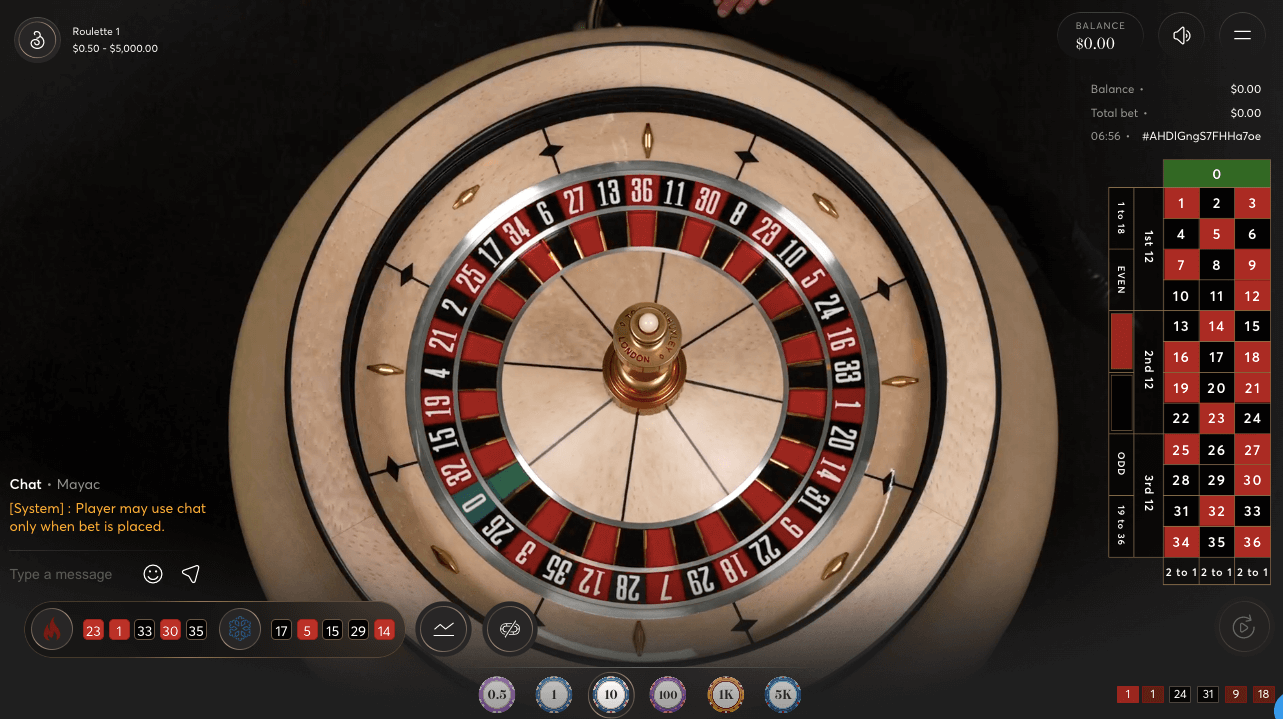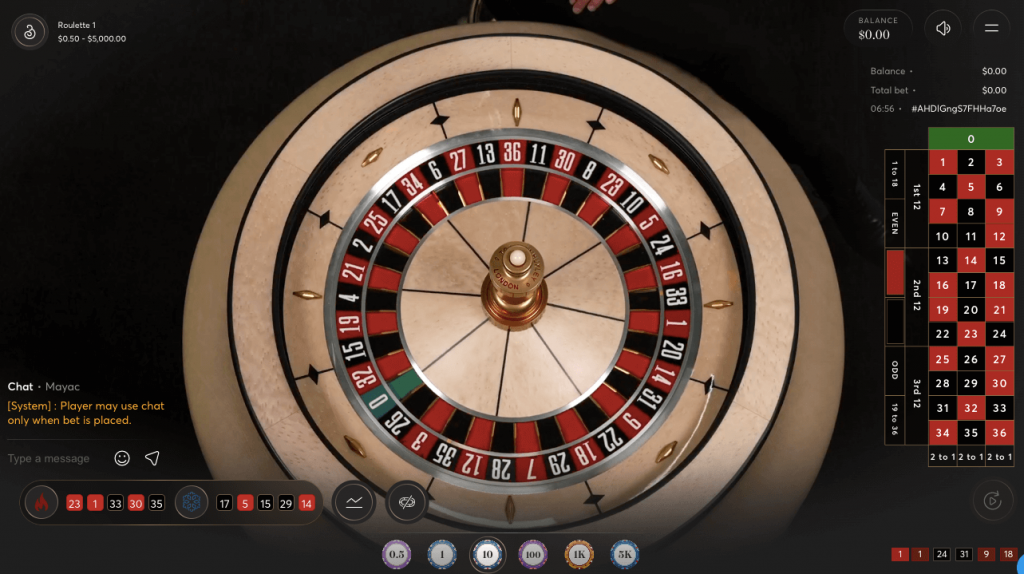 Fast Facts
Established: 2019
License: Curaçao
Best for: Playing roulette live
Pros & Cons
Great for live games
Decent virtual roulette selection
In-house roulette game
Welcome bonus (up to 1 BTC)
❌ No provably fair roulette
❌ No player chat available
Findings
Fancy a spot of Bitcoin live roulette? Rocketpot is your go-to for all things live. The casino has a stellar selection of roulette tables hosted by real dealers in real-time, streaming to your favorite device.
Some of the providers responsible for stocking Rocketpot's selection include BGaming and Bombay Live – two big-wig names known for developing high-quality live games.
Rocketpot also has a good selection of RNG-run, virtual roulette games – one of which is exclusive to the casino. Even though it's not provably fair (like the in-house roulettes at Stake and BC.Game) it's still a simple and engaging title.
Further adding to Rocketpot's allure is the casino's substantial welcome bonus, comprising a 100% deposit match up to 1 BTC. Like most bonuses, it comes with strings attached – and you can read up on them in our detailed Rocketpot review.
One more thing you should know: if you're looking for a social experience, Rocketpot may not be your best bet. The casino doesn't have an on-site player chat, which doesn't do much to create a community.
Undeterred? Why not head over to Rocketpot and claim your BTC bonus – the wheels await!
How We Made Our Picks
Here at Casinos Blockchain, we take pride in our rigorous and comprehensive review process. We would never recommend a casino we haven't tried ourselves – and loved!
When we set out to find the best Bitcoin roulette casinos, we looked at a variety of factors, including:
The range of roulette games on offer
The quality of the software
Provable fairness
Welcome bonuses
Customer support and overall player experience
Here is the exact step-by-step process we used to choose the top crypto roulette sites:
We shortlisted casinos that accept crypto and have roulette games.
We only included reputable gambling sites in this preliminary list. This means anyone with scam accusations or dubious licensing situation was out of the selection.
We created accounts and deposited to check the payment options and speed.
We gave extra points if they had multiple cryptos, not just Bitcoin.
We played the roulette games to see if the casino offers a fair and entertaining gambling experience.
Admittedly, this was the most fun part of the review process. What can we say, we love our subject matter – that's why we're writing about it in the first place.
We evaluated the customer support.
We wanted to see how helpful and professional the representatives are. Casinos with 24/7 support and multiple languages got extra points.
We read the bonus terms and conditions.
Bonuses are great, but only if the wagering requirements aren't ridiculous. We wanted to see if the offers were fair and achievable before we could recommend them.
Finally, we looked for any other relevant information that could help us make the final decision. We love staying in the loop with casinos, so this last step included checking their socials, reviews on Trust Pilot, the reputation on Bitcoin Talk, and more.

Different Types of Bitcoin Roulette Games
Roulette wears many different faces, much to the delight of players around the globe. The more flavors of roulette, the more fun to be had. Before diving into a few of the most popular crypto variants you'll find online, we need to make an important distinction:
There are two categories of roulette under which the many variants fall: Virtual and Live.
Let's briefly go over each one:
Virtual Roulette: Automated roulette games that run on RNG technology. They typically feature flashy graphics and are, in many cases, provably fair. Our top choice for virtual roulette is Stake.
Live Roulette: Tables manned by real dealers who manually spin the wheel. This takes place over a live stream, and results can't be easily manipulated – even though there's no way of knowing for sure. Rocketpot is your go-to site here.
Now that you've got a grasp of the two broader categories, let's get to the fun stuff! By that, we mean the top game variants you'll find at the best casinos:
Bitcoin Lightning Roulette
Tradition meets innovation in this exciting variant. While the game is played on a traditional roulette table and wheel, an extra twist is added to the mix.
Before each spin, a series of 'lucky numbers' are randomly selected and assigned to multipliers – often ranging from 50x all the way up to 500x. If your bet happens to land on a lucky number – and that number wins – your winnings will be multiplied by the relevant lucky number.
Pretty neat, right?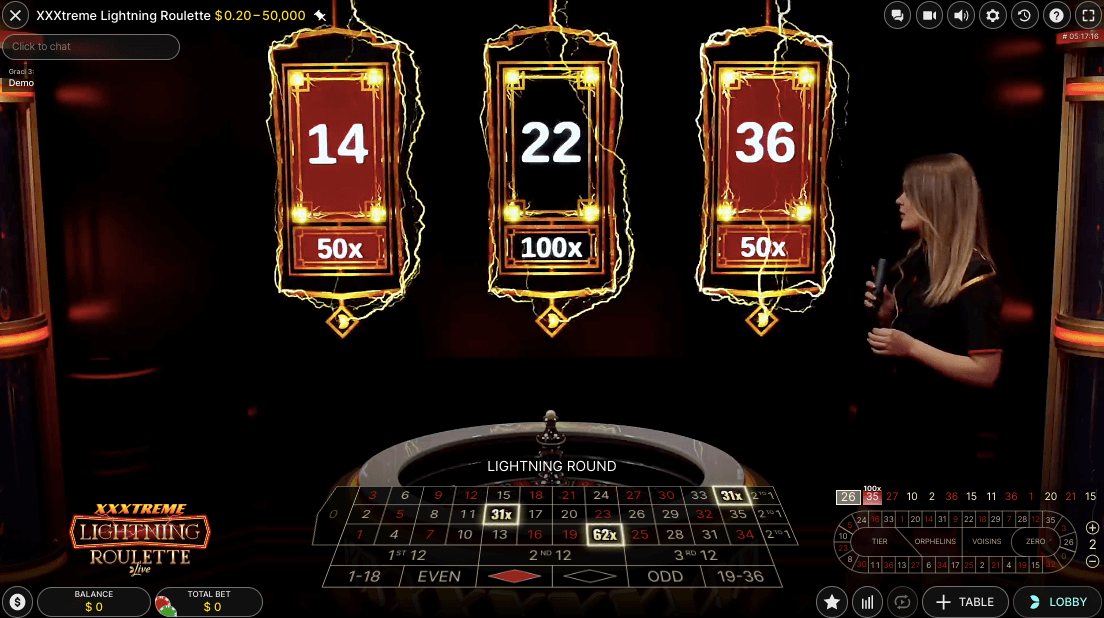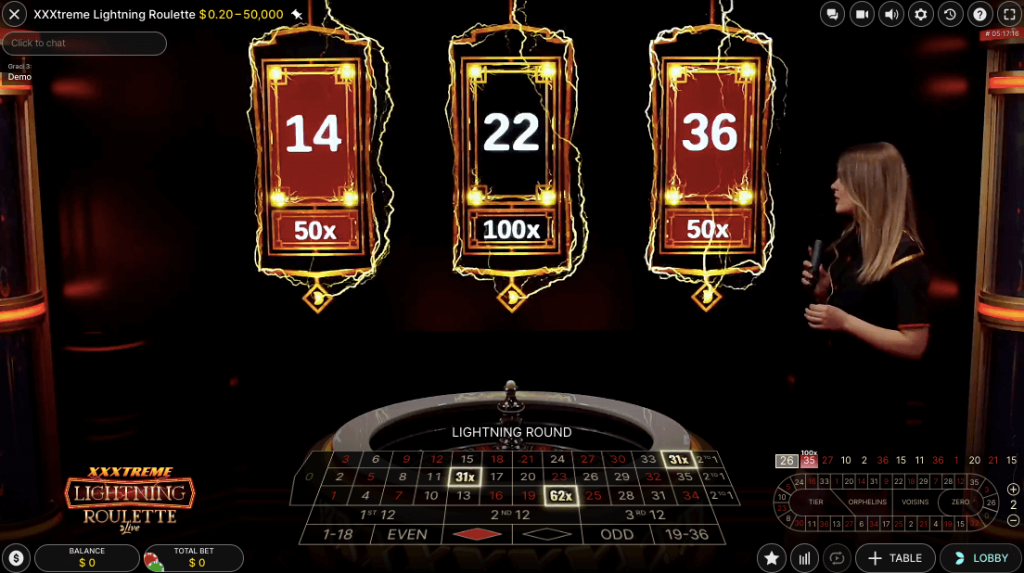 European Roulette
What many consider to be the 'classic' roulette variant, European roulette is simple yet engaging. Players place bets on one or more numbers on the roulette wheel (ranging from 1 to 36, and a single '0' pocket). You can also bet on groups of numbers or colors.
As you may have guessed, if the ball lands in your chosen pocket, you win! How much you win depends on the odds of your particular bet. It's that simple, making it perfect for newbies and seasoned veterans alike.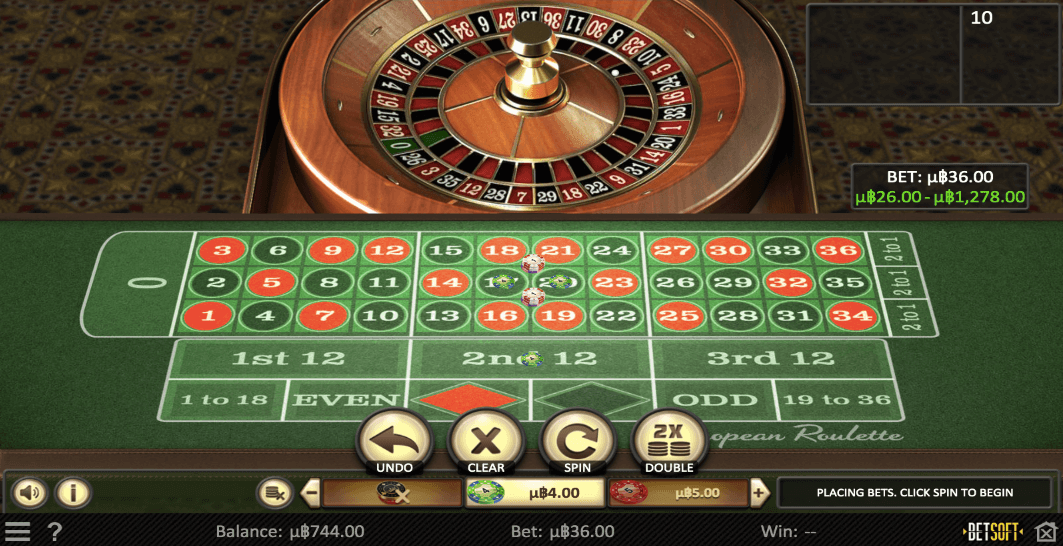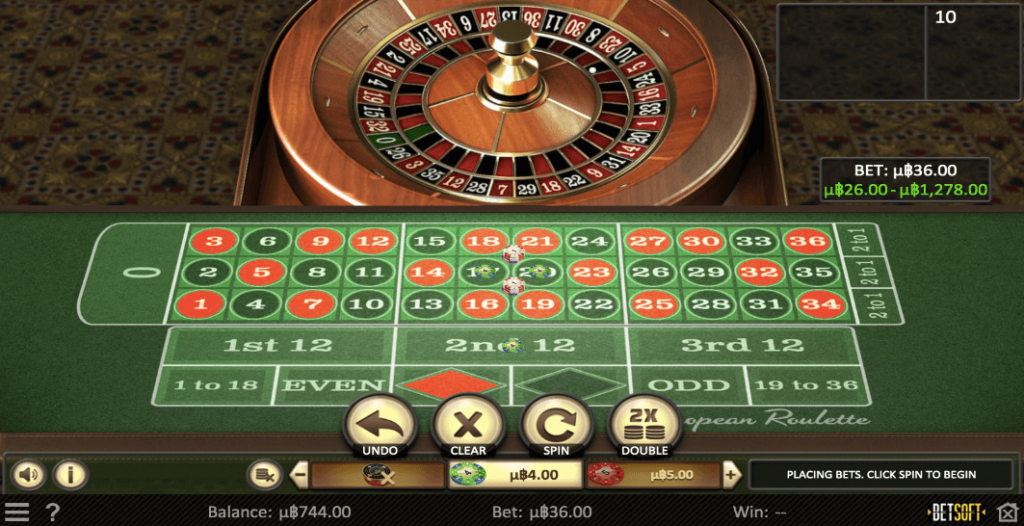 French Roulette
Though very similar to its European counterpart, French roulette still has a few unique rules that set it apart. In particular, the special 'La Partage' rule. If you make an even-money bet (black/red or even/odd) and the ball lands in the 0 pocket, you'll only lose half of your bet.
Another interesting twist is the 'En Prison' rule, which allows players to recover the rest of their even-money bets if the ball lands on 0 again, in the next spin. The odds of this happening are slim, but it gives you an extra edge, regardless.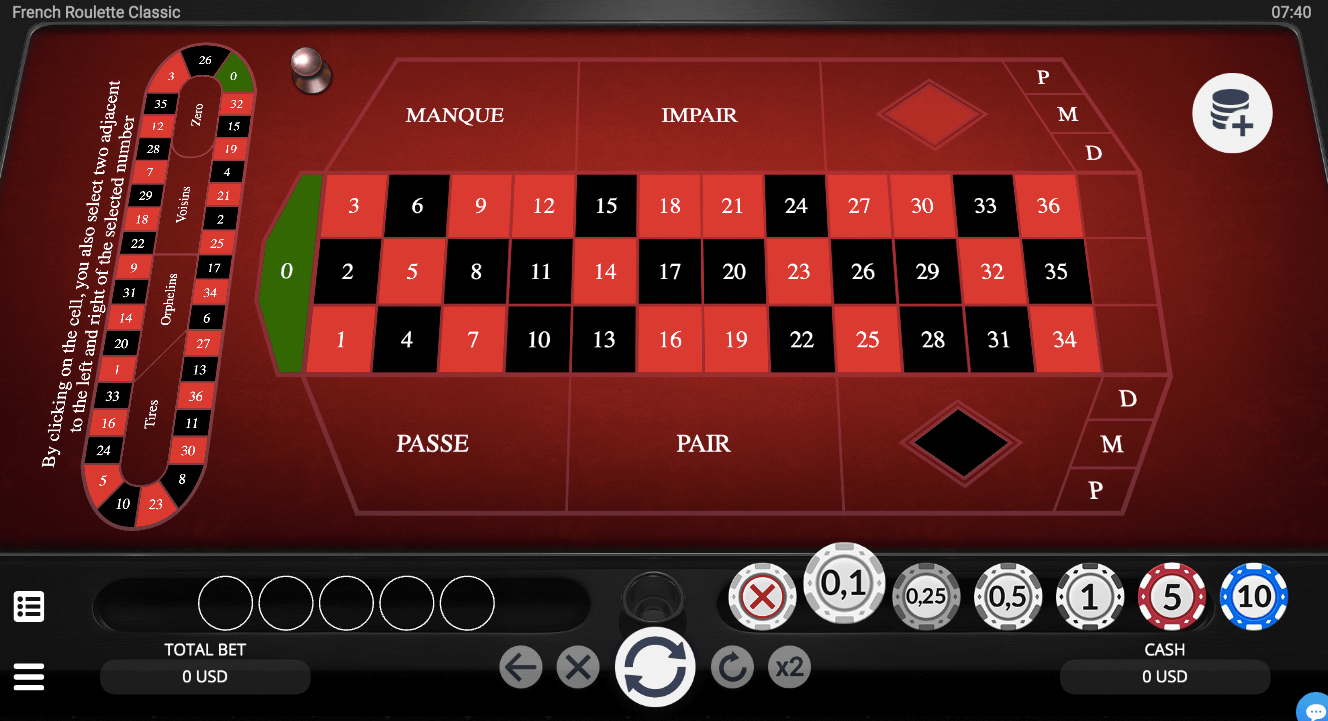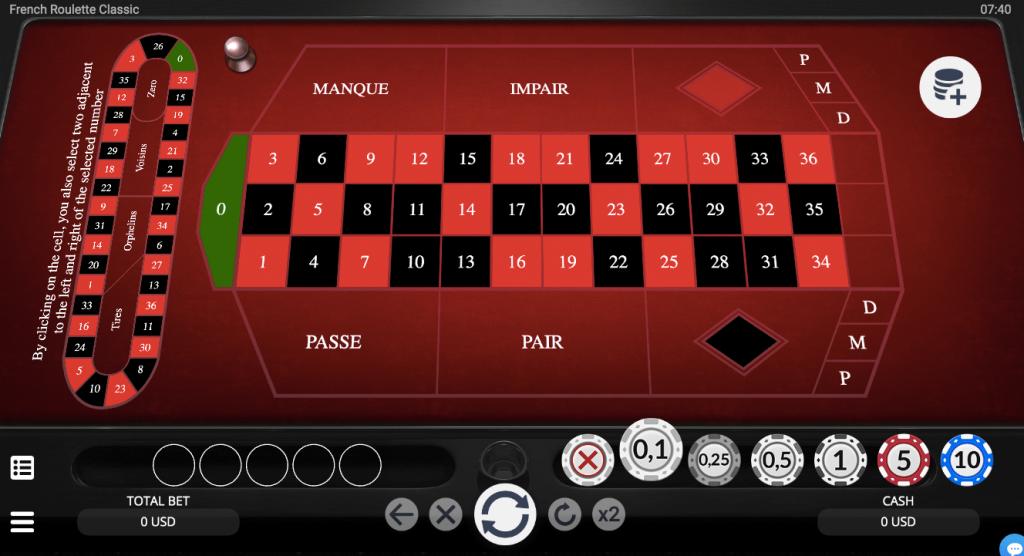 American Roulette
Following most of the same guidelines as the above variants, American roulette does have one interesting deviation. Unlike its European and French counterparts, American roulette has an additional 00 pocket, which actually increases the house edge.
Despite this new rule, the game features the same table and playthrough process you'll find at any other roulette table.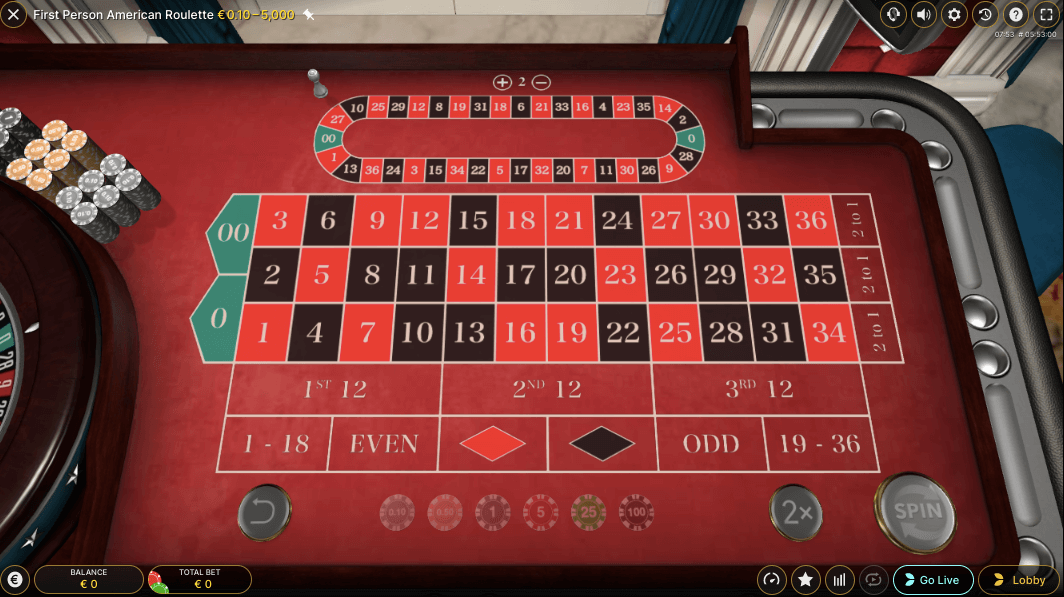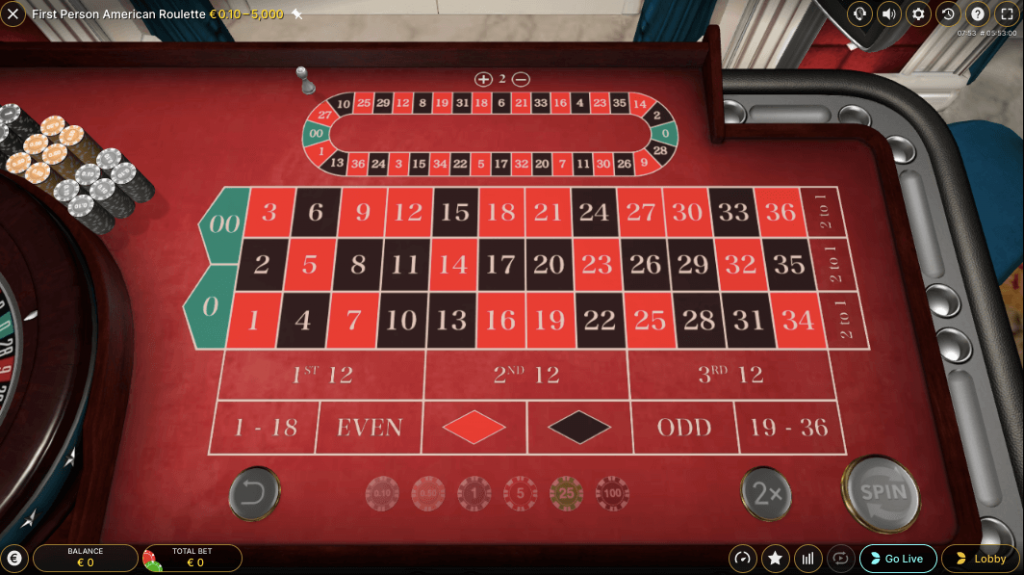 Bitcoin Roulette Dapps
Still waiting to be wowed? We might have just the thing – an edgier, more innovative way to play roulette with crypto: Dapps.
Dapps (or decentralized apps) are applications built on top of a blockchain network.
They're decentralized because they run on a peer-to-peer network of computers, rather than a single central server. In practice, this means there is no single point of failure and no central authority that can control or shut down the app.
You also don't have to deposit money to the Dapp – instead, it connects to your crypto wallet and uses the tokens to play. We bet you know where we're going with this…
The good news is that you can enjoy roulette and the added benefits of decentralized casinos at the top roulette Dapps. Our extensive tests brought us the following sites:
EarnBet

EarnBet is a decentralized, provably fair casino with a modest range of games, including roulette. It's built on the WAX blockchain and uses its own token, BET, for gambling.
The casino has a very user-friendly interface, and the games are easy to understand and play. The roulette table is well animated, with a straightforward betting process if a bit of a bleak design.
While EarnBet isn't as comprehensive as non-Dapp casinos, we love their low house edge and the provable fairness. But the best part about it? You can play anonymously – thanks to the lack of KYC requests.
Overall, it's a great option for anyone looking to dabble with roulette on a Dapp.
BetFury

BetFury is one of the most popular Bitcoin gambling platforms out there, offering a huge selection of games and a gambling experience to match any centralized casino.
The roulette games at BetFury are also pretty great. We love the variety and the design, and we're positive you will too. And when we say variety, we mean a whopping 100+ roulette games.
As a casino Dapp, BetFury can afford high RTPs and juicy bonuses (even a Bitcoin faucet), but it's also a full-fledged online gambling site.

How to Play Roulette with Crypto?
If you're new to the roulette scene, this section is for you. We'll get you up to speed with everything you need to know in no time. Spoiler alert: it's really simple!
Here's how to get started:
1. Choose & Buy Crypto
Since roulette is a fairly popular game, you'll find it at most crypto casinos. The catch? Not all blockchain casinos are equal in terms of coin offerings.
If you stick to bigger cryptos, you'll have no trouble finding an ideal casino. As an example, ETH roulette is incredibly common – after BTC, that is.
Some other popular cryptos for roulette games include:
Bitcoin Cash
Litecoin
Tether
Ripple
Dogecoin
Yup, Dogecoin roulette is also a thing! Niche cryptos like Neo and Cardano are also sometimes available – but far fewer casinos support them. As for Dapps, the two most common cryptocurrencies you can play roulette with are Tron and EOS.
Our two cents?
Either pick a big cryptocurrency like Bitcoin or Ethereum, or play with a stablecoin like Tether. The latter is a particularly good option – stablecoins remove most of the volatility associated with cryptocurrency.
Once you've chosen your ideal crypto, you should head over to an exchange and buy some. From there, you'll need to deposit crypto at your preferred roulette site.

2. Learn the Game Rules
Whether you play it at a regular casino, Dapp or Bitcoin casino, roulette is a simple game:
You start by trying to guess on which box the ball will land after the wheel stops spinning.
Then, you place a bet on your best guess. You can even bet on multiple pockets.
When the ball stops, you either win or lose your bet.
The complexity of the game lies in the different betting options available. These might seem confusing at first, but once you've got the hang of it, you will become a roulette pro in no time!
There are three main types of bets at a roulette table: inside bets, outside bets, and, for more experienced players, call bets.
Inside bets are placed on the colored and number tiles on the table you can see below. You can bet on single numbers, or by placing your token in between the lines that separate the tiles.
Outside bets are placed outside the numbered grid. Famous roulette bets such as on black, red, odds, and evens are outside bets.
Call bets are a bit more advanced. Players can bet on predefined sets of numbers, following a "race-track" map of the wheel, such as the Voisins du Zero, Orphelins, and Tiers.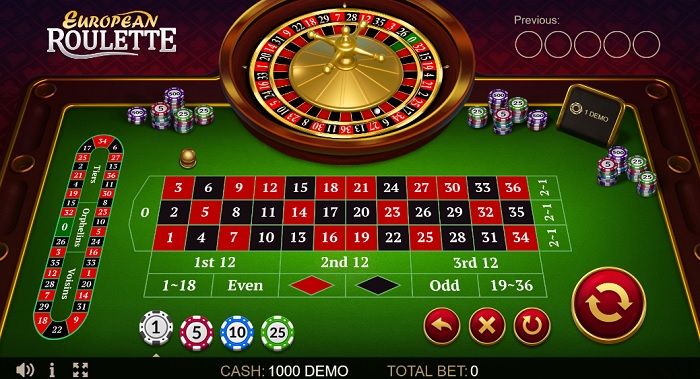 That's it. You win the round if the ball lands on one of the numbers you picked. Of course, the fewer numbers you bet on, the higher the odds and the better the prize you can win.

What Is The Best Bitcoin Roulette Strategy?
Roulette is centuries-old game. Since its inception, players have tried their best to invent winning strategies – without much luck. Unfortunately, there is no foolproof strategy for roulette at Bitcoin casinos or otherwise. This is, above all, a game of chance.
No one can win at roulette unless he steals money from the table while the croupier isn't looking.

Albert Einstein
We agree with the genius' sentiment, but he's not entirely right. Even though there's no way to guarantee a win, you can come out on top in the long run. We'll show you how in our upcoming Tips section.

How To Choose A Good Casino For Roulette
Choosing the right casinos is an important step. After all, you don't want to risk your hard-earned Bitcoin because you chose a shady roulette casino!
The following tips might help you get started. First of all, you should ask yourself:
1. How Do You Like to Play?
Are you in it to win it, or are you playing mostly for fun?
In case the first option appeals to you, look for casinos that offering as many betting options as possible. This way, you can try different methods and see what works best for you.
If you are a fun-loving player, it might be a good idea to go for the casinos with the best bonuses. These will buy you extra playing time. Just make sure you are aware of all terms and conditions before sealing the deal.
2. Go Through Online Reviews
Every casino is different, and some casinos are more table game friendly than others.
That's why it's a good idea to read online reviews, both by experts and casual users. These reviewers have tested the casinos before writing, so you don't have to.
If you're reading real user reviews, do keep in mind that people can be biased by their own experiences, and might give positive or negative reviews because they won big or lost big, respectively.
3. See For Yourself
After you join a casino, you don't have to make a deposit right away.
You can just look around in the live casino, join a Live Roulette game, and even chat with a few players to see if you like the ambiance.
It's also a good idea to test the customer support. Open the live chat and ask a few questions. After all, you need to play somewhere you'll be valued (and supported if you're in a pickle).

Tips For Beginners
Still here? Fanstastic. There's still a little way to go before you can call yourself a roulette pro. To start you off on the right foot, we've put together a list of some top tips we swear by when it comes to this iconic game of chance.
Safety first.
Gamble responsibly by setting a budget, only playing when sober, and sticking to licensed casinos and provably fair Dapps. These tips will protect you and keep the game fun. Another important piece of advice: be extra careful when making wallet transfers (as in, make sure you're sending your crypto to the right address).
Explore your game style.
As a beginner, it's a good idea to try different things. Start with outside bets, as the odds for you are higher than with inside bets. Some people say it is better to stick to the same bet during one sitting, but this is not proven. It's okay to get familiar with roulette betting strategies such as Martingale and D'Alembert, but remember that there's no guaranteed way to win.
Maximize your earnings.
Some players suggest sticking to European roulettes for the lower house edge (compared to American). Make sure you always follow the casino rules, too. If asked for KYC information, provide it and don't lie – as this could lead to banning. And, while there are no guaranteed wins, remember that cashing out on time and not chasing losses are essential practices.
Last but not least, don't forget to have fun. Whether that means trying different roulette games, checking out some live tables, or getting social in the player's chat, this is supposed to be fun – keep it that way!
Final Thoughts
Phew, you made it! You're well on your way to becoming a BTC roulette afficianado. We've covered a lot of ground today, but we want to leave you with one last nugget of wisdom:
New crypto roulette sites are constantly popping up – each offering a unique portfolio of roulette games and bonuses. You can rest assured that we take our job of testing, rating, and reviewing them very seriously. So, we advise you to come back and check for new brands regularly to keep things interesting!