Finding a Bitcoin Sic Bo casino might seem like a difficult task. After all, the game itself is a bit niche, and it's only widespread in Asia.
Combine that with the possibility to play with cryptocurrencies, and you find yourself seriously narrowing your search.
However, Bitcoin casino sites have considerably expanded your Sic Bo gambling options.
In fact, getting to the right Sic Bo betting website is easier than it may seem.
You just have to know what to look for.
In this guide, you will learn about:
The top Sic Bo Bitcoin sites and Dapps.
How you can pick the right Sic Bo casino for you.
What cryptocurrencies you can use to play Sic Bo.
How to play Sic Bo.
We will also leave you with a set of Sic Bo betting tips and strategies which were tailor-made for Bitcoin gamblers.

Where To Play Sic Bo With Bitcoin?
Sic Bo at Bitcoin websites comes in two major versions:
Live Casino Sic Bo, which is the most common variety of the two.
Video Sic Bo, which is a bit less widespread.
Since Sic Bo live tables are much easier to find, you should be on the lookout for websites with a live casino section.
This tends to rule out most smaller casinos and Dapps since they often specialize in provably fair table games.
Luckily, a few of our favorite casinos do have Bitcoin Sic Bo on their roster. Let's have a look at them.

Bitcoin Sic Bo Casinos
Looking for the best casino where you can play Sic Bo with Bitcoin is just like looking for a casino offering any other game.
You want a reliable casino.
You wouldn't say no to a good welcome bonus.
Your gaming experience must be impeccable.
Our top picks for Bitcoin Sic Bo gambling score high on all those factors.

How To Choose A Good Casino For Sic Bo
We've told you which are our top picks for Bitcoin Sic Bo casinos and Dapps, but you might have different favorites.
Truth is, only you can pick the best casino for your unique tastes and gambling preferences.
Some things are universal, however. That's why we've prepared a list of items you should always consider when choosing a Sic Bo casino.
Learn about casino providers.
Check out the available currencies.
Make sure the casino is safe.
Try it out for yourself.
Learn About Casino Providers
As we've mentioned before, Sic Bo is most often played as a live casino game.
The live casino market is dominated by Evolution Gaming, which is, conveniently, one of the few providers to offer this game.
Since most Bitcoin casinos let you filter the games lobby by the provider, you now have a convenient way to find your favorite game.
If you're looking for games outside of the live casino section, be prepared to look a bit harder.
Manual Dealer Sic Bo or Automatic Sic Bo?
Sic Bo is usually played at a live casino table with a real-life dealer that rolls the dice for you, either manually or at the push of a button.
More traditional players prefer manual Sic Bo tables, while some would rather have a more modern experience on automatic tables.
Check Out The Available Currencies
Since Sic Bo is not as readily available as slot games or roulette, it should come as no surprise that your cryptocurrency options might be a bit limited.
Basically, you're restricted to the coins which are supported at the blockchain casinos offering Sic Bo.
For the most part, playing with common coins such as Bitcoin and Ethereum shouldn't be an issue, but we still recommend you to check if they're available before signing up.
Make Sure The Casino Is Safe
Although you can only tell for sure if the casino is safe or not when you actually play and deposit your money, there are a few things you can do beforehand:
Look at user reviews in forums, social media, and review websites. These can often be subjective (a big loss or a big win can be very impactful), but the consensus should give you a good idea of the casino's reputation.
Choose licensed casinos and Dapps, especially those with provable fair games and a focus on transparency.
Read professional reviews such as ours, with expert opinions from people that are passionate about blockchain casinos.
Choose a Casino With a Diverse Portfolio
Sure, Sic Bo is great… but is it really all you're ever going to play? We, for one, love to spice things up – which is why we go for casinos with large game selections.
When it comes to crypto casinos, there are a range of unique games you can play. Crash and Bitcoin Plinko are two of the most popular options – and they're super simple and super exciting. For both of them, you can also expect high potential wins, although the stakes are also high.
Whatever you end up choosing, we encourage you to shop around for the casino with the best portfolio. Plus, the bigger the casino, the more likely it is to be reliable and safe!

Playing Sic Bo With Cryptocurrencies
Sic Bo is not the most common online game, but it is still readily available at some of the world's biggest blockchain casinos.
This means that you should be able to play it with the most common coins. Examples of currencies that you can use include:
Bitcoin
Bitcoin Cash
Dogecoin
Ethereum
Litecoin
Tether
However, you might struggle to find a casino that supports other altcoins.
As for Dapps, you should mostly expect to play with Tron.

Is It Safe To Play Sic Bo With Bitcoin And Other Cryptocurrencies?
Yes! Playing Sic Bo with cryptocurrencies can be safe (if not safer) as playing with fiat money.
However, you should always try to do so at reputable online casinos.
Look for Bitcoin Sic Bo casinos with a valid gambling license, such as one from Curaçao.
Keep in mind that, depending on your location, playing Sic Bo with cryptocurrencies might be allowed, heavily regulated, unregulated, or even outright illegal!

Game Rules
Do you know how to play Roulette? In many ways, Sic Bo it's a dice-version of roulette, with higher potential wins but also a higher risk.
A game of Sic Bo is played with three six-sided dice, which the dealer rolls. Your goal is to guess the outcome of this roll.
Here's how it goes:
You place your bets.
The dealer rolls the three dice.
You win if you guessed the correct numbers/combinations of numbers.
Sounds easy, right? That's because it is!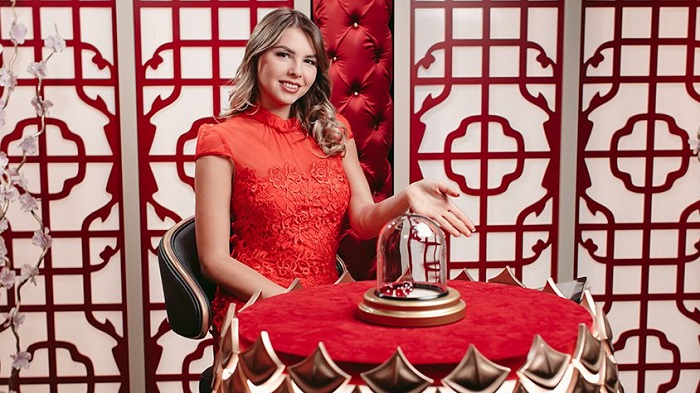 However, a Sic Bo table can look a bit daunting at first. This is because it offers several betting options. You can bet on:
Total bets, where you bet on the total of all three dice.
Big (4-10) and small bets (11-17), where you bet on the total being in between two numbers.
Combination bets, where you bet on two specific numbers showing on two of the three dice.
Single bets on a specific number showing on at least one of the dice.
Double bets on two specific numbers showing on two of the dice.
Triple bets, where you can bet on any number showing on all three of the dice. You can also bet on a specific number, which is the riskiest bet and, therefore, has the highest potential winnings.
Just like with roulette, you can place a single bet, or a combination of bets, covering as many outcomes as you wish.
Are There Any Winning Sic Bo Betting Strategies?
Let's get the cat straight out of the bag: Sic Bo betting strategies can't help you win more often. This is true for Sic Bo games at Bitcoin casinos, regular online casinos, and brick-and-mortar casinos.
The truth is, Sic Bo is purely a game of chance.
However, you can use Sic Bo betting strategies as a form of risk management.
Some dice outcomes are less likely while also offering higher prizes. Basically, the higher the risk, the higher the reward.
Knowing that, you can devise a strategy that better suits your playing style.
Newcomers tend to prefer betting on low-risk outcomes, such as betting on big or small.
Combination bets are commonly used by more seasoned players looking for medium-risk bets with a higher potential payout.
Triple bets (especially specific-number triple bets) are only for extreme thrill-seekers since the chance of that outcome is extremely low. We generally don't recommend them.

Tips For Beginners
Even though Sic Bo is an easy game to learn, there are a few tricks that can help you get started.
The following tips are especially helpful if you're going to play Sic Bo at a Bitcoin casino:
Don't play if the casino isn't licensed.
View Sic Bo as a fun game, not a way to earn Bitcoin for free or an alternative to mining.
If you stop having fun, it's time to stop playing.
Sic Bo might be a casual game, but you should always be sober when playing.
Watch a few rounds first to make sure you know the rules.
Start out with bets with high odds, such as high/small numbers.
Keep your bets conservative. Don't be tempted to use too many bet areas at once just because it's allowed.
Set a budget to play with and stick to it.
Respect the casino and other players.