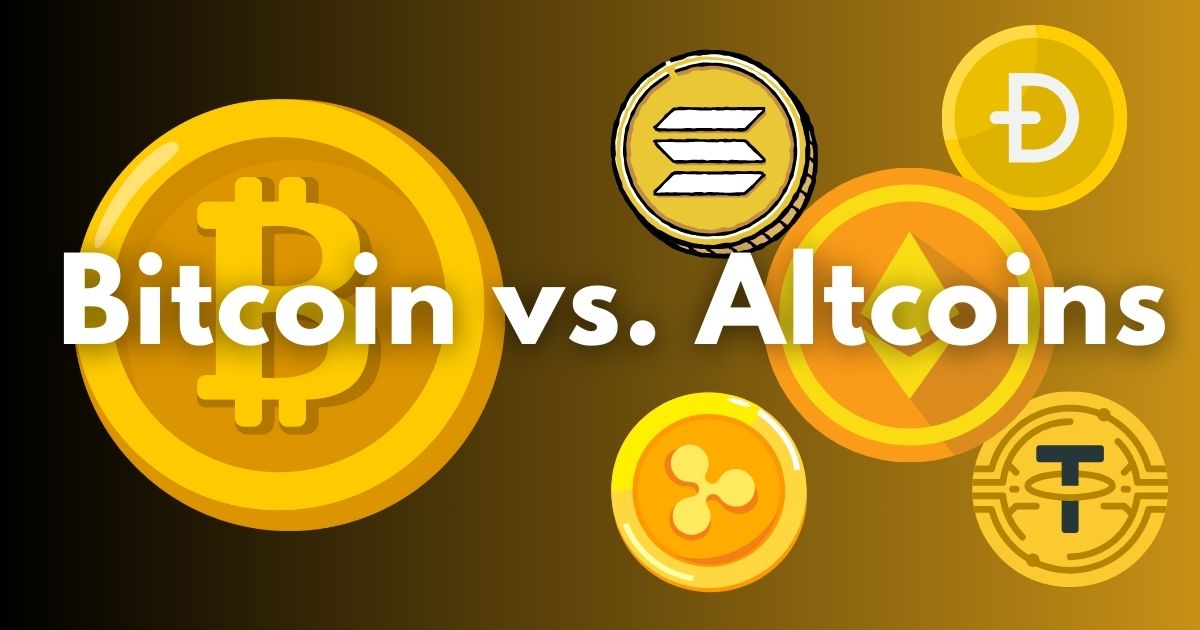 Bitcoin vs. Altcoins—What's Your Best Bet?
I first encountered Bitcoin in 2013—as accepted tender at a New York City restaurant, of all places!—but it wasn't until many years later that I began to hear about altcoins. You may be able to relate—you're familiar with Bitcoin, but what's an altcoin? The short answer is that Bitcoin is the original cryptocurrency, and altcoins are essentially every other digital token.
Bitcoin bills itself as digital gold, a unique concept that is pretty neat. Altcoins, by contrast, are a diverse range of cryptocurrencies with many different purposes. Investing in a cryptocurrency or using crypto for payments or entertainment impacts whether Bitcoin or an altcoin is best for you.
The characteristics of Bitcoin versus altcoins don't have to remain a mystery. Keep reading to find out everything you need to know about altcoins, Bitcoin, and choosing among these token types.
What is Bitcoin?
Bitcoin is the OG cryptocurrency. Created in 2008 by a pseudonymous entity known as Satoshi Nakamoto, Bitcoin represents the first time that blockchain technology was used to transfer monetary value.
Good to know
Bitcoin is the OG cryptocurrency created in 2008 by Satoshi Nakamoto.
Some may describe Bitcoin as just another cryptocurrency or investment opportunity, but there are lots of reasons to favor Bitcoin. Let's examine some of the key features of Bitcoin, the first-ever digital token.
Recognized and Established
If your grandma has only heard about one cryptocurrency, then Bitcoin is probably it. Bitcoin is by far the oldest and most recognized cryptocurrency. This unique status as a digital currency makes it more likely that users and merchants alike are willing to accept the blockchain token.
[CoinmarketCap]
The market value of Bitcoin—at more than $530 billion in October 2023—exceeds the combined market value of the 139 next-largest cryptocurrencies.
Bitcoin is already trusted by many as a method of payment and store of value. A wide array of major merchants and online retailers—across industries—accept cryptocurrency. Blockchain entertainment platforms for music, art, sports, and gambling may accept Bitcoin to the exclusion of any other cryptocurrency.
Relatively Stable and Secure
You've perhaps been admonished that Bitcoin is risky. All cryptocurrencies have volatile price histories, and no digital coin is completely invulnerable to scams.
But Bitcoin demonstrates relatively stable price performance in comparison with the price changes of many other digital currencies—and the Bitcoin blockchain is likely the most secure. Bitcoin is a truly decentralized, global network with the longest blockchain of any cryptocurrency.
Are you a risk-averse investor who still has an appetite for cryptocurrency? Bitcoin may be your safest portfolio option. Bitcoin's comparative stability can also appeal to crypto users who need to send money or want another payment option.
Most Widely Accepted
Bitcoin certainly isn't accepted by merchants everywhere—unless you're in El Salvador, where Bitcoin is legal currency. Bitcoin is among the most widely accepted cryptocurrencies, especially by major U.S. companies. If a corporation or payments platform accepts only one cryptocurrency, then Bitcoin is likely to be the digital token of choice.
Did you know that you can acquire Bitcoin from an ATM? Major payment processors like Visa, Mastercard, and PayPal also support Bitcoin, making the digital token widely useful. Bitcoin boasts a strong network of both businesses and regular people.
Bitcoin is emerging as a widely used token in the entertainment sector, including at cryptocurrency casinos. Stake Casino is an example of a crypto gambling platform that heavily supports Bitcoin, even specifying that "most players on Stake use Bitcoin as their primary currency."
Liquid and Convertible
Bitcoin isn't exactly money, but is generally considered as a liquid asset. The cryptocurrency is actively traded at all hours of the day, usually at high volumes, making it easy for Bitcoin holders to convert their crypto assets into another digital or traditional currency.
Liquidity—or how easy it is to sell or buy an asset—is important in any financial system. The Bitcoin cryptocurrency network is no exception. Liquidity in the Bitcoin market enables transactions to be completed quickly and the cryptocurrency to function much like digital cash.
What are Altcoins?
I'm amused by the very concept of altcoins—which are most simply defined as any digital currency that's not Bitcoin.
Altcoins were likely first conceptualized by Bitcoin maximalists who could conceive no other or better cryptocurrency. Altcoin is short for "alternative coin," and anyone who uses the term is implicitly acknowledging Bitcoin's first-of-a-kind status.
Fun Fact
Ethereum is considered the most popular altcoin.
That's about where any similarity among altcoins ends. Keep reading to understand more about the diversity, innovations, and risk potential of altcoins.
Exceptionally Diverse
Ethereum is an altcoin—and so are Tamadoge, Crimecoin, and Battle Infinity. Altcoins can range from credible competitors to Bitcoin to little-known tokens with near-zero dollar values. Anyone can create a cryptocurrency, even with minimal technical skills.
[CoinmarketCap]
Altcoins in October 2023 can be as expensive as $1,689—for Ethereum—or cost as little as $0.0000003285 for altcoins like APENFT.
Cryptocurrencies can be described as programmable money. An altcoin may be a utility token, governance token, or perhaps a stablecoin—a digital token that pegs its value to traditional money. A cryptocurrency may exist to support a specific technology, community, or even just a funny meme coin. Dogecoin, anyone?
Altcoins are more unique than drink combinations at your local Starbucks.
Innovative and Adaptable
I dare you to name an industry or technology that altcoins aren't revolutionizing—bet you can't do it. The diversity of altcoins points to a high degree of innovation and adaptability among these digital tokens.
Altcoins are driving innovation through decentralization—of finance, data storage, software apps, social media, and many other key components of modern life. Blockchain technology and smart contracts—code-based contracts that can execute automatically—are the core components of decentralized currencies.
A crypto user or investor may be attracted to altcoins for the opportunity to experiment with new games or technology, but altcoins can be adapted by coin designers for many different purposes.
Niche- and Community-Focused
Speaking of Dogecoin—this altcoin is a classic example of a token that's built on community.
Many altcoins resonate the most with a specific community or niche—which might be a technology application, a social cause, or a shared appreciation for pop culture. Successful cryptocurrencies, including altcoins and Bitcoin, typically need thriving and loyal communities to achieve widespread adoption.
Entertainment seekers have plenty of altcoin options that can help them to enjoy their favorite—and even obscure!—hobbies. KlubCoin is an example of an altcoin that uses an innovative "party-to-earn" model in the electronic music scene. Gamers have many options across gaming platforms to use altcoins to enhance their in-game experiences.
Most Risky and Volatile
You may be scratching your head and asking yourself—aren't altcoins super risky?
Some altcoins, like Ethereum, are nearly as stable as Bitcoin. But many altcoins are newly established or not widely adopted, making altcoins a generally high-risk investment. The price of an altcoin may be highly volatile and can potentially drop to zero, especially if the cryptocurrency proves to be a scam.
I've owned a huge assortment of altcoins, but recently chose to stabilize my portfolio by selling the most speculative currencies. Investing in or using cryptocurrency always confers risk—but some altcoins are riskier than others.
Crypto holders can minimize the potential for losing money or suffering other unintended consequences by prioritizing the most-established altcoins—those with the longest histories and largest, most active communities.
Choosing Between Bitcoin and Altcoins
So, which should you choose—Bitcoin or another cryptocurrency? Cryptocurrency users and investors can select among Bitcoin and literally thousands of altcoins, which can make the decision process feel overwhelming.
Best practices for selecting one or more cryptocurrencies are a lot like the best practices of personal finance experts for establishing portfolios of traditional securities.
Let's walk through the basic steps for choosing a cryptocurrency.
1. Determine Your Goals and Risk Tolerance
Why are you interested in cryptocurrency? Start by asking yourself this fundamental question. Your crypto goals and tolerance for risk are very much intertwined with your driving motivations for using digital currencies.
Everyone has different crypto objectives, appetites for taking risk, and target timelines for achieving their goals. Let's dig into each of these considerations:
What do you want to accomplish? You may be interested in investing in cryptocurrency or using it as a medium of exchange. Perhaps you're attracted to crypto because you want to diversify your investment portfolio.
What's your tolerance for risk? Some of us love to speculate about investment trends, while others approach investing in a highly conservative way. Your appetite for risk may fall somewhere in between.
When is your deadline? You may be seeking short-term gains or are instead focused on long-term wealth creation. Your timeframe may influence your choice of cryptocurrency.
2. Do Your Own Research
Your second step in your journey to choose the optimal digital currency is to do your own research—and plenty of it.
The importance of doing your crypto homework cannot be understated. You need to fully understand the cryptocurrencies that interest you before plunking down any hard-earned cash. Here's what to research:
Why the token exists: Who created the token and why? Determine the primary purpose for the digital token.
How the cryptocurrency works: What consensus mechanism does the token use? Learn about the cryptographic protocols that support the cryptocurrency.
Who uses the cryptocurrency: Are the token's holders part of a specific niche or community? Explore whether token ownership is concentrated or decentralized.
Token legitimacy: Does the token exhibit clear signs of legitimacy? Scrutinize the token's whitepaper, its development team, and direct engagement with the community.
Token security: How does the token establish and maintain security? Examine the cryptocurrency's security protocols and any history of security breaches.
3. Consider Usability and Convenience
Your third step before choosing a cryptocurrency is to evaluate the usability and convenience of the tokens that interest you. Because what's the point of acquiring a digital token if it's impractical or inconvenient?
Bitcoin is often a crowd favorite simply because it's the most widely used. Here are some key usability factors to consider during your selection process:
Where is the token accepted? Part of your selection process should include an evaluation of which digital platforms accept the cryptocurrency.
How much are the transaction fees? Pay attention to the typical cost to process a transaction.
How fast are transactions processed? Transaction processing times are important because they can vary widely across cryptocurrencies.
Is the platform user-friendly? If you're interested in a cryptocurrency that's only available via certain digital wallets or platforms, then it's wise to evaluate the accessibility of the user environment.
How to Learn More About Bitcoin and Altcoins
Hungry to understand more about Bitcoin versus altcoins? That's understandable, especially if you're itching to start using or investing in cryptocurrencies.
Staying informed about the evolving cryptocurrency landscape is a smart way to minimize the risk of using or investing in crypto. You can learn more about any digital token by reading the project's whitepaper, participating in community forums, or engaging with the project directly.
Cryptocurrencies are growing increasingly popular as a payment method, including in the entertainment sector, making it important to understand the basics of digital money.
Choosing among Bitcoin and altcoins is a nuanced decision that should ultimately reflect your unique values and preferences.