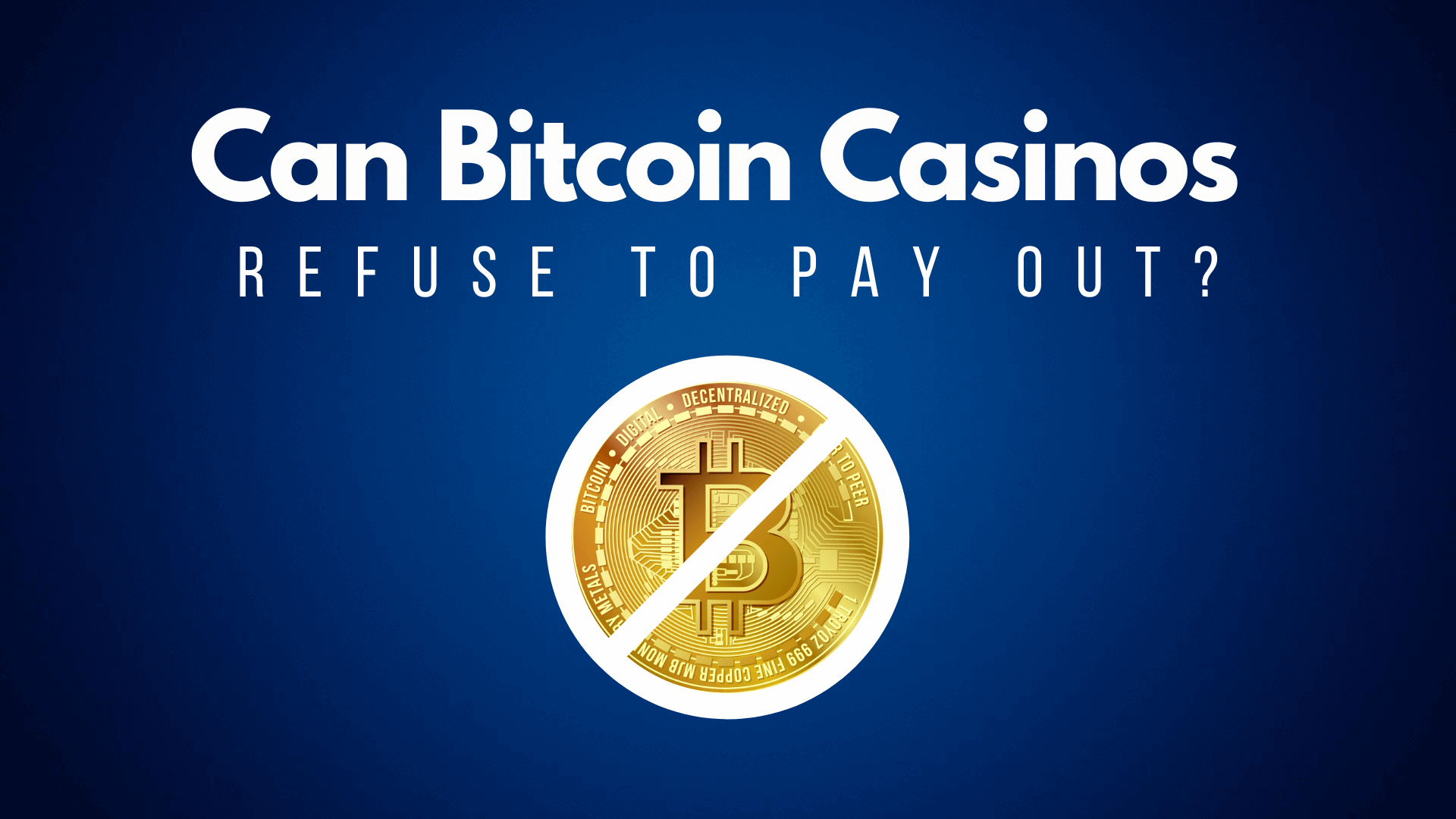 Can Bitcoin Casinos Refuse to Pay Out?
One of the main concerns for players who gamble online is the fear of being scammed out of their winnings. Fraudulent casinos are everywhere — they will gladly allow you to register and accept your money but will terminate your account or void your winnings the moment you win more than you lost.
Because of that, we wholeheartedly recommend you only play in licensed and reputable gambling establishments.
However, did you know that even some of the best and most trustworthy Bitcoin casinos can refuse to pay out? In fact, more often than not, they even have legal backing to do so.
The good news is that there is no reason to worry since all of that can easily be avoided. To help you make sure your money always ends up in your account, we'll:
Get you up to speed with everything you need to know about payout refusals.
Show you how to avoid getting into this mess in the first place.
Tell you what to do if the casino unjustifiably holds your winnings.
Ready? Let's dive straight in with the most prevalent question:
Why Would a Casino Refuse to Pay Out?
The web is full of online casino complaints. Websites like AskGamblers and Casinomeister are riddled with player-made posts regarding online casinos, blocked accounts, misleading bonuses, seized winnings, and much more.
However, if you dig a little deeper, you will quickly realize that the majority of those complaints are unjustified. In a lot of cases, the fault is on the player's end and most misunderstandings occur when a player doesn't read the casino's terms and conditions.
Case Studies
Don't just take our word for it! We've put together some real-life examples recently recorded on popular gambling forums.
Take a look at this complaint against BC.Game, one of our favorite BTC casinos for transparency and trustworthiness.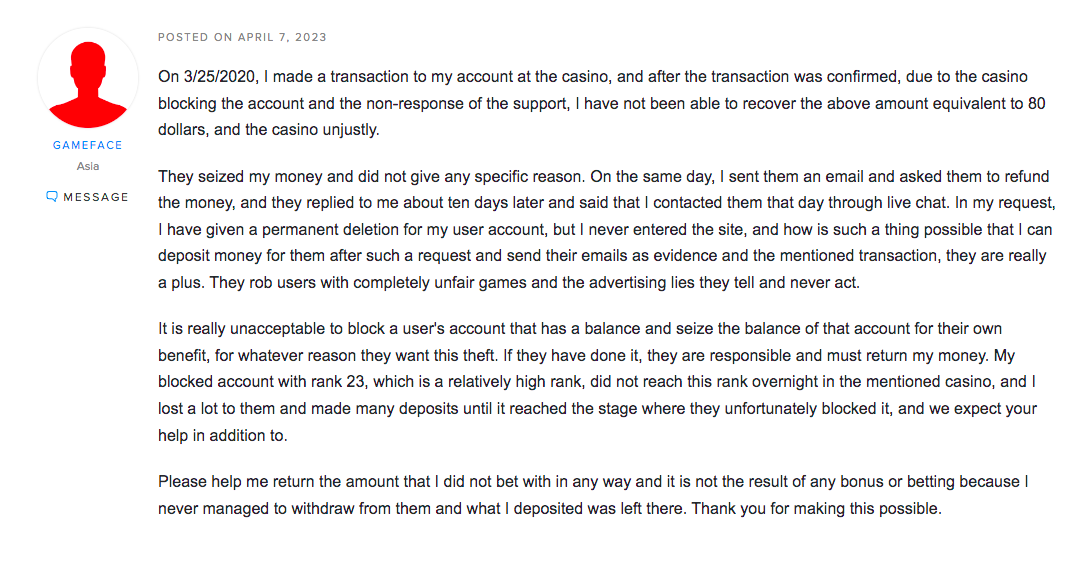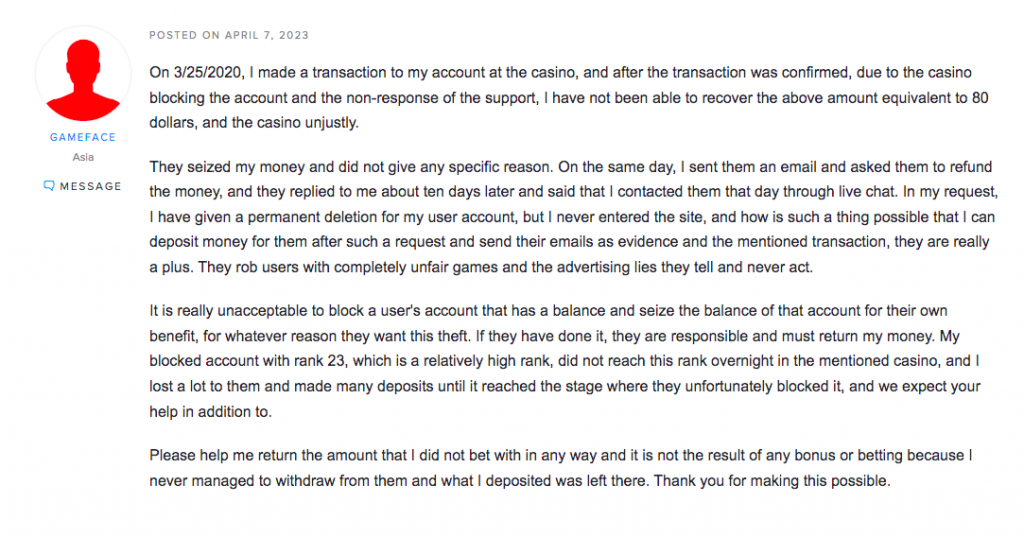 In this case, a player complained that the casino unjustly closed their account and seized their winnings.
Despite the player accusing the casino of fraud, BC.Game went the extra mile to temporarily reopen the player's account, allowing them to withdraw any funds before closing their account.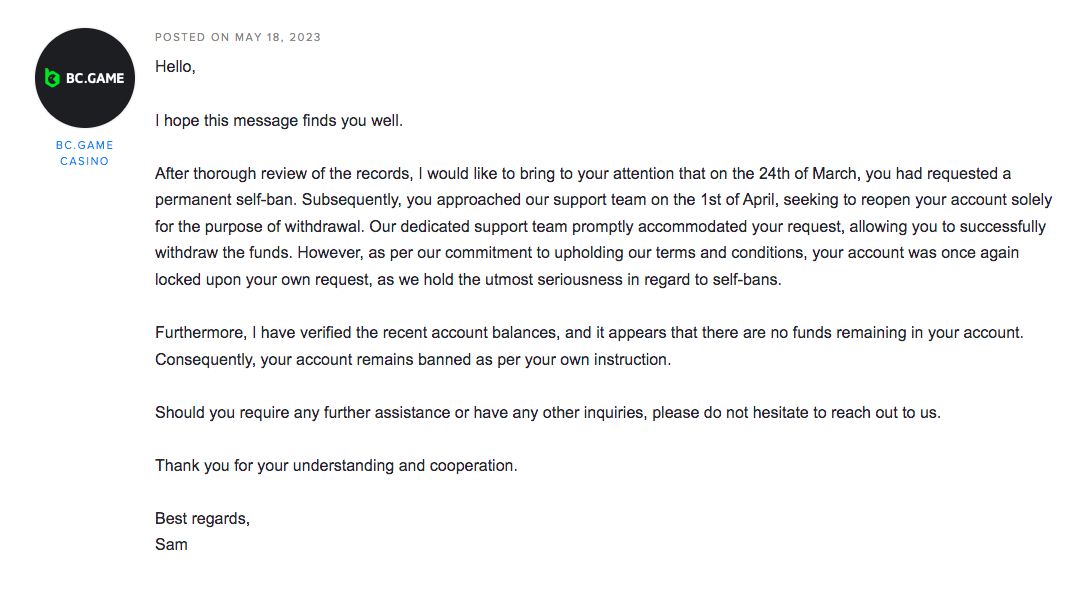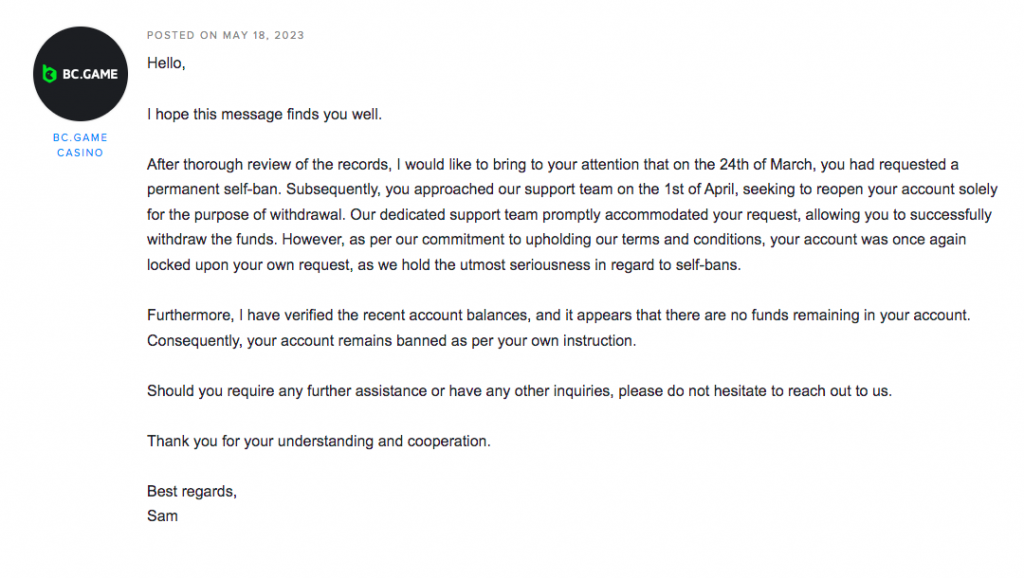 Similarly, another player lodged a complaint about Metaspins. In their post, the player stated that Metaspins refused to pay out nearly $10,000, which is not a small sum by any account.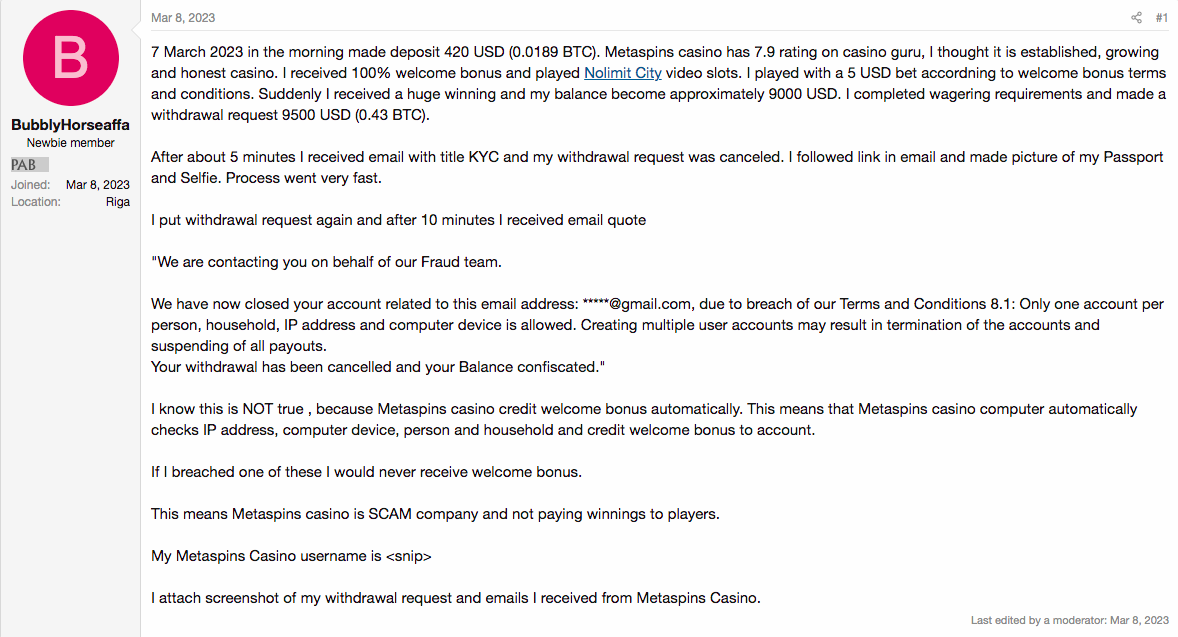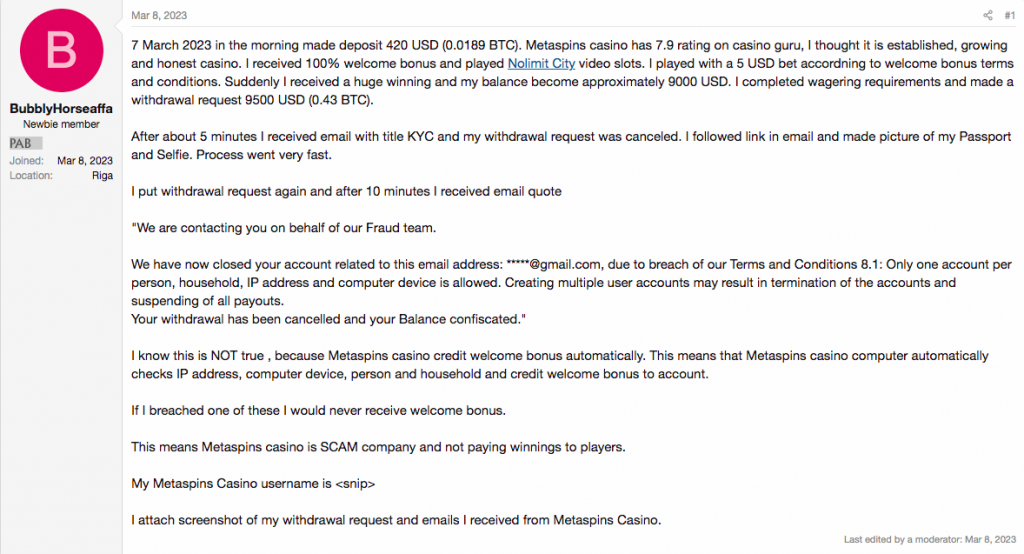 Unfortunately, the aforementioned player created multiple accounts and abused the casino's welcome bonus policy, which is something that is often frowned upon.
In this scenario, the casino justly closed the player's account for blatantly abusing the casino's policy and voided any of their winnings.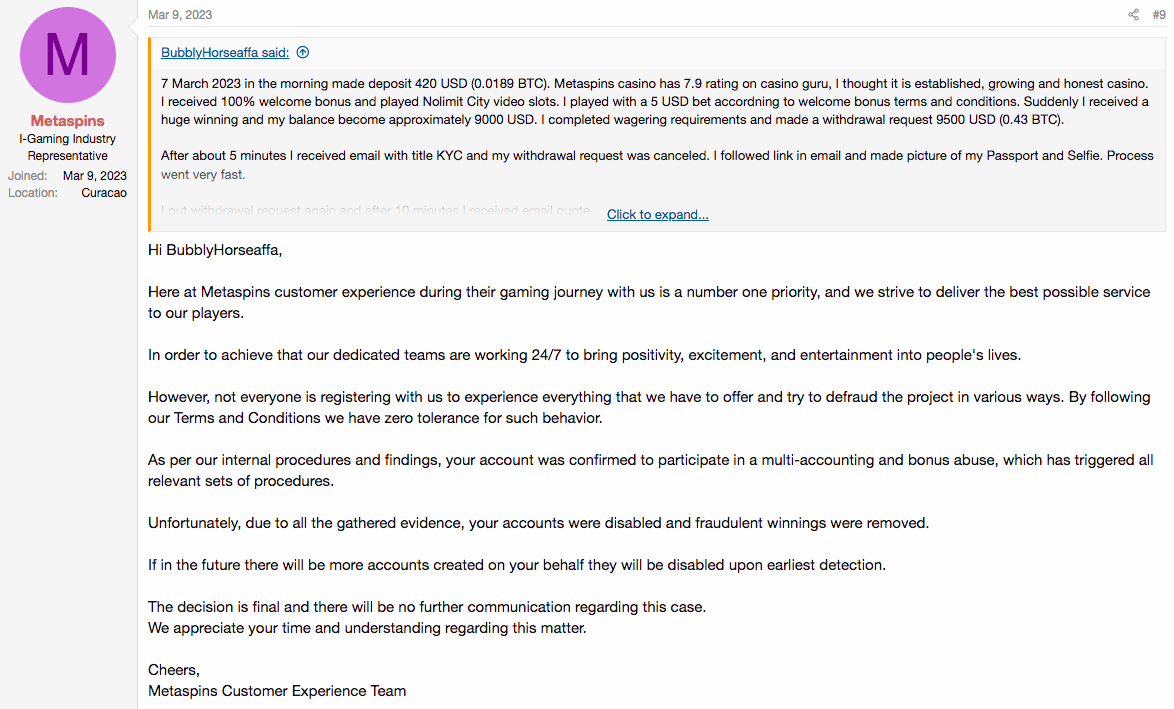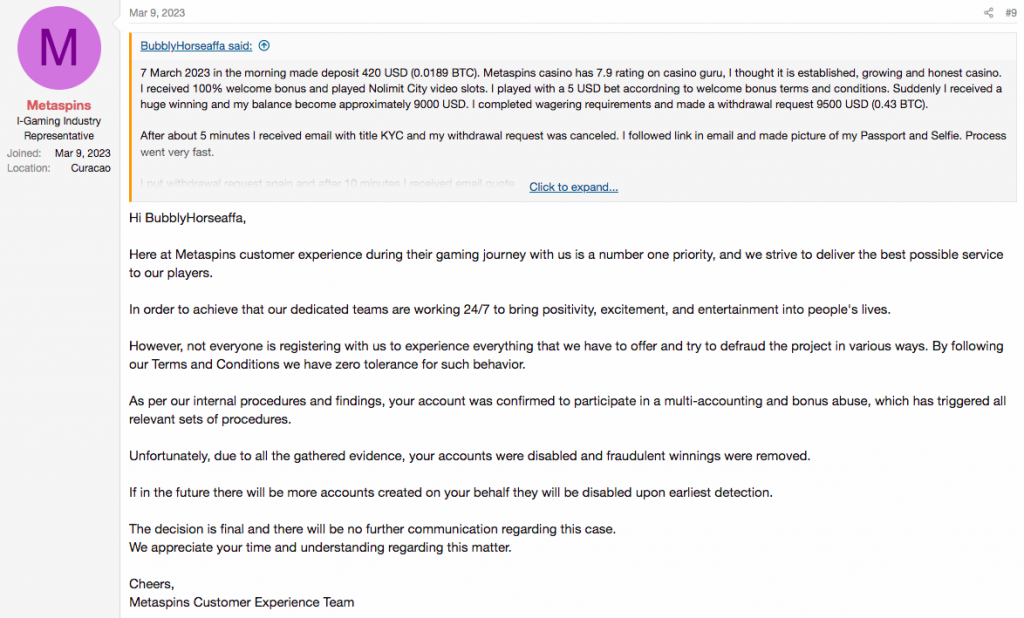 Granted, while there are plenty of reasonable and justifiable complaints out there, the majority of forum threads are made by disgruntled customers who have not read the casino's terms and conditions.
With that in mind, we've prepared several common reasons why a casino would refuse a withdrawal request.
1. Failing KYC Requirements
There are casino KYC requirements at most licensed casinos. To obtain a license from a regulating body, the casino must meet certain criteria, one of which is KYC procedures.
Today, there are plenty of anonymous Bitcoin casinos around that don't require a ton of personal information during the registration process. However, most reliable BTC casinos state in their terms and conditions that they reserve the right to verify your identity, which usually happens during the withdrawal process.
KYC helps casino prevents underage gambling, money laundering, or any other sort of fraudulent activity.
Some casinos request KYC for any withdrawal amount, while others are more specific. Check out Rocketpot's particular terms:
Rocketpot reserves the right to carry out KYC verification procedures before processing withdrawals exceeding the equivalent of 0.05 BTC or $2,500. Rocketpot reserves the right to carry out such verification procedures in case of smaller withdrawals, as demanded by our gaming license.

Rocketpot Terms and Conditions
Casinos will most often ask for an identification card to verify your identity, such as a passport or a driver's license.
In addition, the casino might request utility bills or bank statements to verify your address and country of residence. Some casinos might even ask for a selfie alongside your ID, and you may even have to be prepared to hop on a quick video call.
In case you fail to verify your identity and provide the requested information, the casino might suspend your account and void your winnings.
The exact details vary from one casino to another, which is why it is of utmost importance that you always read the casino's terms and conditions.
2. Creating Multiple Accounts
While most of us try to play fair and square and expect the same sort of treatment from gambling sites, a lot of players try to abuse casino welcome bonuses and promotions.
In some cases, players create multiple accounts and try to claim a welcome bonus on each account. They would then play with the bonus money without making a single deposit, and in case they win big, they would make a withdrawal request and try to collect their winnings.
Admittedly, this practice was more common when Bitcoin no deposit bonuses had more lax terms and conditions. However, stricter terms haven't stopped players from trying to swindle extra welcome bonuses and attempting to circumvent wagering requirements in the process.
Similarly, some fraudulent players create multiple accounts and collude against other players, while others "lose" poker chips they got from bonus money, making sure their other account "wins" said money.
Needless to say, activities like these are extremely frowned upon by online casinos, as you could see from the Metaspins complaint we've shown above. For that reason, casinos have a one-account per household/IP address policy, and any player caught red-handed with multiple accounts tied to their IP address risks having their winnings withheld.
3. Playing from a Restricted Location
In order to operate legally, Bitcoin casinos are permitted to offer their services only to players from countries where they're allowed to operate in. Failing to do so could result in a casino risking hefty legal fees, a loss of its operating license — which also costs a small fortune — and most importantly, its reputation and credibility.
To avoid unnecessary trouble, the casinos often have a list of restricted countries and will block players trying to enter from prohibited locations.
In some cases, players often find ways to circumvent the casino's restrictions and find ways to register using VPNs and other methods to spoof their location.
Once more, online casinos have a zero-tolerance policy towards players who attempt such a feat and will often immediately close the player's account and void any winnings.
4. Other Reasons
Casinos can also refuse to pay out if they suspect a player of fraudulent activity. Gambling sites aren't shy about flagging accounts for suspicious transactions. For example, when a player makes a huge deposit, doesn't play a single round, and then requests a full withdrawal after a certain period of time.
Another reason a casino may refuse to pay out your winnings is if you have previously made a self-exclusion request. A lot of casinos take responsible gambling seriously and are unlikely to unban your account after you've made a self-exclusion request.
For that reason, make sure to withdraw any money left in your account before you make a request to the casino to disable your account. An important thing to remember is that the self-exclusion request may persist across multiple casinos, in case they use the same services, such as BeGambleAware, GamCare, and GAMSTOP, to name a few.
Lastly, you should remember that the reason for a payout refusal might also be something entirely innocuous.
For example, you may be unavailable to temporarily withdraw your funds because you didn't fulfill your wagering requirements. Or perhaps you simply provided the wrong payment details, so your winnings are on hold until everything is cleared up.
How to Avoid Payout Refusal
While there are some rules and policies casinos are not willing to bend, you won't have to walk on eggshells and continuously worry whether the casino will void your winnings or not. The good news is that there are many actionable ways you can prevent any issues from happening to begin with.
For example:
Provide truthful information when registering. If the casino conducts KYC checks and you fail to verify your identity, chances are they will suspend your account and even void your winnings. If anonymity is a must for you, a much better option is to play at KYC-free casinos.
Stick to a single account. In case you forgot the username or the password to your previous account, your best course of action is to contact customer support and see if you can retrieve your old account.
Do not use VPN to spoof your location. Many casinos allow the use of VPNs, and some even recommend you use a gambling VPN as an additional layer of security. However, make sure you are not violating any of the casino's terms and conditions by using a VPN, such as playing from a restricted location.
Fill in your account information correctly. Once you register, make sure to edit your profile and fill in all the relevant information. More importantly, make sure that you enter the correct wallet address or that your payment info is correct. If your request a withdrawal and your funds end up in someone else's account, it will become increasingly difficult if not impossible to get your money back
Make sure you have not made any self-exclusion requests previously or that you are not violating any of the casino's terms and conditions.
How to Resolve Unjustified Payout Refusals
Casinos make mistakes. Sometimes, an irregularity may slip through the cracks and cause the casino systems to unjustly flag your account for suspicious activity.
The good news? Most casinos own up to their mistakes and value their customers, so they are more than willing to resolve any issues, especially when player winnings are involved.
If you've gone through the casino's terms and conditions and you still feel like your payout was refused unjustly, the first thing you should do is contact customer services and inquire about your payment refusal.
In addition…
Take screenshots of all the relevant information — like the amount you won, your conversation with the casino representative, their decision, and everything else you think may be of help.
In case you are unable to resolve the issue by talking to customer support, you can file a formal dispute by contacting the licensing body that regulates the casino in question, such as the UKGC, CGCB, or MGA.
Additionally, you may also start a new thread on any of the websites that help players retrieve their winnings, such as Ask Gamblers, Casinomeister, and Casino.org, to name a few.
The Bottom Line
Even though payment refusal is more common than you may think, there is no real reason to be worried if you're willing to play by the rules.
The best way to protect yourself is to play only at licensed and trustworthy online casinos. Other than that, all you have to do is read the casino's terms and conditions and make sure you are not violating any of the policies.
Most modern-day casinos value their reputation highly and are transparent about their requirements and fair play policies.
As long as you're willing to invest a tiny portion of your time to read T&Cs, you can learn precisely what the casino expects of you and how to avoid any issues down the line.
However, if you still end up in a situation where the casino unjustly refuses to pay out your winnings, remember that the best thing to do is contact customer support and find out more about your issue before you file a formal complaint.