It's the talk of the town, and for a good reason: Solana is faster, cheaper, and hipper! And, thanks to the hype, now there are Solana casinos, too.
Launched in 2020, Solana plans to overtake Ethereum by offering a speedier but still decentralized platform for smart contracts.
The premise is:
What ETH does, SOL can do better.
Today, the currency is so popular that even betting sites have noticed. If you're looking for a place to play with your SOL tokens, we're here to help.
Read on to learn:
Which casinos currently accept Solana (SOL)
What type of games you can play with SOL
The pros and cons of gambling with Solana
How to be safe while playing at Solana casinos
Plus, we'll give you regular Solana updates right in this article. So, let's get started there:
In a Nutshell: Best Solana Casinos
Strapped for time?
Here are our top picks for Solana gambling sites. Check them out today!
What made these our top choices? We'll break it down in this article. But first, let's talk SOL news:

What's New with Solana?
Solana is still a new and growing project in the crypto universe. May began with a bang for the SOL network – unfortunately, not a good one:
Network Outrage
Solana suffered a 7-hour outrage as NFT minting bots knocked it out of consensus.
After a less-than-stable April, Solana started the new month with its seventh network outrage this year.
SOL is a well-known NFT network, second only to Ethereum. Unfortunately, this also attracts bot attention in the race for newly minted artwork.
NFT minting bots help you beat competition to the punch for highly anticipated (and potentially valuable) projects. They're also more than a little unethical and they put a major strain on the blockchain network.
This is exactly what happened between around 9 PM UTC on Saturday and 3AM UTC Sunday (May 1st).
According to the incident report, block production halted at 21:17 and it wasn't restored until around 7 hours later. Client services on Dapps and network operators were affected by the major outrage – and they took even longer to restore.
The in-depth investigation determined that:
Evidence indicates bots tried to programatically win a new NFT being minted using the popular Candy Machine program.
The mint price had been first-come-first-serve for this NFT. Since the first person who called the NFT received it, bots made sense – using them increased your chance of winning.
Sadly, this proved too much for the Solana network. The blockchain couldn't handle the 6+ million transactions per second and consensus crashed.
The SOL price also briefly crashed after the outrage. The good news? It recovered quickly and at the time of writing is back to late April trading prices.
So, while the network still has some issues to resolve, the community is clearly trusting SOL and we at Casinos Blockchain are too.
Plus, in the crypto world, 1xBit recently added Solana as a payment method. Are we convinced 1xBit is among the top Solana casinos? Not yet – but we'll be looking into them closely.
News segment done, let's jump into our best SOL picks:
Best Solana Casinos
While researching Solana casinos, one thing quickly became apparent: there aren't that many websites for SOL players.
This state of affairs is not exactly unexpected – after all, it takes some time for cryptocurrencies to become popularly accepted as payment methods.
But, we didn't want to compromise on quality either. So, we tested each casino we could find, looked into the specific perks and came up with our top three. Here is our step-by-step process:
We found the most popular Solana casinos online.
We started with a long list of SOL-friendly gambling sites. To find them, we had to scour the Internet for ideas – review sites, forums, Reddit, we looked far and wide for Solana sites to test out.
We made an anonymous profile and started playing.
While we're not affiliated with any casinos, we still want to stay anonymous when testing out casinos. Why? Because that's how we get the 'real player' experience, not a polished, PR version.
We deposited, played, and withdrew in SOL.
We took note of specific Solana pros and cons. From the speed of deposits to ease of withdrawal (and no time-consuming KYCs), we made sure the SOL experience was top-notch.
We gave points for games, bonuses, and more.
After we ensured the casinos were Solana-friendly, we evaluated the overall experience. Were there enough games? Provable fairness? What about bonuses and promotions? We gave extra points for these things, because they're what makes a SOL casino truly excellent.
And there you have it – this is how we chose our top Solana casinos and Dapps. Ready to learn about them?
Let's start with casinos:

BC.Game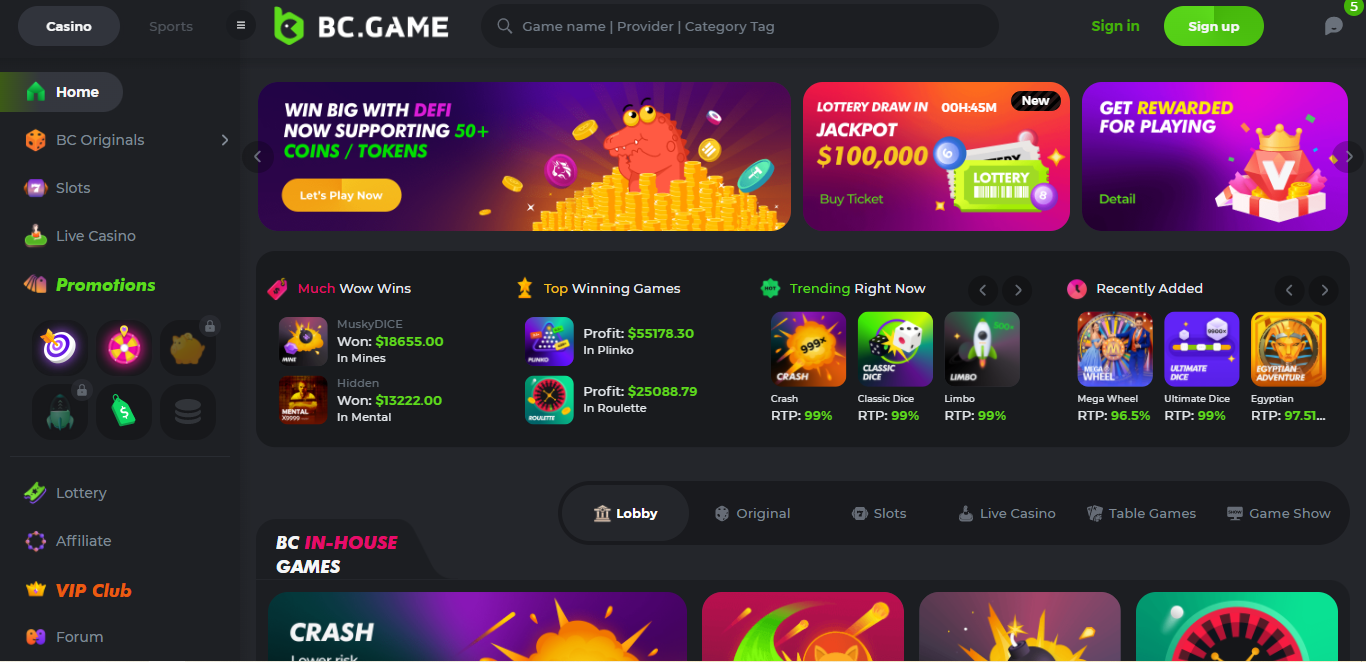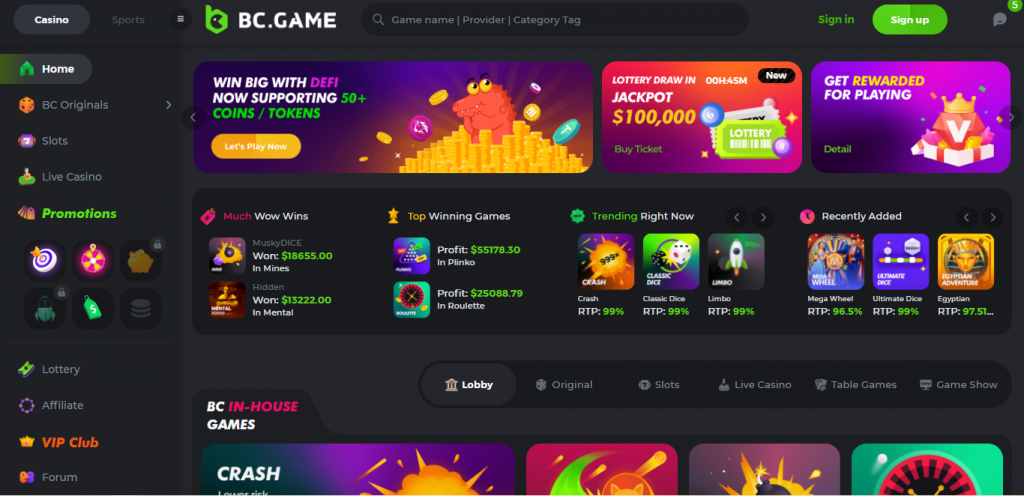 BC.Game is our #1 Solana casino and for a good reason:
What makes it Solana-friendly?
BC.Game is an excellent casino for altcoins. You can find the coin in the wallet tab on the upper right-hand corner – and, yes, Solana is on there.
Solana deposits and withdrawals are fast and cheap. We've withdrawn amounts for a fee as low as 0.01 SOL (although it can be higher for larger cash-outs). You can also buy Solana directly from the BCSwap marketplace, which makes SOL gambling even easier.
But is there anything more to the BC.Game experience?
We can't get enough of BC.Game's social features (which is probably why it's one of our favorite brands).
On top of a vibrant player's chat full of handy tips and not-so-humble brags from veteran players, there is also a winner's feed and tons of challenges and engaging promotions that will keep you on the edge of your seat.
But what about the games, you ask?
? Well, not only does BC.Game offer a wide selection of casino classics, but they also feature an exciting collection of internally developed games.
All of BC.Game's original titles are provably fair and have a low house edge!

Cloudbet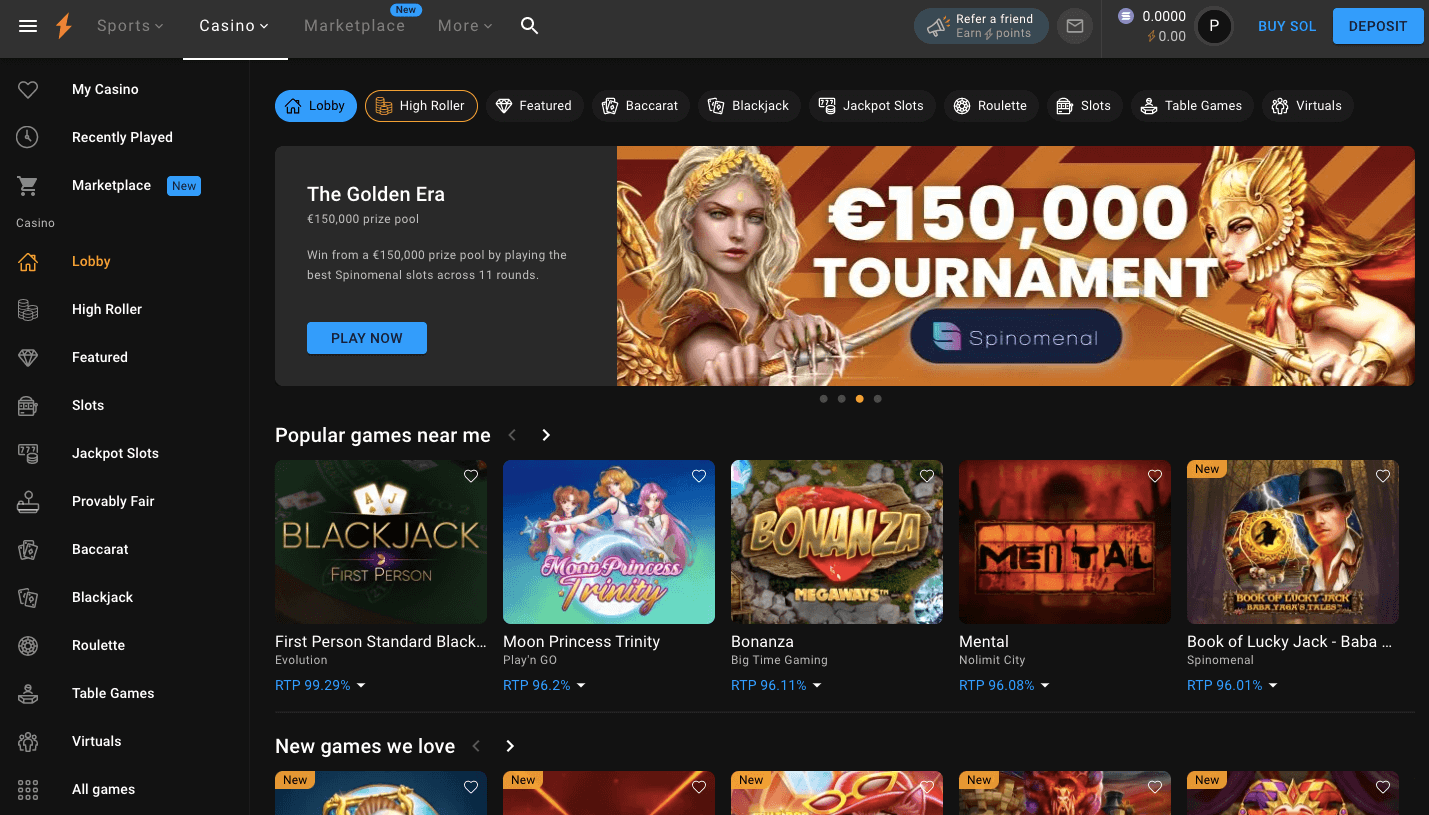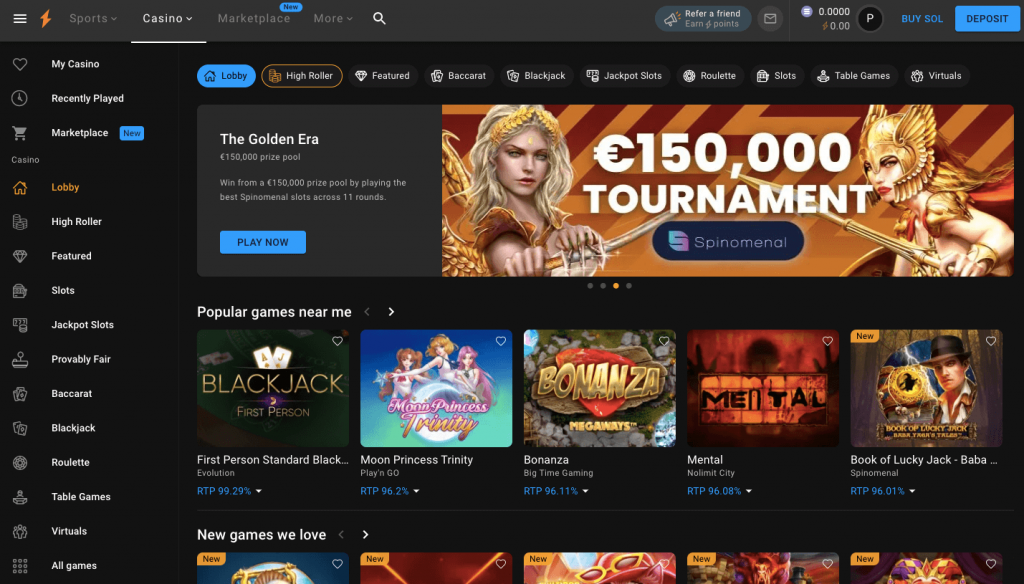 With almost a decade-long history, Cloudbet has definitely stood the test of time in crypto casinos. Today, it's just as popular as ever. Whether you're a poker enthusiast or a sports betting aficionado, Cloudbet will keep you entertained.
What makes it Solana-friendly?
Cloudbet has always been at the forefront of crypto gambling – and SOL payment options are no exception.
Not only can you use Solana to gamble, but Cloudbet also gives you a welcome bonus of up to 500 SOL. And, if that weren't enough, this is also the only Solana sports betting site! They have excellent odds on 30+ different sports, including classics like soccer and the NBA, along with esports and virtual sports.
Is there anything else? We're glad you asked – Cloudbet has a bunch of other perks, too:
1,200+ casino games

Live games and provably fair games available
Competitive sportsbook product
Sleek UX, perfect for newbies and pros alike

Duelbits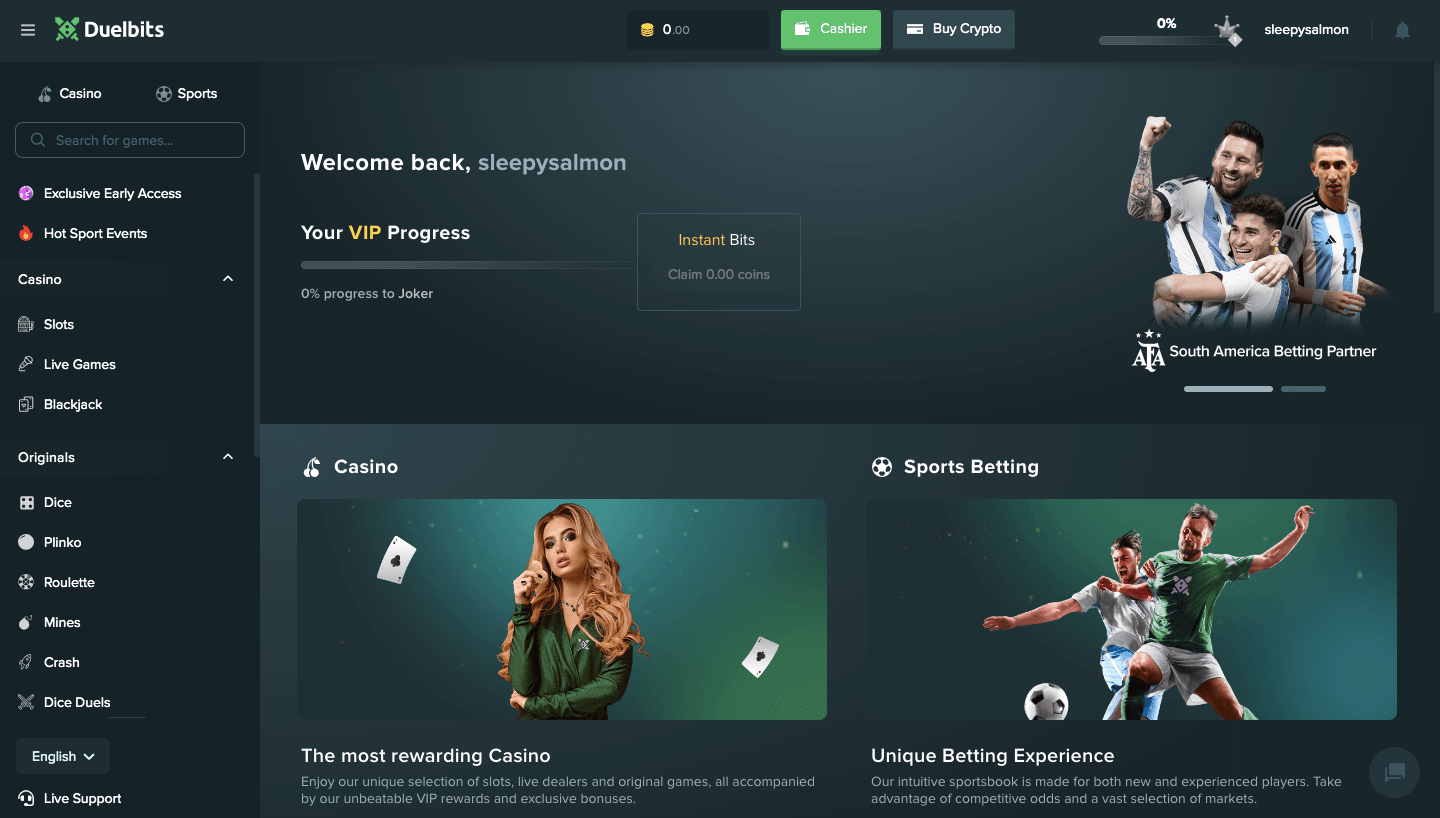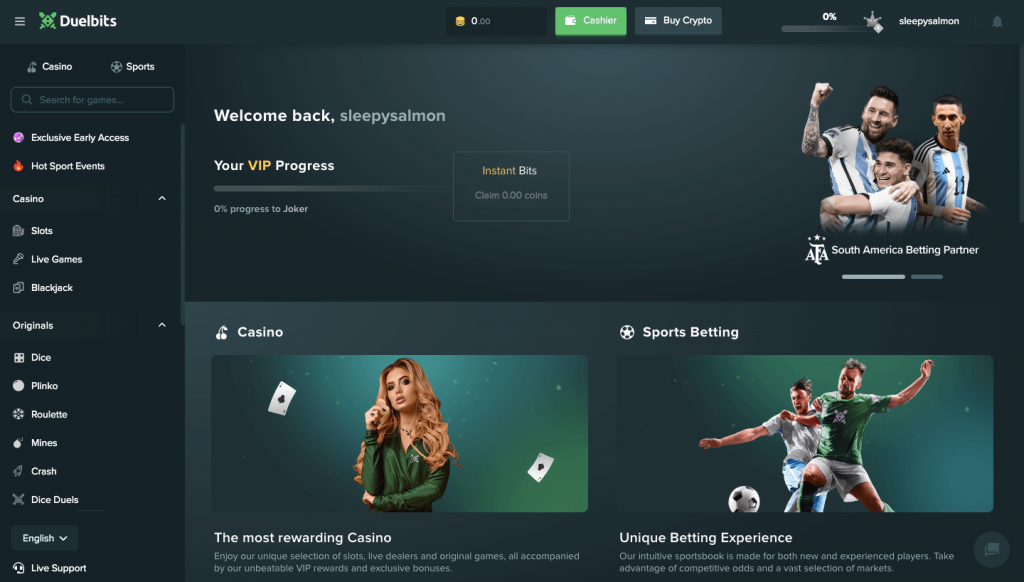 Last but not least, we take our hats off to Duelbits Casino, which accepts not only SOL, but a bunch of other cryptos plus fiat payments!
What makes it Solana-friendly?
Duelbits has thousands of games you can play with SOL, including 6 original and provably fair games and a fully-fledged Solana sports betting platform.
Factor in a seamless deposit and withdrawal process using Solana, and you've got a pretty sweet deal. We put our own SOL tokens to the test, and discovered that the casino doesn't charge any fees for SOL withdrawals. It does, however, have a minimum withdrawal limit of $10.00 (or 36,92 SOL at the time of writing).
What else do we like about Duelbits? Well, for starters:
The 50% Cashback deal
The site's commitment to responsible gambling
The extensive and helpful blog
A series of generous, sports-specific bonuses
Are There Any Solana Casino Dapps?
Yes, there are!
Our number one pick here is BetFury:
BetFury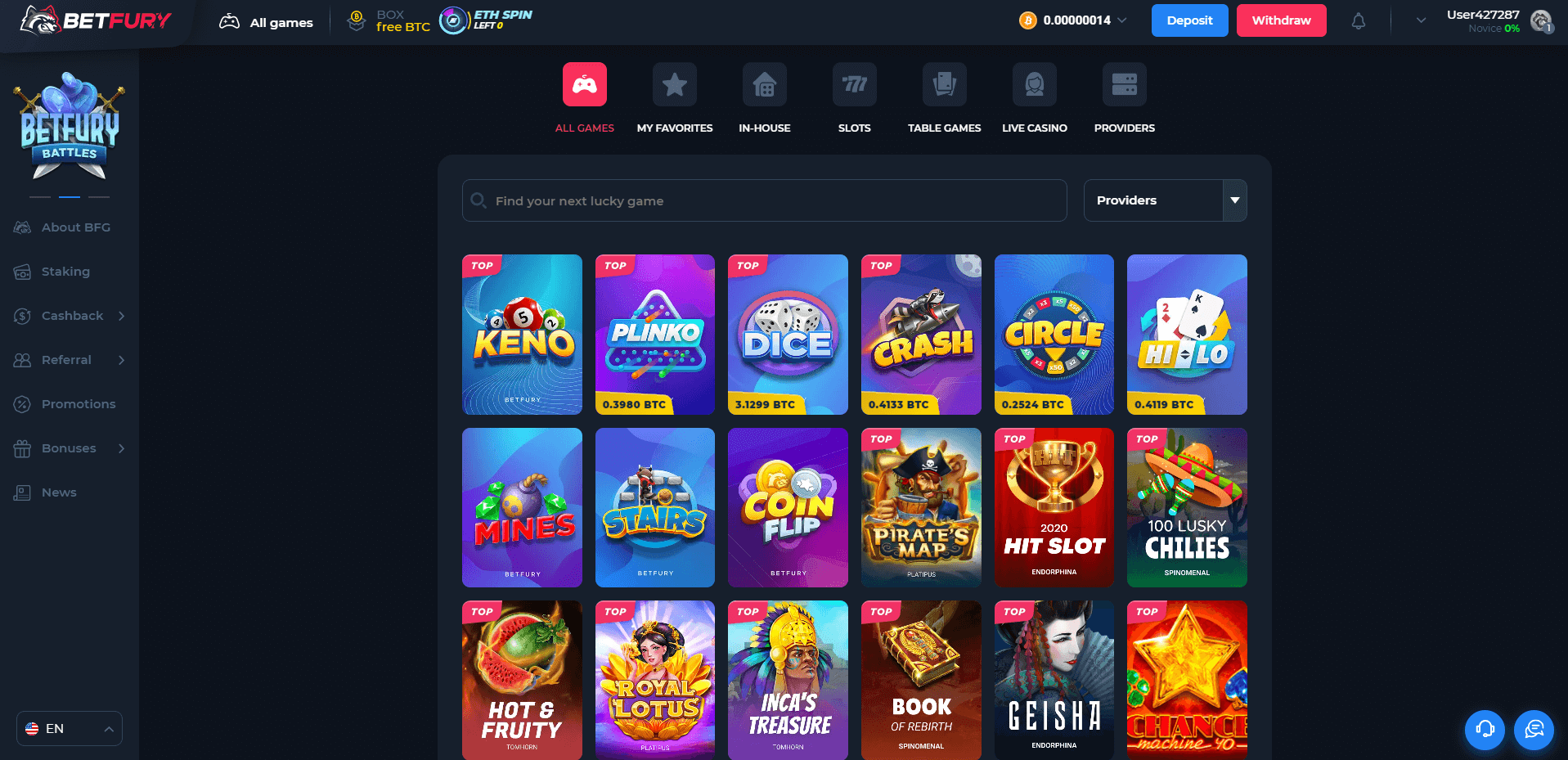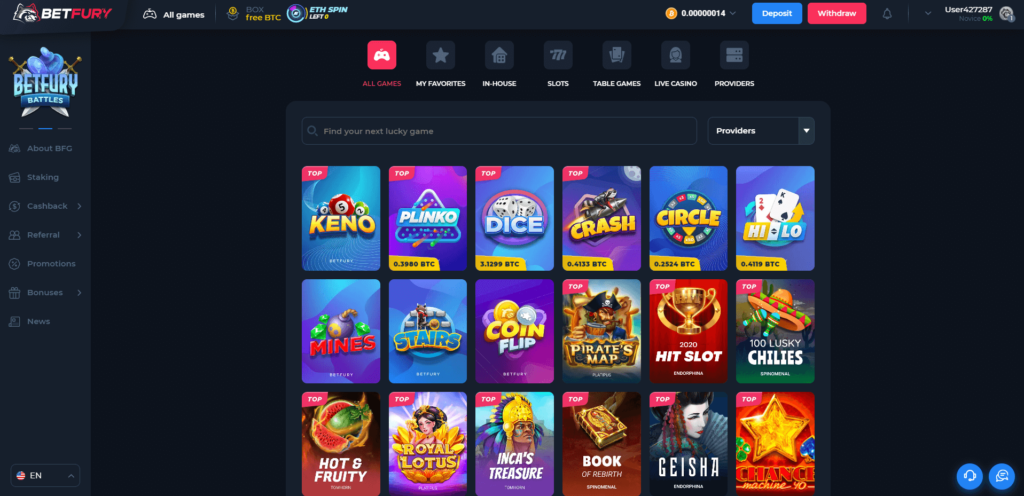 BetFury started out as a simple online gambling site – but, it quickly grew into a proper online casino. Today, it's one of the most complex gambling Dapps with more than 3,000 different casino games, it is still a highly decentralized and innovative platform.
You can, of course, play with Solana at Betfury, but you can earn other coins as well by playing games or unlocking crypto faucets.
Look out for BetFury boxes (a.k.a. faucets) – some drip Solana!
We will keep an eye out for more Dapps accepting Solana and we'll let you know if any relevant one shows up!
Alternatives to Solana Casinos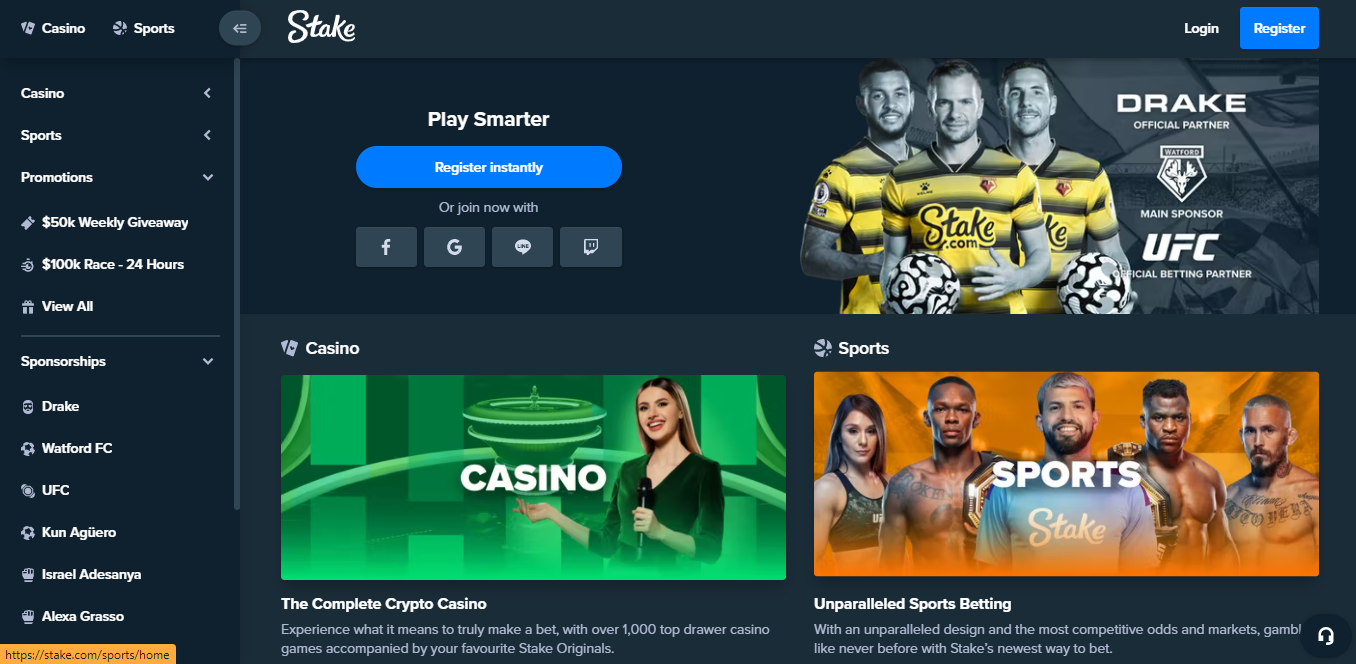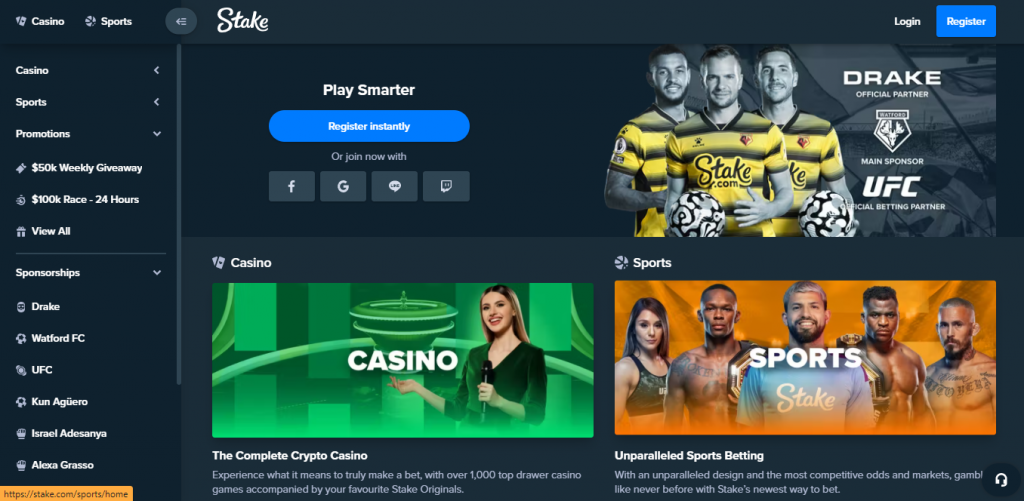 While we believe that BC.Game, Betfury and Duelbits are excellent choices we have to admit:
Solana casino options are pretty limited, especially if you're looking for something more mainstream.
We're not going to suggest Bitcoin casinos because, let's face it, if you're interested in playing with Solana, you probably already know all about those (if not, do check our Bitcoin casino guide).
What's more, playing with Bitcoin isn't really the best alternative to playing with Solana. The coins are simply too different.
So, what is a good Solana casino alternative? Check out these coins:
Ethereum, which is the coin that Solana aims to dethrone.
Cardano, which is another Ethereum competitor that started proof-of-stake earlier than ETH.
Polkadot, another newish coin that hopes to destroy Ethereum.
As always, we're only going to suggest casinos that we have extensively playtested and vetted fully. These casinos are safe, fair, and, in our experience, fun.
Ethereum Casinos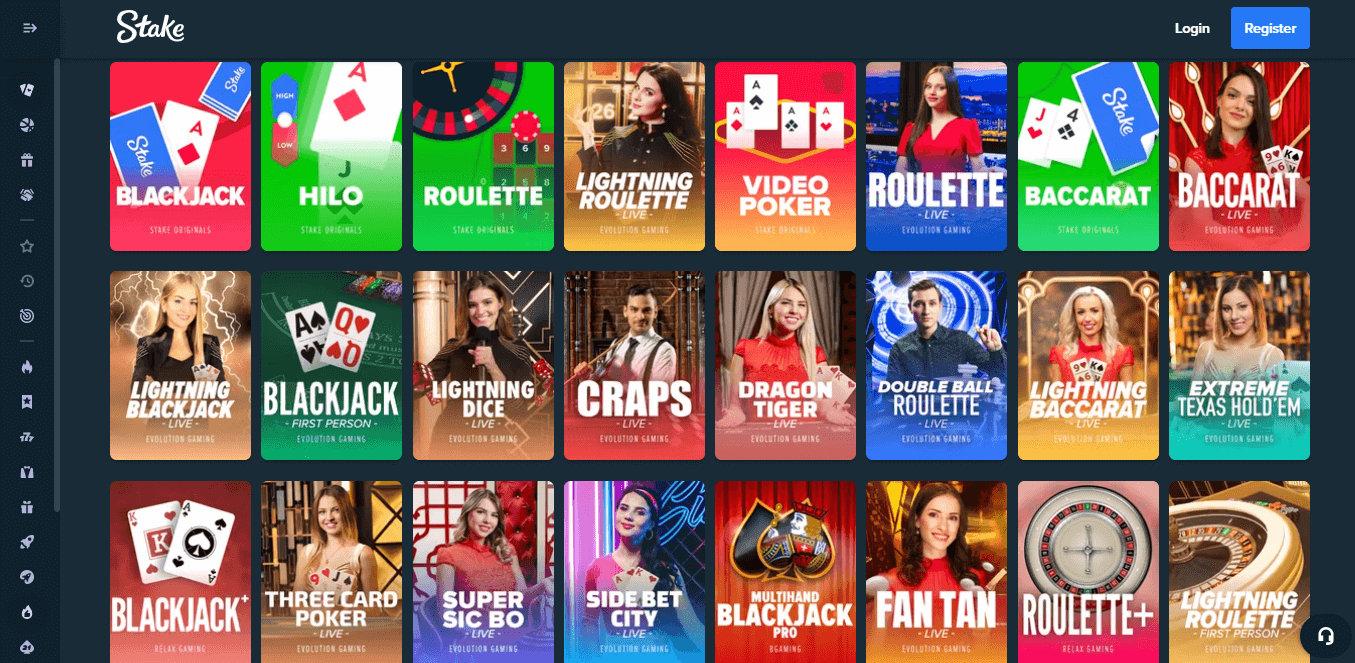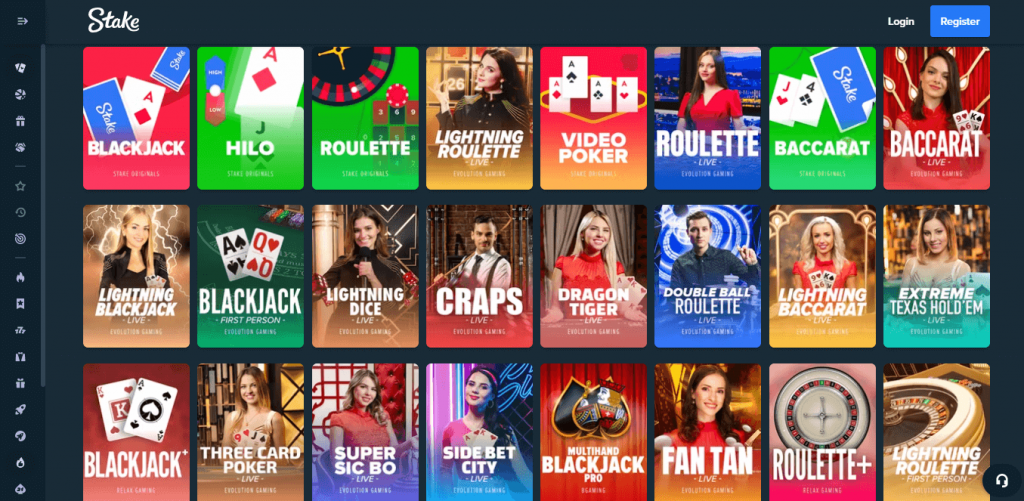 The original alternative to Bitcoin, Ethereum is now so mainstreamthat every crypto fan (and many fiat-currency plebs) knows about it.
ETH has pros and cons just like other cryptocurrencies, but there is one overwhelming advantage to this coin for online gamblers:
Ethereum casinos are a dime a dozen.
We could suggest more casinos than the ones we've listed below – as a matter of fact, we do in our Ethereum casino guide – but these are our favorites.
Polkadot Casinos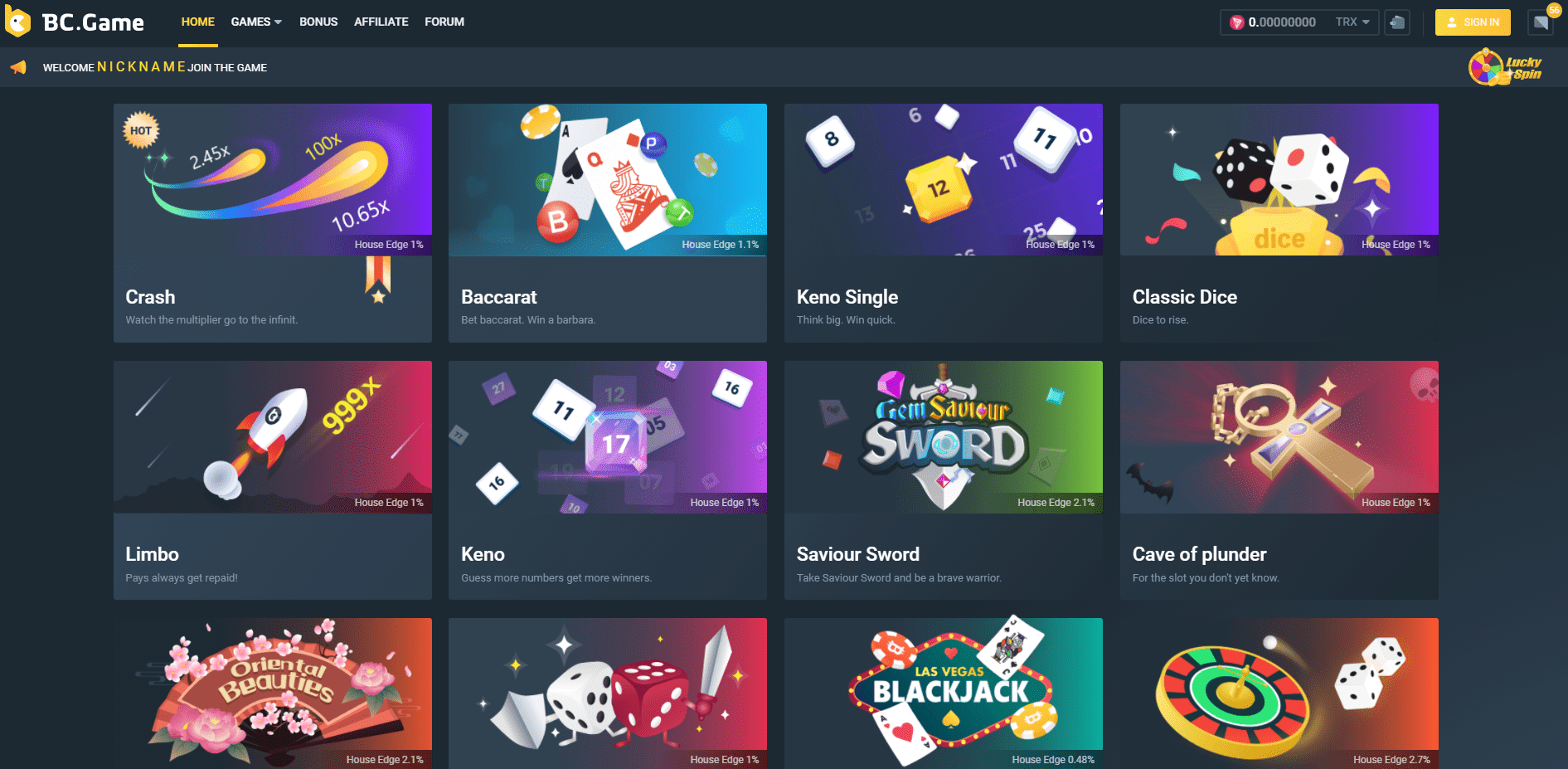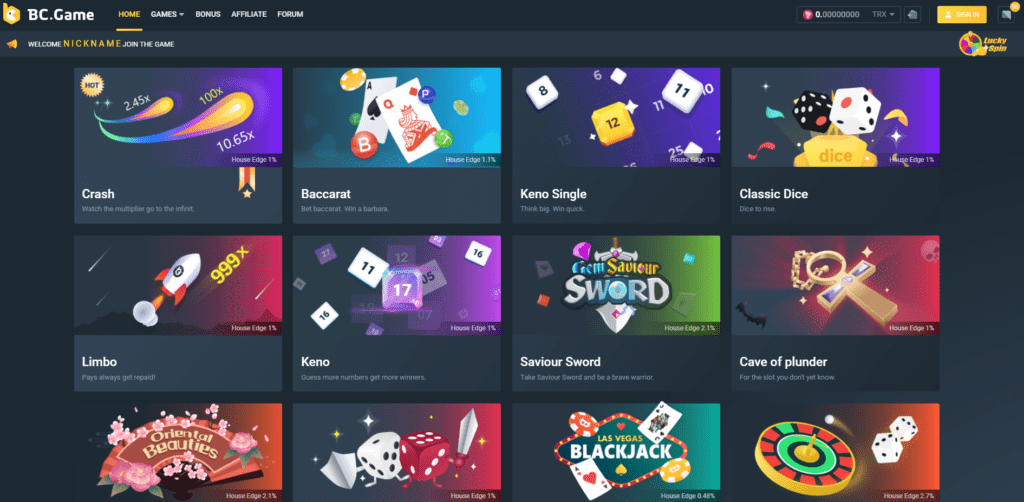 An experimental project by one of Ethereum founders, Polkadot is another coin that tries to outdo ETH.
Like Solana, Polkadot is only getting started in the gambling world!
Currently, we recommend BC.Game as your best bet for Polkadot gaming. It's an innovative and highly social casino that fits the innovative coin to a tee!
Cardano Casinos
Cardano is another former-ETH-person project. Modelled by two of Ethereum's former developers, it uses a proof-of-stake system called Ouroboros.
Just like Solana, ADA promises to do what Ethereum can't – namely, solve the transaction speed issues. But, unlike Solana, Cardano has an incredibly scholarly approach to the blockchain. They heavily rely on research data from reputable (peer-reviewed) sources to fine-tune their blockchain. And, it worked. So far, Cardano has had fewer outrages and it has been growing pretty steadily.
When it comes to picking a Cardano casino, though, our recommendations are very similar to Solana:
Solana Casino Games
Since Solana is still an (exciting) new coin for gambling, you can only use it to play a limited number of casinos.
Still, you'll find all of your favorite games there:
Solana Slots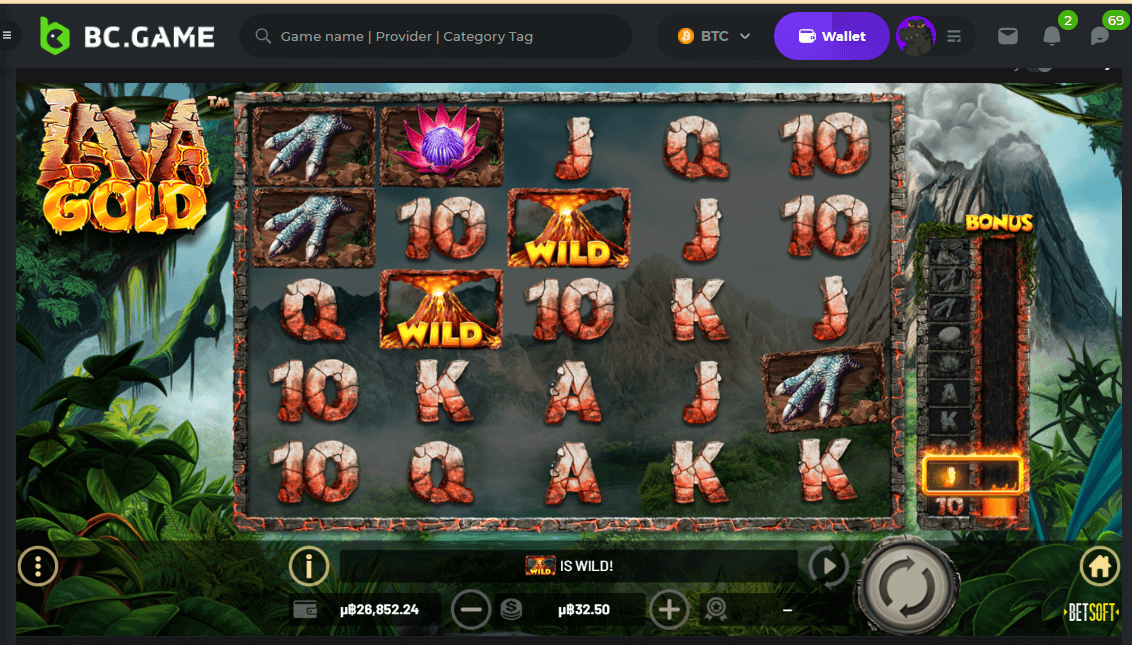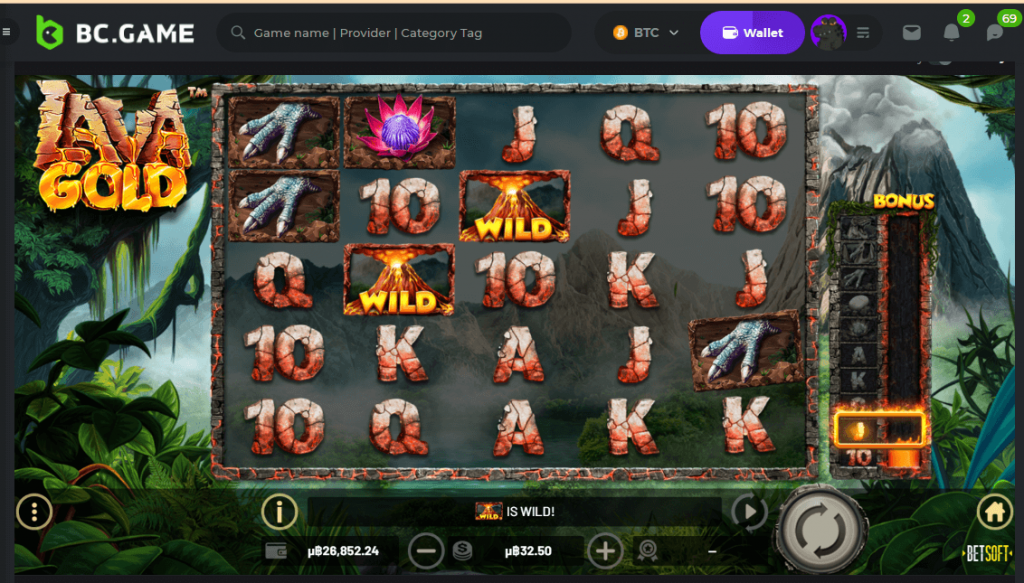 Slots are a crowd-pleaser when it comes to crypto casinos.
Luckily, both BC.Game and Cloudbet have a humungous selection of games, both casino originals and third-party provided.
There are over 1,000 slots games on Cloudbet, with the casino adding new titles all the time. Popular slots games include Book of Dead and Gonzo's Quest. For those looking for something a little different, Cloudbet also offers an impressive selection of 3D slots and jackpot slots.
Meanwhile, BC.Game has over 3,000 slots games on offer, with new titles being added regularly. Popular slots games include Lava Gold, Story of Egypt, and the Age of the Gods franchise.
Solana Poker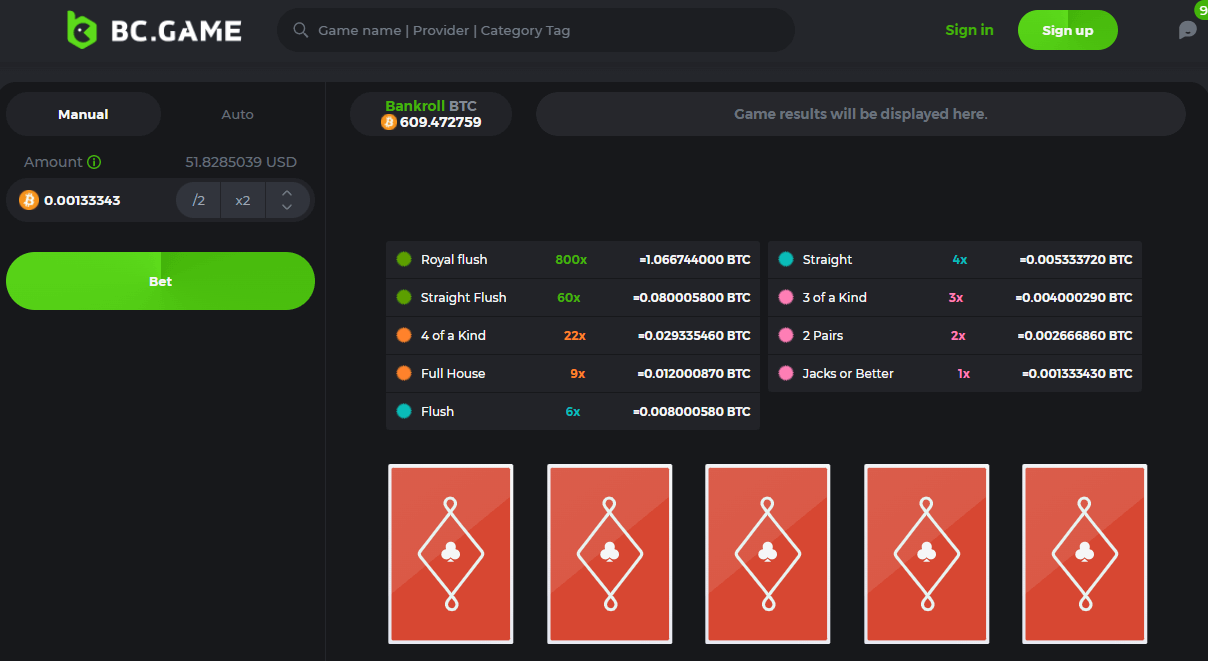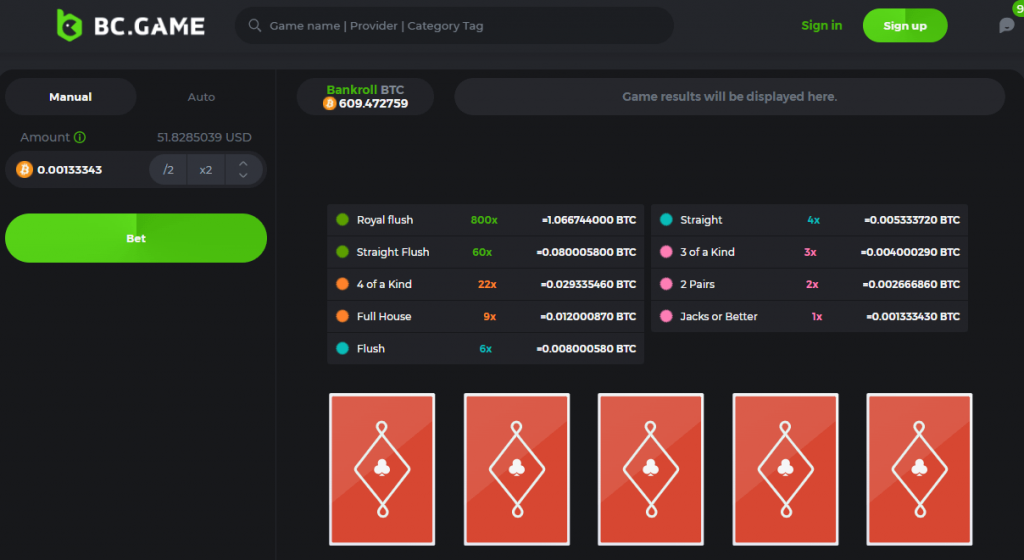 First, the good news:
You will find plenty of video poker and live poker games at Solana-friendly casinos like BC.Game.
From provably fair originals to exciting live games by your favorite providers, crypto casinos don't disappoint. Video poker is one of the most popular games on BC.Game and Cloudbet alike. It's a great way to learn the game and you can be sure the game is fair and the outcomes are random
The bad news is that there are no currently active Solana poker tournaments.
We hope that this will change in the future, as the Solana community grows and more casinos adopt the currency. For now, you'll have to stick to regular poker games and hope for the best.
Solana Blackjack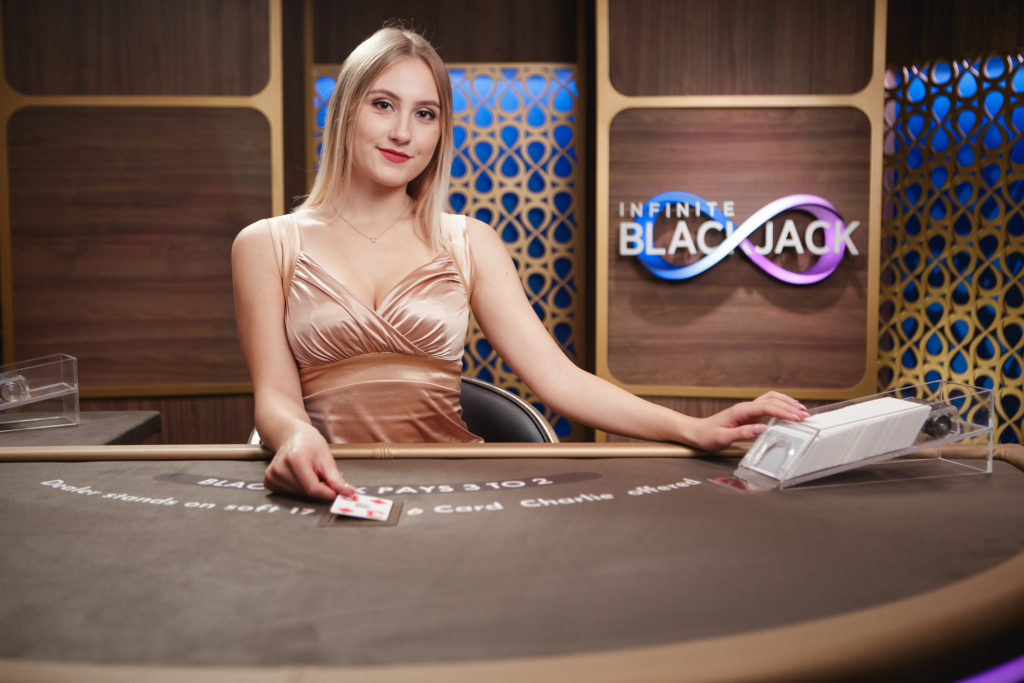 Blackjack is an exciting, low-house-edge game that anyone can play. The game is easy to learn, and with a little practice, you can quickly become a skilled player.
Unlike poker fans, Solana blackjack aficionados have plenty of casinos to choose from.
BC.Game casino has 99+ different blackjack games, including live blackjack in your language and provably fair blackjack.
Cloudbet also boasts an impressive selection of live dealer games with a range of blackjack options.
Solana Originals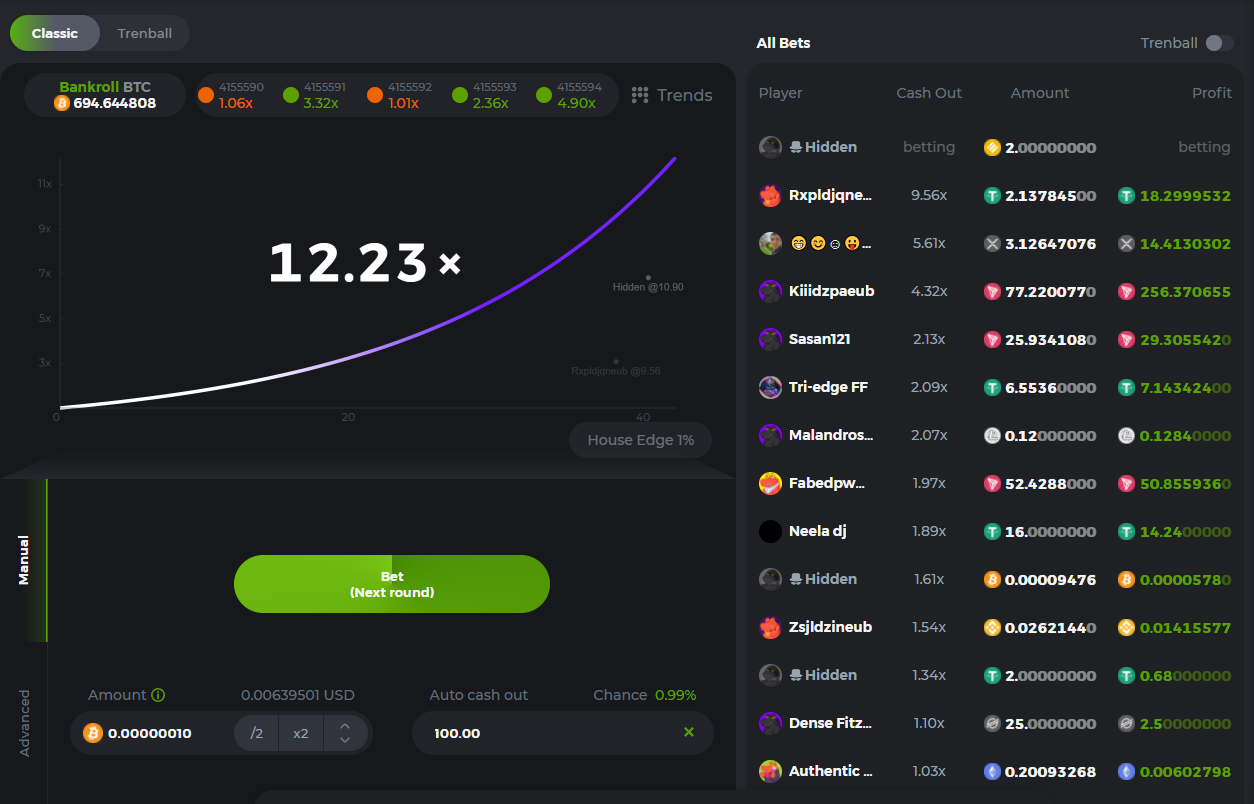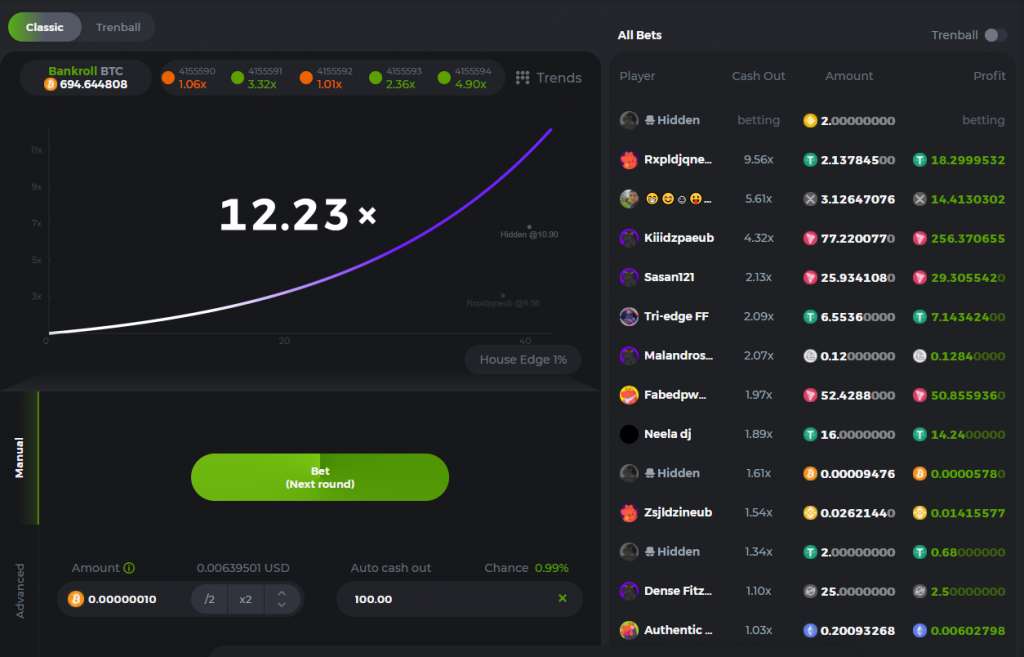 Last but not least, crypto casinos often have original games that are not available at a regular gambling site.
Crash, for example, is a game that can only be found in a few casinos.
It's super easy to learn, but extremely fun and exciting. The game starts with a multiplier of 1x and every time you place a bet, the multiplier goes up. If you cash out before the game crashes, you win the multiplier times your bet. If you don't cash out in time and the game crashes, you lose your bet.
Luckily, both BC.Game and Cloudbet have it – and provably fair, too.
But, Crash isn't the only Solana original you can enjoy in online casinos:
You can also earn SOL while playing Plinko, provably fair originals, BC.Game's infamous crash game, and more.
Are There Any Sports Betting Websites Accepting Solana?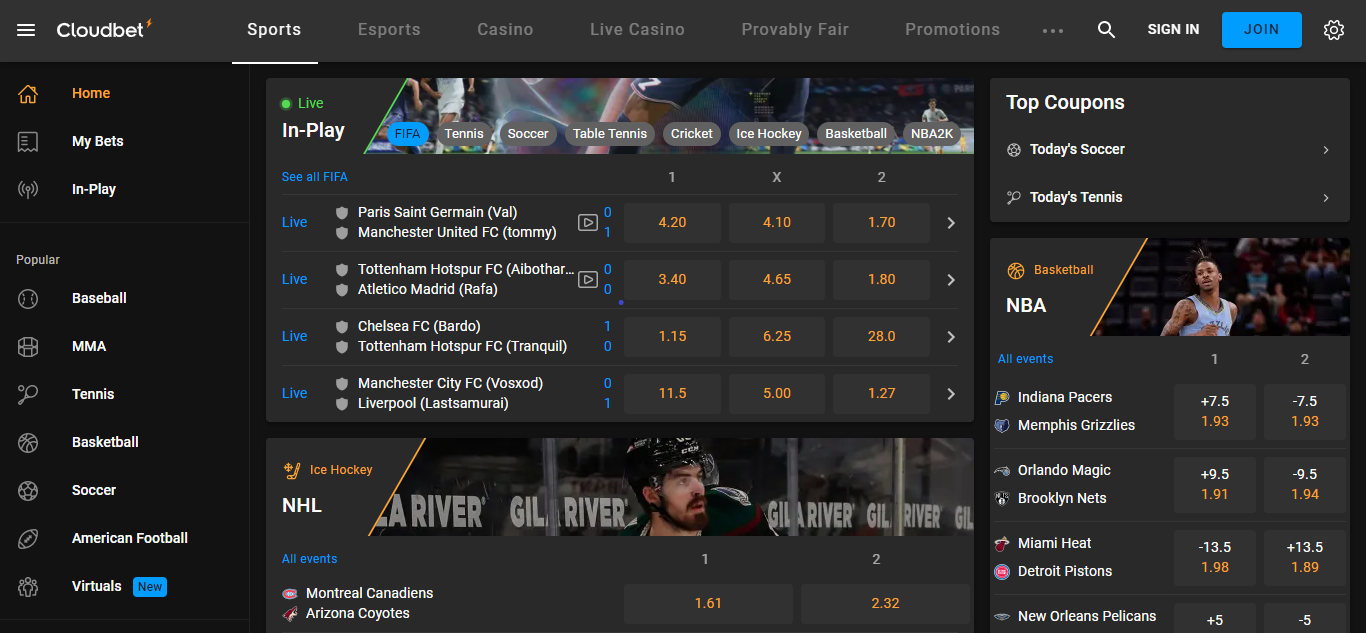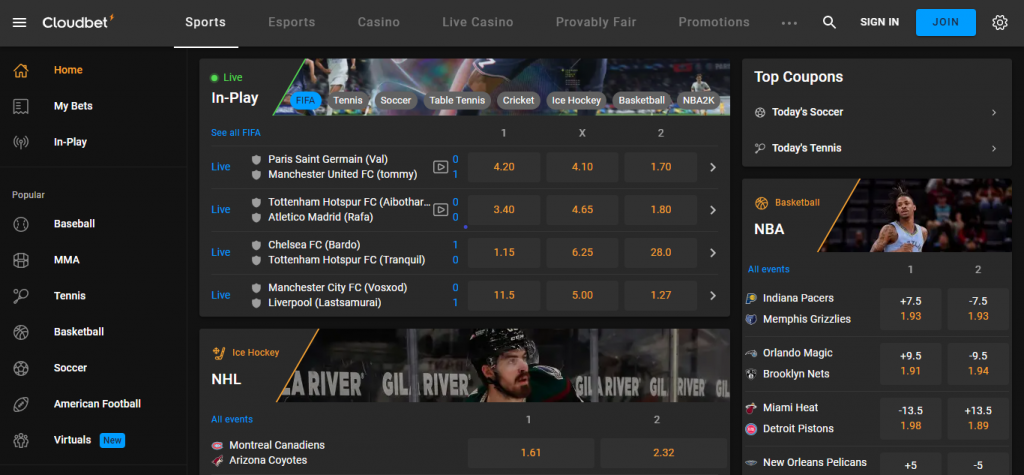 Yes!
Since Cloudbet added Solana to their coin offer you can now bet on sporting events with SOL.
Cloudbet's sportsbook product includes over 30 different sports and multiple betting markets. Whether you're a football fan or Eurovision aficionado, with Solana you can bet on it.
So far, Cloudbet is the best sports betting option that supports Solana. However, more options should become available in the future as the Solana ecosystem grows.

Pros and Cons of Playing with Solana
You don't have to look far to come across the biggest drawback of playing casino games with Solana:
❌ There simply aren't many casinos accepting the coin.
The fact is, the coin is still experimental. Not a lot of casinos have it, plus:
❌ There is an undeniable risk to purchasing and playing with it.
❌ With that, also expect some price volatility.
While this is true for pretty much all cryptocurrencies (apart from stablecoins, of course), it's especially relevant for newer altcoins like SOL.
The good news? There are plenty of reasons to choose Solana casinos. Let's summarize them:
It's environmentally friendly and not very resource intensive – Solana's "Proof of History" is one of the most efficient methods out there, which is important for any coin's viability.
Consequently, the coin is also much faster than alternatives like Ethereum, processing around 50,000 transactions per second.
The efficiency and speed keep Solana's fees very low, at a fraction of their competitors.
The coin is backed by big names, like the cryptocurrency exchange FTX.
Currently, there is a lot of traction behind SOL, and many predict a radiant future for this altcoin.
Solana is supported by several cryptocurrency wallets like Coinbase.
In our opinion, Solana is a good option if you're looking for an exciting new coin to gamble with.
It's not, however, the best option for beginners or those looking for a "normal" casino experience. In those situations, casinos accepting more established altcoins like Binance (our favorite BNB casino is still BC.Game by the way) are a better option.

Is Solana a Safe Coin for Online Gambling?
In our opinion, yes.
As you can read in our review, we give Duelbits (one of our top options) 4 out of 5 stars when it comes to its licensing and safety.
❗While we fall short of awarding the brand top marks, we value its commitment to fairness and safety features like 2-factor authentication.
BC.Game fares even better, with its newly acquired gambling license guaranteeing that the casino is accountable when it comes to paying out. We've also never encountered any issues whilst playing at BC.Game.
Are Solana Casinos Legal?
Solana casinos, like any other online casino, are subject to local regulations based on:
Where the casino is based.
Where you're playing from.
For that reason, we can't give you a straight answer.
Solana gambling is legal – but only in locations where online gambling and cryptocurrencies are both allowed under the law.
A legal grey area may exist in other places since governments aren't always fast enough to regulate new currencies like SOL.
However, gambling (and online casinos in particular) may be illegal or heavily regulated in your place of residence.
To avoid legal trouble, always make sure to confirm whether a casino holds a license in your country of residence or whether the legislation in place allows for online gambling.
And remember: always play at trusted casinos!
Final Thoughts
Solana casinos might be few and far between, but they are a great option for altcoin-favoring bettors and gamblers. Right now, there are three casinos (plus one Dapp) that support the coin.
BC.Game and Cloudbet in particular are great places to gamble since they offer different games, bonuses, and promotions.
Plus, there is hope. Just a few months ago, BC.Game was the only high-quality SOL-friendly casino. After Cloudbet added the currency, we have more options and a Solana sportsbook.
Things can change fast in the world of cryptocurrency gambling! So keep an eye on this page for updates, and good luck finding the perfect Solana casino for you.