Rollbit Overview
Your comprehensive Rollbit review, covering everything from casino games to the sportsbook and NFT promos...
Bonuses 3/5
Look & Feel 4/5
Licensing & Safety 5/5
Game Selection 5/5
Payment Options 3/5
Customer Support 5/5
Websiterollbit.com
Established 2020
License Curaçao
Bonus Up to 10% (Rakeback)
Wagering Requirement -
Live Chat Yes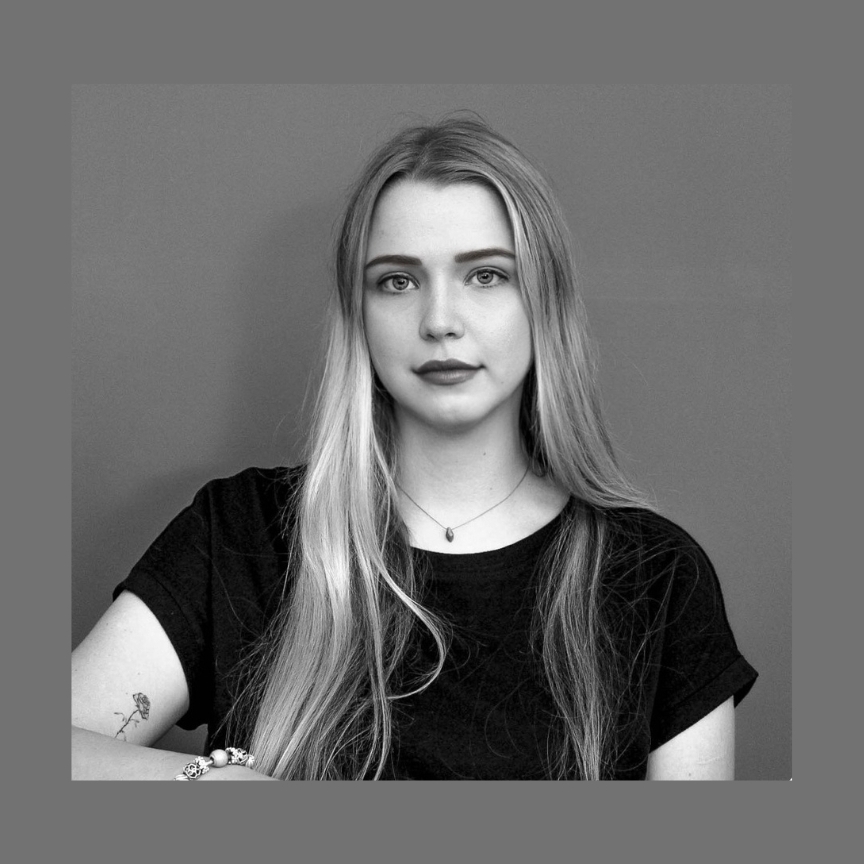 Written by
About the Author
Fern is a seasoned writer in the crypto casino world. With expertise in blockchain and writing, she produces well-researched content covering industry trends and casino reviews. Beyond tech, Fern offers user insights and regularly connects with iGaming experts. Plus, she's an avid video game enthusiast.
Verified by
About the Author
A digital native and an early enthusiast of blockchain technology, Alessia has collaborated with leading crypto casino platforms, ensuring accurate data on guides, articles, and reviews. She's responsible for verifying the information and research that backs up our content – so that you can make informed decisions with your crypto.
Last Update
September 1, 2023
Rollbit is a unique, all-in-one crypto gambling destination. Not only is it a complete crypto casino (with provably fair games, too!), but you will also find a sportsbook and NFT games here. Plus, Rollbit has been dabbling in proper trading, too, and now makes leverage trades possible. But what is the fine print? In our Rollbit review, we take a deep dive to find out.
Pros & Cons
+

One-of-a-kind NFT games and promos

+

Generous rakeback

+

Excellent sportsbook

+

In-house games and token

+

Multiple bonus schemes from the get-go
-

No welcome bonus

-

Only two years of experience

-

No fiat withdrawals
Supported Languages
English
Bonuses
Rakeback and unique NFT promos - no welcome bonus though
Who doesn't love a good casino bonus? We know we do. This is why we start every casino test with an in-depth look into the bonus scheme – and our Rollbit review was no exception.
So, what is the bottomline on Rollbit?
First, the bad news:
Rollbit does not offer sign up bonuses to new users.
You're not getting a first deposit match, free spins, or anything of the sort for simply joining the platform.
Fortunately, there are still some juicy rewards and promos for you to enjoy:
Rollbit Rewards
Any member on Rollbit, no matter how much or how little they wager, can enjoy a host of benefits including:
Daily bonus, based on your PnL in the previous 24 to 72 hours
Rank up rewards as you level up in the VIP scheme
5% instant rakeback on any game you play
If you want even more rewards, there is now a way to get them:
The V1 Rollbot is an NFT you can purchase from the casino. Once you buy and assign it, you unlock Rollback which is a 10% increase on all your rewards.
Rollbit has been at the forefront of the NFT gambling and sports NFTs revolution and we're excited to see what additional promos they come up with in the future.
Bonus Balances
Along with the regular rewards, you can also earn Bonus Balances to use on Rollbit's house games like X-Roulette. They come with a tiny 5x wagering amount, meaning you have a 50% chance of doubling the bonus before withdrawal!
You can get bonus balances by:
Depositing an NFT with a deposit bonus
Winning a giveaway on Discord
Participating in an on-site Competition
Winning the Rollbit lottery as a part of a team
Speaking of the Rollbit lottery:
RLB Lottery: A Unique Way to Make More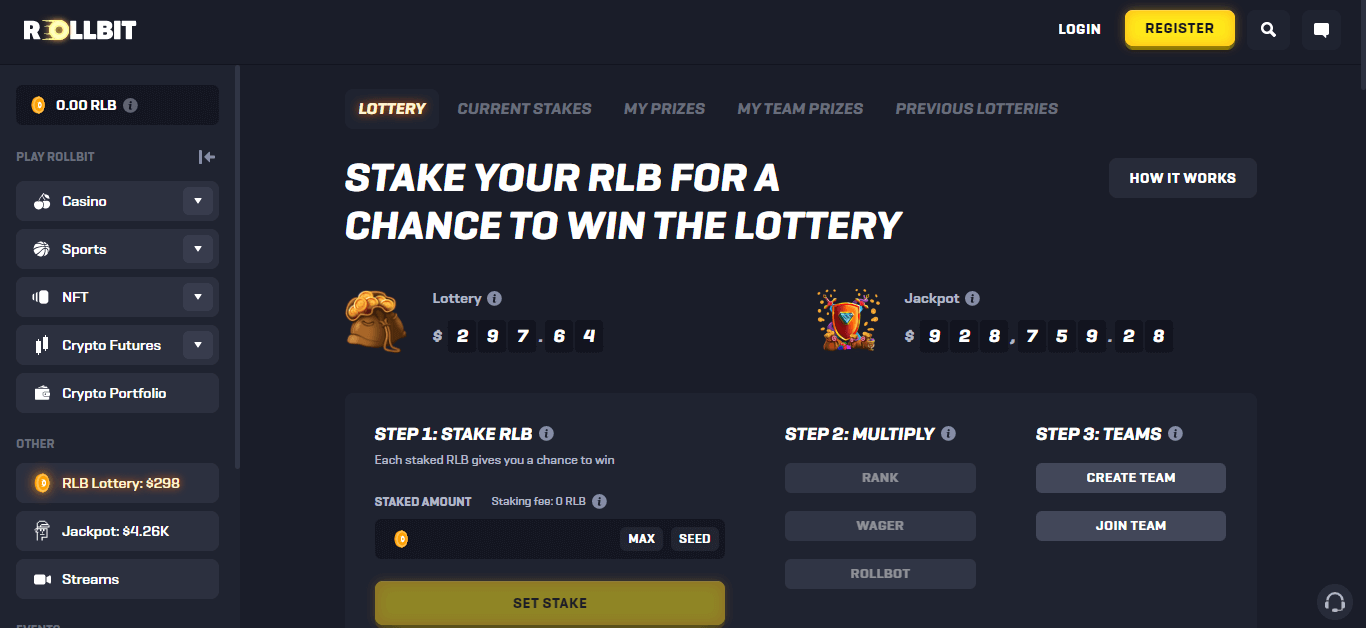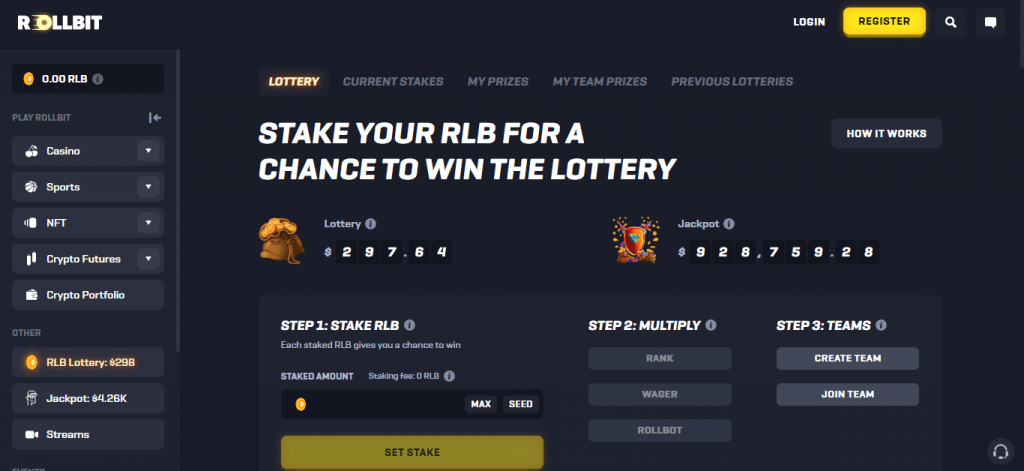 Rollbit recently introduced a profit-sharing scheme to reward loyal players – and the lottery is a big part of the plan. It uses RLB staking (RLB is the casino's own Solana-based token) to create a lottery pool and distribute it among players.
Here is how it works:
Get RLB tokens. You can earn coins for every dollar claimed via Rakeback, Cashback, Rollback, and Level Up Bonuses. Some NFT deposits also give you RLB (up to 100,000!) and the casino also runs frequent giveaways and airdrops on social media.
Head over to the Lottery page. You will find it on the right-hand menu, under Other.
Stake your RLB. The more you stake, the higher the chance of winning. You can see the percentage probability of winning the lottery right over the staking field.
Use multipliers to increase your chances of winning. You can get a rank multiplier, wager multiplier, and Rollbot multiplier (for NFTs you own.)
Keep your fingers crossed. Before the next Bitcoin block is completed, the lottery winner will be drawn. And, if you want to exit the competition (and get your money back), you can do that before the draw with zero fuss.
And there you have it – Rollbit's lottery scheme. Granted, it's not as consistent as a Bitcoin faucet, for example, but it gives you yet another chance to win. We're thrilled to see what Rollbit does with staking in the future!
Summary
pros
+

Generous daily bonuses

+

Rakeback and cashback

+

Token-staking lottery

+

Tiny wagering requirements
claim bonus
Look & Feel
Easy to navigate even with all the features
Rollbit isn't just a crypto casino – the site also features a sportsbook, NFT marketplace, and crypto trading. With so many features, design is crucial.
So, how do they do? Is Rollbit easy to use?
The answer is yes. The site has a modern, user-friendly interface with well-organized categories and an easily accessible FAQ section. Even if you're not familiar with this crypto casino, you should have no trouble finding your way around.
One thing we really like is the live sports betting feature, which gives you quick access to the sporting events as they happen. This is a great way to stay engaged with what's going on and make sure you're making the right bets.
We also appreciate the casino lobby organization. You can navigate to your favorite slots and tables from the left-hand menu or find them in the main lobby, too.
Just like some of our other top casinos (BC.Game, we're talking about you,) Rollbit features an active players' chat. Here, you can connect with other gamblers and talk about anything from sports to crypto. You can join in on the conversation from the right-hand menu.
The only downside to the site design is that it's a bit too generic for our taste. Granted, the dark theme with a funky accent color is trendy, but we would like to see a bit more personality from Rollbit.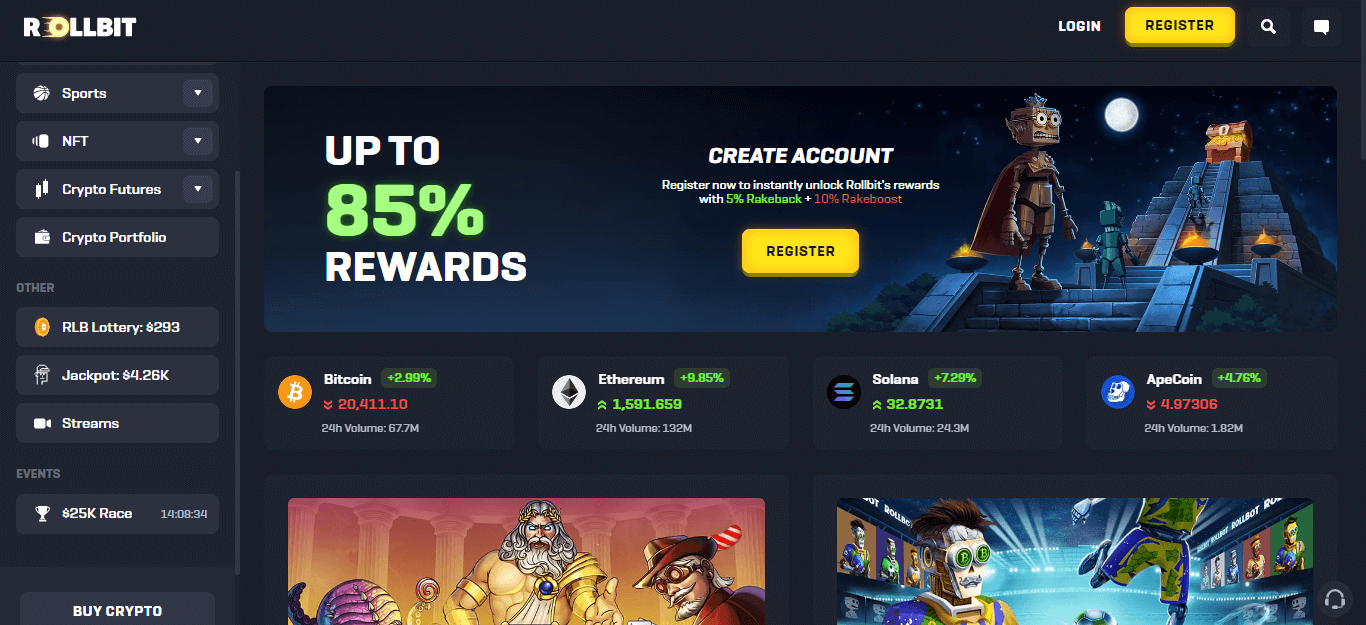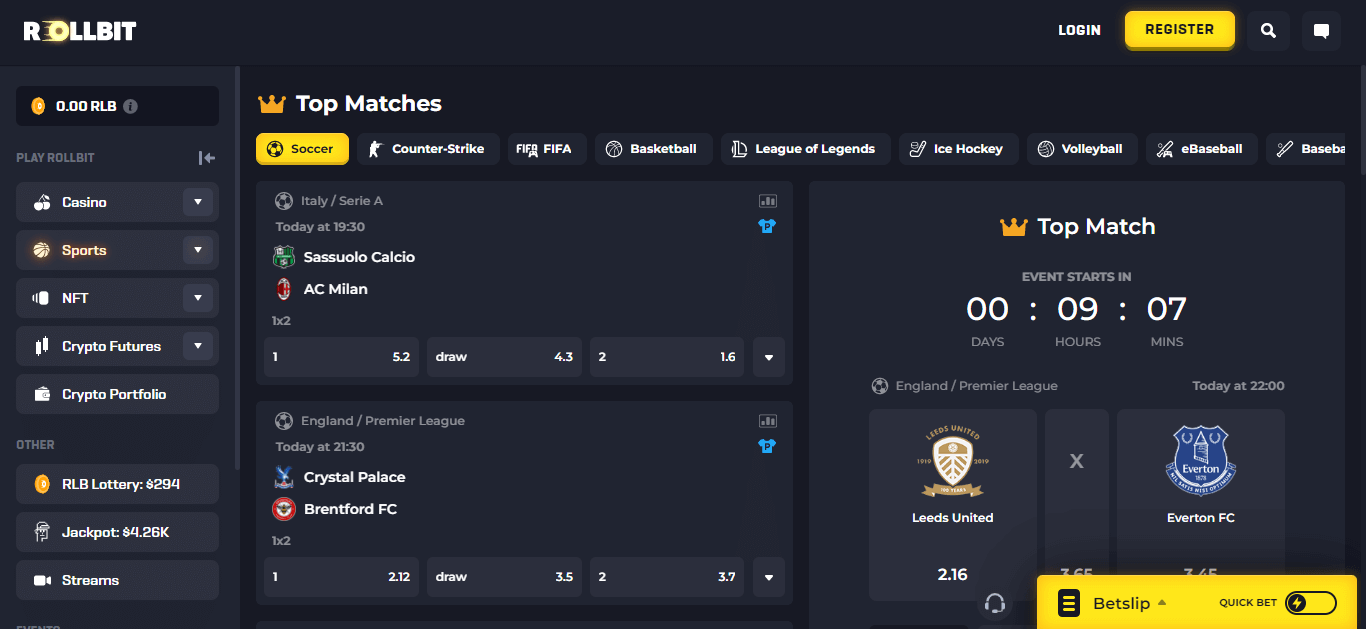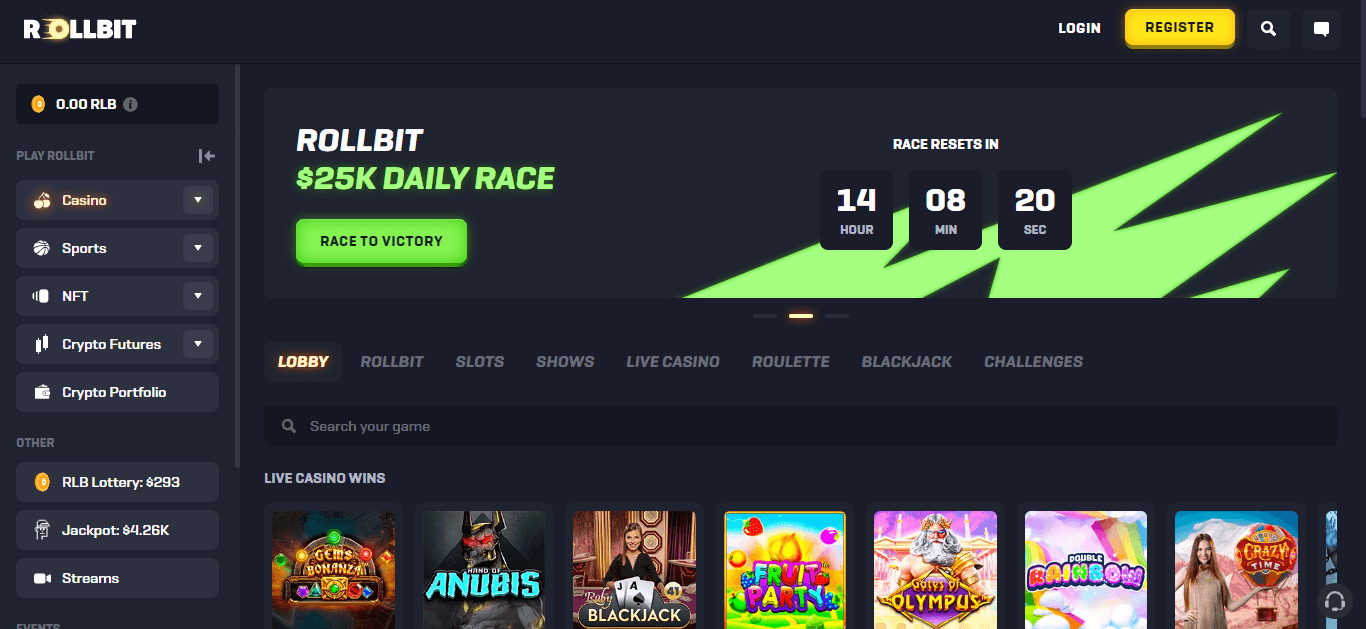 Summary
pros
+

User-friendly

+

Navigation is a breeze

+

Easy-access FAQ and help centre
open Rollbit
Game Selection
Impressive game selection and stellar sportsbook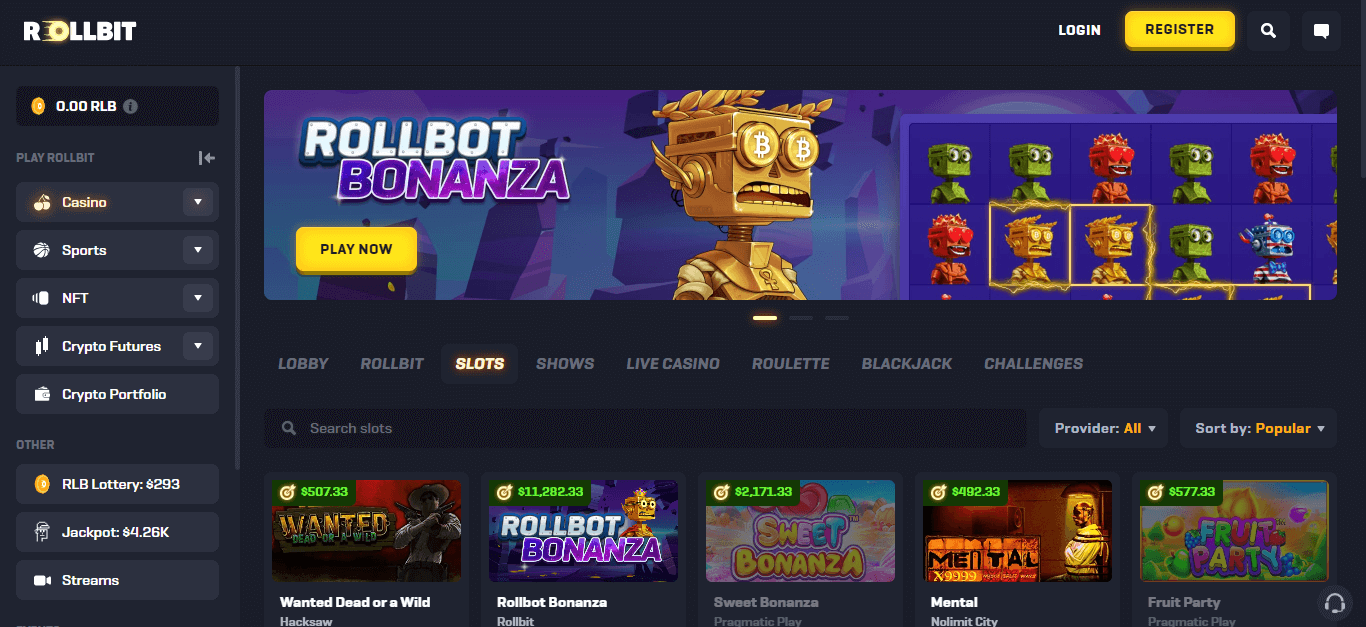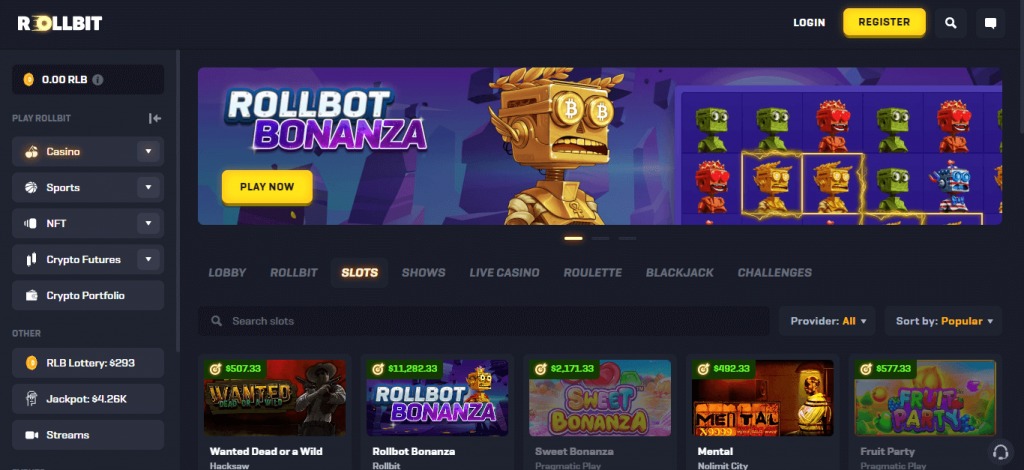 Rollbit is powered by some of the biggest names in casino software, including BetSoft, Evolution, and NetEnt, as well as a host of others. The result is a games library that's packed with hundreds of the latest and greatest slots, table games, and live dealer games.
There's something for everyone at Rollbit, from classic fruit machines to the latest 3D slots. You can also enjoy all your favorite table games, including blackjack, roulette, and baccarat. And if you're looking for a truly immersive experience, be sure to check out the live dealer games, especially the Lightning versions of your favorite tables (super fast-paced and exciting).
In short, whatever kind of casino action you're looking for, you're sure to find it at Rollbit. But, it gets better, too:
Rollbit Sportsbook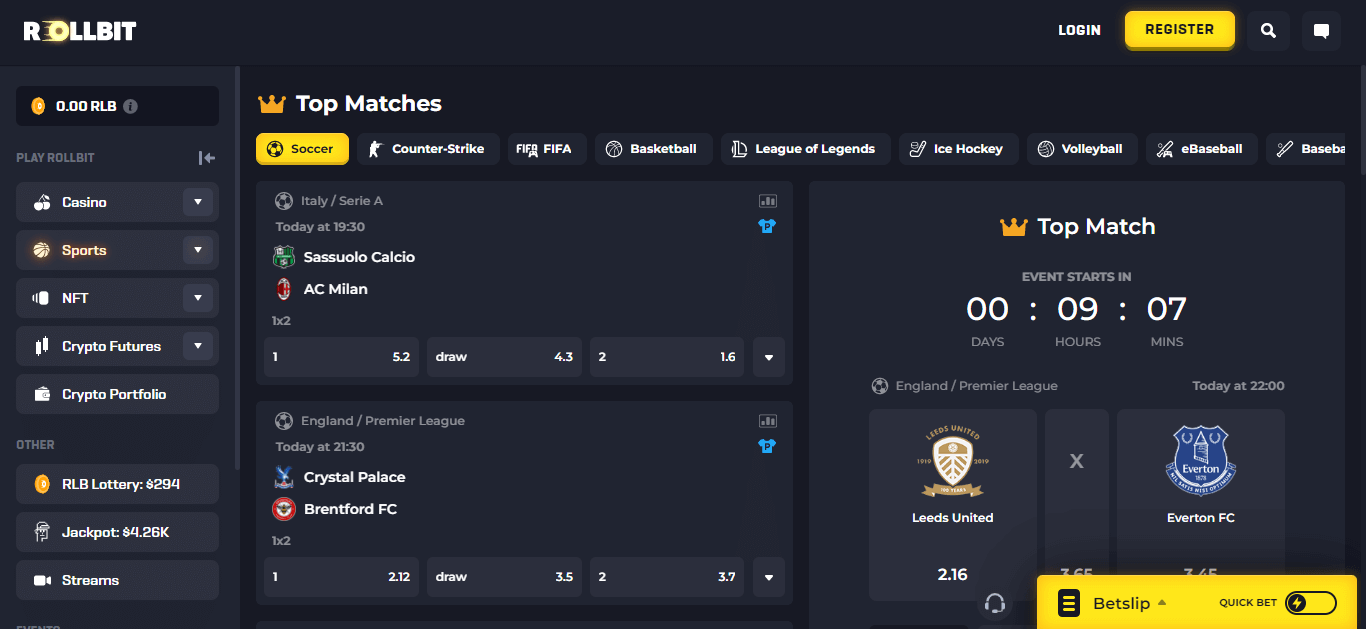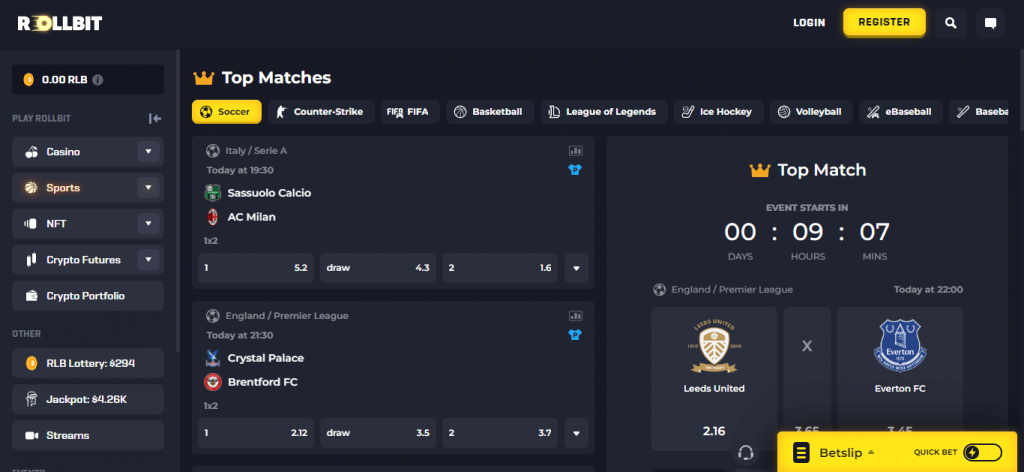 Crypto sports betting is on the rise, and Rollbit is leading the way, with a huge selection of sports and markets to bet on.
From football and basketball to tennis and MMA, you can bet on it all at Rollbit. The sportsbook also features eSports like Dota 2 and League of Legends, as well as a virtual sports section (even eCricket and eFighitng, which tend to be difficult to find)
The First NFT Casino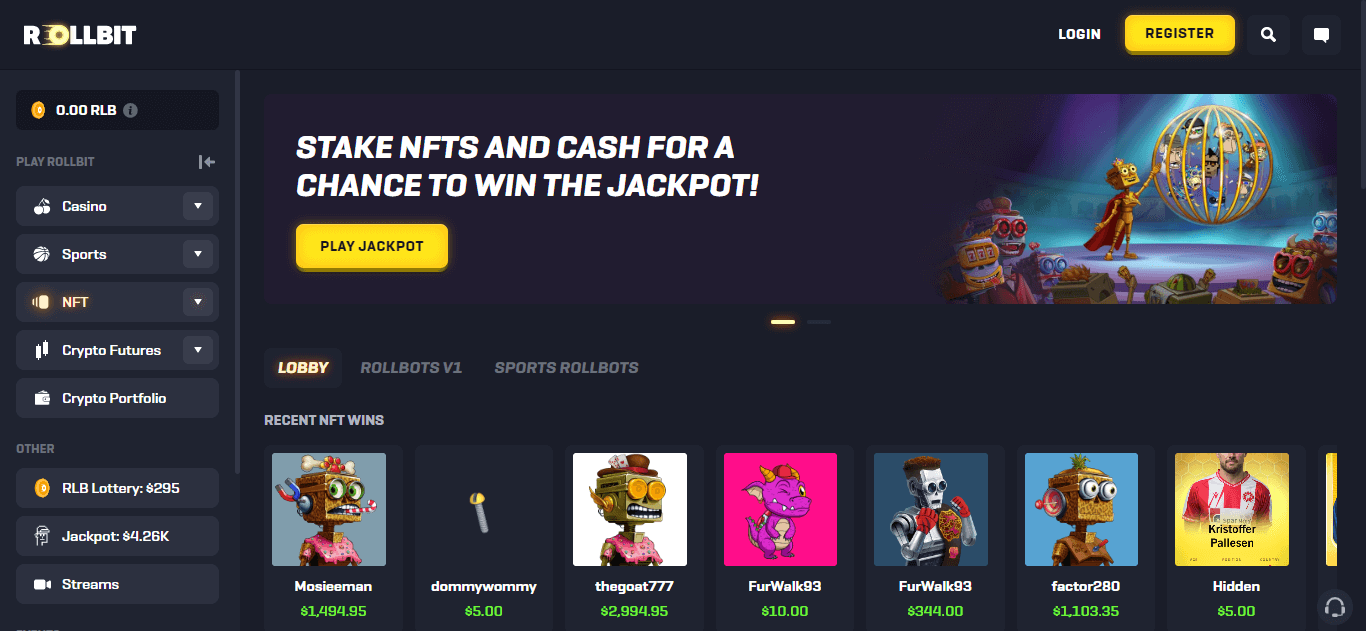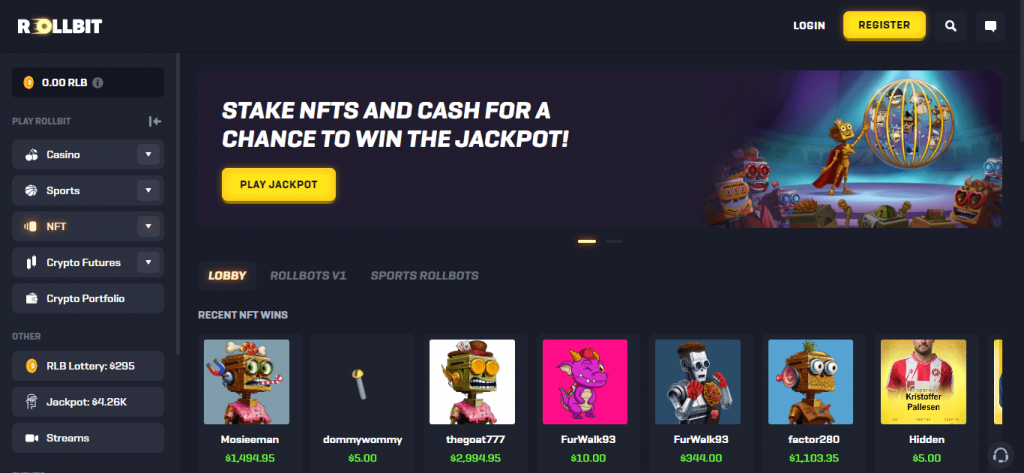 So far, so good, right? In terms of betting, these are the "classics" that Rollbit offers.
However, the casino also started offering NFT features and a trading platform to go along with the gambling. In fact, Rollbit now markets itself as the world's first NFT casino. We have to give it to them, it's a pretty innovative move that could really pay off in the long run.
The NFTs on offer are digital assets that can be used in games – or that can boost your bonus amount earnings. You can also compete for NFT loot boxes, which contain a random selection of unique NFTs (some of which far more valuable than the cost of the loot box). Or, if secret boxes aren't your thing, you can also use the built-in marketplace to buy and sell the assets you're looking for.
All in all, we're impressed with the game selection at Rollbit. There's something for everyone, whether you're into casino classics, sports betting, or NFTs. And the fact that you can trade your NFTs on the marketplace is a nice touch that really sets this casino apart from the competition.
Summary
pros
+

All your favorite providers

+

In-house developed provably fair games

+

Excellent sportbook

+

NFT loot boxes and games
cons
-

Not many low-house-edge games
open Rollbit
Licensing & Safety
Curacao-licensed with non-invasive KYC
Is Rollbit legit? Yes!
During our Rollbit review process, we were happy to find it was a licensed platform for digital gambling. The company complies with international requirements for legal and reliable operations and it has a solid reputation among gamblers around the world.
Rollbit is licensed by Curacao eGaming and it is a registered platform with the Government of Curacao. This means the casino operates under the regulations of the Curacao gambling authorities.
The fine print? This is a fairly new project.
Rollbit was founded in February 2020, meaning it only has a couple of years of experience.
While the casino is still very new, it has already managed to establish a good reputation among gamblers. The platform has a solid user base and it is constantly growing. In fact, we notice Rollbit to be one of the most popular casinos on forums and social platforms like Reddit – definitely a positive sign!
As for safety, we can say that Rollbit is a hacker-proof platform to play at. The casino uses state-of-the-art security technologies to protect its user data. All personal and financial information is stored on secure servers and it is protected with the latest encryption technologies.
Unfortunately, while your data is treated with respect, this is not an anonymous casino.
Rollbit reserves the right to request ID verification from its users. This is a standard procedure in the industry and it is required by most licensed casinos.
We are happy to report that the KYC process is quick and easy. All you need to do is upload your documents if required (but not on registration) – this usually happens if you withdraw large amounts of money or if you're creating multiple accounts from the same IP address, for example.
Finally, Rollbit offers provably fair games, which use a verifiable random number generator (RNG) to ensure fair results. You can test the fairness of each game yourself and be sure that the results are completely random.
Summary
pros
+

Licensed casino

+

Excellent reputation

+

Simple KYC process
cons
-

Not anonymous

-

ID verification allowed at any time
open Rollbit
Payment Options
Decent selection of coins, built-in exchange
These days, offering just BTC simply doesn't cut it. Luckily, Rollbit does have a decent range of payment options for gamers, including Bitcoin, Ethereum, Litecoin, and Solana.
There is also a Rollbit-native token, RLB, which allows you to participate in the special Rollbit Lottery (with an 0.2% entry fee, split among RLB stakers and burns.)
You can use fiat currencies, including USD, EUR, and CAD, to deposit money and purchase crypto. The casino didn't use to accept fiat, but we're happy to see it now does. The catch is, of course, that you can't actually withdraw fiat, but the built-in exchange is definitely an improvement.
Quick review: there's plenty of ways to get money into your account and start gambling.
But, there are still some limitations:
Withdrawals are only possible after you deposit and wager $10 – a reasonable request but a limitation nonetheless.
While you can purchase cryptocurrency right on the Rollbit platform, the exchange rate isn't always favorable and you might be better off sticking to traditional exchanges.
You can only withdraw in cryptocurrency, so if you deposit using fiat, you'll have to exchange your money back to crypto first.
Still, all in all, Rollbit offers a decent range of payment options for gamers and we're impressed to see that they're constantly expanding.
Summary
pros
+

Acceptable coin selection

+

Buy crypto with fiat

+

Minimal withdrawal requirements
cons
-

No fiat cash out

-

KYC possible at withdrawal
open Rollbit
Customer Support
24/7 live chat and amazing help center
We know, we know. Customer support isn't exactly the most glamorous part of a business. But it's important nonetheless! After all, what good is having a product or service if your customers can't get the help they need when things go wrong?
Fortunately, Rollbit seems to have their customer support game on lock.
First off, they have a very easy-to-read, beginner-friendly FAQ section on their website along with a Help Centre that covers just about everything you could possibly want to know about their platform.
24/7 Live Chat
If you need more help, they also have a live chat function with some pretty impressive response times.
In fact, whenever we tried to contact them (we always test customer support when we do casino reviews) they always got back to us within a few minutes.
We also like the fact that they have an excellent community around the project. You can contact the team (or chat with fellow players) on Discord, join the Facebook or Instagram followers, or keep up with them on Twitter. We highly recommend the latter in particular – a birdie told us they run frequent giveaways there. Who doesn't love free coins?
Finally (but also quite impressively), Rollbit is very upfront about the streaming partnerships they have. In fact, you can find all of their partners' streams and videos right on the site.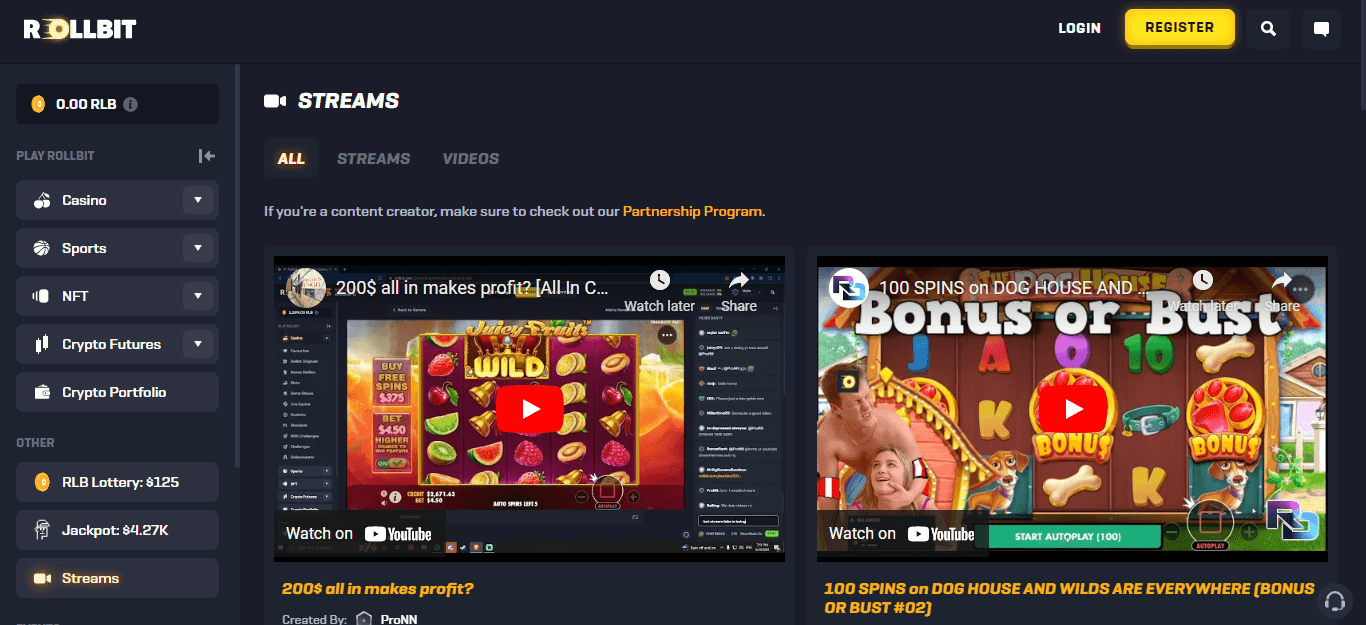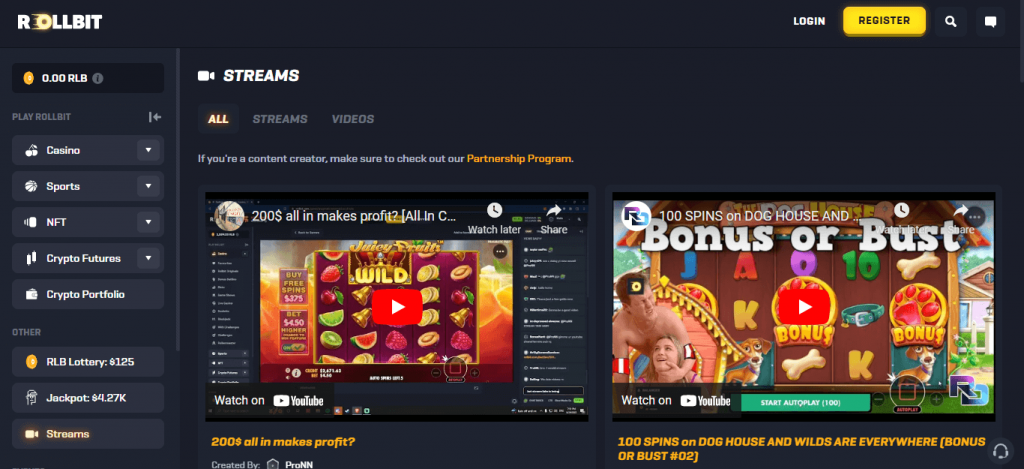 Content creator sponsorships are common in the crypto casino world but rarely do we see companies actually promoting the streamers themselves. Instead, most casinos rely on the content creator to attract new players, but don't necessarily show off the business relationship. Considering the Twitch gambling controversies we saw recently, we definitely appreciate this open and transparent policy – and Rollbit gets extra points for it.
Overall, we're very impressed with Rollbit's customer support. They seem to have everything covered, from beginner-friendly FAQs and Help Centers to live chat and active social media presence. If you need help with anything, we're confident that they'll be able to assist you.
Summary
pros
+

Excellent help center

+

Knowledgeable employees

+

24/7 live chat service

+

Active social media
open Rollbit
User Reviews
What are your thoughts?
Post your review
Everybody will see your review
F.A.Q.
Quick recap of what you need to know
Who Is the owner of Rollbit?
Rollbit
was created by Bull Gaming N.V and this is the company that owns it.
How long does Rollbit take to withdraw?
Rollbit processes withdrawals instantly in almost all cases. If the fraud prevention team needs to manually review a withdrawal request, it may take up to 24 hours. How long the crypto will take to get to your wallet also depends on the network congestion of the particular cryptocurrency.
How does a Rollbit (RLB) work?
RLB is
Rollbit's
own crypto token, built on the Solana network. It works as a lottery ticket, allowing you to participate in the regular crypto lotteries.
How long has Rollbit been around?
Rollbit has existed since February 2020. Still, it's one of the fastest growing and most reputable crypto casinos in the world.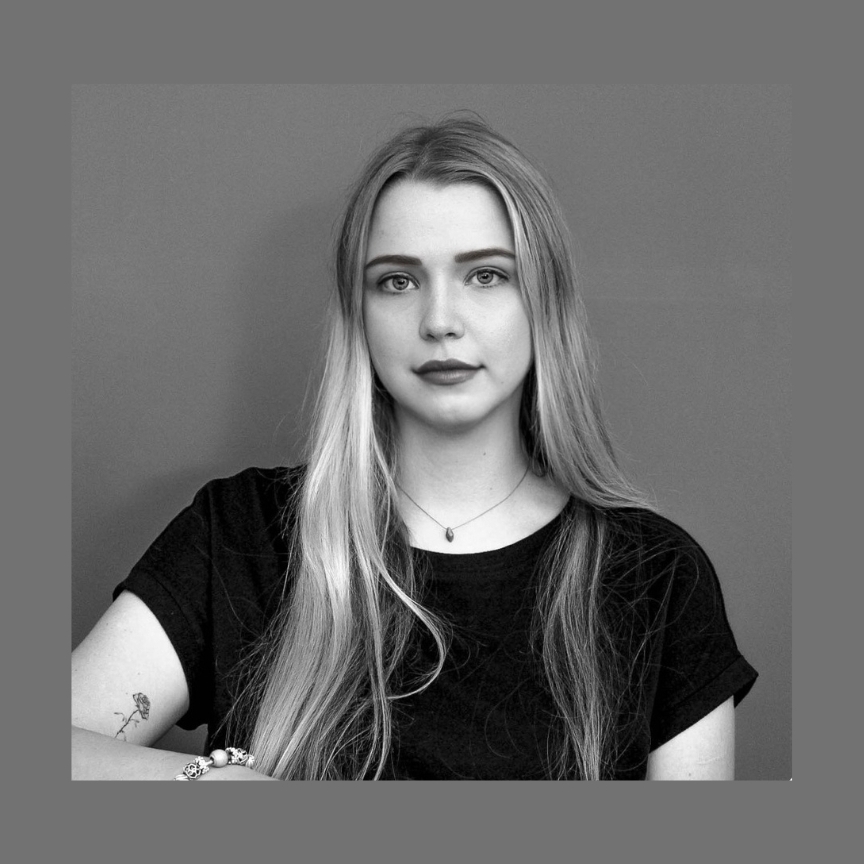 About the author
Fern Bamber
Fern is a seasoned writer in the crypto casino world. With expertise in blockchain and writing, she produces well-researched content covering industry trends and casino reviews. Beyond tech, Fern offers user insights and regularly connects with iGaming experts. Plus, she's an avid video game enthusiast.