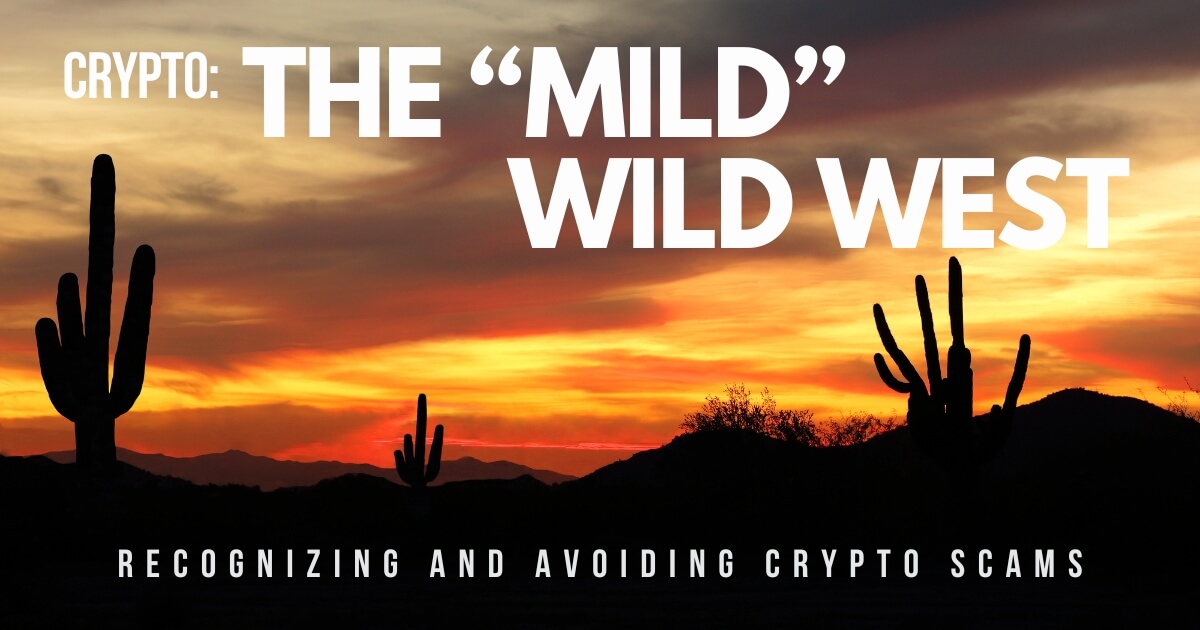 Welcome to the "Mild" Wild West: Recognizing and Avoiding Crypto Cons
Many people presume that crypto is the domain of dreamers or naïve investors hoping to make a quick buck with phantom funds that exist only in ones and zeros in some digital bunker.
Of course, there's a little truth to this, however:
Crypto, like any form of investment, is an opportunity for both lucky and wise investors that is bound to attract unethical actors or outright scammers who pray on the unwary.
This public perception of crypto as a "Wild West" often fosters a lack of empathy for victims of deception based on the common perception that risk-takers deserve the consequences of those risks.
There's little truth to this because crypto is still an emerging and evolving financial landscape with its own potential dangers. But with a little caution, knowledge and experience can protect us most of the time.
Anyone who takes the time to research the dangers of investing in digital currencies will find an enormous number of scams that have succeeded over the years – many of which continue to be played.
The good news is that most of these scams are based on much older con games and follow similar principles that have succeeded in manipulating and in trapping victims for centuries.
Outlaws certainly exist, but there's gold in those hills and valleys for digital pioneers willing to explore while avoiding common pitfalls in unfamiliar territory.
Truthfully, there's so much to discuss here that it's difficult to know where to start, so I took the time to speak to several friends who have successfully built their own crypto accounts, and I asked them what dangers they have faced along the way.
While each of them has different stories to tell about suspicious propositions or outright fraud there are many common factors worth exploring with one common ingredient that we can recognize at the beginning of many crypto scams:
The Approach: Where It All Begins
When conning people for television shows or as demonstrations for clients, getting into a situation where I can start the con was always the most difficult part.
A con artist needs more time but once they have our ear, they can talk us into handing over our own money thanks to one of the most powerful human forms of communication: Story.
Ask anyone who has lost money to a bogus transaction or fraudulent proposition and there will be a story that attracted them into that situation and convinced them to take part.
We will untangle these stories another time, but if we dig past the details of any particular scam we always arrive at a starting point where the victim's journey began; the point where the hustler began their hustle.
Boil any con game down and you find that moment where the victim first encountered the con artist and this is where most crypto scams can be avoided with a healthy amount of caution and though I hate to say it, suspicion.
The unsolicited approach is perhaps the most common first step in crypto scams and while bigger and more costly forms of fraud exist, anyone joining forums or chat groups or websites, or anything that allows others to connect with you is automatically a target for scammers.
The principles of deception are actually pretty simple but they all start in the same place: knowing what the victim wants.
Any involvement in the crypto community, even on legitimate platforms, allows others to add you to a sucker list and target you either as part of a group or directly as an individual.
We will examine that process another time but for now, you can evade an enormous amount of scams by regularly checking your human nature with some simple logic.
Example
Let's say you find yourself in a side conversation with someone you encountered on a forum discussion and after a few days of chat, opinion, and seemingly harmless communication, your new friend mentions an interesting opportunity that requires a quick decision on your part.
Not all cons look like this but in this case, the scammer has invested a little time in building rapport and collecting specifics about you (their target) before laying bait to see if you bite.
Anyone who has ever been conned can think back to the moment they should have never engaged with a scammer and this is where we all need to take care when seeking potential profits.
If a hustler walks up to you on the street, it's easy to keep walking to avoid hearing their pitch. But prospecting online often requires us to communicate with strangers, and a scammer with a good story can pull even the most cynical of people into a web of lies.
The Best Defense?
Stepping back from any sudden opportunity and detaching emotionally is actually extremely difficult and while cold logic makes it seem unlikely we would respond to a clumsy scam, the internal need to win often shortcircuits our ability to detect a con game until it's too late.
Caution and suspicion should be your best defense against want-to-be hustlers, but it can also be a hindrance when encountering a genuinely good deal.
So, a balance must be struck that observes the fact that most unsolicited offers or opportunities are (usually) on some level deceptive or fraudulent.
So, yes, the advice seems obvious but unless you consciously develop the instinct to stop and think in all situations, your competitive monkey brain instincts might leap before you have a chance to look.
Maybe this is a "Wild West" of sorts, but it's not as dangerous as many people presume.
There are genuine chances of making real profits in the long and short term but as crypto expands, increasingly curious investors will dip their toes in unfamiliar waters and sharks are bound to be attracted by fresh meat.
In the end:
If anyone refuses to give you time to analyze an opportunity or consult other sources of information or advice, there's a good chance you're being manipulated to react emotionally rather than logically and that's a pretty sure sign you're being conned.
The simplest surefire protection is to never talk to anyone you don't know but that can be impractical and (maybe) unprofitable. Instead, you can manage your communication more carefully, consciously looking for any sign of a con or scam.
Be incredibly careful engaging with strangers because scammers have much more experience scamming than you have being scammed and they have an answer for every challenge, constantly dangling bait for you to bite.
Final Thoughts
It's all too easy to assume we would never be foolish enough to trust a stranger but I've pulled thousands of cons on real people and I've yet to meet anyone I couldn't crack with the right angle or story; the hard part is getting close enough to pour that poison into their ear.
We'll discuss a practical process for protection in future articles and explore how an old-school method for spotting spies can protect amateur investors searching for genuine opportunities.