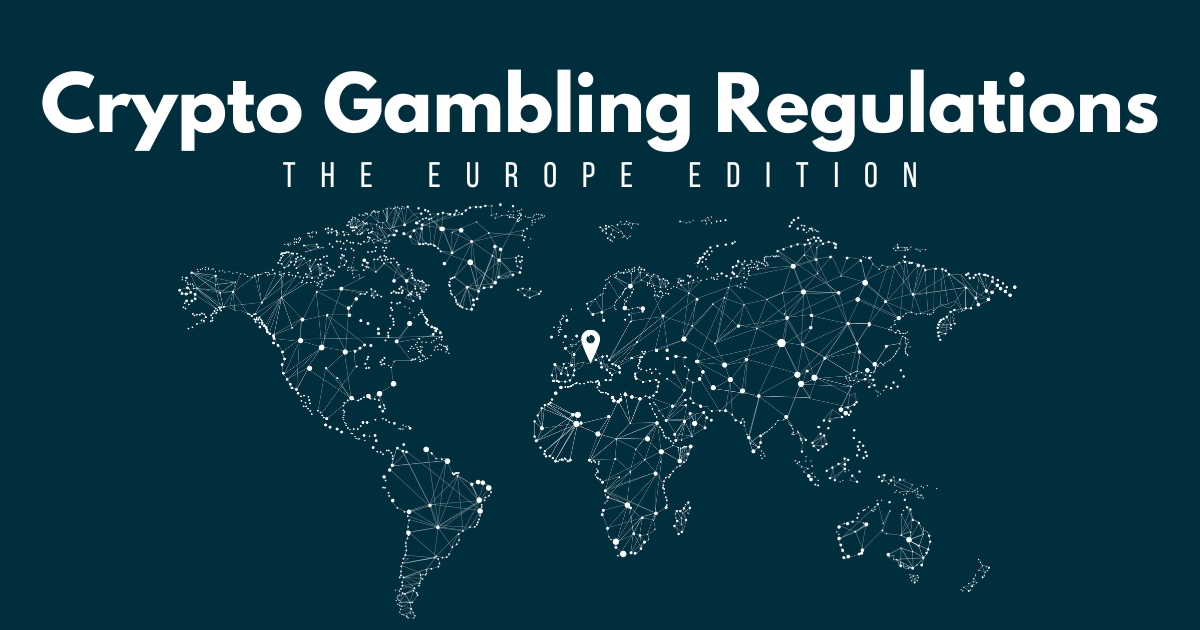 Crypto Gambling Regulations in Europe
European countries, even those that are members of the European Union, take different approaches to crypto gambling. EU member states are autonomous in the way they organize online gambling, and most of them allow at least some form of internet wagering.
The following map contains a detailed overview of crypto gambling regulations across Europe, including:
How the market is regulated
Tax rates
Proposed legislation
So, without further ado, let's check out the map:
Map View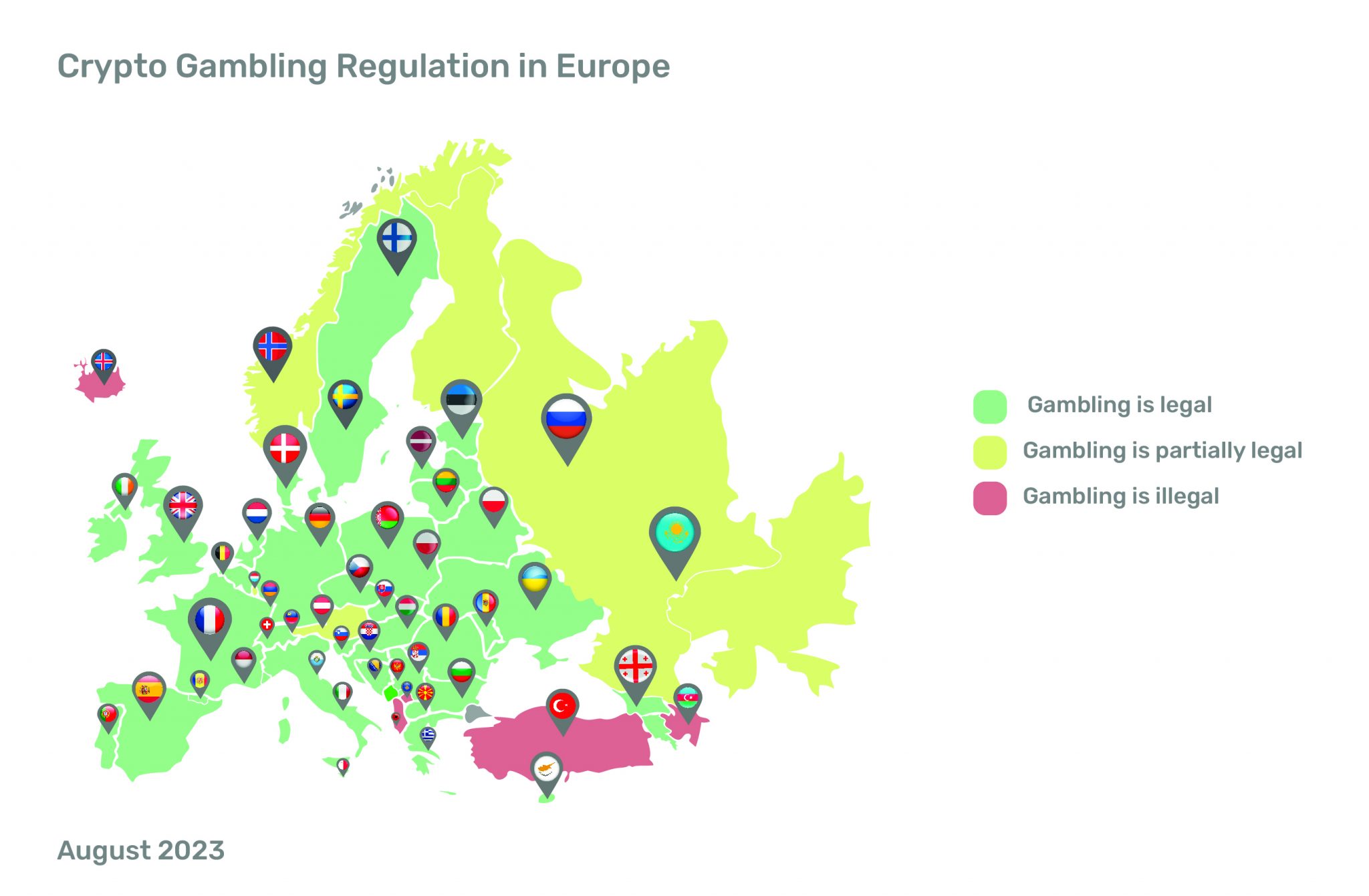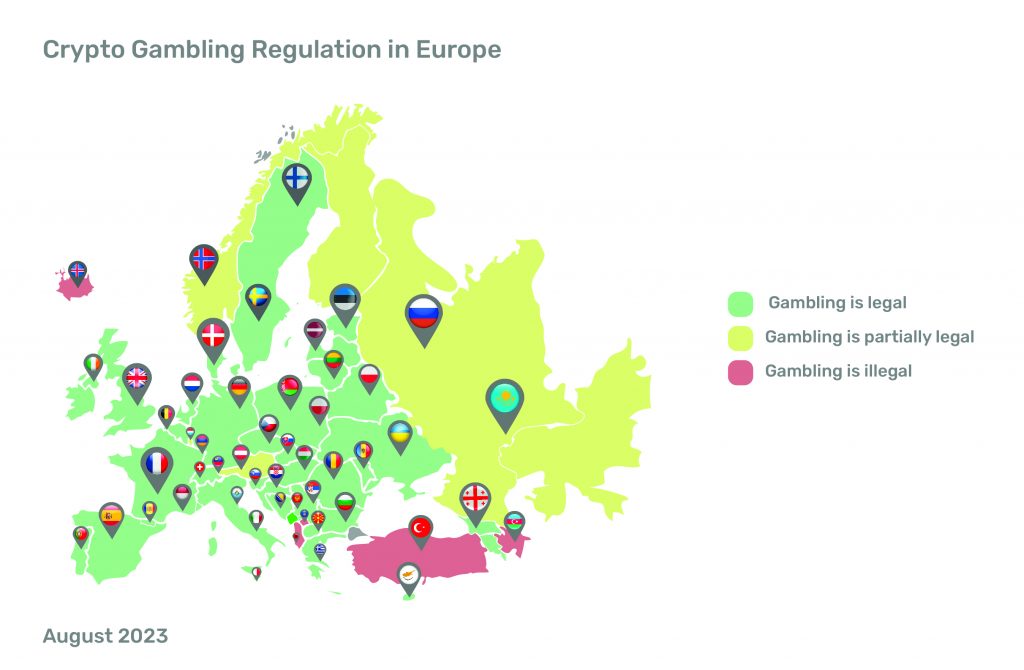 Disclaimer: This map is not intended to serve as legal advice. There are countries that don't offer details about crypto gambling regulations.
Hence, we can't guarantee that the information presented on the map is correct. Gambling regulations are susceptible to change at any time — for the most up-to-date information, please consult a jurisdictional advisory team.
Albania
Status: Illegal
Online gambling, including crypto gambling, is illegal in Albania. The only form of legal gambling is casino gambling in land-based casinos located at 5-star hotels. All gambling activity is controlled by the AMLF – Autoriteti i Mbikëqyrjes së Lojërave të Fatit. However, the Albanian Financial Supervision Authority has regulated crypto exchanges, paving the way for local players to use crypto assets on overseas crypto casinos.
Andorra
Status: Legal
Andorra is a microstate that has a very strong gambling tradition. Both land-based and online gambling are legal and regulated in Andorra, according to provisions of Law 28/2012 and  Law 4/2021. All gambling activities in the country are regulated by the Consell Regulador Andorrà del Joc (CRAJ). 
Cryptocurrencies are not legal tender in Andorra; however, the country has adopted a Digital Assets Law, which can lead to the acceptance of cryptocurrencies in online casinos, provided AML and KYC policies are maintained. 
Armenia
Status: Legal
Online gambling is legal in the Republic of Armenia, according to the laws of RA and Decree 1164-N of the GoA on gambling. Despite offering legal online and land-based gambling, Armenia has adopted an anti-gambling policy towards advertisements for betting.
In terms of cryptocurrencies and digital assets, there is no existing legislative framework on crypto in the country. However, The Central Bank of Armenia is mulling over the introduction of Central Bank Digital Currency (CBDC), which could lead to the implementation of cryptocurrencies into the gambling framework.
Austria
Status: Legal (state-controlled monopoly)
All gambling in Austria is regulated under the Austrian Gaming Act, according to which the Casinos Austria AG and Österreichische Lotterien GmbH, state-owned gambling companies, hold a monopoly over sports betting, casinos, and lotteries. Cryptocurrencies are accepted as a means of exchange, and cryptocurrency holdings are counted as income from capital assets and, as such, are subject to a tax rate of 27.5%.
Azerbaijan
Status: Illegal (with the exception of lotteries)
Azerbaijan has held a general prohibition on gambling since 1998. In 2011, the country decided to approve sports betting. The only legal operator in the country is eTopaz. Online casinos remained outlawed. 
Belarus
Status: Legal

In 2019, Belarus legalized all forms of online gambling, including online casinos and sports betting. In 2017, by Presidential Decree № 8, the country sanctioned the use and exchange of cryptocurrencies. However, gambling using cryptocurrencies still remains illegal. In fact, Belarus seems determined to ban peer-to-peer (P2P) transactions on crypto assets, as per the Ministry of Foreign Affairs. 
Belgium
Status: Legal
Gambling in Belgium falls under the purview of the Gambling Act of 7 May 1999. By way of amendments to the law in 2011, online gambling was approved, and in 2019, a clear distinction between online casino gambling and sports betting was introduced. All operators must be licensed and regulated by the Gaming Commission (GC).
There are no specific laws and regulations regarding gambling with cryptocurrencies in Belgium. Crypto exchanges are allowed under the Virtual Currency Royal Decree of 2022. What's more, Belgium's Financial Services and Markets Authority requires all virtual currency firms to add a disclaimer to their advertisements. 
Bosnia and Herzegovina
Status: Legal
Gambling is regulated in Bosnia and Herzegovina in both of its entities — the Republic of Srpska and the Federation of Bosnia and Herzegovina. Since 2022, the Republic of Srpska has changed the law to include virtual currencies, whereas the Federation is still to act on the laws surrounding cryptocurrencies. However, there's no mention of virtual currencies as accepted currency for gambling in either of the entities. 
Bulgaria
Status: Legal
Bulgaria first legalized gambling in 1993, and in 2012, Bulgaria's parliament adopted a new gaming act to legalize online gaming. All operators must obtain a license from the National Revenue Agency (NRA), which assumed the powers of the former abolished State Commission on Gambling in 2020. In Bulgaria, there are no specific laws regarding the use of virtual currencies for gambling, that is, cryptocurrencies.
Croatia
Status: Legal
Croatia has robust gambling legislation with online and land-based sportsbooks and casinos approved for taking bets. Foreign operators who obtain a license from the Ministry of Finance are also eligible to enter the market.
Croatia doesn't have a specific law regarding cryptocurrencies, and the regulated operators don't support such payments. However, Croatia's income tax law treats cryptocurrencies as a form of investment and, as such, subject to taxes based on capital gain.
Cyprus
Status: Legal
Under the Betting Law of 2012, Cyprus legalized online and offline sports betting, thus establishing the National Betting Authority to oversee sports wagering in the country. In 2015, the legislators voted to approve the Cyprus Casino Control Law and accompanying regulations that refer to licensing a single operator that will build an integrated casino resort and smaller satellite casinos. Online casinos remain outlawed.

Currently, the main piece of legislation that addresses the issue of cryptocurrencies in the state is the Prevention and Suppression of Money Laundering and Terrorist Financing Law. Under the provisions of the law, all persons who hold crypto assets must be registered with the Cyprus Securities and Exchange Commission, which is in direct conflict with the very anonymous nature of cryptocurrencies.
Czech Republic
Status: Legal
In Czechia or the Czech Republic, gambling is regulated by Act No. 186/2016 Coll., on gambling, also known as the Czech Gambling Act. Land-based and online gambling is legal. The taxes levied on the gambling operators are set to 23% for every game other than those defined as technical games, for which taxes are 35%.

Gambling winnings are subject to a 15% income tax. Illegal operators must be banned, as per the guidelines from the Ministry of Finance. Czechia has implemented advanced cryptocurrency laws that mostly refer to the Virtual Asset Service Providers (VASPs), individuals, and companies that facilitate exchanges of virtual currencies.

The Czech National Bank (CNB) is the supervisory and regulatory body tasked with enforcing Anti-Money Laundering (AML) and Know-Your-Customer (KYC) regulations for VASPs. 
Denmark
Status: Legal
Denmark boasts one of the most developed gambling markets in Europe. The Danish Gambling Act defines the rules surrounding the operation of online casinos, land-based casinos, sports betting, lotteries, and other licensed forms of gambling in the country.

According to the statistics issued by the Danish regulator, Spillemyndigheden, Danes gambled more than 65.6 billion DKK since the regulation of the industry in 2012.

Cryptocurrencies are subject to "legislation on alternative investment funds, prospectuses, and money laundering" and, as such, are subject to income tax when you trade in cryptocurrencies. Still, no licensed operators offer cryptocurrencies as a means of payment. 
Estonia
Status: Legal
Through its Gambling Act, Estonia has regulated games of chance, Toto i.e. sports betting, lottery, games of skill, and commercial lottery, taking place online and offline.
All operators must secure a permit from the Estonian Tax and Customs Board prior to launching their services. No licensed operators offer cryptocurrency payment methods, despite the fact that Estonia was the first country to start issuing crypto licenses. 
However, lawmakers have made amendments to the Estonian AML Act, leading to increased licensing fees and tougher capital and information reporting requirements, ultimately forcing the Virtual Asset Service Providers to either comply or leave the market voluntarily. 
Finland
Status: Legal (state-owned monopoly on gambling)
In Finland, gambling services are regulated under the Lotteries Act and are provided solely by the state-controlled company Veikkaus Oy, and it has been so for the past 70 years.
All gambling services by Veikkaus Oy, RAY (the Finnish Slot Machine Association), and Fintoto were merged in January 2017, leaving Veikkaus Oy as the only company with a complete monopoly of the market. 
However, the newly formed government has vowed to end the current monopoly system by 2026 and introduce a licensing model. 
In Finland, virtual currencies are subject to income tax, obtained either through mining or through currency exchanges, which are perfectly legal in the country. However, gambling with cryptos is not. 
France
Status: Legal
France opened up to online gambling in 2010, by ordinance of the Law n° 2010-476 of May 12th, 2010, also known as the French Gambling Act. Under the same law, the Regulatory Authority for Online Games (ARJEL) was introduced and tasked with overseeing the market.
On October 2, 2019, the gambling regulation was reformed, and a new Gambling Authority (ANJ) ascended to power as an independent administrative authority that reports to the Parliament.
For now, the only licensed operators are state-owned Française des Jeux and Pari Mutuel Urbain, offering brick-and-mortar casino gambling, sports betting, and lotteries. Online casinos are not legal, but may become so, should Bill 1248, sponsored by Philippe Latombe of the Democratic Movement party, become law.
France recognizes cryptocurrencies as digital assets and has licensed Binance as the first Digital Asset Service Provider (DASP) in the country, but has yet to condone the use of crypto for gambling purposes.
Georgia
Status: Legal
Georgia boasts a huge gambling market worth over 32 billion lari, or $10 billion. Gambling is regulated in accordance with the nation's Revenue Service and the Tax Code of Georgia. Online and land-based casinos, sportsbooks, bingo, and lotteries are approved.
Recently, the Ministry of Finance has announced the tightening of gambling laws, prohibiting individuals under the age of 25, socially vulnerable citizens, public employees, and those blacklisted by courts or those in self-exclusion programs from participating in all gambling activities, which is some 1.5 million Georgians. 
Cryptocurrencies are not legal tender in Georgia but are rather considered digital assets that you can use only through licensed Virtual Asset Service Providers ("VASP"), so you can technically use Bitcoin for gambling by exchanging it for lari.
Germany
Status: Legal
As of July 1st, 2021, online gambling in Germany has been made legal under the State Treaty on Gambling Glücksspielstaatsvertrag. All operators must obtain a German license in order to offer their services to Germans. It's crucial to note that German states are entitled to implement a licensing regime of their own accord, with some, like Saxony, Bavaria, Brandenburg, and Thuringia, opting for a state-run monopoly. 
Cryptocurrencies, or tokens, are classified as financial instruments in Germany under the guidance of the Federal Financial Supervisory Authority (BaFin), and all those entities performing financial services with crypto assets should obtain a license from BaFin. Payments in cryptos on gambling sites in Germany are not allowed.
Greece
Status: Legal
According to regulations No 8/6/25.05.2012, the Hellenic Gaming Commission is mandated by law to issue licenses for casinos and sports betting operators. In 2020, a new licensing regime for online operators kicked in, with two licensing agreements — one for online sports betting sites and one for all other types of iGaming.
Based on the data by HGC, the gambling market in 2020 was worth €540 million. No provisions of the law refer to cryptocurrency gambling, and no licensed operator offers them as a means of payment.
Hungary
Status: Legal
In January 2023, Hungary amended Act XXXIV of 1991 on Gambling Operations, known as the Gambling Act, in order to end the state-run monopoly over gambling in the country. 
According to the previous legislation ruled in conflict with Article 56 of the Treaty and Functioning of the European Union (TFEU) by the Court of Justice of the European Union (CJEU), only the state-run Szerencsejáték Zrt could provide retail and online sports betting in the country. Now, a new licensing regime is in place, which opens the market to EU-based operators.

Nonetheless, online casinos remain in control of land-based casinos. These operators are not allowed to offer payments in crypto, as these are regulated as crypto assets, not legal tender. Cryptocurrency exchanges are subject to a 15% income tax in Hungary. 
Iceland
Status: Illegal
All forms of gambling in Iceland, excluding the state-approved three-monthly lotteries and sports pools, are illegal and banned. However, there haven't been any instances where the government has prosecuted individuals for betting on offshore sites. 
Ireland
Status: Legal
The Republic of Ireland launched a major overhaul of the current Gaming and Lotteries Act of 1956 and the Betting Act of 1931 in 2022, with the intention of providing a new and modern approach to the regulation of gambling in the country and a new licensing regime.
A new Gambling Regulatory Authority of Ireland is expected to open for business sometime in 2023, with the powers to issue licenses and regulate online casinos, sports betting, lotteries, and their land-based counterparts.
The regulation offers no insight into the rules regarding cryptocurrency payments. The Central Bank of Ireland is designated as the National Competent Authority (NCA) for the authorization and supervision of crypto assets, as per the EU's Markets in Crypto-Assets Regulation (MiCAR). 
Italy
Status: Legal
All forms of gambling are legal in Italy and fall under the supervision and regulation of the Agenzia Dogane e Monopolio di Stato (AAMS). The number of licensed operators can't exceed 120, as per state laws. No licensed operator offers payments in cryptocurrencies, and the country's crypto laws are being drafted in accordance with the EU's Markets in Crypto Assets (MiCA) framework. 
Kazakhstan
Status: Legal (only inland-based gambling in designated areas)
In 2007, the Kazakhstan government approved the establishment of two gambling zones in the Shuchinskiy district (Akmola region) and the Kapchagai reservoir coast (Almaty region) where land-based casinos and retail sportsbooks can operate. Online gambling of any kind is banned in Kazakhstan.
Under the new law on digital assets in Kazakhstan, cryptocurrencies are deemed as digital assets that users can exchange only through exchanges licensed by the Astana International Financial Centre (AIFC.) The use of cryptos for gambling is not specifically regulated. 
Kosovo*
Status: Illegal
Kosovo* banned all forms of gambling for ten years after the death of two casino workers in 2019. One of Europe's poorest countries issued a ban on cryptocurrency mining in 2022 in order to save electricity. Prior to the ban, mining had been a go-to option due to relatively cheap electricity bills. 
Latvia
Status: Legal
In 2005, the Latvian government issued a new Gambling and Lottery law, legalizing online and offline casinos and sports betting. The Latvian Interactive Gambling Association serves to present the industry's opinion and guidelines to the legislators in order to form a safe and fair gambling industry.
No licensed operator in the country accepts crypto payments, and there are no specific laws regarding cryptocurrency pending the new MiCA regulatory framework.
Liechtenstein
Status: Legal
Liechtenstein is considered the Las Vegas of the Alps, with six land-based casinos operating in the country. Online gambling is also legal under the Gambling Act (Geldspielgesetz)of 2010, but the licensing system is still on hold. The latest attempt to thwart the industry and ban casinos altogether was opposed by the voters in 2023.
The Liechtenstein Blockchain Act is the country's comprehensive cryptocurrency law that sets the stage for the widespread use of cryptos in gambling, once online gambling kicks off. 
Lithuania
Status: Legal
With the 2021 amendments to Lithuania's gambling legislature — the Seimas, online gambling achieved a major milestone. Now, there can be online-only operators, so there's no need to team up with retail gambling providers. 
The Gaming Law of the Republic of Lithuania encompasses all forms of gambling in the country, regulated by the Gaming Control Authority under the Ministry of Finance. The Gaming Control Authority blocks players from accessing offshore gambling sites that offer cryptocurrency payments, so gambling with cryptos is out of reach for Lithuanians.
Luxembourg
Status: Legal (only via the National Lottery (Loterie Nationale))
Gambling in Luxembourg is mainly regulated through the 1977 Gambling Law, which prohibits all forms of gambling. However, under the Grand-Ducal Regulation from 1977, the legal framework was adopted for land-based casinos, and the country's only venue is Casino 2000.
In 2009, the National Foundation and the National Lottery Law granted the National Lottery exclusive right to offer lotteries and sports betting both in their retail and online forms.
As for crypto gambling, it still remains illegal. There are no specific laws that deal with cryptocurrencies apart from Bill 7363, according to which securities issued on blockchains must be treated as standard securities. 
Malta
Status: Legal
Malta approves all forms of gambling and is one of the main hubs of online gambling in Europe. Malta's Gaming Act defines all rules and regulations of gambling. Malta Gaming Authority is in charge of licensing both local and offshore operators with headquarters on the island.
In fact, Malta allows gambling with cryptocurrency, as per the country's Sandbox Framework, making it a leader in the field of cryptocurrency gambling. 
Moldova
Status: Legal
The gambling sector in Moldova is regulated under the Law No. 291/2016. However, in 2018, the country concluded that Moldova's Public Property Agency, APP, should no longer hold a  complete monopoly over lotteries and gambling in the country and should instead enter a public-private partnership with EU-based companies.  
Monaco
Status: Legal
Monaco is famed for its casinos, and all tourists and residents born outside of Monaco can gamble in land-based casinos, as per Act no. 1.103 of 12 June 1987 pertaining to gambling. Locals are banned from playing in casinos. Online gambling is also prohibited in Monaco. 
The country adopted a legal framework for crypto assets in 2022 but does not treat cryptocurrencies as legal tender, and gambling using cryptos remains illegal. 
Montenegro
Status: Legal
Montenegro regulates gambling according to the Gambling Act of 2004. Both online and retail gambling are allowed in all of their forms, provided the operators receive an appropriate license from the Ministry of Finance. The Ministry has recently announced a new legal framework for cryptocurrencies due to become law by the end of the year.
Netherlands
Status: Legal
Gambling in the Netherlands is legal and regulated under the Betting and Gambling Act and the Betting and Gambling Tax Act. On April 1, 2021, changes to the bills were introduced to allow remote gambling in the Kingdom of Netherlands. The so-called Remote Gambling Act came into force on April 1, 2021, and the first licenses were issued by the Kansspelautoriteit, the country's chief regulators, in October 2021. 
Cryptocurrencies are not classified as digital currency in the Netherlands and, as such, are not allowed for funding gambling accounts.
North Macedonia
Status: Legal
Online casinos, lotteries, and sportsbooks are legal in North Macedonia, pursuant to the Law of Chance and Entertainment Games of the Republic of North Macedonia. All operators must obtain adequate licenses from the Ministry of Finance prior to launching.
The law concerning cryptocurrencies is the Anti-money Laundering and Terrorism Financing law, in which cryptos are seen as digital assets subject to personal income tax. Gambling using Bitcoin and other digital currencies is not allowed in North Macedonia.
Norway
Status: Legal (offered only by Norsk Tipping AS and Norsk Rikstoto)
According to the Norwegian Gambling Act, esports betting, casino games, number games, and horse betting are legal in Norway, provided they are offered by  Norsk Tipping AS and Norsk Rikstoto. The Norwegian Gambling Authority (regulator Lotteri-og stiftelsestilsynet (Lotteritilsynet) is charged with overseeing the gambling activity in the country. 
Norway's Ministry of Culture and Gender Equality proposed a consultation on the new proposed Gambling Act, but there's no mention of ending the state monopoly over gambling.
Moreover, there's no national legal framework for cryptocurrencies, so crypto gambling is not allowed. 
Poland
Status: Legal
All gambling activities, including games of chance, betting, card games, and games on gaming machines, are legal in Poland, and fall under the jurisdiction of the Gambling Law of 19 November 2009. All operators must obtain a license from the Ministry of Finance before offering their services to Poles.

As of July 1st, 2017, the government has blacklisted close to 29,000 URL addresses, mostly offshore gambling sites, which are the only ones offering cryptocurrency gambling. The current financial laws of the country do not specifically address crypto-assets. 
Portugal
Status: Legal
Gambling in Portugal is legal in all of its forms. Land-based gambling and betting are regulated by Decree-Law No. 422/89 and Decree-Law No. 31/2011, whereas online casino gambling and betting are regulated under the provisions of Decree-Law No. 66/2015. ​​​​​​​​​​​​​​​​​​The Gambling Regulation and Inspection Service is responsible for controlling and regulating all gambling options in the country.
In 2023, Portugal's new tax rules regarding crypto assets came into effect, taxing receiving crypto assets in exchange for selling other crypto assets at 15%. No licensed operators in the country accept crypto payments.
Romania
Status: Legal
Gambling in Romania is entirely legal as per GEO 77/2009, and organized under the supervision of the National Office for Gambling (O.N.J.N.), mandated by law to license operators and providers.
So far, the regulator hasn't issued any guidelines on the use of cryptocurrencies for gambling, and the country's financial laws are yet to include a comprehensive legal framework.
Russia
Status: Legal (partially allowed in gambling zones)
Russia banned all gambling in 2006 following major legal reforms. Online gambling is entirely prohibited, and the only forms of sanctioned gambling are state lotteries, casino and EGM operations in gambling zones, and sportsbooks that can operate under the Interactive Bet and TSUPIS systems. Cryptocurrency gambling is outright banned. Payments in crypto have been banned since 2022.
San Marino
Status: Legal
San Marino has regulated land-based and online gambling as per Law No. 67/2000 Regulations For The Exercise Of The Games, Contest Prize, The Lottery, The Lottery, Games Of Chance and Skill and Betting. In 2014, amendments to the law were introduced to allow online gambling. 
According to the country's decree on blockchain technology, cryptocurrencies are approved for use. However, cryptocurrencies are not legal tender in the country and can't be used for gambling. 
Serbia
Status: Legal
Serbia adopted a new Law on Games of Chance in 2020 which provides a detailed overview of all forms of gambling in the country. The list of approved games includes land-based and online casinos and sportsbooks, lottery, bingo, raffles, and other types of classic games. The Games of Chance Administration of the Ministry of Finance is in charge of regulating the market.
Offshore casinos are blacklisted by Serbia's Ministry of Finance, and those are the only ones offering cryptocurrency gambling. Bitcoin and other cryptocurrencies are not legal tender in the country and are regulated according to the law on digital property. 
Slovakia
Status: Legal
Slovakia adopted a Gambling Act on gambling on January 29, 2019, legalizing casino gambling, sports betting, lotteries, and other forms of gambling. Foreign operators are entitled to apply for a license to operate in Slovakia with the Office for the Regulation of Gambling. The only monopoly that remains is the one on numerical lotteries, special bingo, and receipt lotteries.
Cryptocurrencies, dubbed as crypto-assets, are subject to a 7% income tax rate but are not legal tender and can't be used for gambling.
Slovenia
Status: Legal
Slovenia has legalized classic games of chance (Lotteries and Betting), as well as numerical lotteries, instant lotteries, quiz lotteries, bingo games, lotto games, sports betting, raffles, and other similar games, as per the Gaming Act. The Financial Administration of the Republic of Slovenia oversees gambling in the country.

As of 1 January 2022, Slovenia implemented a new law on digital currencies, where a 10% flat tax rate is imposed. Cryptocurrency gambling is not allowed. 
Spain
Status: Legal
Gambling in Spain is regulated according to Law 13/2011, of 27 May 2011, which legalized casino gambling, sports betting, lotteries, and other forms of land-based and online gambling. The Directorate General for the Regulation of Gambling is mandated, by law, to oversee all gambling activities.
According to data from the Directorate, in 2022, online gambling generated over €802 million, showing steady growth on a yearly basis. 
Licensed operators are not allowed to take bets in cryptocurrency as such are not regulated as legal tender. 
Sweden
Status: Legal
Gambling in Sweden is regulated under the following laws: the Lotteries Act (1994:1000), the Act on Arrangements for Certain Gaming Machines (1982:636), the Casino Act (1999:355), and the Swedish Gambling Act of 2018, which came into effect on 1 January 2019.
The legal forms of gambling include commercial casino gambling and sports betting, as well as national lotteries. The Swedish Gambling Authority is the authority on gambling in the country, regulating and licensing operators.
The current data show that gross gaming revenue (GGR) is SEK 27,353 million. However, gambling using cryptocurrencies is not sanctioned in the country, despite its favorable view of cryptocurrencies and the growing number of licensed exchanges. 
Switzerland
Status: Legal
Gambling in Switzerland is governed by the Federal Act on Games of Chance and Casinos of 18 December 1998, and the amended version of the 2018 Federal Act on Gambling (Gambling Act), which ushered online gambling in the country.
Foreign operators that don't have a license from the Swiss Gambling Supervisory Authority (Gespa) are banned from the market, as per the decision of the Federal Supreme Court. 
Switzerland treats cryptocurrencies as assets rather than securities through its Blockchain Act, which made it one of the first countries to introduce legislation on digital currencies. However, players are not allowed to use cryptos for gambling.
Turkey
Status: Illegal (with the exception of the state-run lottery and the state-owned sports betting company, the IDDAA)
Commercial gambling in Turkey is illegal except for the state lottery (Milli Piyango) and the state-run sports betting company, the IDDAA.
Ukraine
Status: Legal
Following the expiration of a 10-year statutory ban on gambling, Ukraine implemented a new law On State Regulation of Organizing and Running Gambling in 2020, effective as of August 13, 2020. 
The Commission for the Regulation of Gambling and Lotteries (KRAIL) is in charge of regulating gaming (land-based and online), sports betting, gaming machines, and online poker. In May 2022, President Zelensky signed the bill on Virtual Assets into law, which created a legal framework for the cryptocurrency industry in the country. In fact, the country is expected to implement Markets in Crypto-Assets (MiCA) regulation as well. 
Gambling using cryptocurrencies is not yet legal.
United Kingdom
Status: Legal
The United Kingdom is at the forefront of gambling regulations. The Gambling Act of 2005 is the leading legislation in the country that focuses on land-based and remote gambling. The UK Gambling Commission is tasked with licensing and regulation of gambling in the country, and it has even released a Crypto-assets report addressing the possibility of implementing rules regarding the use of cryptocurrency in gambling. 
The Commission has concluded that operators have a tough time evidencing the source of funds when crypto-assets are at stake, which is essential in meeting the requirements assessing the source of funds (SoF). Any operator that can provide evidence of SoF, as well as AML and KYC policy checks is eligible for a license from the UKGC.
Final Thoughts
Playing from outside of Europe and wondering if your own country allows crypto gambling?
We've got you covered if you're playing from: