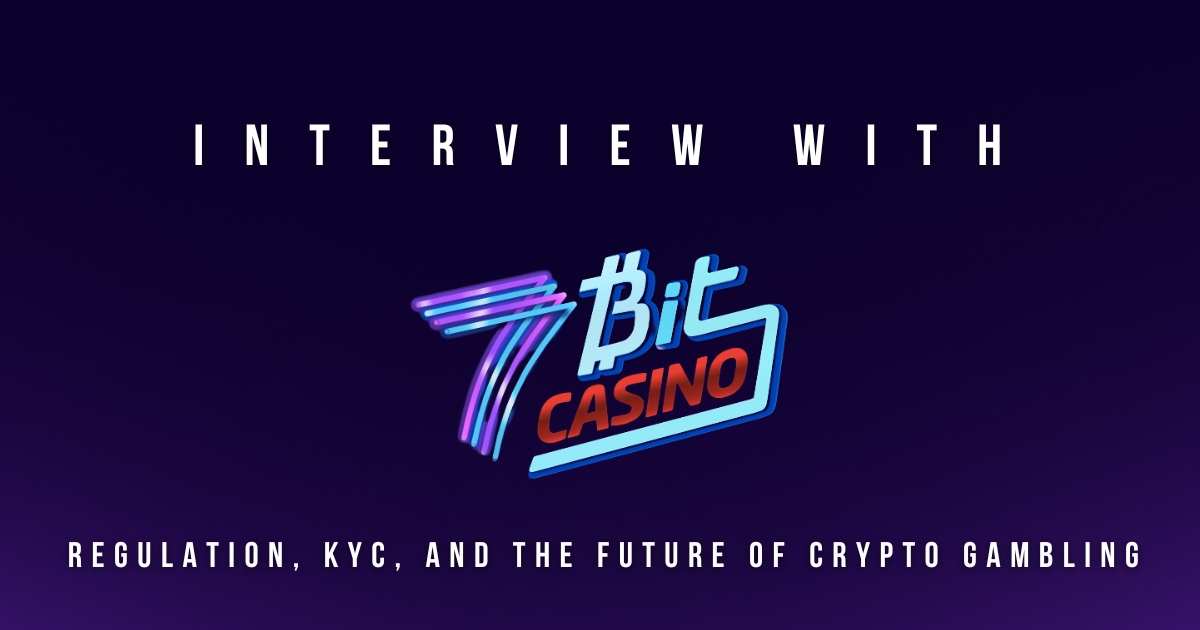 Interview with 7Bit Casino
The crypto industry is the perfect storm for change, so it's more important than ever for blockchain casinos to stay up to date with the latest trends and stick with the times. We checked on one of our top-rated crypto casinos, 7Bit, to see what they're doing to stay ahead of the curve.
The Future of Crypto Gambling
We were lucky enough to speak to 7Bit's Product Owner, Ihor Chaika. And, he had a lot to say amidst the ongoing disruption in the crypto biz and the gambling sphere.
What inspired you to start a crypto casino, and how did you get into the industry?
A: I was inspired to start a crypto casino because of the immense potential and innovation that cryptocurrencies and blockchain technology bring to the gambling industry. I saw an opportunity to create a secure, transparent, and decentralized platform for players worldwide. My passion for technology and understanding of the benefits it offers led me to venture into this industry.
How do you manage risks associated with the volatility of cryptocurrency prices, and what steps do you take to mitigate those risks?

A: Managing risks associated with cryptocurrency price volatility is a top priority for us. We employ various strategies to mitigate these risks, including carefully monitoring market trends, implementing hedging mechanisms, and maintaining a diversified portfolio of cryptocurrencies.
Additionally, we continuously assess and update our risk management policies to adapt to market conditions and ensure the stability of our operations.
How do you balance the need to comply with regulatory requirements while still providing a seamless and user-friendly experience for your players?

A: Balancing regulatory compliance with a seamless user experience is crucial to our success. We have invested significant resources in understanding and adhering to applicable regulations in the jurisdictions we operate.
By implementing robust Know Your Customer (KYC) procedures and anti-money laundering measures, we ensure compliance while maintaining a user-friendly interface and streamlined registration process for our players.
Can you talk about any plans you have for expanding your casino's offerings or entering new markets in the future?

A: We have ambitious plans for expanding our casino's offerings and entering new markets in the future. Our focus is on diversifying our game portfolio to cater to a broader range of player preferences. We are also exploring opportunities to enter emerging markets where cryptocurrencies and online gambling are gaining traction. Our goal is to provide an exceptional gaming experience to players worldwide.
How do you think the emergence of new cryptocurrencies and blockchain technology will affect the industry in the coming years? Do you see any particular trends or changes emerging?

A: The emergence of new cryptocurrencies and blockchain technology will significantly impact the industry in the coming years. We anticipate increased adoption of cryptocurrencies as a mainstream payment method and greater integration of blockchain technology in gaming platforms.
This shift will enhance transparency, security, and fairness in the industry, ultimately benefiting both players and operators. We expect to see continued innovation in decentralized gaming and the exploration of novel use cases for blockchain technology.
In your opinion, how do you think traditional gambling will adapt to the growth of crypto gambling? Do you think they will try to compete with crypto casinos, or will they find ways to work together?

A: Traditional gambling will inevitably adapt to the growth of crypto gambling. While some traditional establishments may view crypto casinos as competitors, there is also a potential for collaboration and synergy.
We believe that forward-thinking traditional gambling operators will explore ways to incorporate cryptocurrencies and blockchain technology into their existing offerings, offering players a wider range of options and benefiting from the advantages that these technologies bring.
What are your thoughts regarding KYC requirements becoming more prevalent in the crypto casino landscape?

A: The prevalence of KYC requirements in the crypto casino landscape is a positive development in terms of ensuring a secure and compliant environment. We fully support and embrace KYC measures as they help prevent fraud, money laundering, and other illicit activities.
By implementing stringent KYC procedures, we safeguard the integrity of our platform and maintain a high level of trust among our players. We believe that as the industry matures, KYC requirements will become even more essential for sustainable growth.