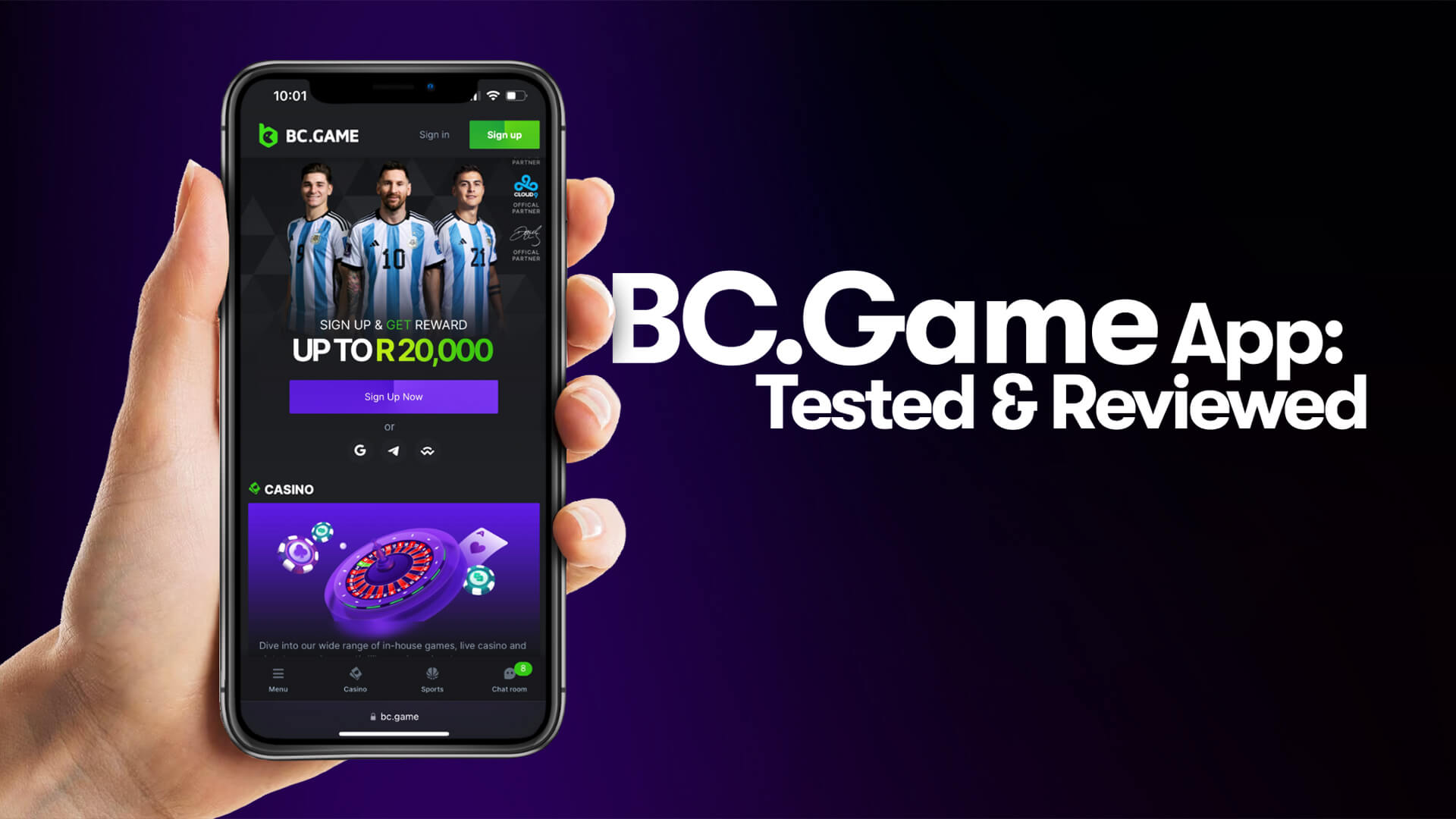 Is There a BC.Game App? Yes – and We Tested It
Did you know that most gamblers use their mobiles to play at Bitcoin casinos? Chances are, you're one of them. And if so, it's no wonder you're investigating BC.Game's new mobile app.
We'll start off by saying that it's not a traditional app, per se. It's a web–based app that you can add as a shortcut on your mobile.
The great news is that it's compatible with Android and iOS devices. This is a huge step towards releasing a fully downloadable app, and we're pretty sure that one is already in the works.
But for now, you can enjoy everything that BC.Game has to offer with a single tap. Keen to find out more about the BC.Game app? We'll take you through:
How to set up the app on Android and iOS
The best BC.Game games to play on your mobile
Tips for making the most out of the app
Let's go!
BC.Game App Pros and Cons
Every rose has its thorns, and the BC.Game app is no exception. Let's have a quick look at what's hot (and not) about this unconventional app:
Pros
Easy to download
Mobile-friendly
Extensive game offering
Convenient deposits and withdrawals
All bonuses available for mobile players
Cons
❌ It's not a downloadable app
BC.Game App for iOS
The app download process is a simple one. If you're an iOS user, simply:
Open BC.Game in safari.
Tap the 'Share' button below on the Safari tab.
Select 'Add to Home Screen'.
That's all there is to it! You'll be able to find the BC.Game shortcut on your home screen.
BC.Game App for Android
The process pretty much follows the same route as the iOS download. But, let's go through it anyways:
Open up BC.Game in the Chrome app.
Select the dotted menu icon.
Click 'install app' in the drop-down menu.
Easy peasy, right?
What Games Can You Play on the App?
For all intents and purposes, the BC.Game app is an exact replica of the casino site – you can just access it easier from your home screen. This is great news for you, since you'll have the pick of thousands of games, including hits like:
Original BC.Game titles
Classic table games
Provably fair games
Live casino games
Sports betting
We'll take you through some of the most popular categories, and how they perform on mobile devices.
BC.Game Original Games on Mobile
BC.Game boasts an extensive collection of original games, such as:
Crash
Plinko
Limbo
Keno
Mine
Roulette
And many more!
In our opinion, BC.Game's crowning glory is its original and provably fair Bitcoin Crash game. Of course, you can play with other currencies, but BTC seems to be the fan favorite.
If you've never played crash before, no worries. Essentially, Crash simulates the crypto market, featuring a growing multiplier that will (you guessed it) multiply your money up until the point where it crashes at random. It's up to you to cap your bet and cash out at the perfect moment.
So how does BC.Game's Crash perform on mobile? Beautifully.
Play it on the train, a plane, or while you're hiding in the bathroom during work. Wherever you are, you'll enjoy unrivaled graphics and smooth gameplay.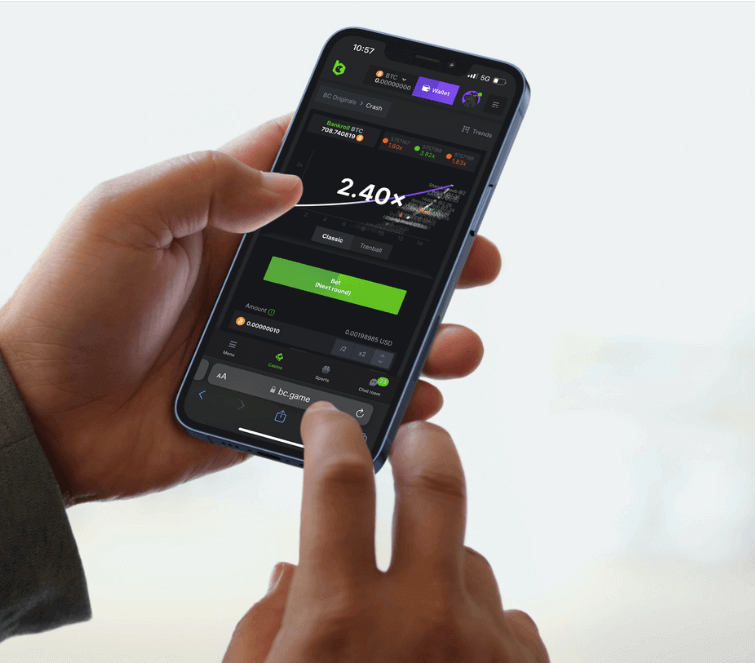 BC.Game Mobile Table Games
You won't find a better table game selection than BC.Game's massive library of hits and indie-interpretations alike. Playing on mobile doesn't mean you'll miss out on any of the top providers, either. You can enjoy titles in the palm of your hand by software giants like:
Evolution
Pragmatic Play
Ezugi
Playtech
Belatra
You'll find a rich selection of both classic and live dealer games (if you're looking for a more personalized experience). Have your pick of a plethora of themes, RTPs, and variations of your favorite table games.
What's the best BC.Game live dealer game you can play on mobile? We tried a bunch of different titles, spending plenty hours and (probably too much) BTC in the process. Eventually we settled on a favorite:
First Person Roulette by Evolution Gaming!
This title is fast-paced, immersive, and has a decent RTP of 97%. What's not to love?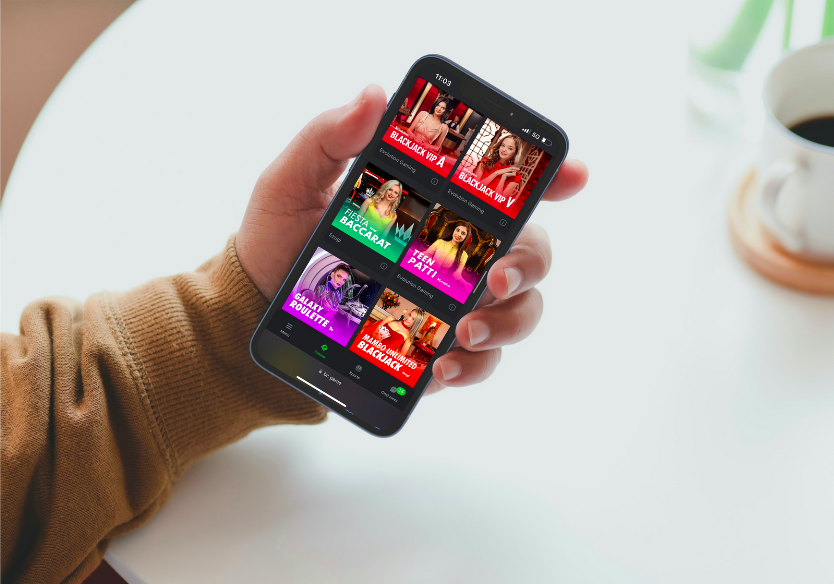 BC.Game Mobile Deposits & Withdrawals
If anything, making deposits and withdrawals at BC.Game is much more convenient on mobile than it is on desktop. Most of us transact on mobile either way, so it pays to have all our data, crypto wallet addresses, and other information ready to copy-paste.
As you might imagine, we enjoyed the same, speedy deposits and withdrawals using the app as we've come to expect from desktop.
Wondering how to deposit at BC.Game in the first place? It's pretty simple, but we'll take you through it in a few simple steps:
Head over to the 'Wallet' tab in the site's header menu.
Select your preferred crypto (we chose Bitcoin).
Either transfer funds from your wallet, or buy crypto directly on BC.Game's on-site exchange – whichever works best for you.
Wait for your tokens to reflect in your casino account.
You're ready to play!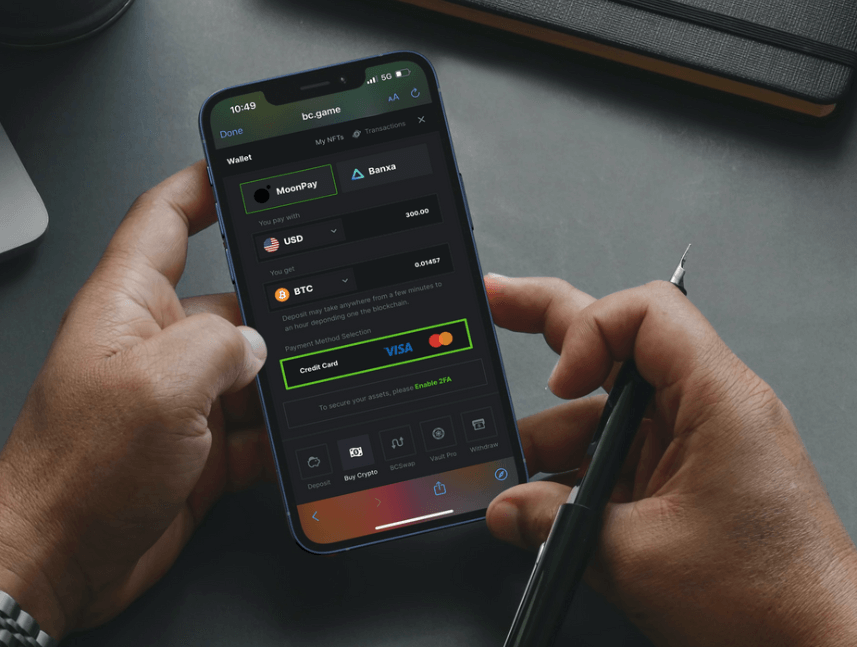 And more importantly, what about withdrawals? Again, a nice, simple process. All you need to do is:
Click on the wallet tab in the header.
Select the withdraw tab (it's a card in an ATM icon).
Fill in the crypto wallet address you want to send funds to.
Add in your desired amount.
And… send!
That's all there is to it. You can look forward to famously-fast withdrawals – something BC.Game is particularly well-known for.
Tips for Getting the Most out of BC.Game's App
There's more than one reason why so many players choose to gamble on their mobiles, and BC.Game knows this well. That's why they've gone to such great lengths to optimize their games and interface for smaller screens, and fingers instead of cursors.
As easy and convenient as mobile gambling is, there are still a few things you should know that can help you get the most out of the BC Game app. Chances are, these same tips will also help you increase your chances of making a profit.
So, without further ado:
Stable connection is key: Not only should you sign in to secure Wi-Fi networks (or use your own data), but you should ensure that your connection is stable enough not to suddenly drop. Why? Imagine you're halfway through an intense blackjack game, lose signal, and lose your winnings. This is a real possibility.
Practice bankroll management: Nothing sounds quite as lame as budgeting. But, if you're looking to make a profit in the long run, it's just something you'll have to do. Set out a daily, weekly, or monthly budget you're willing to spend on the BC.Game app. You'll thank yourself later.
Keep your mobile charged: An obvious one, but playing at casino apps like BC.Game's will consume a lot of battery. If you're heading out and planning to game on the go, charge your phone up beforehand, or bring a power bank with you.
Turn off notifications: You don't want to be interrupted by a phone call mid-game, after all. If you're off the clock and can check out from comms for a while, set your mobile to 'do not disturb'.
Final Thoughts
As far as ratings go, we're giving the BC.Game app a 4/5.
Surprised we're not giving it full marks after this raving review? Well, we think BC.Game has quite a bit of work to do in developing a fully downloadable mobile app. And, we'll be sure to update this review when they do!
We're looking forward to seeing what the casino comes up with. But in the meantime, you can 'download' the app here:
Frequently Asked Questions
Yes and no! BC.Game's new app is a web-based app that you can add a shortcut to on your mobile. It's likely that a fully downloadable app is in the works, though.
What games does the BC.Game app have?
Can I download the BC.Game app on my iPhone?
Absolutely. You can download the app on any iOS device, plus Android devices too!