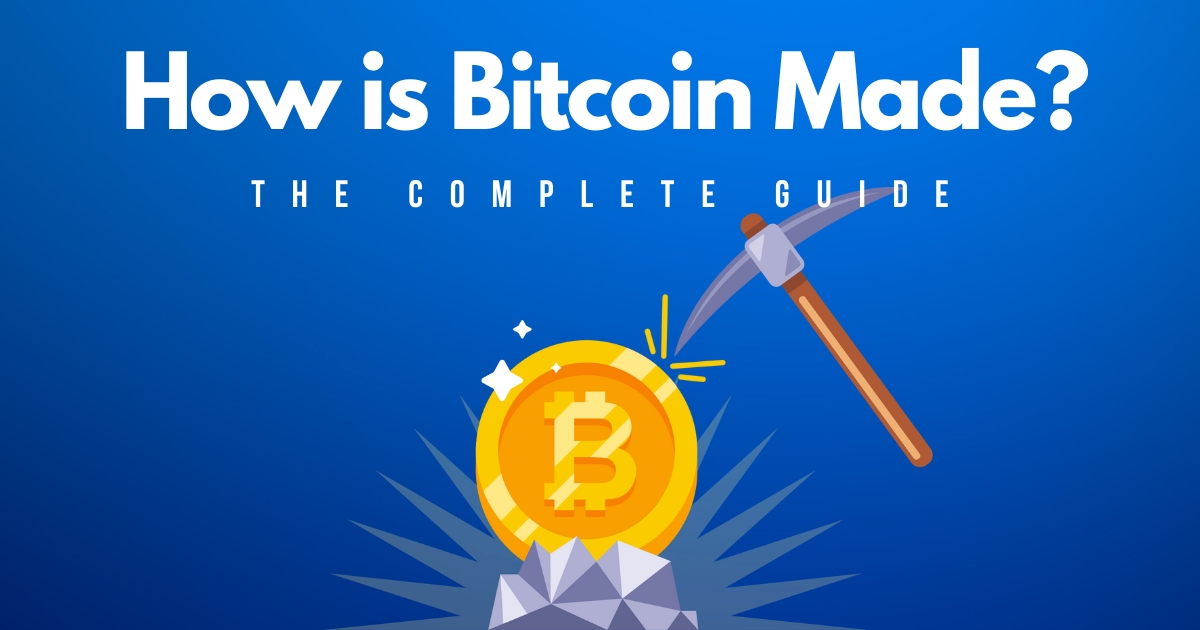 How is Bitcoin Made?
Bitcoin's trading value is more than $11 billion, at least at the time of writing. But despite BTC's renown, many people don't know how it's made. To most people out there, the world of crypto is shrouded in mystery. Some Bitcoin casino players bet using BTC without having the foggiest idea of where their crypto assets come from.
If you're one of those players, that's about to change.
In this guide, we're going to get you up to speed with:
How Bitcoin mining works
The origins and history of the crypto
The Proof-of-Work system
Bitcoin halving
Environmental impact
The merits of gambling at Bitcoin casinos
As you can see, we've got quite a lot to get through before you can count yourself an expert on all things Bitcoin. But there's no time like the present!
Bitcoin Mining: Where It All Begins
Bitcoin is created through a process called mining. New Bitcoins are mined (created) when computers on the network verify transactions. These computers, or miners, process the transactions and get payment in Bitcoin in return.
Bitcoin runs on a blockchain, which is the technology behind many cryptocurrencies.
The blockchain reflects all the transactions within an ecosystem. These transactions are grouped and approved, forming a block, and joined to build a chain. The process of Bitcoin mining involves adding a block to the chain.
Miners must solve complicated math problems to add a block successfully. This process involves a concept known as the "target hash." A target hash is a number that must be equal to or bigger than a hashed block header to create a new block. It's used to determine input difficulty and can change to make block processing more efficient.
Miners make guesses to arrive at the target hash. The trial-and-error process requires major computing power, which utilizes quite a bit of electricity. And, the number of miners in the network is directly proportional to the mining difficulty.
As you can imagine, mining isn't possible without solid computer hardware. The hardware required is known as ASICs, or application-specific integrated circuits, and is quite expensive. It also consumes a great deal of electricity.
Each block added brings the miner 6.25 Bitcoins as a reward. Every four years, the reward is cut in half. At the time of writing, Bitcoin was changing hands for $29,400. Historically, its price has increased after halving.
Who Created Bitcoin? Origins and History
An unknown entity or group using the pseudonym Satoshi Nakamoto invented Bitcoin in 2008. The use of the currency began in 2009 when the creator released its implementation as open-source software. The word "Bitcoin" first appeared in a white paper published in 2008.
The creator capped the Bitcoin supply at 21 million coins maximum. As of August 7, 2023, there were 19.45 million Bitcoins.
After Bitcoin launched in 2009, around 1.1 million Bitcoins were mined, and the proverbial Nakamoto disappeared a year later. Gavin Andresen took over development of the asset and its blockchain.
Bitcoin was created with a decentralized vision: there could be no central storage, administrator, or any other centralized authority.
All stakeholders are peer-to-peer and the network only exists to verify and confirm transactions. Surrounded by uncertainty, the value of Bitcoin declined at the time.
One of the leading crypto's canons is against control through accumulating power in too few hands. In 2014, crypto mining platform GHash.io exceeded 51% hashing power. This created the risk of counterfeiting coins and pushing GHash's competitors out of rewards. Eventually, hashing power returned to acceptable limits.
Contrary to popular belief, Bitcoin has quite a few real-world use cases. People have bought cars, houses, and even space travel packages worth millions in Bitcoin. The most expensive Bitcoin purchase in history so far has been a seven-bedroom house in Miami, sold for 455 Bitcoin in 2018.
Michael Komaransky, a Bitcoin trader, was selling the house for $6 million or its equivalent in BTC. He preferred the latter. An unnamed, like-minded buyer paid the 455 Bitcoin for it.
Anatomy of Proof-of-Work (PoW)
Now that the history lesson's over, it's time to unpack the concept of Proof-of-Work.
Proof of work is the process of guessing the right hash. Each block of the chain is like a cell. Information such as wallet addresses, transaction amounts, and the time and date are registered in a block header, which is a hexadecimal number the hashing creates.
Each block's hash is used in the following block. This creates an unalterable ledger of interlinked blocks. It is unalterable because the most recently created block's hash includes information from every preceding block.
Before one can open a new block, the hash must be verified, and this is what PoW is about. Modern technology can generate a hash, which is a 64-digit encrypted number, in fractions of a second irrespective of the data volume.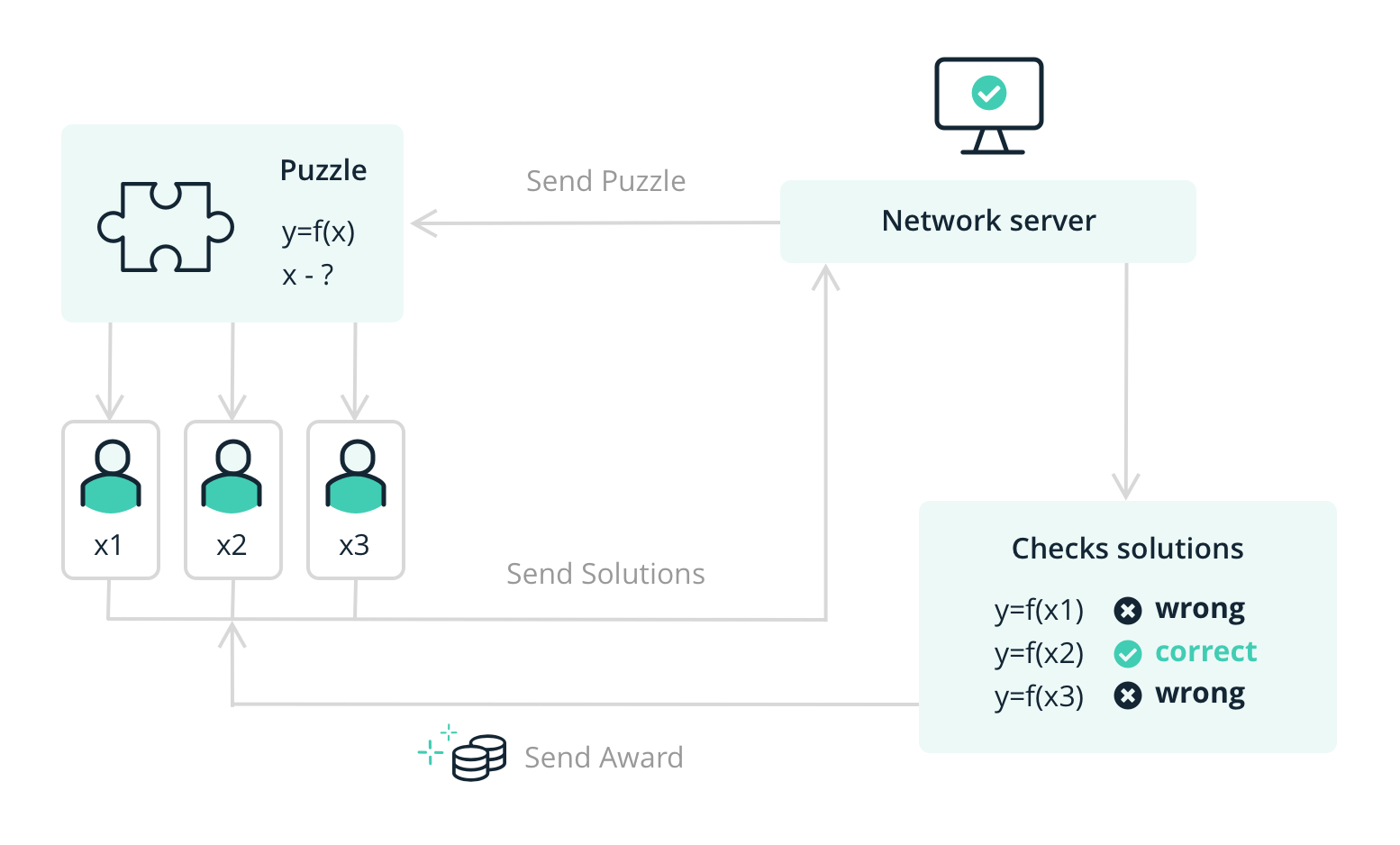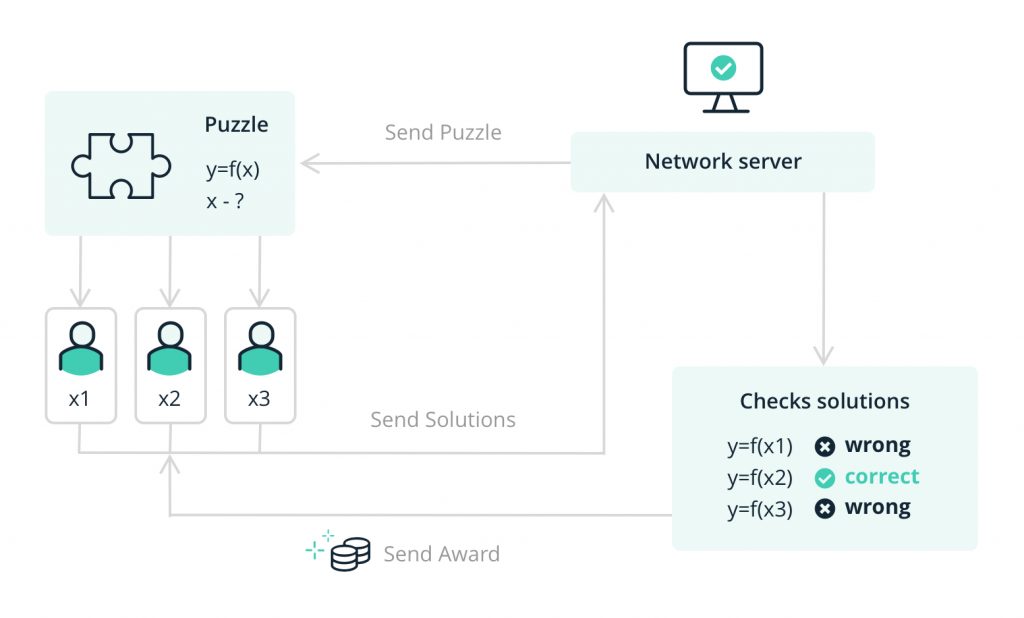 The hash also includes a nonce, which is a series of numbers. The word is short for "number used once." When a miner starts working, they use a nonce equal to zero to create a hash from publicly available information.
As mentioned, a hash has been solved if it is lower than the current network target, which is the result of a formula converted to a hexadecimal number determining the mining complexity.
The mining program generates another hash after adding 1 to the nonce if the target is lower than the previous hash. The whole miner network solves the problem this way.
Bitcoin Halving: Maintaining a Supply
Experts maintain that the cap of 21 million Bitcoin won't be reached until 2140 because of Bitcoin halving. But there's another contributing factor:
Disappearing Act
Estimates suggest 15% of Bitcoin on average disappears after holders lose their private storage keys or wallets. 
What exactly is Bitcoin halving, and why is it necessary?
The purpose of Bitcoin halving is to maintain a low supply and counteract inflation. Theoretically, reducing the tempo of Bitcoin mining means the price will increase, unless demand drops.
Bitcoin's inflation rate is below 2%, and with the next halving in 2024, it will drop further. Supply is limited when the reward goes down. The price is impacted positively when supply is limited and demand increases, which is what Bitcoin traders and investors are hoping for.
How Does Bitcoin Halving Work?
When a validator network verifies a transaction block, they get a reward of 6.25 BTC. At the current Bitcoin price, 6.25 BTC is worth about $184,000, which is encouraging enough for miners to continue adding blocks. They do so every 10 minutes on average. After 210,000 blocks are created, the reward is cut in half.
Bitcoin Halving
The process of BTC halving happens roughly every four years. 
Halving may reduce rewards, but it also reduces the supply of new Bitcoin. As supply becomes more limited, the Bitcoin price should increase. This has been the case historically.
Whether the price volatility around halving is a direct product of it is still open for discussion. Either way, miners would be incentivized to keep working if the price is high, in every event.
Typically, the price of Bitcoin ends up being much higher a few months after each halving event. The next one is expected in May 2024.
After the initial volatility, halving tends to be bullish for Bitcoin. It's still important to exercise caution as lower mining activity can cause the price to remain flat.
Verification: The Power of Decentralization
Nodes are the backbone of any blockchain. Their main functions involve maintaining the accuracy of the ledger and verifying transactions. When a transaction occurs on the blockchain, all the nodes in the network verify it via complex algorithms. The transaction is added to the blockchain when the nodes reach a consensus.
Nodes also keep copies of all the transactions on the blockchain ledger. This ensures transparency of the blockchain and equal access to information for all participants. The network becomes more resilient and secure when multiple nodes store those copies.
Nodes are key to guaranteeing network decentralization. They are distributed all over the world, forming a network and making sure no single entity can take control of it.
This also safeguards against a single point of failure, as the network becomes resistant to exploits and attacks. It's no wonder decentralized casinos are becoming more popular for security-savvy gamblers.
Energy Consumption: What About the Environment?
Recent estimates suggest Bitcoin mining consumes 127 terawatt-hours (TWh) annually, which is more than the whole of Norway and other countries.
Did you know…
Crypto-related activity emits 25-50 million tons of CO2 a year in the US, which is about the same as diesel fuel emissions from US railways. 
Natural gas and coal emit greenhouse gases when burned, which cause global warming and other climatic changes. Bitcoin mining was estimated to account for 0.1% of greenhouse gas emissions worldwide in 2022.
The Proof-of-Work system is associated with large energy use, and Bitcoin is the only leading cryptocurrency that uses this mechanism.
Ethereum, the second-biggest crypto by market cap, moved to Proof-of-Stake, which consumes far less energy. After this, its electric power use dropped by 99.9%. A transaction in a Proof-of-Stake system uses as much energy as a Visa card transaction.
Arguments for Bitcoin Mining
According to a recent study, almost two-fifths of all Bitcoin mining activity was in North America at the end of last year. While this definitely has implications for the environment, not all is gloom and doom.
According to the study, Bitcoin's financial incentives can help seal orphaned wells, thereby reducing methane emissions. Similarly, US presidential candidate Robert F. Kennedy Jr. is among the leading proponents of Bitcoin, arguing that it has never used more renewable energy than it does now.
Some other arguments include:
Renewable energy facilities face congestion and limitations because they have no global market to sell into. Bitcoin can solve this issue by providing access to a global market for electric power, which will incentivize investments in renewable energy.
Bitcoin data centers can be turned on and off seamlessly. This flexibility makes it possible for a renewable energy facility to start selling into the local market when user demand for electricity increases.
Using Bitcoin for Gambling
Bitcoin was created online with the purpose of being used online. The flagship crypto is thus a great solution for online gambling platforms.
As for fees…
BTC transaction fees are typically much lower than those banks and credit card companies charge.
What's more, Bitcoin payments transpire at the speed of light. Most transactions are confirmed in seconds, up to a few hours in some rare cases. In comparison, a standard bank transfer can take as long as several business days.
These are just a few of the many reasons why Bitcoin is the king of crypto gambling.
Final Thoughts
If you've made it this far, you now know how Bitcoin mining works, what Proof-of-Work is, the implications of Bitcoin halving, the role of nodes in how Bitcoin is made, and that mining has some unexpected benefits for the environment.
If you're like us, you're totally convinced that BTC is the way to go in all things gambling related. If anything, you should be more comfortable now that the mystery is over and you're well on your way to becoming a Bitcoin aficionado.