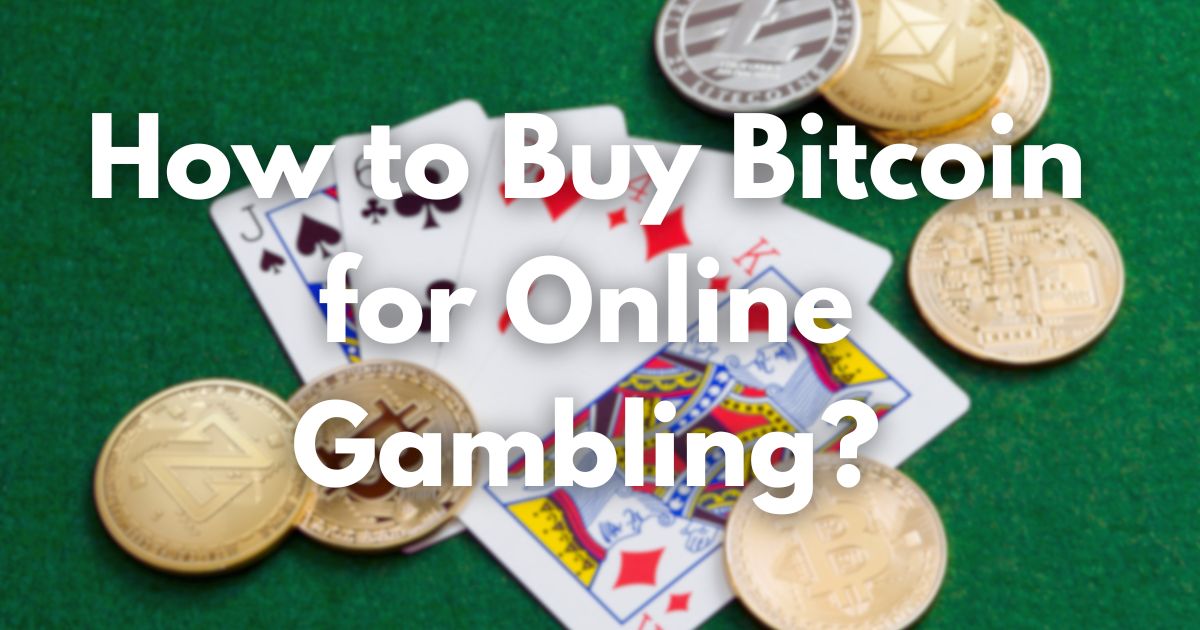 How to Buy Bitcoin for Online Gambling?
So you've heard all the chatter about blockchain gambling and blockchain casinos, and you can't help but feel the FOMO, right? But wait, there's a tiny hiccup—you need Bitcoin to get in on the action. If you're scratching your head wondering how to get started, you're not alone. And guess what? You're actually joining a booming trend.
Recent reports suggest the crypto gambling market is estimated to be worth $250 million and is growing at a breakneck pace. In just one year, the amount spent on crypto bets skyrocketed from $2.9 billion to over $6.3 billion—that's an increase of over 116%!
That being said, I am going to cut through all the techy mumbo-jumbo and guide you every step of the way. Whether you're a total newbie or just need a quick refresher, I am here to help you get started.
Why Cryptocurrencies Are Your Best Bet for Online Gambling
Anonymity
While cryptocurrencies are often touted for their anonymity, it's essential to understand that this feature is not absolute, especially in the context of online gambling.
Most reputable online casinos are regulated and adhere to strict legal requirements, including KYC (Know Your Customer) procedures. This means that you'll likely have to provide personal information such as your real name, address, and sometimes even a photo ID before you can withdraw your winnings.
However, the initial deposit can often be made without these details, offering a layer of privacy not typically found with other payment methods. For a more in-depth understanding of what the KYC process involves, you can refer to our KYC requirements article.
Speed
Cryptocurrencies are generally known for their speed, particularly when it comes to deposits. Traditional banking methods can take days to process, but with cryptocurrencies, the transaction is often instantaneous or takes just a few minutes.
Compared to traditional fiat currencies, crypto transactions are much faster, often taking just a few minutes.
However, it's crucial to note that withdrawal times can vary. While deposits are quick, withdrawals may be subject to delays due to the casino's internal procedures and the aforementioned KYC requirements.
Low Fees
One of the most attractive features of using cryptocurrencies like Bitcoin for online gambling is the low transaction fees.
Traditional payment methods often involve various charges, including service fees, conversion fees, and sometimes even deposit and withdrawal fees. These can quickly add up, taking a bite out of your winnings.
In contrast, cryptocurrencies have very little to no fees for transactions. Some casinos even offer bonuses or incentives for using Bitcoin or other cryptocurrencies, making your gambling experience that much sweeter.
Your Roadmap to Buying Cryptocurrencies
Now that you're revved up and ready to bring cryptocurrencies into your online gambling experience.
The first order of business is acquiring some digital coins like Bitcoin and Dogecoin.
Option 1: Direct Casino Purchases—The Fastest
The most straightforward and efficient way to acquire Bitcoin for your online gambling adventures is through direct casino purchases. This method is particularly advantageous for those who want to dive right into the action without the hassle of going through external platforms.
Here's why:
Simplicity: The process is as simple as making any online purchase. You'll use your Visa or Mastercard, just like you would for any other online transaction.
Speed: Because you're purchasing directly from the casino, the Bitcoin is immediately deposited into your casino wallet. There's no waiting for transactions to clear or for funds to transfer from one account to another.
No Need for a Separate Wallet: As noted in the previous point, one of the biggest perks is that you won't need a separate cryptocurrency wallet. Your Bitcoin will go directly into your casino wallet, consolidating your funds and making management easier, which also eliminates any risks.
Security: Reputable online casinos employ robust security measures to protect your financial transactions, giving you peace of mind. Many of these casinos use trusted third-party services like MoonPay to execute crypto transactions, enhancing the reliability and safety of the process.
By leveraging third-party services, the casino ensures that your transaction is not only fast but also meets high-security standards.
Arguably the fastest way to buy crypto for online gambling is directly at a casino.
MoonPay, for instance, is known for its user-friendly interface and top-notch security features, making it a reliable choice for facilitating cryptocurrency transactions in a gambling setting.
Option 2: Cryptocurrency Exchanges
A cryptocurrency exchange is like your go-to online shop, but instead of buying things like clothes or gadgets, you're shopping for digital currencies like Bitcoin. It's kind of similar to going to a supermarket to buy your food for the week.
These online platforms, known as cryptocurrency exchanges, are built to be safe and easy to use. While they let you buy or sell digital assets, some even let you keep them there safely.
In simple terms, it's the most convenient way to buy and manage your cryptocurrencies without getting into the complexities of blockchain technology.
Choice of Platforms: There are several well-known exchanges like Coinbase, Kraken, and Binance where you can purchase Bitcoin.
Geographical Restrictions: Before you get started, make sure the exchange you choose operates in your country. Some exchanges have geographical limitations, and you don't want to waste time setting up an account only to find out you can't use it.
Additional Steps: Unlike direct casino purchases, buying from an exchange means you'll need to transfer the Bitcoin to your casino wallet. This adds an extra step but offers more control over your funds.
Flexibility: Using an exchange allows you to hold onto your Bitcoin and use it for other purposes, not just gambling. You can also choose from a wider range of cryptocurrencies if you wish to diversify.
What's next?
Account Setup: Before diving into the crypto pool, you'll need to set up an account. It's usually as simple as providing an email and creating a strong password. Some exchanges might ask for a photo ID, which can feel like a chore, but it's all in the name of safety and legal compliance.
Funding Your Account: Once your account is up and running, it's time to add some funds. Most exchanges offer multiple options for this, such as bank transfers or credit card payments. Choose the method that's most convenient for you.
Making the Purchase: Now for the fun part—buying your cryptocurrency. Navigate to the trading section of the website, pick the digital currency you're interested in, and decide how much you want to buy. Click that 'buy' button, and voila, you're now the proud owner of some fresh digital currency, all set for your online gambling adventures.
Choosing the Right Wallet
Now that you've acquired your cryptocurrencies, some Bitcoin or even Dogecoin, you're wondering where to safely store them. That's where cryptocurrency wallets come into play. Picture them as specialized digital bank accounts for your cryptocurrencies.
For more insights, you can refer to these articles:
Transferring Your Bitcoin to Your Casino Account
So you've decided not to purchase directly from the casino and have instead chosen a cryptocurrency exchange. After successfully buying some Bitcoin, you've also selected a secure wallet to store your digital assets.
What comes next? It's time to transfer these cryptocurrencies to your online casino account and start your adventure.
If you need a detailed, step-by-step guide on how to do this, you can refer to how to make a casino deposit article.
Wrapping it up
So you've made it this far, and you're almost ready to jump into the thrilling world of online gambling with Bitcoin. Trust me, it's not as daunting as it seems. Whether you opt for the direct and efficient route of purchasing Bitcoin from your favorite casino or decide to go through a reputable cryptocurrency exchange, the choice is yours.
However, safety should always be your top priority. From ensuring you're on a secure Wi-Fi network to enabling two-factor authentication, these small steps make a big difference in securing your digital assets.

Now that you've navigated the complexities, you're now poised to dive into the exciting world of crypto gambling. The market is booming, the opportunities are vast, and the advantages of using cryptocurrencies in this space are too compelling to ignore. So, are you ready to take the plunge?