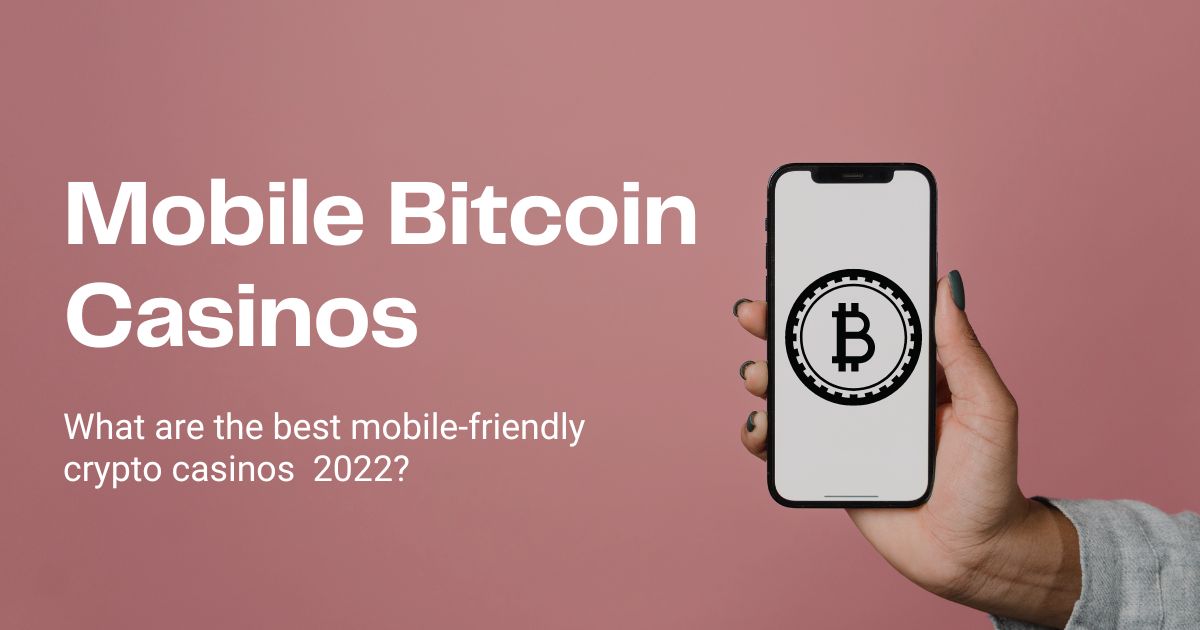 Updated: March 15, 2023
What Is the Best Mobile Bitcoin Casino? Our 2023 Picks
The future (of gambling) is mobile. Let's talk about the best mobile Bitcoin casino of the year…
You asked, and we listened. Playing your favorite casino games on mobile is the new norm. And, if you're anything like us (a.k.a. a die-hard blockchain and crypto enthusiast, ) you prefer using Bitcoin or another cryptocurrency as your go-to payment method.
But where should you go? What makes a crypto mobile casino stand out – and which ones should you avoid at all cost?
We set out to find the best mobile Bitcoin casino for our readers and ended up with some great findings. So, without further ado, here's our list of the top three BTC-friendly casinos you can play on your mobile phone in 2023:
Best Mobile-Friendly BTC Casinos: Quick Picks
Are you in a time crunch and need to pick a casino fast? Here are our top mobile choices for the best Bitcoin casino of 2023:
Best Mobile Bitcoin Casino: In-Depth Reviews
Here at Casinos Blockchain, we are committed to bringing you the most comprehensive, up-to-date information in the industry. We only recommend casinos that we play at (and love) ourselves. This means each of our mobile Bitcoin casino picks has been put through the wringer to ensure they meet our high standards.
Here is why each of our top three picks made the cut:
BC.Game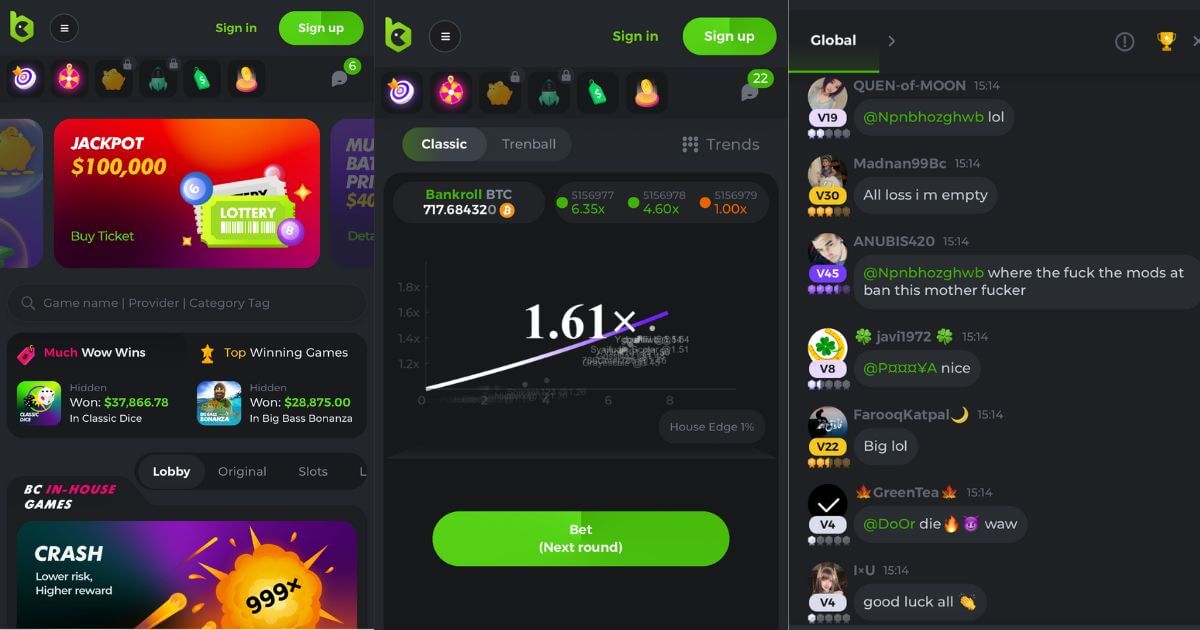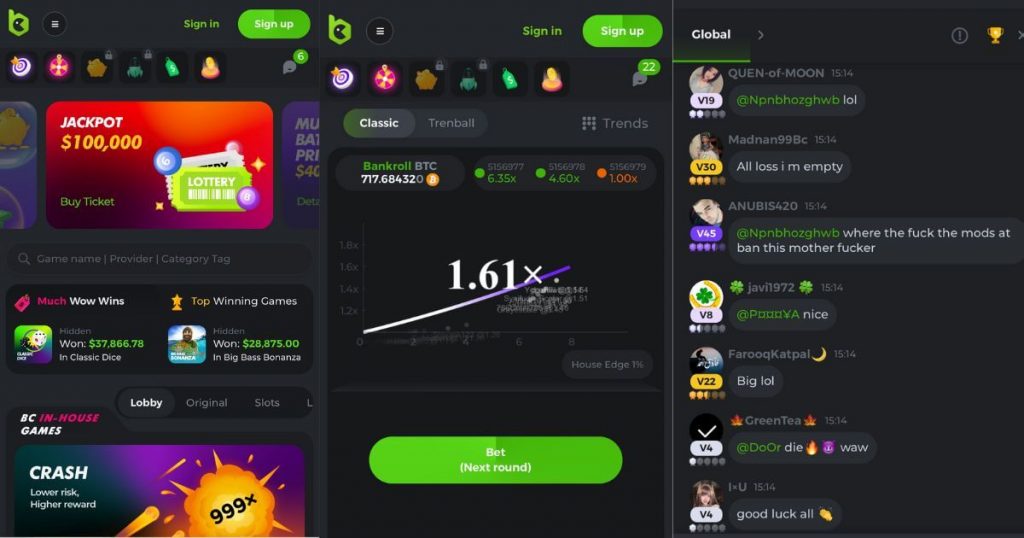 BC.Game was a no-brainer from the beginning.
It is our top-rated crypto casino overall, with thousands of games, a newly introduced sportsbook, and 67+ cryptocurrencies to choose from. Not to mention BC.Game also offers some juicy bonuses (up to 5 BTC on that wheel spin!) and keeps the community happy with an active players' chat and 24/7 customer support. It's also one of the top Bitcoin casinos for Canadian players, Australians, and other higher-regulated markets.
But what makes it stand out as a Bitcoin mobile casino?
BC.Game comes with a responsive, mobile-friendly design. You can access all the features of the desktop version from your mobile device with ease.
The games load quickly and run smoothly, even on older devices and using mobile data. We're serial tab hoarders here (I'm ashamed to admit the number of tabs I have open on Safari right now) and still had no issue playing any of the games that BC.Game offers.
The same want for transactions. In fact, you can deposit, withdraw, and play using Bitcoin directly from your mobile phone, no need for a desktop computer or even a laptop. Simply go to your wallet app and send the deposit to the respective address. Your account will be credited instantly, and you can start playing right away.
Finally, BC.Game might not have an app yet, but you can set it up for easy access from your home screen. You can find out how in our dedicated BC.Game app review.
Stake Casino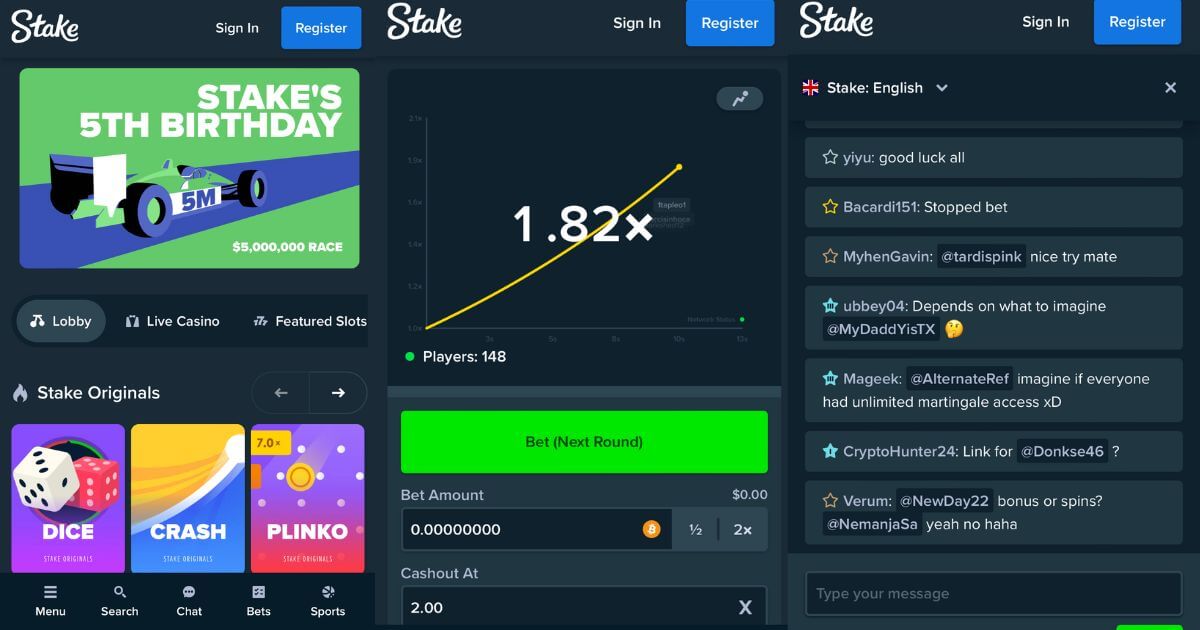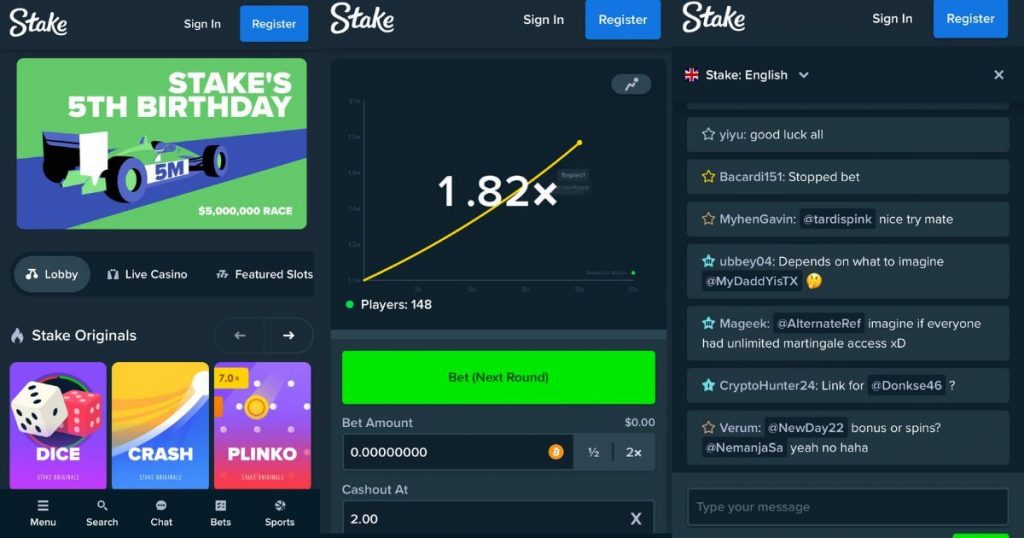 Stake is a close second on our list of the best mobile Bitcoin casinos. It has all the features we love about BC.Game, plus a few unique perks, too.
But, before we get there, we have to say it – BC.Game is growing fast, but Stake is likely the biggest crypto casino in our selection. Experts say the site might be worth as much as $1 billion!
So, if it's that big, it must be good, right?
Well, Stake is definitely a well-established brand and the Stake gambling offer definitely reflects their experience. They have a few years of experience in the crypto gambling space, they've landed some pretty significant sponsorship deals (even Drake!) and they're launching new products all the time. So, in terms of reputation and security, Stake is a great choice.
That said, "newer" and smaller players like BC.Game are more likely to innovate and offer more lucrative promos, too. Bottom line:
Looking for novelty? Choose BC.Game. Prefer stability? Stake is the way to go!
Now, for mobile gambling.
In terms of mobile Bitcoin casinos, Stake does tick all the boxes. The site loads quickly on mobile devices and is optimised for smaller screens. You can access all the features of the desktop version, including the sportsbook, from your mobile phone.
The games are fully mobile-compatible, with quick loading times and smooth gameplay. We tried a few of the casino classics like blackjack and roulette along with some of Stake's own production – in-house developed ones like Crash and Plinko – and we had a great time playing all of them.
Just like BC.Game, Stake doesn't have an app yet. We are looking forward to seeing them come up with one – Stake definitely has the resources to do it.
Rocketpot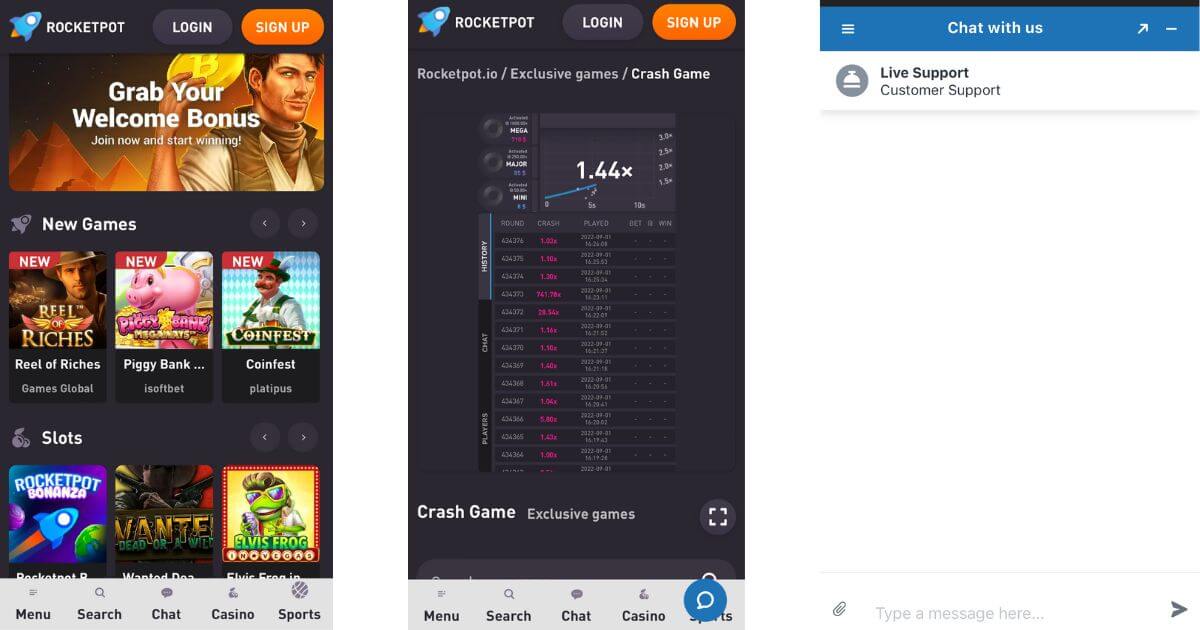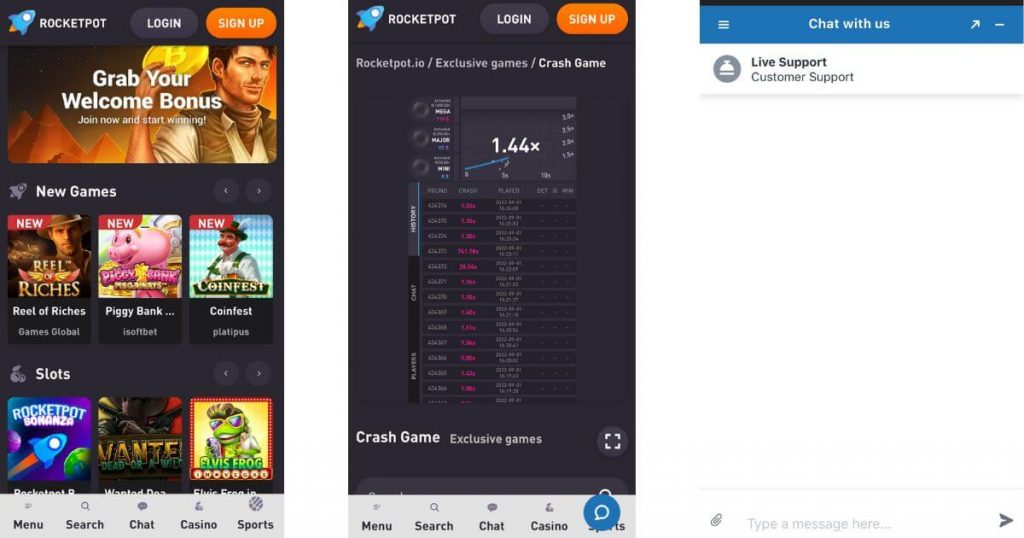 Last but not least on the selection, Rocketpot is a mobile-optimized crypto casino, featuring 2,600+ casino games from big-name providers and smaller developers alike. Just like BC.Game and Stake, they also have a sportsbook, though their selection of sports and markets is a little more limited.
Players can deposit and withdraw a variety of cryptocurrencies, including Bitcoin, Ethereum, Litecoin, Dogecoin, and others. The casino also has a built-in crypto exchange where you can buy the coins with a credit or debit card.
When we tested Rocketpot's mobile experience, we were thrilled to discover a highly responsive and user-friendly site, optimized for smaller screens.
The navigation was a breeze and we didn't have any loading issues either, even on games with complicated graphics.
The one complaint we do have, however, is that the Chat item on the mobile menu actually opens up customer support, not the players' chat. It might just be me, but I do enjoy a social element in a casino. Both BC.Game and Stake have that (with easy mobile access, too) and it's disappointing to see it missing here.
Other than that, Rocketpot makes for a great choice, especially for those of you who are looking for a mobile-first casino with plenty of games and bonuses to keep you entertained.
How to Play at a Crypto-Friendly Casino on Mobile
Playing at a crypto casino on mobile is no different than playing on your desktop. You'll need to be running a supported mobile operating system (whether it's iOS or Android) and have a browser app (Safari, Chrome, Firefox) installed.
None of the casinos we recommend have a dedicated phone app – and we don't particularly trust the casino apps available on Google Play or the Apple Store. With so many crypto casinos popping up, scammers are bound to try and take advantage of players, and we're yet to find a secure application to recommend.
However, there is still a way to have an app-like access to safe casinos from your homescreen. Here is how to do it:
How to Add the BC.Game (or Any Other) App to Your Homescreen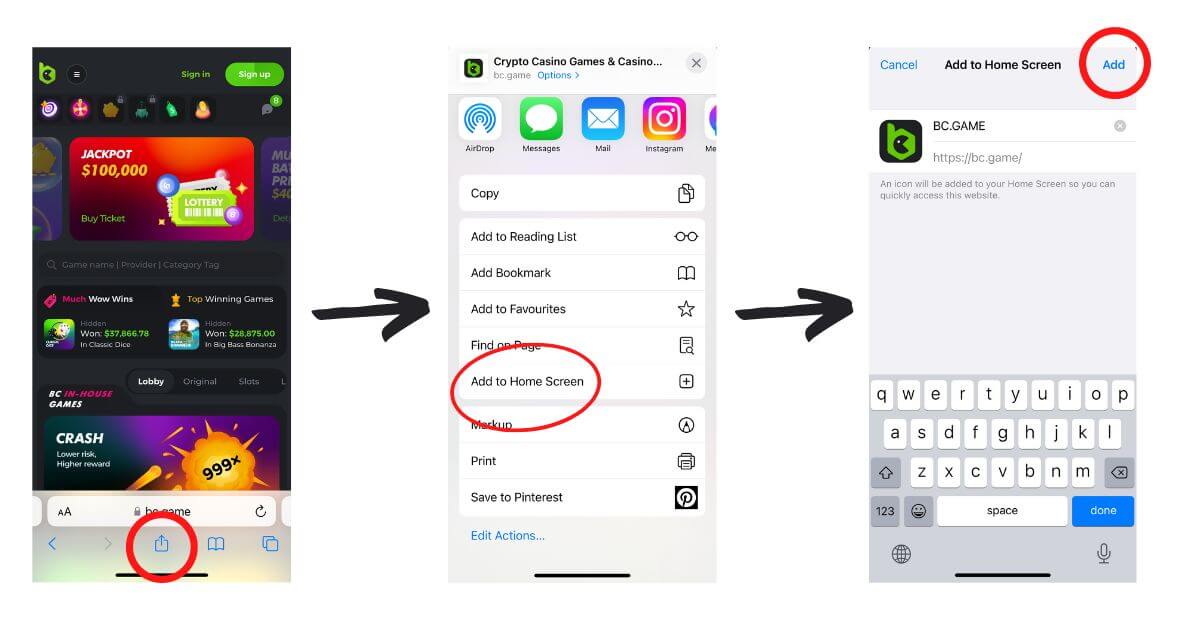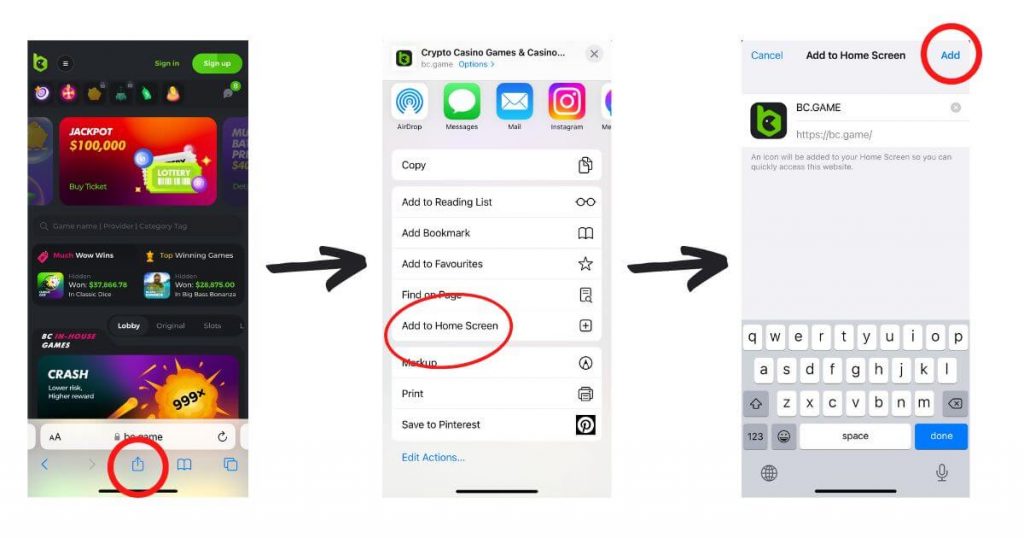 The process is actually super simple, and all you need is the link to the casino you want to access.
Let's say you want to add BC.Game to your homescreen:
On iOS, open the website in the Safari browser.
Then, tap the sharing button.
From the menu that opens up, click Add to Home Screen.
Ta-daa! Now you have a BC.Game shortcut right on your phone's homescreen.
Can you do it on Android, too? You bet!
Just open the website on Google Chrome, click the three dots in the menu, and select Install App.
While we're looking forward to big sites like Stake coming out with their own casino apps, this is the safest way to access crypto gambling sites from your mobile.
Speaking of safety:
Mobile Crypto Betting Safety
Playing at an online casino offers a lot of perks (it's mobile-frienldy, RTPs are higher, and the games are super exciting), but it also comes with some dangers.
Enjoying your favorite casino games on your mobile phone doesn't mean that you should compromise your safety and security. Here are a few tips that will help you stay out of harm's way while playing on your mobile device:
Choose a reputable online casino.
Hands down the most important thing when it comes to your safety!
There are many reputable online casinos out there, but there are also some that are not so trustworthy. Crypto gambling in particular is a fairly new, yet fast-growing space. This is exactly the kind of industry where you need to be extra careful with who you entrust your money to. Do some research and only play at casinos that have a good reputation.
You can use our recommendations as a starting point, but make sure to do your own research, too.
Use a secure connection.
Did you know that public Wi-Fi networks are one of the most common ways for hackers to gain access to people's personal information?
When playing at an online casino on your mobile phone, make sure to use a secure, private connection. This could be your home Wi-Fi network or a public network with a VPN.
And, speaking of VPNs, don't be tempted to get a low-cost or free one. Research has found nearly a third of free VPNs contain malware!
Exposing your private data to viruses is way too high a price – and premium VPNs are incredibly affordable these days.
When the fun stops, stop.
Gambling can be a lot of fun, but it's also a potentially addictive activity. Be mindful of how much time and money you're spending while playing casino games on your mobile phone. If you find yourself losing track of time or chasing your losses, it's time to take a break.
Bankroll management strategies can help a lot here. Whether it's as simple as setting budgets for each session or using a more sophisticated tool like the Kelly Criterion, make sure you set boundaries for yourself and stick to them.
Final Thoughts
Mobile betting means your favorite games are always at the tips of your fingers. Blackjack fiend? Slot aficionado? Serial sports bettor? There's something for everyone. Mobile betting is well on its way to become the industry standard, and it's likely to only get bigger.
As you look for the best mobile Bitcoin casino, seek for the same things that would matter in any other casino – a wide range of games, fair odds, and good customer service.
Our top three picks would be BC.Game, Stake, and Rocketpot, but feel free to shop around for the best option for you. Reputable casinos each have their own unique offerings, and it's up to you to choose the one that best fits your needs. Either way, we would love to hear your thoughts and wish you happy betting adventures!
Check out our favorite mobile Bitcoin casinos here: