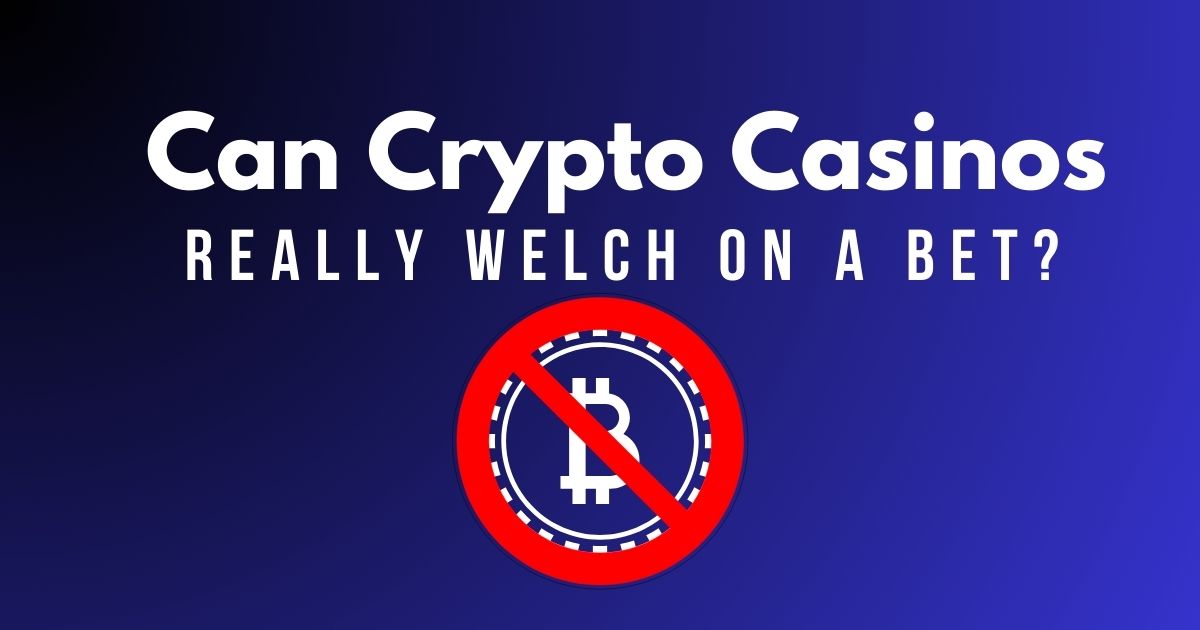 Can Crypto Casinos Really Welch on a Bet?
There are two sides to this situation, and as players (especially advantage players), it's essential we consider both angles.
For customers, it might seem like a minefield of rules that give the casino the right to refuse winnings should any rule or regulation be breached.
This is partially true, but in the case of regulated (and reputable) online casinos, those rules and regulations are usually quite reasonable.
More shady gaming sites might build an "out" into any player agreement that could be used whenever a win is too big or a player seems too good for them, but that's not what usually happens.
Typically, players fall foul of their own nature as they try to game a situation such as new player bonuses and welcome offers by setting up multiple accounts, which may not be illegal but is certainly against the spirit of those deals.
For casinos, it's a numbers game where every new member adds value but attracts more gamblers, increasing the risk that their offers may be abused by players trying to take advantage of offers and bonuses.
That's a question for the casinos, but smart players are experts at spotting opportunities.
And if they're playing online with digital currencies, they probably have the tools and the skill set to take advantage of something like free money for all new players.
The problem lies in when the casino actually checks a player properly for repeated data that might signify multi-accounts or runs a check to see if that player breaks some other part of their terms and conditions.
Often, these checks only happen at pay out and that's potentially a real problem.
The Alibi Joint
Let's talk about an old-school scam for a second: the Alibi Joint.
This is usually a carnival game that's almost impossible to win, but occasionally, a skilled player can knock over the milk bottles, throw rings onto hoots, or shoot out the target.
The operators of these games are prepared for this situation. Whenever a player gets lucky, they can cancel their win by claiming they stepped on the line when they should be behind it, their arm extended too far.
Or if all else fails, point to a rule that's posted somewhere on the stall that's hard to see that cancels out their win or states they need to win several times to win the big prize.
Alibi Joints were invented to allow crooked carnies to play around the country and prove their games could be won (to authorities) while making the actual game ludicrously profitable since no prizes were ever won fairly.
You can see how a casino not paying out might appear to be operating their own version of an alibi joint and there's some logic to that.
Terms and conditions are not easy to read and understand in the heat of signing up.
However, unlike those crooked carney games, reputable casinos generally only protect themselves from those who flaunt the rules while providing a perfectly fair service to reasonable players.
"Reasonable" means:
Being a qualified player by age and location
Not having been excluded either by self-cancelling
Not being barred by other casinos in the past
Not attempting to use multiple accounts to abuse offers made to new customers.
It might not be against the law to leverage casino welcome offers, but if it's against house rules and if they can prove (or suspect) you did so, any money you wager is at increased risk since any winnings could be deleted when you try to cash out.
What Can Casinos Do to Minimize the Risk of Fraud?
Card counters know this type of thinking well. I've stated for years that any casino is welcome to kick all counters to the kerb as soon as they identify them – so long as they do so immediately.
Unfortunately, industry insiders often boast how, when they spot counters on a negative swing, they let them lose thousands more before backing them off only once they start winning again.
While we might all agree card counters are doing nothing but playing at a higher level, casinos can refuse to let anyone play for any reason.
As soon as the house accepts bets with the intention to not pay or to only let a player lose, that's tantamount to theft, in my opinion.
It's easy to conflate that type of scenario to the issue of disqualified wins but it's easier to avoid if players make sure they qualify in the event of earning profits. 
Online casinos might be collecting data about you from the moment you sign up; looking for shared browser activity or VPN use, tracking any accounts that may lead to the same player.
Even not accepting cookies is a potential red flag but should not be taken as proof of anything. However don't be surprised if it comes up when withdrawing large wins.
They also look for matched bets on various games, where one player acting as many might have an unfair advantage over the house or other players.
In online Poker, this kind of scam has been all too common (and easy). So, as we move to online casinos and play with digital currencies, this layer of protection can protect us as much as it protects the house.
Ultimately, these precautions are necessary to protect the casino and their customers in the long run. And while I remain critical of many practices in the industry (online and IRL), they absolutely have a right to protect their business from unfair player practices and a duty to protect legitimate players at all times.
To Sum Up
Fern's article accurately points out that online financial companies employ different levels of KYC checks ("Know Your Customer") at varying points in their relationship:
Just because they allow you to sign up and deposit funds does not mean they have applied a "heavy KYC" check.
The process of so-called "dynamic friction" is supposed to allow "obvious good customers" to sign up and play quickly while slowing customers who present potential risks for deeper checks but the real goal is to get people in and receive their deposits right away.
So, while they claim to slow down  "medium risk" clients, chances are that almost anyone can make it to the tables and play, and absolutely everyone will receive a "heavy KYC" check before withdrawing!
In the examples Fern gave, we can see players being caught out for legitimate reasons not to pay and then complaining about it.
This must be very common for all casinos since many players are quick to call "scam" when things don't go their way.
But if we follow the advice in Fern's article, not being paid is unlikely to be because we broke the initial agreement. Plus, if we limit our play to reputable online casinos, we can take our case to the appropriate regulator.
The lesson is simple: Whether you are entirely on the square or attempting to play with a hundred bogus accounts, if you win, you should expect to be properly checked out, and it's up to you to make sure there isn't a skeleton in your digital closet.