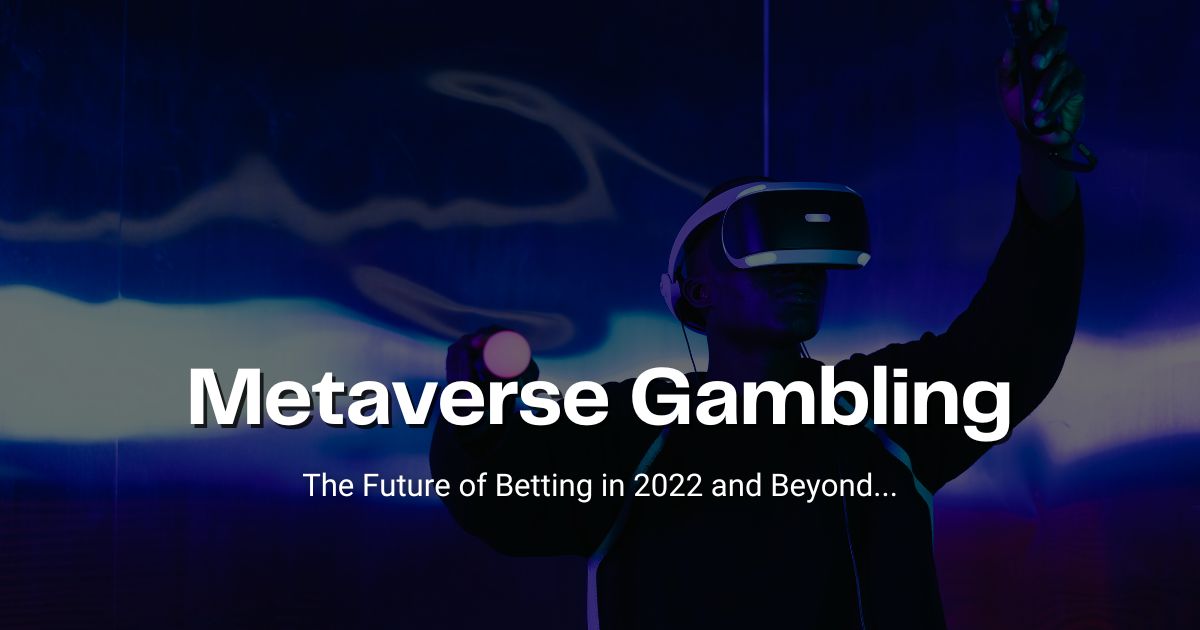 Metaverse Gambling: The Future of Betting in 2023 and Beyond…
The Metaverse is the new frontier for online casinos.
Metaverse gambling has already taken off on platforms like Decentraland, and it only seems to grow. VR betting offers many perks over traditional online casinos – lower cost bets, provable fairness, privacy, and anonymity. No wonder it's becoming the go-to destination for gamblers worldwide!
But what should we expect from Metaverse gambling in the future? This article is your one-stop destination for everything we know about the evolving Metaverse gaming landscape. Let's look at what the future holds!
Metaverse Gambling: In a Nutshell
The Metaverse is a virtual world that exists on the blockchain – a digital extension of real life. You can access it via VR and participate in daily metaverse life with your avatar. It's decentralized, meaning it's not owned or controlled by any one entity.
Metaverse casinos are already popping up, but blockchain casinos are nothing new. As a reminder, here are three of our top crypto and blockchain-based casinos:
While these aren't in the Metaverse yet, they offer many of the same benefits that Metaverse casinos will: provably fair games, low fees, and complete anonymity.
So what's different about gambling in the Metaverse? And how does it even work? Let's break it down:
What Is the Metaverse (and Why Casinos Will Definitely Be a Part of It)?
In essence, the Metaverse is a shared digital space, not unlike the real world. The difference, of course, is it's all virtual. Other than that, you can think of the Metaverse as just another public space. As the concept evolves, people will be able to go to work and school, socialize, and shop in this digital layer of real life.
Gambling has existed throughout human history. Now, it's also on the Metaverse.
In fact, decentralized casinos might be one of the main reasons people use the Metaverse. They are already a fact of the current landscape. 60% of activity in the Decentraland metaverse comes from Decentral Games projects – most of which are casinos!
But, before we cover these Metaverse casinos in detail, it's important to make one more clarification:
Currently, there are several Metaverse platforms. These virtual worlds are at different stages of project development. Some already have cities, buildings, and commercial establishments, others are yet to develop.
Most of these projects have their native token which you can use to shop in the virtual world (whether it's for wearables or to buy land).
Holding this token will also give you voting rights on important decisions in the community. This works because Metaverses are decentralized, they don't have a single government, but use a "Decentralized Autonomous Organization" or DAO model instead.
When it comes to casinos, Decentraland is arguably the biggest Metaverse. Decentraland is a 3D virtual world powered by the Ethereum blockchain. The native token of the Decentraland metaverse is the Decentraland MANA Token.
Decentraland is made up of different "parcels" of land, essentially virtual properties that you can buy (as NFTs). Big-name brands like Samsung and Adidas have already purchased properties – and, yes, Decentraland also has casinos.
Metaverse Casinos in 2022: What Is Out There?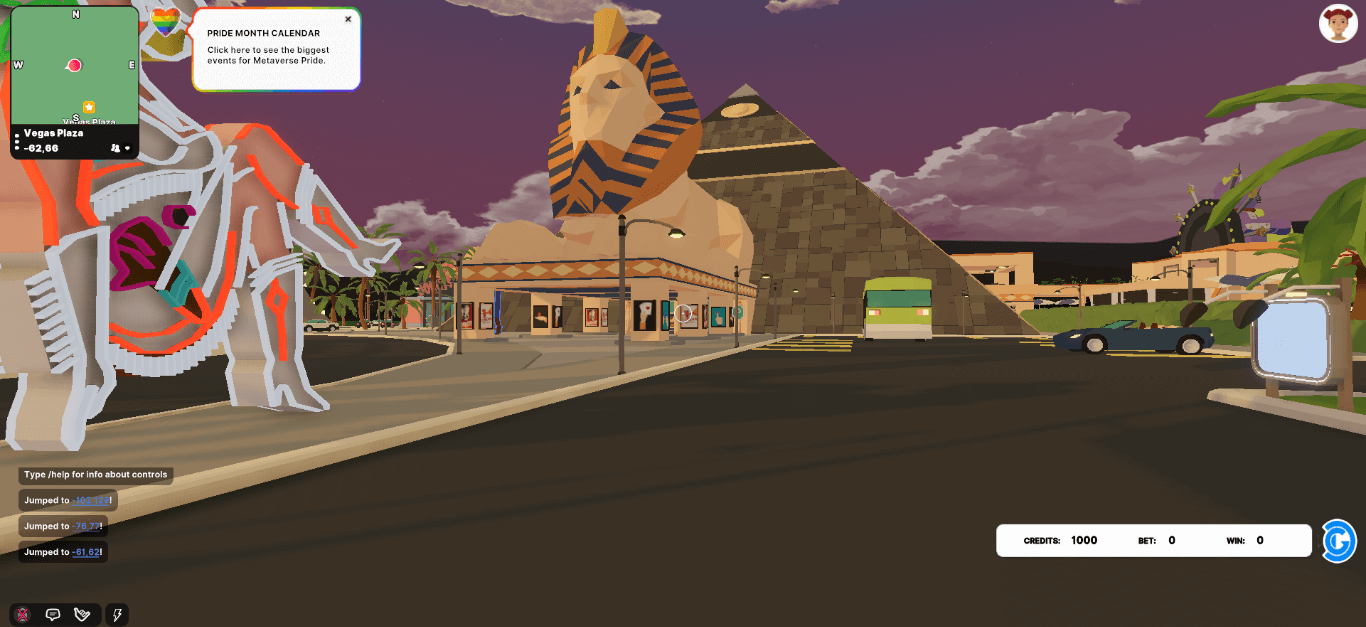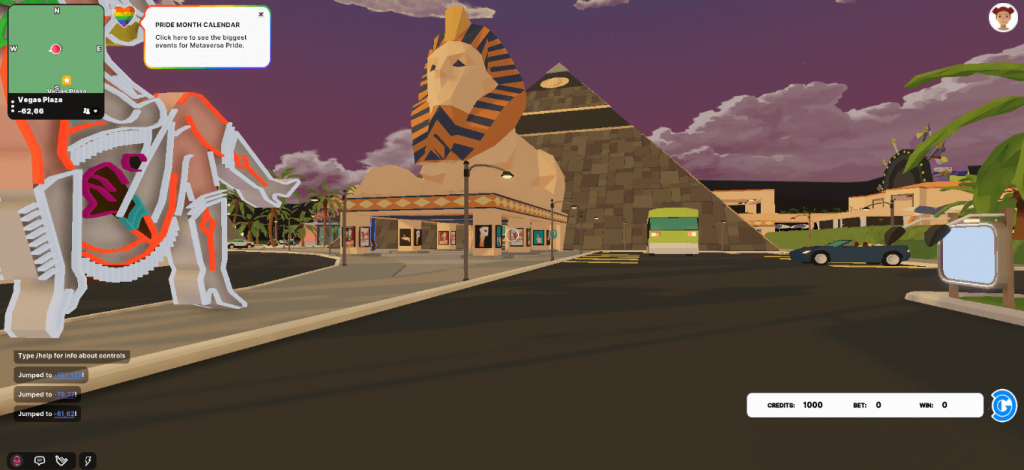 If you're looking for a Metaverse casino in 2023, you won't have to look far.
As one of the most well-developed ecosystems, Decentraland already has its own Vegas strip with various casinos. Here is what you should know about some of the popular casinos that exist on the platform:
ICE Poker
ICE Poker is a play-to-earn poker game that allows you to win the in-game currency ICE. You can earn ICE tokens by competing with other players or completing daily tasks.
The catch?
You need an ICE wearable for your avatar to participate. You guessed it – it's NFTs. Players can even make passive income by renting out their NFTs to others (we've already seen this happen with other play-to-earn games like Axie Infinity).
This poker hub alone accounts for 30% of all traffic to Decentraland.
Let that sink in – a third of Decentraland visitors log in to play poker.
Understandably, that also made the DAO a lot of money.
They raked in a whopping $7.5 million during the first three months of 2023. Decentral Games also recently received the largest grant in the history of Decentraland – $1 million in MANA!
Atari Casino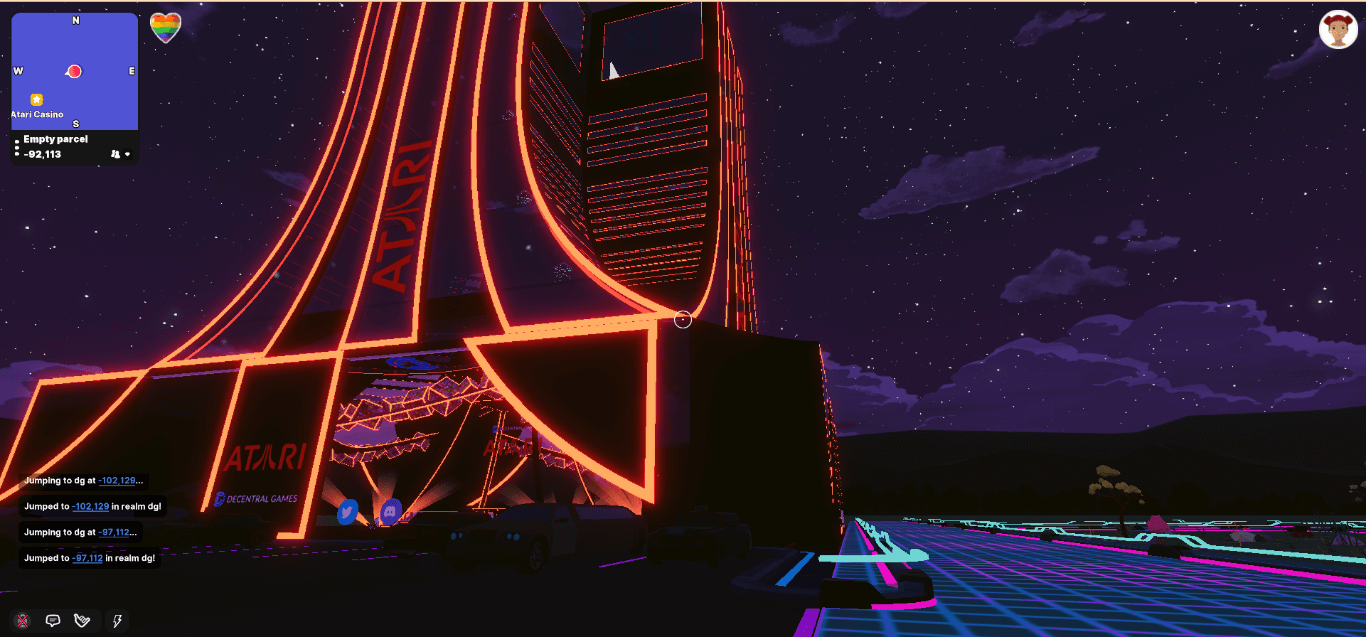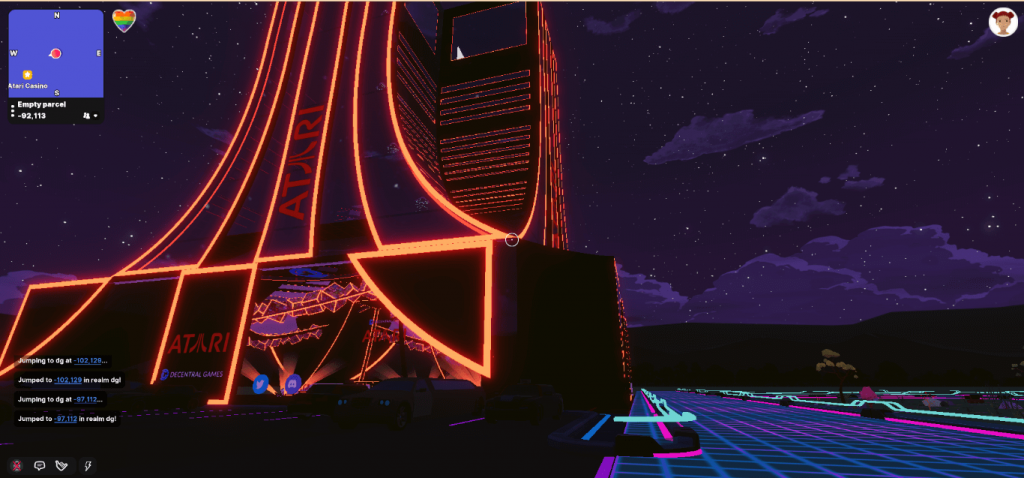 If you grew up in the 80s or 90s, you might remember playing classic Atari games like Pong or Asteroids. The company behind those games has now launched an online Metaverse casino.
The Atari Casino is one of the newest (and coolest) casinos in Decentraland. It's inspired by the classic video games we all know and love. Casino games at the Atari casino include blackjack, poker, roulette, and – of course- slots.
You can use MANA (Decentraland's currency) or the in-game currency, Atari Token (ATRI). ATRI is an ERC-20 token you can store in the Atari digital wallet.
Atari Casino is one gambling location we're really excited about. The company has the resources to turn it into a proper Vegas-level experience and they're only getting started.
Tominoya Casino
Tominoya is a Japanese-themed casino in Decentraland that definitely nailed the design aspect. Complete with cherry trees, koi ponds, and oriental lanterns, it's one of the most beautiful casinos in the metaverse.
Another Decentral Games project, Tominoya gives you multiple games to choose from: blackjack, slots, baccarat, and roulette. There are two floors with three wings each and plenty for you to explore.
Tominoya even hosts live streams and casino nights where you can hang out with other metaverse citizens and play to win MANA.
Chateau Satoshi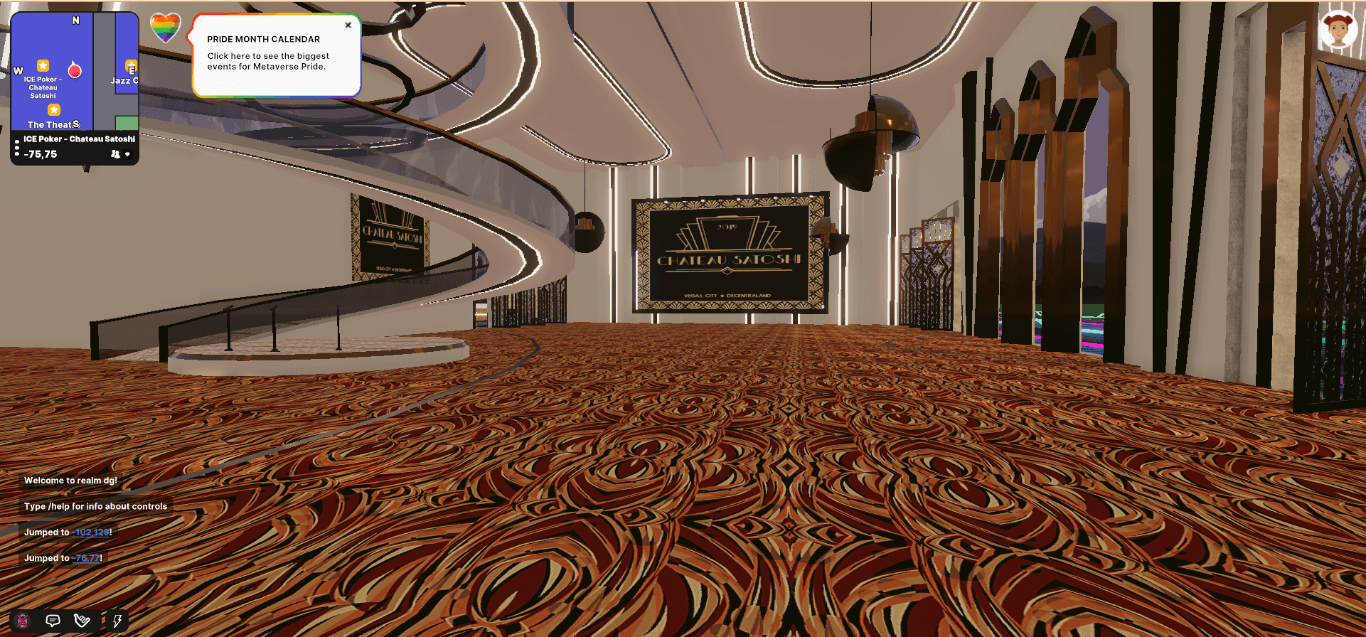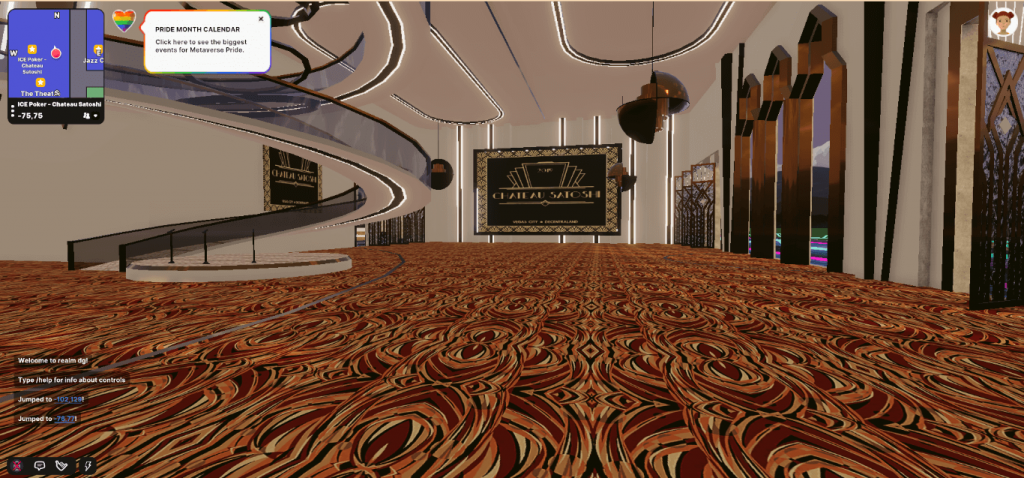 Chateau Satoshi is an opulent French-style casino that's also one of the largest in Decentraland. It's a luxurious gambling experience with an impressive chandelier, marble floors, and high ceilings.
Named after the mysterious creator of Bitcoin, Chateau Satoshi offers high-end betting Decentraland. It's one of our favorite decentralized casinos because it mirrors the land-based casino experience quite closely.
Plus, the game selection is solid:
You can play blackjack, slots, or roulette – both free play and real crypto gambling is available. Speaking of real Vs free-to-play, how do you go about that? It's easy:
Get your free-to-play tokens from the dealers and use them to test your luck. If you want to gamble for real, you'll need to buy some MANA or DAI from a cryptocurrency exchange. Just click the floating coin icon outside the casino. This will take you to the Decentral Games main page where you'll find popular exchanges.
Serenity Island
Serenity Island is a serene, beautiful casino that's perfect for those who want to relax and escape the hustle and bustle of Decentraland. While most people prefer to spend time in the mainland, this Decentraland casino is still worth a visit.
It has a similar game offer to other VR casinos in the Metaverse – slots, blackjack, poker, and roulette. The main difference is the setting, which is decidedly more laid-back.
More Metaverse Casinos
Sure, Decentraland might have the largest number of casinos right now, but it's not the only Metaverse to keep an eye on:
The Sandbox is a community-driven platform with a unique pixel art look. Sandbox casinos have a somewhat murky track record, but there are some exciting new projects in the space. This is also a great platform to look into if you're technically inclined and interested in building your own project within this metaverse.
Bloktopia is another immersive VR experience, a 21-floor skyscraper, housing unique experiences on every floor. And, you guessed it, there is a casino floor – the top floor to be exact. While the project isn't live yet, the gambling aspect of the experience is expected to be nothing short of breathtaking. Keep an eye on this one!
Everdome is another upcoming metaverse that we're excited to see. Marketed as the world's first hyper-realistic metaverse, it will work with Metahero's 3D scanning technology to push the boundaries of web3. While this project is still in its earlier stages, we're watching it closely. There's no doubt they'll feature some exciting casino and gambling experiences, too.
How to Gamble in the Metaverse?
So how do you get started with wireless gambling?
Well, first choose a casino in the Metaverse. Decentraland has the largest number of options right now, so it's the one we recommend. You can log in via your computer or smartphone or you can use a VR headset to get the complete exmperience.
We love Tominoya and Chateau Satoshi, but the decentralized casino world is only getting started. Explore your platform of choice to find a casino that suits your style.
Then, find your casino location on the map. In Decentraland, you can also use the Explore tab and teleport to your desired location from there: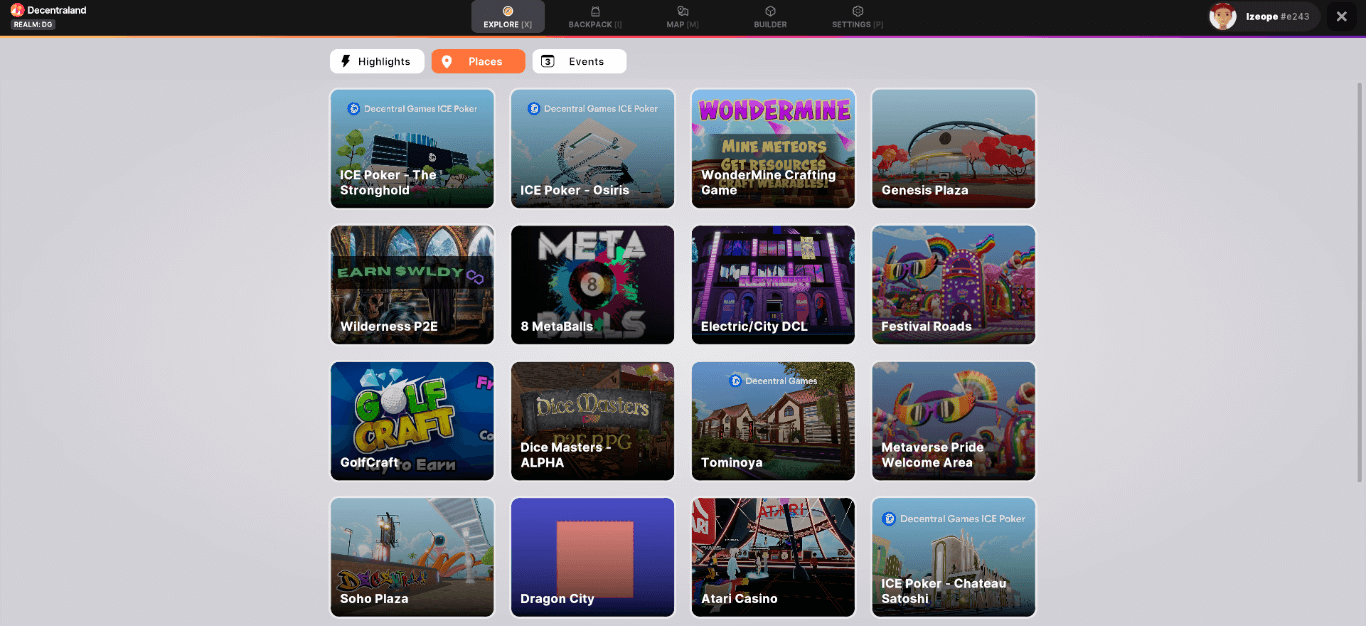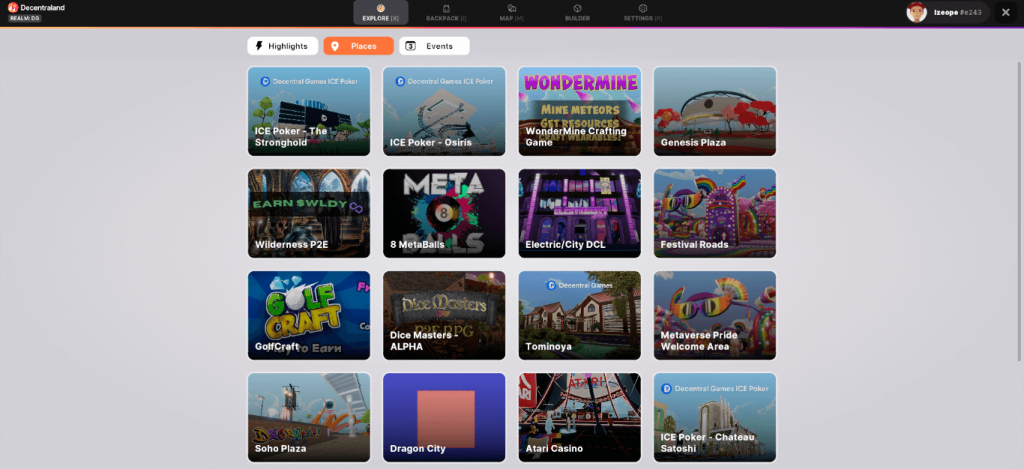 When you're ready to gamble, simply approach the casino counter and ask for some free-play tokens. These are available in most locations and give you a chance to test out the games without risking any real money.
If you want to gamble for real, you'll need to purchase some in-game currency.
What Are the Metaverse Currencies?
Each Metaverse tends to have its own proprietary token:
Decentraland's currency is MANA
The Sandbox uses SAND
Bloktopia has BLOK
Since Decentraland is the Metaverse with the most casinos, that's the one we recommend you start with.
MANA is available on cryptocurrency exchanges like Coinbase and Binance. Our preference leads toward Binance because the fees are much lower and they haven't been involved in (too much) shady activity.
Don't keep money on the exchange for too long. Whatever you're not actively trading goes to your wallet, which is much safer.
Buy some coins and then transfer the crypto to your wallet. We love the MetaMask wallet for ERC-20 tokens since it's free, user-friendly, and safe. Plus, your wallet doubles as authentication when you log into the Metaverse.
In Decentraland, for example, all you have to do is connect your crypto wallet to begin exploring.
Finally, go back to your preferred casino and start gambling!
Metaverse Casino NFTs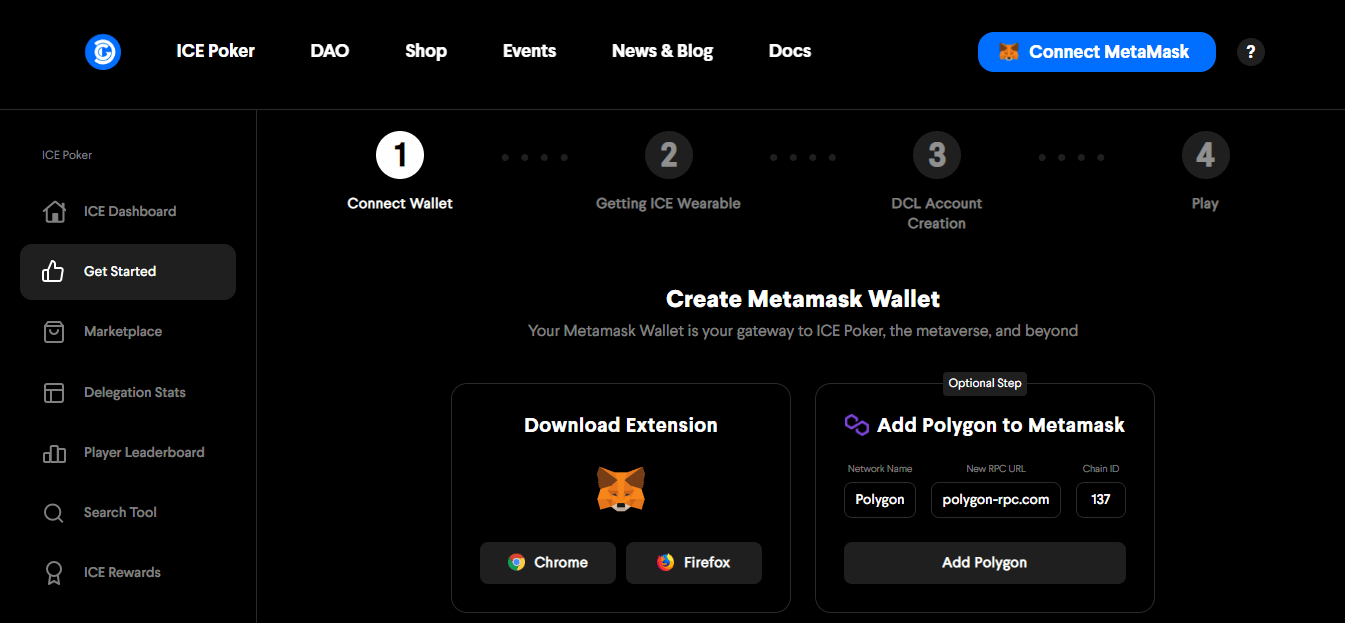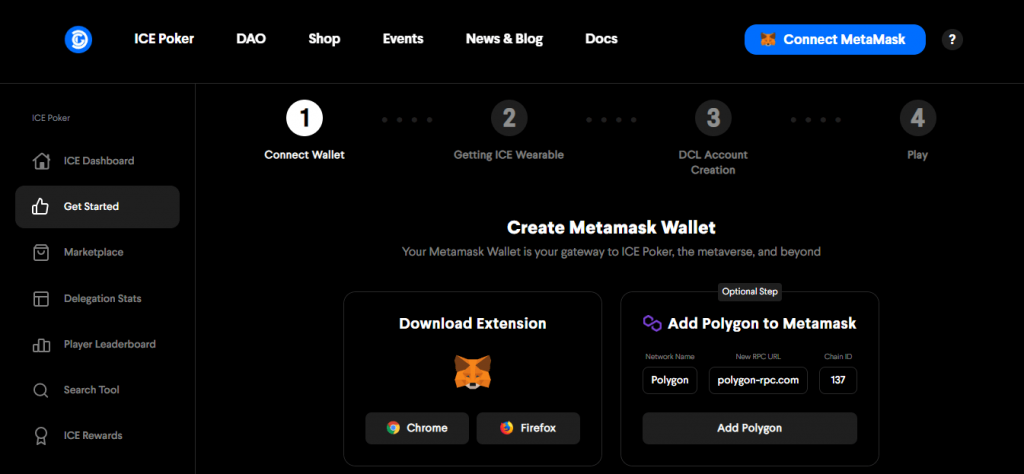 Before we move on to the future of Metaverse gambling, there is one topic we haven't covered yet:
NFTs and the decentralized gambling world!
Non-fungible tokens, or NFTs, are digital assets that are stored on a blockchain. Unlike cryptocurrencies, which can be exchanged for other assets, NFTs are unique and can't be traded.
Virtually everything in the metaverse can be an NFT – from the land to the clothes your character wears.
Some casinos require you have their unique NFT before playing. ICE Poker is the quintessential example here. In order to gamble at ICE, you must first purchase their NFT from the Decentraland marketplace or on resale at OpenSea. Once your game avatar is wearing the NFT, you're allowed into the casino and free to play.
Other casinos offer NFTs as rewards and prizes. Often, special events like casino nights will feature both MANA and NFT prizes. Keep an eye out for Tominoya specials in particular – we've seen a few NFT promos with very juicy rewards.
The Future of Gambling in the Metaverse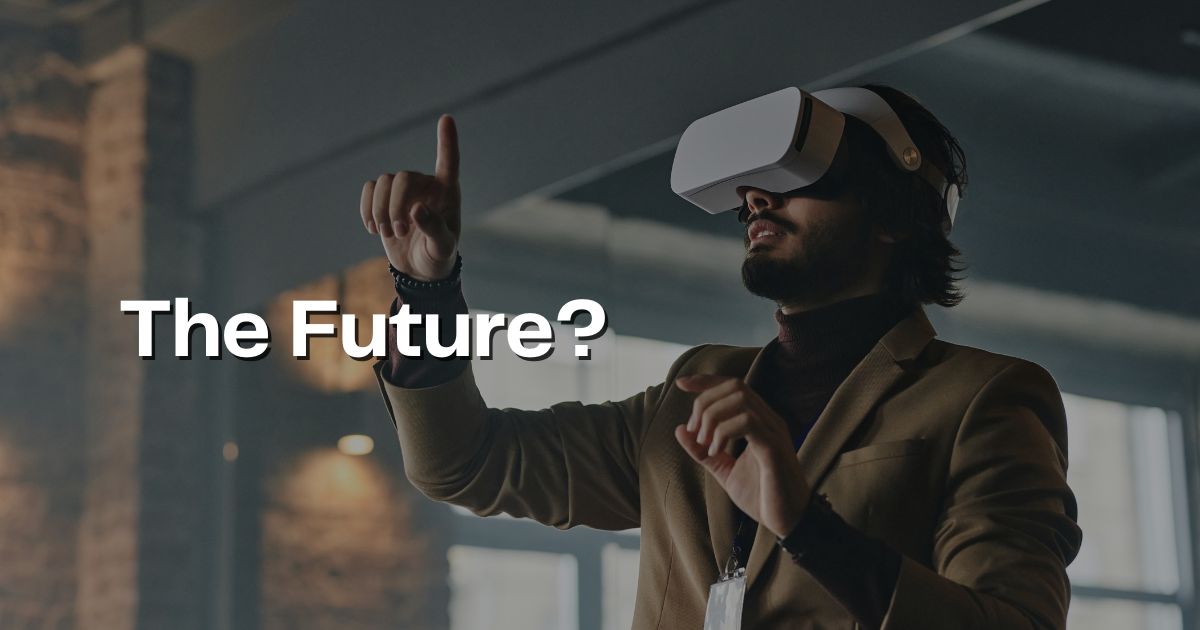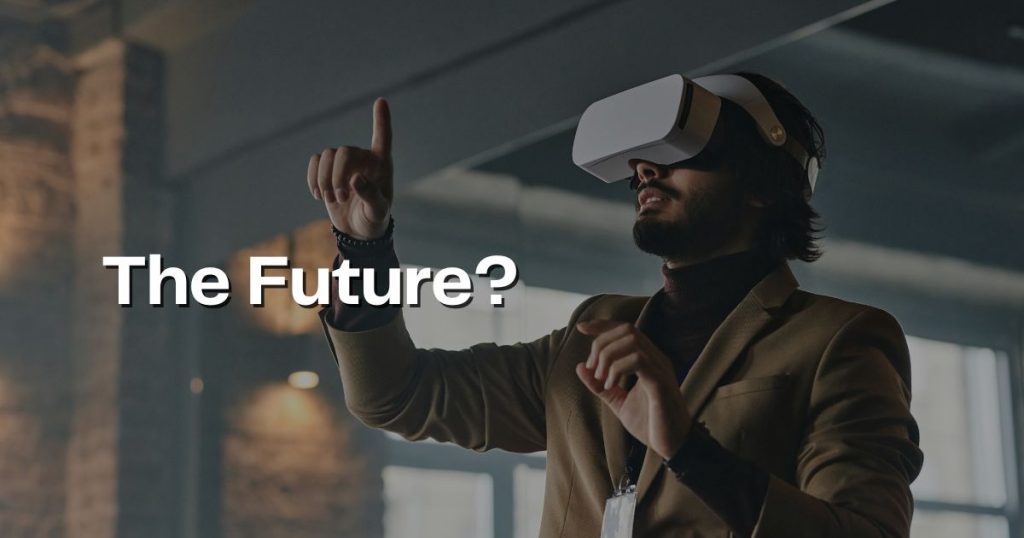 What does the future hold for gambling in the metaverse? Let's consider the main aspects of Metaverse casinos and how they'll affect growth in the space.
Lower Cost Bets
The metaverse offers a unique opportunity for casino operators: the ability to offer lower-cost bets.
Blockchain technology can remove the middleman and reduce overhead costs. For example, peer-to-peer bet matching can remove the broker fees that are common in traditional online gambling.
And, a traditional online casino may have to pay payment processing fees, game licensing fees, and other costs.
In the metaverse, these costs are much lower. Operators can pass these savings on to their customers in the form of a lower house edge and better Return-to-Player (RTP). This could lead to a metaverse casino boom as people flock to these virtual worlds for cheaper bets.
Low costs mean higher RTP – you're getting more for your money.
We're already seeing this in non-VR blockchain casinos.
Dapps like EarnBet and BetFury offer players an RTP that's up much higher than traditional casinos. And, since they're decentralized, they can also pass on earnings to customers – you literally earn a portion of the casino's profits.
In the years to come, we expect to see metaverse casinos following suit and offering their players an ever-improving value for their bets. As more gambling locations pop up, the competition will serve to lower costs even further.
Provable Fairness
One of the issues that have plagued online gambling is the lack of transparency. In traditional casinos, it's impossible to know if the games are truly fair.
Enter provably fair games.
Built on the blockchain, these games use cryptographic algorithms to ensure that the outcome can't be manipulated. Players can verify that they're getting a fair game – an important consideration for anyone looking to gamble online.
Provably fair games give you unprecedented peace-of-mind when gambling online.
We expect provably fair games to become the norm in metaverse casinos. With the transparency of the blockchain, there's no reason for casinos to offer anything else.
You can find provably fair originals in many of our favorite blockchain casinos already. Check them out at BC.Game and Stake – they come with super low house edges, too!
More Personalised Than Ever
The Metaverse takes customization to the next level. You can be literally anyone you want in this virtual world.
You can, of course, create an avatar that looks like you IRL. But, if you fancy pink hair or an eccentric accessory that's as easy as clicking a few buttons.
Personalization is one of the biggest perks in the Metaverse as it gives you complete freedom to express yourself. As Metaverse gambling grows in importance, we're looking forward to seeing all the customization opportunities they offer to players.
Decentralized Governance
Since the Metaverse is built on the blockchain, it can (and usually is) decentralized. There is no single authority that controls Decentraland, for example. Instead, it's the DAO that makes decisions affecting the community.
Decentralized governance means you can take part in the casino's decisions.
With decentralized casinos, it's also likely that the establishments begin sharing their profits with token holders. In other words, you'd be able to earn some of the casino's money.
Sounds too good to be true? Actually, it's already a reality in decentralized casinos like EarnBet and BetFury:
Privacy in the Metaverse
Another key advantage of metaverse casinos is the anonymity they offer. Once again, this is a shared perk with other blockchain-based gambling sites. But, there is a catch here.
The betting market is a highly regulated space – and for a good reason. Casino licensing ensures that players are getting a fair game and that their money is safe.
Different licensing bodies have different requirements, but they all collect some form of personal information from their players.
Know Your Customer (KYC) requirements are designed to prevent fraud and money laundering. In order to comply with these regulations, casinos might need to verify your identity. Most of the blockchain casinos we've reviewed (off-metaverse ones) run some form of KYC – usually at withdrawal time.
KYC checks are a double-edged sword. They protect players, but they also invade their privacy. So, how do metaverse casinos get around this?
In short: they don't. At least, not yet.
The metaverse is still in its early days. Regulations are still being sorted out.
But, it's important to remember that, even though metaverse gambling feels anonymous, it's far from. The platform itself, your VR device, and the blockchain (unless using a privacy-coin) have plenty of information that could be used to identify you!
The Dangers and Challenges of Metaverse Gambling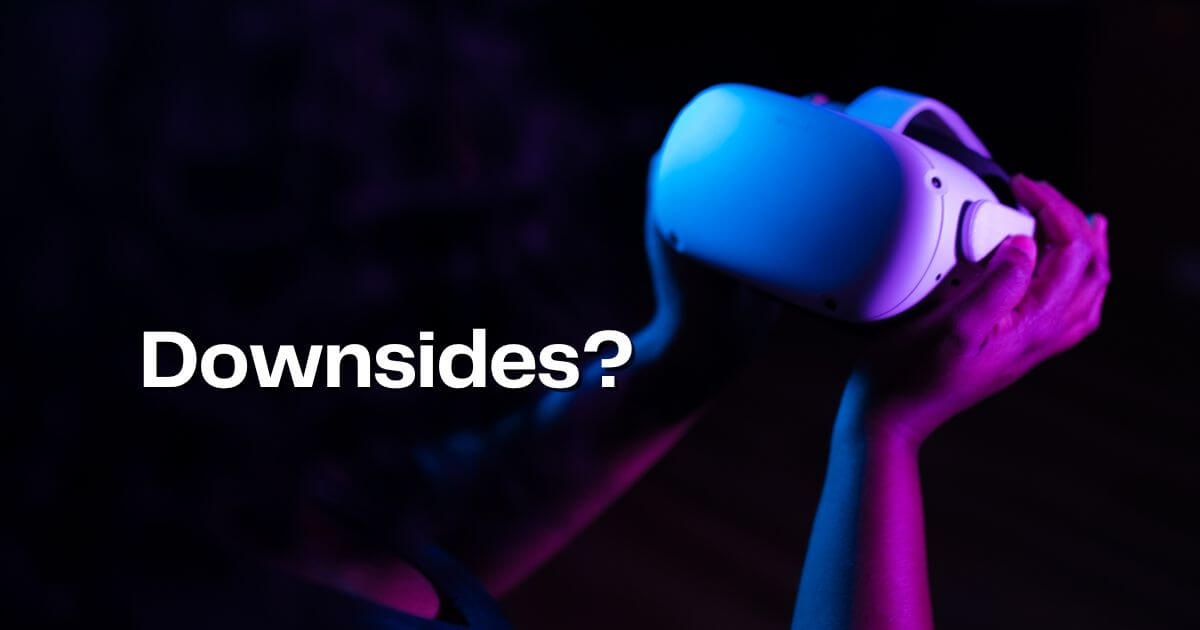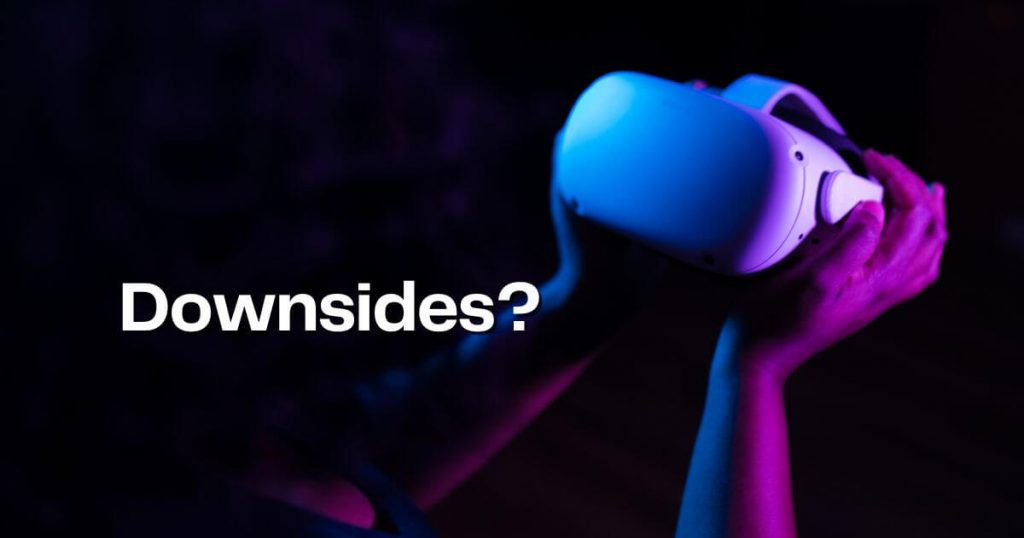 As the metaverse and VR casino world grows, we're bound to see some bumps in the road. Here are a few challenges we foresee metaverse gambling faces:
Regulation (and Lack Thereof)
Gambling and lottery laws vary from country to country. In some places, online gambling is outright banned. Others have more lax regulations.
Right now, online casinos restrict players who are physically located in certain countries. But, what happens when metaverse casinos pop up? How will they know where their players are located?
Of course, since the Metaverse is not (yet) completely anonymous, it's possible to track players' locations. But, it's also possible to use a Virtual Private Network (VPN) to spoof your location. Much like with other virtual gambling sites, metaverse casinos could be open to anyone, regardless of their location.
Currently, most Metaverse casinos hold a Curacao gambling license.
However, the licensing rules might change as the Metaverse gets bigger and bigger.
This could lead to some serious legal implications down the road. The legal hurdles around cryptocurrency are already discouraging brick-and-mortar casinos from implementing them. In the Metaverse, there is an added layer of complexity and we're looking forward to seeing how casinos deal with it.
And, we haven't even talked about taxation yet.
The IRS has issued guidance on cryptocurrency and NFTs. But what if you won the money at virtual poker? Should you still pay tax on earnings? In the real world, you don't. We imagine Metaverse gambling and taxation of wins will be a hot topic in the coming years – crypto gambling taxes are already notoriously complex.
We might see metaverse-specific gambling licenses or a whole new regulatory body for virtual casinos. Only time will tell.
Targeted Advertising
One metaverse gambling con is the same as the regular online world – targeted ads.
You might be wondering: what is so wrong with advertising that is tailored to your interest?
Unfortunately, targeted ads can have a downright sinister edge.
Imagine you spend a substantial amount of time in the metaverse. The platform will have information about your frequent activities, places you visit, and ways you like to spend your money. And, advertisers can harness this information to put the things you want right before your eyes.
In some cases, this might be a good thing. But, it can also encourage compulsive spending or trigger those with a gambling addiction.
How do you tell an AI that it's inappropriate to show casino ads to a problem gambler?
We don't have the answer to that yet. And what about targeting children? Or (and we know AI can do this), even going after people with certain psychological conditions and taking advantage of their decreased inhibitions?
We're not saying this will happen. However, it is definitely a possibility we need to consider as metaverse gambling grows and targeted advertising grows more advanced.
We might see metaverse-specific advertising regulations or a whole new advertising body for virtual casinos. Only time will tell.
Final Thoughts
Metaverse gambling is a new and exciting way to gamble. But, it's not without its challenges. We're still in the early days of the metaverse. And, as it grows, we're sure to see new metaverse gambling challenges – and solutions – emerge.
Right now, we're excited about the opportunities blockchain gambling offers. That's why we created an entire website dedicated to blockchain casinos!
But, if you're not ready to pop your Oculus on just yet, why not try one of our recommended online casinos?
We've got a list of the best blockchain casinos right here:
Frequently Asked Questions
The Metaverse is a virtual world. It exists on the blockchain- a.k.a. on a network of multiple computers around the world. You can connect to it from anywhere in the world.
How do I get into the Metaverse?
To get to the Metaverse, all you need is an Internet connection. You can connect via your PC, mobile phone, or use a VR headset for the full immersive experience.
Can you gamble in the Metaverse?
Absolutely! Decentraland, one of the leading Metaverse platforms, has an entire casino district, resembling Las Vegas. Check out ICE Poker and Chateau Satoshi for a taste of Metaverse gambling.
Which is the best online casino in the world?
Right now, we believe it's
BC.Game
. Low house edges, thousands of games, an exciting social aspect... What else is there to ask for? That said, we're very curious to see what metaverse casinos come out. Who knows, one of them might even dethrone BC.Game as our favorite!