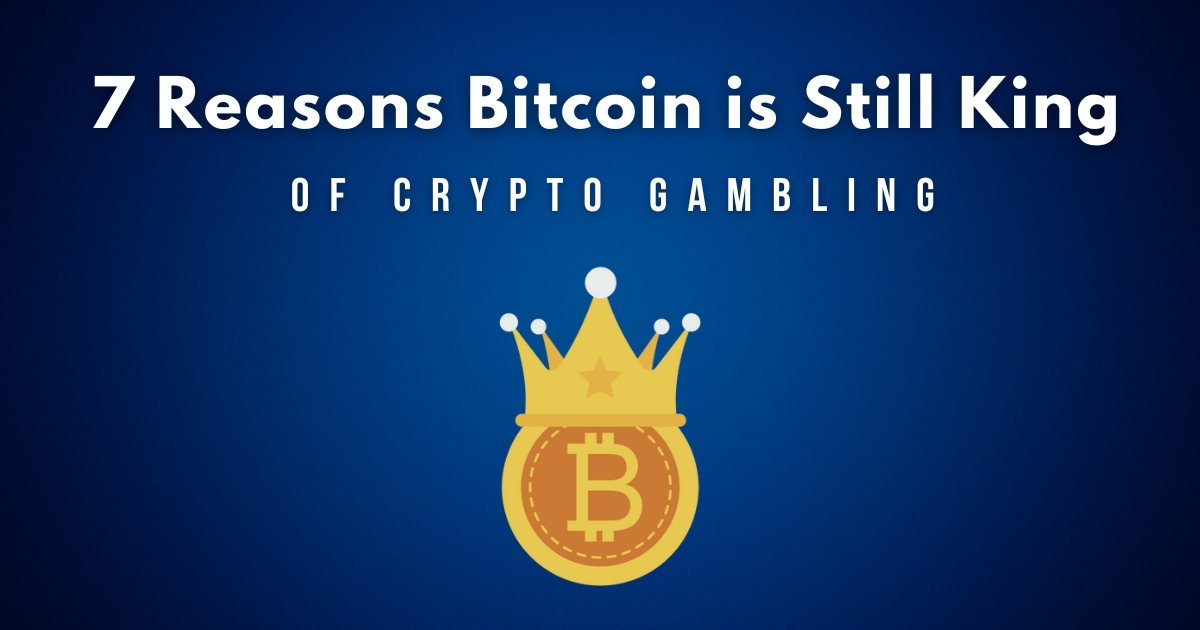 7 Reasons Bitcoin is Still King of Crypto Gambling
Bitcoin casinos are a relatively recent, but strong trend in online gambling, which is shaping the sector's future. They have many advantages over traditional casinos, including more transparency, better security, and faster payouts.
The top Bitcoin casinos have tens of thousands of active players from across the globe, and there's more than one reason why.
Bitcoin is Here to Stay
Governments the world over have been ramping up efforts to regulate crypto. US Federal Reserve Chair Jerome Powell has said the US central bank needs to play a bigger and more robust role in monitoring cryptocurrencies, adding that Bitcoin has "staying power."
Unlike Bitcoin, altcoins can be extremely volatile. For example, Squid Token claimed to be associated with the popular South Korean Netflix series Squid Game. It was wildly embraced, but a rug pull led it to lose all of its value.
Bitcoin Gambling Facts
Online gaming is worth $93 billion, of which the crypto gambling market accounts for $250 million. It's estimated that players have wagered Bitcoin worth more than $4.5 billion in the past decade. Every second, 337 bets are placed by crypto gamblers, and almost two-thirds of all Bitcoin transactions are gambling-related. These are just a few of the many more interesting Bitcoin gambling statistics.
According to an industry analysis by SoftSwiss, more people are starting to wager using crypto.
In the first quarter of this year, 30% of bets were made in cryptocurrency.
The total number of crypto bets increased by 9% between the first and the fourth quarter of 2022.
Bitcoin has traditionally been the most-used cryptocurrency for gambling. Its use for this purpose rose by around 2% from the final quarter of 2022 to the first quarter of 2023. The second most used crypto is Ethereum, followed by Litecoin.
Bitcoin accounts for 76.5% of all wagers
Ethereum accounts for 8.4%
Litecoin accounts for 5.1%
Why Players Use Bitcoin for Gambling Online
Cryptocurrency is the perfect fit for online casinos as a digital asset. Here are the main reasons why Bitcoin is the go-to option in the realm of gambling:
1. Safety and Security
Blockchain transactions are transparent and the ledger is tamper-proof. The risk of fraud is also low, since every action is recorded and a unique code is assigned, which is very difficult to change.
The astute gambler will appreciate the provably fair technology behind crypto games. They can trust encryption that guarantees a fair and completely random outcome.
2. Higher Transaction Limits
Most gambling operators offer crypto gamblers higher deposit and withdrawal limits. On the other side of the coin, payment methods at traditional online casinos like Visa, Mastercard, and American Express charge high fees and the limits are correspondingly lower.
3. Privacy Protection
Cryptocurrency provides anonymity because the payments don't involve traditional banks (at least not yet) and governments. This is appealing to gamblers who care about their privacy. They can remain completely anonymous unless the platform asks for ID verification. What's more, they won't be asked for sensitive card details to make a deposit.
4. Fast Transaction Speeds
Bitcoin transactions are instant, and deposits and withdrawals are credited immediately. Users have full control of their assets at all times.
5. Lower Fees
Bitcoin transactions come with low fees, if any. Cryptocurrency is decentralized and no institution has to stand as a middleman to charge processing fees.
6. Convenience
You can cash out winnings or transfer them to a digital wallet at any time. Bitcoin is independent of banks and you can distribute it in amounts of various sizes. By making smaller bets, you will control your spending.
7. Rewards and Bonuses
Many gambling platforms offer special rewards and bonuses to customers who use Bitcoin. There is an increasing number of partnerships between online casinos and crypto firms.
What Makes Bitcoin Most Suitable for Gambling?
While most cryptocurrencies can be used for gambling, altcoins have a distinct downside – their volatility. Altcoins are prone to significant fluctuations over brief periods of time. While you can say this about Bitcoin too, the flagship crypto is still more reliable than newer altcoins.
Altcoin Volatility
In 2022, leading altcoins like LUNA, SOL, ADA, and ETH lost 100%, 93%, 80%, and 67% of their value, respectively.
In light of such fluctuations, the amount you deposit or win may be worth much less after the fact.
The Best Ways to Buy Bitcoin for Gambling
If you want to buy Bitcoin for gambling, you can do so using:
A crypto exchange
A traditional broker
Bitcoin ATMs, ETFs, or trusts
Money transfer apps
Whichever method you choose, don't store it on an exchange, as it can leave you vulnerable to exploits. Hold it in a wallet you control with your own key.
How to Store Bitcoin for Gambling 
Hardware wallets are one of the more expensive options, but they're a good investment because of the enhanced safety. You have sole control of your wallet with a password and other forms of authentication and, in some cases, a USB port.
You can choose from many wallets to perform transfers with Bitcoin depending on their pros, cons, and other special features. Before choosing one, check to see if they accept users from your geographic area.
How to Choose the Best Crypto Casino
Crypto casinos and sportsbooks enable faster transactions, improved privacy, and more. When choosing your ideal Bitcoin gambling site, you should look at the casino's reputation, rewards, payment methods, intuitiveness, and more. We'll unpack other criteria you should keep in mind during your search:
Diligent Research
The Bitcoin platform of your choice should have an SSL certificate, mainly positive reviews, and various ways to contact support or customer service.
Look for a padlock in the address bar. If there isn't one and you get a message that the site isn't secure, do not proceed. It might even be a scam.
One way to spot fake customer reviews is a high number of positive reviews in a short period of time. It's also a bad sign when a review has lots of superlatives without saying anything specific. Being unable to find more than a few reviews is also a red flag, unless the platform is relatively new.
Ways to contact the casino include live chat, phone, email, and social media. Having no, or one contact option is usually a red flag. Before signing up, check if the casino in question has human staff or only uses bots. Having to discuss payments and security with a bot is not ideal, which isn't to claim a human agent can't be just as bad.
Rewards
We already mentioned that some gambling platforms (that don't accept Bitcoin exclusively) offer BTC perks to encourage people to use the crypto for deposits and withdrawals. These perks come in the form of welcome bonuses, promotions, etc.
The best Bitcoin casinos offer plenty of incentives to sign up. Note that bonuses should be less of a priority than security and reputation. They are a secondary consideration in that sense, but they can help you increase your chance of winning. Some platforms offer tournaments, and you get rewards such as points and discounts to take part.
Various Payment Options
Top BTC casinos also have other payment methods to be inclusive and make their services accessible to as many people as possible. You might want to try an alternative to Bitcoin at a certain point, like Ethereum or Solana, to spice things up.
Ease of use
Ease of use is often underestimated, but it shouldn't be. Look for an intuitive website layout and a mobile app that lets you access your account from anywhere. Consider the gambling platform's user interface and follow its blog if it has one. It will help you stay current on any important developments.
Final Thoughts
There you have it, a detailed answer to why Bitcoin is still the king of crypto gambling. This fact probably won't change any time soon, despite the rising numbers of new cryptos each year.
With faster transactions, better stability, and of course, a stellar reputation, avid BTC players can take comfort in the fact that this coin is most certainly here to stay.