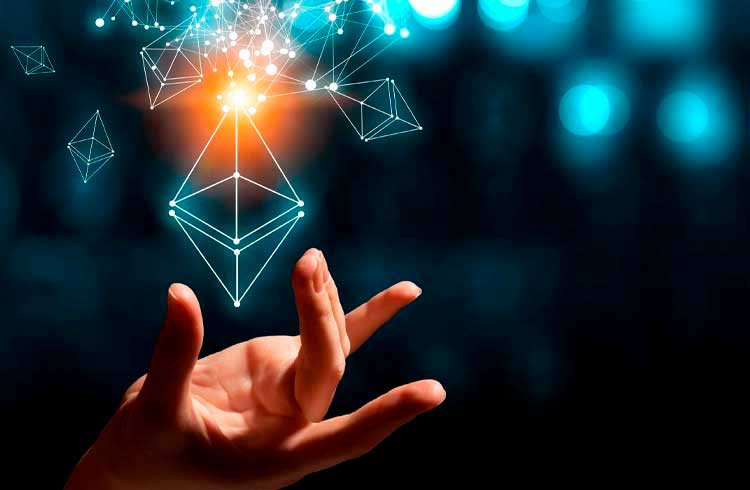 Top 10 Ethereum Slots for 2023: Bonuses, Payouts and More
Ethereum quickly rose to become one of the most popular cryptocurrencies globally. That same trend followed in online casinos and slots. Today, you can play Ethereum slots in a range of crypto gambling sites and the choice is growing every day.
So what are the best gambling providers that accept ETH? We did that research for you to help you find the best Ethereum casinos as a slot lover in 2023!
We've ranked the top 10 Ethereum slots of 2023 and summarized everything you need to know about them. Read on for:
A list of the best Ethereum casino slots
Tips on how to play Ethereum slots
The pros and cons of playing slots with ETH
The answers to the most frequently asked slot-related questions
Let's jump right in:
Top 10 Websites To Play ETH Casino Slots
Blockchain casinos are on the rise – and they have adopted several cryptocurrencies as payment methods. Since ETH is one of the most popular cryptos, second only to Bitcoin, you'll find it at most crypto-focused gambling sites.
But how do you know which are the best? You can't, unless you try them. And, to help you out, we did the work for you:
We playtested several casinos to offer you a list of the best websites for Ethereum casino slots. Here is our top selection of ETH-friendly slot locations:
Note: this is not a list of the best Ethereum casinos, which we have previously reviewed. Instead, for this article, we ranked casinos that accept Ethereum AND have a stellar slot collection.
If you're looking to play slots with other cryptocurrencies, check out our Bitcoin slots page.
But, before we break down each casino, let's talk about how we made the selection in the first place:
Our Selection Criteria
At Casinos Blockchain, we have one major guiding principle:
Provide the most honest and robust information about the casinos.
But how can you trust us if you don't even know our process? You can't. So that's why we want to be transparent about how we learn and test the casinos:
We create a player account – and keep it anonymous.
What's the first step at a new casino? You register. We sign up and evaluate how smooth the process is. This way we know what information they ask (invasive KYC's are icky), how long it takes, and are there any juicy bonuses.
Why keep the account private? Because the crypto casino industry isn't that big. If we reveal ourselves as reviewers, we can't be sure to get an authentic experience. So anonymity it is!
We deposit Ethereum.
We only picked ETH-friendly casinos and made our first deposit with this currency. We noted the minimum and maximum limits for deposits, how long the transactions take, and if the house charges any fee. We also confirmed promotions and welcome bonuses.
We played ETH slot games.
We're not going to lie – this was the best part of the review. Granted, it takes a while to try all the slots. But hey, it was worth it, because we got to evaluate gameplay, RTP, house edges, provable fairness, and more. Plus, we had a lot of fun playing.
We withdrew in Ethereum.
Finally, it was time to cash out. Just like with deposits, we confirmed if there were any minimums, maximums, or fees. We also made sure the casinos didn't delay withdrawals – including with lengthy KYC processes. We're not against KYC, but there's a user-friendly way to do it – we made sure to only include casinos that offered it.
And there you have it – our four-step process to evaluate Ethereum slot casinos and pick the best ones for you. So, what stood out? We're so glad you asked:
There are ETH casinos and ETH Dapps – both offer unique perks.
Dapps are decentralized applications, built on the blockchain. They're only in their infancy, but we already have one solid option for you. So solid, in fact, that they deserve their own section:
Best Dapps To Play ETH Casino Slots
Casino Dapps exist on the blockchain, which means:
They don't hold your funds – you can play directly from your wallet instead.
The decentralized design means they can issue their own tokens and offer profits to token holders.
You read that last sentence right – with some slot Dapps you can actually earn a part of the house's profits.
On the flipside, Dapps are usually quite rudimentary. You won't find eye-catching designs or exciting animation at most of them. But, there is one exception:

BetFury is a full crypto casino built as a Dapp. And, it's a true champion when it comes to slots.
You can play thousands of slot games on BetFury, enjoying your favorites from big name providers. And, of course, they're fully Ethereum-friendly and actually process payments rather quickly.
The downside? With a Dapp like BetFury don't expect a generous welcome bonus. They'll be too focused on improving house edge and giving you more RTP instead:
Top 3 Best Ethereum Slot Casinos Reviewed
BC.Game Casino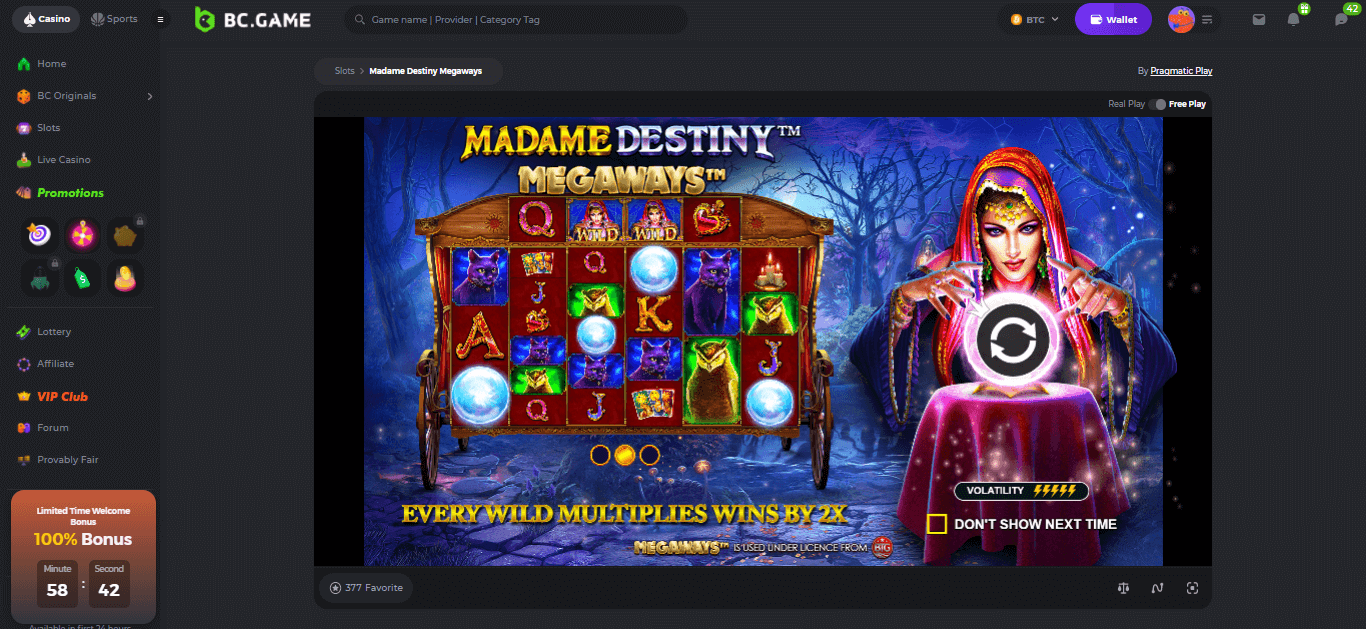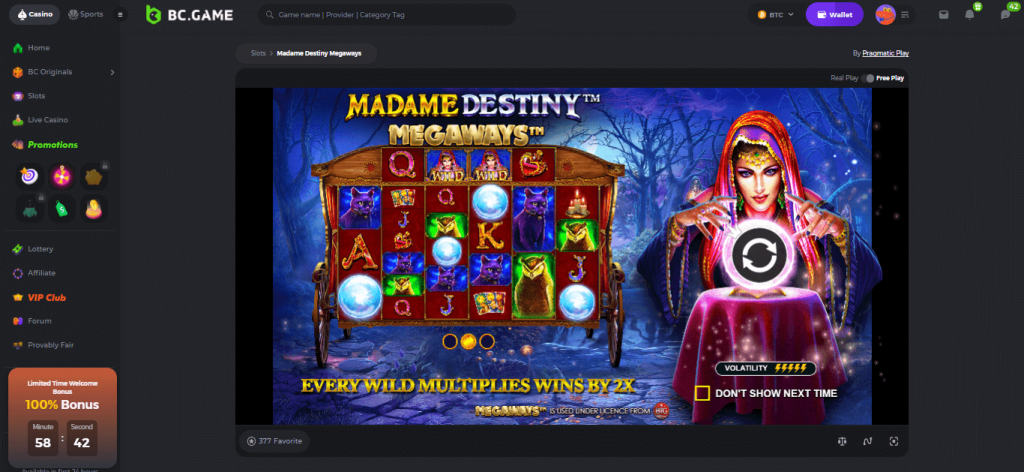 You may have noticed that BC.Game is one of our favourite cryptocurrency casinos. Not only does it look sleek and functional, but it also offers a high degree of fairness to its players.
When it comes to ETH slots, you can choose from over 1,800 titles. Along with games from renowned software providers such as Spinomenal, Betsoft, and even the provably fair provider BGaming.
BC. Game's studio also developed an original slot game, Cave of Plunder, exclusive to this site.
Although this casino doesn't offer the traditional welcome bonus, you can benefit from frequent and exciting promotions, including the Spin the Wheel, available daily.
Stake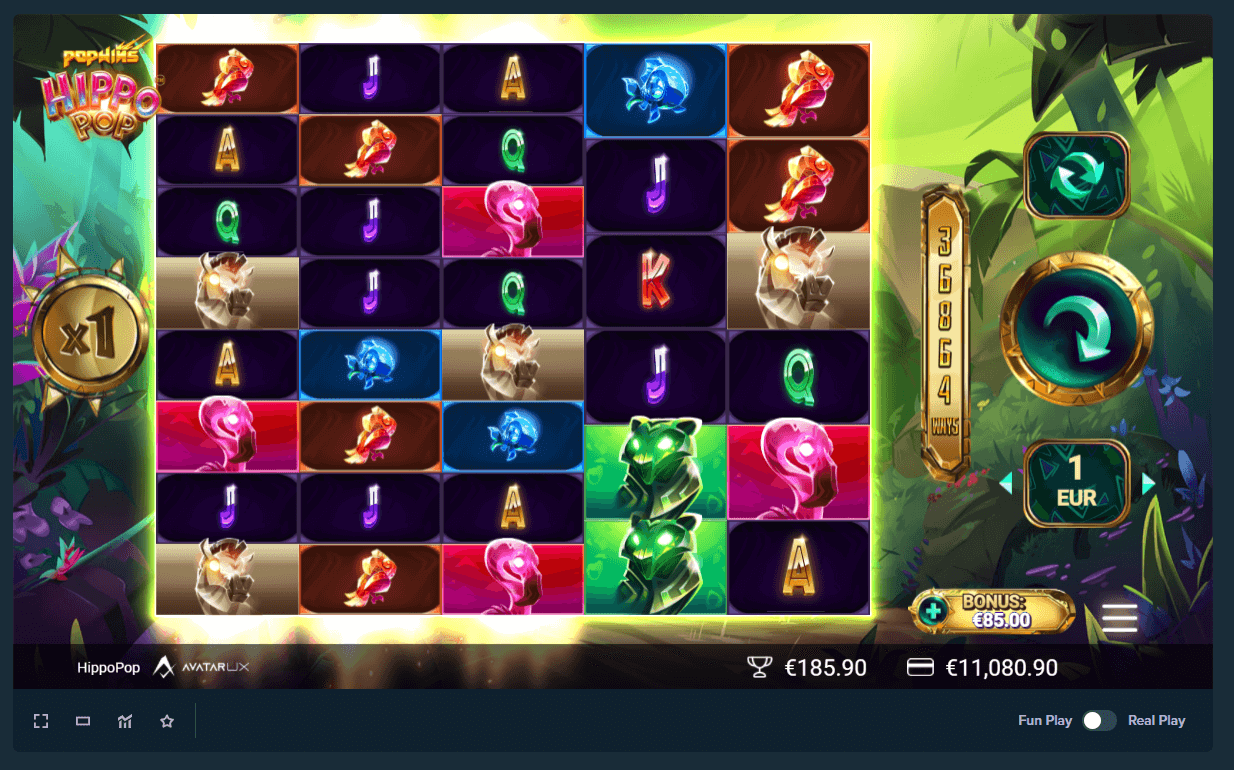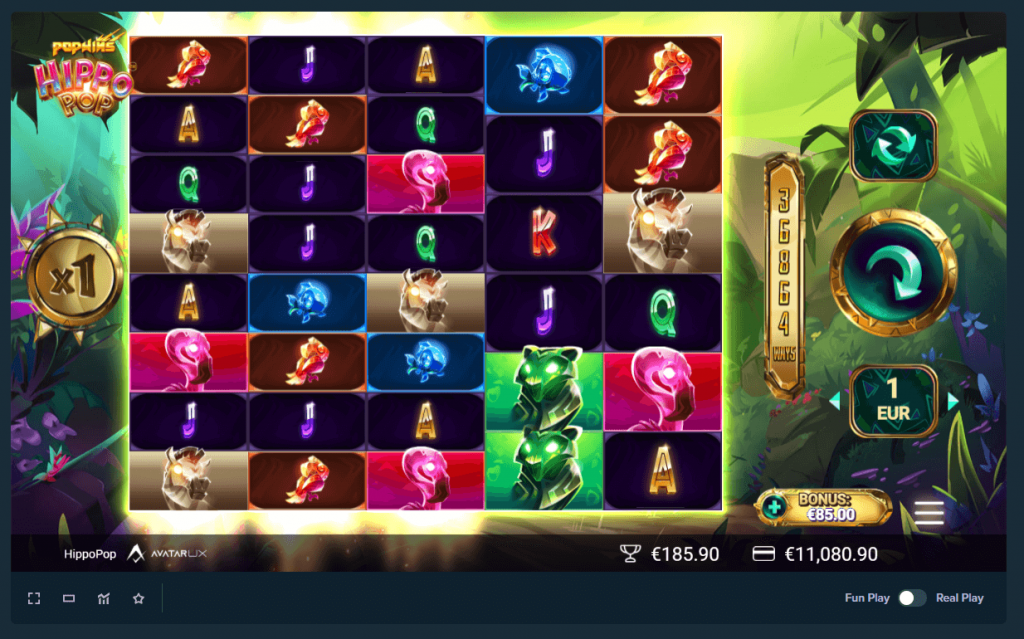 Those looking for innovative and technology-driven casinos should try out Stake. It's one of the best crypto casinos overall and quickly follows BC.Game when ETH slots are concerned.
The casino games collection is awe-inspiring and counts over 2,000 slot machines from worldwide renowned providers such as Pragmatic Play and Relax Gaming. Just like BG.Game, Stake's in-house game studio developed original games, including the slots Scarab Spin and Blue Samurai.
This casino doesn't offer a deposit bonus, but players can benefit from several other promotions with prizes as high as $1,000,000. It also offers sports betting.
True Flip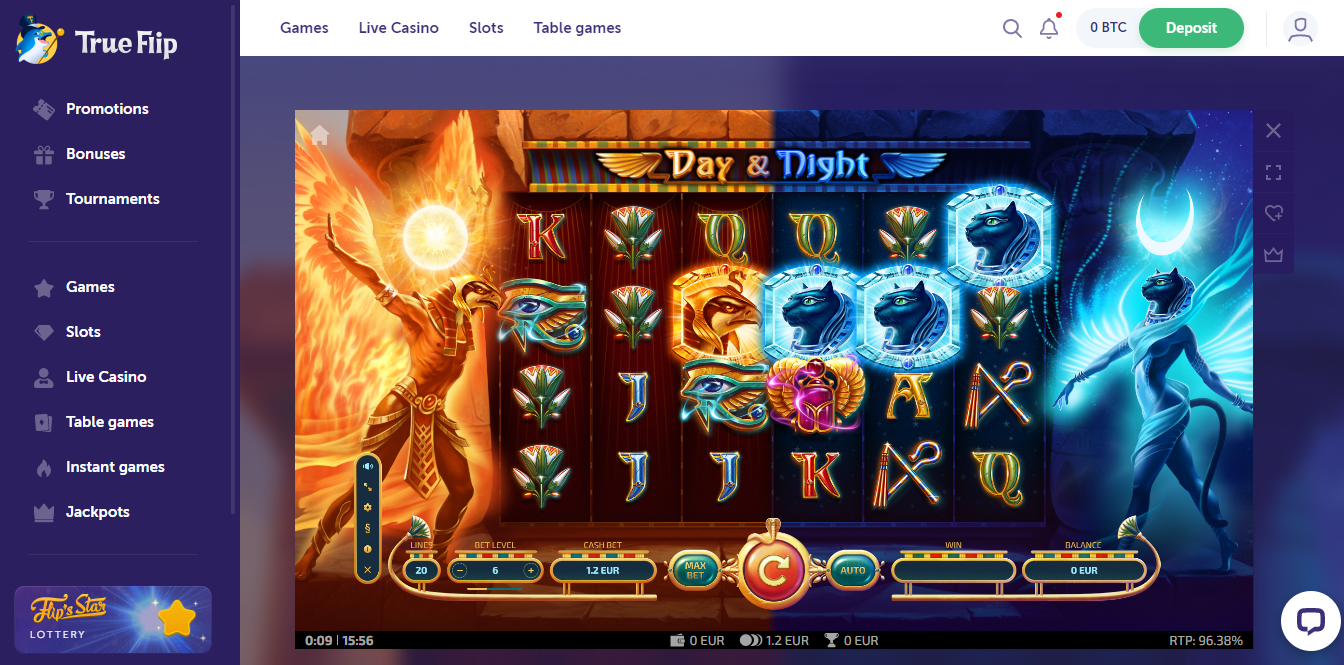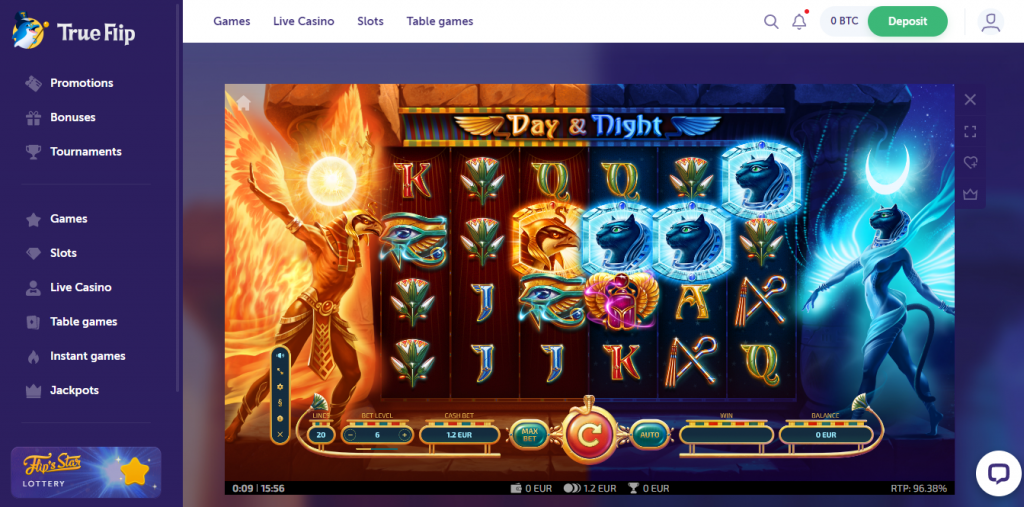 True Flip online casino makes it to the podium as another excellent option for playing slots with Ethereum.
It offers over 1,500 slot machines from industry leaders such as Quickspin, Play'n Go, and Betsoft. In addition, you'll find titles from over 30 providers, with some specialized in provably fair games such as BGaming.
They also have in-house developped slots, including our favorite Day & Night Game – and you can get free spins for that simply for registering!
This casino is well-known for its regular competitions and tournaments among players and offers a 10% cashback.
Although the appearance of this casino isn't as sleek as BC.Game or Stake, True Flip still offers a high level of usability.
The Best Ethereum Slot Games
While it's good to know which are the best sites to play slots with ETH, you may also be wondering which are the top Ethereum slot games.
We have tried all the available options and selected the top 5. Let's see how they compare below:
| Ethereum Slots | RTP | Max Payout | Where To Play |
| --- | --- | --- | --- |
| Cave of Plunder | 99% | 500x | BC.Game |
| Scarab Spin | 97.3% | 500x | Stake |
| Blue Samurai | 97.3% | 500x | Stake |
| HippoPop | 96.1% | 48,150x | Stake, Rocketpot, True Flip, King Billy Casino |
| Big Bass Bonanza | 96.71% | 2,100x | Stake, BC.Game, Rocketpot, True Flip, BitStarz |
Cave of Plunder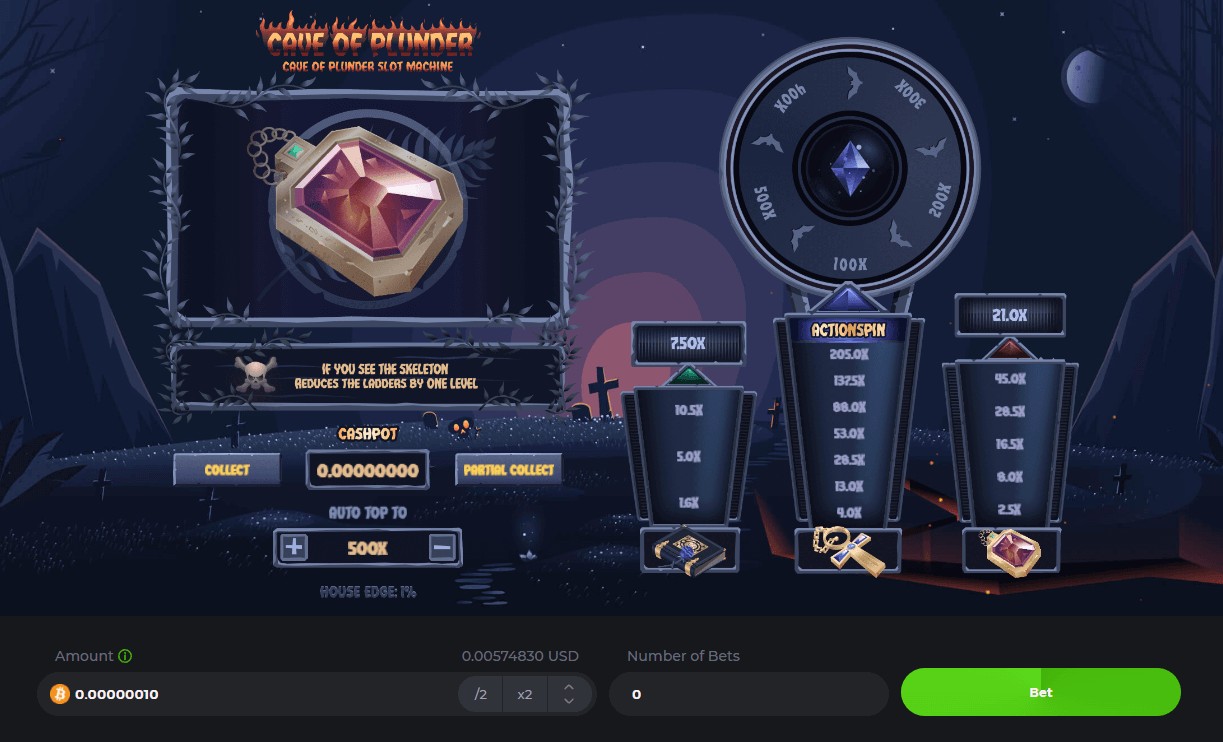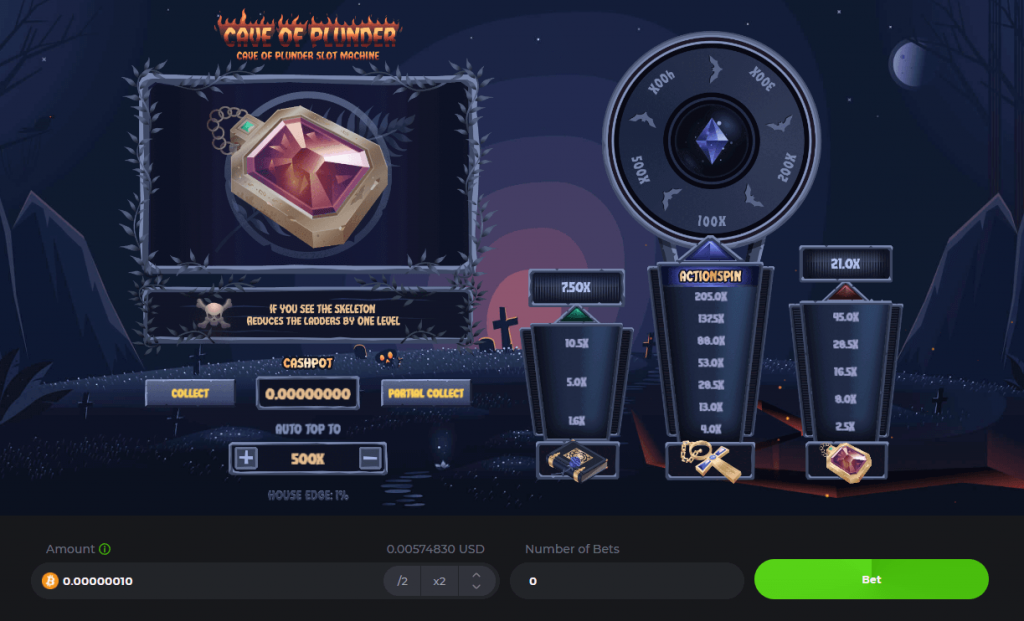 At the top of the list is Cave of Plunder, one of the original games from BC.Game. It boasts a 99% RTP, the highest we could find in the market!
The game has three columns of multipliers and also offers three jackpots to those who play it:
Small (7.5x)
Medium (21x)
Grand (500x)
The game operates simply, with five possible symbols on the reel. These symbols either remove rows or add to the column with the jackpots.
Cave of Plunder is also a provably fair game, which we know is quite popular among crypto players. It's possible to play it with ETH, and throughout the game, you can select to either collect your winnings or keep going.
Blue Samurai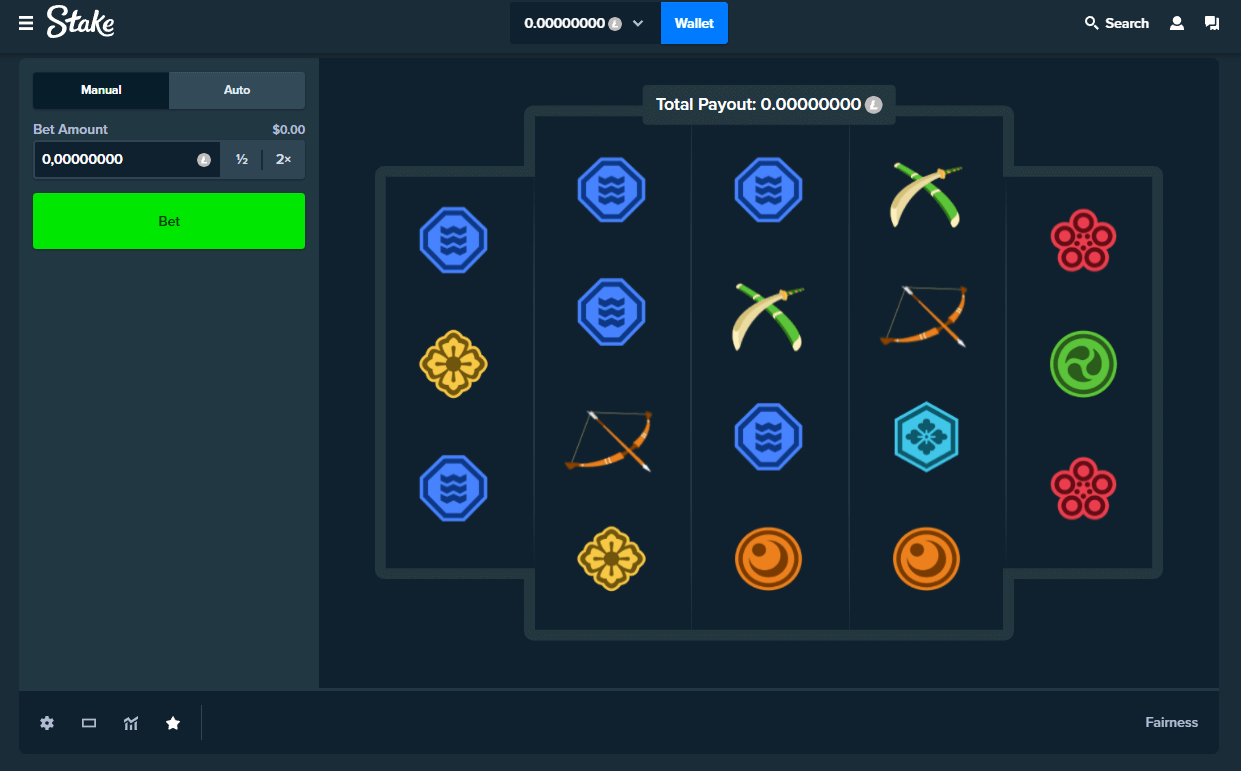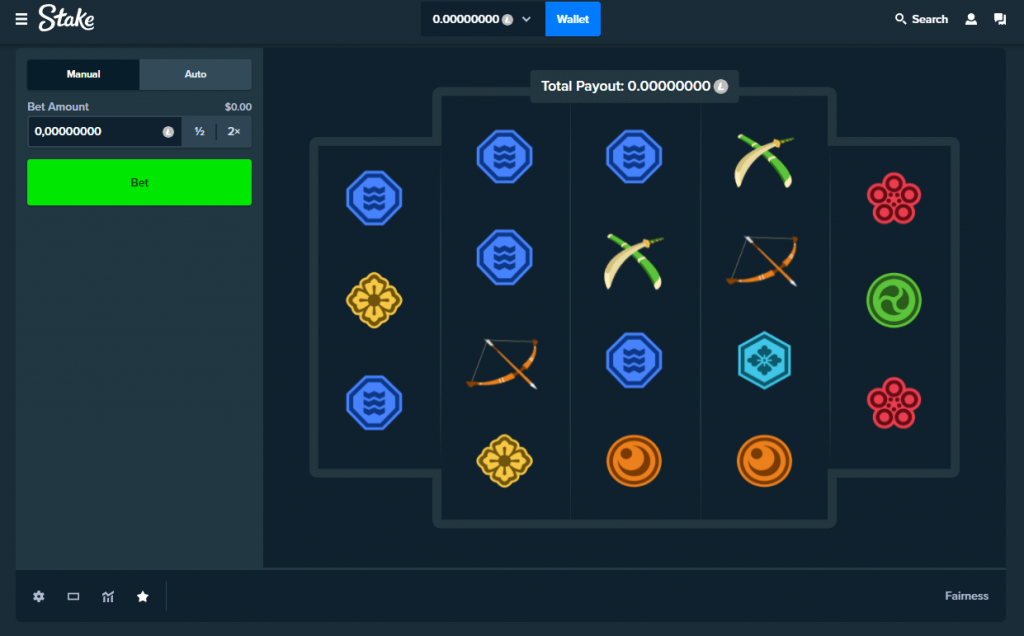 One of Stake's originals is Blue Samurai, the first of two games from this casino that made it to the top 5. It offers a high RTP of 97.3% and a maximum payout of 500x.
Just like it happens with everything Stake-related, the graphics on this slot machine are incredible. It also has a high variance, which means that you will always be on the edge of your seat when playing it.
Two other significant advantages of playing Blue Samurai are that the game is provably fair and has races happening every 24 hours. This means that you can always verify the results to ensure they're honest, but you also have the chance to win $10,000 every single day.
Scarab Spin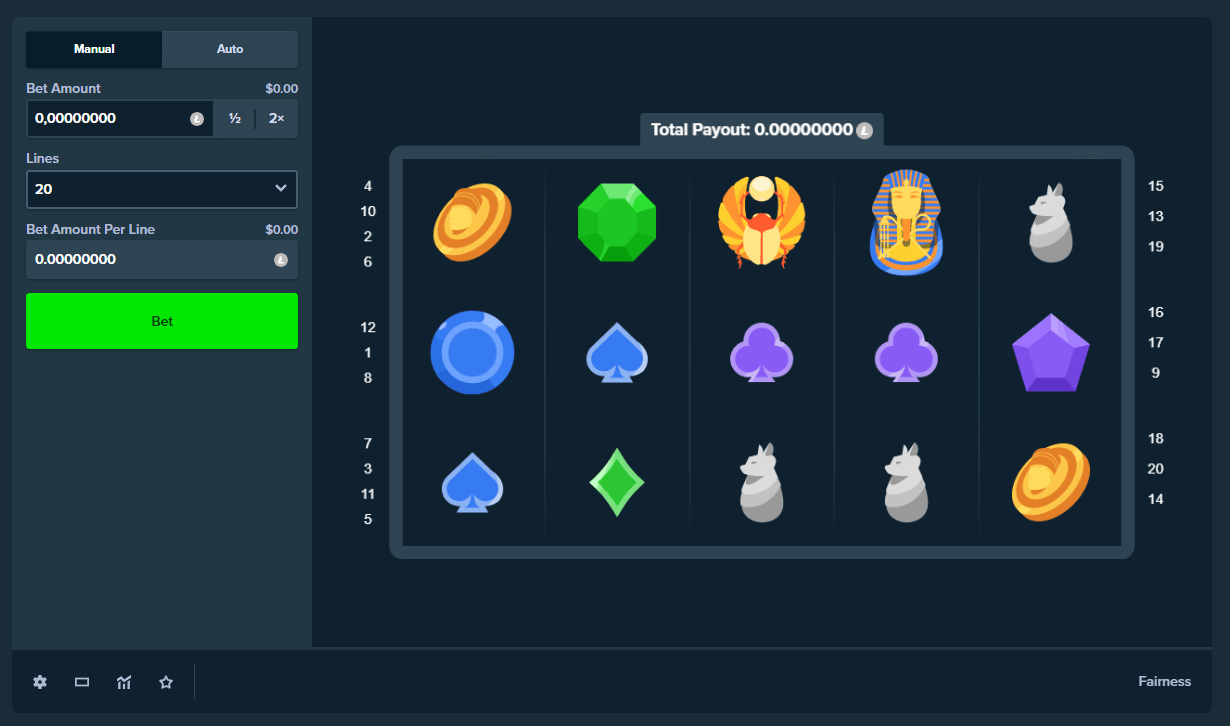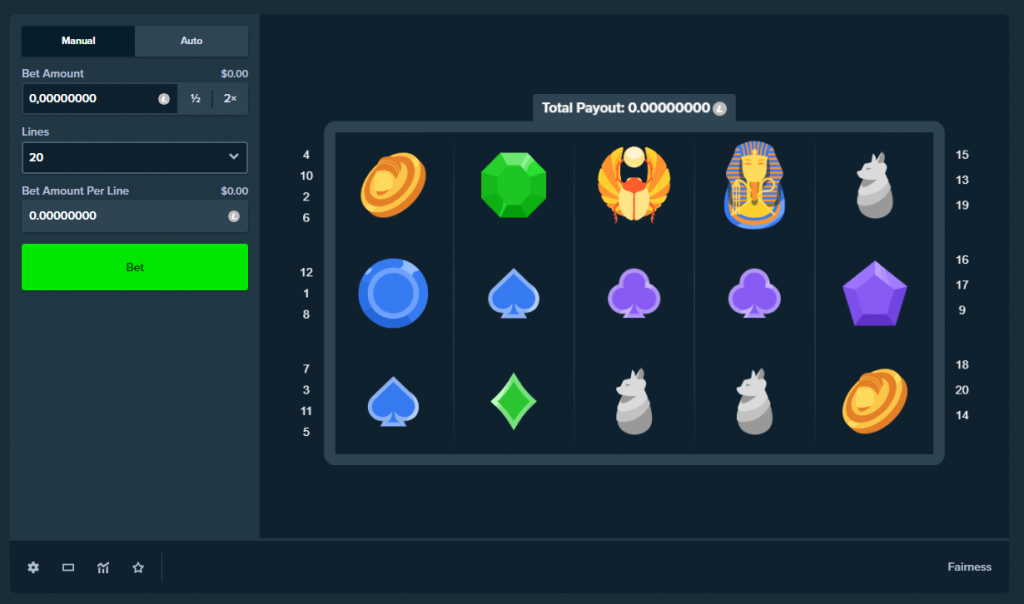 The second Stake original game that surpassed our expectations was Scarab Spin. This provably fair game contains 20 pay lines and takes full advantage of Stake Original's graphics.
It's our favourite option when it comes to Scarab slots, not only because of the fantastic usability but also because you can win a payout of 10,000x if you get five wilds in one single pay line.
If you decide to play all 20 pay lines, the maximum payout is 500x.
Unlike other popular slot machines, you may need to be patient until you get your big win. However, it offers the entertainment you want with the bonus of being entirely fair.
HippoPop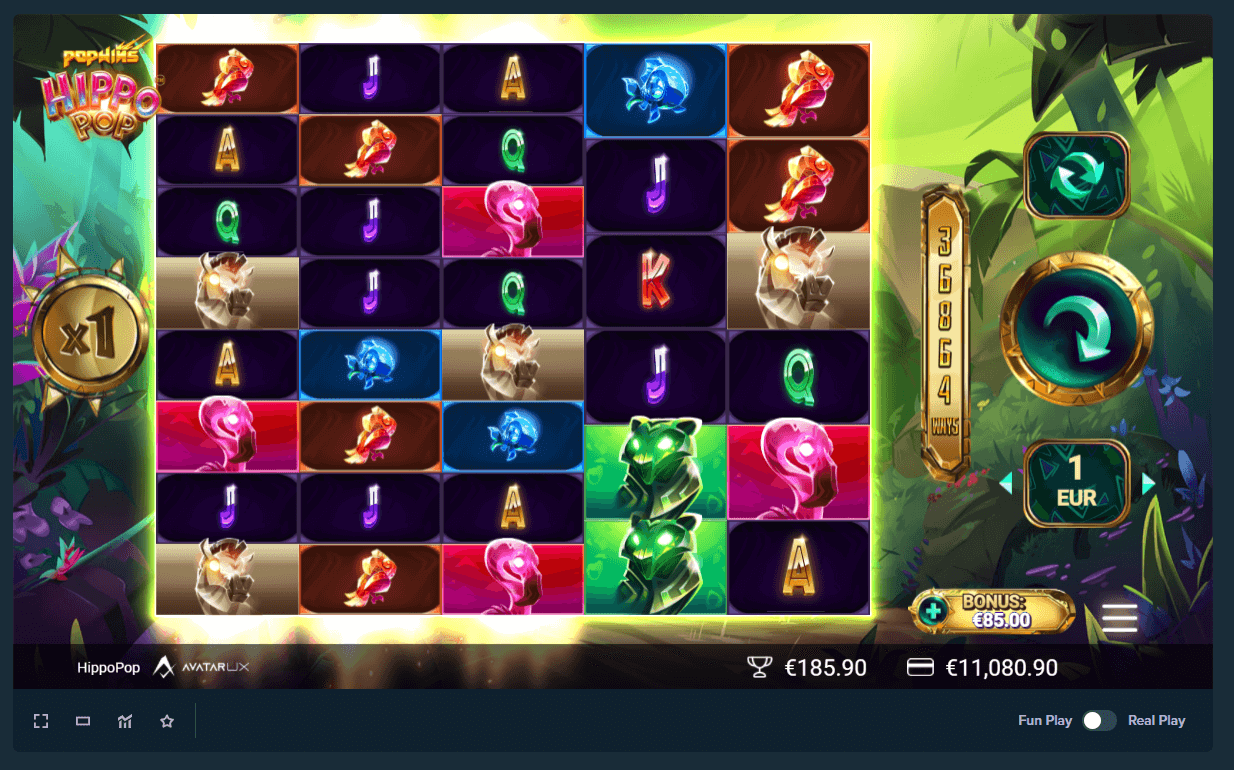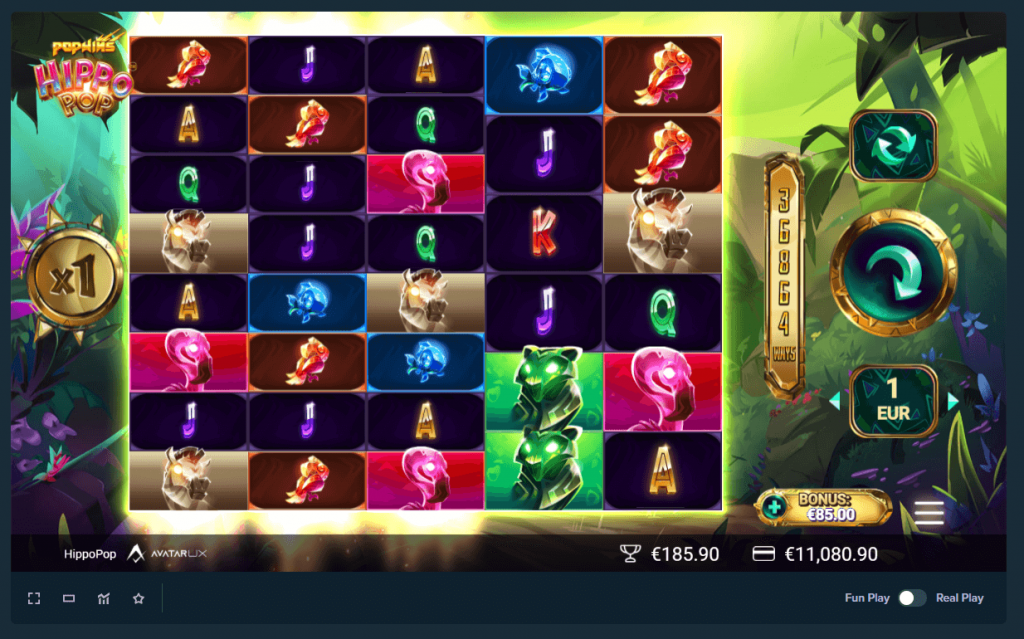 Unlike the top 3 games, this isn't an exclusive slot, but it's just as good! HippoPop was developed by the reputable Yggdrasil and also accepts payments with ETH.
One of the main features of this game is the Avatar UX's PopWins engine. This technology is behind one of the most engaging gaming experiences we've seen: every time you receive a winning combination, the symbols pop in a pleasing graphic moment.
This slot machine has 243 pay lines, which is much higher than the other slots described. It offers an RTP of 96.1%, with five reels and three rows. HippoPop is a high variance game with three bonus features, one of which provides multiple ways to win free spins.
Although it's not easy, you have the chance of winning a maximum payout of 48,150x!
Big Bass Bonanza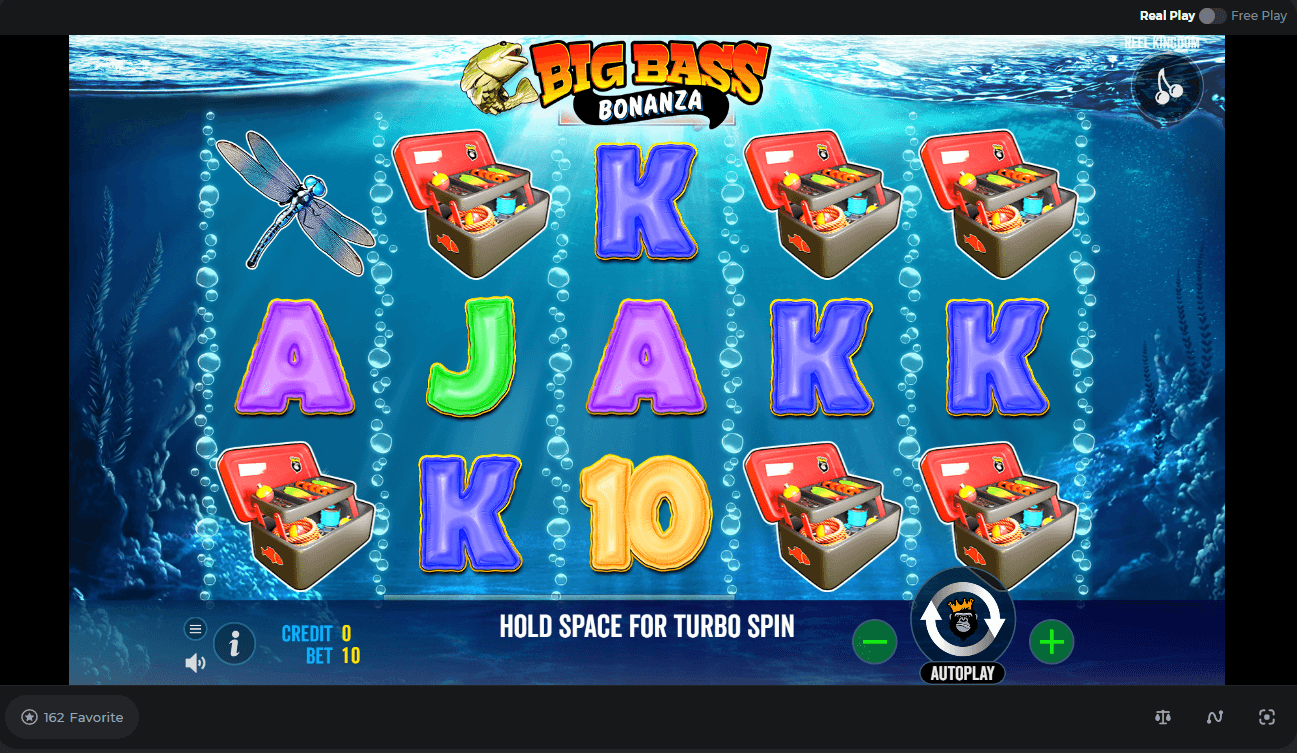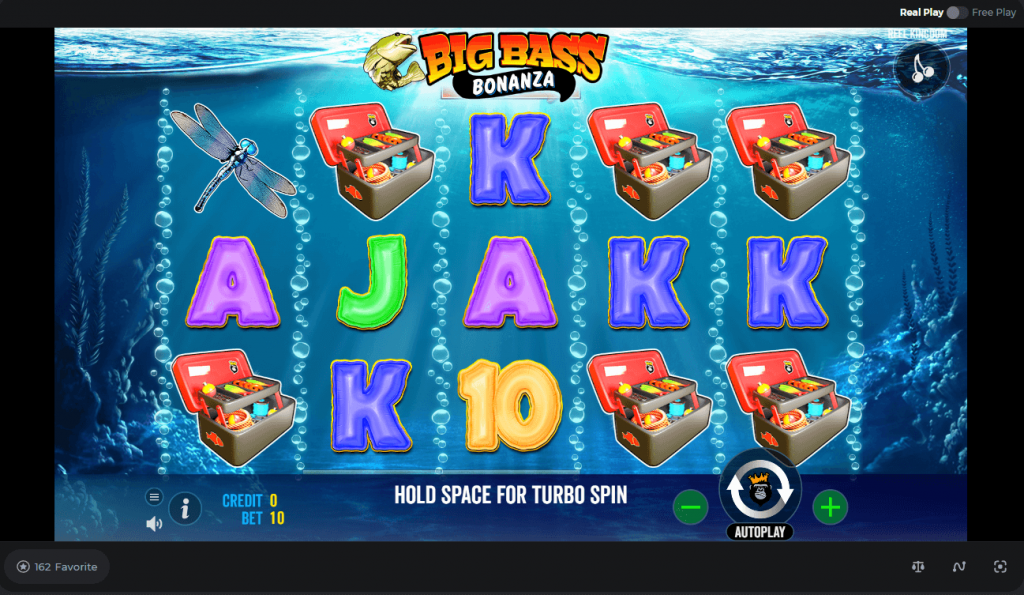 Last but not least, the final slot machine in our top 5 ETH slot games is Big Bass Bonanza. Developed by Pragmatic Play, it's a universal favorite for the fun graphics and exciting payouts.
With an RTP of 96.71%, this game has ten pay lines. BBG is a simple slot machine with five reels, three rows, and a maximum payout of 2,100x.
Like with HippoPop, Big Bass Bonanza also has a free spins feature that you can unlock to win up to 20 free rounds. This feature can also retrigger through wilds, which may also give you additional multipliers of up to 10x.
Albeit available in ETH casinos, you can only bet with fiat money. The good news is that you can still make your deposits and withdrawals with Ethereum.
Step By Step Guide To Play Slot Games With Ethereum
One of the main advantages of using ETH to play slots is that the whole process is straightforward. Below, we'll give you a step by step overview of what you need to do to play these types of slot machines:
Create an Ethereum wallet.
Just like it happens with any cryptocurrency, you'll need a wallet that holds ETH. There are plenty to choose from, such as Coinbase or Binance. Select a wallet that you feel comfortable and safe using, and buy your ETH tokens.
Pick a casino that accepts ETH payments.
Once you are all set and have your tokens ready, it's time to find a casino that supports payments with this currency. Most online casinos that accept crypto money will take ETH, as it's currently one of the most popular coins.
Create an account and make the first deposit.
It's now time to fill in the registration form and make your first deposit. Don't forget to check if you're entitled to any welcome or deposit bonus: it will enhance your bankroll and help you have a boosted start in your casino journey.
Find a slot machine.
Browse the slot machine collection available in the casino. Most of them will accept ETH payments, and the best part is that original games from casinos such as BC.Game or Stake are provably fair. You can also choose slots from other reputable providers such as NetEnt.
And, for the final step…
The time has come for you to make the best out of the slot machine you choose! So place your bets, and enjoy!
Ethereum Slot Games: Pros Vs Cons
So, are Ethereum slots even worth it? We think so!
Some of the main advantages of ETH slots include:
✔️ More provably fair games – with Ethereum, you have access to a broader range of provably fair slots. You can't easily find games like these in fiat-only casinos, which sadly means you won't have the opportunity to verify the results in traditional online casinos.
✔️ Higher RTP – Another excellent advantage of ETH casinos is that the slot machines often have higher RTP, frequently on the 99% mark. Casinos can afford that, because maintaining a crypto gambling site is much cheaper.
✔️ Fast payouts – crypto payments aren't dependent on a centralized authority; instead they rely on blockchain verification. This can often make them faster, although keep in mind that Ethereum comes with a gas price, too.
✔️ Better anonymity – cryptocurrency is, by design, more privacy-friendly than any fiat currency. That said, some casinos do run KYC checks, which somewhat breach your anonymity.
But, there are still some downsides to playing ETH slots:
❌ Volatility – even though Ethereum is one of the more well-established cryptos, it's still far from stable. The frequent price swings can boost your earnings – or eat through them.
❌ Gas fees – Ethereum transactions are subject to gas fees, which have been increasing in the past years. That's why some people look toward other coins like Solana or Cardano.
All in all, though, the advantages of gambling with Ethereum definitely outweigh the cons. Which brings us to our final thoughts:
Ethereum Slots: Our Verdict
ETH-friendly slots are all over online casinos. And, even with the coin's volatility, they have been gaining traction.
We think that it is safe to say that Ethereum slots are here to stay. Not only are they a fun way to gamble with ETH, but they also offer players a chance to win big.
With higher RTPs and a lower house edge, ETH slots are a great option for any slot enthusiast.
So, what are you waiting for?
Check out some of our favorite slot providers and find your own top picks:
Frequently Asked Questions
Can I play slot machines with Ethereum?
The short answer is yes. Although not all online casinos accept ETH tokens as a payment method, most blockchain casinos do. As such, you can place your bets with this currency in any of the top 5 casinos we recommended above. Some slots, however, only accept fiat money bets, but you can still deposit and withdraw with Ethereum.
Are Ethereum slots legal?
The answer to this question depends on one aspect: is the casino licensed? We highly recommend selecting casinos that have received a gambling operator license from a reputable regulation authority. This ensures that the platform is safe and secure for players and that the regulators have approved all games available.
Like the previous question, the answer depends on the casino you select. Make sure to give preference to slot machines available on licensed casinos and from providers that are also certified. This way, you can ensure a safe, fair, and secure playing experience. You can also read reviews from other players to learn more about their experiences.