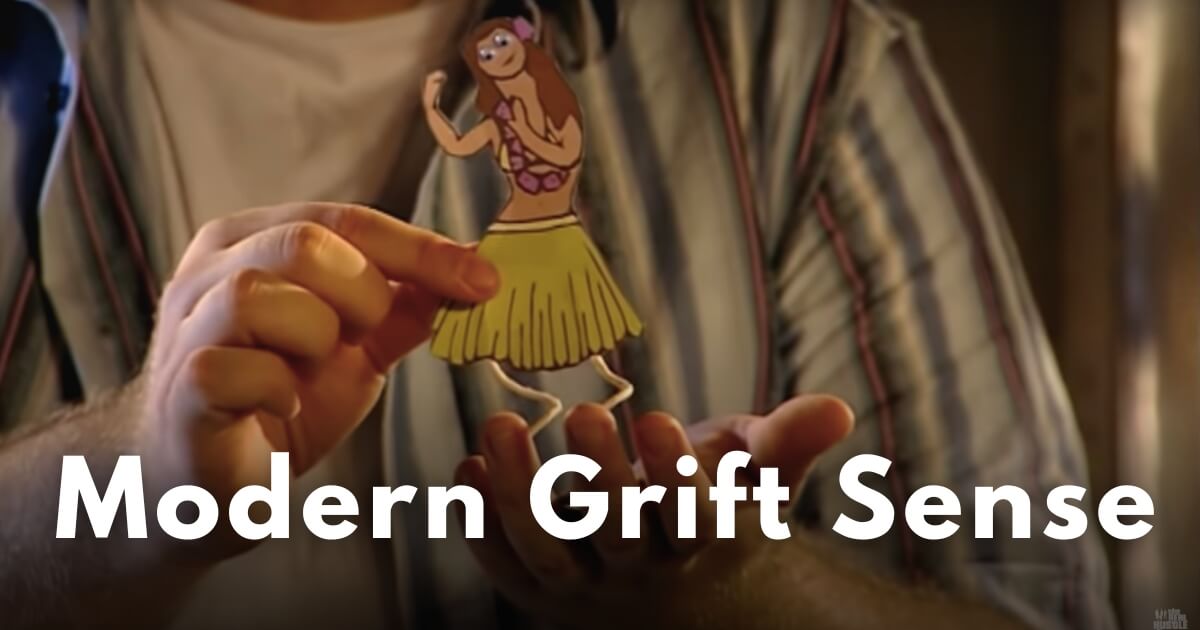 Modern Grift Sense: Understanding Deception
If a con artist knows what you want, they can take anything you have, and if you choose to take risks in life, a better understanding of deception is essential.
Generally speaking, the core methods of con games are the same today as they were a hundred years ago, and all that's really changed is how old scams are repackaged for new victims.
Whether your interests are directed towards crypto, gambling, investing, collecting, or any risk-related venture, it's important to realize that the most obvious goal in such endeavors is to make a profit, and investors, players, or collectors fit a certain (very wide) profile that can be taken advantage of in a multitude of ways.
This creates two problems to overcome, both of which could cost you dearly in the long run.
First, there's the chance we might be targeted by cheats, liars, and hustlers; second, there's the danger we might miss an opportunity or hesitate at the wrong time due to misinformed paranoia.
So, how do we navigate potentially shark-infested waters?
Ultimately, knowledge is the best defense, but it's a mistake to limit that knowledge to specific forms of deception; scams that target gamblers adapt and evolve and often draw inspiration from seemingly unrelated con games or deceptive techniques.
A scam that might only score a few hundred bucks from suckers on the street might be repurposed to steal billions from online victims. Of course, it's impossible to know every trick in the book (though I'm trying!).
And, no matter how informed we are, there's a scam for everyone, but the more we learn about deception, the better our ability to suspect something is "off" or examine any proposition with an informed eye.
Confidence tricks come in countless forms and have a powerful effect on people that is difficult to relate to, even (perhaps especially) if you've fallen victim to a scam yourself.
It's hard to backtrack or analyze, and it's especially difficult to understand in hindsight. This is why so many cons go unreported because victims simply cannot rationalize their own actions and are often too ashamed to admit being ripped off.
The Scam
While filming The Real Hustle for the BBC, I designed a simple experiment to see how far we could push a small scam before people would question our story or realize what might be happening.
The scam was the ubiquitous "dancing dolls," which can be found in markets, high streets, and tourist traps around the world. The dolls are paper cut-outs on little string legs with tiny weights that act as feet, apparently helping the doll to defy gravity while dancing impressively to music from a nearby boom box.
These paper dolls are often Simpsons characters, Micky Mouse characters, or homemade cartoon characters, but they all dance the same way and by the same means.
The scam is in the story about how they supposedly stand up and dance: the weighted feet are magnets, the paper is treated with magnetic ink, or the string legs have copper wire inside that responds to sound from a speaker.
In other words…
Just enough "science" to satisfy most people who pretend to understand before handing over their cash.
Naturally, the dolls don't work that way, and anyone foolish enough to buy one is going to be disappointed when they get home.
The real secret is an invisible string connected to a tape deck motor inside the boom box, which rotates the thread in space so that it's almost impossible to see. This unseen thread supports the dolls in an upright position, and thanks to the rotating motor, the dolls dance impressively.
But why tell a disappointing truth when a lie can sell thousands more?
Results
Our experiment on The Real Hustle was to vary the story as wildly as possible, from magnetic paint to dolls that recharge on top of a microwave oven, and all of these stories worked when people stopped to watch the dolls dance.
After buying, we approached people with a camera crew to ask what they bought, why they bought it, and how the dolls supposedly worked.
Remarkably, when people tried to repeat our stories about how the dolls worked, almost everyone began to realize those stories were false. One woman stopped halfway through telling us how they recharged in the freezer, thought for a second, then said, "These don't work, do they?"
This experiment proved that sometimes people can't smell bullshit but they can taste it, though this is far from universal, and if a con game is played by an expert on the right mark with the right angle, almost nothing can dissuade that victim from handing over their cash.
The dancing dolls scam makes a few dollars, pounds, or euros on the street but is also the template for much bigger con games, including one that made many millions for one fraudster at the cost of many lives in some parts of the world.
More on that scam another time.
Final Thoughts
Whether you play poker or blackjack, invest in the stock market, crypto, real estate, or fine art, you are a potential target for more scams than you might imagine.
Speaking to clients at live events or online consultations, I find most people take smart precautions and approach unfamiliar situations with healthy skepticism, but even the most paranoid poker player can be vulnerable to being cheated in ways they might never suspect.
The truth is that no one is unbeatable, and we are all susceptible to being cheated at any time.
If you still think you can't be conned, you're just the person a con artist wants to meet!
Our goal should be to develop a trained eye for deceptive language or techniques used against us and to recognize that, in most endeavors, scams are often less likely than genuine opportunities to win or profit.