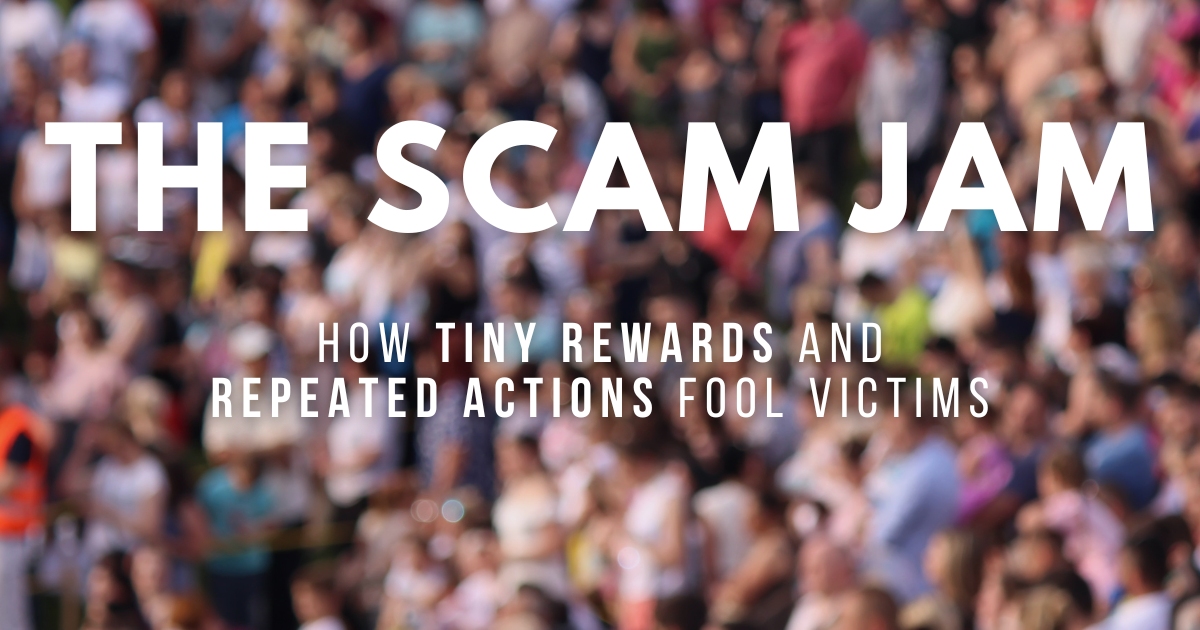 The Scam Jam: How Tiny Rewards and Repeated Actions Fool Victims
Once scammers have a fresh supply of suckers, there are countless ways to deceive them.
Most often, they target individuals, but when potential victims are scammed in groups:
Human beings can be manipulated into making choices or decisions thanks to simple yet powerful psychological techniques that have been refined for generations by both hustlers and pitch artists.
Investing in crypto and online gambling can seem complicated once we delve deeper into various communities and forums (it is) but when it comes to being scammed, everything can be boiled down to relatively simple principles of deception that would be easier to recognize once we learn how classic con games work and how their methods might be applied to new frontiers such as digital currencies.
It's Human Nature
In the end, it all boils down to human nature.
While few of us have ventured into the deep woods with a long bow and a Bowie knife, we each possess a natural hunter-gatherer instinct that can supersede logic in times of stress or urgency.
This is the same internal driver that causes people to fight over toilet paper in Costco or break down the doors of Best Buy on Black Friday.
It's baked into our psyche and while mostly dormant, all it takes is a little nudge for that instinct to jump into the driver's seat.
A hustler never thinks in terms of why we respond to scams, they simply apply methods that have worked in the past, collecting our money as if by magic.
Case Study: The Real Hustle
Almost twenty years ago I began shooting the first season of "The Real Hustle", a BBC reality show where myself and two fellow "hustlers" would perform real con games on real people for real money, captured by hidden cameras.
The show would go on for eleven seasons and three specials as one of the most popular shows on the channel but from the very first day of filming, I realised there was a great deal to learn about how these scams actually worked.
Whereas my co-stars were an actor and model, I was originally brought onto the show as a producer since I had spent a lifetime studying con games and performing sleight of hand.
I had recently had a TV show in the USA where I beat casinos before revealing how I did and somehow ended up as one of three presenters on Real Hustle.
The result was a popular show that depended on real reactions rather than stooges or paid actors – not just for authentic "I just got scammed" moments – real human interaction was essential for con games to actually work.
And they really, really worked.
Pulling from my collection of notebooks, movies, and books going back hundreds of years we had an endless supply of deceptions to draw from. And, once we started filming…
I was quickly stunned at how easily people could be cheated so long as we (as con artists) stayed on track and let the story and the psychological work wonders.
One of the clearest examples of this was an old scam called "The Bouncer" which was so successful, we not only made a ton of cash, but our "victims" were perfectly happy with what they received in return!
The Scam
The scam works like this:
A truck (originally a horse and cart back in the day) pulls up to a crowded street or market with a clear road ready for a fast exit.
The back of the truck is opened and a Barker – someone who pitches to a large group – builds a crowd with promises of bargains thanks to some special situation or other.
The pitch begins with something cheap and easy to afford – let's say a pearl hair comb – which the barker asks everyone to buy on trust for a small amount with the promise they will be satisfied and they will be happy with their purchase.
A few go along with this and once everyone is holding their comb, the Barker asks everyone satisfied with their purchase to raise their hands and shout "I'm happy".
A few do so and the Barker orders his helpers to refund everyone AND let them keep their brand new shiny combs.
Another item is introduced – perhaps a manicure set in a leather-like case which the Barker offers more than the comb (of course) and once people have bought their sets, they are asked again to raise their hands and shout "I'm happy" if satisfied.
Everyone who complies is then given back their cash and allowed to keep their manicure sets!
A small cutlery set is sold the same way and then a glass vase and all the while the unspoken promise of much better items can be seen at the back of the truck, behind the Barker; for example, we had playstation boxes and flatscreen TVs taped to the back wall of our Luton truck!
With every sale, the crowd grows bigger and more people get in on the action, each filling a bag with increasingly expensive junk we actually bought for pennies!
More people means more money but if we refunded every sale, how could anyone make money on this kind of deal?
From the first item sold – the comb – we trained people to respond in a certain way, rewarding those responses with cash (their own money) all the while attracting more potential victims and locking them into the process.
After several rounds of refunds, a watch is introduced in a nice presentation box and offered for an amazing price that is actually several times what we paid from a junk warehouses frequented by pitch artists.
Without hesitation, the crowd practically throws their money at the Barker; his crew collects fistfuls of cash while passing dozens of watches to eager buyers.
But this time, when asked to raise their hands and shout "I'm happy!", the Barker responds, "Well, if you're happy, I'm happy!" Then snaps the back door of the truck shut and drives away at speed!
The crowd is left holding about ten dollars worth of "flash" – junk items that look good until examined – that they just paid a hundred dollars (or more) thanks to a well-laid trap.
The Results
As we drove away and the thrill of the scam wore off, I reflected on what just happened, amazed at how well the scam worked even though we just pulled it for the first time!
When we returned to give back the money we were in for an even bigger surprise:
No one was pissed off.
Everyone – EVERYONE – was happy with their bag of junk and didn't want to give it back!
It took me a few years to understand how powerful the underlying psychology of this process was and how it was being used by more sophisticated fraudsters like Bernie Madoff or SBF – and we will dig deeper into that another time.
This experience – of a con game actually working – inspired me to write my book "The Art of the Con" to understand con games from a human perspective and to illustrate how a ruse designed to get money on the street might be just as powerful when stealing money from million dollar investors.
Final Thoughts
The "Bouncer" scam illustrates how tiny rewards and repeated actions can sucker people into repeatedly handing over money until the rug is pulled from under them.
Sound familiar?
This type of scenario can absolutely be found when buying crypto, and in my next article, we are going to delve deeper into how human nature is manipulated by an old-school jam auction (a more sophisticated version of "The Bouncer") before applying those techniques (and the one just described) to the modern era to help us weed out good deals from bad intentions.