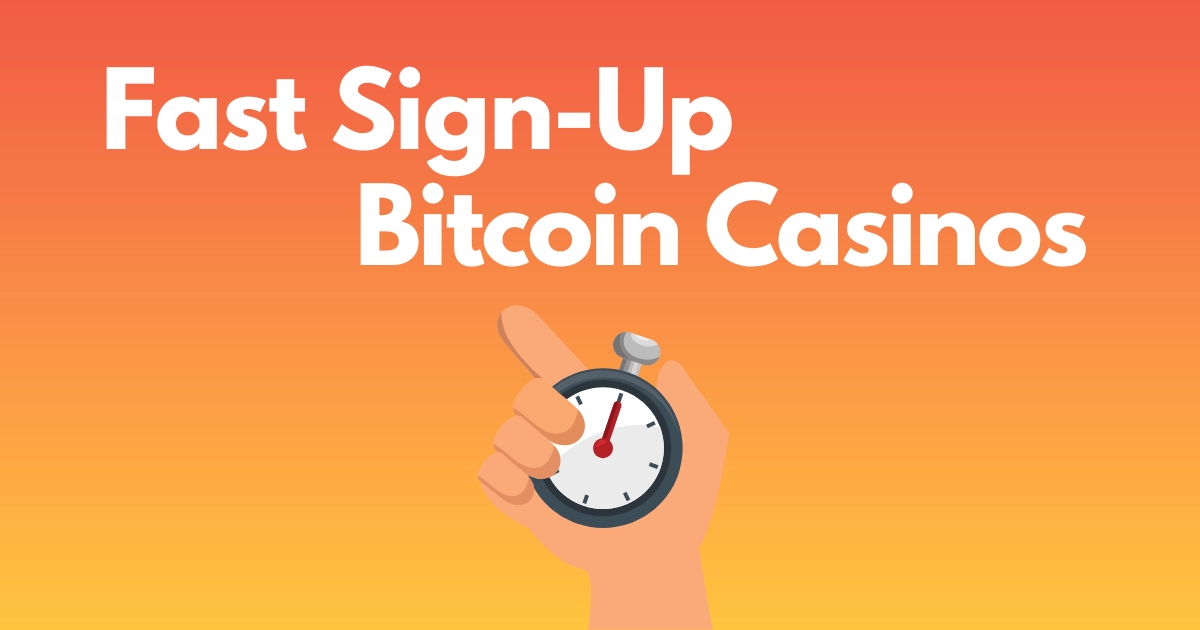 Fast Sign-Up Bitcoin Casinos: We Signed Up in 29 Seconds!
User experience plays a major role in consumer adoption and retention. Whenever we use a website, we expect it to be responsive and fast, easy to navigate, and feature a blend of inviting colors pleasing to the eye.
When it comes to websites we plan to register on, however, we also want a smooth and, more importantly, speedy registration process.
According to a report by TrueLayer, approximately 75% of customers will only spend a maximum of 10 minutes creating an account before they abandon the process.
The situation is even grimmer for iGaming operators considering around 58% of players give up creating an account after merely five minutes.
But don't worry—there are plenty of fast sign-up Bitcoin casinos out there where you can register in under five minutes and even with some time to spare. In fact, we went through some of our best-rated brands to discover the best Bitcoin casino sites with the fastest and to-the-point registration procedures.
Fastest Sign-Up BTC Casinos
To find the Barry Allens of the crypto casino registration processes, we simply put their sign-up times to the test.
First things first, we created brand new accounts at BC.Game, Rocketpot, and Stake.
Not only that, but we also recorded the entire registration process to show you just how quick and easy it is to sign up and play at some of our favorite casinos.
And, as a bonus, you can also use the videos as a registration guide!
Interestingly, we have discovered a few similarities between the fastest sign-up BTC casinos across the board, and some of the features Stake, BC.Game, and Rockepot have in common are:
An extremely quick registration process, evidently.
Multiple methods of registering for more accessibility and ease of registration.
No invasive KYC during the registration process.
Option to enter referral and promo codes during registration.
Let's take a closer look at the registration experience and average registration times for each of the casinos on our list.
BC.Game Sign-Up: 29 Seconds
BC.Game excels in virtually every regard, so it shouldn't come as a surprise the casino also found its place on our list of fast sign-up Bitcoin casinos.
In fact, in terms of speed, BC.Game is faster to register at than Stake and Rocketpot—it takes you only 29 seconds.
Don't believe us? Have a look for yourself:
As you can see, to start the registration process, you simply need to:
Click on the Sign-Up button.
Enter your email and a strong password.
Accept terms and conditions.
Confirm that you are at least 18 years old.
Some users reported having to complete a quick CAPTCHA test to verify they are human – but we didn't experience this during our test.
BC.Game doesn't require you to verify your email address, so you can deposit funds to your account and start playing right off the bat.
But did you know you can register even faster at BC.Game?
In a previous test, we found that the fastest way to sign up to BC.Game is via a Google account. It will take around five mouse clicks before you are all set, provided you already have an existing address (and that you want to use it for gambling purposes).
A pop-up will appear asking you which Google account you want to use and, once you make a selection, all you have to do is simply confirm that you want to authorize BC.Game to access your Google account information.
In addition to creating a new account and using Google's address, you can log in to BC.Game directly via Telegram, WhatsApp, and a Metamask gambling account. Furthermore, you can scan the QR code with a WalletConnect-compatible wallet.
Of course, if you don't want to use your phone, you can log in via desktop with crypto wallets like Zerion, Ledger, Fireblock, Infinity Wallet, Sequence, and many others—there's a total of 29 wallets at your disposal.
Ready to get the ball rolling?
Rocketpot Sign-Up: 46 Seconds
A casino that stayed true to its speedy name, Rocketpot is certainly one of the fastest sign-up BTC casinos out there.
The registration takes around 46 seconds, and all you have to do is provide:
Valid email address
Username
Password
Date of birth
Check out the process:
Once you enter all the required information, simply agree to the casino's terms of service, and that's it!
Just like BC.Game, Rocketpot doesn't require you to verify your email, which shaves a full minute or two from the registration process.
As soon as you finish creating your account, a new window will pop up, allowing you to immediately make a deposit and stock up your account for a gaming session. In addition to a new account, you can log in to Rocketpot with your Google account, which is even faster than the standard login, as long as you have an existing Google email.
Fancy signing up fast at Rocketpot? Get started here:
Stake Sign-Up: 1 Minute
Stake Casino has an extremely straightforward registration process, and it will take you around 1 minute to complete. However, this time may increase if you decide to read through the mandatory Terms and Conditions agreement.
In this test, we skimmed over the first few lines, since we're already familiar with Stake's policies.
As you can see, as soon you click the registration button, you will be prompted to enter a valid email address, a username, and a password. While Stake doesn't have any invasive KYC procedures, the casino does require you to enter your date of birth during the registration process.
Once you fill in the required fields, you will have to either read through or scroll past the terms and conditions before you are able to finalize the registration process.
Even though it is not necessary, we recommend that you at least skim through the terms and conditions.
Afterward, simply click the button to accept T&C and you're basically good to go.
Keep in mind that, in order to gain full access to Stake, you will have to verify your email address. Don't worry—it took us around a minute to receive the confirmation email, so it won't take long before you're ready to play.
Another thing to note is that you may have to complete a CAPTCHA in order to verify that you're human by selecting the requested object from a set of images—one of our testers had to select all the raccoons in a previous run!
Stake also allows you to log in with a Facebook, Google, Line, and Twitch account.
If you happen to have any of those, and you don't mind using them for registering at a casino, the registration process will take you even less time as you will only have to authorize Stake to access the account you want to use.
In addition to its speedy registration process, Stake also gains bonus points for transparency. Namely, if you are registering from a region where Stake isn't available due to licensing, you will receive a message that Stake is unable to serve players from your region.
While it won't speed up your sign-up process, this seemingly insignificant quality-of-life feature can save you a ton of trouble down the line. Some less transparent casinos will allow you to create an account and even make deposits, only to inform you that you're playing from a restricted country upon withdrawal.
And yes, in case you were wondering, this is legal grounds to refuse a payout.
With that in mind, we ought to commend Stake for discouraging users to register from a restricted country even at the cost of lost revenue.
Casino Sign-Up Study
According to a recent study conducted by TrueLayer, a frictionless sign-up experience is essential for iGaming operators. Unfortunately, unlike the fast sign-up crypto casinos on our list, most online casinos' onboarding process is significantly slowed down by tight regulation.
Casino Licenses and User Experience
Tight compliance means some casino operators require significantly more information from users. Heavily regulated casinos, especially those licensed by the UK Gambling Commission, have quite a few policies to prevent issues like money laundering and underage gambling, all of which result in much stricter KYC requirements.
Albeit good for trustworthiness and reputation, the overwhelming amount of required information may slow down the registration process and impact casinos' adoption rates.
In fact, did you know that around 39% of iGaming customers in the UK have given up making an account, mainly because of the tedious registration process?
The Main Issue with Tight Regulation
In general, manual data entry is one of the main reasons why about 25% of iGaming players have abandoned the account creation process.
Based on TrueLayer's findings, iGaming players are willing to spend around five minutes creating an account before they give up and exit the site.
To make matters worse…
Some operators require an ID, proof of residence, and even utility bills to confirm your address before you're allowed to register.
And if that wasn't enough, some casinos may even ask for a photo alongside your ID in order to confirm your identity.
On the other hand, fast sign-up BTC casinos require minimal information during the registration process and have solved the slow onboarding problem by simply conducting KYC checks down the line (when you attempt to withdraw).
In most cases, all you need is a valid email address, a username, and a password before you are eligible to make a deposit and enjoy your favorite casino game—talk about a speedy service, eh?
Adhering to Regulation
If we can leave you with one piece of advice:
When first registering at a new casino, you should answer all the sign-up questions truthfully and provide accurate information.
While most players find KYC procedures to be tedious and time-consuming, it's not hard to understand why they're necessary.
Licensed casinos may be obligated to confirm the identity of their players at one point or another, and providing false information may result in the casino denying your withdrawal request down the line.
Even though most crypto casinos are licensed and regulated by Curaçao, which has less stringent requirements compared to the UKGC, you'll likely still have to verify your identity eventually, so make sure you can prove the information you provided during the registration process.
In case you're keen on avoiding KYC checks and if privacy is your top priority, anonymous casinos are your go-to option—you won't have to disclose personal information and are more than likely to have a hassle-free experience when it comes to payouts.
Virtually every reputable crypto casino is licensed, which means they are legally allowed to operate only in countries and jurisdictions where their license is valid.
RE: VPNs
Tempted to spoof your location? We wouldn't recommend it.
Even though most crypto casinos allow the use of VPNs, and some even encourage you to for security reasons, using a VPN to spoof your location and register at a casino from a country that's on the casino's restricted list will most likely get your account locked. What's worse, the casino will probably withhold your funds.
Final Thoughts
A quick and smooth registration process is one of the most important aspects of a good user experience.
While tightly regulated casinos are obligated to require a lot of personal information during the registration process, crypto casinos are much more lenient in that regard and will only run KYC checks once you're all settled in.
BC.Game, Rocketpot, and Stake are widely regarded as the fastest sign-up BTC casinos, and it will take you mere seconds or minutes to register at each one of them.
But you don't have to take our word for it—you're always a few clicks away from making an account and experiencing the swift sign-up process yourself.