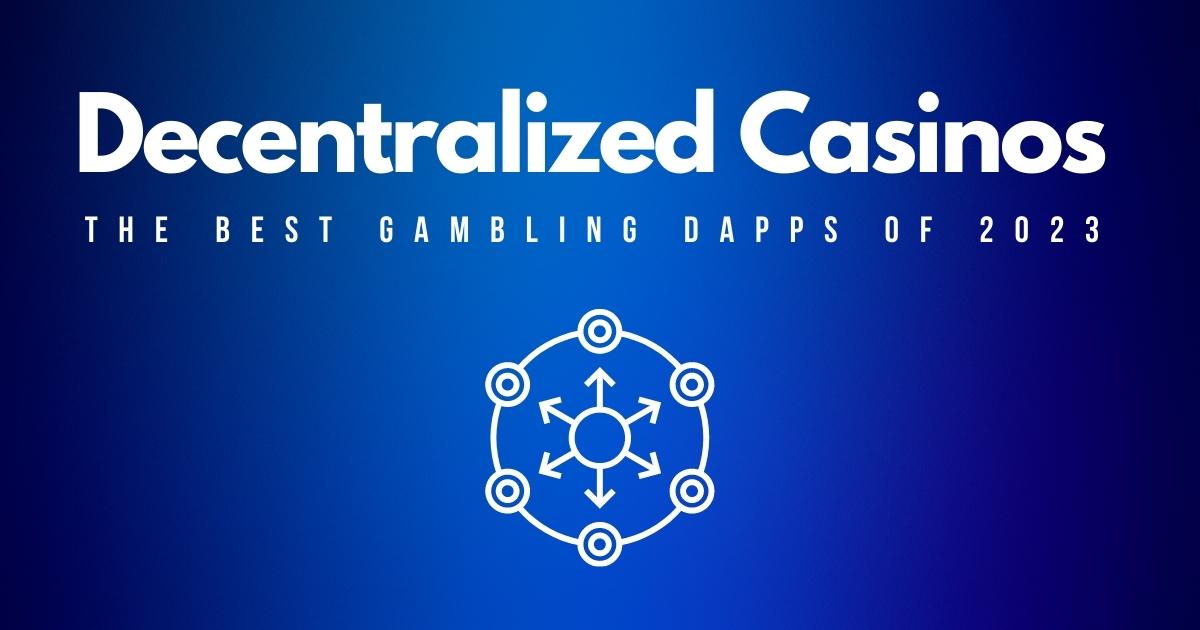 Decentralized Casinos — The Best Gambling Dapps in 2023
Gambling with crypto is one thing, but did you know that casino games are now offered through decentralized applications, or Dapps, for short? Since decentralized casinos rely exclusively on the blockchain, they are the epitome of blockchain gambling — in its truest form.
Decentralized Casinos?
In order to be considered fully decentralized, Dapps must be open-source and fully independent from third-party controls.
Moreover, transparency is key: decentralized casinos invariably keep their records public.
In this guide, we're going to take you through:
What makes Dapps tick
The best decentralized casinos in 2023
Everything you need to know about decentralized gambling
Ready? Let's go.
Best Decentralized Crypto Casinos in 2023
Before we get into the nitty gritty details of decentralized gambling sites, let's have a sneak peek of the best casinos in this genre:
What is a Decentralized Application?
Before talking about decentralized applications, we should clarify the meaning of both terms on their own.
You should already have an idea of what an application is: a form of software or program designed for end-users.
Decentralized, however, might be a new concept. It refers to one of three computation systems commonly used in applications nowadays:
Centralized
Distributed
Decentralized
It may sound a bit complicated, but it's actually quite simple.
Think of software as a network of units, or nodes, connecting all its users. Centralized, distributed, and decentralized refer to how those nodes are connected and send signals to each other.
Centralized Systems
Traditional, centralized systems have a single primary node, which is connected to all users. In other words, in this situation, the center communicates with all remaining nodes.
Centralized systems are certainly easier to control. However, they are more error-prone and hack-friendly. For instance, imagine a situation where the main server-client node is hacked and taken down. All connected systems will, consequently, go down with it.
Applications like Facebook, Instagram, and Amazon run on a centralized model – which explains why they've been subject to system failings in the past.
Distributed Systems
Distributed software was first developed as a tentative solution for the shortcomings of centralized systems. In a distributed system, computation is spread across multiple nodes instead of just one. Consequently, information and software are equally distributed.
However, these systems are inherently flawed and even contradictory. Why? Because if a single node in a distributed system is corrupted, so is the entire network.
The good news is, these problems can be avoided. Cue…
Decentralized Systems
Decentralized systems have no core server. Instead, there are multiple centers, which are connected to various nodes in many ways.
In such a complex system, breaking the network is intrinsically complicated.
In fact, since the remaining nodes keep working if a single one is compromised, infiltrating the whole system at once is impossible.
Decentralized applications come with another advantage: because they work on a decentralized system between all parties, the need for a middle-man is removed. This is achieved with smart contracts, a clever transaction protocol that circumvents third parties.
Smart contracts can be a tricky concept to grasp, but in a simplified way, they are system-automating processes, which only take place when certain conditions within the blockchain are met.
To understand how they work, we can compare the blockchain to a ledger — a book holding all the information about all events within a peer-to-peer network. Once necessary conditions are met within this world of information, the smart contract is activated and can seamlessly carry out processes like payments within a decentralized casino.
Everyone connected to the network can access the complete ledger and validate it. Since there is full transparency, no third party is required.
Smart contracts ensure that:
All transactions (including money transactions) are fast, secure, and conflict-free.
Bitcoin has been the main player in blockchain since its inception. But what if you could build entire applications on the blockchain? This is precisely what Ethereum's founder thought, and then they made it happen.
Today, the Ethereum network is the largest smart contract provider, powering enormous projects like OpenSea, Uniswap, and Coinbase. Despite that, Bitcoin has its own claim to fame:
Bitcoin – The World's First Decentralized App
It's fair to say that Bitcoin was the first decentralized application.
Instead of more traditional programming, the world's first cryptocurrency was designed to be used as money, but it still works within a decentralized-distributed system:
Its timestamped public ledger is distributed across all the nodes of the Bitcoin network. If one node fails, the whole remains intact.
Transactions are not controlled by any central party. Everything runs according to the blockchain's own consensus protocol (in this case, Proof-of-Work).
While Bitcoin as a currency is a great example of blockchain technology's potential, it's just the tip of the iceberg when it comes to how it can be applied to online gambling, hence the overwhelming number of Bitcoin casinos operating in 2023.
Gambling Dapps Explained
Hopefully, by now, you already understand what a decentralized application is. But what about gambling Dapps? What exactly are they?
First, let's clarify something:
Cryptocurrency casinos aren't always decentralized casinos.
While crypto casinos let you pay and play with cryptocurrencies, they don't necessarily go beyond that. True gambling Dapps use a decentralized network and smart contracts in all core aspects of their business:
Payments (yes, these too) are powered by blockchain technology, often using Ethereum-based cryptos, although others may be available.
The randomness of their games is ensured via a process called provable fairness.
Armed with the full power of blockchain technology, Dapps can, therefore, bring various benefits to online gambling:
They are low cost. Smart contract casinos eliminate the need for operators and intermediates, which reduces operational costs. This allows gambling Dapps to offer lower house edges than traditional casinos, which, in turn, allows them to pay out more handsomely. Some casino Dapps even pay back a share of their earnings to active players.

Direct deposits and withdrawals are possible. At gambling Dapps, payments can be made directly wallet-to-wallet. In a way, the entire concept of casino deposits and withdrawals is pointless at such Dapps: you're not dependent on payment providers, nor will the casino withhold your winnings. You win, you get the money: it's that simple. No more waiting for lengthy payment processing times.

There is zero room for cheating. When playing at Dapps with provably fair games, you would immediately notice if the code was tampered with. This way, fraud is impossible, both from the casino's and the player's side.

There is more anonymity. Many Dapps don't even require you to create an account to play since there is no need to hold your deposits or winnings — you play directly from your wallet.
With the application of blockchain technology, Dapps have solved most of the largest issues with online gambling. It's like a casino player's dream come true.
Best Gambling Dapps: Unpacked
If you've come this far, you're probably looking forward to giving gambling Dapps a chance.
However, you might come across a situation that can seem almost paradoxical: although there are thousands of gambling Dapps, only a few have a large enough player base to become viable options.
Finding the best gambling Dapp can, indeed, be challenging. Luckily, you've come to the right place.
We've searched for and reviewed all the best Dapps and came to a short list of three high-performing casinos, which you've already seen. Now, it's time to unpack each one of them:
Earnbet: Best for Blackjack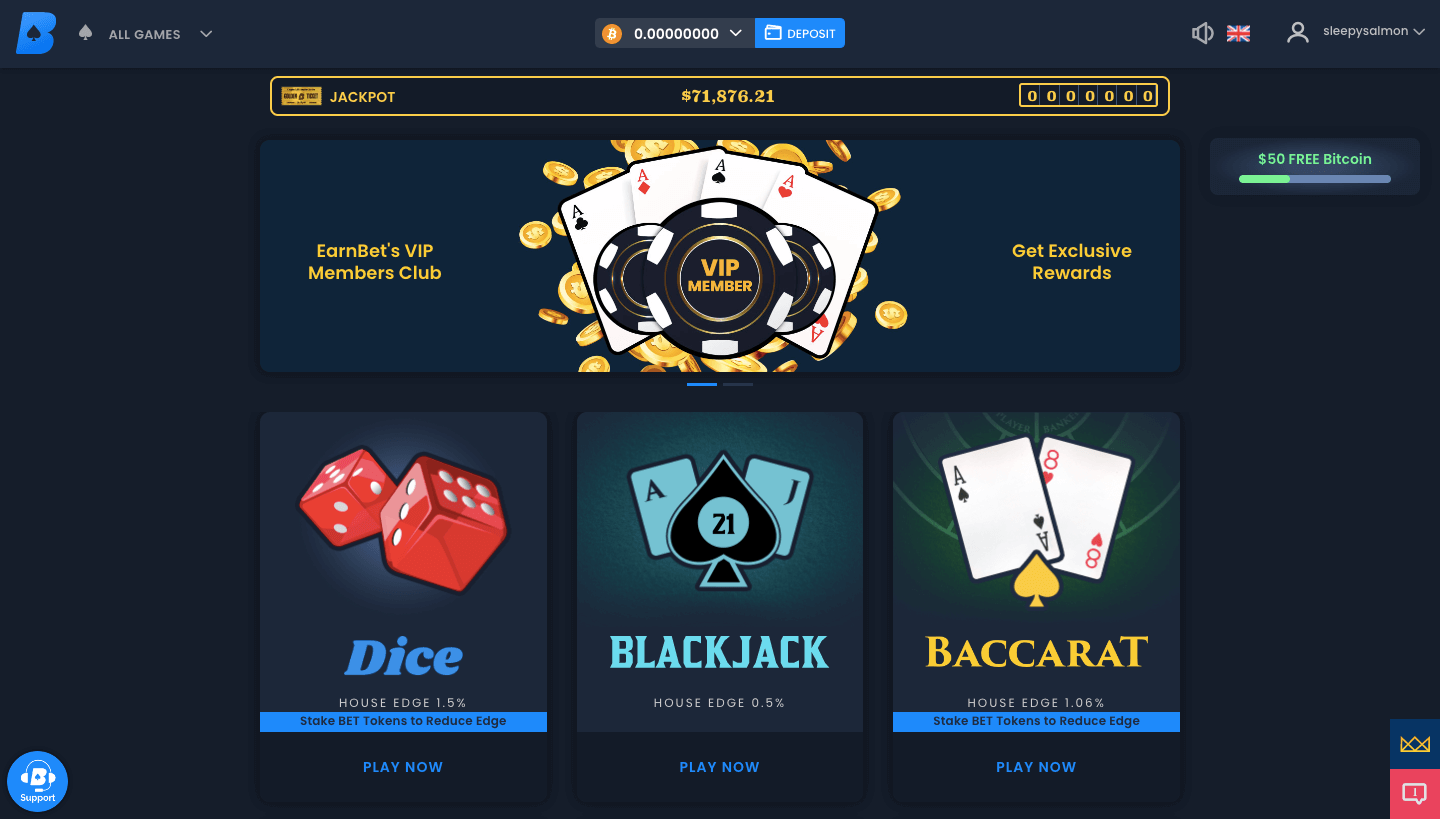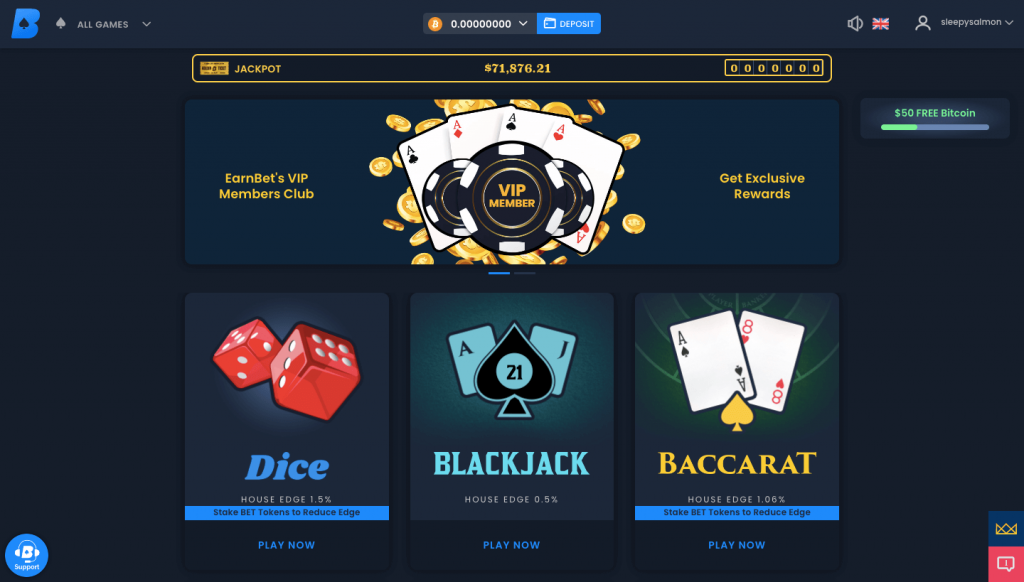 Fast Facts
Founded in: 2019
License: Curaçao
Best for: Blackjack
Pros & Cons
Licensed, unlike many Dapps
Intuitive design and easy to navigate
Very low house edge for all games
Original games, all of which are provably fair
BTC welcome bonus, though modest
❌ Restricted in various countries
❌ No slots games available
Findings
After thoroughly testing this decentralized casino, we're happy to report that it's one of the best gambling Dapps around — enjoying a fantastic reputation in the industry.
It's also one of the few Dapps that offer a welcome bonus. In this case, a $50 sign-up reward (paid out in BTC) when you deposit a minimum of $100. Like most welcome deals, there are strings attached, but our detailed casino review covers everything you need to know about this Earnbet bonus.
Earnbet also stands out for its pleasing design and easy navigation. Many players complain that Dapps lack the aesthetic appeal of more traditional crypto casinos, but this is simply not the case with Earnbet.
The best part of Earnbet, however, is its original and provably fair blackjack game, with a ridiculously low house edge of 0.5%!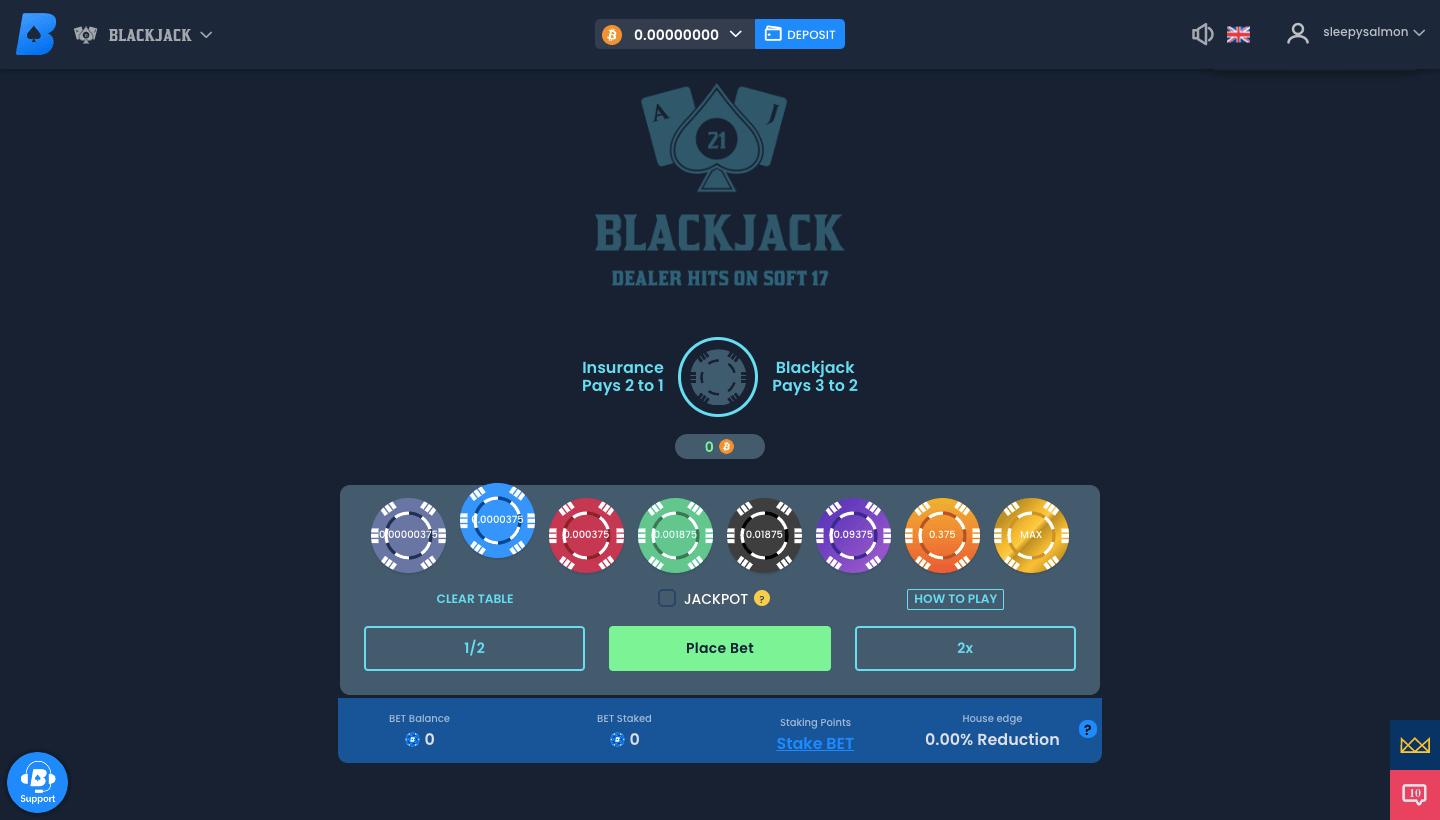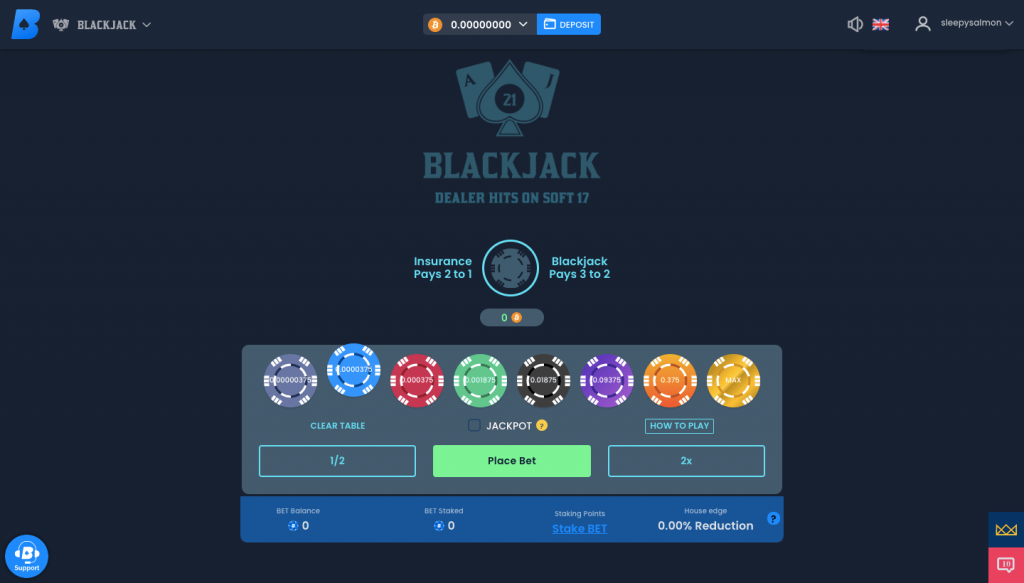 This means you have a 95% chance of making a profit in the long run. But blackjack isn't the only game you can enjoy at this casino. You can play crash, baccarat, dice, and enter the lottery. Unfortunately, you won't find any slot games here.
If you're like us, you're chomping at the bit to try out more of what Earnbet has to offer. You can sign up here:
BetFury: Best for Bonuses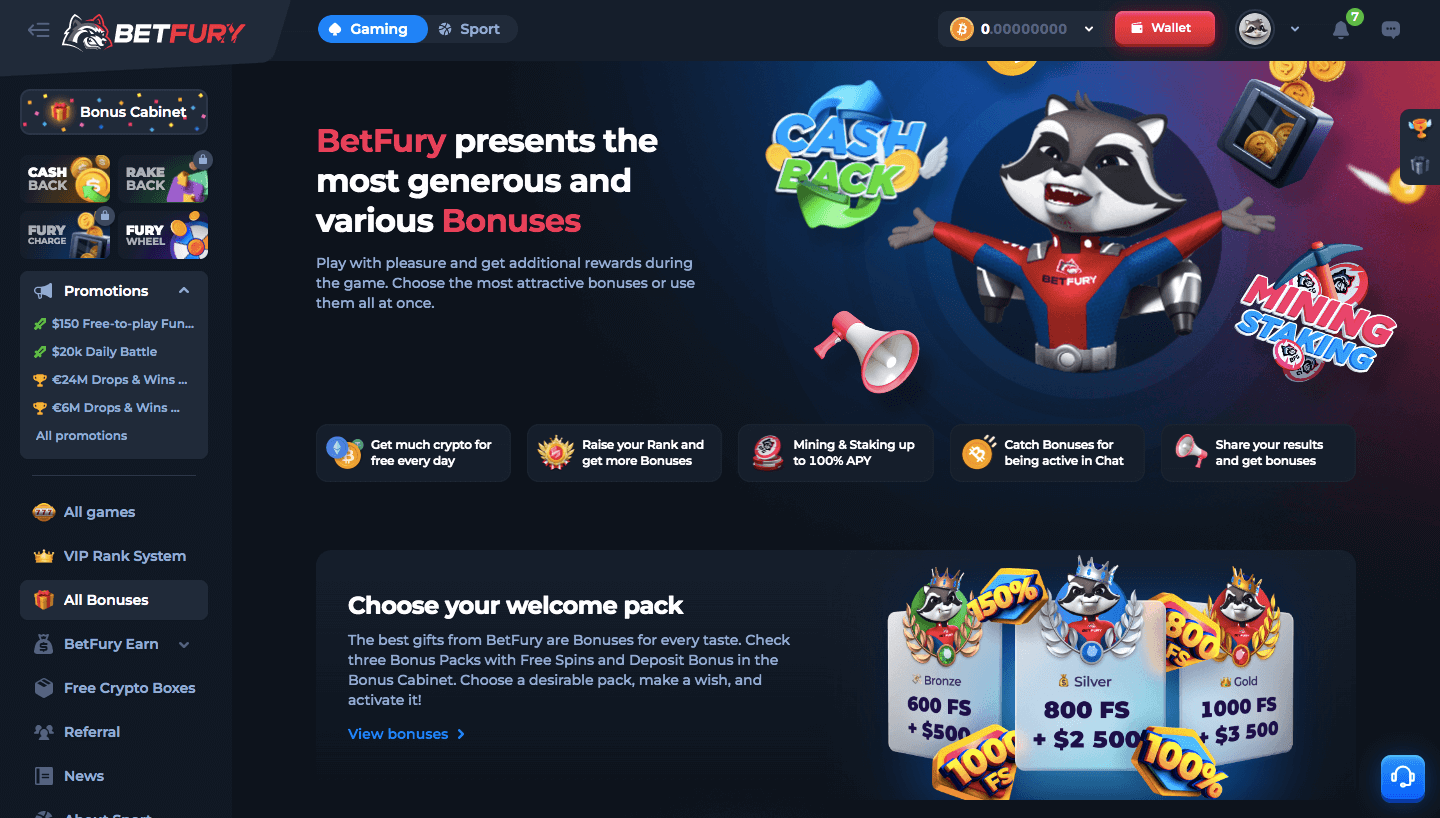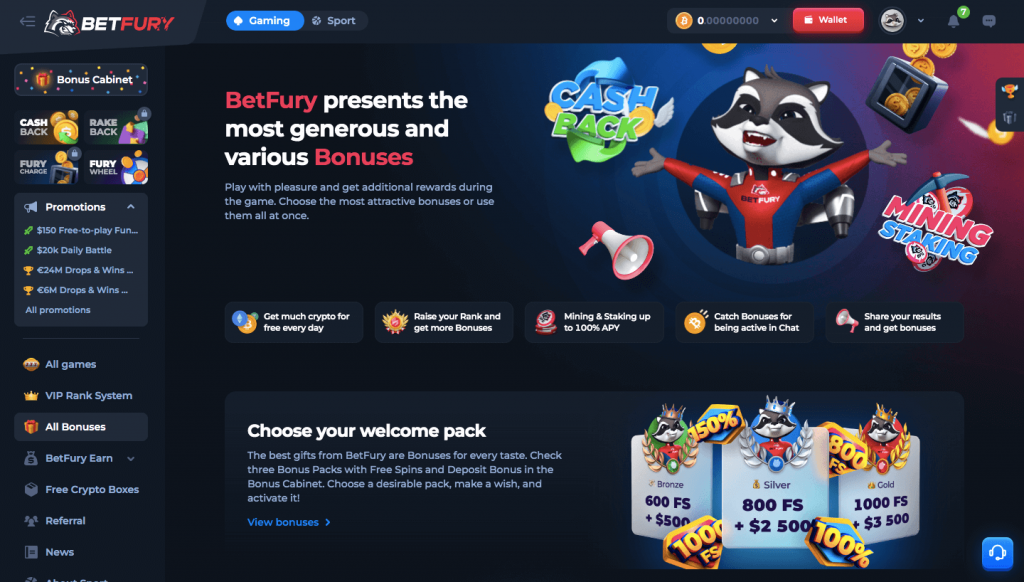 Fast Facts
Founded in: 2019
License: Curaçao
Best for: Bonuses
Pros & Cons
Free faucet that leaks BTC
5,000+ games to choose from
Plenty welcome bonus packages available
Sportbook with competitive odds
Competitive VIP program
❌ Restricted in many regions
❌ Pop-up notifications can be distracting
Findings
With so much to offer, we couldn't help but spend hours testing this diverse casino Dapp. Our favorite aspect about BetFury? Its massive bonus selection. When we say selection, we mean it quite literally:
You can choose between 3 vastly different welcome packages. To keep things short and sweet, we'll talk about the Bronze tier package, which is the most accessible and budget-friendly deal. Here's how it looks: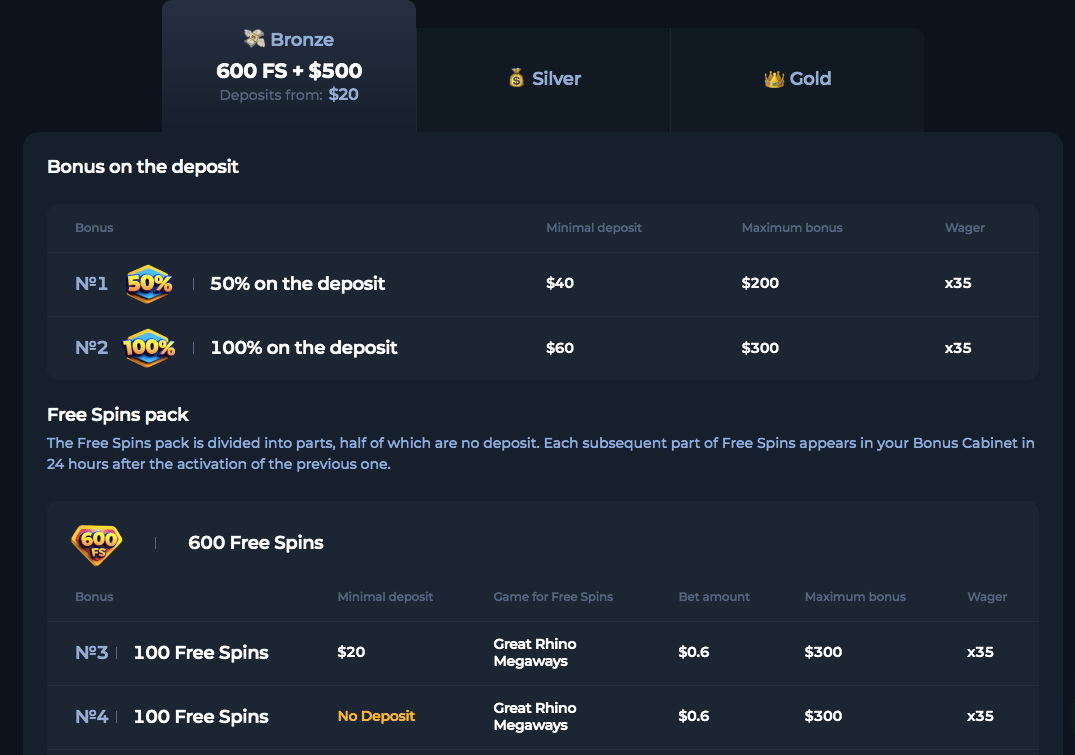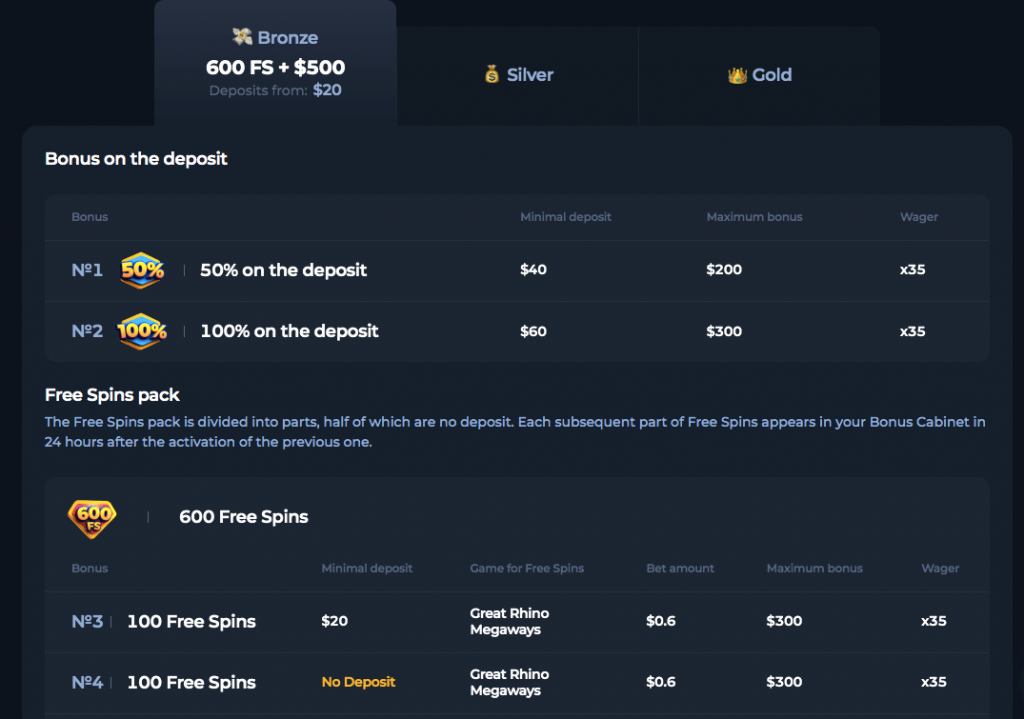 And this is just the tip of the iceberg where bonuses are concerned. There are a host of other BetFury promotions up for grabs, including cashbacks, faucets, tournaments, and more. Truth be told, it's quite rare to see a decentralized casino offer such a wide range of promos, but we're not complaining!
On the matter of complaints, however, we do have two. Firstly, the casino's Curaçao license makes the site unavailable in numerous regions. Second, we were assaulted with various pop-ups about promotions and deals whilst exploring the site.
Back onto the good stuff, BetFury doesn't cut corners when it comes to games. The site has over 5,000 different games, most of which are slots provided by a host of big-name providers. As for in-house titles, BetFury has 17 original, provably fair games. It even has its own verifiably fair slots game.
Last but not least, this versatile site even has a fully-fledged sportsbook!
Can't wait to start playing at this Dapp? You can start right here:
Moonbet: Top Sports Betting Dapp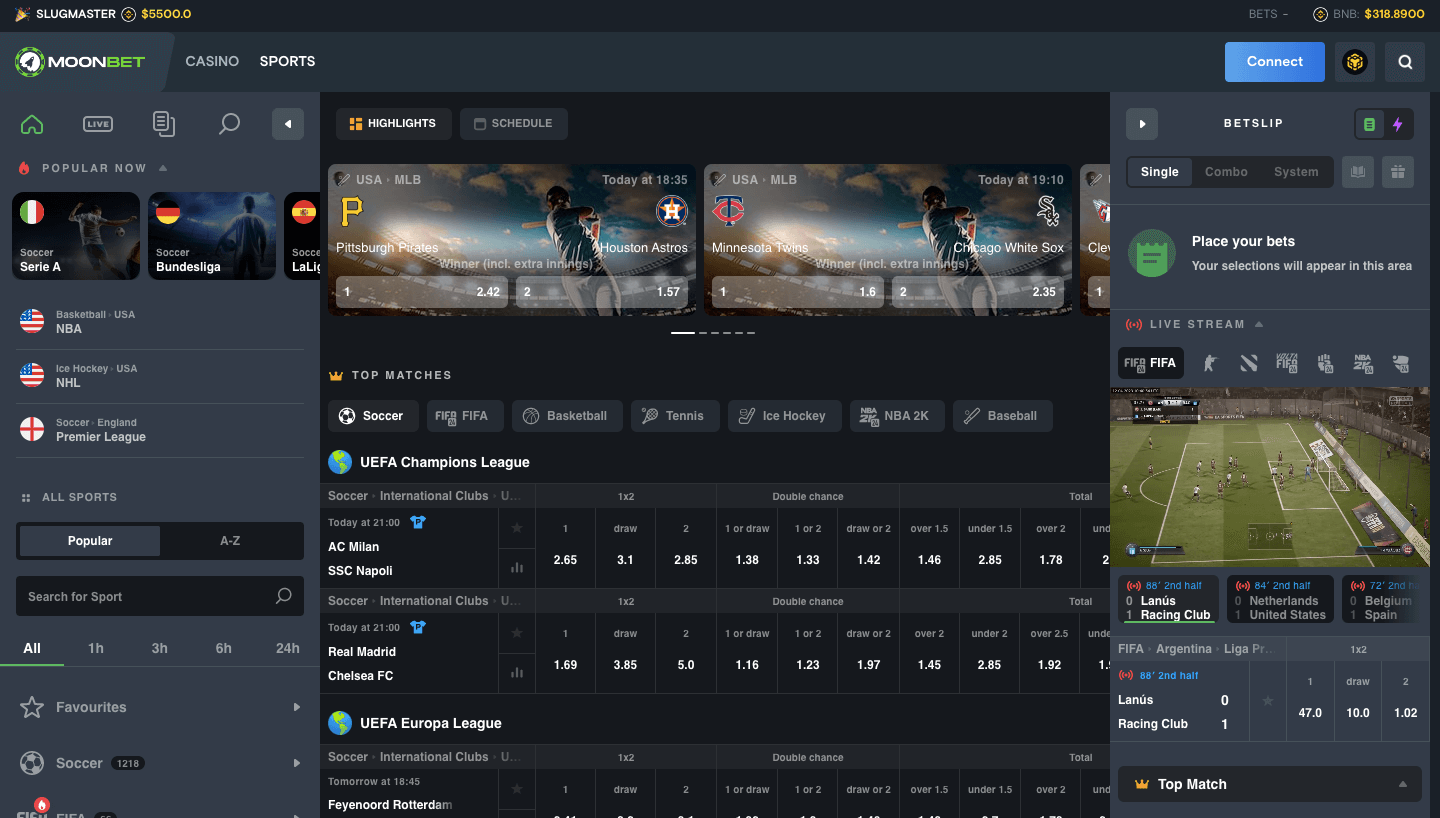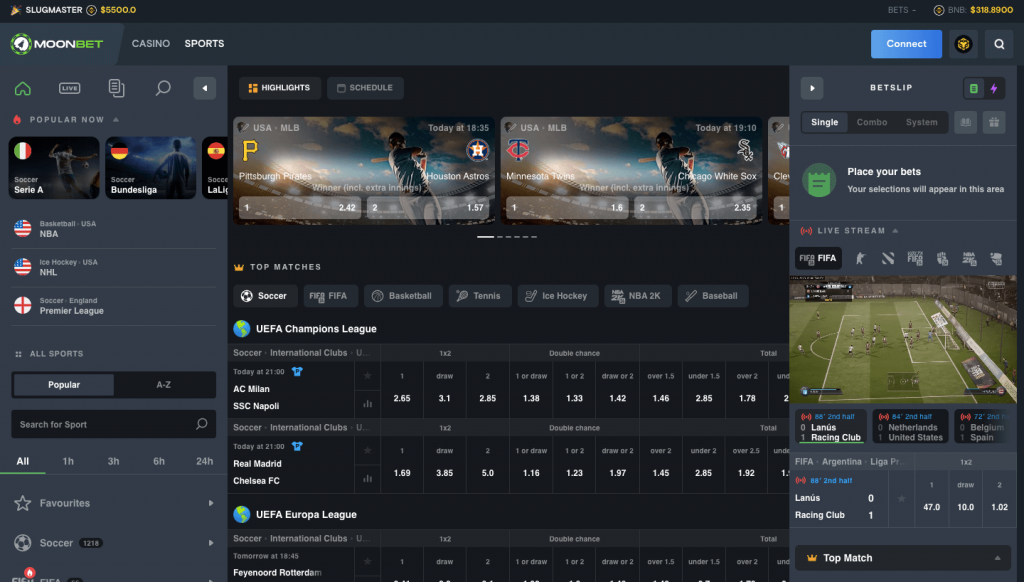 Fast Facts
Founded in: 2021
License: Curaçao
Best for: Sports betting
Pros & Cons
40+ sports categories to bet on
2,200+ games, covering various categories
Community-owned — you can buy shares
❌ No welcome bonus available
❌ Complex terms and conditions for promotions
❌ Only 3 in-house games to play
Findings
Pretty soon into our Moonbet test, we figured out that the Dapp's specialty is sports betting. This is excellent news for players who enjoy crypto sports betting. More on that in a minute, but let's focus on casino for the time being.
Moonbet has a great selection of games, but we were disappointed with the small selection of in-house, provably fair games. Another aspect we weren't too crazy about is the bonus's terms and conditions. There's one main Moonbet bonus, and you'll only receive 20% of the deal at the get-go. Our detailed Moonbet review explains what happens to the rest.
Moving on to greener pastures, Moonbet's sportsbook is hard to rival. With over 40 categories to bet on, you'll have no trouble finding your favorite sports to bet on, with a variety of different bets to choose from.
We placed a few different bets at this sports betting Dapp and were pleased with the intuitive user interface and fast loading speeds. However, we did need to reach out to customer services at one point, and they took a while to respond to us.
In any case, our overall experience was positive. Positive enough to consider this Dapp one of the best in the game. Oh, and let's not forget the fact that you can actually buy shares in this innovative platform by purchasing its unique crypto token, MBET. This is a great example of the transparent and open-sourced nature we love to see from decentralized casinos.
Ready to sign up at Moonbet and start betting?
How Dapps Can Help Shape The Future Of Online Gambling
Dapps might not yet be mainstream, but they're already making waves across the online gambling world:
However, we can't predict the future. Blockchain technology is a volatile medium, and interest in anything crypto-related ebbs and flows with the value fluctuations of Bitcoin, for which it is infamous.
Furthermore, the general public seems to be wary of Dapps. The fact remains that they are still, unquestionably, niche.But the potential for decentralized casinos to take over the online gambling world is certainly there. It does help that more and more Dapps are getting licensed, something that wasn't commonplace until now.
All in all, the future of gambling Dapps seems promising. We are at the very dawn of this innovative industry, and it couldn't be a better time to explore all its advantages.
Frequently Asked Questions
What is a decentralized casino?
Decentralized casinos or Dapps (short for Decentralized Application) run entirely within a blockchain. These casinos use smart-contracts and open-source programming to increase their transparency. What's more, game outcomes are publicly verifiable, meaning that the casino doesn't have to rely on third-parties to double-check game fairness. Overall, Dapps are more straightforward and inherently more anonymous than traditional online casinos. In some cases, you don't even have to make a deposit or create an account before you start playing. You simply have to connect your wallet to the gambling Dapp through a browser extension, and you're ready to go.
What are the best gambling Dapps in 2023?
Extensive testing revealed that Earnbet, BetFury, and Moonbet are the best gambling Dapps in the game.