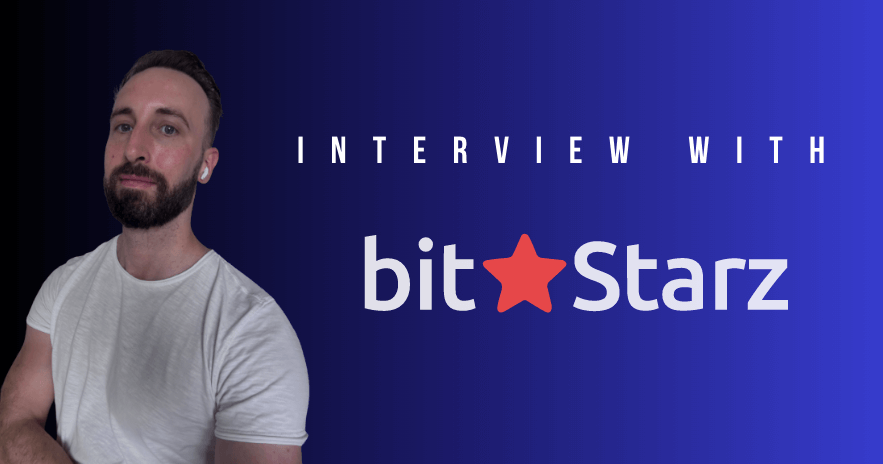 Interview with BitStarz
The crypto casino industry is constantly changing. With regular crackdowns and ever-evolving regulations, staying up to date with news and trends is paramount. To make sure we don't get left in the dust, we regularly check in with some of the top-rated casinos.
The Future of Crypto Gambling
Last week, we spoke to BitStarz Casino's marketing manager, Olle Dickson, to see what the brand has to say about the future of crypto gambling amidst the tides of change.
What inspired you to start a crypto casino, and how did you get into the industry?
A: I wish I could take credit for starting BitStarz, but then we probably wouldn't have this conversation and I'd be sipping Long Island Iced Tea on the Seychelles. But here we are!
I don't think my story is very different from many others. After all, nobody grew up wanting to work in a casino or get a Ph.D. in Gambling. When I was younger I placed the occasional bet on La Liga at Bet365, and found out one day they were looking for Customer Support staff.
That was the beginning of my journey in the industry, which led me through Betclic, William Hill, LeoVegas, and now finally BitStarz.
How do you manage risks associated with the volatility of cryptocurrency prices, and what steps do you take to mitigate those risks?
A: Very valid question. We have to remember that being able to manage risk, exposure, and volatility is something currency exchanges have to deal with all the time. This goes for both crypto and fiat, although the crypto guys probably have to be more on the ball.
We're obviously not an exchange, but the same principle applies to us in terms of handling volatility.
How do you balance the need to comply with regulatory requirements while still providing a seamless and user-friendly experience for your players?
A: To be fair, the regulatory requirements haven't really prevented us from doing anything we'd like to do (to my knowledge). But there are such huge differences depending on the license you have and the geos that you operate in. I think if we were a UK crypto casino, I'd phrase this rather differently.
I'm also not sure if it's a matter of balance – as you have no choice but to comply with the regulations as a licensed operator. It's merely a matter of understanding the legal framework and exploring what's doable within those constraints if you will. It may seem limiting in a way, but it forces you to be creative with the tools you have.
Can you reveal any plans you have for expanding your casino's offerings or entering new markets in the future?
In all fairness, we're not that into localizing for specific markets, as weird as that may seem. I think that in the past, fiat casinos were obsessed with the idea of localization and doing their best to adapt to certain markets. Although that is important to a certain extent, it's not as important as it once was.
We've seen huge globalization in recent years, where crypto is playing a huge role, and we're trying to cater to a certain demographic that isn't tied to a specific geo.
How do you think the emergence of new cryptocurrencies and blockchain technology will affect the industry in the coming years? Do you see any particular trends or changes emerging?
A: I think it might not just be so much about a certain new cryptocurrency, but then again you never know. The big boom would rather take the form of more people starting to utilize the cryptocurrencies that already exist, and we're far from reaching the full potential and widespread adoption.
As much as it is important to be ahead of the curve, there's also a tendency to get a bit too excited and eager. To give an example, I think there's still so much untapped potential in using blockchain technology within iGaming, but people are already jumping on to the next thing. My proof of this is that you rarely hear people talking about the Blockchain anymore, that was the buzzword a few years back, before everyone switched to talking about NFTs. 
When it comes to changes and trends, what is certain is that more casinos will start to accept crypto, and the ones that already accept crypto will accept more of them.
How do you think traditional gambling will adapt to the growth of crypto gambling? Do you think they will try to compete with crypto casinos, or will they find ways to work together?
A: In all honesty, I think they will have a really hard time. However, this isn't due to them not having really talented people with great minds, because all the giants in the industry have some of the smartest people out there.
I think the main issue is that very traditional and more specifically publicly listed and heavily licensed casinos feel the constraint of the regulators. Their strategy has always been to grow in licensed and regulated markets, which gives stability and pleases shareholders. The other side of that token is that it limits innovation.
For me, these two branches of casino exist in different worlds. Just adding crypto to your traditional fiat casino won't make you a crypto casino, and starting a separate brand under your umbrella won't work either.
The trend since the beginning is that regulators become more strict and not less, which can hinder innovation. I'm not saying regulation is a bad thing, but there has to be some balance between control and space for creativity.
What are your thoughts regarding KYC requirements becoming more prevalent in the crypto casino landscape?
A: That's a really good question. I think there's been a bit of a misconception about crypto and KYC, which probably stems from a time when people thought that Bitcoin was synonymous with criminal activity. Remember that? Hard to think that was the case when you look at it today.
There are some crypto users who use it for perhaps an ideological reason, such as libertarians. That said, with crypto starting to become more mainstream, it's not just going to be used by people trying to be pseudo-anonymous, but rather the average person seeing the benefits of crypto.
Many of the players who use crypto are not foreign to the KYC process when they come to us, because they already had to do a KYC at the exchange they used to buy their coins in the first place. So, my prediction is that as crypto will grow, the group that is reluctant to adopt KYCs will slowly become a minority.