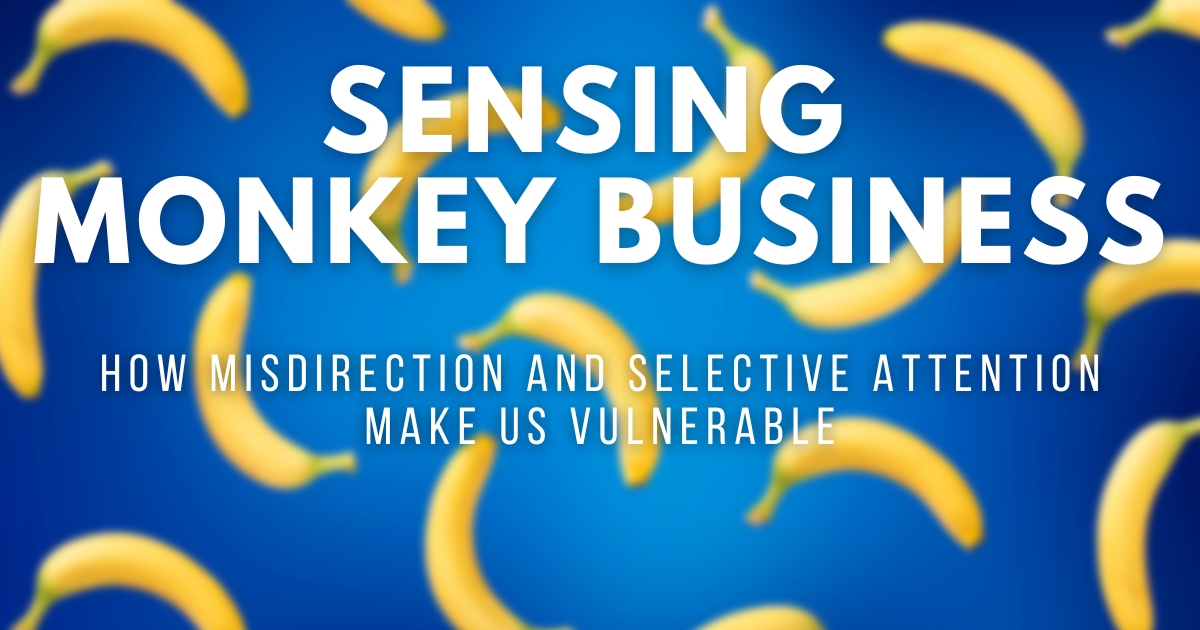 Sensing Monkey Business: Misdirection and Selective Attention
Understanding how we can be manipulated into making important – often costly – decisions is one of the most powerful defenses against scammers.
Most victims of con games cannot rationalize how they came to pull the trigger on something that proved ultimately to be false. So one has to wonder:
What kind of magic causes people to jump off a financial cliff while somehow making them forget how they got there or what pushed them over the edge.
Recognizing the danger of deception is an essential part of the risk/reward ratio for all investors (or gamblers) but while many of us understand that fraud is a constant threat, it's surprising how often people fall into well-crafted traps and fail to realize they're being conned until it's too late.
The Art of Misdirection
A key reason for this is misdirection, a term often applied to magic but the word itself is a misnomer.
Many magicians fail to understand that "misdirection" is not about "look over there" (to hide something) but is in fact much more powerful as "look over here" towards whatever seems most important.
Meanwhile, something else – often the secret method – happens outside of the audience's perception.
"Misdirection" should therefore be called "direction" and actually makes an audience believe something is impossible so long as they feel they watched the most important elements of a performance closely.
In a con game, something similar to a magic trick is happening when potential victims are constantly directed towards a desired outcome – what the victim wants – while the actual deception – what the con artist wants – is performed in the shadows.
The human brain is extremely good at focusing on what we see, feel or think. And in the world of popular psychology, there are some interesting experiments that illustrate how we might be deceived while concentrating on something else.
The experimental video below is a test of selective awareness and the effect on our understanding can be quite spectacular; it illustrates just how limited our attention can be.
It's a short video but the results of showing this to people from all walks of life were staggering!
❗ If you haven't watched the video linked above (or are unable to do so) be warned that spoilers are ahead and this is your last chance to test yourself.❗
Video: The Effect of Selective Attention
The video shows two small groups of people playing in a hallway passing a ball between each other. Each group wears a different colored shirt and people watching the video are asked to count how many passes were made between players wearing one of the two colors.
Almost everyone can accurately count how many passes they see on the video – which is not edited in any way – the camera is locked down and does not move to aid the researchers' objective.
On first viewing, it's just a video of people passing a ball and that's exactly what people report seeing; what they miss entirely is the guy wearing a gorilla suit who walks calmly into the scene from one side, makes a monkey-like gesture from the middle of the group as the ball is passed around him, then continues off the screen!
The gorilla does not run, does not duck, or hide in any way and when people see the exact same video without being directed to count passes, they should be astounded and often assume it must be a different video!
As a result of this, researchers wisely allowed people to watch in pairs so someone who just missed the guy in a monkey suit could watch for a second time while someone else counted passes and also failed to see the gorilla!
If you've never experienced this, you may doubt that it works so try this – find someone to show the video – preferably on a laptop or large tablet (smaller screens allow the human eyes to consume the entire scene rather than be misdirected) then ask them to watch as you observe their experience.
If they have truly never seen this experiment then about 90% of people will miss the gorilla and you will see for yourself the effect of selective attention in action!
Real-Life Applications
So what does this teach us about cons and scams? Loosely, the players passing balls are what con artists allow us to focus on while the gorilla is what the con artist is actually trying to achieve.
In pursuits such as crypto where there are multiple layers of complexity, thousands of options, constant new 'opportunities' and changing outcomes, it might be easy to be distracted by details without widening one's focus to see what's really going on.
As the old aphorism states, sometimes "we can't see the wood for the trees" and it's essential to check ourselves and assess whether we are concentrating on something that may be designed to distract us.
Our goal here is to set aside ego and recognize our inescapable built-in flaws, which are designed by evolution to protect us but might also be used to take advantage of how we think and process information.
While hunting for wise investments or opportunities, try to remain aware of your own internal focusing mechanism; learn to step back occasionally and assess what you're being told or shown, and consider the possibility you might be counting passes while a gorilla waits in the wings.
One More Thing:
You should also look out for another interesting response to this video: the fake count.
With so many views and having been featured on so many TV shows, documentaries, and YouTube channels, there's a good chance someone is familiar with this experiment but will watch it as if for the first time, purely to pretend they were not fooled!
This is a remarkable phenomenon I've experienced with audience members, fellow magicians, and victims of con games who claim they were always aware of some form of deception and use the benefit of hindsight to reshape their experience.
Anyone who collects puzzles will be equally familiar with people who will feign seeing a puzzle for the first time in order to pretend to solve it and if you suspect this is going on, DO NOT challenge or argue or dig deeper, just observe the phenomenon.
In another article, we will examine this psychology more closely and see how it is yet another weapon in the fraudster's arsenal.