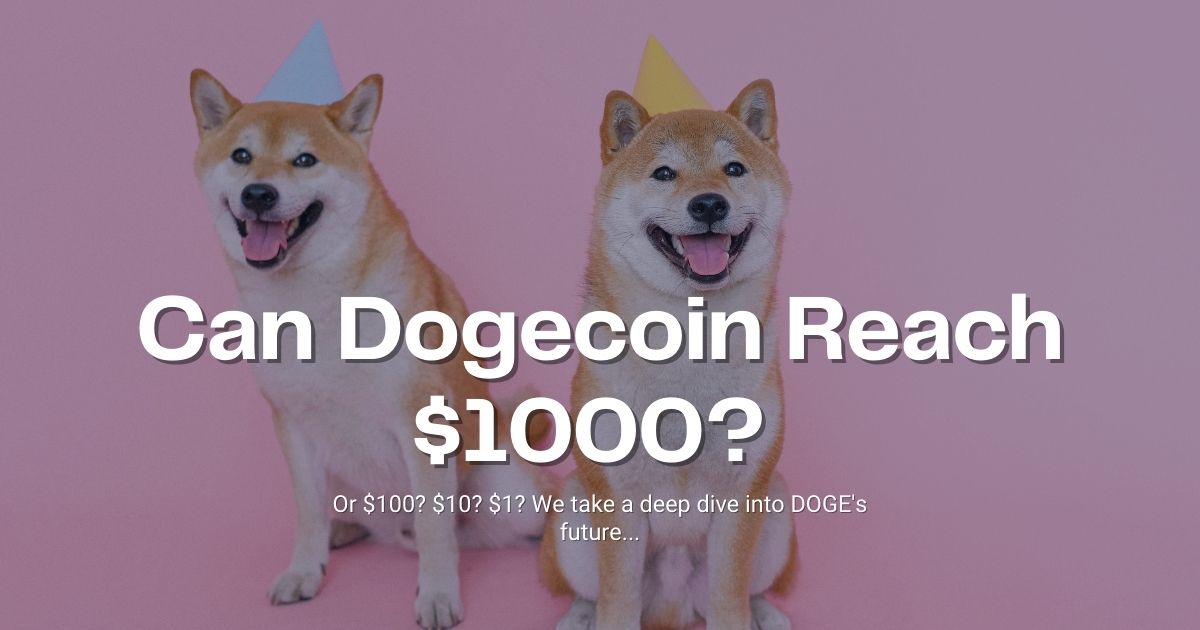 Can Dogecoin Reach $1000? $100? $1? We Took an In-Depth Look…
Dogecoin, the crypto that started as a joke, has gained significant traction over the years, surprising the community with its popularity and meteoric rise. At the time of writing, Dogecoin's market cap stands at over $10 billion, making it one of the top 10 cryptocurrencies in the world by market capitalization. As crypto enthusiasts (and gambling aficionados), we've also seen a huge surge in Dogecoin casinos – in 2023 virtually all self-respecting crypto gambling sites have the coin.
With all the buzz surrounding Dogecoin, many are now wondering: Can Dogecoin reach $1000? While this may seem like an outlandish question, it is not entirely unfounded, considering the incredible growth and potential of cryptocurrencies.
In this article, we will explore the various factors that could influence Dogecoin's price and attempt to provide some insight into whether the meme-inspired cryptocurrency could one day hit the $1000 mark.
Some of the things we'll talk about include:
The lack of a fixed supply
The impact of social media on Dogecoin's price
The role of celebrity endorsements
The effects of wider crypto adoption on Dogecoin
Wondering about the best DOGE casinos? Here they are:
Before diving into the nitty-gritty of DOGE, it's worth noting that Dogecoin has already had a remarkable journey since its creation. In 2013, Jackson Palmer and Billy Markus created Dogecoin as a parody of the booming crypto market, featuring the Shiba Inu dog as its mascot. Initially, the cryptocurrency was not taken seriously, and it remained relatively obscure for years.
However, the tides turned for Dogecoin in early 2021 when it caught the attention of Elon Musk, the CEO of Tesla and SpaceX, who began tweeting about it frequently. His tweets, coupled with a broader surge in interest in cryptocurrencies, helped propel Dogecoin's price to unprecedented heights. On May 8, 2021, the coin reached its all-time high of $0.69, marking a 12,000% increase from its price at the beginning of the year.
But can Dogecoin continue its upward trajectory and eventually hit the $1000 mark? Let's take a closer look at the factors that could influence its price.
Dogecoin Lacks a Fixed Supply
Starting on a somewhat negative note, there is a particularity about DOGE's design that makes it hard for the coin to truly grow.
One of the reasons why Dogecoin might not reach $1 (and much less $1000) in 2023 is that it lacks a fixed supply. Unlike Bitcoin, which has a hard cap of 21 million coins, Dogecoin doesn't have a supply limit.
This means that new coins can be mined indefinitely, which makes it an inflationary cryptocurrency. While this encourages people to spend it, not hoard it, it could also mean that Dogecoin never manages to reach $1 as it is inflationary in nature and might not hold value in the long run.
But, don't let this discourage you. While DOGE might not be the best coin to guarantee your retirement, it can still grow significantly over a shorter period of time.
DOGE *Really* Depends on Memes & Social Media
Dogecoin has managed to garner a huge following thanks to its playful and meme-worthy persona. It's difficult to avoid images of the Shiba Inu dog, which has become synonymous with the coin. From memes on social media to celebrities endorsing the currency, Dogecoin has made itself known and loved by the Internet at large – not just crypto whizzes.
However, this is also one of its biggest weaknesses. The market's dependence on social media trends and sentiments is a double-edged sword. A significant amount of Dogecoin's popularity is based on internet trends, which can be unpredictable and fade away quickly. Plus, memes tend to be driven by emotion and irrational exuberance, rather than logical and sustainable economic value. As a result, the price of Dogecoin may be subject to frequent fluctuations and volatility.
When DOGE's price depends on buzz, rather than underlying technology or potential usefulness of the coin… well, you can see how that can backfire.
It's worth noting that, despite its reliance on memes and social media, Dogecoin has still managed to achieve a solid following, and its community is growing rapidly. We're also seeing a genuine desire to create value through usefulness from the people in the DOGE project. So, it's not all popularity and no substance.
Even so, DOGE is still mostly internet trends, and much less substantial factors mean that its price is more susceptible to sudden and dramatic changes. So, our prediction is if DOGE were ever to reach $1000, it would be riding the wave of social media hype and the success might not be long-lasting. 
The Musk Factor
Elon Musk's influence over Dogecoin's price cannot be overstated. The billionaire CEO of SpaceX and Tesla has been a vocal proponent of the cryptocurrency for a while now, and his tweets have had a significant impact on its price. For example, in February 2021, a series of tweets from Musk led to a massive surge in Dogecoin's price. On one occasion, he tweeted a picture of a Dogecoin on the moon, followed by the message "Literally". The tweet quickly went viral, and the value of Dogecoin skyrocketed.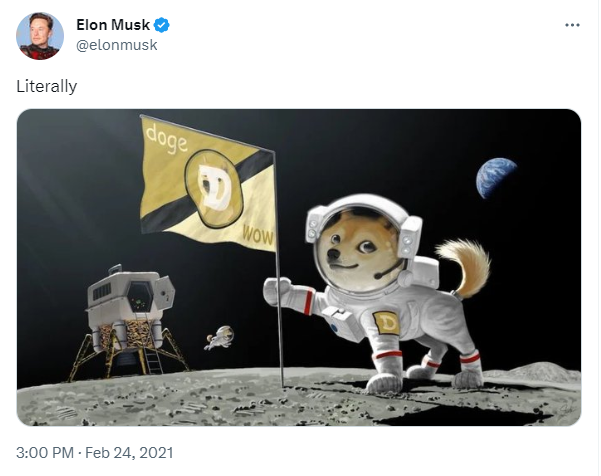 Musk's support of Dogecoin has also led to an increase in adoption and mainstream recognition. For instance, Tesla announced that it would accept Dogecoin as payment for its cars, further cementing its position in the cryptocurrency market. Musk has also discussed the possibility of using Dogecoin to fund the development of a new lunar currency and even to finance a mission to Mars. All of this has helped to create a sense of legitimacy around Dogecoin, and it has become a viable investment option for many.
But, much like with social media, if Musk's attention cools (or his opinion shifts), DOGE is in for a hard time. To this day, we're not even sure if he's serious about it. When asked about why he likes Dogecoin so much, he just tweeted "I love dogs & memes." Could he be trolling us all? Or, do the Tesla and SpaceX DOGE moves prove he actually means it? It's a gamble either way.
Despite the risks, it's clear that Elon Musk has been instrumental in bringing Dogecoin to the forefront of the crypto world. His vocal support of the cryptocurrency has led to increased adoption, higher value, and greater legitimacy. With Musk leading the way, it's possible that Dogecoin could get close to the $1000 mark in the near future.
What About Adoption?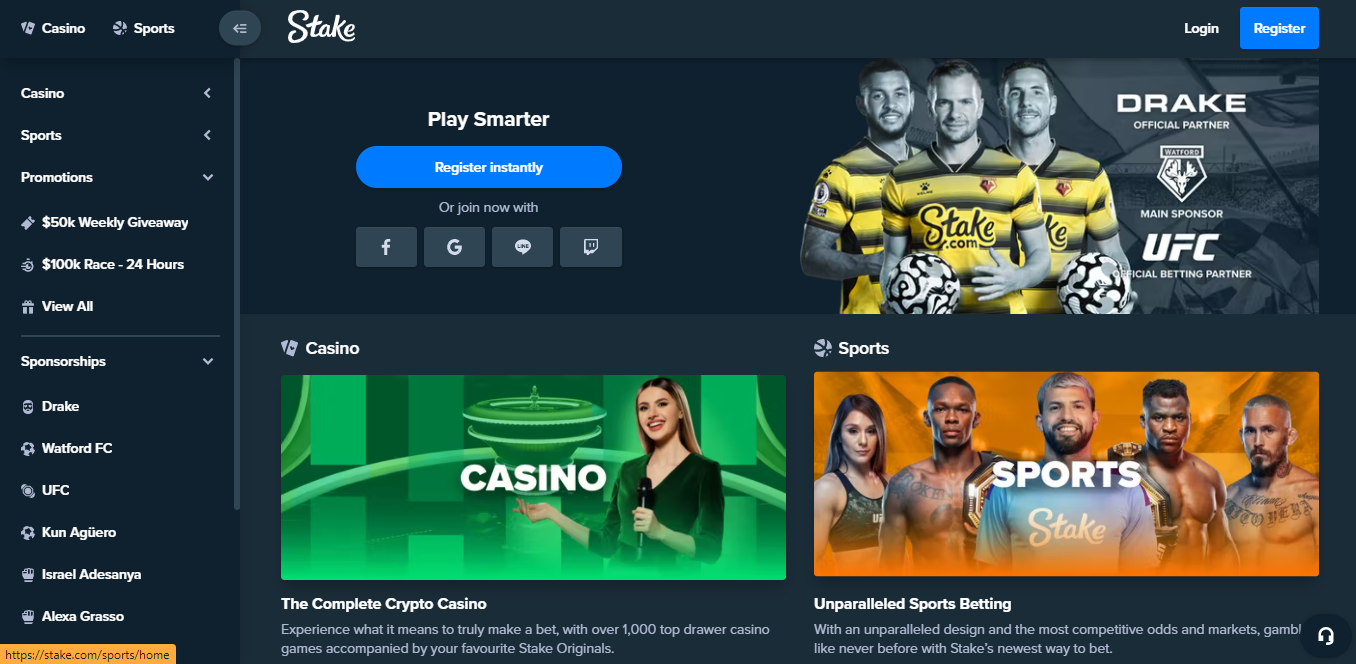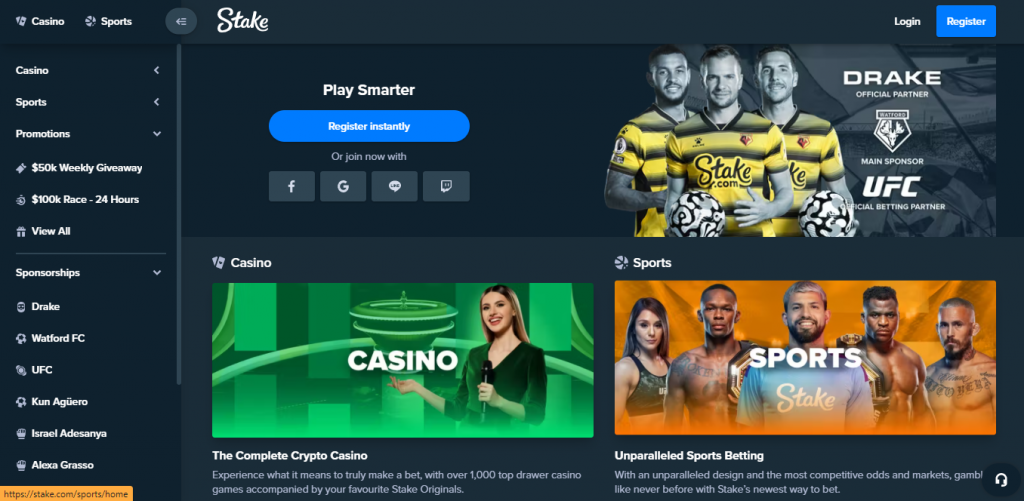 Ultimately, crypto is supposed to be a currency, not just a place to accumulate wealth. So, is DOGE actually useful, or are people HODLing in the hopes of it rising? We actually have some good news here:
Dogecoin's adoption is growing and this really shows in some niches – particularly, the niche we're passionate about at Casinos Blockchain. Several online casinos and betting sites now accept Dogecoin as a payment method, and some have even made it their primary currency.
One advantage of choosing Dogecoin for gambling is that it is fast and cheap to use. Transactions are processed quickly and fees are low, which makes it a convenient option for people who want to place bets or play games without waiting for long periods or paying high fees.
In addition to gambling, Dogecoin is also breaking into the payment processing world with some retailers and service providers. And, there are two main reasons why we're just seeing the beginning of widespread DOGE adoption:
Factor one: community. The Dogecoin community is known for being friendly and supportive and has a strong social media presence. This could help to attract new users and create a network effect that drives adoption.
Factor two: the technology itself and specifically the inflationary nature of Dogecoin. Unlike Bitcoin, which has a limited supply, Dogecoin does not have a fixed supply. This means that new coins are constantly being added to the supply, which can make it more accessible to new users and encourage spending rather than hoarding.
And, since Dogecoin's adoption is still in its early stages, DOGE still has a long way to go – and grow. There are signs that it is gaining traction in certain niches like online gambling. Its quick and affordable transactions, friendly community, and inflationary nature could all help to drive further adoption in the future.
Conclusion
So, will DOGE manage to hit $1000 this year? All in all, it's still pretty unlikely. But, even if it gets to $1, that could mean huge gains for Dogecoin investors.
Ultimately, the lack of a fixed supply, dependence on memes and social media, and the role of celebrity endorsements are some factors that could influence Dogecoin's price and its ability to reach $1000.
While Dogecoin has already experienced a remarkable journey and is now one of the top 10 cryptocurrencies in the world by market capitalization, its reliance on social media trends and sentiments is a double-edged sword, making it more susceptible to sudden and dramatic changes. Therefore, if DOGE ever reaches $1000, it would likely be riding the wave of social media hype and the success may not be long-lasting.
Nonetheless, the Dogecoin community is growing, and there is a genuine desire to create value through usefulness, so its future remains unpredictable.