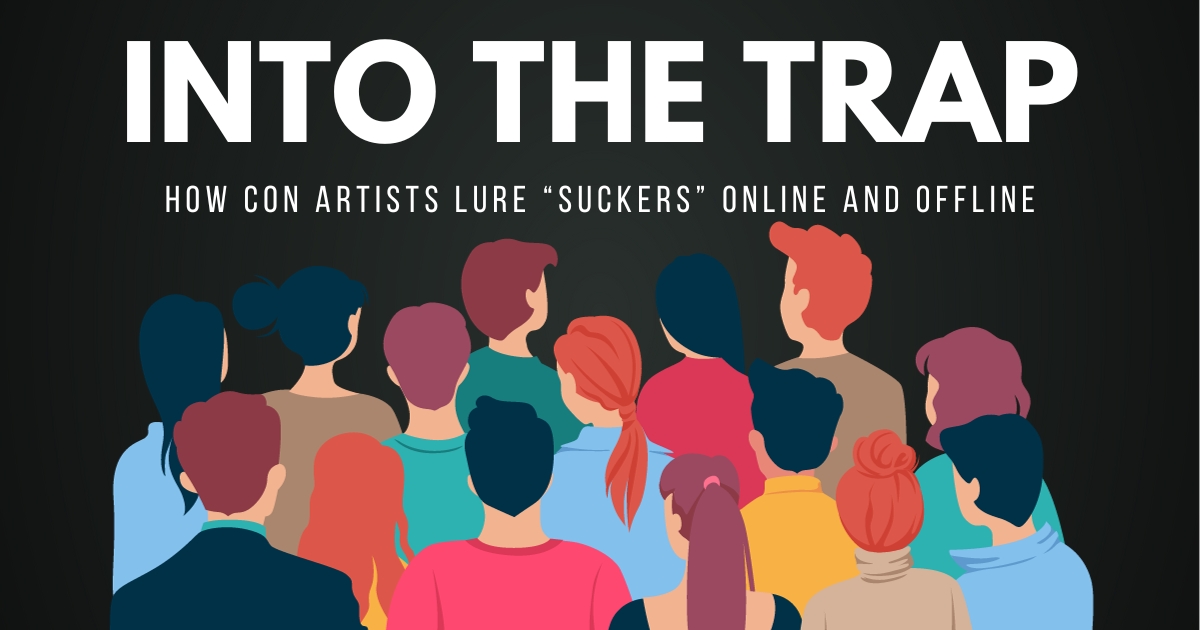 Into the Trap: How Con Artists Lure Victims
Con artists have an impressive arsenal of weapons designed to manipulate us into decisions we shouldn't take (and wouldn't under normal circumstances).
We've discussed how we can increase personal defenses by being more aware of attempts to approach us, however:
Even the most suspicious of people can be charmed or cheated and once a scammer is in our ear, competitive instinct can supersede logic.
To understand how this happens, let's step away from the world of gambling and investing to the simple act of high street shopping, where an old carney scam has been repurposed into a pop-up store, apparently filled with bargains…
Big Store Scams
In the high streets of many cities, "big store" scams take advantage of innocent shoppers.
In London's Oxford Street, one of the busiest shopping streets and tourist destinations in the world, empty shops are rented by hustlers for a short term in order to play one of the oldest cons in the book.
The jam auction is a powerful psychological con game long-proven to separate innocent people from their money but the core principle that causes people to get conned is at the heart of many more sophisticated (and expensive) con games.
How They Work
In essence, a large group of people are crammed into a small space with the promise of incredible bargains.
In the course of an hour (or more), those people will be mercilessly teased and manipulated by missed opportunities such as Playstations, flat-screen TVs, smartphones, and watches, all sold for tiny amounts to anyone lucky enough to raise their hands first.
Except it's not just "anyone".
Plot Twist:
None of those purchases are real.
Anyone who successfully buys anything is a "shill", part of the scammer's crew, and in on the deal.
Those same phones and TVs and game systems being "sold" will be sold again for the next group of suckers; the goal of this intense, frustrating charade is to make people eager to buy and to short-circuit their initial sense of caution.
This takes time and while one amazing bargain after another is being snapped up by bogus buyers, the auctioneer feeds the crowd a story they ultimately accept as true: That it is possible to buy expensive merchandise for a fraction of the normal amount and all one has to do is raise one's hand before everyone else.
As a con game, this has proven to be incredibly effective and even people who suspect a scam have found themselves holding a piece of worthless junk they just purchased for hundreds of pounds!
The jam auction illustrates a similar situation many investors are forced into before committing to a trade that later proves to be a scam.
But, we will dig deeper into how and why that works later. For now, we have to ask the question:
How do people get pulled into a fake store in the first place?
Attracting Suckers
Jam auctions are tightly controlled spaces where the doors are closed and people are physically pushed together to compete for prizes.
To attract "suckers" into this trap, scammers use three methods.
Occasionally they will send scammers out to act as successful "customers" with large boxes or bags filled with amazing bargains to capture the interest of potential victims. This approach is particular to more contained situations like a convention county fair or mall but even on a busy weekend in a major city, some boxes (like a PS5) will attract attention and a simple conversation or comment might send them looking for similar bargains.
Leaflets might be handed out and anyone taking more than a passing interest might be approached and targeted with whatever story the scammers are telling to explain the bargains they claim to sell.
But the most common technique is a simple numbers game where scammers try to stop passersby and show them a list of items for sale with crazy prices. Many keep walking or recognize the signs of a scam but a small percentage stop long enough to hear the first part of the story: A company gone out of business, a promotional event; anything feasible to keep people focused on the bait.
Of those who stop, a percentage will be curious enough to enter the sale room and will soon find themselves crowded together with other people, many of whom will be shills.
From there:
It's an almost irresistible roller-coaster ride to an inevitable destination but clearly, their first mistake was to engage with hustlers in the first place.
Let's pause to consider how these methods of attracting suckers compare to techniques used online. Is there a direct comparison for each of these techniques?
Of course there is!
Common Online Traps
People claiming on forums or social media that they've made profits with some scheme or other are a similar tactic to sending people into a crowded fairground holding giant soft toys they apparently won at a game that's actually impossible to beat!
Slick websites making bogus claims is a more advanced version of papering a crowded street with leaflets and has the advantage of drawing people deeper into a web of lies as it feeds more information while requiring more information from potential investors.
Stop-and-talk scams (whether to get people into a basement or tell them a bullshit story) are much like phishing scams where millions of emails are sent in the hope that even a tiny percentage of responses will bring in a fresh batch of suckers.
Papering a crowded high street with non-existent bargains will attract a worthwhile percentage of potential suckers and the same is true with spam emails: Once someone replies or stops to talk, scammers know they want a bargain (or a good investment) and can dedicate more time to dangling the appropriate bait.
Final Thoughts
With a jam auction on a high street, stopping to talk or ask questions is the same as discussing financial matters with strangers on the internet, and going into the basement of a store to "just have a look" is the same as following that stranger to a website:
Once you venture deeper into their trap, the chance of being scammed increases exponentially.
In my next article, we will dive deeper into the psychology of manipulating people into snap decisions and we will create our own modern, online con game using the same principles as the jam auction.