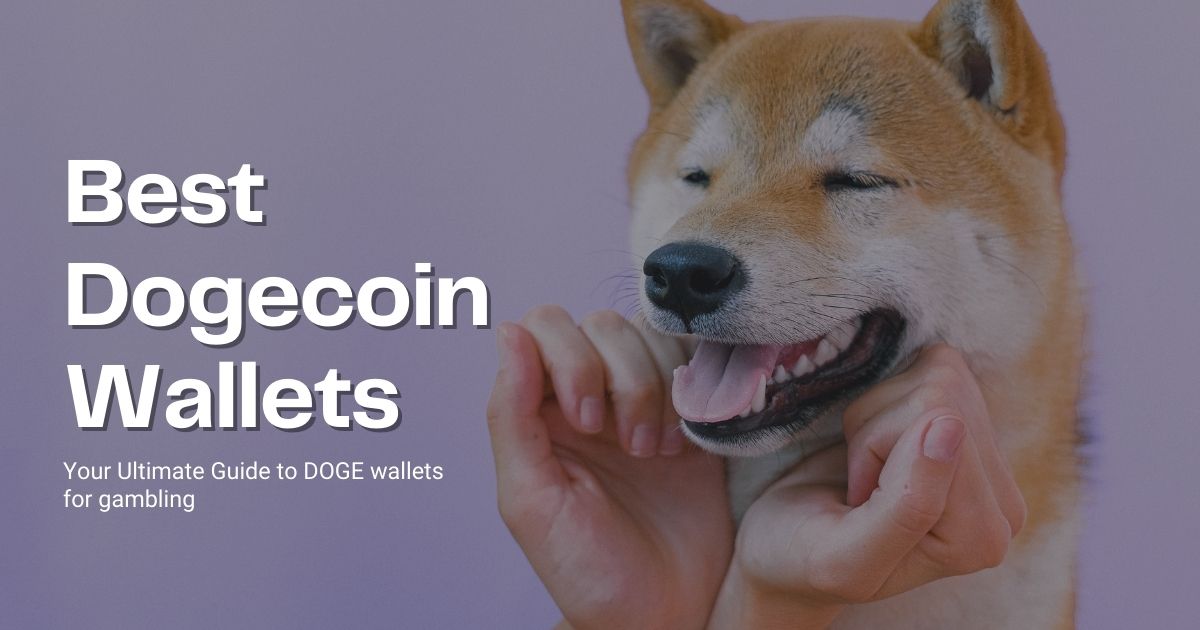 Best Dogecoin Wallet in 2023: 37 Hours of Testing, These Are Our Top Picks!
Roll the dice and get ready to find the best Dogecoin wallet of the year!
As crypto gambling enthusiasts, we've put our chips on the table and gone all-in on finding the top wallets for this meme-tastic coin – especially in light of DOGE's growing market capitalization. Why? Because when you're playing at a DOGE casino, you'll need someplace to send your earnings. But not just that – even if you're not using Dogecoin for gambling, you need a safe place for your coins, away from the exchanges. And we have it for you.
With so many options to choose from, we've sifted through the noise to bring you the crème de la crypto. So sit back, relax, and let us deal you in on the best wallets for Dogecoin.
Our team of experts has put these wallets through their paces and we're confident you'll love them just as much as we do. So, without further ado, let's get ready to play the game of Dogecoin storage!
Best Wallet for Dogecoin: Quick Picks
We won't keep you waiting. There are longer reports to come, but here's the low-down on the best Dogecoin wallets of 2023:
Ready to get into the nitty-gritty? We hoped you'd be – we didn't spend so much time testing for nothing!
Psst! Curious about our top picks for other cryptos? Check out our Bitcoin wallet for gambling guide and our Metamask article.
Atomic Wallet: 1% Cashback and Still 100% Your Keys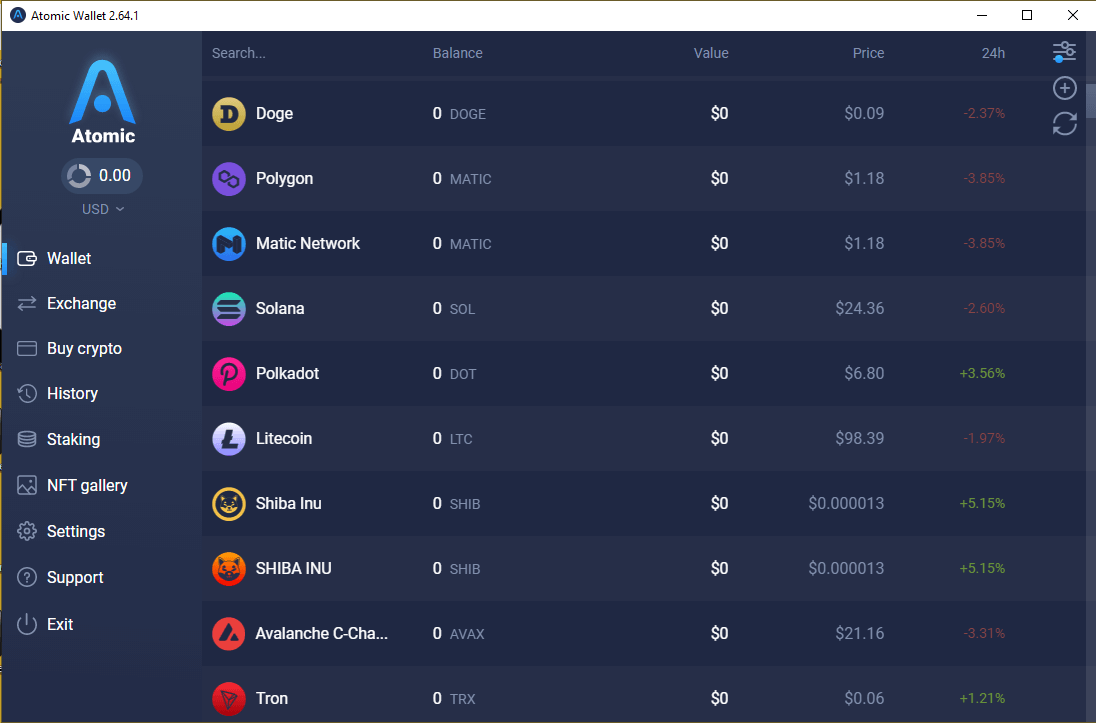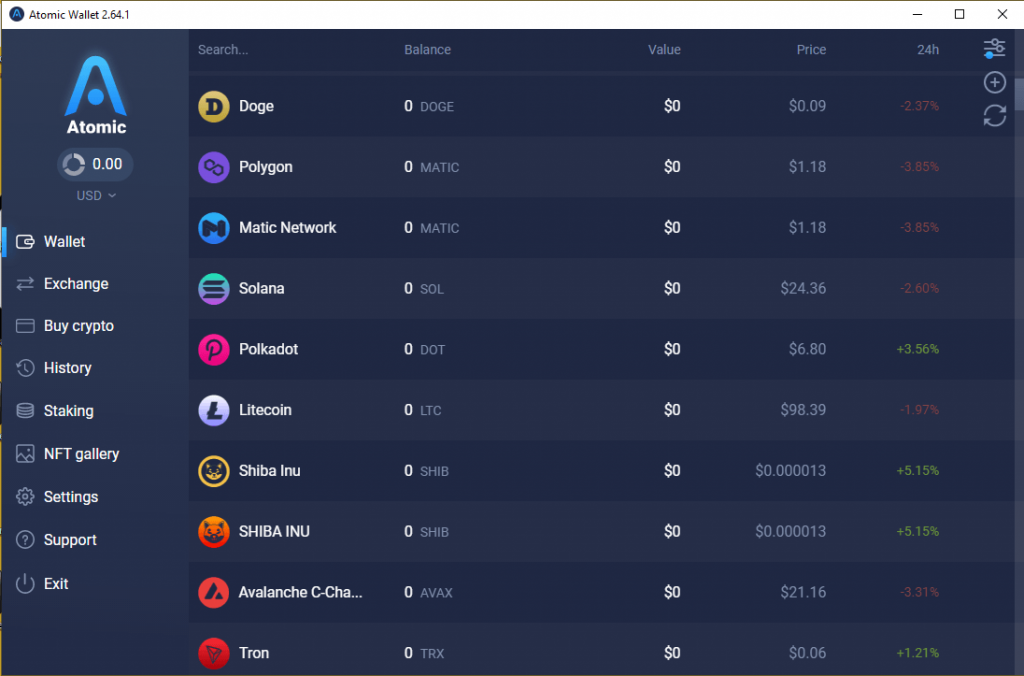 First on our list, Atomic wallet is definitely a hot hand in the world of Dogecoin wallets because it can get you up to 1% cashback on your DOGE purchase. But is it really all that it's hyped up to be?
Well, here's what we found out during our tests:
Installation & Safety
Starting out strong, Atomic boasts availability on both PC and mobile, this wallet has you covered no matter where you are. Here are all the download options we were presented with: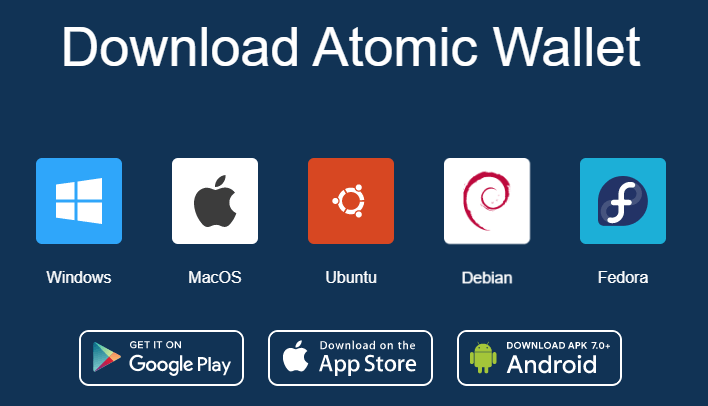 Cashback aside, we were also pleased to discover it's a non-custodial wallet, meaning you keep control of your private key and your Dogecoins are always in your possession. The Atomic wallet team also takes privacy seriously, giving you the option to opt out of anonymous log files collection. Here's what the new wallet screen looked like for us on PC: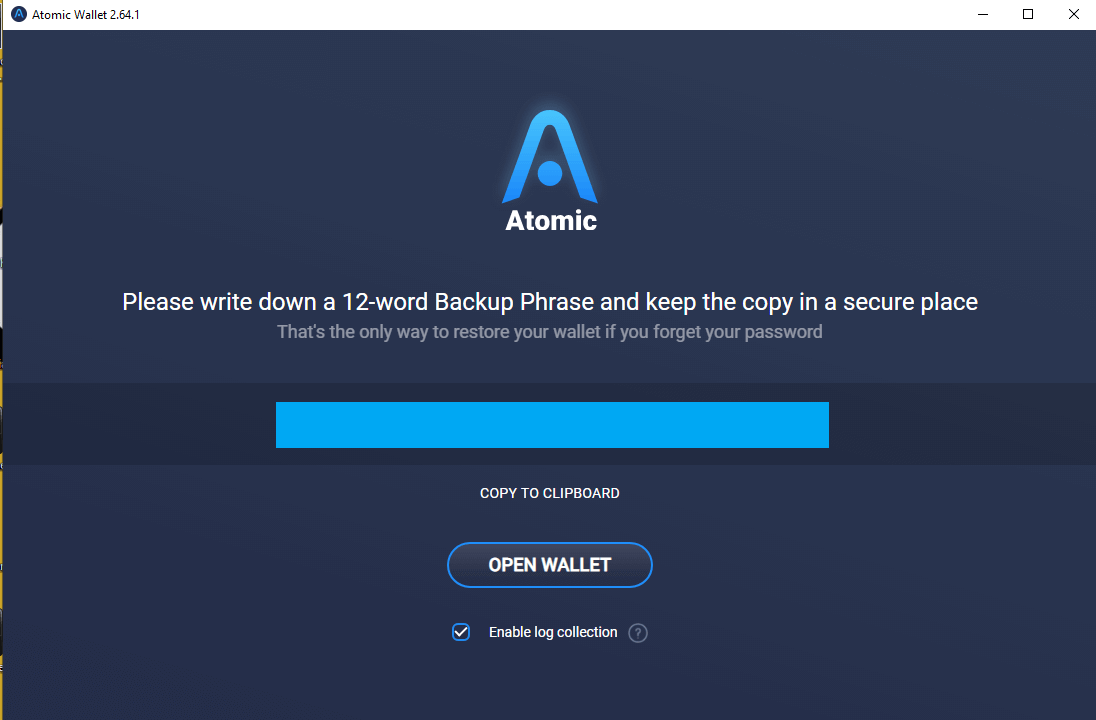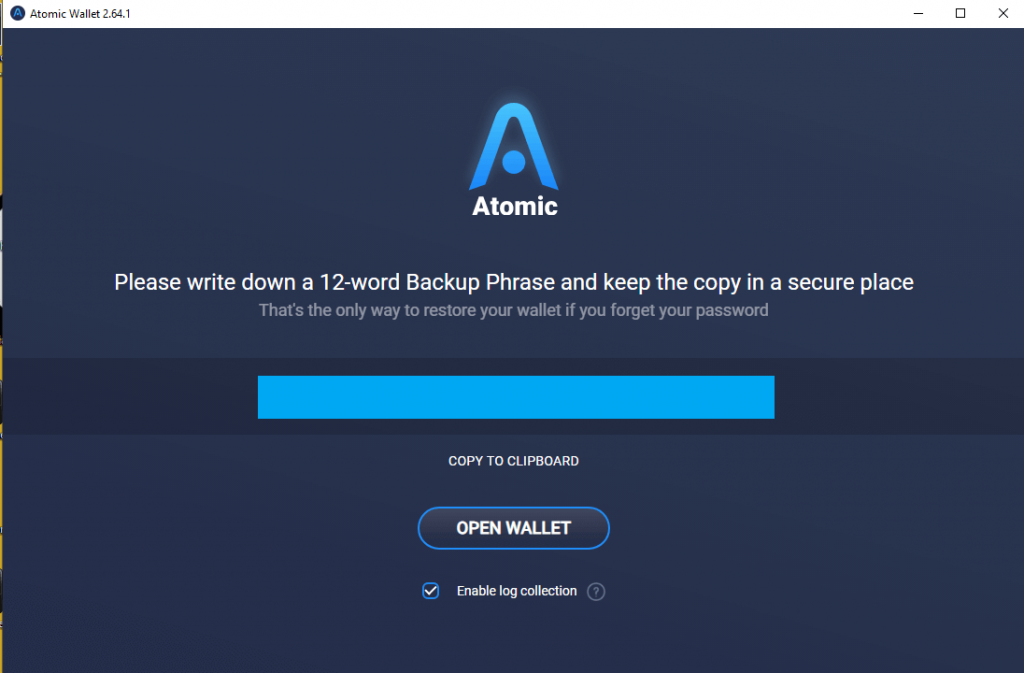 Throughout the app, the user interface is quick, easy, and user-friendly, making it a great choice for both Dogecoin veterans and newcomers alike. We had no issues orienting ourselves + the dark theme is really easy on the eyes.
But, now onto what you're really here for:
Is Atomic DOGE-friendly? You bet – it has 300 different assets, including Dogecoin!
And, yes, you are welcome to make gambling transactions – not that the wallet can even track your spending. Or, if you lean toward a different type of luck games, you can also use Atomic as an NFT wallet. Sorry, NFT buffs, you know we're right
Interface & Currency Exchange
One of the standout features of the Atomic wallet is its in-wallet exchange.
This allows you to easily exchange your Dogecoin for other cryptocurrencies or to buy DOGE with fiat all within the same wallet. And, as a bonus, every time you exchange money, you receive their native AWC token and earn cashback up to 1% (with the platinum membership).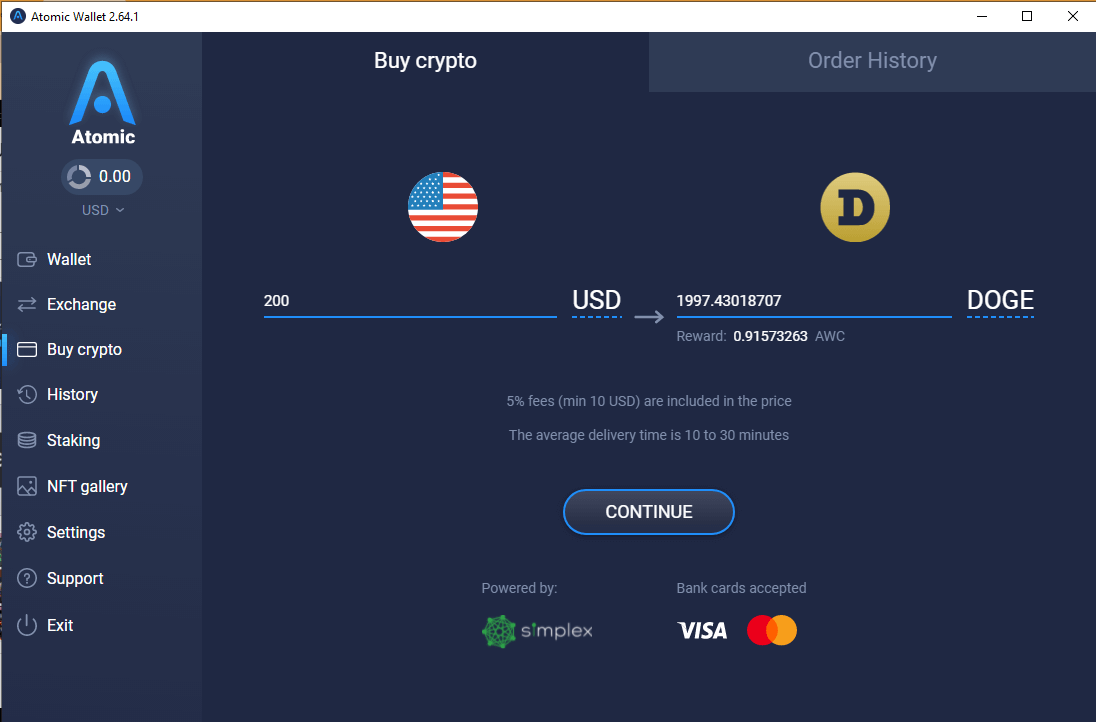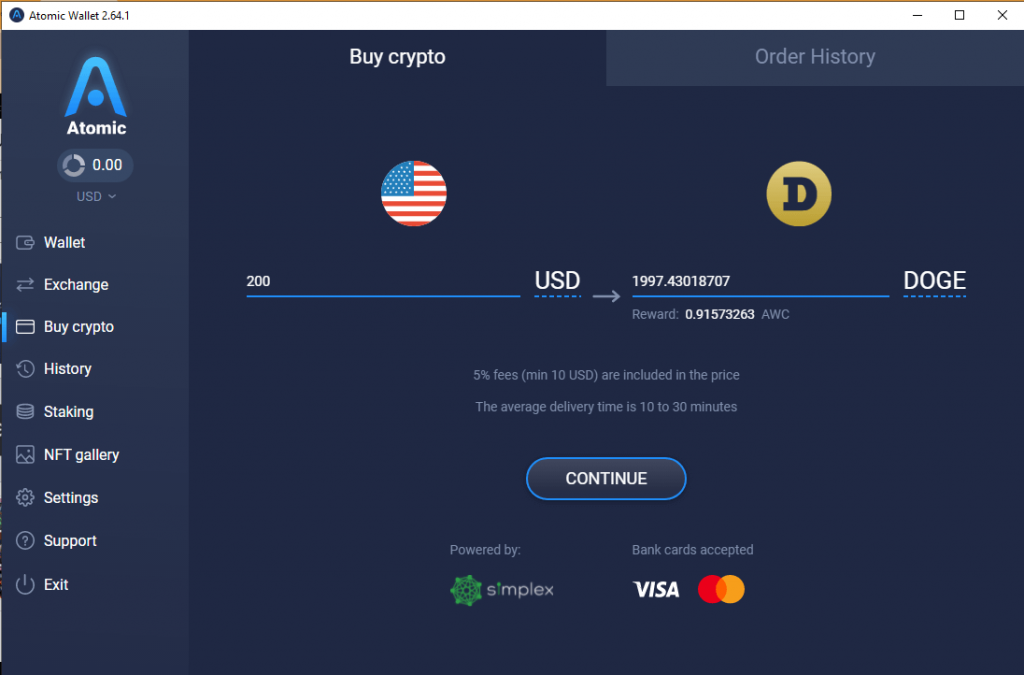 Now, the fine print. While a 0.25% cashback is available for free, to reach the full 1% you'll need to purchase the platinum membership, which costs 1000 AWC. Of course, you can just "buy" more cashback with AWC that you got from the exchange. But, either way, you're looking at a few months at least to make your investment back. The wallet even says it on the membership options tab: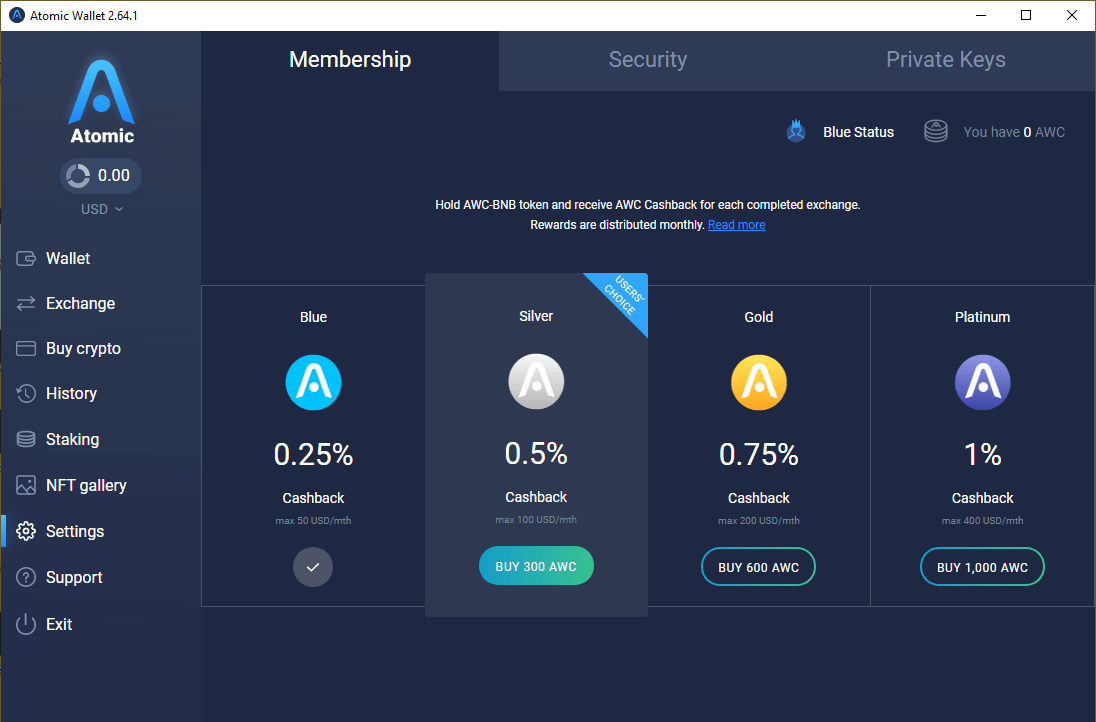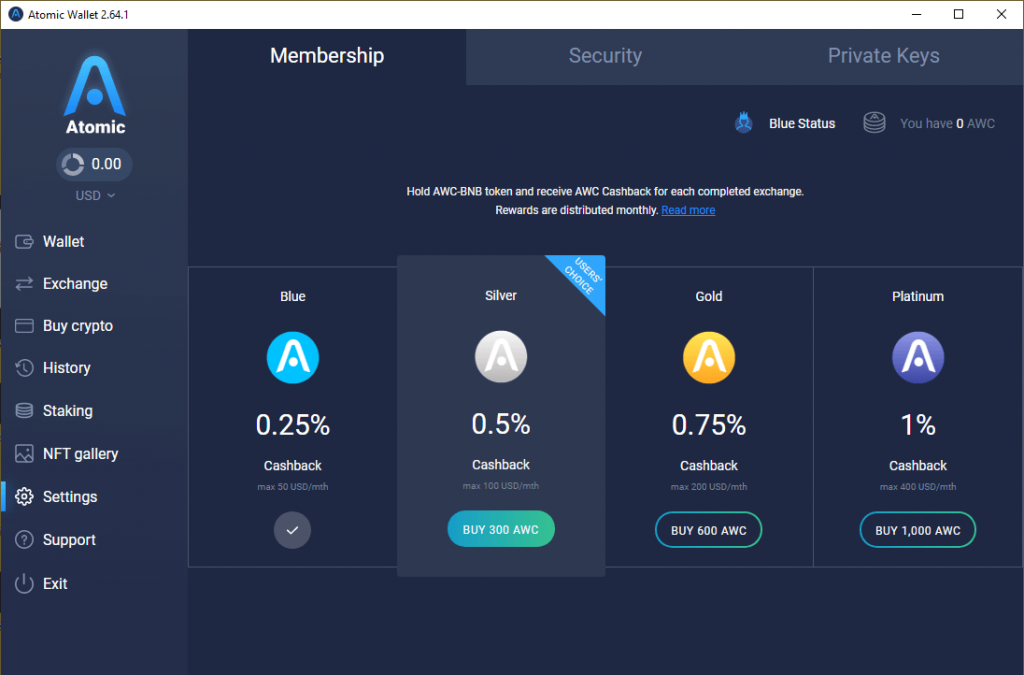 The in-wallet exchange is also not the cheapest option out there, with a 5% fee (minimum of 10 USD equivalent). So, while the Atomic wallet has its perks, be sure to weigh the costs before making a decision.
All in all, the Atomic wallet is definitely worth a roll of the dice if you're looking for a versatile, privacy-minded, and user-friendly wallet for your Dogecoin gambling.
Trust Wallet: Awesome for Mobile (Not Available on PC)
Okay, but what if you mostly use your phone for crypto? There are a bunch of great mobile crypto casinos these days, so there's really no reason to move to PC if you don't want to.
Well, Trust Wallet is our number one choice for a mobile Dogecoin wallet. It's also easily the most popular mobile wallet for storing and managing your cryptocurrencies… which still doesn't mean it's right for you. That's what our testing process is for, though.
Installation & Safety
First off, let's take a look at the installation process. Trust Wallet can be downloaded for free from the App Store or Google Play. Getting it on my phone was quick and straightforward, and I was able to create my wallet in just a few minutes.
Since I'm on iPhone, I do like finance apps with FaceID available and Trust Wallet doesn't disappoint. You can also opt out, though, if you're worried about privacy.
Trust Wallet gives you a great balance of convenience and security – both of which are key for a good phone wallet.
Speaking of the security of Trust Wallet, things are actually pretty great – especially for a phone app. Your private keys are stored locally on your device and encrypted with a password. Trust Wallet also supports hardware wallets such as Trezor and Ledger, which provide even more security for your assets.
I did hook up my Trezor to the app and there was no issue – then again, I've never really had a problem with Trezor (which is why I'm about to hype it up as an amazing hardware Dogecoin wallet option. )
Interface & Currency Exchange
Now, let's dive into the user interface. Trust Wallet has a clean design with easy navigation – nothing out-of-this-world, just simple and to-the-point. The home screen gives you an overview of your balances, separated into tokens and NFTs.
One of the standout features of Trust Wallet is you can purchase Dogecoin directly on the app (wondering if it's worth it? Check out our Can Dogecoin Reach $1000? article for the answer) They actually have partnerships with multiple exchanges and pick out the best price for you. When we bought our DOGE on TrustWallet, the best offer came from Binance, but you can also get it from several other places.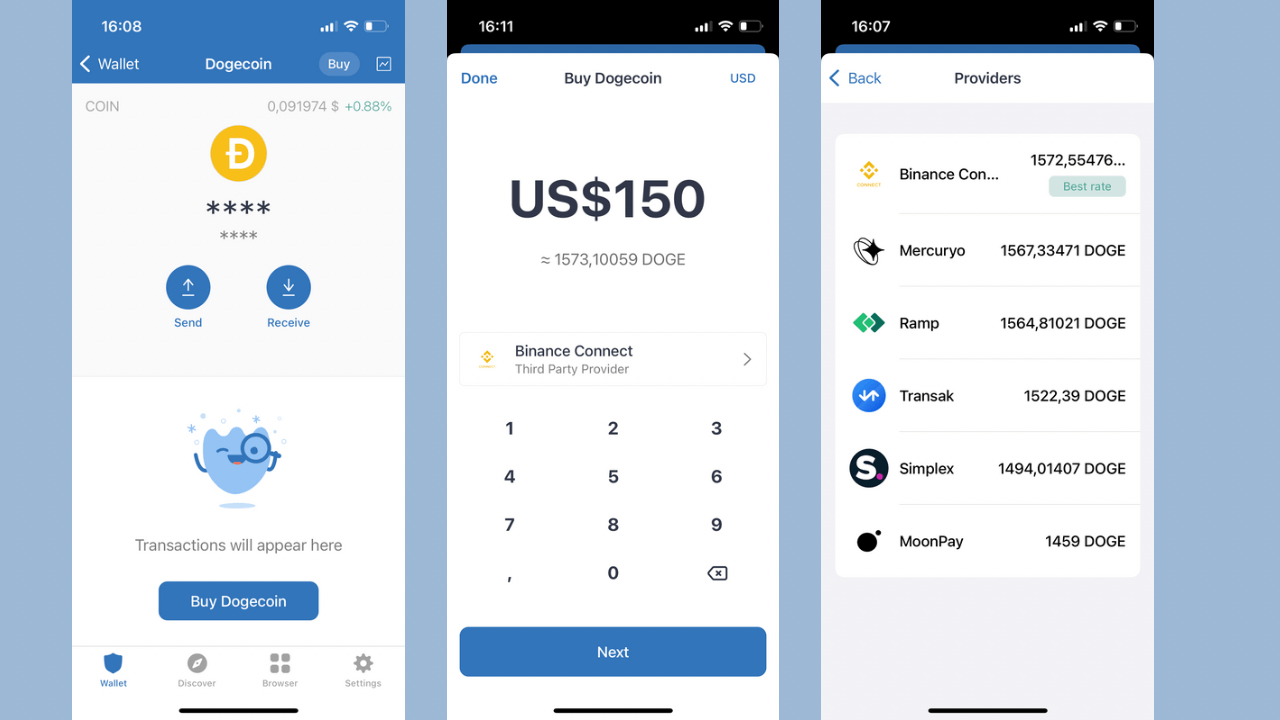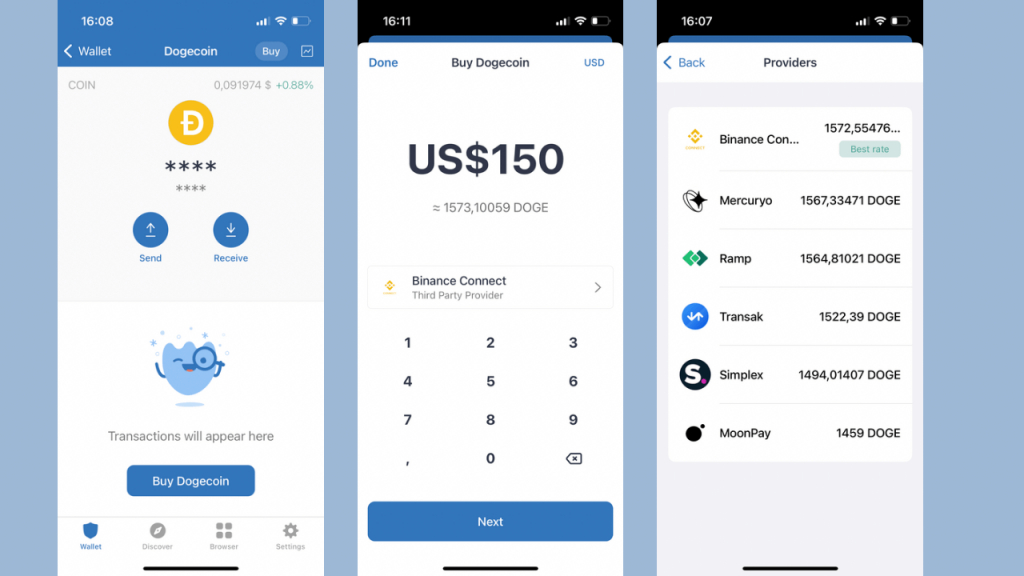 Ultimately, Trust Wallet turned out to be the fastest and most convenient Dogecoin wallet we tested. The ease-of-use on mobile is definitely hard to beat, but we also like that they didn't skim on safety. And, as you might know, we're not fans of custodial wallets (not your keys, not your crypto) so it's great they still emphasize owning your keys.
But, when it comes to security and ownership, there is no better option than a hardware wallet:
Trezor: The Best Hardware Wallet for Dogecoin
If have been in the crypto-verse for a while, you probably already know cold wallets are the safest option for your crypto. But what does cold storage even mean? And, how much will it cost you – because, spoiler alert, it's usually not free.
Cold storage means keeping your DOGE on a device not connected with the Internet. You can either buy a wallet-friendly device or configure your own.
When it comes to cold storage devices, two main companies come to min – Trezor and Ledger devices. Both of those are physical devices you set up and disconnect from the Internet. You do get a seed phrase for recovery, but you're in charge of keeping that safe, too.
So, which would we recommend? We are partial to the Trezor device because it's cheap, user-friendly, and super secure. As an added bonus, it's also tiny but pretty durable. I've had mine for two years now and, even though I foolishly bought the white one, it's still in top shape: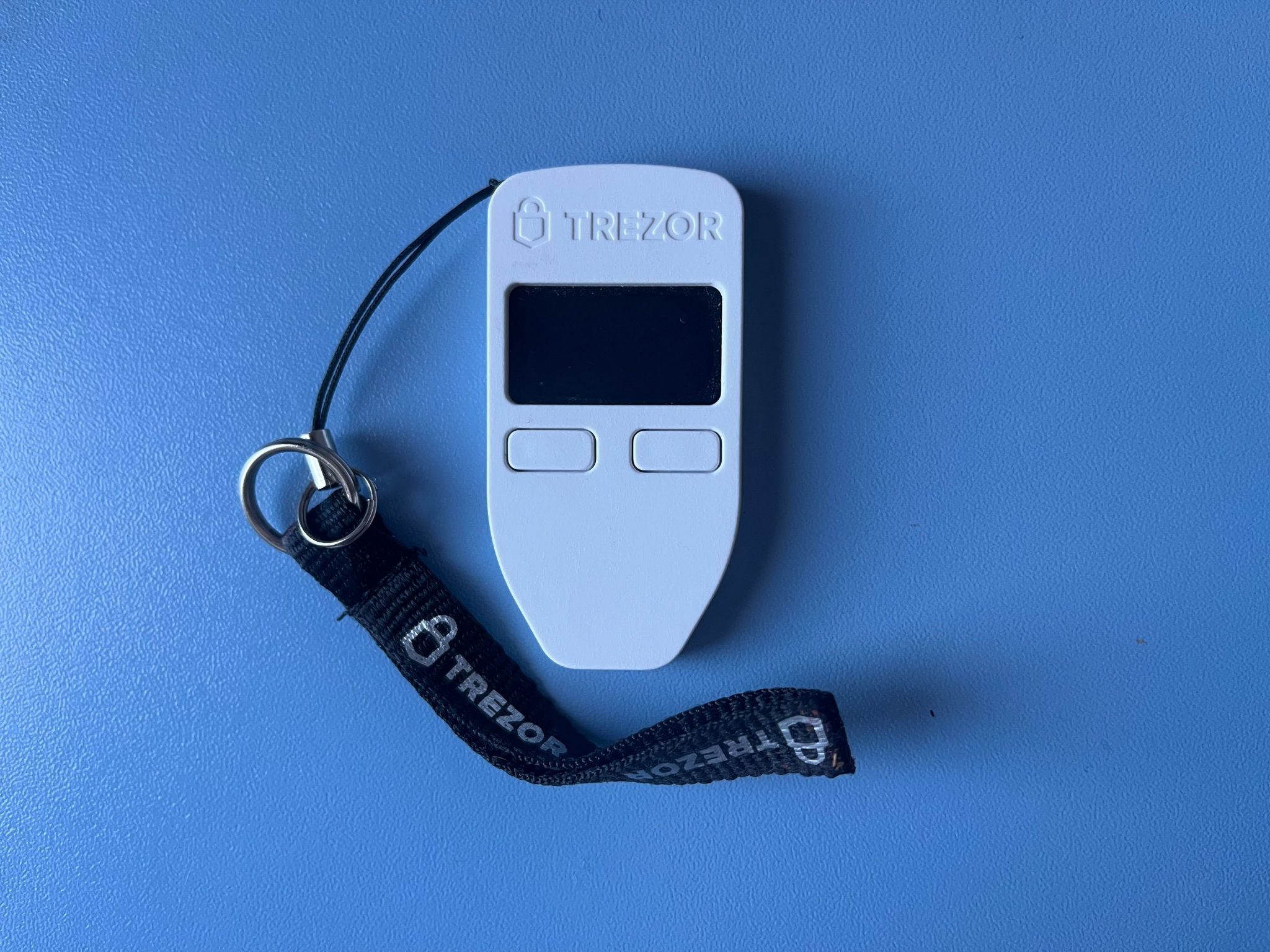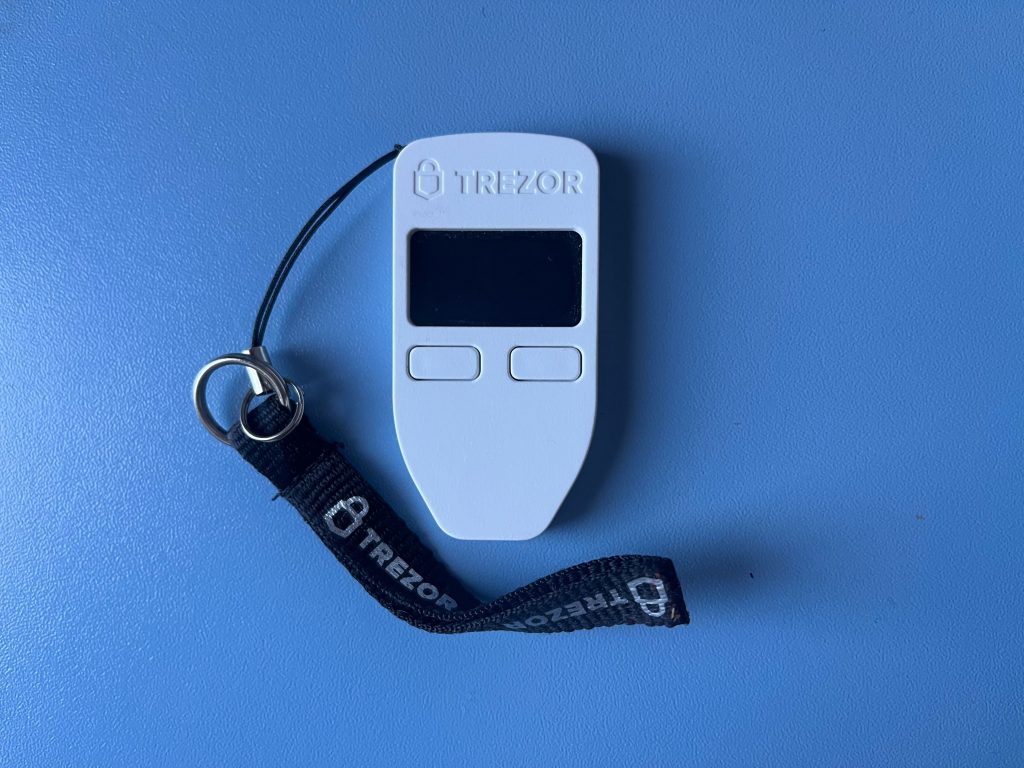 So, how come I picked the Trezor Model One device over all other hardware wallets available. Well, I do have three good reasons:
It's cheap. At $69 a pop (+ some shipping fees), it's one of the most affordable cold storage wallets out there. And, it's a pay-once-have-it-always type of deal. Once you have a Trezor device, you can use their browser and mobile app for free, and make zero-fee transactions, too.
It's easy to use. This is a major one for me (and, let's be honest here, for most non-tech-whizz people out there.) Yes, you can create your own storage out of a USB stick. Do I know how to configure it? Nope. Am I about to risk my crypto and DIY the configuration anyway? Not worth it. For under $100, I can have the safety of a cold wallet, but the ease-of-use of a regular wallet app.
The company is controversy-free. Back when I was buying my device, there were basically two good options – Ledger or Trezor. But, Ledger had just had a major hack incident. Even though seeds weren't leaked (phew), I didn't feel comfortable buying from the company. And, it turns out that was a good call – when Ledger leaked the data, over 20,000 people received threats, because, news flash, leaking people's home addresses makes them unsafe. So, anyway, I did not want to buy a Ledger, so I got a Trezor instead.
Now, for the hot question – do I wish I had gotten a fancier one? Not really. Sure, the $219 model T comes with some more advanced features and a transaction anonymizer , but I am happy with the current level of security. More importantly, I saved over $100, which I could invest in the crypto market instead.
So, if you're looking for the safest way to store your DOGE but you still want it affordable and easy, Trezor One is for sure the way to go!
How to Choose the Best Dogecoin Wallet for You
So far, so good, right? We went over three of the best Dogecoin wallet options of the year and I do hope all my hours of research helped you get ideas. But, picking the best of anything, much less a crypto wallet, isn't a one-size fits all. So, in this section we'll look at two major principles to consider when picking a wallet:
Not Your Keys, Not Your Crypto – Or, Why You Should Avoid Custodial Wallets
Ever heard of this phrase? It's a common refrain you'll hear in the crypto world, whether you follow crypto Twitter, Reddit, or YouTube. "Not your keys, not your crypto" means that if you don't have control over the secret code used to sign your transaction (private key), then the DOGE is not really yours. It's like having a key to your house – if someone else holds the key, they have control over what happens in the house.
Custodial wallets are cryptocurrency wallets managed by someone else, like an exchange or a bank.
While it may seem convenient to have someone else take care of your crypto, there are some downsides to consider. When you use a custodial wallet, you're putting your trust in someone else to keep your crypto safe. But if anything goes wrong with their security, like a hack, your crypto could be at risk. Plus, if the company holding your crypto has financial troubles, your assets could be lost. This is what happened to many FTX users fairly recently – and it's likely they'll never get their money back!
That's why it's important to take control of your crypto by managing your own private keys. This way, you have full responsibility and control over your assets, and you don't have to worry about the risks associated with relying on someone else.
Can Non-Custodial Wallets Even Be User-Friendly?
Many people shy away from non-custodial wallets because they think they're too difficult to use. But the truth is, user-friendliness and ease of use have come a long way in the world of non-custodial wallets. In fact, many non-custodial wallets today offer a user-friendly experience that is just as good, if not better, than that of a custodial wallet.
Take Revolut Vs Trust Wallet as an example. The layout and UX is very similar – you can even access both apps with Face ID. But, you can't move your DOGE from Revolut… because it's not really your DOGE! Trust Wallet, on the other hand, let's you use your coins however you please – and doesn't interfere.
When choosing a non-custodial wallet, look for one with a clear and easy-to-use interface, simple backup and recovery options, and a user-friendly setup process. Trust Wallet is our obvious favorite because it's super similar to an online banking app. If you can use your online banking, Revolut, or Venmo, you can use this non-custodial wallet.
Ultimately, it just comes down to overcoming your worries. Yes, you can have privacy and good UX. By choosing a wallet that meets your specific needs and offers a user-friendly experience, you can enjoy the peace of mind that comes with having full control over your Dogecoin.
Final Thoughts
Ultimately, the best wallet for Dogecoin in 2023 will largely depend on your specific needs and preferences.
For those seeking cashback options, Atomic Wallet stands out with its impressive rewards program. Trust Wallet is a great choice for those looking for a mobile option, with its user-friendly interface and top-notch security features. Meanwhile, Trezor One is an excellent choice for those who prioritize security and want to store their Dogecoin offline.
No matter which wallet you choose, it is important to ensure that it has a solid reputation and provides the features and security that you need to confidently store your Dogecoin. And, once you have your ideal wallet, check out our favorite DOGE casinos to play at: