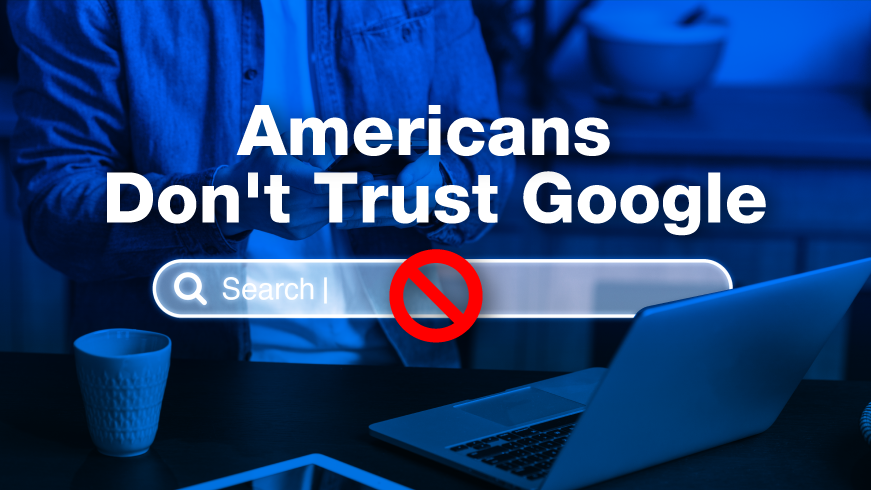 Americans Rely on Google. But Do They Trust It?
"Google it" has become a daily part of most Americans' vocabulary. We Google restaurants near us, products we're interested in, people we're curious about, and the occasional point to win an argument. But as Google's algorithm has grown more sophisticated, there are rising concerns about the amount of data Google has on all of its users… and what they might do with it.
It's no secret that advertisers and media companies harness the power of Google to target potential audiences or customers. But people have growing concerns about their privacy online and in some cases, are looking for ways to protect themselves from the power of Google's data.
To find out how people feel about Google, their privacy policy, and the reliability of the world's largest search engine, we conducted a survey.
And, the results might surprise you.
Key Takeaways:
74% have concerns about how much information Google could have about them
Misuse of personal information and data privacy are people's biggest concerns about Google
Only 1 in 5 Americans have read and understand Google's privacy policy
90% say that they believe that ChatGPT is a more reliable source of information than Google
77% believe that Google does not treat all content fairly in its search results
Republicans are twice as likely as Democrats to believe Google's results are biased based on political influence.
Americans Think Google Is Biased
When users type a search term into Google, the goal is to get the answer they're looking for on the search engine result page, of course. But make no mistake, Google is a business, and there are ways that the search engine result page can be altered based on the highest bidder. Beyond that, 77% of people are concerned that Google might be biased in which results they display.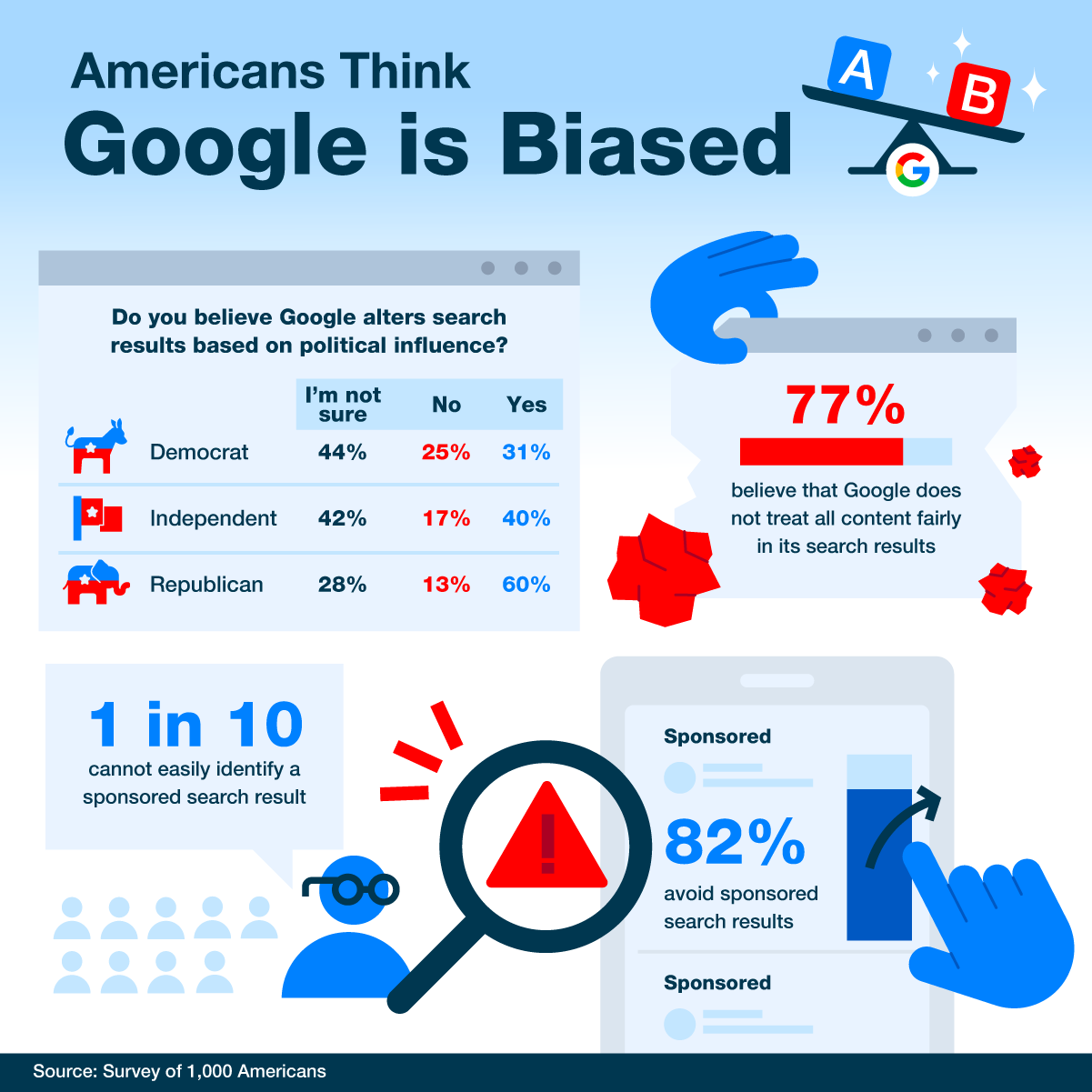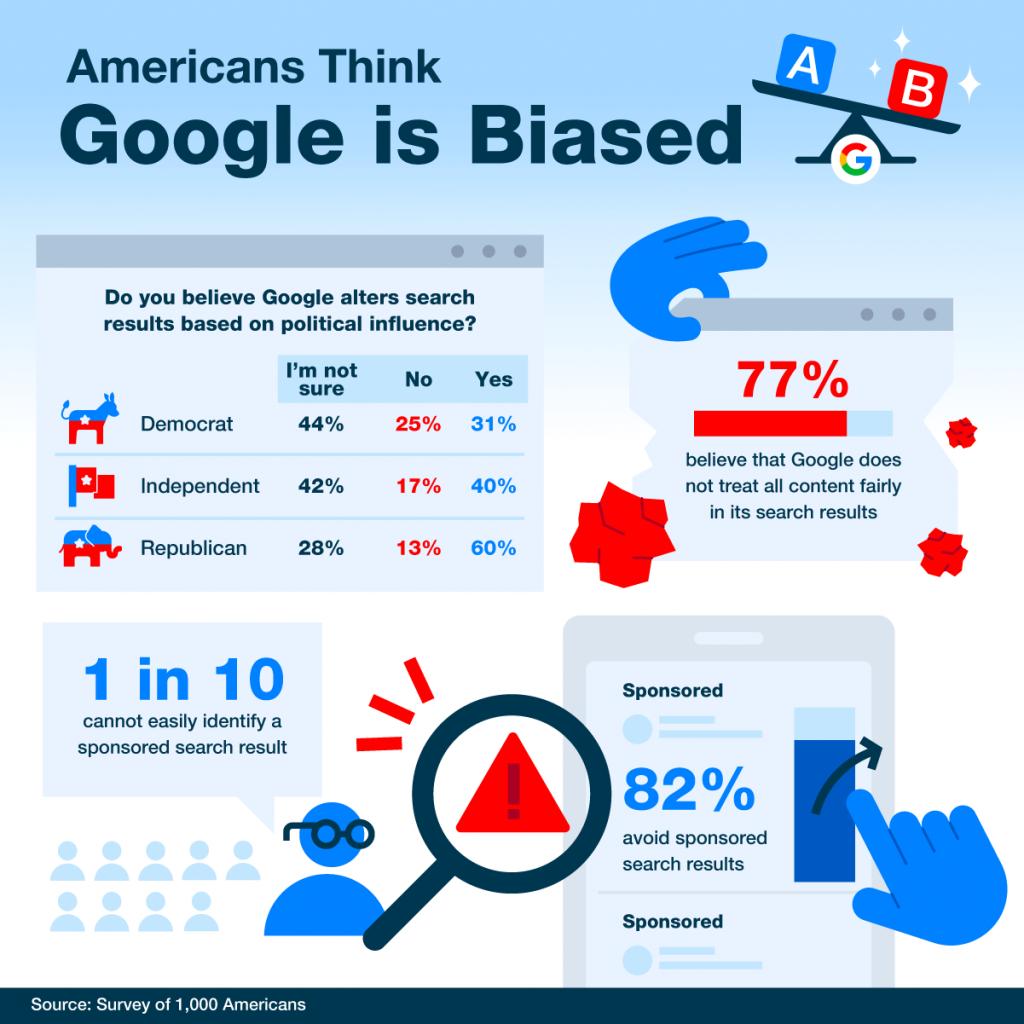 Political Influence
Concerns that Google might alter search results based on political influence was an issue that crossed all party lines. A percentage of all political parties believed that Google does change the results depending on political power. However, supporters of the Republican party were almost twice as likely to assume the results were biased as supporters of the Democratic party. 
Democrats and Independents were also more likely than Republicans to say that they were not sure if the results are biased.
Unease over Sponsored Results
Setting aside politics, 82% of users also said they avoid sponsored results when they're looking at the search results. However, 1 in 10 respondents said that they can't easily identify which results are sponsored.
Links to sponsored results can even be scams where people create similar-looking websites designed to collect your personal financial information or data. It might seem benign to click on a sponsored link, but the rise in micro-theft and online scams are making it more risky to rely on those sponsored results.
1 in 3 Americans Are Trying to Avoid Google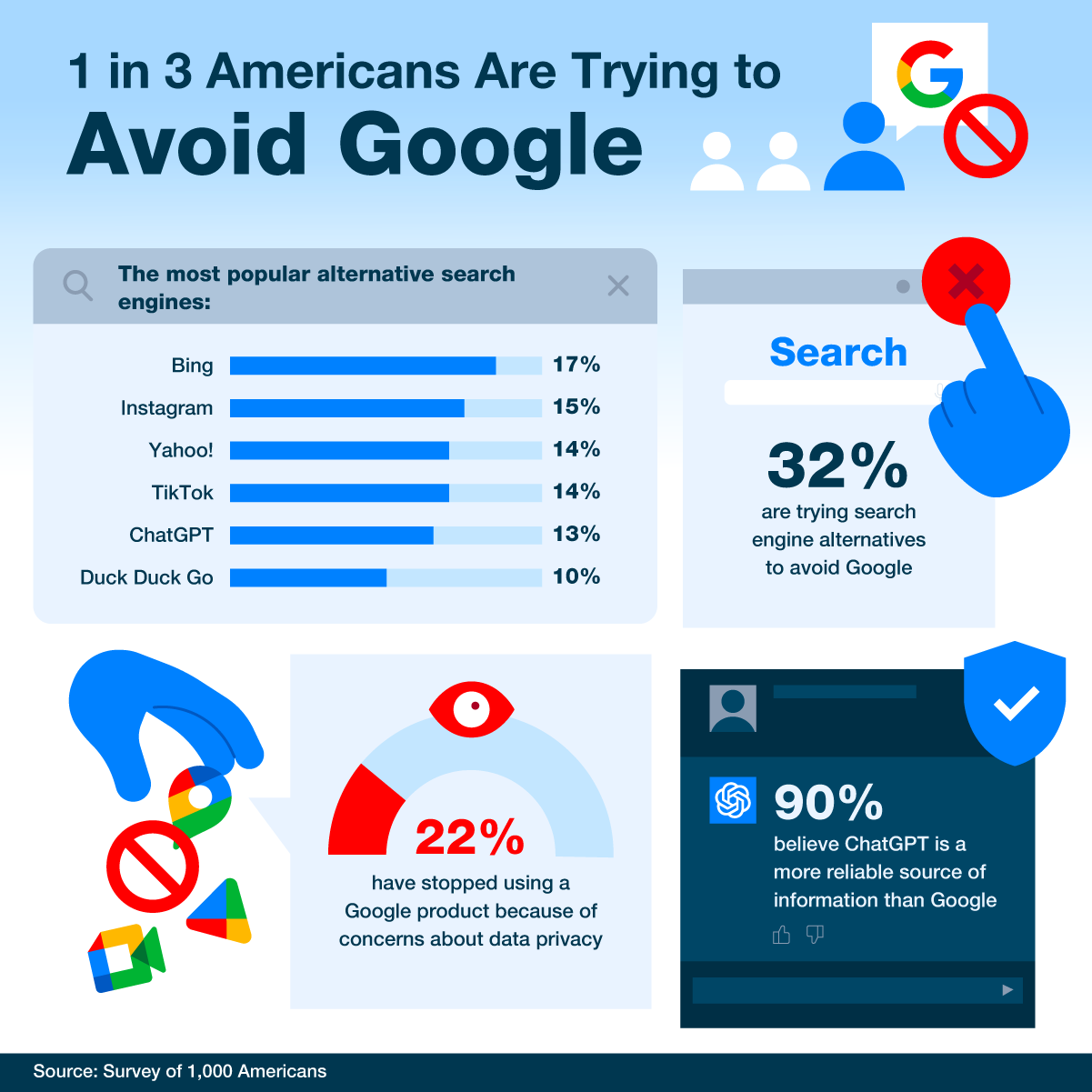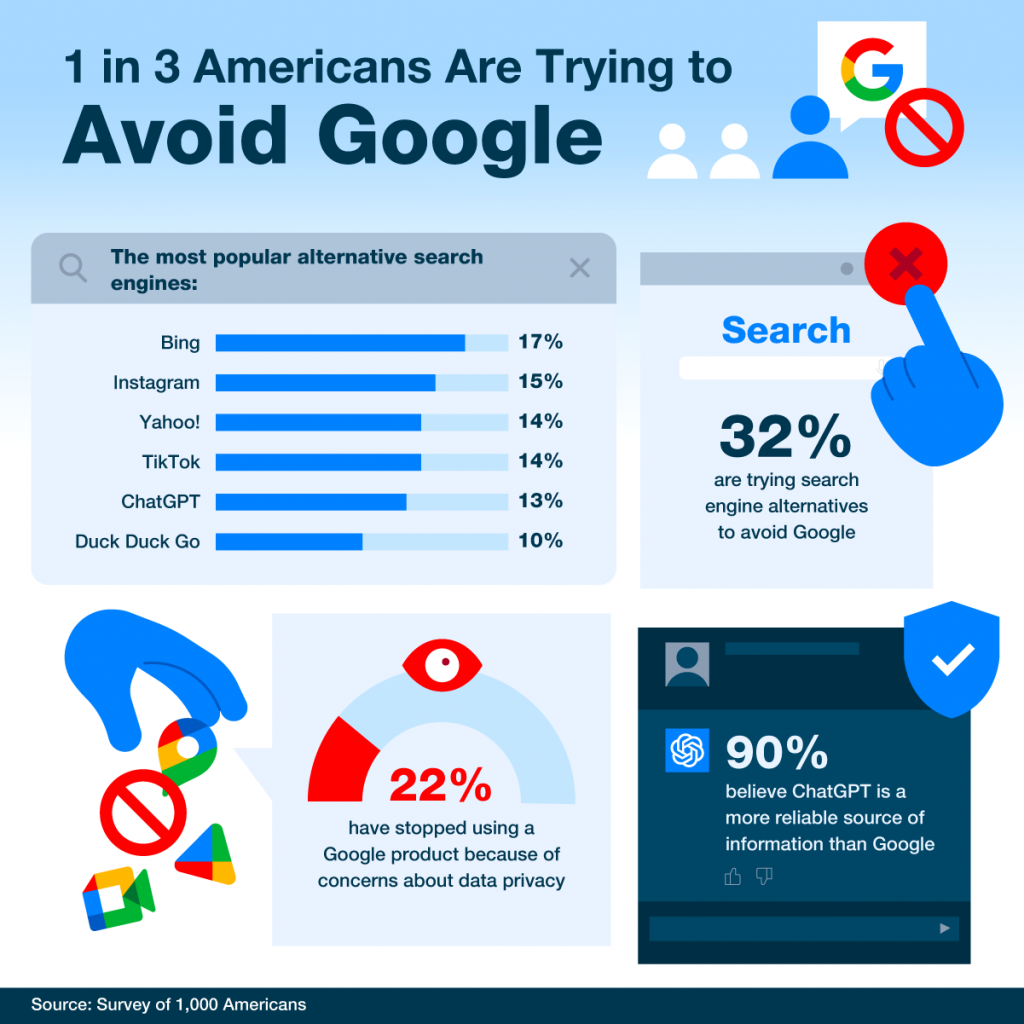 Due to privacy concerns, 1 in 3 Americans are trying to avoid Google. Of those avoiding Google:
17% opt to use Bing
15% use Instagram search
14% use Tiktok search
In addition, 22% of people have stopped using Google products due to privacy concerns. But there may be a shakeup coming in the search engine world.
ChatGPT
An overwhelming 90% of people say that they believe that ChatGPT is a more reliable source of information than Google. This new platform is an artificial intelligence chatbot developed by OpenAI and released in November 2022. It allows people to ask questions and uses language processing to respond like a human. 
As of May 2023, ChatGPT will use Bing as the default search engine to provide users with up-to-date information,  a partnership that could revolutionize the way people search the web.
America's Concerns About Google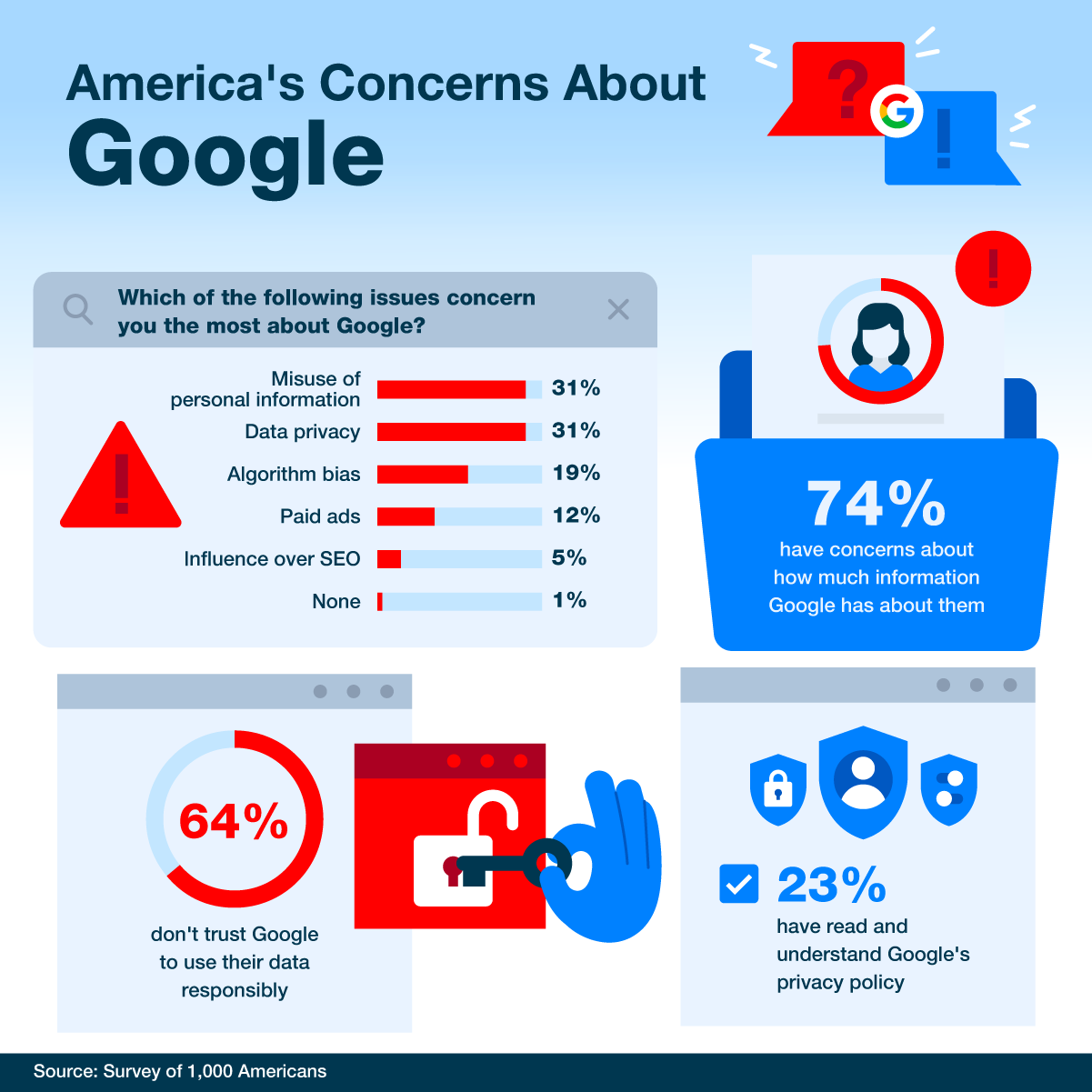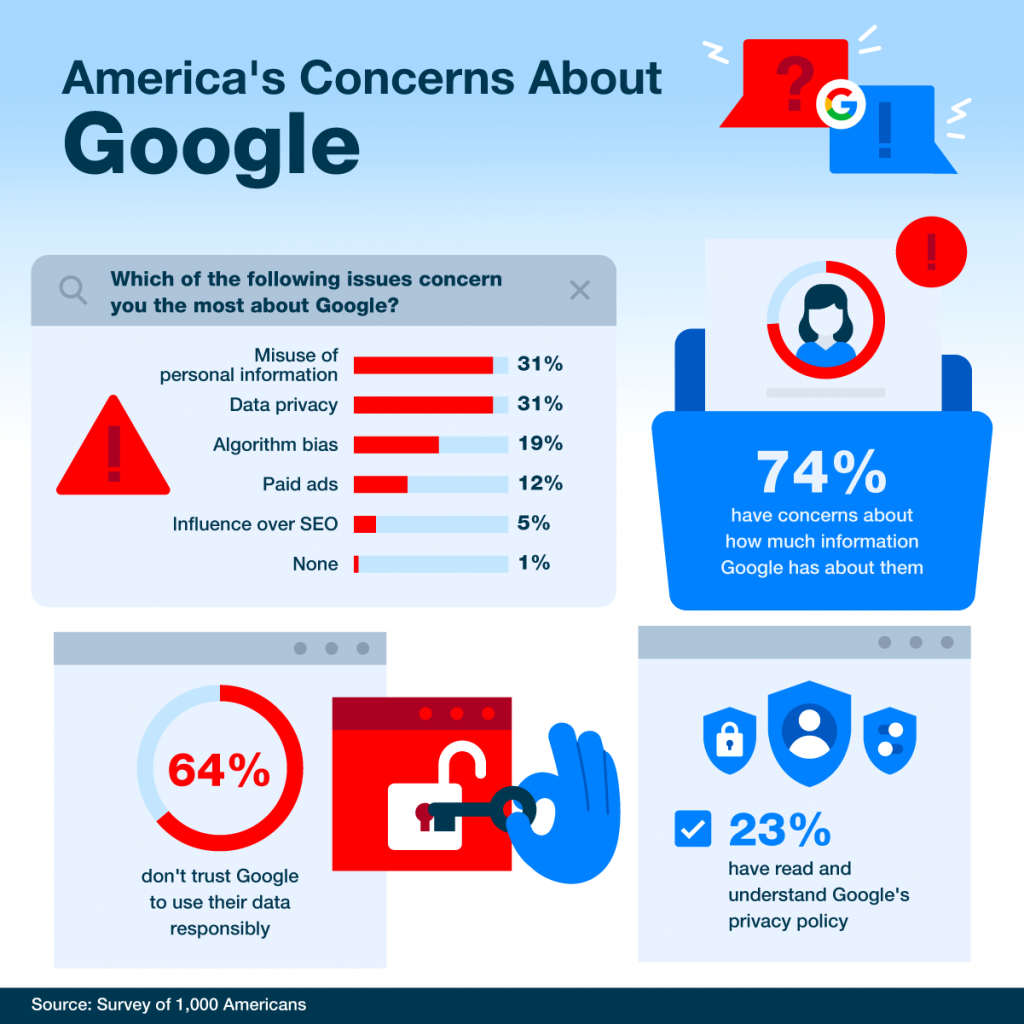 A majority, 3 in 4 Americans, have concerns about how much information Google has about them. Their concerns about what Google could do with that information outweigh most other concerns. Misuse of personal information and data privacy were the main concerns of over 60% of people, while 1 in 5 Americans were most concerned about algorithm bias.
Two-thirds of Americans state outright that they do not trust Google to use their data responsibly.
But only 23% of people have read Google's privacy policy to make sure that they understand what their rights are as a Google user. Users should certainly be able to trust that Google will protect their data and use it with discretion. But it's certainly not a bad idea to be informed about how and where your personal information might wind up in cyberspace as a result of using Google.
What's Next For Google Users?
For the moment, Google certainly is not going anywhere and most of us rely on Google searches to get through daily life. But it's not a bad idea to be mindful of the fact that Google has a substantial impact on your life and access to a substantial amount of information about you.
Being informed, reading the terms and conditions, and acknowledging its influence are all good ways to be an informed Google User.
And as ChatGPT becomes a more established tool, you might find yourself shifting your search habits!
Methodology
We surveyed 1,000 Americans in May 2023 to ask questions about their preferences for streaming services. The average age of our respondents was 38. 51% of the participants were female, 46% were male, and 3% identified as non-binary/other. 
Fair Use
Feel free to use the data or visuals on this page for non-commercial purposes. Please be sure to include proper attribution linking back to this page to give credit to the authors.