Looking for the best Bitcoin dice games? We have you covered.
Crypto casinos have gone a long way in 2023, offering an unprecedented variety of casino games. And dice is no exception. From dice table games to dice-themed slot machines, you name it, they (usually) have it.
In this article, we'll tell you all about playing dice on BTC casinos, as well as betting with other cryptos. Read on to learn about:
What crypto dice games are out there? We'll cover virtual and live games, and take you through the most popular dice variants.
How to choose a BTC dice casino? We have a thorough casino vetting process and we'll help you pick the best option for your play style.
Are there any dice strategies worth trying? We'll guide you through the (sometimes) treacherous world of dice strategy and help you with tips to genuinely improve your experience.
Ready to go? Let's roll:

Best Bitcoin Dice Sites
Looking for a list of quick picks? We won't keep you waiting. Here's our selection of the best BTC dice gambling sites:
Are you curious to know why we picked these casinos? We'll break it down:

Stake: Best for Provably Fair Dice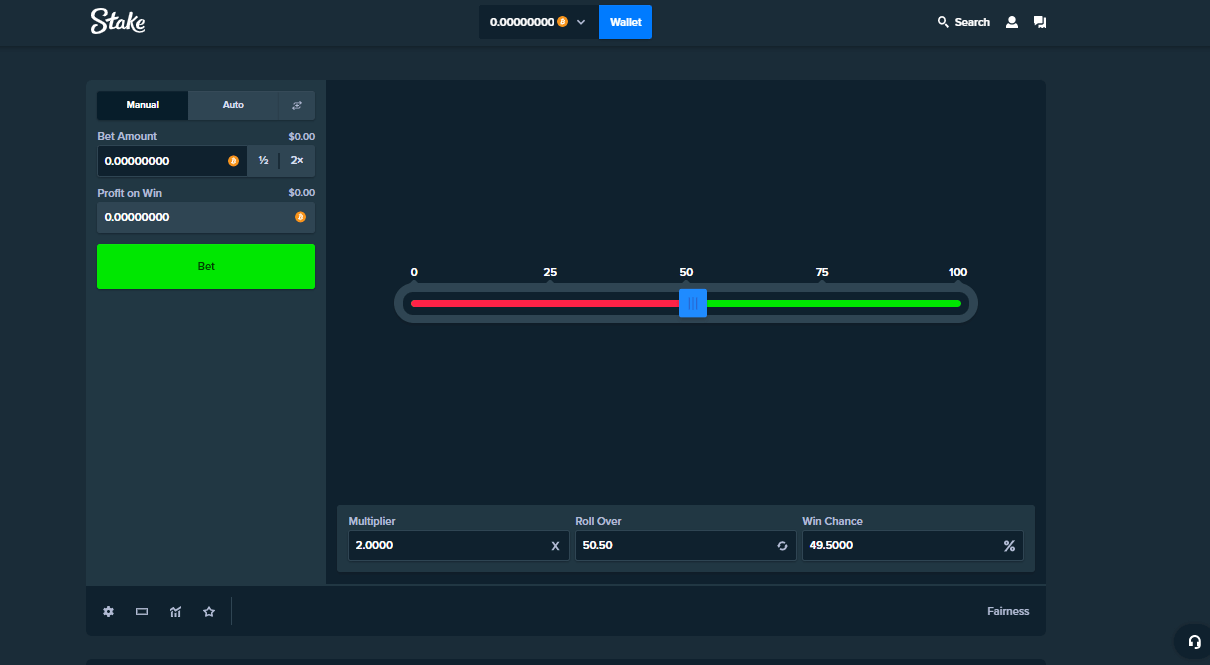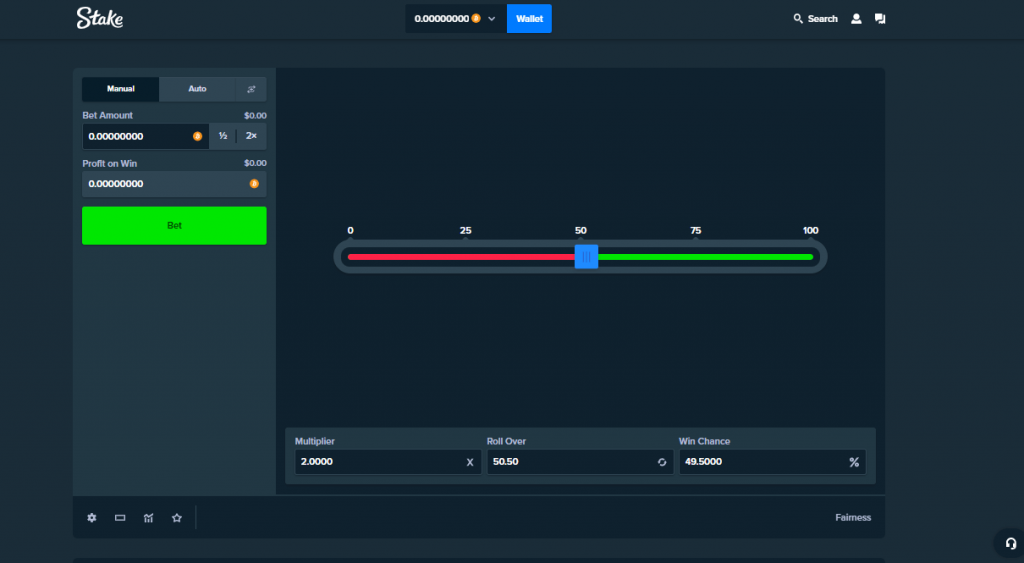 Fast Facts
Established: 2017
License: Curaçao
Best for: Provably fair dice
Pros & Cons
Good range of dice games to choose from
Provably fair dice title
Great RTPs, up to 99%
Live dice options
❌ KYC may be required
❌ No traditional welcome bonus
Findings
Not only will you find a range of BTC dice games in the Stake gambling lobby, but this casino also offers provably fair dice titles. Here, the fantastic RTP of 99% certainly works in your favor.
Plus, if you're a live casino enthusiast, Stake also has a massive range of live Bitcoin dice games made by top providers like Evolution and Ezugi.
But, we owe you a disclaimer. We've had some people specifically ask us for a Stake dice strategy.
To enhance your experience (and returns), we suggest you stick to the Stake original dice games. Since they have the best RTP, they'll give you the statistical upper hand over third-party dice providers. Still, there is no 100% surefire strategy for Bitcoin dice – if that existed, it wouldn't be a game of chance.
The only real complaints we have are the potential KYC requests and the lack of a traditional welcome bonus you'd see at casinos like Rocketpot and Cloudbet (more on that later).
In any event, this isn't enough to topple Stake from position #1 in our books. You can check out Stake's selection here:

BC.Game: Best Variety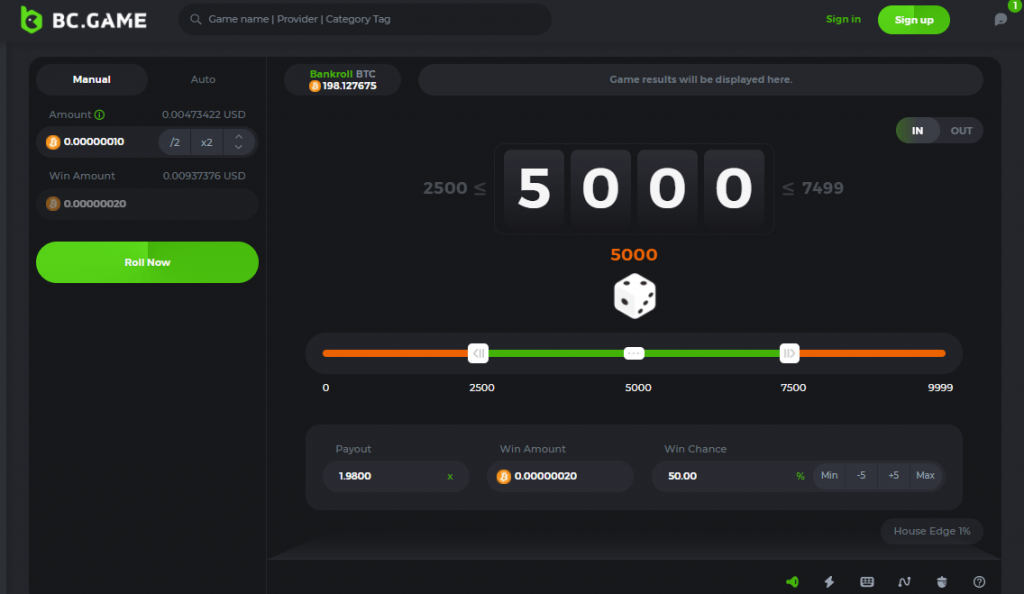 Fast Facts
Established: 2017
License: Curaçao
Best for: Dice game variety
Pros & Cons
40+ dice games available
Low house edges, starting at 1%
4-part welcome bonus up for grabs
Transparent when it comes to RTPs
❌ Potential KYC requests
❌ Complex bonus requirements
Findings
BC.Game has a stellar selection of Bitcoin dice games and it's one of our favorite casinos overall. With 40+ game options to choose from (played with dice alone), you'll never be bored.
But it gets better, too:
BC.Game boasts some of the best house edges in the crypto casino world. They have several dice games with house edges of 1% (extremely generous – and virtually impossible for a brick-and-mortar casino). We also love that they display the RTP on the search results page, too. It's the kind of transparency we're all for!
Add the whopping 4-part welcome bonus to the equation and you've got a pretty sweet deal.
But there are two things we're not so crazy about… Like Stake, BC.Game may be required (by their licensing body) to request KYC documentation from players before they can withdraw winnings. In addition, the welcome bonus deals come with a host of strings attached – but this isn't much different from any other casino sporting a deposit bonus.
Check out BC.Game's dice games here – and don't forget to read our full BC.Game casino review for more juicy tidbits:

Rocketpot: Best Bonus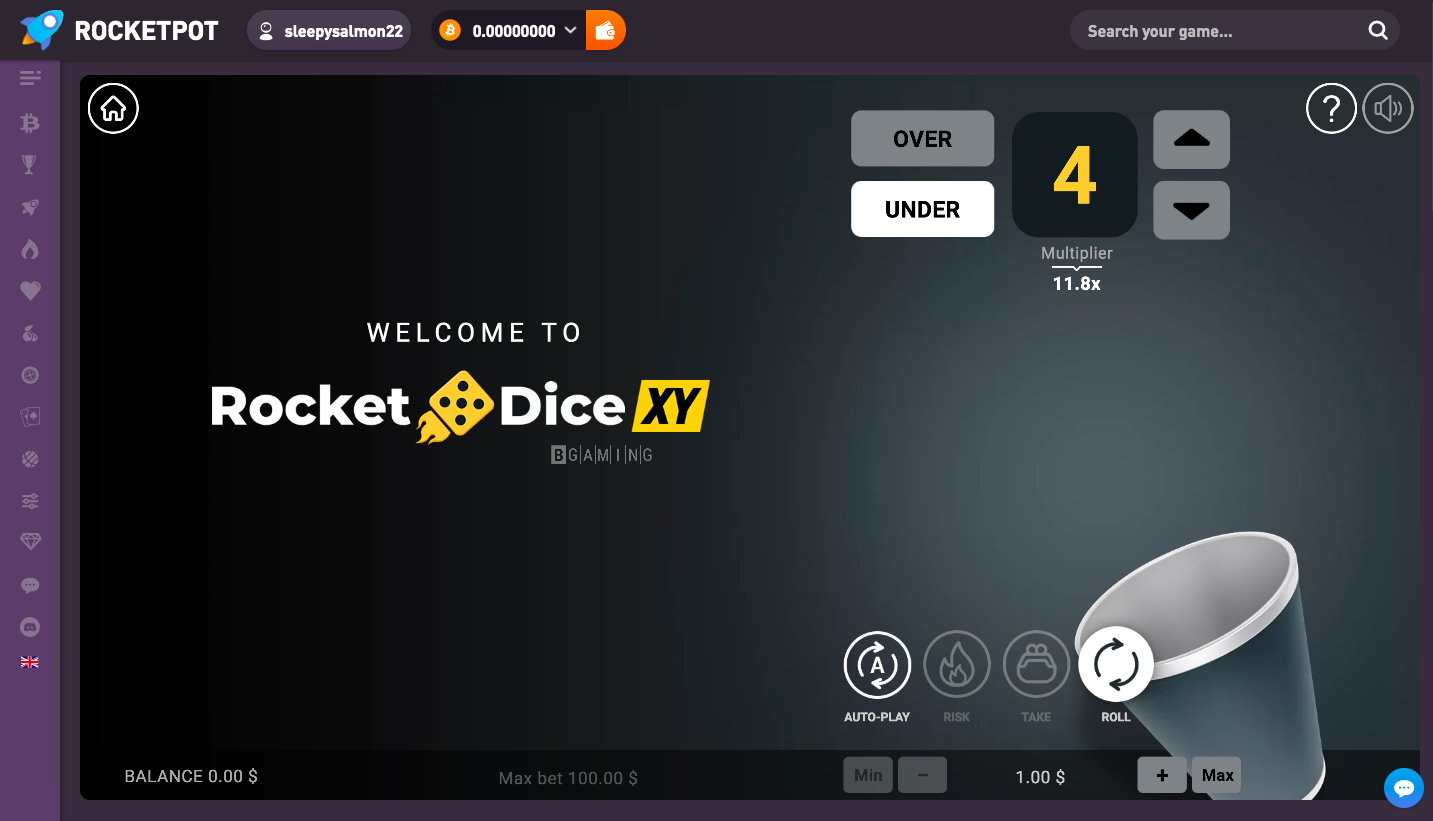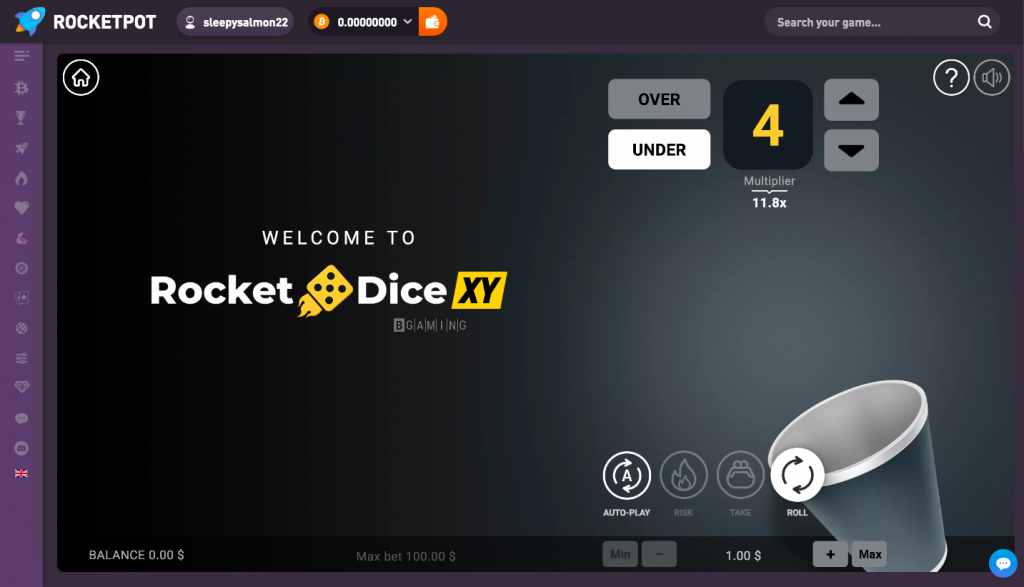 Fast Facts
Established: 2019
License: Curaçao
Best for: Bonuses
Pros & Cons
Generous welcome bonus up to 1 BTC
Easy-to-navigate site interface
Diverse game selection other than dice
❌ No in-house dice games available
❌ KYC may be required
Findings
Last on the list (but way up there in our hearts), Rocketpot also has a good selection of dice games.
Although not all of Rocketpot's dice games are provably fair, there is one of BGaming's provably fair dice titles – Rocket Dice XY – on offer.
This crypto-first casino comes with a range of other benefits, too, like the 100% first deposit match bonus of up to 1 BTC – for one. Plus, you can use your bonus funds to boost your dice gameplay.
We also love that the site is easy to navigate, the design is top-tier, and the ongoing promos are pretty juicy, too. The sportsbook is a great addition, and the rest of the casino games are high-quality.
Rocketpot is a great option for players who are looking for a solid dice casino with a great choice of other games. Still not convinced? Our in-depth Rocketpot Online Casino review might change your mind. If you're ready to jump right in, check it out here:
Honorable Mentions
You're already familiar with our favorite 3 casinos for BTC dice, but this guide wouldn't be complete if we failed to mention two top-tier crypto casinos that focus almost solely on dice.
Intrigued? We thought you might be. So, without further ado, meet:
PrimeDice
PrimeDice only has one game, and we're sure you can guess what game that is.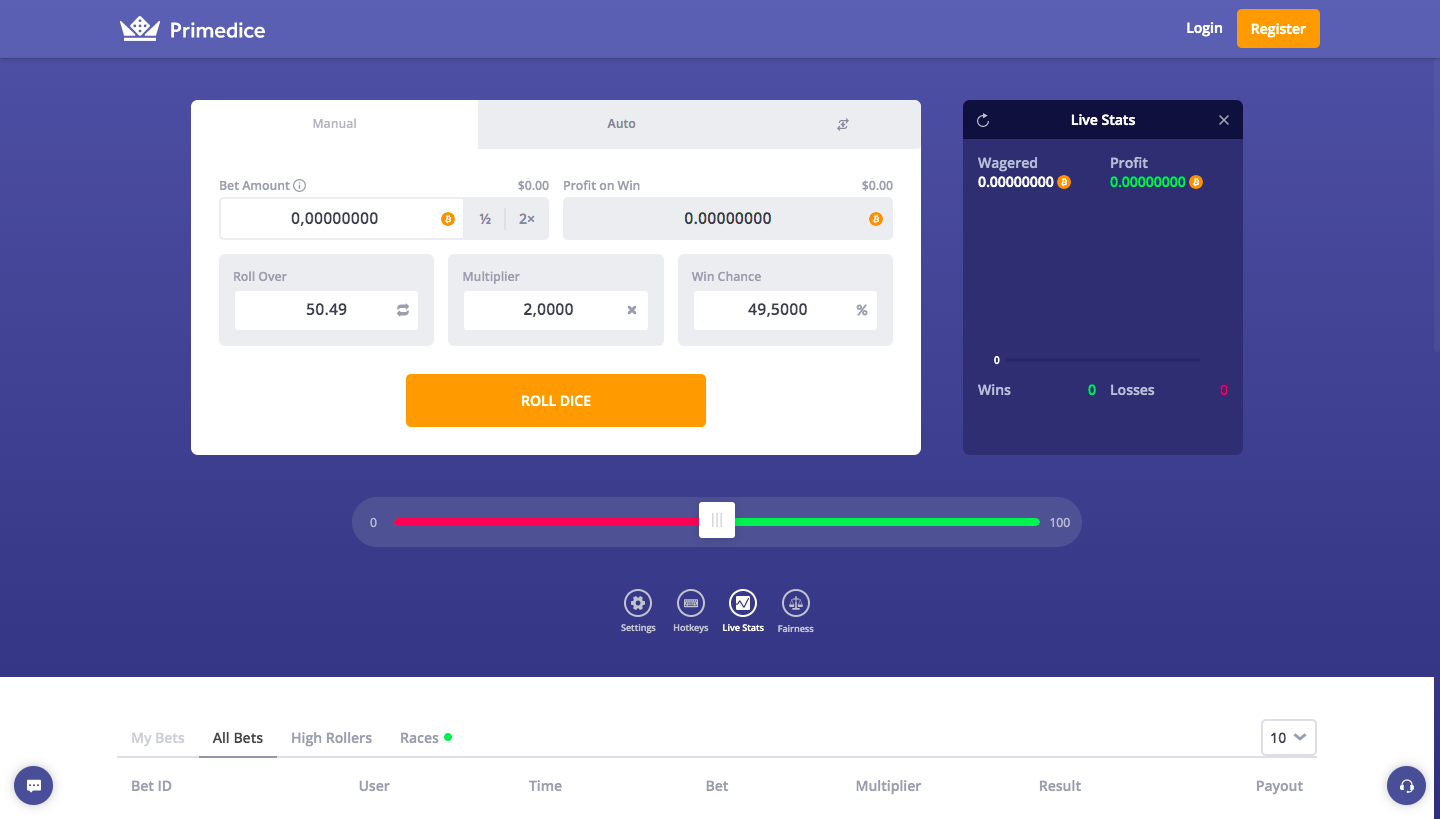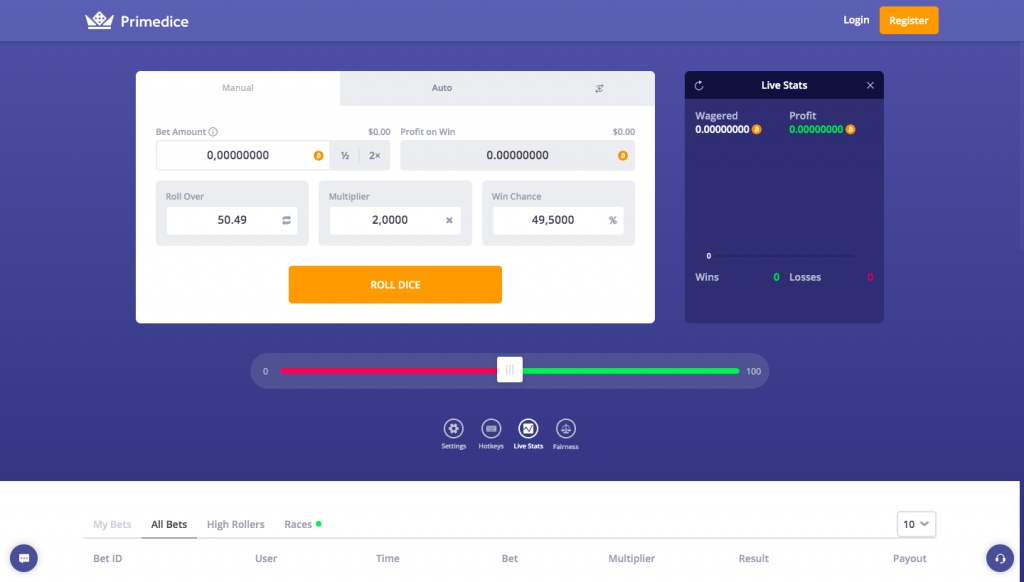 What you probably don't know is that this PrimeDice Bitcoin game is 100% provably fair. It's a classic and very simple take on Hi-Lo, and offers no bells or whistles.
This casino also holds a Curaçao license, so you can be sure of complete security and data privacy. The fact that the casino sometimes requests KYC information before deposits is a bit of a deterrent, especially for those looking to gamble anonymously.
If you have no qualms about the possibility of having to share your identity (which will be kept between you and the casino) PrimeDice may be an excellent option for a fuss-free dice experience. If so, sign up here:
DuckDice
Next up, we have another dice casino fan-favorite: DuckDice.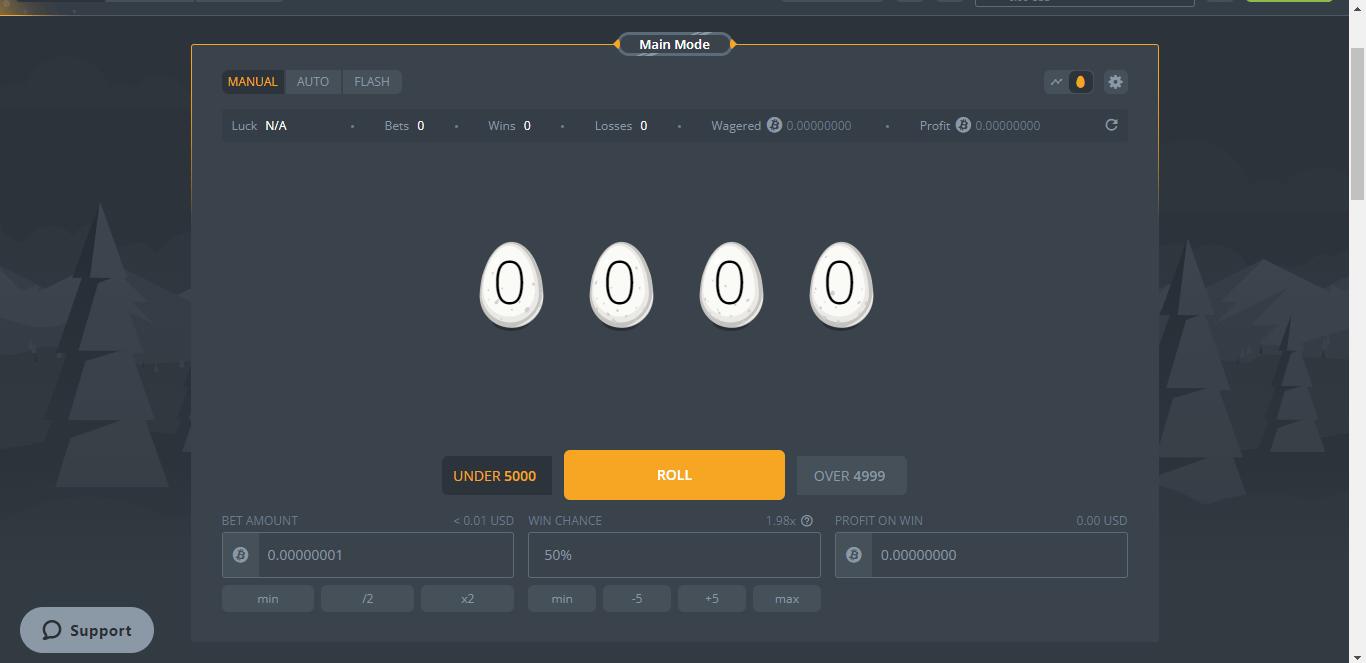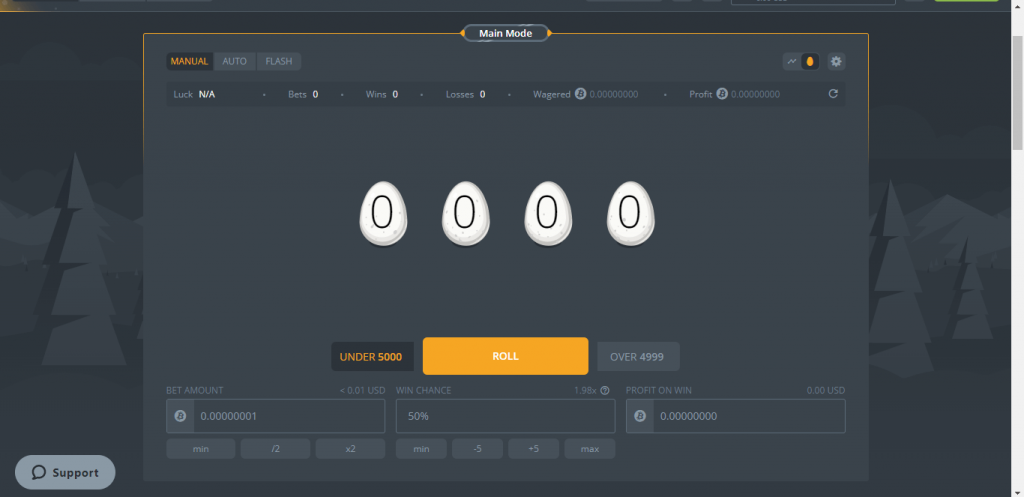 This egg-themed dice variant is another example of provably fair casino gaming. And, after examining hundreds of dice games, we were happy to see some variation.
You can shake things up with this DuckDice Bitcoin game for hours on end – but know that that's pretty much all you can do at this site. Like PrimeDice, it offers only one game.
On the plus side, this casino has something that PrimeDice does not – bonuses! You can find the full list of DuckDice bonuses in our detailed review. For now, if you're already raring to go, don't let us stop you:

Pros & Cons of BTC Dice
As you can probably tell, we're huge advocates for playing casino dice with Bitcoin. However, we recognize the importance of impartiality. With this in mind, we took the time to put together an unbiased list of the pros and cons of playing BTC dice.
Let's start with the good news first:
Pros
Privacy: Bitcoin transactions are generally anonymous. Unlike fiat casinos, no third-party intermediaries are involved in the transaction process. When playing dice with Bitcoin, you can maintain your privacy and protect your identity – especially if you decide to play at anonymous casinos.
Security: BTC transactions are highly secure due to the cryptographic nature of blockchain technology. Bitcoin transactions are less susceptible to hacking than traditional fiat payment methods.
Lower fees: Traditional online gambling sites often charge transaction fees or impose withdrawal limits. With Bitcoin, transaction fees are generally lower, and there may be fewer restrictions on withdrawals, allowing you to keep more of your dice winnings. This is especially true while playing at no limit Bitcoin casinos.
Provably Fair Dice: We've already spoken about the merits of provably fair dice. 99% of online fiat casinos don't offer provably fair games. With provably fair dice, you can enjoy the added layer of trust and be sure that outcomes are fair.
And now for the cons:
Cons
❌ Regulation: The regulatory environment surrounding cryptocurrencies, including Bitcoin, varies from country to country. You may find that you're unable to enjoy dice at some of the leading BTC dice sites thanks to where you live. It's essential to understand the legal implications and ensure you are complying with the regulations of your jurisdiction to avoid getting banned or a casino refusing to pay out.
❌ Volatility: Bitcoin's price is known for its volatility, which means the value of your Bitcoin in your casino account can fluctuate significantly. If the price drops, your dice winnings might be worth less when converted back to fiat currency. On the other hand, if the price rises, your winnings could increase – so it's a bit of a double-edged sword.

What Cryptos Are Available?
Casinos like BC.Game and Stake offer varied payment options when it comes to dice casino games. Aside from Bitcoin, you can play with popular currencies like:
Bitcoin Cash
Litecoin
Ethereum
Dogecoin
Binance
The best part is that new cryptocurrencies are added almost every day, so it's good to keep an eye on it if your payment method of choice isn't available just yet.

Popular Dice Games
Variety is the buzzword when it comes to cryptocurrency dice games! We'll take you through three of the most popular casino dice variants you can play with crypto:
Craps: Possibly the most popular dice game, Bitcoin craps blends just the right amount of luck and strategy to make for a thrilling crypto casino pastime. With a wide variety of bets you can place and different odds for each one, craps is sure to keep you busy for hours on end. The goal of the game is to correctly predict the sum of the dice roll and lower the house edge to your advantage.
Hi-Lo: You've already seen a few excellent variations of Hi-Lo at all the casinos we've mentioned thus far. Can you tell it's our favorite version? Quite simply, Hi-Lo involves players predicting whether the total of the next roll of at least two dice will be higher or lower than a certain number. For example, at DuckDice Casino, you'll have to predict whether the next roll will be under 5000 or over 4999.
Sic Bo: This intriguing variant originated in China in the early 20th century. And today, thanks to blockchain technology, we can now enjoy it at the best Bitcoin dice casinos. Sic Bo involves players placing bets on different outcomes of a dice roll, like specific combinations, numbers, or totals. Like every other dice game out there, it's all about luck.
Now that you're familiar with the most popular cryptocurrency dice variants you'll find the best crypto casinos, let's dive into how you should go about choosing the best one.

How To Choose A Bitcoin Dice Casino
Dice games might not be as easy to find as Crash and Bitcoin Blackjack, but that doesn't mean you should settle. When we compiled this list for you, we went through our rigorous testing process to make sure we're only recommending the best.
Here are the steps to picking the best BTC dice casino – we used them and we think they could help you find your personal favorite, too:
Try out Different Dice games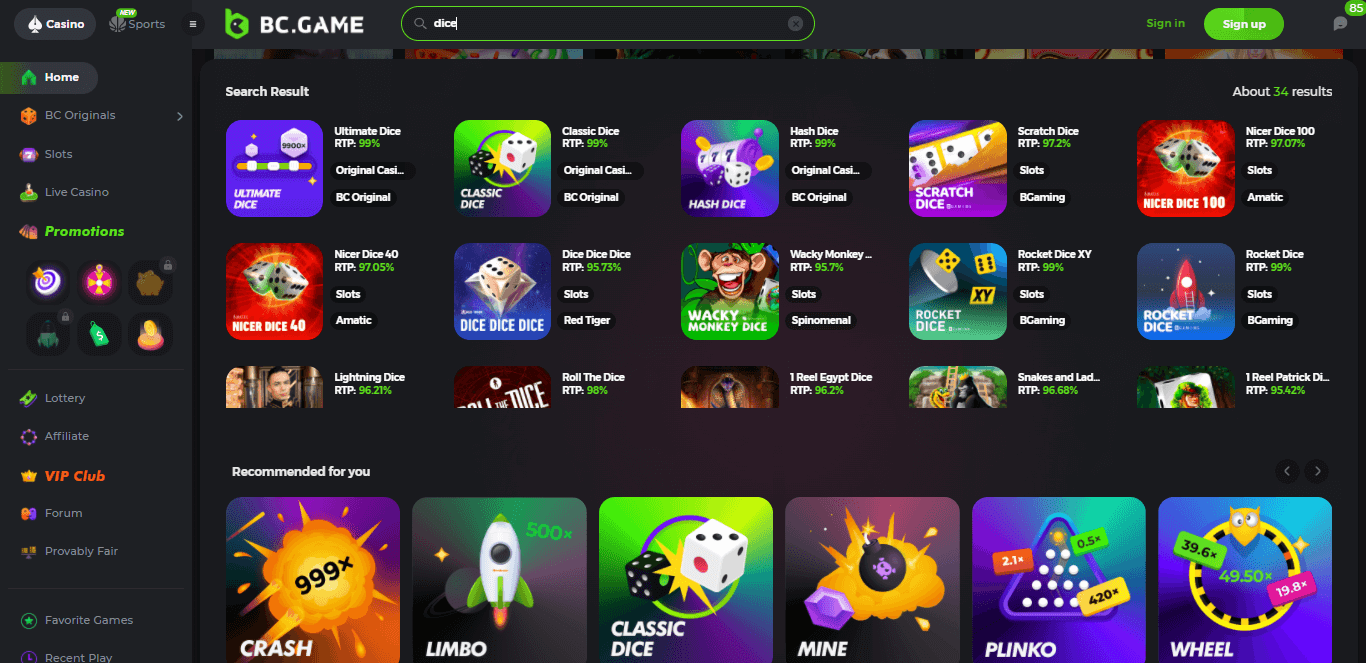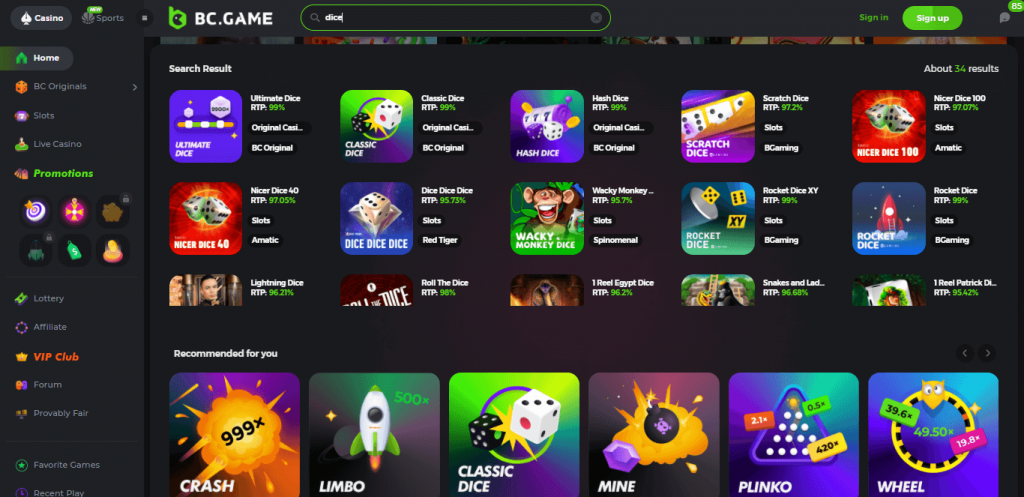 Before you decide on a casino, you can try out different types of Bitcoin Dice games in the play-for-fun mode. This way you'll get familiar with all the available options and decide which ones you like best. Once you made your choice, you can start looking for a casino that offers these options.
Check out the Help Section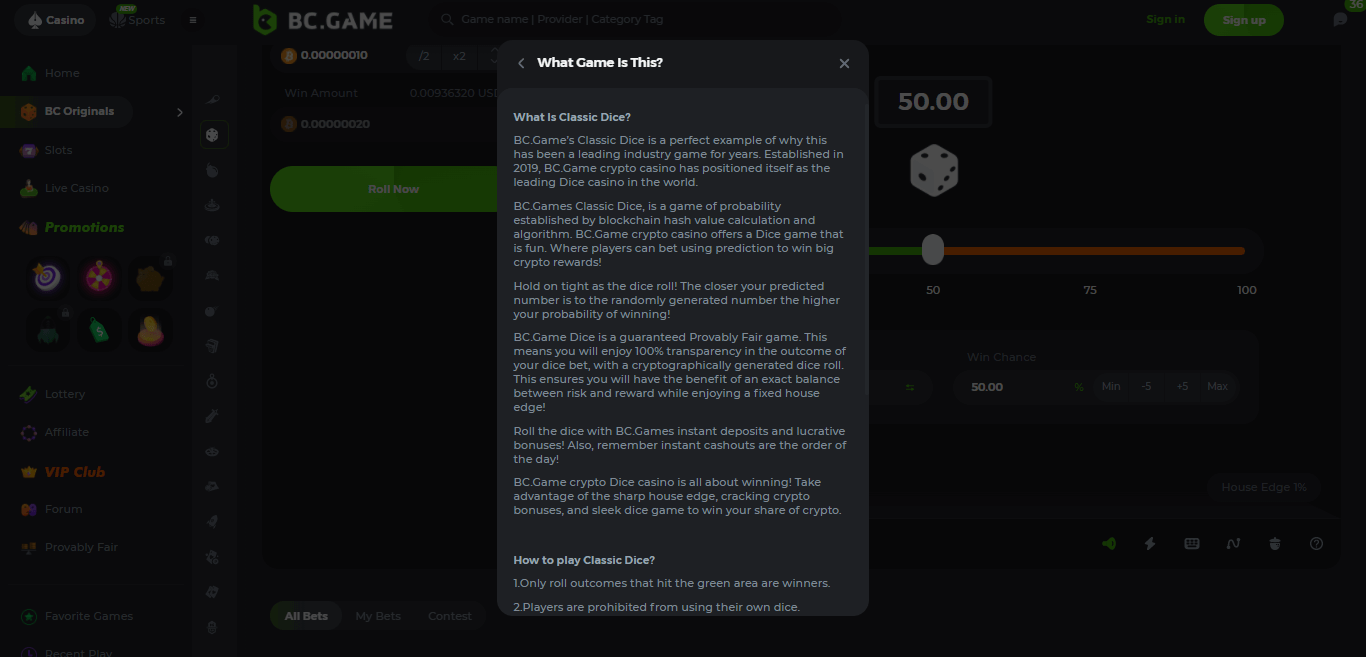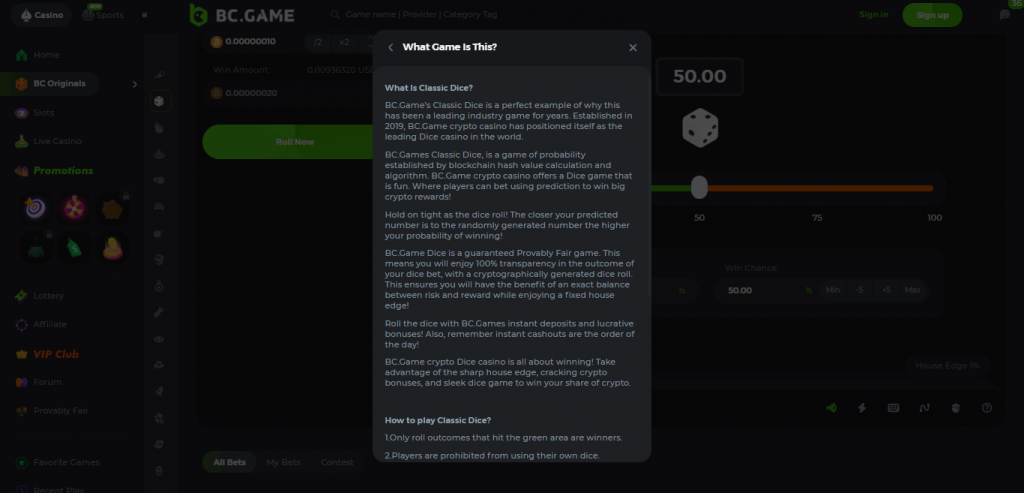 Does the casino have a page to explain the dice rules to new players? Even better – is it provably fair with an easy way to verify the randomness?
If not, at least check out the FAQ page or the customer support team. This way you'll learn straight away whether or not they are knowledgeable enough in your opinion.
Also, their opening hours are important. If you like to play at night or really early in the morning, it's nice to know there'll be someone available to help you.
Read the T&Cs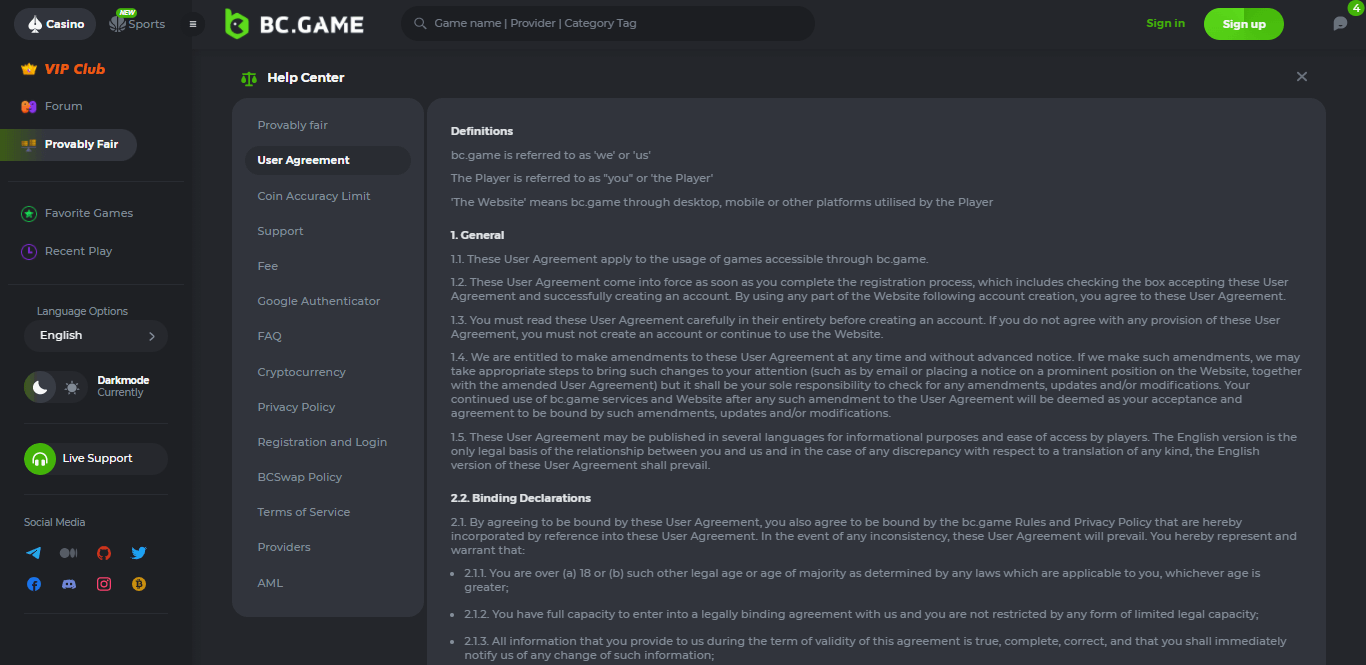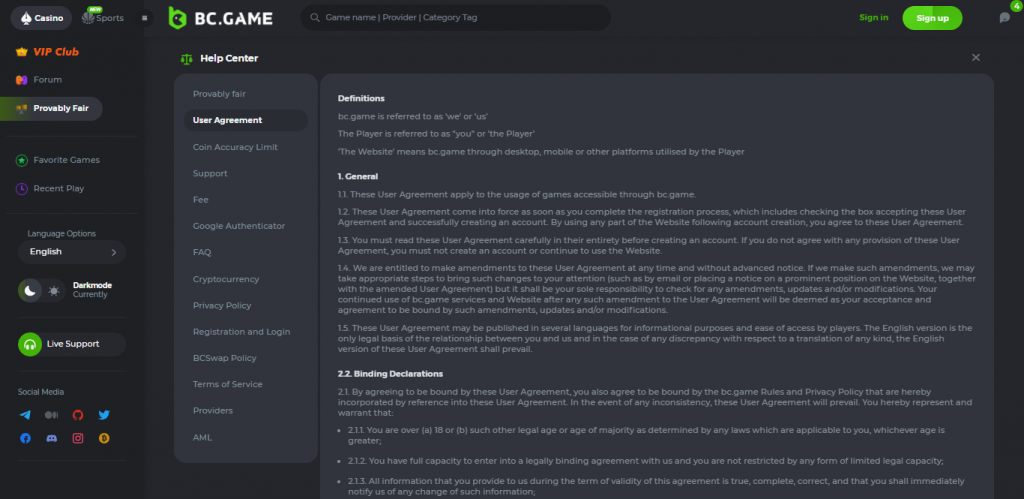 It's a boring task, but that doesn't make it less important. Before joining a casino, you should always read the Terms and Conditions to become aware of your rights and obligations towards the casino. Doing this can avoid a lot of misunderstandings and frustrations that come with playing in an unknown casino.
And it's a good way to check the trustworthiness of a casino. If the T&Cs don't make sense, you won't want to play there anyway.
For dice Dapps, this is different though, as you should consult the FAQ page and aim to play at a provably fair operator.
Do Bitcoin Dice Strategies Work: Here's the Tea
It's no secret that casino games are luck-based. Using a Bitcoin dice strategy can't guarantee wins – because, if it could, casinos wouldn't offer the game (they'd lose on every round, because you'd have them beat).
Plus, think about it – if somebody did have a failproof BTC strategy, why would they give it away? They'd just use it to make money and retire to a tropical location, right? Unfortunately, those who make strategy promises are usually scammers or intentionally mislead you to promote a casino. Don't fall for it!
No matter what strategy you use, statistically the house has an advantage. That being said, there are certain strategies that can help you minimize your BTC dice losses and give you a better chance of coming out ahead. Essentially, the best way to play Bitcoin dice is to prioritize bankroll management.
Bankroll Management
If you've ever read a guide on Bitcoin games before, you'll know that bankroll management is of the utmost importance.
Bankroll management is only surefire way to make a profit.
You should never bet more than you can afford to lose, and it's always a good idea to set aside a certain amount of money for gambling each month. We also recommend not putting more than 2-5% of your bankroll in a single bet to avoid losing quickly.
Another thing to keep in mind is that not all casinos are created equal. Some have a much higher house edge than others, so it's important to do your research before choosing where to play.
Low house edge casinos include BC.Game and Stake, which give you RTPs of 99%:
Bonuses & Promotions
Everyone wants more than less. The same applies to cryptocurrency Dice games, so go ahead and take advantage of bonuses and promotions whenever possible.
Many Dice casinos offer deposit bonuses, cashback offers, and other rewards that can help you stretch your bankroll further. Stake and DuckDice are known to offer Dice-specific bonuses fairly often, so be sure to check them out if bonuses are a priority.
Even if luck isn't on your side, bonuses can give you that extra boost you need.

Final Tips
Still with us? We've covered a lot of ground so far. And, if you're like most dice aficionados, you're probably still wondering how to win at Bitcoin dice. Unfortunately, there's no set of instructions in the world that can tell you how. It's a luck-based game, after all.
However, here are some final tips that can help you boost your chances of making a profit:
Understand the rules before wagering real money – you can play in 'play for fun mode' as you get familiar with the game. Check out other people's games and learn from their strategies, too.
Bet on options with lower odds first as these give you a higher chance to win. Then, move on to options with higher odds.
Play a few rounds in a row to get more experience.
Make sure you're calm when playing. Avoid gambling if you're tired or under the influence. Leave the game to cool down when you are on a losing streak.
Finally, make sure you only bet at trustworthy & reputable casinos. Whether this means sticking to provably fair games (BC.Game and Stake have tons of those) or choosing a provider with a trusted license, never risk your hard-earned cash for an icky casino.
Our top pick? We love Stake's Bitcoin dice options – low house edge, tons of games, and an exciting sociable aspect. What else is there to ask for?