Welcome to the thrilling world of Bitcoin craps! And no, we're not talking about those panic-inducing moments when your BTC portfolio takes a nosedive.
We're talking about the age-old casino dice game that has, over the past few years, been injected with a dose of blockchain modernity. It's a high-stakes, heart-pounding game of luck that you can play with your favorite cryptocurrency.
Take the volatility of crypto and the unpredictability of the dice – and you've got a recipe for fun (or financial mayhem, if you're not savvy enough).
In this guide, we're going to take you through:
The best crypto casinos for craps
How to play craps with Bitcoin
The most popular craps strategies
Ready? Let's roll.

The Top Crypto Craps Casinos
We won't beat around the bush here. If you're in a pinch for time and want to jump right into the world of Bitcoin craps, we won't keep you in suspense.
We scoured the web to find the most promising crypto craps casinos, and though you've already seen our top 10 picks, we have to zone in on the 3 best options:
What do all these sites have in common? We're so glad you asked:
Engaging Bitcoin craps titles that you can play live or virtually as you prefer.
Stellar bonuses and promotions to help you boost your bankroll and maximize your fun.
Excellent security to ensure your data and funds are safe and secure at all times.
Instant deposits and withdrawals so you can reap the financial benefits from the get-go.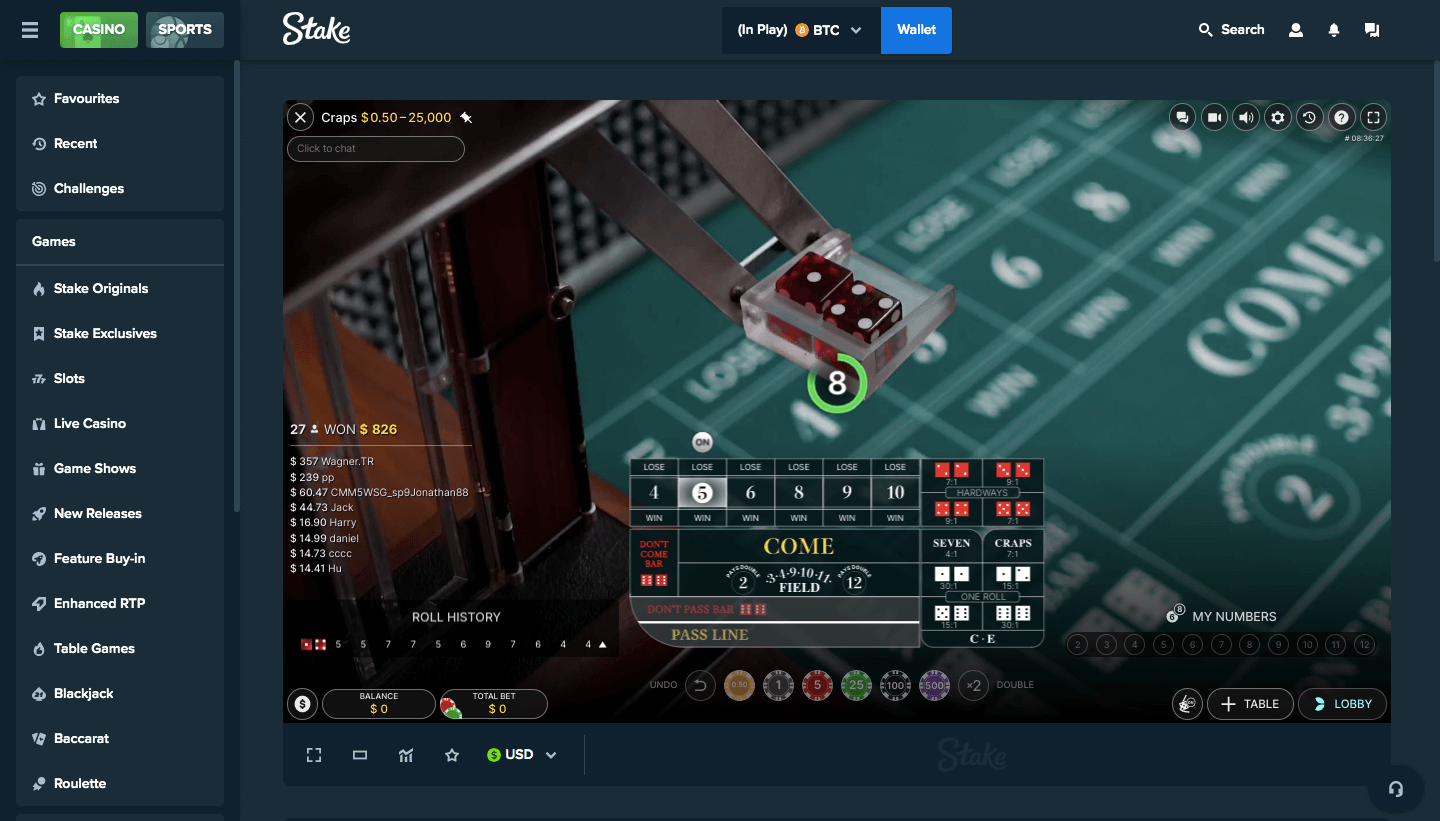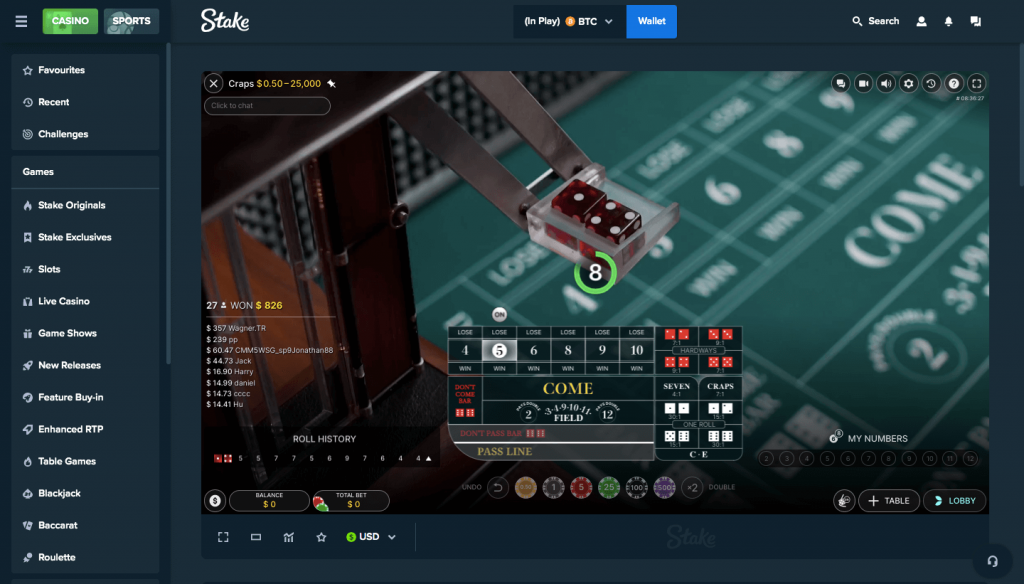 How Does Bitcoin Casino Craps Work?
Bitcoin casino craps is an engaging variant of crypto dice. It's arguably the most popular type of casino dice game, which is why more and more gambling sites are adding the game to their portfolios.
Most players tend to choose craps over other beloved dice variants like hi-lo and Sic bo.
Why, you may ask?
Strategy
While Bitcoin Sic bo and hi-lo are almost entirely luck-based, crypto craps offers more room for strategy. Players can choose from more types of bets and can do more to lower the house edge.
Payouts
Typically, craps offers higher potential payouts than Sic bo and hi-lo. This makes it a more appealing option for high-rollers.
Social
Back in the day, craps was a brick-and-mortar casino special – attracting huge and boisterous crowds around the table. Online, craps has kept that social aspect, which is why you'll find players are more engaging on live in-game craps chats.
Complexity
Craps is more complex than hi-lo and Sic bo. This complexity can be a deterrent for some, but it's more exciting in the long run.
Bet Variety
We've already mentioned that craps features a much bigger selection of bets than other dice variants. The options and combinations are endless.
As we've said, it's not the simplest casino game out there, but with a bit of time and effort, you'll get the hang of it in no time. In any case, we're going to help you get there, starting by getting you up to speed with the different types of bets you can place in this thrilling game.

Different Craps Bets
You can place a plethora of bets in crypto craps. So many that we can't possibly cover them all. But before we dive into all the different types of bets on the table, let's go over some typical lingo you'll encounter in craps:
Point – In craps, the 'point' is a certain number (4, 5, 6, 8, 9, or 10) generated during the first roll of the dice (also known as the come-out roll) provided the result isn't a natural or a craps.
Natural – A specific outcome on the come-out roll, when the sum of the two dice is either a 7 or an 11.
Craps – Another possible outcome on the come-out roll, this time when the roll results in a 2, 3, or 12.
Push – A scenario where a bet neither wins nor loses. In this event, the bet is usually returned to the player.
Now that that's out of the way, let's fast-track over to the different types of bets you can place in craps: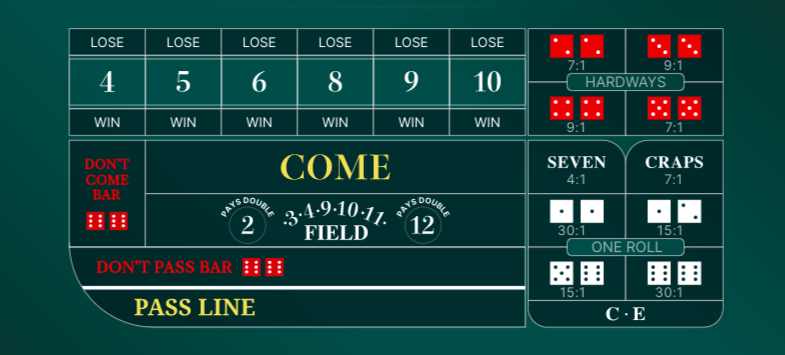 Pass Line
A bet on the shooter getting 7 or 11 points on the first roll (the come-out). Players lose this bet if the outcome is 2, 3, or 12 points at the come-out (craps!).
However, it's not all gloom and doom.
If any other number is rolled (besides the losing numbers) it becomes the 'point', and players will win if the shooter throws the same number again before throwing a 7.
Don't Pass Line
The opposite of a Pass Line bet. Here, players bet on the shooter throwing 'craps' on the first try (2, 3, or 12).
Following the come-out, if the next throw leads to a point, you'll need the next roll to be a 7 (and not the point number).
In this bet, rolling a 12 will result in a push.
Come
A bet that can be placed before or after the come-out roll. In this bet, you'll win if the following throw after a point results in a 7 or 11.
If the next throw is craps, you lose.
Don't Come
The opposite of a Come wager. It can also be placed after the point is established.
Field Bet
A wager on whether the next throw will result in a 2, 3, 4, 9, 10, 11, or 12. Your payout will vary depending on the number rolled.
Hardway Bet
A bet that a specific number (4, 6, 8, or 10) will be thrown as a pair. For example, two 5s rolled will result in a hard 10.
Seven Bet
One of the simpler craps bets out there. This is a bet that the next roll will result in a 7.
These are just a few of the many bets you can place in this exciting dice variant. There's no need to learn them all off the bat. You'll find that:
Most BTC craps tables have detailed instructions per bet, making the game perfect for newbies and pros alike.

How to Play Craps with Crypto
Let's start with the crypto element first.
If you've ever played craps online before, you'll be happy to know that playing it with crypto isn't much different from playing with fiat. It's all about having crypto in your wallet and getting the hang of the deposit and withdrawal process.
We have a detailed Bitcoin casino deposit guide that will take you through the process step by step.
Moving on, here's how a round of craps will go:
Select your bet
There are a few different bets to choose from in craps, each with its own odds and payout.
Place your bet
Choose your bet amount and select 'Roll'. Alternatively, you'll wait until the dealer closes the bets and rolls the dice.
Dice roll
If you're playing a virtual craps game, the outcome of the dice roll will be generated by RNG technology. When playing live, you'll watch the dealer throw the dice in real time and wait for the results.
Outcome
The outcome of the dice roll determines whether your bets win or lose.
Payout
If Lady Luck's on your side, you'll win yourself a tidy profit. The payout you receive depends on the odds associated with your chosen bet – which varies based on the probability of it occurring.
It's really that simple! And the great news is that most craps games will have detailed instructions and how-to guides accompanying them. At any time, you can can double-check the rules.
In addition, most craps tables will display the odds and potential payout for each bet – further simplifying things for you.

Craps-Friendly Cryptos
In 2023, there are approximately 22,932 cryptocurrencies out there. That's not to say that all of them can be used for online gambling, but this number should give you an idea of the diversity you can look forward to in terms of payment methods.
The best crypto craps casinos offer a great range of cryptocurrencies you can use to fund your craps fun.
Bitcoin is, without a doubt, the most popular crypto for craps players, followed by Ethereum and Litecoin. Some other popular currencies include:
Tether
Dogecoin
Binance
Ripple
Tron
Bitcoin Cash
Cardano
You can check out our individual cryptocurrency guides if you want to make a more informed choice.

Is There a Winning Craps Strategy?
Unfortunately, there is no craps strategy that can guarantee you a win. However, that doesn't mean there aren't a bunch of craps-specific strategies popularized over the years.
Whether or not they're truly effective is unclear, but we're of the opinion that the only way to make a profit from Bitcoin gambling is through bankroll management.
In any event, we're going to take you through some of the most well-known craps strategies (and add our two cents about why they're not so reliable).
The Iron Cross
This technique encourages players to place field bets and a Place bet on the number 5 and, at the same time, avoid the number 7. It's true that this strategy provides multiple ways to win on each roll, but naturally, you'll lose if a 7 is rolled.
The 3-Point Molly
Here, players must place three bets – Pass Line, Come, and Odds. First, the player places a Pass Line bet, followed by a Come bet after a point has been established. Finally, the player should keep taking odds behind each bet. As you can see, it's a combination of a few different bets to increase your chances of winning on each roll.
Don't Pass and Don't Come Bets
This approach entails betting against the shooter, and involves placing Don't Pass and Don't Come bets. The logic behind this technique is that the house edge on these bets is low, so winning should land you with a decent profit.
Pass Line and Come Bets
Here, players must focus on Pass Line and Come bets – both of which have relatively low house edges. You can decrease the house edge further by taking odds behind these bets.
Now that you've seen some of the top craps strategies, it should come as no surprise that none of them can guarantee you a win. Each of them relies on either lowering the house edge or ensuring multiple ways to win.
In the end, it's all about luck and decreasing the house edge.

Is Bitcoin Casino Craps Legal?
This depends entirely on where you live! We wish we could give you a more straightforward answer, but online gambling itself sits in a legal gray area in many countries.
Add crypto to the mix, and things sometimes get even more complex.
In any event, all you need to know is:
If crypto gambling is legal in your jurisdiction, you can safely enjoy BTC casino craps.
Casinos will often restrict players from prohibited regions, helping you to gauge whether or not you're allowed to play.
One word of advice: don't try to spoof your location using a VPN. If you're playing from a restricted country, you'll likely get caught somewhere along the line – VPN or not.
Although there are no legal ramifications for players, you'll risk losing any winnings and access to your account. Yup, Bitcoin casinos can legally refuse to pay out, and ban you from your account.
You can avoid all this by betting at casinos that accept players from your region. Or, by enjoying craps at anonymous casinos like:
Final Thoughts
There you have it, your complete guide to Bitcoin online craps! At this point, you're more than ready to jump into your first game.
However, we can't let you go before reminding you of the importance of responsible gambling – if only to help you maximize your profits and stretch out your bankroll.
At the end of the day, it's all about fun – and you'll have no trouble finding just that at any one of our top-rated BTC craps sites.
We'll be sure to keep this page fresh and add any new insights and sites that pop up – so keep checking back for more options. Until then, Stake Casino remains our top choice for crypto craps.