Click, click…boom! Or not, if you're lucky. Ever played Minesweeper on your old family PC?
This addictive game is making a comeback – but this time with a cryptocurrency twist!
Childhood nostalgia meets cutting-edge technology to bring you Bitcoin minesweeper, a fun and white-knuckle-inducing casino game.
Get ready to dive into the realm of crypto minesweeper! In this comprehensive guide, we're going to take you through:
The top sites where you can play mines with crypto
How to play this thrilling game
Effective minesweeper gambling strategies (that actually work)
Ready? Bombs away!
The Best Bitcoin Minesweeper Sites
Can't wait to jump into your first round of minesweeper? We don't blame you. We won't beat around the bush, then. Here's our list of the top crypto mines sites:
Still here? Fantastic. So far, we've only touched the tip of the iceberg. There's still so much to learn about the minesweeper casinos.
After some extensive research and hands-on testing, we put together some reviews to show you just what our top picks have to offer – starting with our favorite choice:

Stake Casino: Best for Provably Fair BTC Minesweeper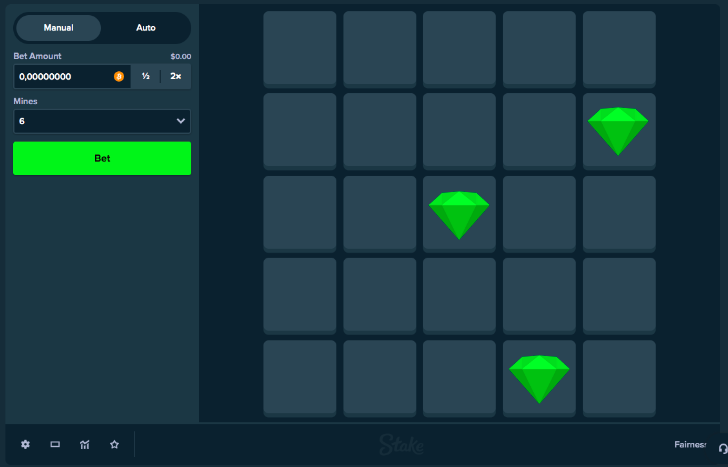 Fast Facts
Established: 2017
License: Curaçao
Best for: Provably fair minesweeper
Pros & Cons
In-house, provably fair minesweeper game
99% RTP on in-house minesweeper
BGaming's Mines available
Smooth gameplay through and through
Volatility switch to change your odds
❌ Only 2 minesweeper variants to choose from
Overview
Although we're sticklers for game variety, Stake is a classic example of quality of quantity.
What do we mean? Well, Stake only has 2 Bitcoin minesweeper variants. And, as you've probably gleaned by now, they're top-tier.
At Stake, you can choose between:
In-House 'Mines'
BGaming's 'Minesweeper'
Both are fun-filled and easy to play, but we're going to zone in on the former, as it sets Stake apart from competitors.
Stake's in-house minesweeper is 100% provably fair – our favorite thing about the game, aside from its simple design and smooth gameplay.
You can personally check the fairness of each outcome, eliminating the possibility of rigged results.
We also love that you can change the number of mines hidden in the field, choosing from 1 – 24 mines. Stake calls this the 'volatility switch', and it's something we see across all of Stake's original titles in some form or another.
Naturally, the odds and payout change depending on how many mines you've placed in the field.
Choosing 24 mines means a higher payout, but it also means you only have one chance to win, since the field comprises only 25 tiles.
If you're lucky, you'll click on all the gems and avoid the mines – ensuring an instant and fee-less payout from the casino.
After such a glowing recommendation, we won't be surprised if you're raring to jump into your first Stake minesweeper game. You can sign up here:

BC.Game Casino: Best for Customization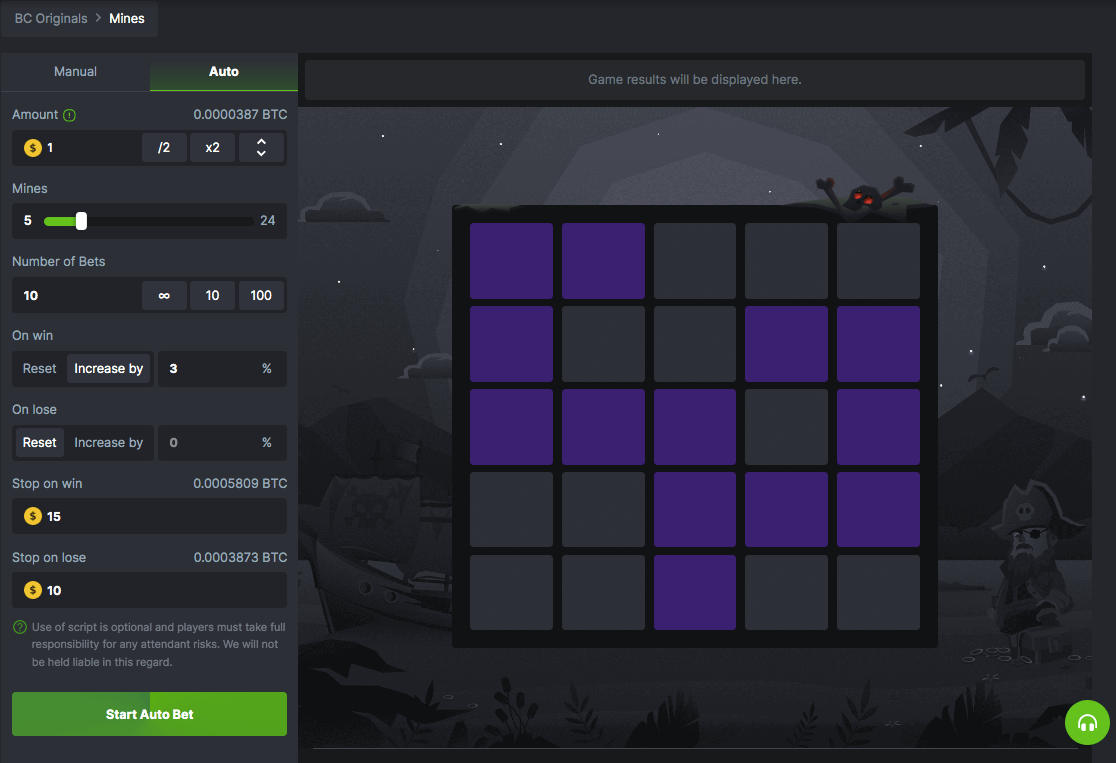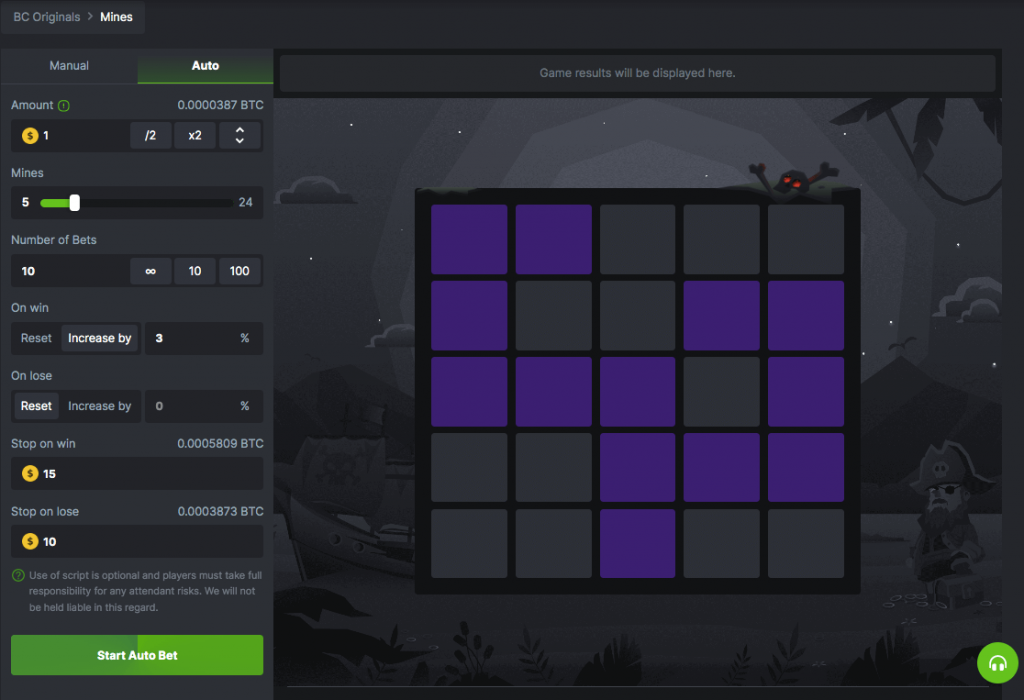 Fast Facts
Established: 2017
License: Curaçao
Best for: Customization
Pros & Cons
Provably fair minesweeper available in-house
4 mine game variants to choose from
Multiple customization options available
1080% match bonus up for grabs
❌ Bonus not awarded in crypto (in-house token)
Overview
Stake may have a volatility switch, but BC.Game takes customization to a whole new level.
BC.Game's original and provably fair 'Mine' game lets you choose:
Stop limit on wins and losses
Increase on wins and losses
Number of bets
Number of mines
Like Stake, you can choose up to 24 mines in the field, (but hiding fewer will increase your odds of coming out unscathed).
Aside from the casino's heavily customizable in-house game, you'll find 3 more variants developed by the likes of BGaming and JILI.
And, although it's not mines-specific, BC.Game packs a punch with its massive welcome bonus (1080% match) split across your first four deposits.
In other words, this casino gives you all the tools you need to win big and have fun while doing so. The only 'downside' is that BC.Game dolls out this bonus in the casino's in-house token instead of your currency of choice.
Sign up and use your juicy welcome bonus to make the most out of minesweeper at BC.Game:

Cloudbet Casino: Best for Bonuses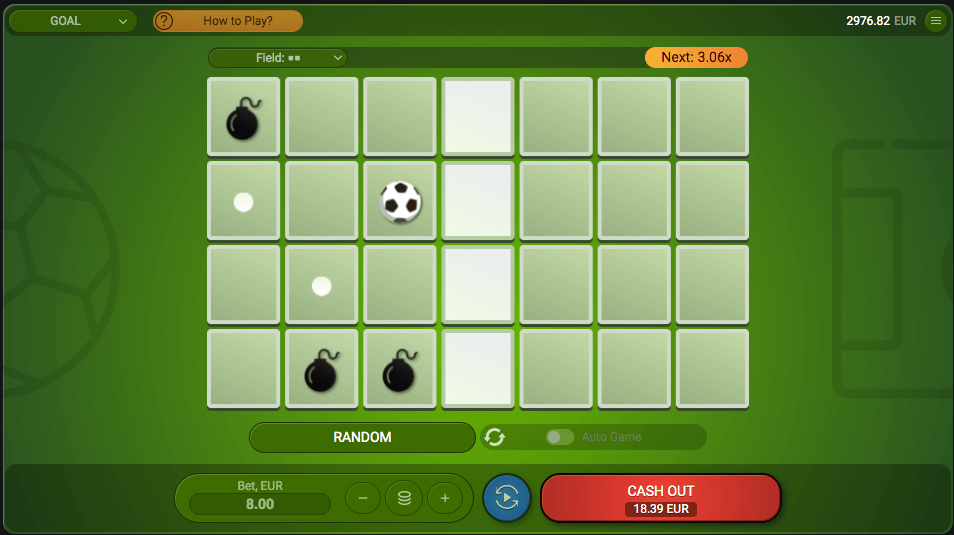 Fast Facts
Established: 2013
License: Curaçao
Best for: Bonuses
Pros & Cons
In-house minesweeper developed by Spribe
Provably fair mines (results verifiable)
Massive welcome bonus, up to 5 BTC
❌ Higher house edge of 3%
Overview
Cloudbet Casino offers 2 in-house minesweeper games – both developed especially for the casino by Spribe.
They're both provably fair and easy on the eyes, even though they have a slightly higher house edge of 3%.
This is 2% more than BC.Game and Stake's in-house titles, which does mean you'll need to do slightly more to make a profit in the long run.
Moving beyond the house edge, let's zoom in on Cloudbet's minesweeper options:
Cloudbet Mines – a classic take on minesweeper with several customizable features.
Cloudbet Goal Mines – an interesting, soccer-themed mines variant.
As avid BTC sports betting fans, we preferred Goal Mines – where the point is to make it across the field safely and score a goal.
But don't be fooled into thinking you have to wait until you score the goal! You can cash out at any point as your payout increases.
Finally, for the pièce de résistance, Cloudbet is a veritable force when it comes to bonuses. It's probably our favorite thing about this site.
Upon making your first deposit, you can claim a 100% match bonus up to a whopping 5 BTC! You can read all the nitty gritty details in our dedicated Cloudbet review.
So, what are you waiting for? Grab this bonus and try to navigate the field safely on either of Cloudbet's engaging minesweeper games:
TL;DR?
We're all about convenience, which is why we've compiled a table comparing the different options and features at the top Bitcoin minesweeper gambling sites.
You can skip the nitty gritty and focus on the facts below:
Stake
BC.Game
Cloudbet



Variants?

Stake

2

BC.Game

4

Cloudbet

2



In-House Mines?

Stake

✅

BC.Game

✅

Cloudbet

✅



Provably Fair Mines?

Stake

✅

BC.Game

✅

Cloudbet

✅



Welcome Bonus?

Stake

❌

BC.Game

✅

Cloudbet

✅

How Does Crypto Minesweeper Work?
If you've ever dabbled in minesweeper before, you'll know just how simple it is. But what about adding crypto into the mix?
We'll get there in a sec, but first, we'll take you through a brief overview of the game and its history.
To begin…
You can think of minesweeper as a digital game of chance. You're dropped into a grid of hidden mines, and your goal is to avoid blowing up.
This iconic game originated back in the 1960s – rising to popularity as a computer game known as 'Cube' found on the PLATO educational computer system.
Over decades, the game evolved to become the minesweeper of our childhoods and adolescence.
In the 1980s, it was bundled with the Windows operating system as a pre-installed game on millions of PCs found in homes, offices, and schools around the world.
The past few years have seen the widespread adoption of this game at online casinos. It's unlike conventional casino games like poker and blackjack, however.
Most people in the iGaming biz see mines as an unconventional, or specialty, casino game – in the same vein as BTC Crash or Plinko.
And, like these games, minesweeper is beloved for several reasons:
It's provably fair at most crypto casinos
It's readily customizable
It's incredibly easy to play
It's perfect for low and high rollers alike

How to Play the Minesweeper Bitcoin Game
We've just mentioned how easy it is to play minesweeper, and adding crypto to the equation actually makes it easier.
How?
Cryptocurrency and blockchain technology ensure fast, anonymous payments – without any third-party intermediaries like banks having to get involved.
At the end of the day, it's as simple as making a deposit to the casino and withdrawing your funds once you've fattened up your bankroll.
Psst! Our Bitcoin casino deposit guide will take you through the process in a few simple steps.
Once the deposit's out of the way, you can head right over to your preferred crypto mine game variant, which is where the real fun (and terror) comes in.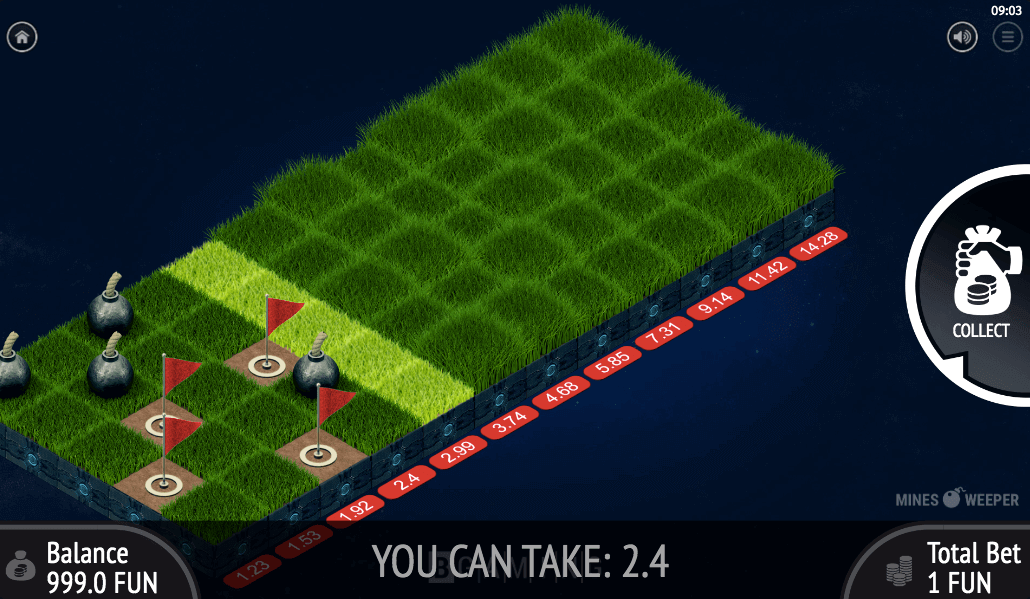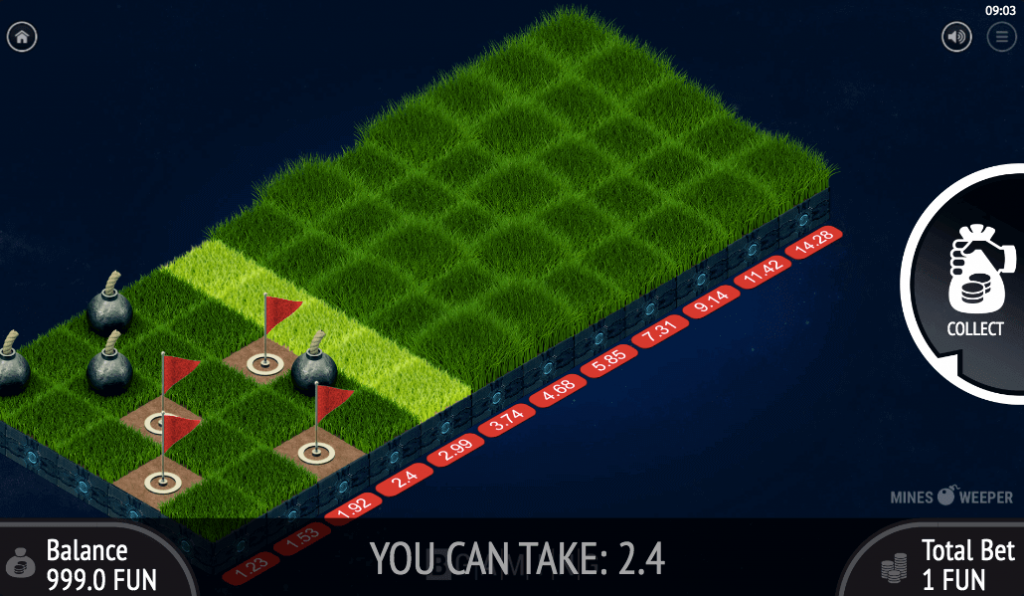 Here's how a typical round of minesweeper goes:
Choose the number of mines to hide in the field.
The number of mines you can choose varies from game to game, but usually ranges from 3 – 24. The more mines you choose, the higher the risk (and reward).
Adjust your bet amount and use other customizable features.
Here's your opportunity to really make the field your own! Make use of auto bet functions, stop limits, win or loss limits, and countless other neat features (where applicable).
Make your way across the board.
Keep your sweat towel on hand, because here's where things start to get hairy. You need to navigate your way across the mile field and avoid the hidden mines. You can play it safe and cashout as soon as you've made a profit, or dodge all the mines for the maximum payout – it's up to you.
Here's the kicker: If you click on a mine – BOOM! Game over.

How Much Can You Win Playing Crypto Mines?
The question on everyone's lips: how profitable is the crypto minesweeper game?
We wish we could give you a simple answer, but how much you can win varies from game to game. For example, let's look at the max wins on our favorite in-house minesweeper games:
| Casino | Max. Win Per Bet |
| --- | --- |
| Stake | 10 BTC |
| BC.Game | $1M+ |
| Cloudbet | $10,000 |
As you can see from just three examples, winning amounts differ wildly.
So, if the winning amounts are anything to go by:
If you're looking to bet big and win even bigger, we suggest playing mines at BC.Game or Stake Casino
Alternatively, Cloudbet and Rocketpot are great options if you're looking to make a profit in the long run.

Are There Any BTC Minesweeper Strategies?
A simple Google search for 'winning minesweeper strategies' will yield a bunch of….interesting results. We wish we could say that there's a grain of truth in any of them, but the fact is that there is no foolproof strategy that will result in a winning bet every time.
If there were, crypto casinos would be out of business and we'd all be mega millionaires.
However, for the sake of thoroughness, we're going to take you through some of the most popular Bitcoin minesweeper strategies (and add our two cents about why they don't work):
The Martingale Strategy
The idea here is to double your bet after each losing bet, with the objective being to recover your previous losses and make a profit when (if) you do eventually win. For example, if you start with a bet of $1 (or crypto equivalent) and hit a mine, you'd double your next bet to $2 – and so on.
The strategy relies on the idea that at some point you'll avoid all the mines and win – enough to cover all of the lost bets. We probably don't need to explain why this is problematic. This strategy puts you at risk of depleting your bankroll if you hit an unlucky streak.
The Fibonacci System
This system, like the Martingale, relies on increasing your bet after each loss. This time, however, you'll follow the Fibonacci sequence (1, 1, 2, 3, 5, 8, and so on). The goal? To recover your losses with smaller bets than you'd place using the Martingale.
Even so, success is based on the assumption that you'll eventually win. But if you don't, you can kiss your lost bets goodbye.
Oscar's Grind
Here, you're encouraged to increase your bets by one unit after every win – up until you hit a predetermined profit target. Then, you'll start over again. Although this system may look like it manages losses effectively, it's certainly not reliable.
Why? Your success hinges on consistent winnings, which can't be guaranteed when playing chance games like minesweeper. Getting stuck in a losing cycle would erase any progress and you'll be tempted to chase losses.
The Verdict
So, what do all of the above strategies have in common?
They all rely on consistent winning bets, which aren't guaranteed when playing minesweeper.
Truth be told, there's no Bitcoin minesweeper strategy you can wield to guarantee a win. In the end, it's all about bankroll management – which we've already touched on. It's one of the only feasible minesweeper tips out there!
We cover bankroll management extensively in our guide to making a profit from Bitcoin gambling.
Final Thoughts
Phew, you made it! You're finally ready to jump into your first round of minesweeper. If you're lucky, you'll avoid all the mines and come out on top, increasing your multiplier (and profit) as you do so.
Before you go, we'll leave you with this:
Minesweeper is a specialty game, and it's not available at all crypto casinos. Fortunately for you, the number of casinos offering this iconic game is increasing day by day. We're keeping tabs on all of them, so be sure to come back regularly to find new options.
Until then, you'll find the crypto minesweeper gambling fun here: