This is a game especially created for crypto gamblers. It is therefore quite new, but just as exciting as other casino games. Special about it is that you cannot play it when you use fiat currencies. Or at least, it'll be much harder to find a casino to play the game at.
There are many types of Crash that vary from very simple to a bit more sophisticated. You can choose the version you want, although this also depends a bit on the casino that offers the game.
A lot of the games are designed in house and provably fair, which also mean that the graphics cannot be compared to slot machines or other online casino games.
CRASH
A relatively new and provably fair crypto casino game.
Where To Play Crash Online?
Casinos
Since this casino game is quite new, it's not easy to find it. Casinos that offer games by known providers, usually don't offer this game as no big provider has created a version of the game yet. Or better yet, no provider has created a version of the game yet.
About Stake Casino
Stake is unlike any other Bitcoin casino. It's got a fresh look, modern games (including a few exclusives), a top-notch VIP program, and no welcome bonus. That's right: you won't find a welcome pack at Stake, but you won't miss it. With provably fair games across the board, a fully disclosed house edge, and a wide array of rewarding promotions, you'll know exactly what's in store for you from the get-go. All in all, Stake is a casino where transparency is paramount.
Overview
Websitewww.stake.com
Established 2017
License Curaçao
Bonus -
Wagering Requirement -
No Deposit Bonus -
Live Chat Yes
You can also choose to play Crash at Edgeless, which is an app that contains a couple of games.
Dapps
It's quite another story when you look at Dapps. These often create their own provably fair games and Crash is often one of them. Below you can find a list of Dapps on which Crash is already available.
Earnbet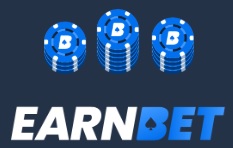 This Dapp accepts Bitcoin as well as Ethereum and a number of other cryptocurrencies. The house edge when playing Crash on Earnbet is 1.5%, which makes for a nice chance to win some money. If you play enough, you can even get your hand on some tokens that entitle you to a part of the house profit.
Nanogames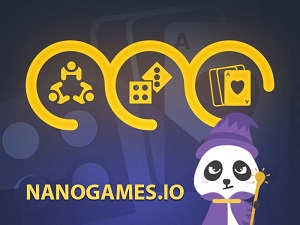 Nanogames is a Dapp that offers 4 different games, including which Crash.
The games are all based on Ethereum smart contracts, so provably fair.
You can also find a players chat on the side, which gives it a more social edge.
Availability For Cryptocurrencies
Crash is a game which creation was inspired by the cryptocurrency market, with its volatile price movements that spike and... eventually crash sometimes.
It means that you won't have any trouble playing the game when using this payment method. This would be different if you'd want to pay with fiat currencies.
In a casino you can play the game with Ethereum and Bitcoin, as mentioned before. There are also options to play with Litecoin, Ripple, Tron and Eos. This is possible at Stake for example.
On Dapps you also have more chances of finding the game when playing with Ethereum, but it's a matter of searching for a Dapp that accepts other payments like Litecoin, EOS, Bitcoin Cash and Ripple.
Game Rules
The rules of Crash are quite simple, specially if you're familiar with the cryptocurrency market. You start by deciding how much you want to wager in the game. After you confirm this, you can participate in the next available game.
Most of the games take place on set times within seconds of each other. You will never have to wait more than a minute to be able to start participating and often it'll be much less.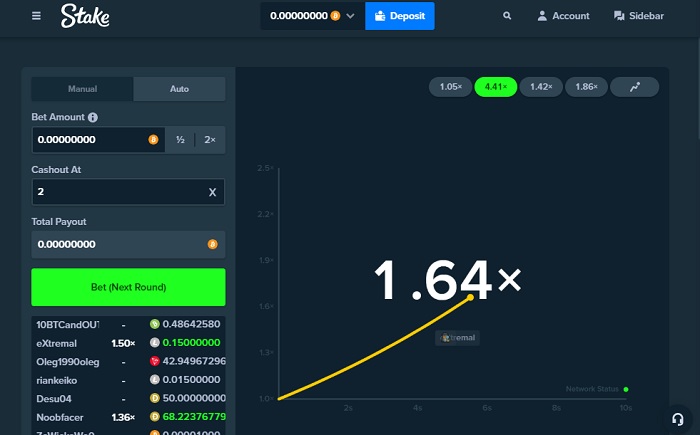 When the game starts, you will see a line in graph going up, which subliminarly represents the price of a coin going up. This line will eventually crash - as it does in real life - and in that case you will lose your money.
So it's important you stop at the right time, before the crash happens. If you manage to do so, you'll receive the money you have wagered multiplied by the number you see on the screen.
This can generate you a lot of money very fast. Just as an example; if you bet 0.2 BTC and you manage to win a 5x multiplier, you have won 0.8 BTC in a matter of seconds.
How To Choose A Good Casino For Crash
The joy you get from playing, does not only rely on the games you play, but also on the casino. That's why it's very important to choose the right one. Below you will find some tips that might help.
Look for other games you might want to play
Before you start playing, it might be an idea to take a look at the casino to learn which other games are available. Of course, this only counts for players who like to switch it up every once in a while.
If you can find all the games you want to play in the same casino, it's a indicator that this might be the casino for you. Especially if the games are provably fair.
Check out the payment methods
Crash is a game that was made to work on the Ethereum blockchain and it won't be a surprise that in some casinos you can only use Ethereum to play this game. If you are looking to use another cryptocurrency, it might be worth verifying your possibilities first.
Play at a provably fair casino
This game was born from the crypto-blockchain sphere and therefore it's relatively easy to find provably fair versions of this game. It's even better if you find a provably fair casino that is also a verified operator by the Crypto Gambling Foundation.
Tips For Beginners
Don't be fooled, because even though the game of Crash is pretty simple, you might want to keep the following tips in mind:
Make sure that the Dapp is provably fair or the casino is licensed before you start playing.
Don't spend more money than you can afford on the game.
Keep having fun as a main priority.
The game must be fun for other players as well.
Take some time to learn the specific game rules, as these may vary slightly with Crash.
Start conservatively by playing it safe.
If it's going well, you can try waiting a bit longer before cashing your winnings.
Leave the game to cool down once you hit a losing streak.
Never break any casino rules.