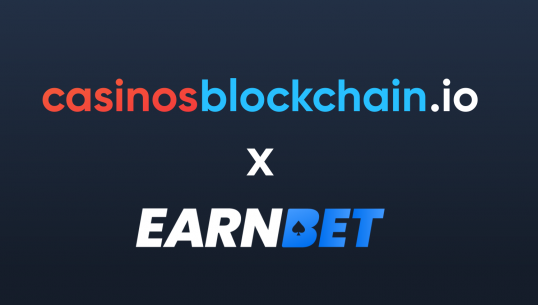 Interview With EarnBet's Chief Operating Officer
EarnBet is a fully-decentralized casino operating on the WAX protocol. Its provably fair games, multiple cryptocurrencies, and its welcome bonus make it stand out from the rest. We are also thrilled to say it's an Ethereum online casino of sorts, since the EarnBet native token is on the Ethereum blockchain.
Having been established in 2018, EarnBet has since cemented its place as one of the crypto-sphere's leading casino Dapps.
We've talked with EarnBet's COO about the brand's plans, among other topics. If you're curious to read even more "insider info" articles, make sure you also check out our conversation about DAO casino, another Ethereum-adjacent project.
Hi! Thanks for answering our questions today. Can you introduce yourself to our readers?
Hi, nice to meet you! My name is Mark and I've been the Chief Operating Officer at EarnBet since 2018.
Let's start with an easy question – what is EarnBet? What were the goals behind the creation of this decentralized casino?
Back when we conceptualized EarnBet, we were unsatisfied with the landscape of online casinos. We saw greedy companies that lacked transparency, games with low return-to-player, and deposit/withdrawal systems that were, at best, a poor user experience (and at worst outright predatory).
We also wanted to prove that decentralized applications (dApps) were ready for mainstream commercial applications like iGaming.
You used to be called EOSBet. Why did you change the name? Are there any other differences between EarnBet and EOSBet?
We originally launched on the EOS blockchain in August 2018. At the time, EOS was the most performant and scalable blockchain. Originally, players could only sign up with EOS accounts and play using EOS.
In December 2019, we outgrew the EOS blockchain and moved over to a more scalable sister chain called WAX. We also introduced a fully decentralized account system and over a dozen new currency options. It's important to note that this accounting system is non-custodial, meaning only the player has access to his or her funds.
We actually still operate EOSBet for those who still prefer to use their EOS accounts and it remains quite popular amongst a small subset of players.
How do you evaluate EarnBet's growth since its launch in 2018?
We've had tremendous growth since then, and it's been an honor to be part of that evolution. We've grown our community and player base 50x, greatly expanded our team, and really worked to professionalize our operations.
Unlike a lot of startups, we were lucky to experience explosive growth and usage during our first few months – EOSBet was processing more volume than every dApp on Ethereum combined!
We also closely track our dividend distributions, and to date, we have distributed over $10M USD to our BET token holders (more than our market cap!)
All your games are provably fair. Why have you made this decision? Will that ever change in the future?
No, this will never change as it's at the very core of our ethos. We take this concept a step further than most: not only are we provably fair, but it's actually impossible for us to cheat players thanks to how our random number generation and on-chain smart contracts are set up.
Currently, you have 6 games available. Do you plan on adding more games to your portfolio? Would you ever consider featuring casino games from mainstream providers?
Yes, we plan on adding new games. We do not plan on adding games from mainstream providers to EarnBet because this cannot be done in a decentralized manner.
Which game would you recommend for new players?
Dice is an absolute crypto classic. There's something elegant in its simplicity and straightforwardness, not to mention the player can get down to a 0.5% house edge. However, my personal favorite is Crash, a game where you bet on the rise of an exponential curve. It's up to you to decide when to cash out and the longer you wait the more you win…that is of course until there's a crash and you lose your wager.
Speaking of games, can you tell us which game pays out the most? And what was the biggest prize you've ever paid?
The best RTP is blackjack. Players can increase their return-to-player by acquiring and staking BET tokens.
You have your own token, the BET token. Can you talk a bit about the main advantages for token holders?
Yes definitely. Last year we released our staking program. The more tokens you stake and the longer you stake, the more Stake points you receive. 100% of game profit is distributed to BET stakers. We've distributed over $10M to BET token stakers since 2018.
BET tokens also grant special perks and privileges across the BET Gaming Network. For example, as previously mentioned, stakers receive improved betting odds depending on how many Stake points they have.
We also have a permanent buyback baked into our model and are constantly purchasing tokens off the market. BET actually exists on three separate blockchains (WAX, ETH, Binance Chain), but liquidity is concentrated on the Ethereum network.
You have secured a Curaçao gambling license. If you can disclose this information, are you applying / would you consider applying for other licenses, such as the MGA or UKGC licenses?
We are actively exploring acquiring licenses in other jurisdictions.
What would you say are the main advantages of fully-decentralized casinos like EarnBet when compared to 'regular' online casinos?
Complete transparency and provable fairness – not having to worry about the odds changing, missing bets, or lost payouts. Every bet is recorded on an immutable, unalterable public blockchain.
I also think our wallet system is top-notch—you can get up and playing in just a few minutes and instantly withdraw at your leisure.
We have also begun to incorporate different governance features into the BET token, meaning token holders can have a voice in important decisions that affect the company.
What about the challenges facing blockchain casinos and gambling Dapps? Do you think they will ever become mainstream?
This is brand new technology and there are definitely challenges, mainly regarding the complexity of the technology. It takes 100x more effort to get something running on a blockchain, but we think it's worth it. Blockchain tech continues to improve, leading to an increasingly better user experience.
What are your plans for 2021? Any big news that you can share with us?
Yes, we have some massive launches planned for the end of Q1 2021. I can't say too much now, but it's going to be a huge year for the BET Gaming Network and BET token holders. To stay in the loop on these big launches you can join our Telegram or email list. We're also currently offering a free $50 BTC bonus for new sign-ups, so head over to www.earnbet.io and check out what we're up to!