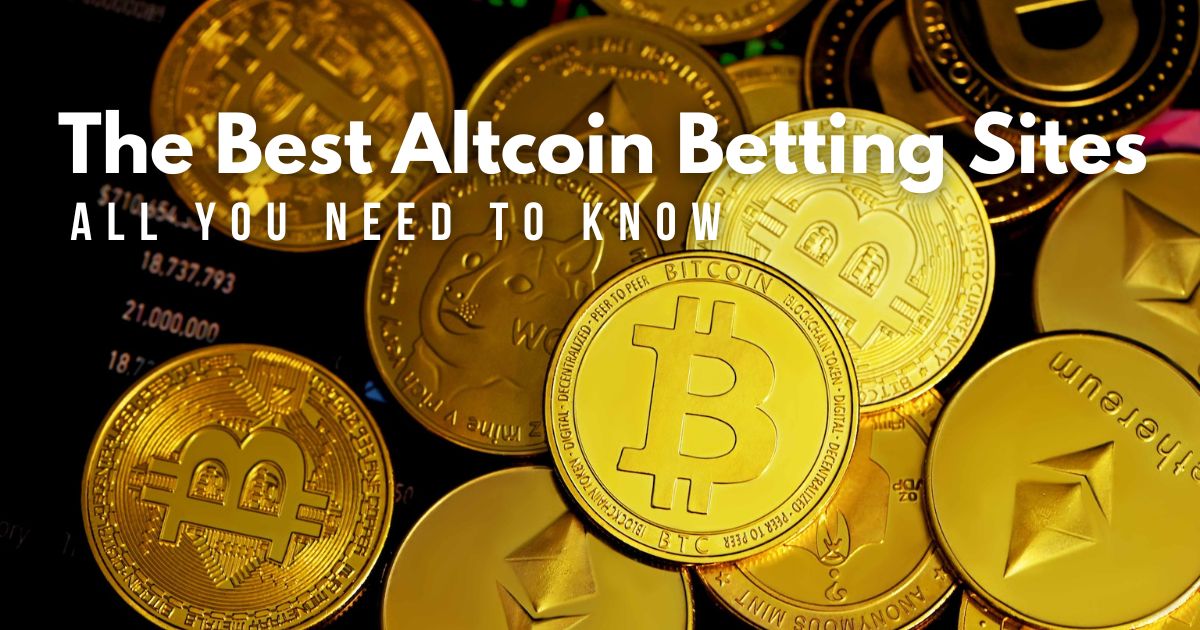 The Best Altcoin Betting Sites in 2023: All You Need to Know
Looking to get into the world of sports betting with your altcoins? Look no further than this guide.
In this article, we'll provide you with a list of the best altcoin betting sites and guide you on how to get started with your wagering journey.
Additionally, we'll explain the various types of altcoins out there and the most popular currencies you can use for betting.
One more thing: before we get down to the nitty-gritty, here's the complete list of the best Altcoin betting sites currently on the market.
Each has its own perks and downsides, and unique features (we'll cover the top four bookies later in more detail, so stay tuned).
Let's go!
Top 3 Altcoin Betting Sites (Reviewed)
And now, let's dive into more detail about our top three altcoin bookies and what they have to offer.
1. Stake – Great Promo Offers
Stake is a beloved bookie for many reasons, one of them being their vast number of promotions.
While they don't offer a welcome bonus, Stake more than makes up for it with their daily, weekly, and monthly bonuses. In fact, they give out over 1 billion USD in bonuses each year to reward players for their loyalty and gameplay.
This bookie is particularly popular among sports fans, as it has partnerships with various soccer clubs and even the F1 Alpha Romeo team.
Thanks to these partnerships, Stake is able to offer exciting promos and even higher odds for certain competitions.
Features:
License: Curacao.
Cryptocurrencies: 20+.
Sports: 30+, including Formula 1 betting.
eSports: 10+
Customer Support: 24/7 live chat, FAQ, and email.
With over 100,000 bets placed daily, we highly recommend trying out Stake:
2. BC.Game – Best Selection of Altcoins
BC.Game is a top-performing sportsbook that promises a thrilling betting experience with plenty of altcoin betting options.
The site distinguishes itself from the competition by offering an amazing 360% match deposit bonus, potentially giving you tremendous value for your deposits.
The interface is user-friendly with a fun and modern design, making it easy to find and bet on over 40 sports and eSports.
To make things even more exciting, BC.Game allows live betting where you can stream your favorite match in real-time and place bets all along.
Although the stream can be a bit slow sometimes, it doesn't affect the overall experience.
Features:
License: Curacao.
Cryptocurrencies: 80+, including NFTs.
Sports: 40+, all from soccer betting to Gaelic hurling, and more.
Customer Support: 24/7 live chat, FAQ, and community forum.
All in all, whether you're an experienced bettor or a newcomer, BC.Game provides an exceptional betting experience that you won't want to miss. Check them out:
3. Cloudbet – Best Selection of Virtual Sports
For those looking for a comprehensive altcoin sportsbook experience, Cloudbet is a great option to consider.
Their eSports betting selection is particularly impressive, with over 15 categories of games to choose from and the ability to wager on virtual sports like eSoccer and eBaseball.
In addition, they offer non-sport-related categories for betting, such as entertainment and politics, allowing for a diverse range of options.
Cloudbet also offers incentives for new users, including a 100% deposit bonus of up to 5 BTC. However, for now, it can be unlocked by wagering only on casino games.
For those looking to get the best prices on sports events, zero-margin odds are available in various competitions.
Features:
License: Curacao.
Cryptocurrencies: 20+, including SHIB and XRP.
Sports: 30+, including popular NFL and tennis betting.
eSports: 14+, including virtual sports.
Customer Support: 24/7 live chat, blog, and Discord.
So, whether you're a seasoned gambler or new to the game, Cloudbet is a sportsbook well worth considering:
How to Choose the Best Altcoin Betting Site?
Here's a list of some factors you should consider when choosing an altcoin betting site:
Bonuses
Bonuses and promotions can make a big difference in your overall experience with a sportsbook, and it's worth comparing and contrasting what different bookies offer.
Some sites like BC.Game has a match deposit bonus that can considerably boost your bankroll:
On the other hand, bookies like Stake like to focus more on different daily and monthly promotions for major sporting events:
All in all, by taking advantage of different promos, you can ensure that you're making the most of your time and money.
Selection of Altcoins
This may sound obvious, but having multiple cryptocurrencies to choose from is a vital factor to consider.
Having access to multiple cryptocurrencies allows for greater flexibility and convenience, as bettors can choose the currency that works best for them.
Especially since each cryptocurrency comes with its own set of benefits, including varying degrees of security, transaction speed, and fees.
Additionally, by having multiple options available, you can take advantage of fluctuations in prices and exchange rates and increase your potential for profit.
BC.Game is by far our favorite altcoin sportsbook that concerns cryptocurrency selection.
Why? Well, they have over 80 different coins to choose from, including NFTs. Find out more on their website:
Odds
In the world of sports betting, odds vary between operators, and choosing a platform that offers competitive odds could mean higher returns on investment.
Therefore, looking out for altcoin betting sites that offer the best odds in the market is essential.
These bookies typically have advanced algorithms that adjust the odds to market changes, ensuring that they remain industry-standard.
After comparing many different bookies, we can say that most of them offer competitive odds – but some are better than others.
Here is our top three selection:
Betting Markets
The variations of sports games on offer should be considered, as many prefer to bet on a wide array of games to choose from.
Casinos Blockchain
A quality altcoin sportsbook should prioritize variety to cater to bettors' needs.
It is equally important to consider the different bet types available, including money lines, live betting, parlays, and more.
The more bet types available, the better the opportunity for you to optimize their wagers and win good returns.
How to Get Started With Altcoin Betting?
Ready to dive in and start betting with altcoins? After exploring the top betting sites out there, we know you're itching to put your knowledge to the test.
So, here's a step-by-step guide on how to get started:
Set up a digital wallet. Depending on which altcoin you choose, there are going to be different options for crypto wallets. For example, for ETH, it's best to have MetaMask, for other coins, why not try out Exodus. Of course, there are tons of other wallets available, but the main thing is that make sure it's compatible with the coin you choose.
Buy some crypto. The next step would be buying some altcoins. If you can't do it directly from your chosen wallet, several crypto exchanges are available, like Binance, Kraken, and many more.
Transfer the coins to your wallet. This is an easy process that requires you to simply copy and paste your wallet address into the "Send" field of the exchange.
Find an altcoin betting site. You already have our top recommendations, so why not try them out? All you need to do is to create an account by using your email address or socials. However, if you decide to go with another crypto bookie, then make sure to consider the factors mentioned earlier.
Make a deposit and start betting. The final step is to deposit some coins into your sportsbook account, find your favorite sport or team, and start betting.
And that's it – in those easy five steps, you'll be wagering in no time.
What Are Altcoins: All You Need to Know
Altcoins have become a buzzword in the world of cryptocurrency.
In simple terms, altcoins are all cryptocurrencies that are not Bitcoin.
The promise of these alternative coins is that they offer unique features and benefits that Bitcoin lacks.
Casinos Blockchain
Altcoins are all cryptos that are not Bitcoin.
Plus, for many investors, altcoins present an opportunity to capitalize on growing trends in the cryptocurrency market.
Altcoin vs. Bitcoin
Altcoins often serve as a testing ground for innovations in blockchain technology or new features deemed too risky by Bitcoin developers.
Each altcoin has its unique features and characteristics, offering its users different benefits and drawbacks as compared to Bitcoin.
However, unlike Bitcoin, many altcoins have smaller market caps, less liquidity, and higher volatility, posing greater investor risks.
Here's a quick overview of the main features of altcoin vs. Bitcoin:
| Altcoin | Bitcoin |
| --- | --- |
| Less established | Most well-known crypto |
| Can offer higher potential returns | BTC network is highly secure |
| Innovative technologies | Less risky investement |
| Usually more accessible | Has bigger value on the market |
What Types of Altcoins Are There?
More and more altcoins are popping up each day, so we're not surprised that it's getting hard to keep track.
With that in mind, we have gathered some of the most popular types of altcoins, including stablecoins, privacy coins, utility tokens, and meme coins.
Let's have a look:
✔️Stablecoins
Unlike traditional cryptocurrencies, stablecoins are pegged to a stable asset, such as the US dollar, in an effort to reduce their volatility.
By doing so, stablecoins offer investors a reassuring level of stability that's hard to come by in the crypto world.
Casinos Blockchain
The main benefit of stablecoins is that they're less volatile than other types of currencies.
Currently, the two most well-known stablecoins on the market are Tether and USD Coin, both of which have gained popularity among cryptocurrency traders and bettors alike.
✔️Privacy Coins
Privacy coins are a type of cryptocurrency designed to give users anonymity.
They function by shielding the flow of money across their networks, making it practically impossible to track who sent what to whom.
Casinos Blockchain
Monero and Zcash are the most known privacy coins.
This feature is particularly valuable for anyone seeking to keep their financial activity private.
Zcash and Monero are the two largest privacy coins by market capitalization.
✔️Utility Tokens
Unlike other coins that are primarily used for trading or investing, utility coins are designed to be used as a form of payment for goods or services within their respective ecosystem.
They, therefore, derive their value from the services they enable within the network and the demand for those services.
Casinos Blockchain
ERC-20 tokens are an example of utility tokens of the Ethereum blockchain.
For example, on the Ethereum blockchain, one of the most well-known and widely used cryptocurrencies is Ether (ETH). However, alongside Ether, there are also ERC-20 tokens, which are the utility tokens of the Ethereum blockchain.
✔️Meme coins
Meme coins are a relatively new type of crypto that has gained popularity in recent years due to their humorous and often absurd nature.
They are usually created as a joke or parody of other cryptocurrencies, with names and logos referencing internet memes or popular cultural trends.
Despite their playful origins, meme coins have become lucrative investments for some, with their value sometimes skyrocketing in a short amount of time.
Among the most popular meme coins are Dogecoin, Shiba Inu, BananaCoin, and PepeCoin, each with its own unique characteristics and fan bases.
Altcoins: Pros and Cons
As with most investments, it's worth weighing the pros and cons before putting your time and money into crypto.
So without further ado, here are some of the benefits and downsides of altcoins:
| PROS | CONS |
| --- | --- |
| Thousands of coins are available | Bigger scam possibilities |
| Can offer high returns | Smaller market cap |
| Innovative technology uses | Not as widely accepted as BTC |
| Lower fees and faster transactions | |
Is Altcoin Betting Legal?
In short – yes, altcoin betting can be considered legal. However, there are a few caveats to consider.
Namely, it's important to note that the legality of such betting can vary greatly depending on where you are in the world.
Casinos Blockchain
Always check your country's gambling laws and regulations before signing up with an altcoin bookie.
Different countries have varying rules and regulations regarding gambling, and what may be perfectly legal in one place could be considered a serious offense in another.
Overall, to avoid any potential legal implications, it's always wise to thoroughly check your country's gambling laws before jumping into any kind of betting.
Top Altcoins for Sports Betting
There are thousands of altcoins available on the market – each with its own features, benefits, and downsides.
However, some are more popular than others – so we have listed six altcoins that we think are the best options for sports betting.
Let's have a look.
Ethereum (ETH)
Ethereum is perhaps the second most popular cryptocurrency in the world after Bitcoin and the most popular altcoin.

Designed to work alongside smart contracts and decentralized applications, Ethereum offers a range of benefits that set it apart from other cryptocurrencies.
One of the most significant advantages of Ethereum is its development-friendliness which is continuously improved.
Plus, using Ether for sports betting offers faster transactions and lower fees than Bitcoin, ensuring you no longer have to wait for confirmations.
Dogecoin (DOGE)
Created in 2013, it is based on the popular "Doge" internet meme, which features a Shiba Inu dog making whimsical comments in broken English.

Despite its playful origins, Dogecoin has some significant advantages over other cryptocurrencies.
One of the biggest benefits is its transaction speed, which is much faster than Bitcoin and also Ethereum.
Secondly, it's budget-friendly, the DOGE coin itself, and transaction fees amount to a fraction of a cent.
Another advantage of Dogecoin is its active and supportive community, which is known for carrying out charitable missions and promoting good causes.
Check out our Dogecoin sports betting article and see what else this digital currency has to offer. Or if you're into eSports, then we have a detailed Dogecoin eSports betting article that you might want to read.
Litecoin (LTC)
Litecoin is a cryptocurrency that was created in 2011 and is one of the earliest altcoins to emerge in the crypto space.
It is technically similar to Bitcoin but has some distinct advantages over the famous cryptocurrency.

Litecoin is aimed to be practical, user-friendly, and lightweight, hence its name.
Its main selling point is its faster transaction times, with speeds of up to 54 TPS and an average transaction time of only 2.5 minutes.
Additionally, Litecoin has low transaction fees, with an average cost of only 0.0070 USD per transaction.
One more advantage that Litecoin has is that all transactions are completely anonymous.
Tether (USDT)
Tether, also known as USDT, is a unique stablecoin in the world of cryptocurrency.
Rather than having a volatile value like other digital currencies, Tether is pegged to the US dollar to maintain a stable value.

This makes it a great choice for those who want to avoid sudden fluctuations in their betting investments.
Moreover, transactions conducted through the ERC-20 network are exceptionally quick, usually taking only 1-5 minutes to complete.
So if you're looking for a less risky and volatile coin for your sports betting adventures, check out our Tether betting guide for more details.
Ripple (XRP)
What sets XRP apart from other cryptocurrencies is its incredibly low transaction fees and the fast settlement of trades.
With a network minimum transaction cost of 0.00002 XRP, it's easy to see why Ripple's popularity is booming.

Moreover, Ripple's capacity to process up to 1,500 TPS is easily scalable and efficient.
Another added bonus is its sustainable status – XRP is carbon-neutral and energy-efficient, making it a win for the planet.
All in all, XRP is certainly worth considering for sports betting if you're looking for a cost-effective and eco-friendly coin.
Solana (SOL)
Solana's unique technology offers a great alternative to Ethereum, as it offers a similar technology at a much lower cost and faster rate.

How low and fast, you ask?
Well, Solana is known as one of the fastest altcoins on the market, offering an incredible transaction speed of up to 50,000 TPS.
This speed makes transactions like deposits, withdrawals, and similar processes almost instant.
Moreover, Solana is a budget-friendly option for sports bettors, with a network fee as low as 0.00025 USD on average per transaction.
To sum it up, Solana is a great option for bettors looking for top-performing crypto with fast transaction rates and low fees.
Pro Tip: Solana is so fast that, BetDEX, the first fully licensed decentralized betting exchange, has built the platform solely on the Solana blockchain. Want to learn more? Read our crypto sports betting exchange guide.
Conclusion
We hope that thanks to the information provided in this article, you can now confidently navigate the world of altcoin sports betting and find the best platform to suit your needs.
With so many options out there, it's important to do your research and make informed decisions.
So why not take a chance and dive into the world of altcoin betting today? Who knows, you may just come out on top.
Frequently Asked Questions
What are the best altcoin sports betting sites?
What are the best altcoins for betting?
By market size and popularity the best altcoin is Ethereum. But other coins such as DOGE, SOL, XRP, and USDT are also widely accepted.
What types of altcoins are there?
Some of the most popular types of altcoins are stablecoins, privacy tokens, utility tokens, and meme coins.