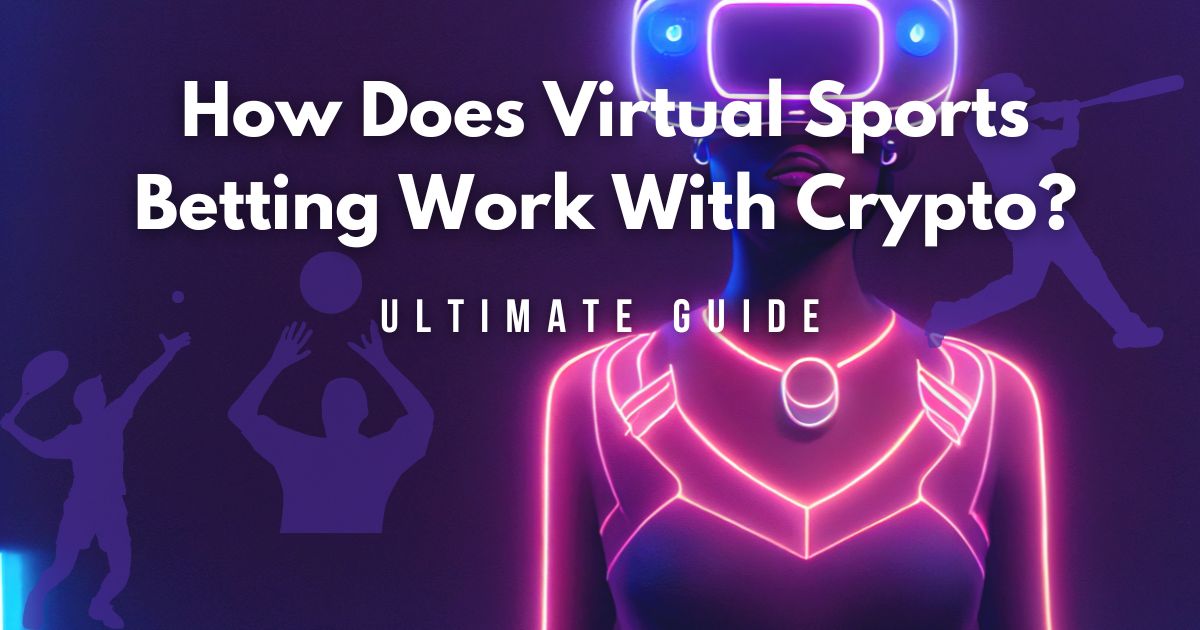 How Does Virtual Sports Betting Work With Crypto | Ultimate Guide (2023)
Virtual sports betting is a relatively new phenomenon that has taken the online gaming world by storm. And it's no surprise that cryptocurrency has become a popular payment method for betting enthusiasts.
With the ability to make quick transactions and maintain anonymity, virtual sports betting with crypto has become a convenient and secure option.
The real question is: how does virtual sports betting work?
In this ultimate guide, we'll dive into the world of BTC virtual sports betting, including the best sites to use and how to get started.
So, grab your favorite beverage, sit back, and let's get started!
Best BTC Virtual Sports Betting Sites
TL;DR?
Here are our top sites for virtual sports betting with crypto:
Virtual Sports Betting: What It Is and How Does It Work?
Let's start by defining what virtual sport is.
Essentially, in virtual sports, games are simulated and run using computer algorithms and software.
These games are designed to resemble real-world sports as closely as possible, with all of the same rules and regulations that you might find in a standard game.
There are many types of virtual sports games to choose from, including basketball, football, soccer, and baseball.

Virtual Sports vs. eSports Betting: What's the Difference?
Virtual sports and eSports betting may seem similar on the surface, but there are a few key differences between the two.
Virtual sports betting involves placing bets on simulated events that are programmed to mimic real sporting events, such as cricket or soccer matches.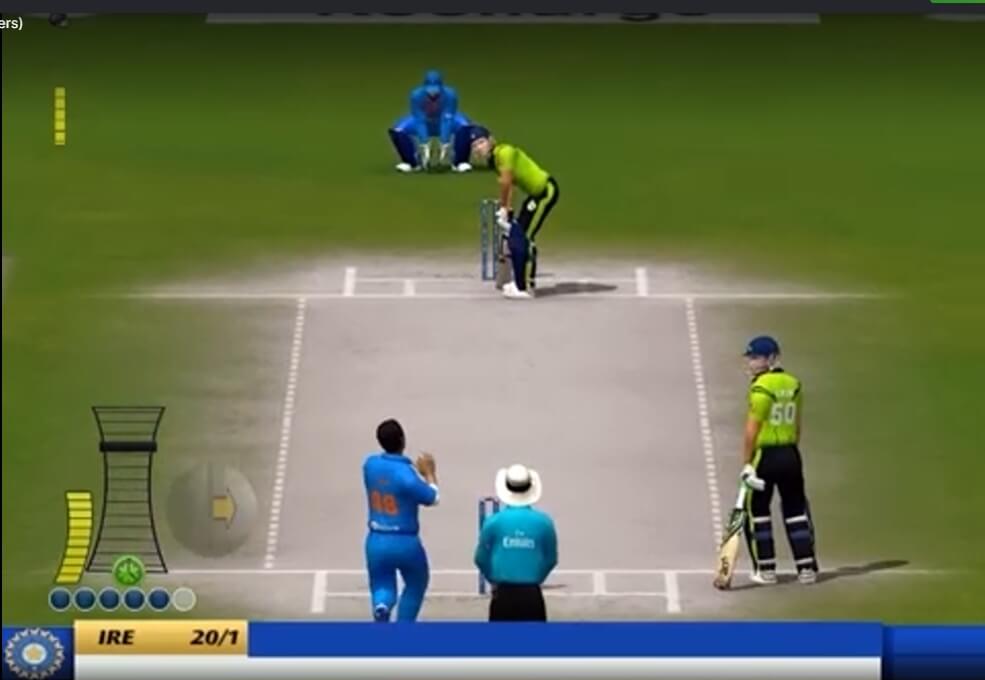 On the other hand, eSports involves competitive video gaming between human players.
Some popular eSports games include CS:GO, Dota 2, Valorant, FIFA, and League of Legends.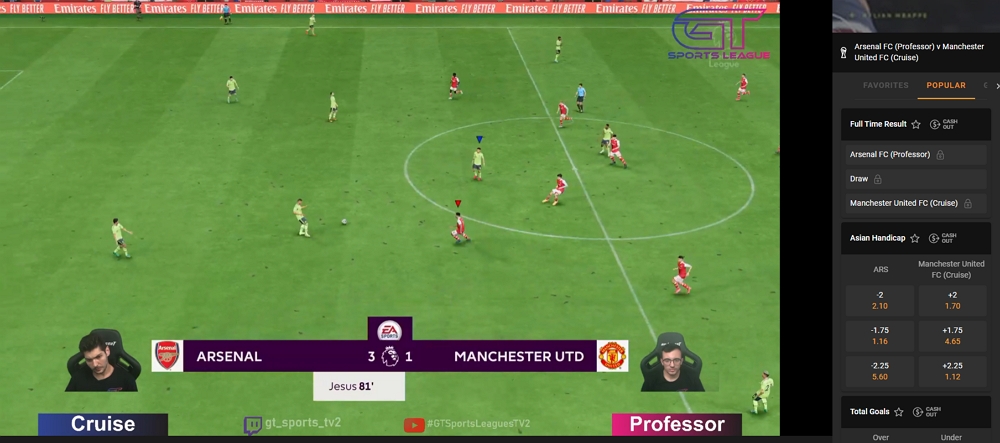 While virtual sports betting and eSports involve elements of chance and skill, virtual sports betting relies on algorithms and pre-determined outcomes.
In contrast, eSports allows more room for human error and unpredictable outcomes.
Additionally, virtual sports betting tends to be more passive, while eSports requires active participation from the players.
Here's a comparison table between virtual sports vs. eSports.
| Virtual Sports | eSports |
| --- | --- |
| Relies on algorithms | Played by real humans |
| Has pre-determined outcomes | Has unpredictable outcomes |
| Passive participation | Active participation |
How Does Virtual Sports Betting Work With Crypto?
Virtual sports betting is not much different from traditional wagering – the major difference lies in the currency used. Instead of fiat money, gamblers use crypto to place their bets.
Some of the most popular cryptocurrencies used for virtual sports betting include Bitcoin, Ethereum, and Dogecoin (more on that later on).
But why should you opt for betting on virtual sports with crypto?
The benefits of using crypto for betting are undeniable.
Casinos Blockchain
Crypto virtual sports betting provides fast and cheap transactions and enhanced security and privacy.
Firstly, it provides enhanced security and anonymity, which is essential considering the highly sensitive nature of financial transactions.
Additionally, crypto betting boasts faster and cheaper transactions, making it an excellent choice for those who seek immediate gratification.
Overall, virtual sports betting with crypto offers a plethora of advantages over traditional methods, making it an attractive option to many.
However, to make your life a bit easier, we compiled a list of the top four Bitcoin bookies with the best virtual sports betting features.
Let's have a look.
Stake – Our #1 Bookie!
With a sleek and easy-to-navigate interface, this online sportsbook offers a wide variety of betting options for all your favorite games, including simulated reality sports like soccer, tennis, and cricket.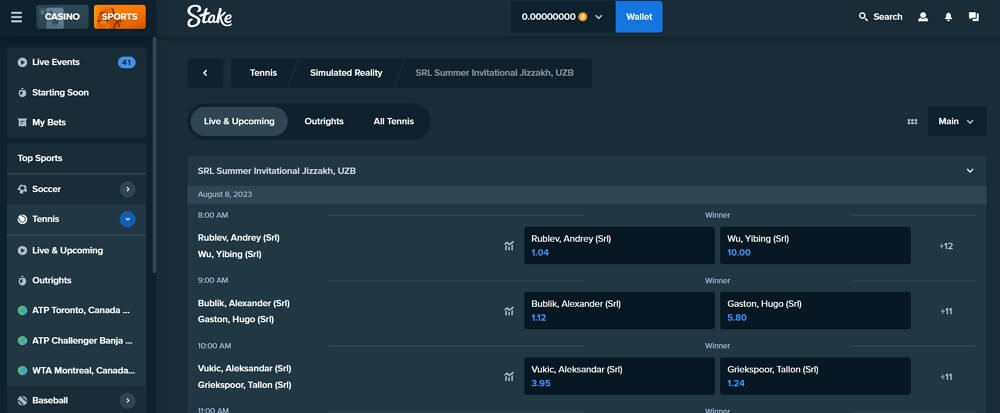 Plus, with competitive odds and quick payouts, you can trust that your money is in good hands. And if you ever have any questions, their customer support team is available 24/7 to assist you.
Features:
Cryptocurrencies: 20+, including Bitcoin and popular altcoins.
Welcome bonus: none.
Virtual sports games: soccer, tennis, and cricket.
Licensing: Curacao.
Customer support: live chat, community forum, and help center.
So what do you say? Ready to try out Stake?
If so, read our detailed Stake review for more details or sign up with them on their website:
BC.Game – Best Selection of Cryptos
BC.Game is our second choice for virtual sports betting for a good reason – they offer one of the widest selections of cryptos, with over 80 to choose from, including NFTs.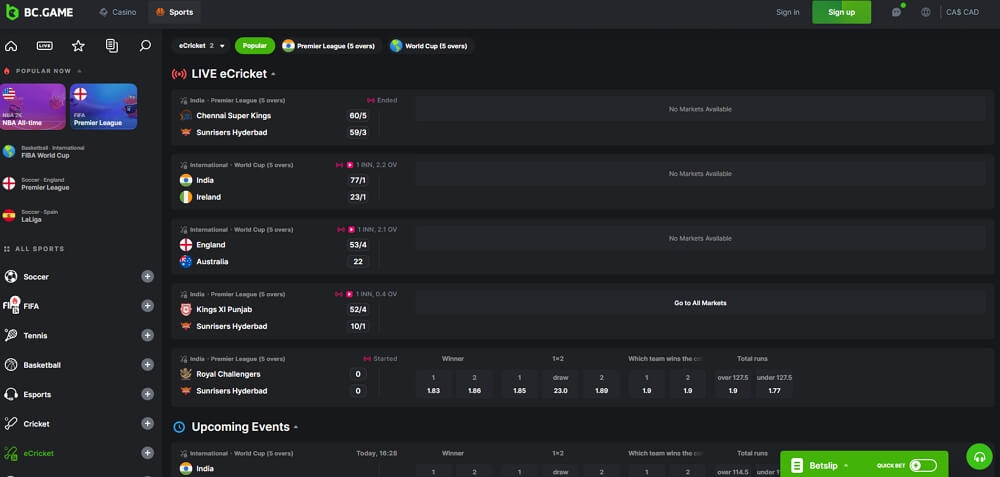 And if you're a new player, you will want to take advantage of their up to 360% deposit bonus*, one of the most generous offers we've seen.
Best of all, they also regularly run promotions like risk-free bets, so you can keep the excitement going even after you've made your first deposit.
Features:
Cryptocurrencies: 80+, including BTC, ETH, SOL, DOGE, LTC, XRP, and many more.
Welcome bonus: deposit match up to 360%.
Virtual sports games: cricket, baseball, basketball, soccer.
Licensing: Curacao.
Customer support: 24/7 live chat, community forum, email, and FAQ.
Learn more about this top-notch sportsbook by reading our detailed BC.Game review or browse their website:
Cloudbet – Best Selection of Virtual Soccer (Football) Games
This popular platform offers various virtual sports to bet on, including popular favorites like football, basketball, and tennis.
They're especially focused on virtual soccer games and offer virtual matches of the World Cup, Asian Cup, Euro Cup, and League Mode.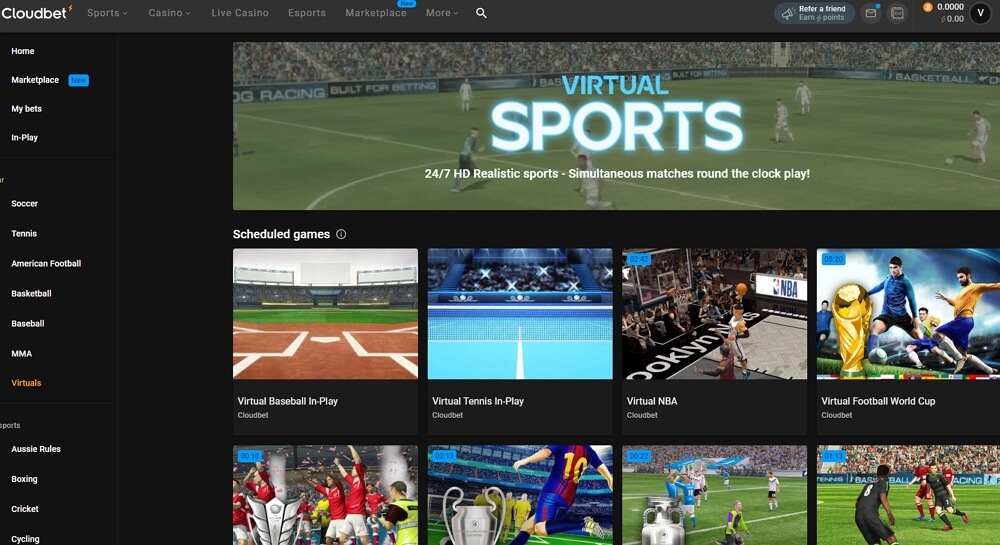 Additionally, the site accepts multiple cryptocurrencies, making transactions quick and easy.
Features:
Cryptocurrencies: 20+, including Shiba Inu and Tether.
Welcome bonus: up to 5 BTC*
Virtual sports games: baseball, tennis, basketball, cricket, and soccer (football).
Licensing: Curacao.
Customer support: live chat, Discord, FAQ, and blog.
Check out our Cloudbet review for more information. Or sign up and try out their betting features on the website:
*Note: the welcome bonus currently applies only to casino games.
How to Get Started With Virtual Sports Betting Using Crypto?
So, now you've learned what virtual sports betting is and how it works with crypto. Plus, we revealed the best sites that offer various virtual sports matches you can bet on.
But where do you even begin?
Worry not! Here's a step-by-step guide on how to get started with virtual sports betting using BTC and other coins:
Set up a crypto wallet. There are tons of options available, so pick the one that suits your needs and wants the best. In a hurry and don't have time to research the wallets? Check out our Best BTC Wallets for Betting article!
Pro tip: remember to check the wallet's TOC, as some platforms don't allow gambling, which is the case with Coinbase.
Exchange cash for crypto. Next up, find a crypto exchange site and buy some coins.
Transfer coins to your wallet. Once you have the coins, transfer these to your wallet by simply copy-pasting the wallet address to the "Send" field or scanning the QR code.
Sign up with a crypto sportsbook. Now it's time to register an account with your preferred bookie that offers virtual sports betting.
Make a deposit and start betting. Once you set up your account, deposit some crypto, find a virtual sports betting match, and start betting.
With these steps, you'll be well on your way to experiencing the thrill of virtual sports betting using crypto.
Popular Coins for Virtual Sports Betting
If you're new to virtual sports betting with crypto, you might feel overwhelmed trying to navigate through the plethora of digital currencies available.
Don't worry, though. We've got you covered!
Here's a list of what we believe to be the best and most commonly used cryptos to help you make the best decision for your betting needs.
Bitcoin
The fact that Bitcoin is the most popular cryptocurrency makes it widely accepted in the majority of sportsbooks, giving you more opportunities to place your bets.
Not to mention, it's a safe and secure option that offers quick transactions without the need for a middleman.
Want to know our favorite Bitcoin virtual sports betting site? Check out Stake:
Dogecoin
This cryptocurrency has seen a surge in popularity, and for a good reason.
Dogecoin is cheap, making it accessible to just about anyone who wants to try their luck at virtual sports betting.
Plus, Dogecoin transactions are speedy and secure, so you can place your wagers quickly and with peace of mind.
Are you interested in learning more about this coin? Check out our guide for Dogecoin sports betting.
Ethereum
Ethereum is quickly becoming a fan favorite among sports bettors for several reasons.
First and foremost, its blockchain technology ensures that transactions are fast and secure, giving you peace of mind when placing bets.
And with the widespread adoption of Ethereum in the crypto community, it's easy to find sportsbooks that accept this popular cryptocurrency.
Our top ETH sportsbooks? Here you go:
Crypto Virtual Sports Betting Tips
Whether you're new to virtual sports betting or a seasoned pro, there are a few key tips that will help you increase your chances of winning.
From understanding the odds to managing your bankroll, this entry will provide you with all the information you need to make informed and successful bets.
1. Understand How RNG (Random Number Generator) Works
Knowing how RNG works can be a valuable tip to remember regarding virtual sports betting.
Unlike traditional sports betting, where you can use past performances and patterns to make educated guesses on winners, virtual sports betting is entirely random. Computerization controls everything, leaving no room for human emotions or biases.
While this guarantees fairness in the contests, it also means you might encounter some unexpected and unusual results.
2. Do Line Shopping
By comparing the odds offered by different online sportsbooks, you can give yourself an edge and potentially earn bigger payouts.
Just like when shopping for a new pair of shoes or a smartphone, it's wise to research and browse different options before purchasing.
The same applies to virtual sports betting, as you'll want to find the highest odds for the teams or players you're betting on.
Want to know a pro tip? Sign up with several bookies to make the most of their offered odds.
Sounds good? Check out the virtual sports betting markets of our top crypto sportsbooks:
3. Take Advantage of Bonuses
If you're looking to boost your bankroll for virtual sports betting, taking advantage of sportsbook bonuses and promotions is a valuable tip to remember.
Although it's not very common to offer promotions specifically for virtual sports, bonuses can come in many other forms, such as welcome bonuses, free bets, or cashback offers.

4. Gamble Responsibly
Virtual sports betting can be a thrilling experience, but it's essential to emphasize the importance of gambling responsibly.
It's easy to get caught up in the excitement and let your wagers get out of hand. However, setting a budget and sticking to it is one of the most valuable tips for virtual sports betting.
Casinos Blockchain
Remember to gamble responsibly and use helpful resources such as self-exclusion or deposit limits if necessary.
By understanding the risks and setting limits, you can enjoy the fun and excitement of virtual sports betting without putting yourself in financial jeopardy.
Conclusion
In conclusion, virtual sports betting with crypto is a convenient and exciting way to indulge your passion for sports wagering without leaving your home.
By taking advantage of the power of cryptocurrency, you can make quick, secure, and anonymous transactions, ensuring that your funds are always safe and accessible.
So, whether you're a seasoned bettor or a newbie, plenty of excellent sites offer virtual sports betting with crypto, and our list of recommendations will help you get started.
Plus, our tips will help you maximize your winnings and minimize your losses, so you can enjoy the thrill of the game without breaking the bank. So why wait?
Frequently Asked Questions
How does virtual sports betting work with crypto?
Virtual sports betting with crypto is very similar to traditional betting. However, instead of using cash or traditional payment options, players use cryptocurrencies to place their bets. This type of betting is becoming increasingly popular due to its ease and anonymity.
What is the difference between virtual sports and eSports crypto betting?
Virtual sports and eSports crypto betting are two different ways to enjoy online sports betting. While virtual sports are simulated sports events, eSports involve real-life players competing in video games. In virtual sports, the software generates the outcome of the event, whereas eSports results are determined by actual gameplay.