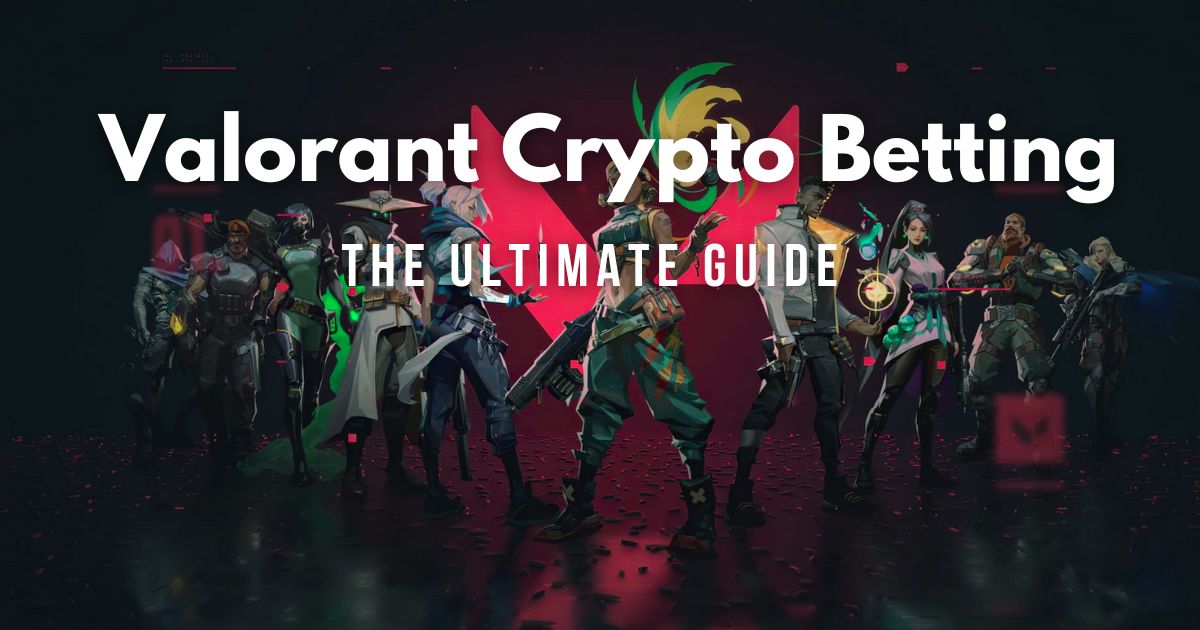 Top 10 Valorant Crypto Betting Sites (Ultimate Guide)
Valorant crypto betting is a new exciting way for you to place bets on teams and players using digital coins such as Bitcoin, Ethereum, and more.
In the following article, we will dive into the world of Valorant Bitcoin betting, discussing the reasons behind its popularity, how it works, and some sites and tips for those looking to try their luck.
Ready? Let's go!
Best Valorant Crypto Betting Sites
TL;DR? Here's our top 10 Valorant sportsbooks:
But now, let's now introduce the top Valorant crypto bookies, what they have to offer, together with their pros and cons.
1. Stake – Our Top Choice
Stake offers a user-friendly platform with a sleek and minimal design.
It caters to eSports and sports enthusiasts by providing access to a wide range of popular tournaments, including VCT and Challengers. Although they don't offer a welcome bonus, they make up for it with a variety of ongoing promotions that you can take advantage of.
What's more, Stake accepts a variety of popular cryptocurrencies, including Litecoin, Ethereum, Bitcoin Cash, Dogecoin, and Tether. And if you're new to the crypto game, the site makes it easy to buy crypto using your credit card. 
And that's not all! Stake sometimes offers several ongoing eSports promotions. For example, in August, there was an eSports Elite Challenge where you had to conquer four achievements and snag a piece of the 25k USD prize pool.
All you had to do was bet on a Valorant tournament according to Stake's rules and requirements.
| PROS | CONS |
| --- | --- |
| Ongoing promotions | No welcome bonus |
| Great selection of Valorant betting markets | |
| Competitive odds | |
So, if you're eager to get in on the action, give Stake a try!
2. BC.Game – Best Selection of Cryptos
Qualified as our number-two bookie for Valorant betting, BC.Game's sportsbook offers various Valorant tournaments, including Challengers and Valorant Champions Tours (VCT).
This platform also has an incredible up to 360% match deposit system that can increase your profits significantly, making it a lucrative option for anyone.
Additionally, navigating their sportsbook interface is a breeze, and we found it incredibly intuitive. And when it comes to live streaming, they've nailed it. Their live-streaming interface is smooth, and we loved the experience it offered us.
| PROS | CONS |
| --- | --- |
| Plenty of Valorant betting markets | Site speed can be slow at times |
| 80+ cryptocurrencies, including NFTs | No fiat payments |
| Competitive odds | |
| Fun and UX-friendly interface | |
Overall, BC.Game is a fantastic choice for anyone looking to take their Valorant betting game up a notch.
3. Cloudbet – Longest-Running BTC Valorant Bookie
Cloudbet is a pioneer in the world of online sports betting, being the first to offer Bitcoin betting.
With an emphasis on sports and eSports games, Cloudbet is an excellent choice for fans of these exciting competitions. Specifically, Cloudbet offers fantastic coverage of Valorant events, allowing you to use a range of Valorant betting options.
This includes the choice to bet on a single team to win, make handicap Valorant bets, and even wager on the overall winners of Valorant tournaments.
| PROS | CONS |
| --- | --- |
| 10+ eSports games | No welcome bonus for eSports |
| Great live betting interface | |
| Various Valorant tournaments | |
| Several cryptocurrencies | |
With some impressive odds on offer, Cloudbet is a must-visit for those seeking to bet on Valorant and other popular eSports matches such as Dota 2, StarCraft, and LoL.
Honorable Mentions
And now let's see in more details bookies who deserve a special mention:
Crashino – Offers Interesting Betting Features
Crashino is another great option for Valorant bettors. They currently offer ten popular eSports games, including CS:GO and Call of Duty crypto betting.
Although they only have one Valorant tournament available at the moment, it's the VCT: EMEA, which is sure to excite any fan of the game.
What sets Crashino apart from other crypto sportsbooks is their range of betting features.
For example, their multi-view option allows you to drag and drop three different eSports or sports games and bet on them all simultaneously. Pretty neat, right?
| PROS | CONS |
| --- | --- |
| Interesting betting features | Only one Valorant tournament |
| Easy to follow interface | |
| Variety of coins | |
Overall – if variety and convenience are what you're after, Crashino is a great choice.
5. Bitsler – Great for Valorant In-Play Betting
If you're on the hunt for a sportsbook that offers a sleek and visually appealing design, look no further than Bitsler.
Not only does their platform look great, but they also excel in providing a wide range of betting options for Valorant. What's more, Bitsler makes it easy for you to place bets with over 20 different cryptocurrency payment options available, which is sure to appeal to crypto enthusiasts.
And if you're a new player, you're in luck, as Bitsler has a generous welcome bonus of a 100% match on your first deposit of up to 700 USD.
And the best part?
This sportsbook has more than just Valorant, with a total of 20+ different eSports and virtual games to choose from.
But what's really impressive is their competitive odds that leave some rivals in the dust and their intuitive in-play interface.
| PROS | CONS |
| --- | --- |
| 20+ eSports games | Progressive welcome bonus |
| Competitive odds | |
| Various Valorant events | |
| Great in-play interface | |
Overall, Bitsler is a great option for those looking for a visually appealing design with an impressive selection of betting options for Valorant and beyond.
How to Get Started With Valorant Crypto Betting?
Ready to put your digital coins to use? Great!
Here's a step-by-step guide on how to start wagering with crypto on Valorant:
Set up a crypto wallet. Make sure you choose a reputable and safe wallet to store your coins in. We also have an article on the best BTC wallets for betting, so check it out!
Buy some coins and transfer them to your wallet. You can do it on cryptocurrency exchange sites like Binance. After you have bought your preferred crypto, you'll need to transfer these to your wallet.
Find a Valorant bookie and sign up with them. You already discovered our top bookies for Valorant betting, so why not try them out?
Deposit and start betting! Once you have your account ready, deposit some coins in your account wallet, find your favorite team and competitions, and start wagering! P.S. Don't forget to take advantage of the welcome bonuses and promotions.
Follow these easy four steps, and you'll be wagering on Valorant in no time!
Valorant Betting in a Nutshell
Valorant is a thrilling first-person tactical hero shooter that has captivated players worldwide.
It was created by the masterminds at Riot Games, and it's quickly becoming one of the most popular games in the industry.
The game draws inspiration from the legendary Counter-Strike series of tactical shooters, which means it borrows some of the mechanics that make CS:GO a classic.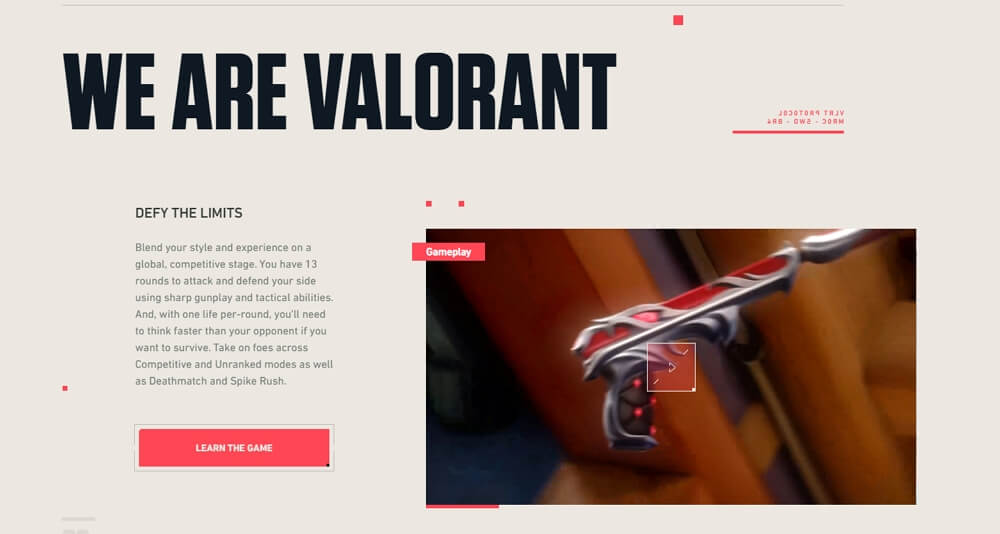 But Valorant also adds some of its own twists to the genre.
For instance, players get to choose from a cast of Agents, each with their own unique abilities based on different countries and cultures around the world.
And in the main game mode, players have to work together as a team to either attack or defend a location, with each team consisting of five members.
The overall objective is simple: take down the enemy team and win the match!
What Are the Best Agents for Each Valorant Map in 2023?
If you're looking to climb the ranks in Valorant, it's crucial to know which agents thrive on each map. Think of it like a matchmaking service – you want to pair the right agent with the right map for maximum effectiveness.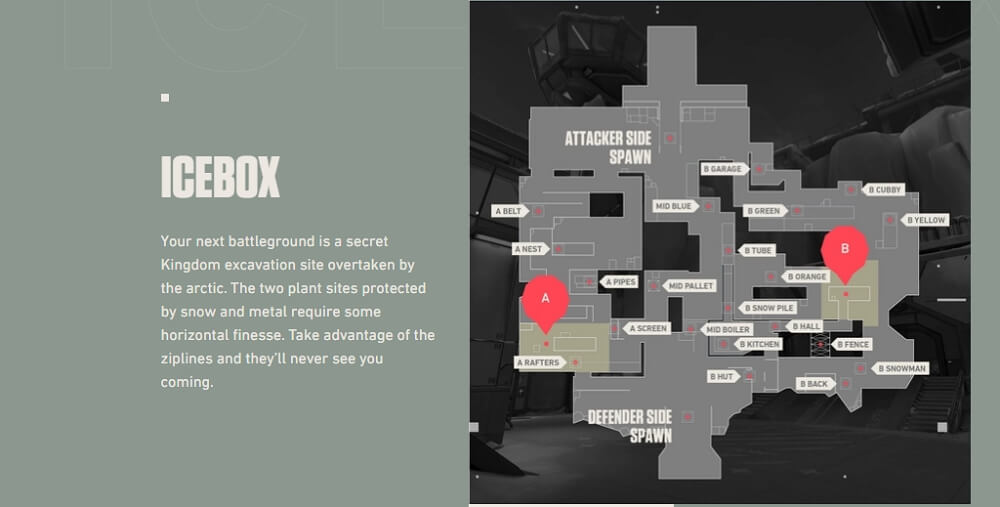 For example, if you're playing on the sprawling, open spaces of Icebox, you'll want an agent with mobility and range, like Sova and Viper.
For Pearl, consider using Jett for his ability to scout out enemies and disrupt their movements.
Meanwhile, Split's narrow pathways and tight corners favor defensive agents like Cypher.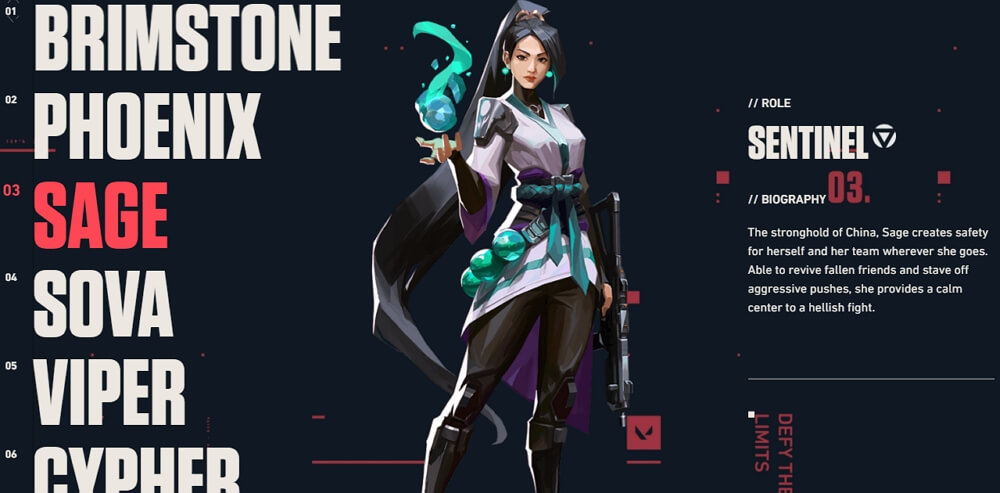 And finally, Fracture map is all about fast-paced action, so try using Brimstone
Valorant in eSports
Valorant is quickly gaining momentum within the world of eSports and has become associated with competitive gaming and electronic sports tournaments.
In a bid to establish the game as a serious contender in the realm of esports, Riot Games launched its first tournament called "First Strike."
This was followed up shortly in November 2020 by announcing the Valorant Champions Tour (VCT), a year-long competition to showcase the best talent in the game, which, needless to say, has attracted many crypto eSports betting enthusiasts.
And if you haven't heard of the latest buzz, then there's also the Valorant Global Open Beta.
Valorant Global Open Beta is an exclusive opportunity for aspiring professional gamers to showcase their skills and join in on a competitive experience like never before.
This premier competitive format allows players to come together and form their teams, compete in weekly matches, and ultimately earn their way to playoffs.
The competition is intense and thrilling, but it's not just about the glory of winning. The Open Beta Premier is also a potential pathway for players to progress into the VCT Challenger Leagues (without qualifier events), a higher-tier league of Valorant game competitions.
This takes us to our next point – Valorant competitions.
What are the Best Valorant Tournaments for Crypto Betting?
A major event in the Valorant calendar is the Valorant Champions Tour (VCT), a year-long three-level competition:
The first level is Valorant Challengers, which consists of regional competitions that act as qualifiers for Masters.
The second level is Valorant Masters, which brings together top teams worldwide for an international mid-season showdown.
And the third (most important event) is the Valorant Champions, where the best teams from each Masters event compete against each other.
You can keep an eye on the Valorant competitions on their official website.
The bottom line is that there are plenty of interesting competitions happening suitable for viewers, players, and bettors alike.
Why Bet on Valorant With Crypto?
There are several benefits to betting on Valorant with crypto, including low transaction fees, anonymity, and decentralization.
Using cryptos like Bitcoin or other popular altcoins, such as Ethereum, Tether, and DOGE, for eSports betting on Valorant allows faster transactions and international accessibility without needing currency conversion.
However, it's important to remember that crypto values can be volatile, which may result in winnings worth less than expected if the value of the chosen cryptocurrency drops.
Popular Valorant Betting Markets
Valorant eSports betting may be relatively new, but bookies have already amazed everyone with their wide range of betting options.
To make your life a bit easier, we have listed some of the most popular betting types in Valorant that may increase your bankroll if done correctly.
Let's dive in!
Match Winner
Match winner betting market is one of the most popular forms of eSports (and sports) betting.
The betting process is simple: you choose the team you believe will win the match and place a bet.
Odds are assigned to each team, and the payout is determined based on the odds and the wager amount. The better the odds, the higher the potential payout, and vice versa.
Maps
This market is similar to handicaps and totals markets found in sports betting.
With the maps betting market in Valorant, you can bet on the potential winner of a specific map or all maps.
This type of betting comes down to studying the teams and their strengths on different maps. Understanding this can help you make an informed decision when placing your bet.
In-Play
The in-play betting market allows you to place bets on live events during a match.
For instance, you can bet on the team to win the next round, the total number of kills obtained by a player, or even the map winner.
Casinos Blockchain
Being able to adjust your betting strategy during the match is what makes in-play betting so popular among gamers.
With odds changing rapidly based on the game's progress, it is vital to keep up with the latest statistics and analyze gameplay to make accurate decisions.
Correct Score
In Valorant, correct score bets can either be map-based or match-based.
For map-based bets, you'll need to predict the correct outcome of a particular map.
Similarly, for match-based bets, you'll need to predict the outcome of the entire match.
Casinos Blockchain
Valorant has two types of correct score bets: map-based and match-based.
Both types of bets require a precise guess, making it a difficult wager to place. However, if you can correctly guess the outcome, it can be a rewarding experience.
So, take your time to analyze the teams, their players, and how they play to increase your chances of making a successful bet.
Valorant Crypto Betting Tips and Strategies
Are you ready to take your Valorant betting game to the next level? Awesome!
We're here to provide you with some excellent Valorant betting tips and strategies to help you get started.
So grab your pen and paper, sit tight, and prepare to become a master at Valorant crypto betting.
1. Research Stats
Regarding betting on Valorant, researching player stats and performance can be a valuable tip to improve your chances of success.
One great way to accomplish this is by reading forums and following news on the official Valorant website.
Here are some recommendations:
These resources can give you insight into how individual players perform in various scenarios, such as their win/loss ratio, shooting accuracy, and kill/death ratio.
By using this information to inform your betting decisions, you may be able to gain an edge over other bettors who are not as familiar with a team's roster or performance history.
2. Learn the Gameplay
Understanding the mechanics and strategies of the game can give you an edge when it comes to predicting the outcome of a match.
Take note of the tactics and strategies employed by top players, and use this knowledge to inform your betting decisions.
Watching eSports tournaments and streamers on Twitch is a great way to learn the gameplay and get a feel for how different teams and players approach the game.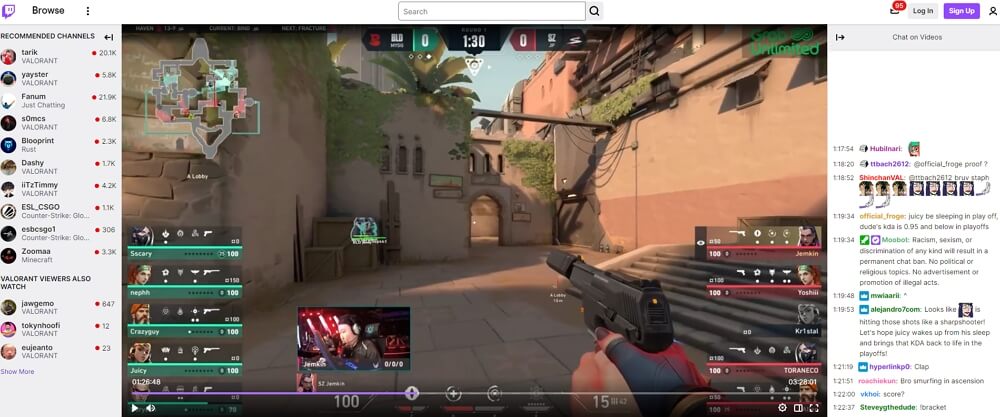 Additionally, trying your hand at playing Valorant yourself can give you a first-hand understanding of what it takes to succeed in the game.
3. Find a Reliable Valorant Sportsbook
Picking a reliable site is one of the most valuable tips for any Valorant bettor.
This means finding a trustworthy site with reliable payment options, plenty of cryptos, and fair and transparent odds.
Doing your research before placing any bets is important, as choosing the wrong site can lead to frustration and disappointment.
Here's a short recap of our top three Valorant crypto bookies:
4. Manage Your Bankroll
Last but not least, to successfully bet on Valorant, it's essential to manage your bankroll.
This means knowing how much money you have to bet, setting a budget, and sticking to it.
Managing your bankroll also helps you to track your progress and make smarter bets. It allows you to make rational decisions instead of impulsively betting on everything.
By doing this, you're not only giving yourself a better chance of making money in the long run but also protecting yourself against significant losses that can occur in a volatile market.
To Sum Up: Valorant Crypto Betting
In conclusion, Valorant crypto betting offers an exciting and innovative intersection between eSports and cryptocurrency.
The ability to place bets using cryptocurrencies provides a more secure and seamless transaction process while offering users anonymity.
What's more, as the popularity of eSports continues to grow globally, we can expect an increase in the acceptance of cryptocurrencies within the industry.
And remember – as with any form of betting, it is important to gamble responsibly and only use amounts you can afford to lose.
Thanks for reading!
Frequently Asked Questions
What are the best Valorant crypto betting sites?
Can you bet on VCT with crypto?
Yes, you can bet on Valorant Champions Tour (VCT) and there are many sportsbooks available that accept BTC, ETH, DOGE, LTC, and many other coins as a payment for VCT.
Is betting on Valorant with crypto legal?
Yep! Valorant crypto betting is considered legal. Although it may differ depending on where you're located. So make sure you always check your country's gambling laws and restrictions before placing any bets.