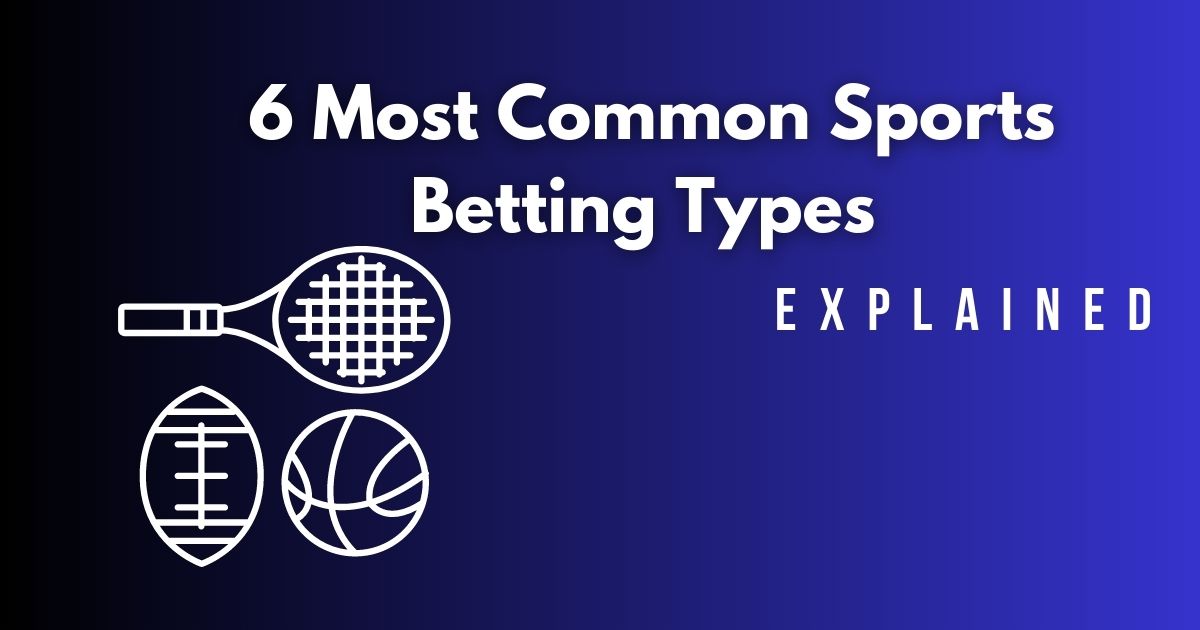 6 Most Common Sports Betting Types (Explained)
Crypto sports betting is an exciting and fun way to add extra adrenaline to watching your favorite matches.
But without knowing different types of sports bets, it can be difficult to take advantage of the myriad wagering opportunities out there.
Don't fret, though; we're here to help!
In this article, we'll journey together through some of the most popular sports betting types and arm you with examples, so you can confidently navigate any crypto sportsbook!
Ready? Let's start!
Most Popular Types of Sports Bets Every Bettor Needs to Know
There's a whole world of sports betting types available. But for the sake of simplicity (and to not get overwhelmed by all the options), we will cover the six most common types of sports bets, which include:
Money line
Totals
Point spread
Props
Parlays
Live bets
Let's start with the money line.
Money Line
Casinos Blockchain
Money line betting is a simple type of sports betting that involves placing a wager on the result of the event.
In simple terms: you pick a team you think will win the game, and if your predictions are correct, you'll win money.
Thanks to its simplicity, it's super common among bettors who are just starting out, as most bookies include it as first odds in different games and matches.
How to Bet on Money Line?
What does betting on the money line look like?
We'll use an NBA match example between the Philadelphia 76ers and Orlando Magic with American odds to give you a better overview.
| | | |
| --- | --- | --- |
| Team | Philadelphia 76ers | Orlando Magic |
| Odds | -400 | +310 |
In this scenario, the Philadelphia 76ers are the favorite (with a minus sign) to win the match. At the same time, Orlando Magic is the underdog (with a plus sign).
What's important to understand here is that the odds reflect how likely either side is to win and represents how much money you have to wager to make a profit.
So, -400 favorite means you have to risk 400 USD to win 100 USD with a potential payout of 125 USD.
And a +310 underdog means you have to risk 100 USD to win 310 USD with potential winnings of 410 USD – your original bet of 100 USD and profit of 310 USD.
The same logic applies to all cryptocurrencies.
For example, you wager 0.0001 BTC on the favorites; this means if you win, you'll get a potential payout of 0.000125 BTC. And if you think the underdog will win, then your potential winnings are 0.000418 BTC.
What Types of Sports Can I Bet On?
If you're wondering which sports you can place money line bets on, the good news is that most professional sports have that option, including the NBA, NFL, and NHL.
So before placing a bet, it's a good idea to consider looking at each team's past performance and current form. Also, check out any available stats, and don't forget to consider any injuries or other factors, such as weather, that could affect the outcome of the match.
And lastly, trust your gut!
Want to try money line betting yourself? Check out our top five bookies:
Total (Over/Under)
Have you ever heard of the term " I bet over" or "I bet under"? If so, then you heard someone talking about total bets.
Casinos Blockchain
Total betting is a type of wager allowing sports bettors less interested in picking winners and losers to still be involved in the action.
Unlike money line bets that rely on one team to win over another, with a total bet, you're betting on the accumulated number of combined points scored by both teams.
How to Bet On Over/Under?
Let's look at an example of the same NBA match between the 76ers and Orlando Magic to explain how it works.
| | | |
| --- | --- | --- |
| Team | 76ers and Orlando | Orlando Magic |
| Over/Under | Over 230 | Under 230 |
| Odds | -128 | -108 |
With total bets, you should first look at the number following either over or under. In this example, the number is 230, which means Philadelphia and Orlando are expected to score a combined total of 230 points.
The logic behind this bet is pretty self-explanatory.
If you wager on over, then you assume that the teams will score more than 230 points combined, and if you bet on under, you expect the teams to score less than 230 in total.
Let's try it out with Valorant eSports betting and use European odds.
Let's assume the teams in the Valorant Champions will score under 2.5 goals during the matchup, and we'll bet 0.0001 BTC on it. With the odds of 1.78, the potential winnings in this scenario would be 0.000178 BTC.
However, if we predict that the teams will score over 2.5 goals and the bookie has set the odds for 1.92, the potential win would be 0.0000192 BTC.
What can we tell from this? There's a bigger chance that this match will end with fewer points than 2.5. So if you want to be on the safe side, you should bet on under.
What Types of Sports Can I Bet On?
Total bets are common in sports with a high number of points scored, for example, basketball and American football. So, if you're a fan of these sports, then over/under bets might be a good option.
When it comes to sports that don't usually have many goals, such as soccer and hockey, then the total bets can be riskier, as the outcome becomes more difficult to predict.
Spread (Handicap)
Point spread or handicap (if you're from the UK or Europe) betting is a little bit trickier than the earlier-mentioned sports betting markets, but still easy to learn.
Casinos Blockchain
In point spread, you predict if a team will lose or win within a certain margin of points.
'For example, sportsbooks will mark the handicap for the favorite with a minus (-) sign and mark the advantage for the underdog with a plus (+).
Essentially, the number next to the plus or minus symbol tells how many points the team can win or lose for your bet to succeed.
How to Bet on Spread?
Let's see how it works by betting on an already familiar NBA match between the Philadelphia 76ers and Orlando Magic.
| | | |
| --- | --- | --- |
| Team | Philadelphia 76ers | Orlando Magic |
| Spread | -13 | +13 |
| Odds | +138 | -179 |
In this case, the sportsbook gives hypothetical 13 points to Orlando, the underdog, which are added to the final score.
So, if the total score for the underdog is 80 and for the favorite is 88, the Orlando Magic would cover the total spread of 13 because 13 added to 80 is 93 (higher than the Philadelphia score).
On the other hand, the favorite needs to win with 13 points or more to cover the handicap. Why? Because their spread is reduced from the final points score.
Here's what the handicap bet looks like at BC.Game:
What Type of Sports Can I Bet On?
The point spread is a common betting market and is readily available for most professional sports, including baseball, soccer, basketball, and many more.
The key is to use this type of bet when the two teams competing with one another are unbalanced. This means if the favorite has a significant advantage over the underdog, the handicap can give a significant edge to the weaker of the two by giving extra points.
Proposition Bets
Next up, let's look at proposition (prop) bets.
Casinos Blockchain
Proposition (prop) bets are not tied to the game's final score but to performance.
So, for example, you can bet on a specific player's achievements (player prop) or on something to happen in a match (game prop), such as the first team to score a goal.
Some of the most common player props include:
The first player to score a goal
Individual player points
Player assists
And some popular game props are:
The first team to score a certain amount of points
Time until the first goal
How to Bet on Props?
There are so many different ways to place bets on props, so we'll cover one of the most common player prop types which are points scored by an individual player.
| | | |
| --- | --- | --- |
| Player | Points Scored | Odds |
| Patrick Williams | 11+ | -208 |
| PJ Washington | 18+ | +146 |
Here, we have an example of an NBA match between the Chicago Bulls and Charlotte Hornets.
We predict Patrick Williams from Chicago Bulls will score more than 11 points during the game (the favorite) while PJ Washington from Charlotte Hornets will score 18+ points (the underdog).
A bookie usually gives several options and odds for the same prop bet.
What Types of Sports Can I Bet On?
You can find prop bets in various sports, but some are more favorable than others.
For example, betting on NFL is an ideal fit because the match is packed with stats and data on its players, so it's easier to predict how the game might turn out. Plus, you have many options to bet on – touchdowns, passing yards, and so on.
Betting on basketball is also excellent thanks to its high-intensity play that includes numerous star players, so it's the perfect opportunity to bet on a player's performance.
Golf is another good example of a sport rife with prop betting possibilities. For instance, you can predict which golfer will be the top contender from any given country. Or you can guess if a particular player can land a hole-in-one.
Parlay
Parlay betting (combo bets, multi-wagers, and accumulators) requires a bit more risk, but if done correctly can really pay off!
Casinos Blockchain
Parlays are bets that involve backing multiple outcomes for one wager.
So instead of placing money on just one outcome, you need to pick several, which gives you a chance to win a much larger payout than usual.
However, be mindful of your choices because if just one bet (leg) is unsuccessful, you will lose your entire stake!
How to Bet On Parlays?
So, how do you bet on parlays?
For example, you could bet on different UEFA Champions League soccer matches.
Let's say we predict Burnley FC to win against Manchester City, match will end with a draw or total over 0.5:
In this case, we need all three legs to win to return a profit. If one of our predictions is incorrect, we lose the whole bet.
Risky? Yes. But if you do your research and check the stats and news, your predictions can be very accurate, and the potential money pot is huge!
What Types of Sports Can I Bet On?
As with most of the betting markets in this list, parlay bets are suitable for most sports, including soccer, basketball, baseball, and hockey.
But remember, as parlay betting can involve bigger risks, make sure you do thorough research before placing any wagers.
Live Bets
Casinos Blockchain
Live bets are placed once the sports game has already started. As a result, in-game betting differs because the odds change based on the game's performance.
What makes live betting interesting is that it requires quick reactions from both bettors and bookies, as the possible game outcome might change at any minute, and bets and odds change accordingly.
So if you're into high-intensity betting and enjoy the adrenaline rush, then in-play betting is a good fit.
How to Live Bet?
There are many options available for live betting, but most of them are either money line, totals, or point spread.
So the logic behind all the bets stays the same, with the difference that the odds are constantly changing, and you can live stream the match directly from a sportsbook.
For example, we took the below screenshot 11 minutes into a FIFA soccer game between China and England. Take a look at the scores and odds for the money line and totals:
Now, we took the following screenshot at the 16th minute.
Notice how the odds changed only within the timeframe of five minutes!
What can we take out of this example?
In live betting, speed is the key. Here's what you want to do to get the most out of in-play betting:
Plan ahead – pick the lines already before the game starts
Pay attention – once the match is on, check how the odds are updated
What Types of Sports Can I Bet On?
In-play betting is available for most major professional sports, but basketball, football, and soccer take the lead.
Why?
Because these are fast-paced games with lots of odds movements, making them ideal for live betting.
How to Choose the Right Sports Betting Market?
Choosing the right sports betting type can be intimidating for a novice bettor but also incredibly rewarding.
To make your life easier, we have listed some essential factors you should consider when choosing a betting line.
Let's have a look.
Learn About the Sports Betting Markets
First and foremost, learn about the various types of bets available.
From straight bets like money line and spread to parlays and props, there's no shortage of markets out there. If you understand the rules and logic behind each type of wager, it's much easier to tailor your strategy and make smarter decisions.
Casinos Blockchain
If you followed our guide, then you should already know all the basics about the most common betting markets!
Compare the Odds
By taking the time to shop around for the best lines and odds, you have the best chance of getting more value out of any given bet.
Plus, using multiple bookies also allows you to benefit from more than one source since it's pretty common for sportsbooks to offer different odds on the same types of bets.
Research Teams and Matches
If you want to be a sports betting champ, you can't place your bets without doing some research first.
Sure, your gut feeling may sometimes come in handy, but it's research that can really give you an edge.
Knowing all the angles and stats regarding teams and matches is essential to get ahead and increase your chances of winning.
There are many resources out there, too; websites, forums, and podcasts, so use them!
Take Advantage of Free Bets and Other Promotions
Taking advantage of sportsbook promotions and bonuses is an effective way to get the most bang for your buck in sports betting.
Several crypto bookies offer sign-up bonuses, so you can top up your bankroll without spending much of your own money and can test different types of bets with peace of mind.
Free bets are also great, as sportsbooks will give you a specific amount of money you can use for wagering.
Conclusion
Understanding the different types of sports bets can be daunting, but if you take it step by step and do your research, you're sure to have a much better chance of winning.
With that said, we hope our guide will help you come up with the right strategy and make the most out of your Bitcoin sports betting experience!
Frequently Asked Questions
What are the most common betting types in sports?
There are many sports betting markets, but we can consider the most common sports betting types to be money line, total, spread, props, parlay and live betting.
What is the best betting market for beginners?
Money line is very common among bettors who are just starting out, as most bookies include it as first odds in different games and matches. All you have to do is pick a winner and if your prediction is correct, you'll get a payout.
What is the most profitable betting market?
Parlay betting (combo bets, multi-wagers, and accumulators) requires a bit more risk, but if done correctly the potential winnings can be very high!