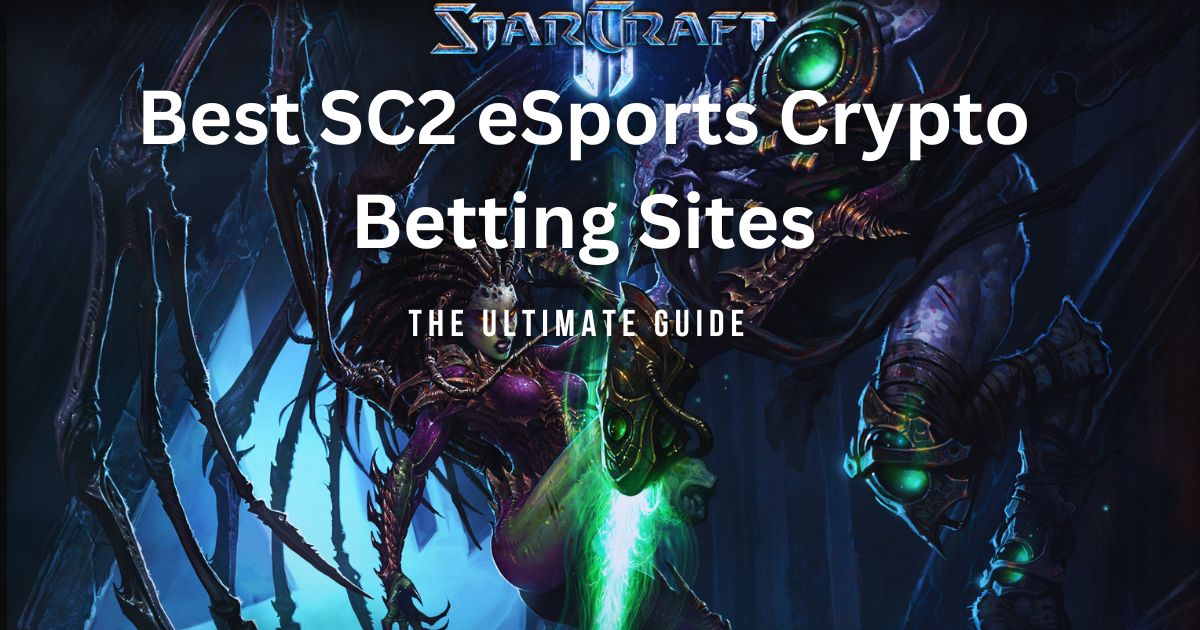 Best StarCraft (SC2) eSports Crypto Betting Sites
StarCraft 2 (SC2) is undeniably one of the world's most popular and competitive eSports games.
The game boasts a large fan base constantly looking for ways to get more involved in gaming and betting scenes.
And for those looking to take their love for SC2 to the next level, betting on eSports using crypto can offer unparalleled excitement.
In this article, we'll dive deep into the best SC2 eSports crypto betting sites and highlight all the essential features you'll need to consider before placing your bets.
Let's go!
Best StarCraft 2 Tournaments
StarCraft 2 was widely considered the largest eSports game during its early years. The highest level of play has primarily been centered in South Korea, but the game's reputation has spread to the rest of the world.
As a result, SC2 crypto betting tournaments offer a unique opportunity for fans and bettors to witness some of the world's best players compete for their share of the prize pool.
So, if you are looking to experience the excitement of eSports betting, the following StarCraft 2 crypto tournaments are definitely worth checking out:
ESL Pro Tour – includes weekly ESL Open Cups, two online ESL StarCraft 2 Masters Regionals with live Finals, and the EPT Championship.
IEM Katowice – is the final tournament of the ESL Pro Tour, also known as the Masters' Championship.
The abovementioned competitions have already finished for the 2023 season.
However, you can still bet on the upcoming Global StarCraft II League Season 3: Code S in October and ESL SC2 Masters 2023 Winter starting in December.
Best SC2 eSports Crypto Betting Sites
If you're short on time, then here's a complete list of StarCraft 2 sportsbooks:
Now, let's look at some of our favorite SC2 crypto bookies more closely.
BC.Game – Our Favorite SC2 Crypto Bookie
If you're looking for a user-friendly and intuitive sportsbook, BC.Game might just be the platform for you.
With an easy-to-navigate interface, you can browse and find everything you need in just a few clicks.
Plus, if you're a new player, BC.Game offers a match deposit bonus of up to 360%, giving you even more incentive to try it out.
On top of that, depending on the season, the sportsbook features over 10 different eSports games, including the popular StarCraft 2. If other strategy games are more your style, you can also bet on WarCraft, Valorant, Age of Empires, LoL, and Dota 2.
And with hundreds of cryptocurrencies available, including big names like Bitcoin and altcoins such as Solana, Tether, and DOGE, BC.Game truly offers something for everyone.
Sounds good? Try out BC.Game yourself:
Cloudbet – One of the Market Leaders in SC2 Betting
Cloudbet sportsbook is one of the leading Bitcoin betting sites on the market that offers its users an unrivaled online gambling experience.
With a wide range of eSports and betting options, Cloudbet ensures you can place wagers on various events, including SC2.
As a matter of fact, they're one of the few bookies that offer markets for less-known StarCraft competitions as well, so you can bet all year round.
Another great thing about Cloudbet is that they offer live streaming, so you can watch the games as they happen and make in-play bets accordingly.
In addition to Bitcoin, various other cryptocurrencies are available for use on the site.
Furthermore, you can buy or sell cryptocurrencies directly on Cloudbet's site using your debit or credit card and Apple Pay through Moonpay.
Cloudbet has made it incredibly easy for users to enjoy their platform to the fullest, and we highly recommend checking it out:
JustBit – Best Selection of eSports Markets
If you're a fan of eSports and virtual games, you'll want to check out the JustBit sportsbook. 
With over 20 markets to choose from, including both StarCraft versions, there's no shortage of options.
Besides popular strategy games, you can bet on popular first-person shooter (FPS) games like CS:GO, Rainbow Six, and Call of Duty.
And if you're a cryptocurrency enthusiast, you'll be pleased to know that Bitsler offers an impressive 27 different cryptocurrencies for you to deposit and withdraw.
Overall, whether you're a seasoned bettor or just starting out, JustBit is definitely worth checking out.
Crashino – Intuitive eSports Betting Interface
Crashino was launched in 2021, but it's already made a name in the crowded world of online sports betting.
One of the standout features of this sportsbook is its user-friendly website design, features like an event planner, calendar, and multi-view make it easy to place your bets and keep track of your wagers.
Another huge draw is the range of eSports on offer – with over ten different options; you're sure to find something that takes your fancy.
You can bet on the World Team League SC2 tournament and the popular ESL Pro and IEM Katowice.
Best of all, with 12 different cryptocurrencies accepted, it's super easy to deposit and withdraw funds, making the whole process efficient and hassle-free.
So why not give Crashino a try and see for yourself what all the fuss is about?
How to Get Started With SC2 Crypto Betting?
SC2 crypto betting isn't as intimidating as it may sound. You could make some decent profits with some research, preparation, and luck.
In this entry, we'll cover step-by-step everything you need to know to get started with StartCraft 2 betting. Let's have a look:
Set up a digital wallet. This will ensure that your coins will be kept secure and anonymous. Don't know which one to choose? Check out our list of the best Bitcoin wallets for betting.
Buy and transfer crypto to your wallet. Next up, you need to exchange some coins. You can do that on several crypto exchanges. Once that's done, transfer it to your wallet.
Find a sportsbook. Now, find a sportsbook that offers StarCraft 2 betting and sign up with them.
P.S. During the off-season, you might not see the SC2 betting option available, but once competitions come closer, the markets also open.
Make a deposit. Once you have registered an account, the next step would be to deposit some crypto (remember to take advantage of the welcome bonuses).
Start betting. And now the exciting part – once you have made the deposit, find an SC2 match and start wagering!
And there you have it – in those easy five steps, you'll place bets in no time!
Now let's move on to covering the basics of SC2 crypto betting.
What is StarCraft 2?
StarCraft 2 (SC2) is a real-time strategy (RTS) video game with a reputation as one of the best games in its genre.
The game is set in a science fiction universe where players have a variety of factions to choose from, each with their unique strengths and weaknesses.
The main goal of the SC2 is to build and manage your armies and resources to defeat your competitors.
Here's a short overview of StarCraft 2:
Fans and critics alike have praised the game for its intense gameplay, fast-paced action, and strategic depth, so it's no surprise that it's one of the most popular games to play, watch, and bet on.
Why Bet on SC2 With Crypto?
etting on StarCraft 2 with cryptos like Bitcoin or altcoins has several benefits.
One of the most significant benefits of using cryptocurrency to bet on StarCraft 2 is the ability to remain anonymous, as you don't have to provide personal information when using crypto.
Furthermore, because transactions are recorded on the blockchain, the system is highly secure, eliminating the risk of fraud or theft.
Casinos Blockchain
The main benefits of using crypto for SC2 betting are anonymity, enhanced security, and faster transaction speeds.
Additionally, using cryptocurrencies means that transactions can be completed much faster than with traditional payment methods.
Is SC2 eSports Crypto Betting Legal?
The legality of crypto betting on eSports like StarCraft 2 varies depending on your location.
In some countries, it is legal; in others, it is strictly prohibited. Due to this, it's essential to do your research before placing a bet.
Additionally, it's important to ensure that any platform you use is secure and trustworthy to avoid potential scams or losses.
P.S. All our recommended sportsbooks are good to go for SC2 crypto betting, and you can trust them to be safe and legit. Here are once again our favorite bookies:
Common Types of Starcraft 2 Bets
Like many other popular eSports games, StarCraft 2 offers many betting markets to explore.
We have listed some of the most common betting types you can find when wagering on SC2.
Let's have a look:
Match Winner
Known as outright, money, or straight-line bets, match-winner bets allow players to make some good profits while they are ahead.
This betting option is easy to understand and reliable when deciding who will win the game.
Map Winner
The structure of the tournament means that some matches will be played as a best-of-three, while others will only feature a single map.
As a result, the map winner betting market has become increasingly popular. Fans and bettors alike eagerly analyze team strategies, player matchups, and overall skill levels to try and predict who will come out on top.
Correct Score
The SC2 correct score market involves predicting the exact score of a match or map, with odds assigned to each possibility.
This market is not for the faint of heart, but for those with a deep understanding of the game and players, it can be a gratifying endeavor.
Live Betting
With the fast-paced nature of Starcraft 2 matches, live betting allows for a dynamic and thrilling experience where anything can happen.
It allows you to observe the gameplay, follow the game's progress, and place new wagers depending on how a match develops.
The good news is that most crypto sportsbooks offer in-play betting together with the live streaming option, so you can easily view how the game unfolds.
Here are our favorite bookies for live streaming:
Handicap
Betting on StarCraft 2 is an art, and one of the ways you can gain an advantage is by utilizing the handicap betting market.
For example, -2 negative handicaps mean that the favored team is to win the vast majority of maps for your bet to come through.
Casinos Blockchain
The odds are usually longer with handicap betting markets
In contrast, a positive +2 handicap on the underdog would mean that your team needs to win only one map out of three to secure a victory for your bet.
However, due to the near-exact scenarios that need to occur on the maps, the odds in this market are longer. Still, the higher reward potential makes it a worthwhile betting type to explore.
Group Winner
The SC2 group winner betting market allows you to wager on who you think will win each group.
With mini-tournaments that establish initial rankings and a series of knockout rounds that determine the final winner, betting on the group winners is a great way to get in on the action.
How to Make Smart SC2 Crypto Bets: Tips & Strategies
Now, let's explore the best tips and strategies to make informed SC2 crypto bets, allowing you to maximize your profits and minimize your risks.
1. Understand the Game Mechanics
If you want to increase your chances of making successful bets on StarCraft 2 matches, understanding the game mechanics is a valuable tip.
One way to achieve this is by trying out the game yourself and getting a feel for how it operates. This can help you recognize patterns, understand strategies, and anticipate possible outcomes.
Additionally, you can watch the live streams of matches on platforms such as Twitch to observe how skilled players utilize game mechanics to gain an advantage.
If you don't have the bandwidth to play or watch regularly, reading up on game mechanics and strategies on resources such as Wikipedia can also help boost your understanding.
2. Research Past Performance Data
By taking a deep dive into match history, you can gain insights into the team's strengths and weaknesses, which can help inform your bets.
For example, suppose you notice that a player consistently struggles with certain strategies or matchups. In that case, you can use that information to your advantage by placing bets on their opponent or specific strategies likely to exploit their weaknesses.
Conversely, if a player has a strong track record against a specific game mode or map, you may want to consider placing a larger bet on them.
3. Browse Forums and News
The online gaming world is constantly evolving, and being aware of current news can provide insight into which players are performing well, which strategies are proving to be successful, and even major changes that could impact the game as a whole.
Additionally, the SC2 community is highly active, and browsing forums can provide a wealth of information, from tips and tricks to discussions on match predictions.
Check out some of the following SC2 communities:
StarCraft on Reddit – a subreddit where you can check what other SC2 enthusiasts are saying.
TeamLiquid- a news and community site centered around Blizzard's StarCraft 1 and StarCraft 2, as well as Valve's Dota 2.
Blizzard forum – here, you can discuss ideas, give gameplay advice, role-play, and talk about any other aspects of StarCraft or any other Blizzard games with other players.
4. Bet Responsibly
Managing your bankroll and betting responsibly is a crucial aspect of SC2 betting that every bettor should master.
This means knowing when to stop, whether you're winning or losing. It also means researching matches, analyzing odds, and making informed decisions instead of impulsively betting on a whim.
Conclusion
In conclusion, StarCraft 2 crypto betting has rapidly gained popularity in the online gaming industry.
The advantages of blockchain technology allow for fast, secure, and anonymous transactions, making it an attractive option for players who value privacy and convenience.
Furthermore, the competitive nature of StarCraft 2 makes it a thrilling and strategic game to bet on.
Frequently Asked Questions
What are the best StarCraft 2 eSports crypto betting sites?
Is SC2 crypto betting legal?
Yes, SC2 eSports crypto betting is considered legal. However, before placing any wagers, you should check your country's gambling laws and restrictions.
Do sportsbooks offer StarCraft crypto betting all year round?
It depends on the crypto bookie. If there are any major competitions like the ESL Pro Tournament or IEM Katowice, then it's more likely to find open betting markets for SC2 betting. However, it might not be the case for other local and less-known StarCraft 2 matches.