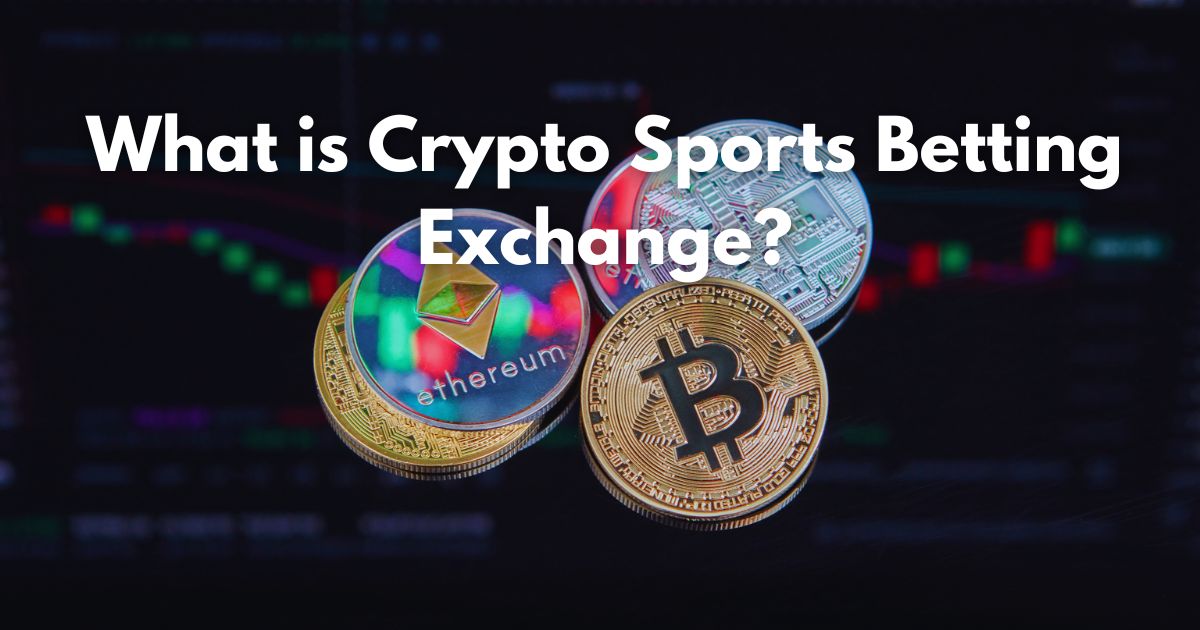 What is a Crypto Sports Betting Exchange? (All You Need To Know)
Are you tired of traditional sports betting methods? Then it's time to explore the exciting world of crypto sports betting exchanges.
These innovative platforms allow you to bet directly against other bettors rather than placing your wagers against the house. How?
No worries, you'll soon find out!
In this article, we'll explain how this process works and explore the differences between a traditional crypto bookmaker and a crypto betting exchange.
You'll also discover some of the best blockchain betting exchange sites to help you get started on this new and thrilling way of wagering on sports.
Ready? Let's go!
What is a Crypto Sports Betting Exchange?
Let's start by clarifying what a crypto betting exchange is.
Essentially, it's a platform where you can engage in peer-to-peer sports betting using cryptocurrencies as payment.
But wait? Isn't this like a crypto sports betting site?
Nope. Although this may sound very similar to a traditional bookie, there's a key difference.
Instead of placing bets against the house, crypto sports betting exchanges allow you to wager against other bettors directly.
Casinos Blockchain
Think of a betting exchange as a stock market – you can buy, sell, and trade bets.
How do Betting Exchanges Work?
Crypto sports betting exchanges work differently compared to traditional bookmakers.
Instead of bookmakers adding the profit margin into the odds, exchanges offer the true market price of odds. This means that you, as a bettor, get more value for your money.
Casinos Blockchain
Betting exchanges offer the true market price of odds.
So how do they make money?
Well, crypto betting exchanges charge a commission on your net winnings. The percentage varies but typically ranges from 2% to 5%.
What is Back and Lay Betting?
We're almost done explaining the fundamentals – stick with us!
Remember how we compared crypto betting exchanges with stock markets where you can trade your bets?
This is where the back and lay betting comes into play.
The concept is simple: you can either place a bet that an outcome will happen (back) or that it won't happen (lay).
For example, if you are laying on a soccer game, you are betting that your chosen team will not win.
With regular crypto sportsbooks, you can back an outcome while the bookie is laying the same bet.
However, with blockchain betting exchanges, you have an option to both back and lay outcomes which means you can act like a bookmaker.
So, if you win, you keep the backer's stake. If you lose, you act like a bookie and pay out the backer's stake multiplied by odds.
This added flexibility could allow you more strategic and profitable betting opportunities.
Key Takeaways:
1. Crypto sports betting exchanges let you wager against other players instead of the house.
2. They usually offer higher value odds.
3. Crypto betting exchanges give you more control through the ability to lay bets.
How to Choose a Crypto Sports Betting Exchange?
There are several factors to consider when choosing a crypto sports betting exchange, such as the commissions you'll be charged and the site's reputation.
Let's have a look:
How High Are the Commissions?
While some sites may offer attractive features, be wary of those that charge excessive fees.
These could seriously affect your profits, leaving you less money to spend on future bets.
On average, you can expect to pay around 2-5% commission, but it's worth shopping around to find a platform that offers the best deals.
Casinos Blockchain
Bitcoin betting exchanges charge on average 2-5% commission from your net winnings.
Remember that every little bit counts when it comes to betting, so choosing a low-commission site could make all the difference to your bottom line.
Is the Site Reputable?
When selecting a site, it's crucial to ensure that the site is trustworthy.
One way to do this is to check if they're licensed or certified by a reputable authority. This can ensure that the site operates ethically and is subject to regulations that protect consumers.
Another way to assess the reliability of a betting exchange is to read user reviews. These can provide valuable insights into the experiences of other users and can help you determine if the site has a good track record.
How Many Sports Markets Are Available?
Focusing solely on your favorite sport can be tempting, but it's always worth looking at what else is on offer.
Most platforms will provide various options, ranging from popular sports like football, basketball, and tennis to more niche interests such as darts or beach volleyball.
Ultimately, the more sports markets available, the more opportunities you have to find the perfect match for your interests and preferences.
Do They Have Any Bonuses or Promotions?
Many platforms offer bonuses and promotions that can provide substantial benefits.
These incentives can range from sign-up offers to refer-a-friend programs, allowing you to start trading and making profits with reduced risk.
That being said, checking the site's wagering requirements is essential before partaking in any of these promotions.
Is Customer Support Available?
The ideal Bitcoin betting exchange should have a reliable and accessible support team available around the clock, 24/7.
Casinos Blockchain
Check the level of customer support they offer to ensure a smooth and hassle-free betting experience.
This support could come in the form of live chat, phone, or email, making it easy for you to get help and answer their questions promptly.
What Payment Methods Do They Have?
It's essential to check the payment methods available and ensure that your preferred cryptocurrency is among them.
Some betting exchanges offer a limited number of cryptocurrencies, and it can be inconvenient if you don't find your preferred coins.
Plus, given the potential risks of handling cryptocurrency, ensuring that the platform offers a safe and secure platform for your transactions is vital.
For example, if the crypto betting exchange cooperates with reputable crypto wallets, you can be sure your coins will be handled safely.
5 Best Blockchain Sports Betting Exchanges
Without further ado, here are the five best sites:
BetDEX
BetDEX is the world's first fully-licensed decentralized sports betting exchange on the Solana blockchain.
The Isle of Man approved the Online Gambling Regulation Act (OGRA), which authorizes BetDEX for all online gambling and gaming forms, including online sports betting.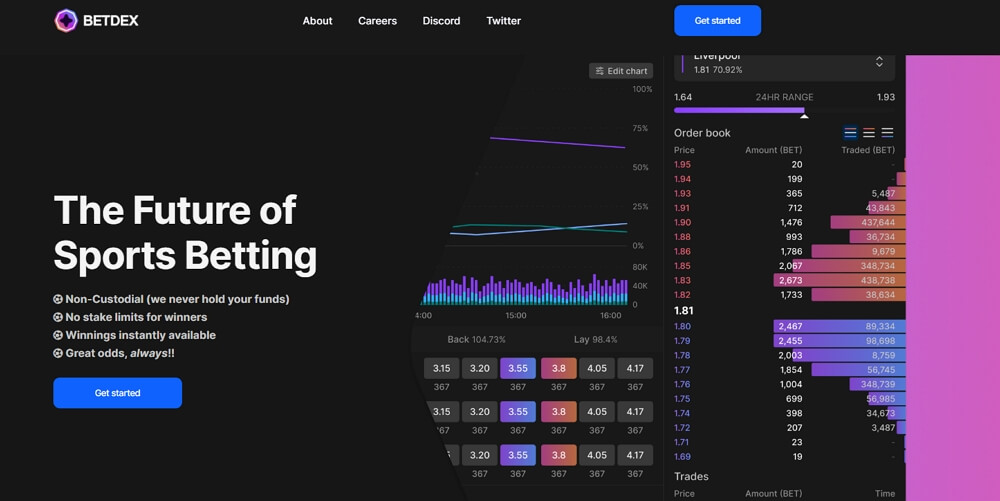 BetDEX's unique use of the Solana blockchain sets it apart from other platforms.
This technology allows BetDEX to offer its users fast online transactions (50,000+ transactions per second) with low transaction costs (average cost of 0.00025 USD per transaction).
Currently, the platform is available only for soccer matches.
Features:
Available cryptocurrencies: SOL.
Available sports: soccer.
Customer support: live chat.
Degens
Degens is a peer-to-peer blockchain betting exchange platform that uses Ethereum smart contracts and offers a secure and transparent way to place bets in DAI and ETH.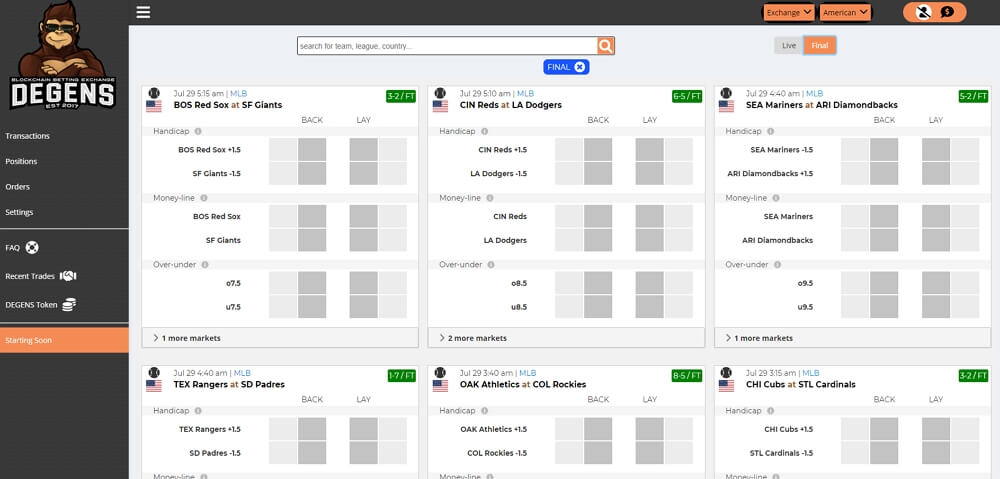 What's great about Degens is that they have one of the lowest fees in the industry – only 0.5% commission from your winnings. Plus, there's no sign-up required and no restrictions based on location or KYC requirements.
Features:
Available cryptocurrencies: DAI, ETH.
Available sports: soccer, basketball, and ice hockey.
Customer support: no live support, FAQ.
SX Bet
SX Bet utilizes Ethereum public blockchain and offers peer-to-peer trading on sports events. Their non-custodial exchange technology ensures that you always maintain control of your funds.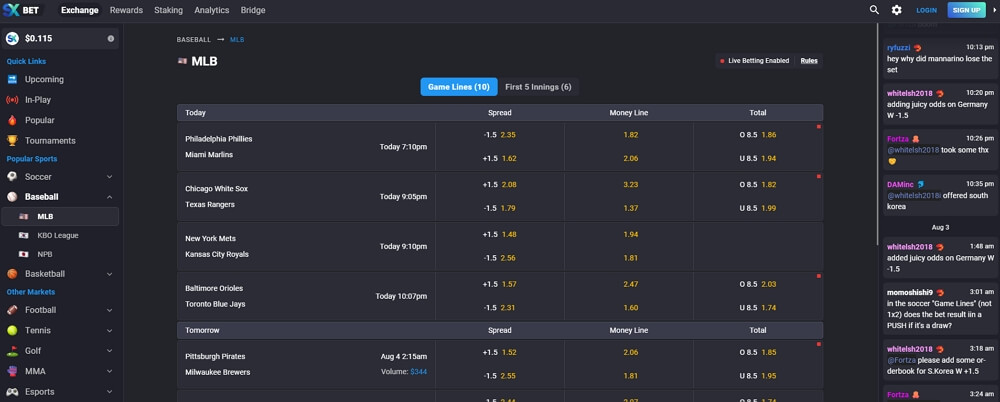 Plus, SX Bet offers weekly tournaments where you can win rewarding prizes.
For example, their SX Madness tournament for NCAA college basketball has a prize pool of 2500 USD that they distribute amongst the top bettors of the weekend.
Besides the tournaments, you can also benefit from their various promos – one of the few platforms on this list that offers that.
Are you wondering about the fees? SX Bet charges 0.5 – 4% commission, depending on your tier. For example, if you're a newbie, they'll charge a 4% commission from your winnings.
Plus, they are now licensed by the government of Curacao under the Licence 8048/JAZ issued for the provision of sports betting and casinos.
Features:
Available cryptocurrencies: ETH, BTC.
Available sports: soccer, basketball, football, hockey, tennis, golf, baseball, MMA, cricket, eSports.
Customer support: live chat.
Betfair
Betfair promotes itself as the world's biggest betting exchange platform.
With official gambling licenses from both the Gambling Commission and Malta's Gaming Authority, they offer a safe and secure betting experience.
Plus, we really like their vast selection of sports – currently, there are over 20 markets you can bet on – the most extensive selection on this list.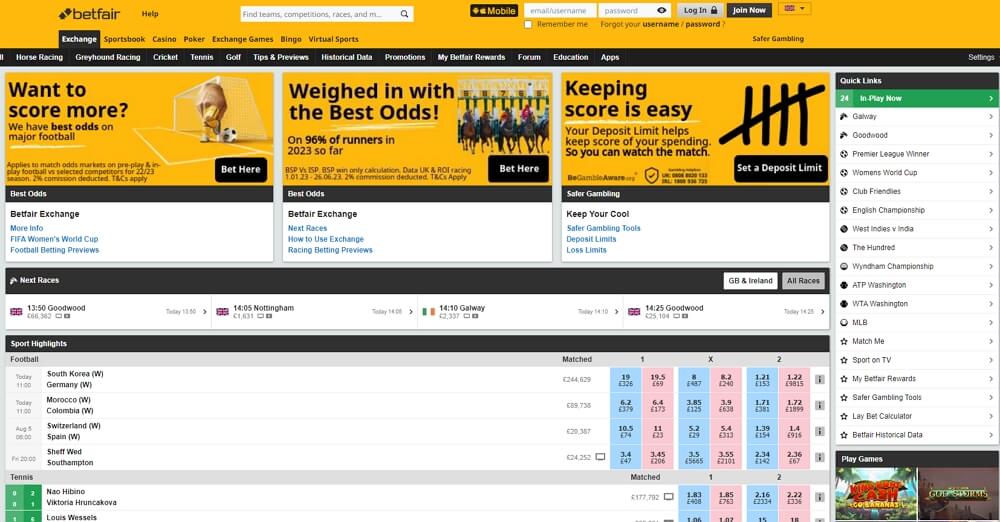 What about fees?
Well, the commission rate is determined by the country in which you reside. If you live in the UK, Ireland, Italy, Gibraltar, or Malta, the rate is 5%.
Features:
Available cryptocurrencies: direct crypto payments are not available. You can deposit BTC using Neteller and PayPal.
Available sports: 20+ markets, including soccer, boxing, basketball, American football, snooker, and golf.
Customer support: live chat.
Betswap
As a decentralized peer-to-peer betting exchange, Betswap prides itself on being fully trustless and permissionless, meaning that no KYC is required to access its services.
This is especially valuable for those who value their privacy and security.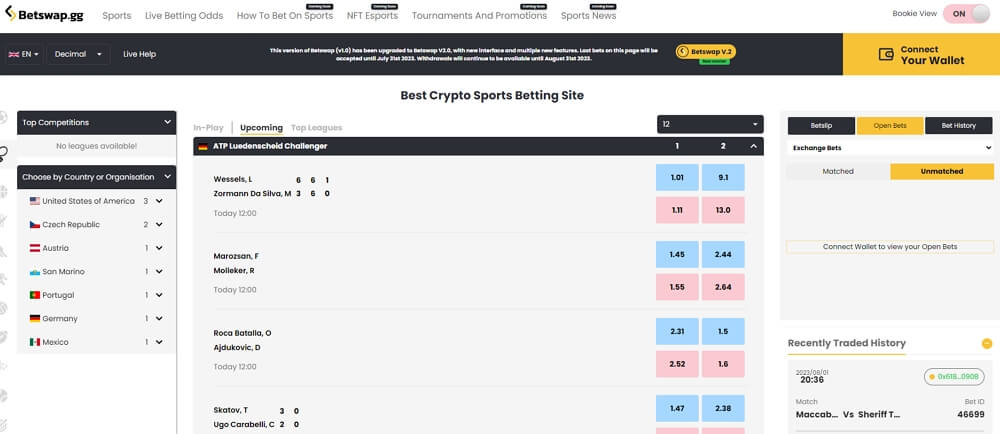 What's more, Betswap does not take custody of users' funds, thus allowing them to place individual bets directly from their wallets and withdraw their winnings seamlessly, safely, and instantly.
Features:
Available cryptocurrencies: BSGG, ETH.
Available sports: 10+ sports, including soccer, tennis, boxing, hockey, and also eSports betting.
Customer support: 24/7 live chat via Telegram and Discord.
Crypto Betting Exchanges vs. Crypto Sportsbooks
Traditional crypto sportsbooks operate like any other bookmaker – they set the odds, and you place your bets with them.
In contrast, a crypto sports betting exchange allows you to bet directly against other bettors. This means that you can often get better odds and potentially bigger payouts.
Both options have their own advantages and disadvantages. Therefore, it's essential to identify your priorities while choosing between these options.
Let's look at how these two options compare in the main areas.
Odds
One of the key differences between sportsbooks and betting exchanges is how the operator makes a profit.
Traditional sportsbooks typically offer odds that favor the house, meaning that even if you bet on every possible outcome, you still won't come out ahead in the long run.
On the other hand, betting exchanges let punters bet against one another without the operator taking a cut of the odds.
As a result, exchanges usually offer more efficient odds that better reflect the true expected value of a given outcome.
For example, let's compare how the odds look like if you would place a bet on an MLB baseball match.
Here's what SX Bet is offering:

And here's an example of Stake odds (our #1 crypto sports bookie):
While the odds for the favorite are the same, SX Bet offers much higher odds for the underdog.
Key Takeaway:
Crypto sports betting exchanges usually offer more fair and competitive odds.
Bonuses
While sports exchanges may offer a more competitive betting environment with better odds, they typically offer fewer bonuses and promotions than traditional bookies.
This means that if you enjoy cashback offers or free bets, you may have to shop around to find a deal that fits your needs.
On the other hand, if bonuses and promotions are essential to you, traditional crypto sportsbooks may be the better option.
Key Takeaway:
Crypto sportsbooks offer more rewarding bonuses and promotions.
Our top five crypto sports betting sites come with generous welcome bonuses and offer various sports promotions.
For example, BC.Game and Cloudbet offer generous welcome bonuses, while Stake and Vave have various ongoing promotions for major sports events. Check it out:
Betting Markets
Crypto sportsbooks tend to offer a wider variety of markets than betting exchanges, including more "special" wagers like props, totals, parlays, etc. As a result, these markets can add another layer of excitement to the betting experience.
Key Takeaway:
Crypto bookies often have better selection of betting markets.
However, exchanges typically don't offer these types of markets and mostly stick with a money line and handicap. Why? Because it's difficult to price more special markets accurately.
Fees
Crypto sports betting exchange charges a commission on your net winnings, which usually ranges from 2% to 5%. The benefit of this system is that it offers a more fair and balanced way to recover some of your trading losses.
Key Takeaway:
Crypto sports betting exchanges have a more fair commission system.
On the other hand, traditional bookmakers earn their money by laying bets on you and paying out when you win. They profit by including vigorish, a commission built into the odds they set.
These different money-making methods can significantly affect the odds and your potential winnings.
So what can we take out of this info?
Casinos Blockchain
While exchanges have advantages, such as lower fees and greater transparency, traditional crypto sports betting might win out in terms of variety.
Ultimately, it all comes down to personal preference and what you're looking for in your betting experience.
To Sum Up: What's the Future Outlook for Blockchain Betting Exchanges?
In conclusion, the future of crypto betting exchanges looks bright.
With the sports betting market projected to reach a size of 104.78 billion USD in 2023 and expected to grow to 182 billion USD by 2030, it's clear that interest in betting is increasing.
One particularly popular trend is the implementation of AI and blockchain technology in sports betting applications.
Why?
With its ability to provide a secure, transparent, and decentralized platform for online betting, blockchain technology has the potential to revolutionize the industry.
While there may be regulatory hurdles to overcome, the benefits of blockchain technology in the sports betting industry are too significant to ignore. As such, we can confidently predict that crypto sports betting exchanges will become increasingly popular and mainstream in the near future.
Frequently Asked Questions
What is a crypto sports betting exchange?
Crypto sports betting exchange is a peer-to-peer platform that, instead of betting against the house, allows you to wager against other bettors directly using cryptocurrencies as a form of payment.
What is the main difference between a crypto sportsbook and a betting exchange?
Traditional crypto sportsbooks operate like any other bookmaker - they set the odds, and you place your bets with them. In contrast, a crypto sports betting exchange allows you to bet directly against other bettors. This means that you can often get better odds.
What are the best blockchain betting exchanges?
Our top 5 Bitcoin sports betting exchange recommendations are BetDEX, Degens, SX Bet, Betfair, and Betswap. They are all reputable exchanges that offer customer support, reasonable fees, and competitive odds.